Ultimate Guide: Top 30 Unique Things To Do In Vietnam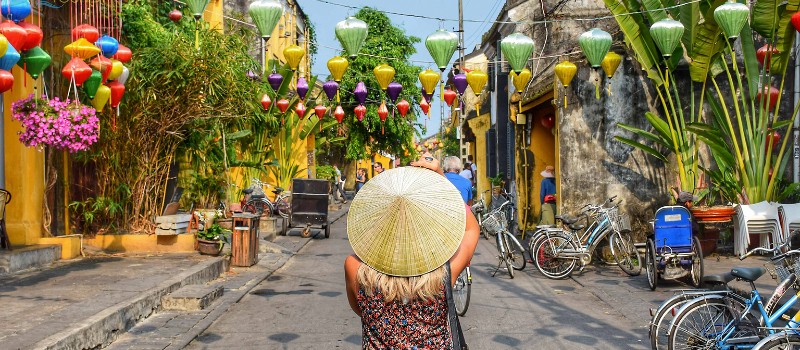 Vietnam, a Southeast Asian gem known for its diverse landscapes, rich culture, and delicious food, always offers an array of fresh and exciting experiences for both first-time visitors and seasoned explorers. This guide presents 30 unique things to do in Vietnam that delve into the historical features with vibrant culture and indulge your senses with mouthwatering cuisine. Get ready to be captivated, inspired, and transformed as you embark on an adventure like no other in the mesmerizing land of Vietnam.
Top 30 Unique Things To Do In Vietnam
Explore the Misty Trails of Sapa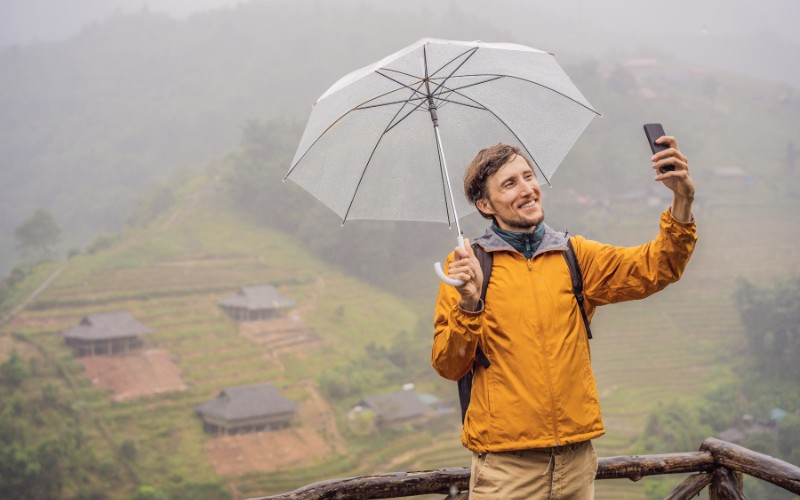 Set out on an exciting Sapa trekking journey
Sapa with foggy highlands in the northwest of Vietnam is the top choice for active tourists who love adventure. Numerous trekking paths go through verdant valleys, rice terraces, and traditional ethnic settlements in this lovely region. There are always available routes in Sapa for every skill level, from novice hikers to seasoned backpackers.
Conquer the Summit: Fansipan Mountain Expedition
Take an epic journey to conquer Fansipan, the "Roof of Indochina." Trek through lush forests, cross suspension bridges, and reach the summit for breathtaking panoramic views. It is one of the most challenging yet unique things to do in Vietnam for avid hikers and adventurers.
Ride the Ha Giang Loop: Vietnam's Final Frontier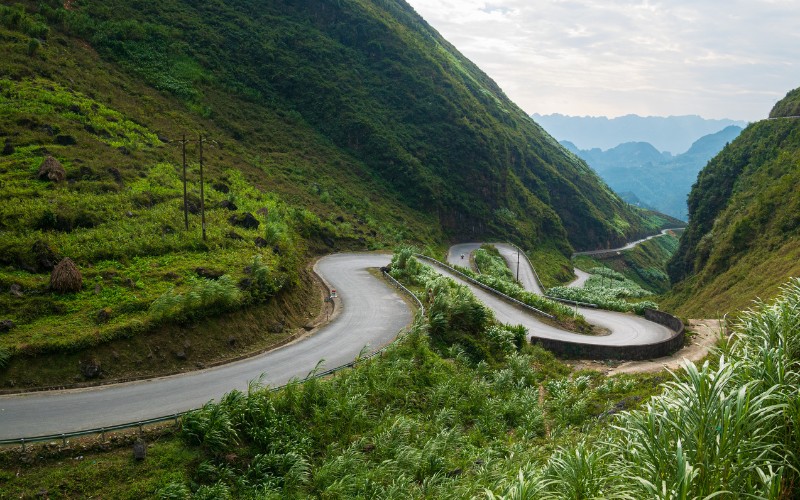 Beautiful mountain passes in Ha Giang
For those seeking freedom on a less traveled road, the Ha Giang Loop can meet every requirement.
A thrilling motorbike journey through picturesque karst mountains, precipitous peak passes, meandering roads, and misty towns is what you can expect from this distant location. Since numerous local ethnic communities still maintain their traditional ways of life and culture inside the province, the stunning scenery and cultural diversity might be the most authentic experience for adventure lovers. 
Pack your belongings, charge your devices, and get ready for this enchanting excursion.
>> See Tour: Discover Ha Giang & The Far North
Paddle Through Ha Long Bay's Hidden Gems
Ha Long Bay in the Quang Ninh province of Vietnam is renowned worldwide for its stunning natural beauty and unique limestone karsts. Kayaking through its emerald waters provides an intimate way to explore hidden caves and secluded beaches that are waiting to be discovered by adventurous travelers.
Rentals and guided tours are widely available, so grab your paddle to explore Bai Tu Long Bay, Vung Vieng Fishing Village, Dark and Bright Cave, and many hidden treasures of Ha Long Bay.
Off the Beaten Path: Lan Ha Bay Cruise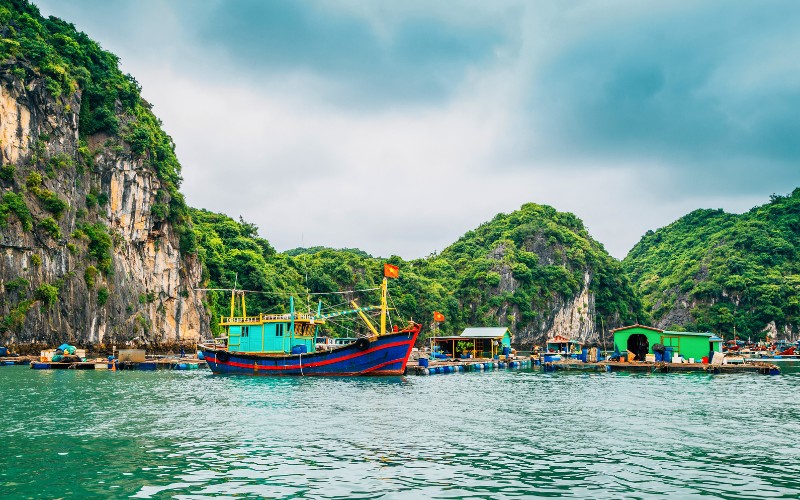 Cruise Through The Islands Of Lan Ha Bay
A purer landscape with a high concentration of limestone mountains is Lan Ha Bay, an alternative to the famous Ha Long Bay.
There are over a hundred lovely little beaches at the base of the mountains, so it's easy to choose a nice place to swim, plan a private beach barbecue, or set up an overnight tent. You are given the chance to escape the crowds, cruise through the calm waters, explore secret caves, and soak in the breathtaking scenery.
It's a tranquil and awe-inspiring escape into the natural wonders of Vietnam's coastal beauty.
Island Safari: Wildlife Spotting in Cat Ba
Cat Ba Island is not only a paradise of natural beauty but also a haven for wildlife enthusiasts. Embarking on an island safari adventure allows you to witness the enchanting Cat Ba Langur, observe the graceful Oriental Pied Hornbill, catch a glimpse of the elusive dugongs, and encounter the lively Rhesus macaques with various other unique things to do in Vietnam on this island.
Enjoy the island safari adventure on Cat Ba Island, where diverse ecosystems await your discovery.
>> Read More: Must Sees and Dos in Halong Bay
A Culinary Odyssey on Hanoi's Streets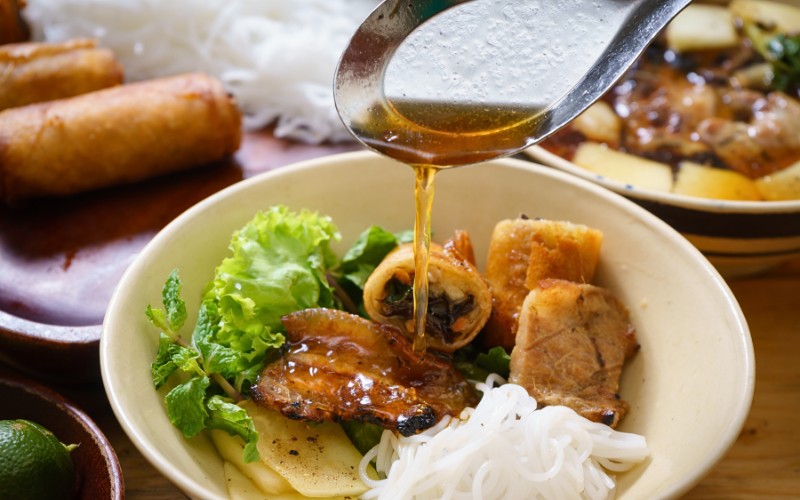 Bun Cha – A familiar dish you can try on a Hanoi street food tour
Renowned for its vibrant street food culture, Hanoi offers a unique journey through the bustling streets and alleys. From the iconic pho, to the delectable banh mi, or the aromatic bun cha, Hanoi's street food scene presents a fascinating narrative of cross-cultural exchange.
Get lost in the colorful atmosphere of Hanoi cuisine, which combines lively marketplaces, talented craftspeople, and friendly locals.
>> Read More: 22 Best Things To Do In Hanoi
Witness Water Magic: Hanoi's Water Puppet Spectacle
Prepare to be enthralled by the captivating water puppet spectacle in Hanoi, one of the most unique things to do in Vietnam. Rooted in Vietnamese folklore and tradition, this enchanting art form dates back centuries and continues to mesmerize audiences today. Performed on a liquid stage, these shows narrate folk tales through wooden puppets controlled by artists behind the scenes.
As you witness the seamless interaction between the puppets and their aquatic stage, you'll be immersed in a realm where imagination knows no bounds. The water puppet spectacle is a testament to Hanoi's cultural heritage and offers visitors a chance to witness an ancient art form that has stood the test of time.
Explore the Mysteries of Tam Coc's Karst Landscape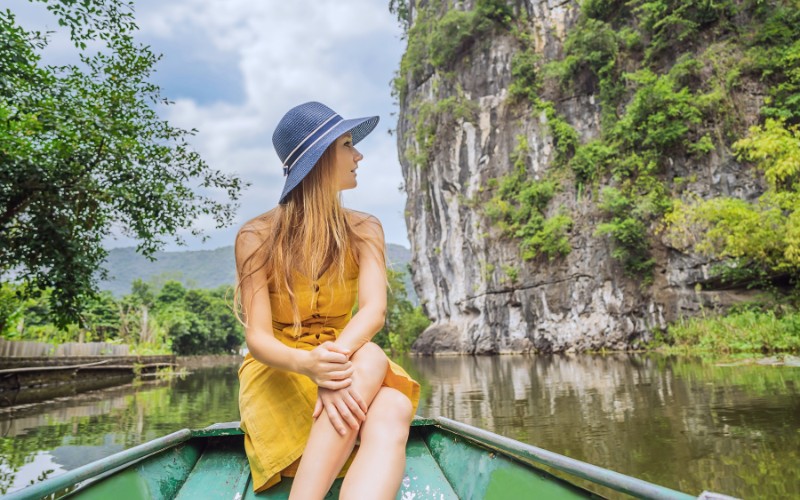 Explore Tam Coc's Magnificent Landscape From A Boat
Venture to Tam Coc, often called "Halong Bay on Land," and immerse yourself in its mystical beauty. Embark on a scenic boat ride through winding rivers and caves, surrounded by towering limestone karsts, lush rice paddies, and serene countryside. This hidden gem in Ninh Binh Province promises an enchanting and tranquil escape.
>> See Tour: World Heritage Sites of Vietnam
Uncover Legends: Bai Dinh Pagoda in Ninh Binh
Visit the awe-inspiring Bai Dinh Pagoda, one of the largest Buddhist complexes in Southeast Asia. Explore its intricate architecture, serene courtyards, and sacred shrines. This spiritual sanctuary is steeped in history and offers a sense of peace and wonder.
Subterranean Odyssey in Phong Nha Caves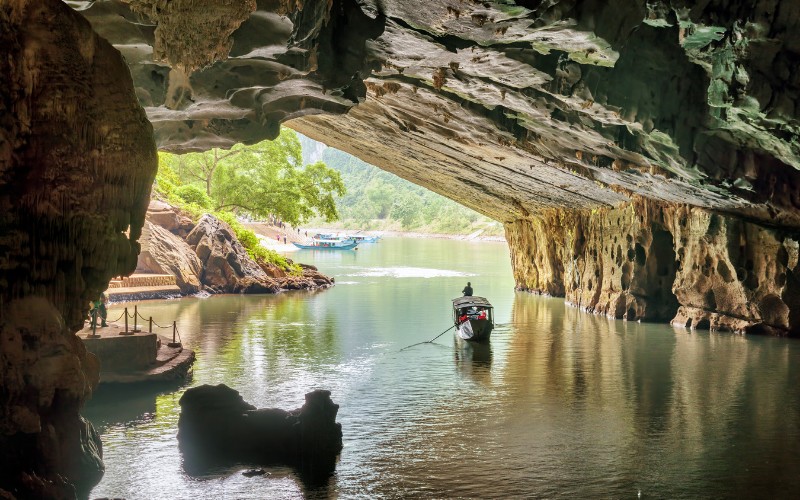 Explore the breathtaking Phong Nha caves
Phong Nha-Ke Bang National Park is home to some of the world's largest and most beautiful caves. Whether you choose a day trip to Phong Nha Cave or an adventurous multi-day expedition to Son Doong, the experience will surely be unforgettable.
>> Read More: A Complete Guide To Exploring Phong Nha Caves
Walk Amidst Royalty at Hue's Imperial Citadel
Step back in time by visiting the Imperial Citadel in Hue, once the capital of Vietnam. This UNESCO World Heritage Site features ancient palaces, ornate temples, and towering gates, offering a glimpse into Vietnam's royal past.
Catch the Perfect Wave: Surfing in Da Nang
Da Nang is quickly becoming a hotspot for surfers, and whether you're a novice or a pro, the waves here beckon all. The city's pristine beaches offer ideal conditions for catching the perfect wave. Surf schools and rental shops abound, ensuring that everyone can experience the thrill of riding the ocean's rhythm. So grab a board and head out to meet the waves in this emerging surfers' paradise.
Walk Among Giants: The Golden Bridge Experience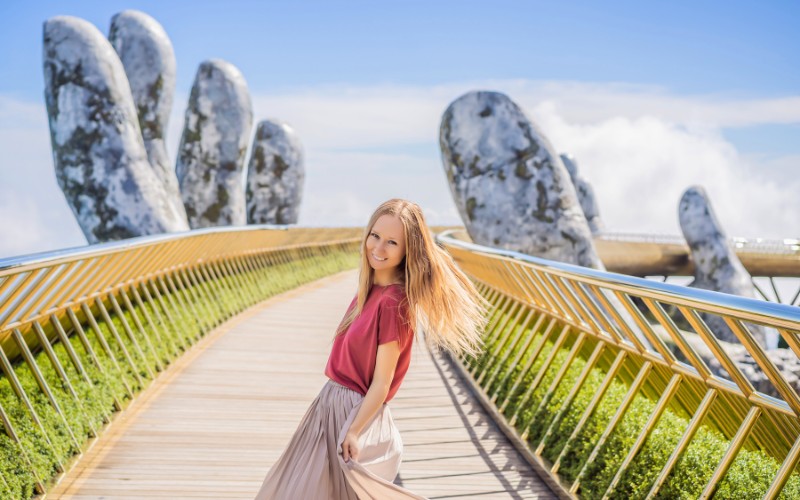 Walk along the shimmering pathway of The Golden Bridge
Discover a bridge like no other at Ba Na Hills: the Golden Bridge held aloft by two gigantic stone hands. This architectural marvel doesn't just connect two points; it offers an otherworldly experience. As standing amidst the clouds, you'll be mesmerized by the ethereal beauty of the surrounding mountains and forests.
>> Read More: Golden Bridge in Vietnam: A Marvel Amidst the Clouds
Culinary Alchemy in Hoi An: A Cooking Class Adventure
Sharpen your culinary skills by taking a cooking class in Hoi An, a renowned city for its food culture. Most classes start with a trip to the local market to pick fresh ingredients, followed by hands-on instruction in making classic Vietnamese dishes.
Cycle Through Time: Hoi An's Ancient Town by Bike
Step back in time as you explore the enchanting lanes of Hoi An's Ancient Town on a bicycle. Pedal along ancient streets lined with charming yellow buildings, lantern-lit alleyways, and centuries-old temples. Your leisurely ride will take you through a living museum of history and culture, offering an intimate connection to the town's timeless charm.
Night of a Thousand Lanterns: Hoi An's Full Moon Festival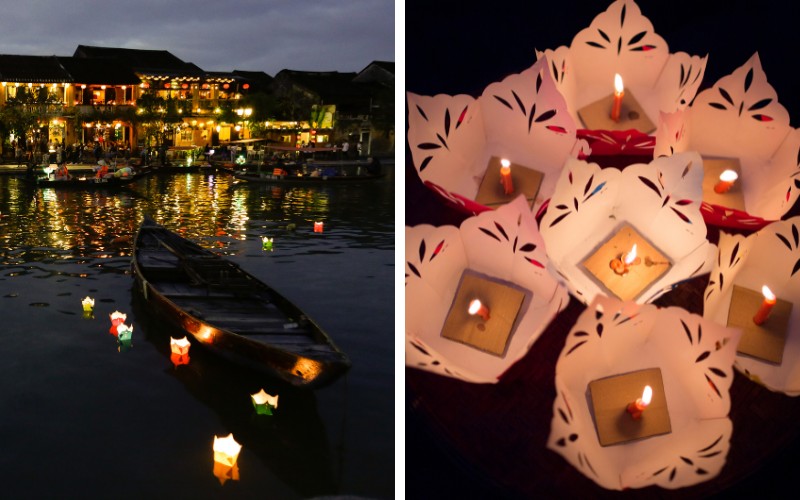 Lanterns softly light the mystical ambiance
The fascinating Full Moon Festival in Hoi An is celebrated as the ancient town is adorned with colorful lanterns. Enjoy traditional performances, delectable street food, and a magical atmosphere under the soft glow of lantern-lit streets.
Capture the Stunning Sunset While Kayaking in Hoi An
This captivating experience invites you to immerse yourself in the region's natural beauty while basking in the warm glow of the setting sun. It could be a firsthand experience for every traveler that draws a picture of the lives of local people when visiting a bustling fish market.
Take part in this thrilling kayaking excursion in the golden light for an unforgettable journey of tranquility and awe-inspiring beauty.
>> Read More: Essential Things To Do In Hoi An Of Vietnam
Step into History: War Remnants Museum in Ho Chi Minh City
Gain a deep understanding of Vietnam's history by visiting the War Remnants Museum in Ho Chi Minh City. The exhibits reveal the impact of the Vietnam War, offering poignant insights into the nation's resilience and progress.
Time Travel in Vietnam: The Cu Chi Tunnels Experience
Delve into Vietnam's complex history by visiting the Cu Chi Tunnels near Ho Chi Minh City. These underground passageways were used by the Viet Cong during the Vietnam War. You can even crawl through some sections to get a firsthand feel of the confined spaces.
Snorkeling Safari in Nha Trang's Aquatic Wonderland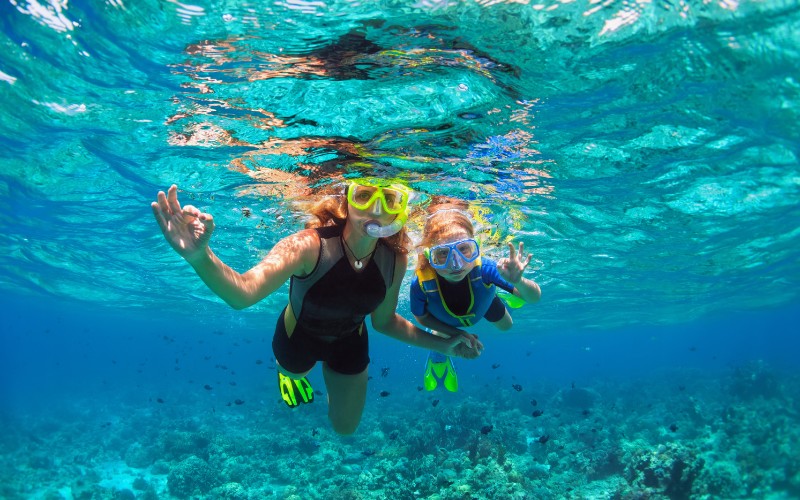 Explore Nha Trang marine life with your family
Discover the underwater world of Nha Trang, a coastal city famous for its beautiful beaches and rich marine life. Snorkeling tours often include visits to multiple islands where you can see colorful coral reefs and exotic fish.
Marvel at the Serenity of Ninh Van Bay
Escape to the pristine shores of Ninh Van Bay, a hidden paradise near Nha Trang. Embrace the tranquility of this secluded place with its crystal-clear waters and lush green hills. Enjoy activities like snorkeling, paddleboarding, or simply unwinding on the beach. Ninh Van Bay offers a serene coastal experience away from the crowds.
>> Read More: 5 Vietnam Beach Tours That Take You To The Most Beautiful Coasts
Discover the Secrets of Phan Thiet's Red Sand Dunes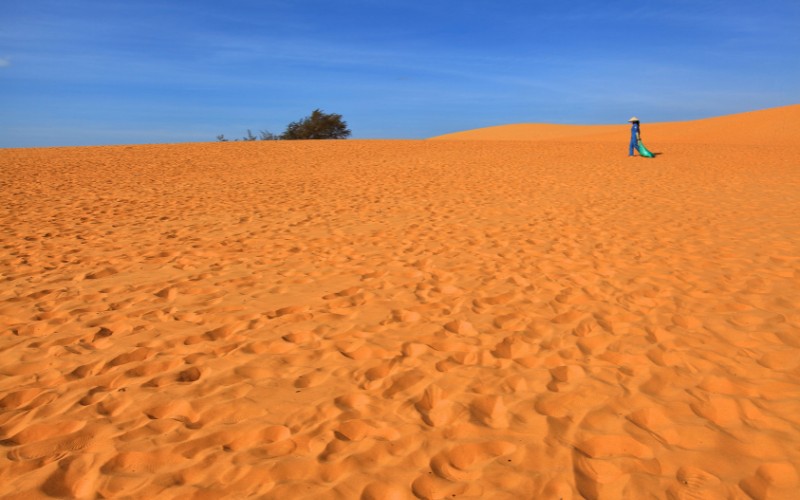 Head to Mui Ne (Phan Thiet) and uncover the enchanting Red Sand Dunes. These natural wonders offer a unique desert-like experience with rolling red-hued sands. You can slide down the dunes, take mesmerizing photographs, and even witness the sands change colors as the day progresses. It's a lesser-known gem waiting to be explored.
>> Read More: Mui Ne Sand Dunes – Unveiling The Natural Wonder Of Southern Vietnam
Sail Through a Living Market: Mekong Delta Floating Bazaar
The Mekong Delta's floating markets are a sensory delight, where boats brim with colorful fruits, vegetables, and local goods. As you drift along the waterways, you can witness the unique blend of commerce and culture that defines this region. It's a chance to immerse yourself in the vibrant tapestry of daily life in the delta, all while surrounded by the beauty of the serene river landscape.
> See Tour: Vietnam Luxury Tour
Taste the Exotic: Durian Hunting in Long An
Embark on a durian adventure in Long An Province, known for its exquisite durians. Join local farmers to pick and savor this distinctive fruit, famed for its unique aroma and rich flavor. It's a sensory experience unlike any other.
Cruise the Lush Canals of Tra Su Cajuput Forest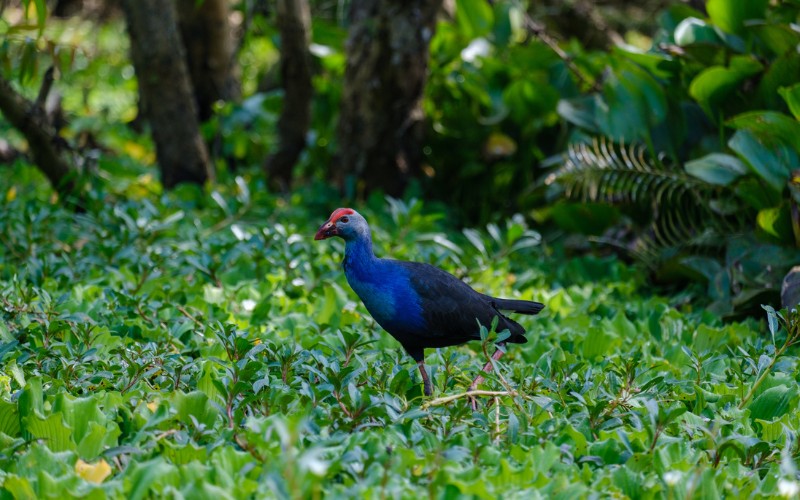 Take a glimpse of the bird lives
A serene boat ride through the tranquil Tra Su Cajuput Forest in An Giang Province might be a unique experience that you must try in Vietnam. Marvel at the lush greenery, diverse bird species, and waterways adorned with water lilies. It's a nature lover's paradise that promises a calming escape.
Witness Nature's Spectacle: Sandhill Cranes in Tram Chim National Park
Head to Tram Chim National Park in Dong Thap Province to witness the mesmerizing spectacle of sandhill cranes. These elegant birds gather in large numbers, creating a stunning natural phenomenon for birdwatchers and nature enthusiasts.
Dive into the Abyss: Snorkeling in Phu Quoc's Coral Gardens
Discover the enchanting underwater world of Phu Quoc Island through snorkeling. Beneath the azure waters, you'll encounter a dazzling array of vibrant corals and exotic marine life. Glide alongside schools of colorful fish, witness the grace of sea turtles, and immerse yourself in the surreal beauty of Phu Quoc's Coral Gardens. It's an aquatic adventure that promises a window into the island's rich marine biodiversity.
>> Read More: Splendours of Vietnam & Pristine Beach
Ring in the Lunar New Year: Tet Festival Extravaganza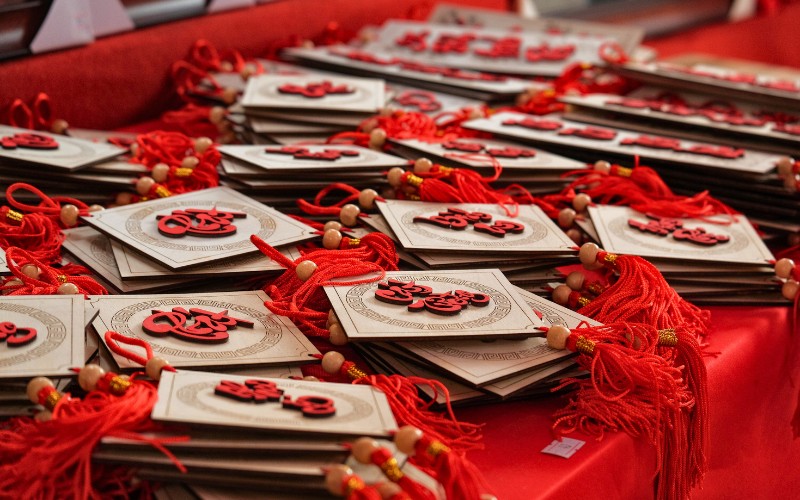 Vietnam Tet Holiday – The most important event of the year
Join the grandest celebration in Vietnam, the Tet Festival, as it ushers in the Lunar New Year. The festivities are a symphony of colors, traditions, and cultural treasures. Witness colorful parades, captivating traditional dances, and bustling markets filled with tantalizing treats. It's a chance to immerse yourself in the rich tapestry of Vietnamese culture and folklore during this vibrant and significant holiday.
Vietnam's Symphony: Traditional Music Performance
Attend a traditional music performance to experience Vietnam's rich musical legacy fully. The harmonious melodies of ancient instruments and captivating vocal styles will transport you to a world of legends and folklore. These performances offer a cultural bridge to the soul of Vietnam, where music tells stories and traditions come to life. It's a sensory adventure that resonates with the heart of the country's artistic spirit.
But Vietnam Has More Surprises Awaiting You
From the misty mountains of Sapa to the bustling streets of Hanoi and from the serene waters of Ha Long Bay to the vibrant culture of Hoi An, Vietnam offers something extraordinary for every traveler. But what is listed above are less than half of the unique things you can do in Vietnam!
Since this remarkable country still has many more adventures waiting to be explored, Asia Pioneer Travel is your trusted guide on discovering the incredible of this land. Get in touch with us and Create Your Dream Vacation in Vietnam now.