Golden Bridge in Vietnam: A Marvel Amidst the Clouds

Welcome to Golden Bridge in Vietnam, a breathtaking destination that's sure to leave you in awe. Located in the Ba Na Hills (Da Nang), the bridge offers stunning views of the surrounding mountains and lush forests. What makes this bridge so unique is its design; two giant stone hands appear to be holding the pedestrian bridge, creating a one-of-a-kind marvel. Whether you are an adventurer seeking your next thrill or a traveler looking to immerse yourself in Vietnam's natural beauty, the Golden Bridge is a must-visit destination.
Read on to discover more about this stunning attraction and start planning your trip today!
Golden Bridge In Da Nang, Vietnam
Overview
The Golden Bridge at Ba Na Hills in Da Nang City is a popular attraction that has gained widespread attention. This pedestrian walkway opened in June 2018 and quickly became a social media sensation.
At 1,414 meters above sea level, the Golden Bridge showcases an impressive appearance featuring two massive stone hands. These hands uphold a 150-meter-long pedestrian pathway made of gold, suspended high above the cliff top. The walkway is 12.8 meters wide and adorned with eight arches, including one that measures an incredible 21.2 meters – the largest of them all. From this vantage point, visitors can enjoy a stunning panoramic view of the lush virgin forests and bustling cityscape of Da Nang.
Visitors can take a stroll across the Golden Bridge and enjoy the awe-inspiring scenery, creating a truly unforgettable experience. 
Ba Na Hills Resort Complex
Ba Na Hills, where the Golden Bridge is located, is a truly enchanting and captivating destination. This resort complex boasts stunning natural beauty and a warm, inviting atmosphere that will make you feel right at home. With an elevation of 1487 meters above sea level, you can experience all four seasons in a single day. The cable car system is also impressive, with five lines that can transport almost 7,000 passengers per hour.
Once you arrive, indulge in all the amazing activities and events on offer, including the delectable cuisine and awesome games. Don't forget to take some time to unwind and soak up the utterly breathtaking scenery that surrounds you.
>> Read More: The List Of All Structural Marvels In Danang, Vietnam
Golden Bridge In Vietnam – The Architectural Marvel
Symbolism of the Bridge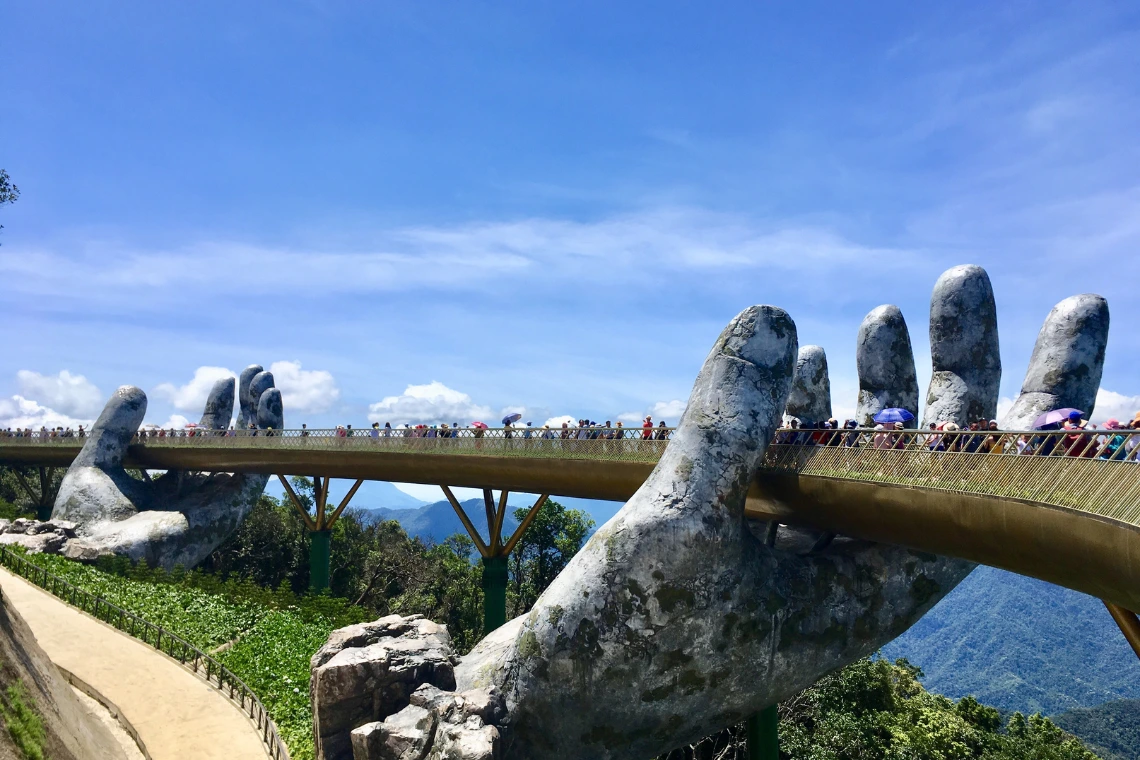 The name "Golden Bridge" means "Cau Vang" in Vietnamese. It is a yellow-colored bridge that appears to be held up by two huge hands resembling those of a god. This design represents a natural wonder, depicting the idea of a divine being carrying a gift from the earth.
Design & Aesthetics
The stunning Golden Bridge was an artificial wonder created by TA Landscape Architecture, a firm in Ho Chi Minh City, Vietnam. This masterpiece is entirely "made-in-Vietnam" and draws inspiration from the sensation of being on top of a mountain, as if within the hand of God. The Golden Bridge is a symbol of Ba Na's magnificence, completed in just over one year.
With a total length of 150m and width of 5m, the bridge has 8 spans, the longest of which measures 21.2m. It also boasts 7 piers and 2 abutments. The pedestrian deck is 3m wide, with a 1m flower bed on both sides.
This one-of-a-kind bridge is made of reinforced concrete and steel pipes serving as piers. The outer layer of the bridge is crafted from a gold-plated steel sheet with a polished titanium finish, creating a dazzling effect when sunlight shines on it. The bridge features giant hands covered with steel meshes to add to its uniqueness. Though they may appear to be carved from natural stones with moss residue, they are fabricated masterpieces, showcasing exceptional creativity and skill.
Many international architecture websites and designers have praised the Golden Bridge's innovative design. In an article titled "Vietnam's Daring Golden Bridge Takes a "Hands-On" Approach to Tourism," Archdaily commended the designers for their creativity and boldness, predicting that the bridge would become a popular tourist destination in the near future. Other architecture websites, such as The Space and Creapills, have also featured this striking bridge. In June 2023, Golden Bridge was also listed among the "Top 14 World's Most Incredible Bridges" by the Independent (UK). 
>> See More: Da Nang Destination
How to Get There
The Golden Bridge sits on top of a mountain in the Ba Na Hills and can only be reached by cable car. The only way to access the hands bridge is by purchasing a ticket to visit Bana Hills because Sun World is the sole company that operates the cable cars.
Opening hours: 08:00 – 18:30
Price: Adult: 900,000 VND/person. Children (1m – 1.4m): 750,000 VND/ person. Kid (under 1m): free
To visit the Danang Golden Bridge, you will need to purchase a ticket and ride the cable car to Sun World Ba Na Hills. Keep in mind that the complex is located about 40km from Da Nang city center, and it may take between 45 minutes to an hour to get there by car. Fortunately, there are a few transportation options available to you. You can take a taxi, or shuttle bus, or arrange for a private transfer from either Da Nang city or Hoi An to Ba Na Hills foot.
By taxi
The taxi far from Da Nang center to Ba Na Hills ranges from 350,000 VND to 500,000 VND each way, depending on the type of taxi. You can go with your team to save money.
By private transfer
Many trusty car rentals in Da Nang can offer you private care for rent or private transfer service upon your wish. With this option, it's worry-free, and you have more time for you to explore all attractions around the Golden Bridge.
Book private tour
Experience a worry-free tour by joining a package that covers everything from hotel accommodations to Ba Na Hills. This includes transportation, cable car fees, lunch, and guided tours. Get an added benefit by having a guide to learn more about the city and its people.
Experiencing the Golden Bridge In Vietnam
Best time to visit the Golden Bridge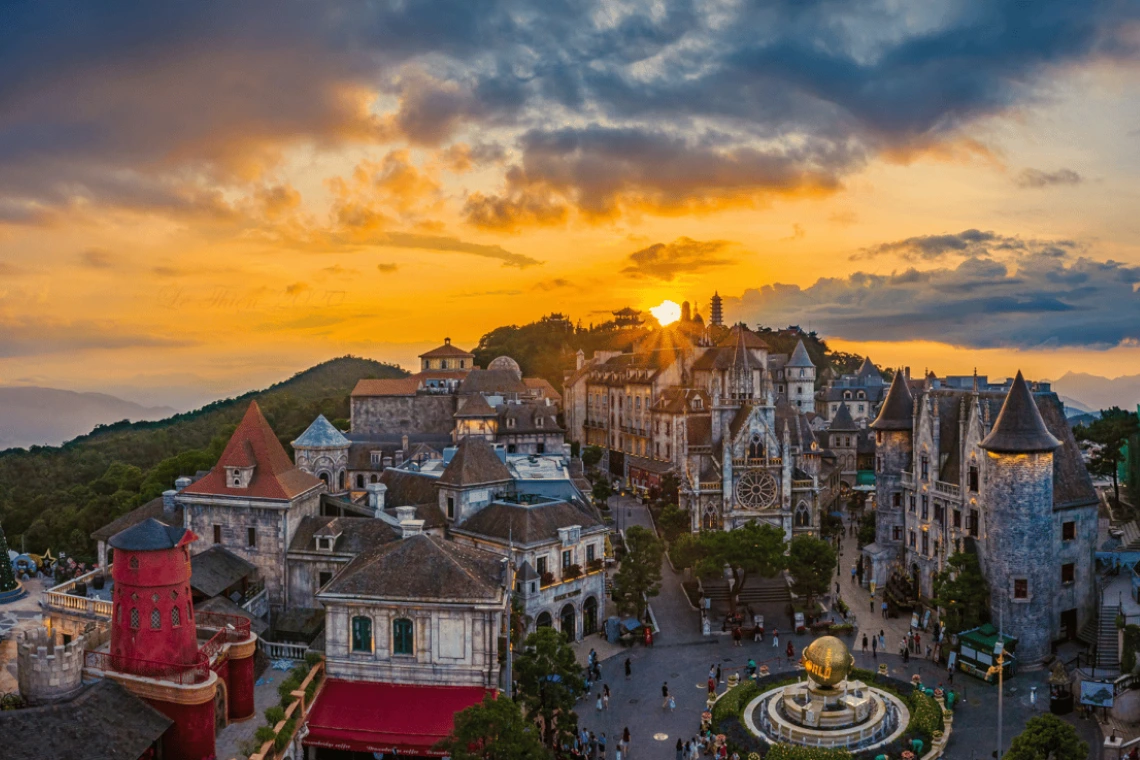 The breathtaking scenery, comfortable atmosphere, and unique weather patterns that allow for all four seasons in a single day make Ba Na Hills an attractive destination for travelers. It's the perfect place to visit the Da Nang Golden Bridge at any time of day.
Most crowded hours range: 09:00 – 17:00
To avoid the crowds: Before 9:00 and after 17:00
Based on various travel experiences, it's recommended to visit in the morning or afternoon. Mornings are characterized by a misty fog that creates stunning and romantic images. The early hours are also great for taking selfies. In the afternoon, the location takes on a new level of interest and romance as the sun sets.
Guide for a Viral Photoshoot at the Golden Bridge 
Take panoramic photos from the right/ left side
This shooting angle is ideal for capturing a stunning image of the Golden Bridge. Whether you want to take your own photos or pose with the bridge in a frame, you can proudly show the picture to the world with a happy smile. Visiting the Golden Bridge Vietnam is sure to inspire you and generate buzz on social media.
The classic pose where you hold onto a massive old hand creates the impression that you are completely engulfed in the bridge's majesty, making you a part of its beauty.
When simulating holding hands with statues, align your hand with the statue's hand for a realistic effect. Position your hand as a replica of the statue's hand, particularly by placing it in front of the Golden Bridge's hand.
Take photos with your darling
The Golden Bridge in Da Nang is a popular place for couples to take photos and create lasting memories. The stunning panoramic views provide a beautiful backdrop for couples to hold hands, share romantic moments, and even exchange a kiss.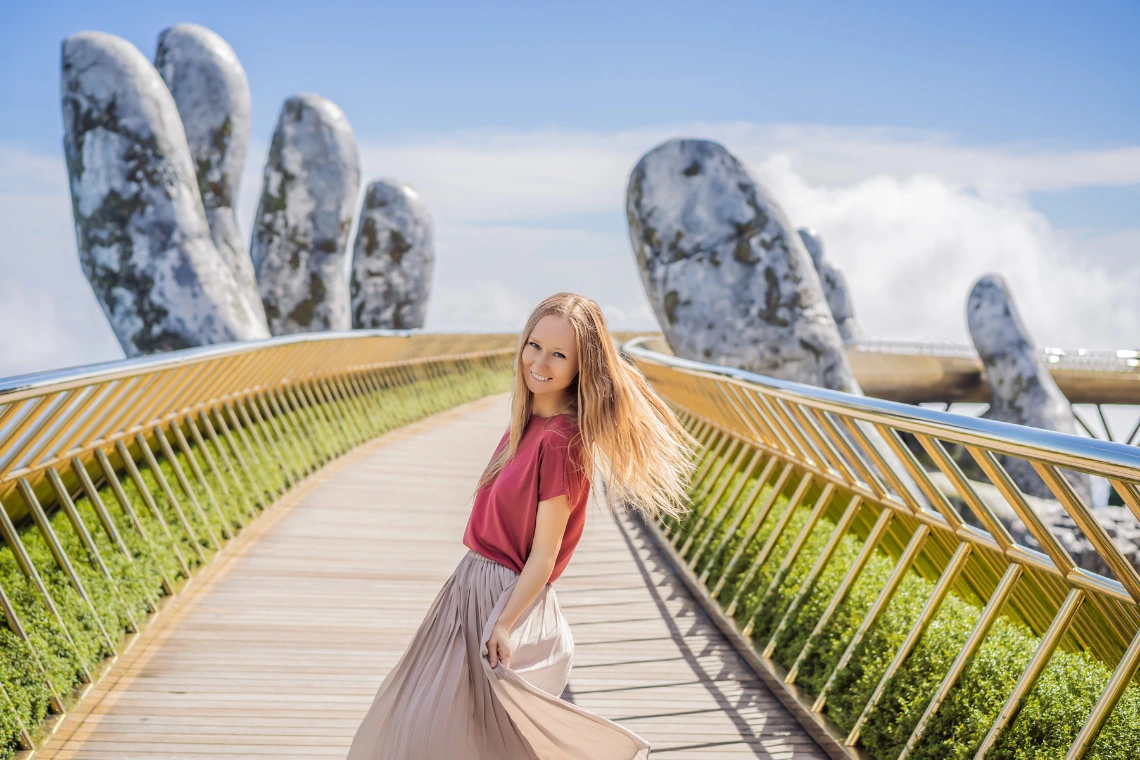 Try the portrait photo style that captures the giant hands from a distance. This style is perfect for solo shots of females, whether you choose to look directly at the camera or gaze into the distance.
Note that there are numerous shooting angles not covered in the examples provided above. The tips mentioned earlier are a great way to begin capturing stunning pictures of the Golden Bridge, but it's important to keep in mind that everyone has their own distinct perspective and feelings toward the bridge's magnificence. Consequently, their photographs will be one-of-a-kind and personalized.
>> See Tour: Vietnam Family Vacation
Other Attractions in Ba Na Hills
Aside from the gorgeous Golden Bridge, there are plenty of other enticing sites to check out at Ba Na Hills.
1. Linh Ung Pagoda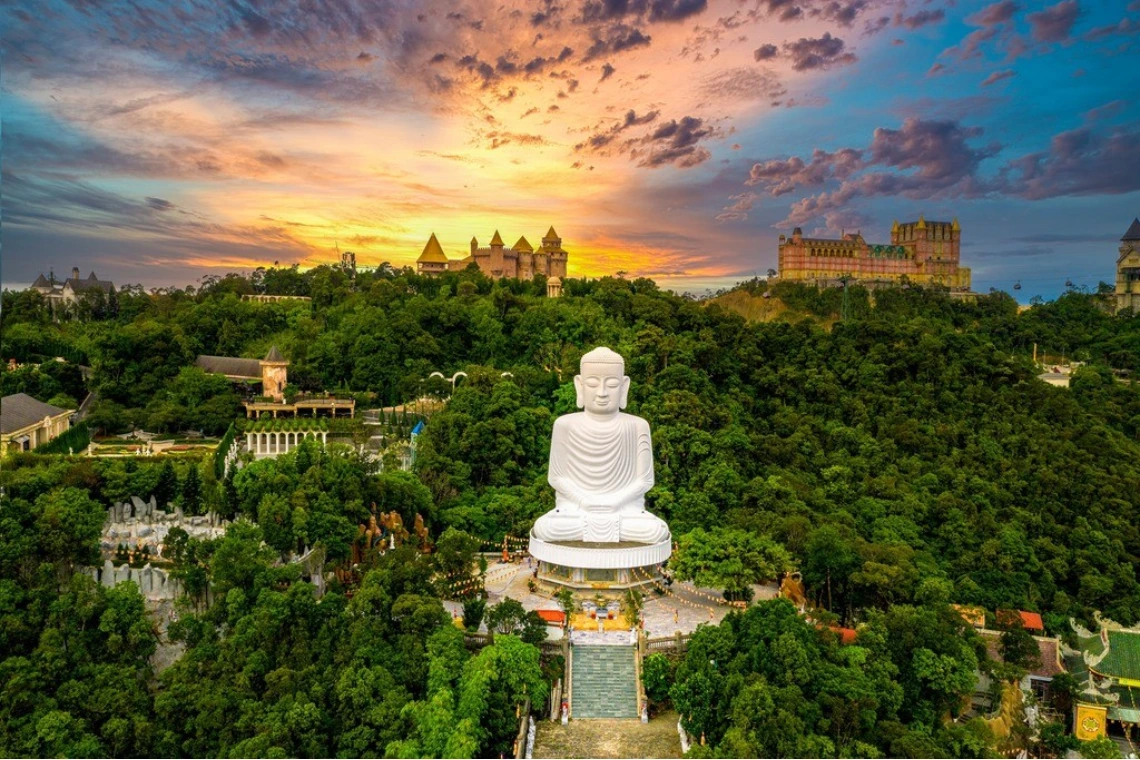 The Linh Ung Pagoda is situated in a serene and holy spot at an altitude of approximately 1,500 meters above sea level. Standing in front of the pagoda is a magnificent pine tree with three needles, which is a rare and endangered species listed in the Vietnam Red List. Together with the Linh Ung Pagoda on Marble Mountains and the Linh Ung Pagoda on But Beach in Son Tra Peninsula, these three pagodas form a robust tripod that safeguards and embraces the city of Danang.
2. Fantasy Park
Fantasy Park was inspired by the famous novels "Journey to the Center of the Earth" and "Twenty Thousand Leagues Under the Sea" written by French author Jules Verne. It's a perfect destination for families, offering a variety of exciting activities for all ages. The amusement park has plenty of surprises and fun-filled adventures to keep even the littlest ones entertained and happy all day long.
3. Le Jardin D'Amour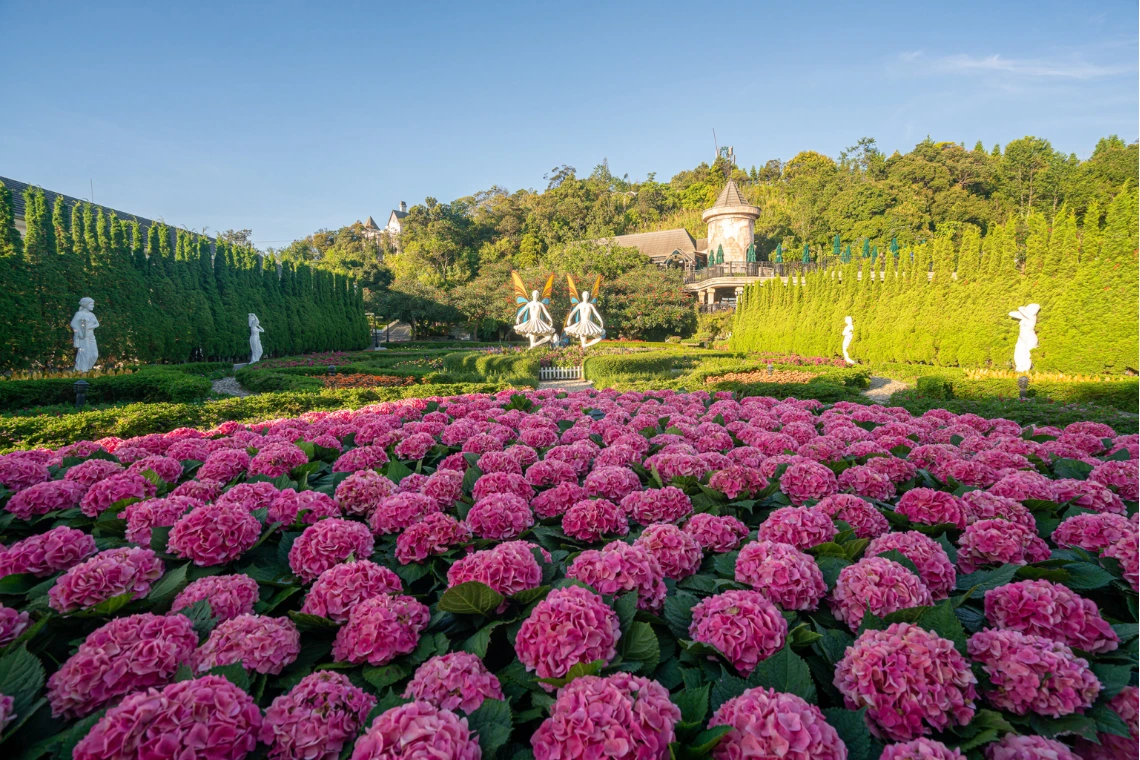 As you step into this enchanting garden, the screen no longer displays the maze of flowers. The Le Jardin D'amour Flower Gardens are divided into nine separate gardens, each showcasing unique architectural designs. These gardens include Suoi Mo, Eden, Mysterious, Couple, Reflection, Mythical, Memories, Sacred, and Vineyard.
4. French Village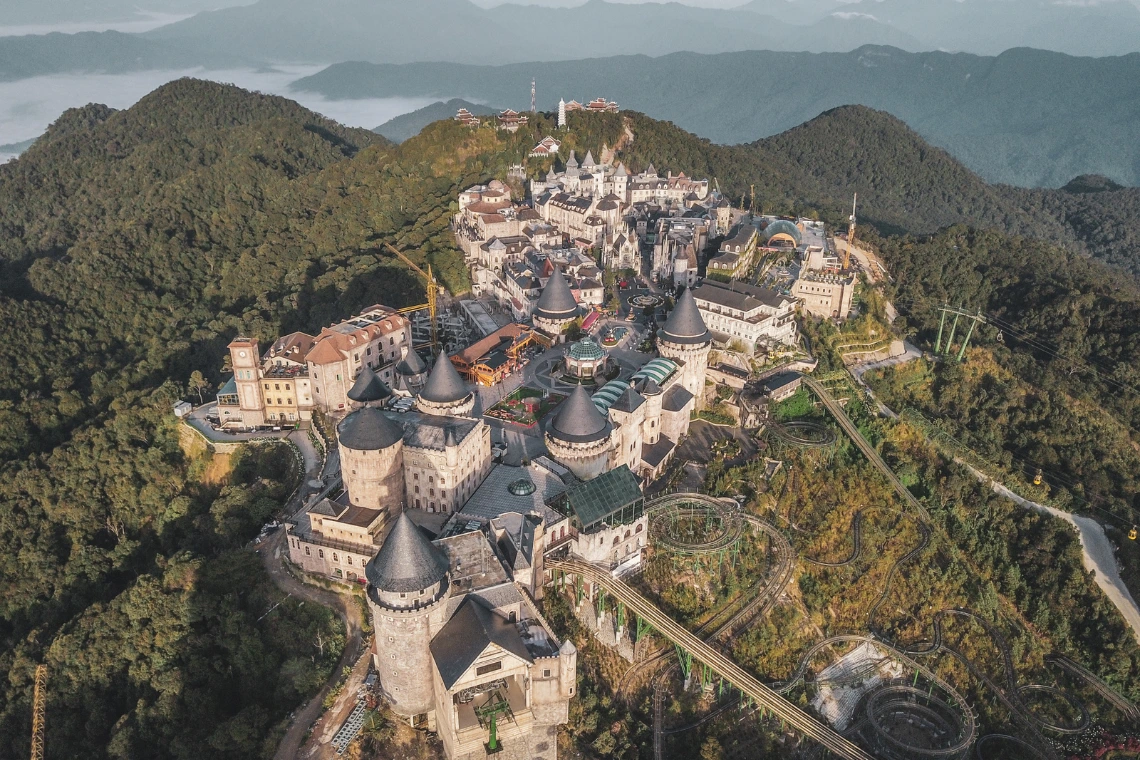 The French Village at Sun World Ba Na Hills is a stunning replica of classical and romantic France. It features a range of unique architectural clusters, including a plaza, cathedral, town, village and inns. Visitors to this village feel as though they've entered a time machine, transported back to the refined and elegant life of one of the world's oldest countries.
5. Debay Wine Cellar
If you're looking for a taste of aged, oak barrel wine, head over to Debay Wine Cellar, located near the Jardin D'amour Flower Gardens. While you're there, you can indulge in some bubbly wine and grilled pork skewers while enjoying the breathtaking view of planes overhead and flower-filled hills. Just remember to drink responsibly before exploring other attractions.
Tips for Travelers
Always check the weather before heading to Ba Na Hills. It can be unpredictable because of the site's high altitude.
It is recommended that you carry cardigans or lightweight coats with you when visiting the Golden Bridge to keep warm.
Don't litter while touring the Golden Bridge or the Ba Na Hills.
To avoid danger, you must not climb over the bridge's railings.
Always keep an eye on the children while visiting for safety.
The first cable car ride will be open at 7:00, and the last one will be at 21:00; make sure you have a well-planned route.
Conclusion
The Golden Bridge in Vietnam is truly an architectural masterpiece. It is definitive proof of human imagination and resourcefulness. The act of walking across the bridge is a surreal experience that is bound to leave you feeling awed and invigorated. So, without any delay, pack your bags and book your flight to Vietnam right away. The Golden Bridge awaits you!