Hiking In Sapa: Best Time, Planning, Treks and Trails

The highlands of northwest Vietnam's Sapa region reveal a world of misty peaks, verdant valleys, and ethereal terraced rice farms that stretch as far as the eye can see. With its routes meandering through valleys and across mountains, via remote areas and rushing rivers, Sapa is a gateway for outdoor adventurers. Its charm comes from the spectacular scenery that beckons adventurous spirits and the vibrant cultural tapestry originating from the area's distinct ethnic minority communities.
Hiking in Sapa is about connecting with nature's heart and immersing oneself in the daily lives of local communities. It's a place where you can travel across untamed landscapes one day and then swap stories with indigenous tribes the next. Each visit to Sapa's hinterland is an intimate journey into a lesser-known Vietnam, providing an extraordinary experience beyond normal tourist paths.
Sapa Is So Unique, Because…
Distinctive Geography & Climate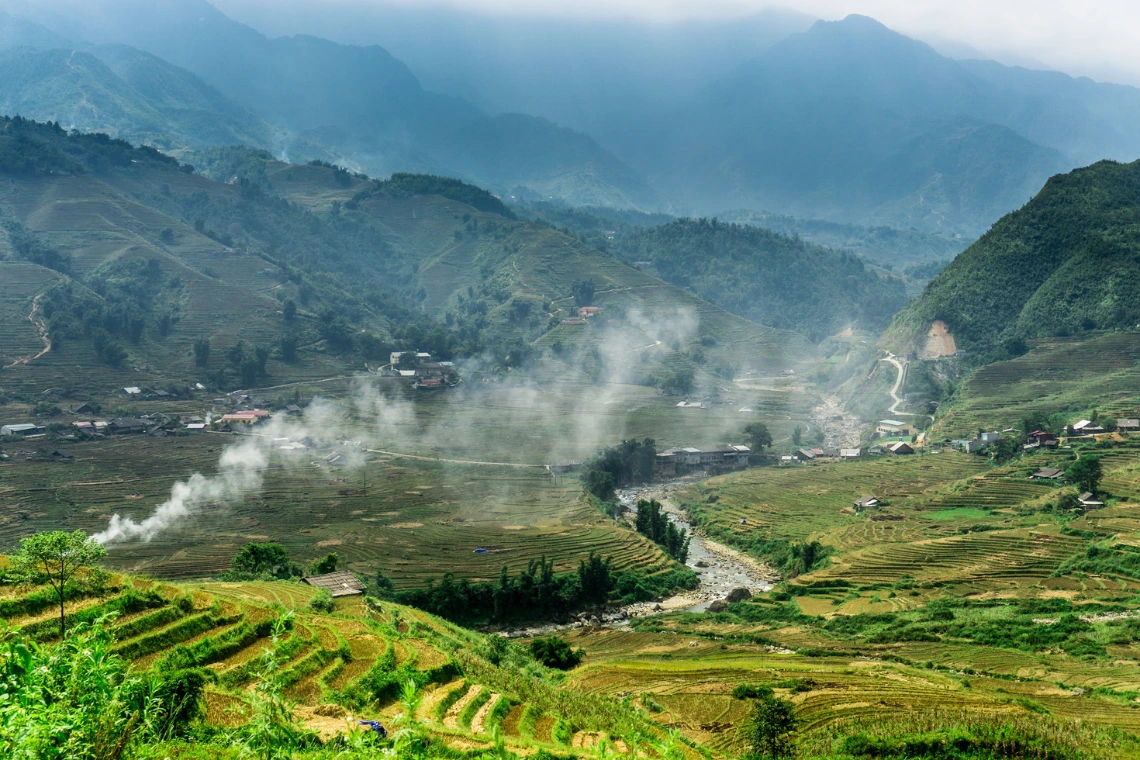 At a height of 1,500 meters, Sapa is an astounding region of highland where the landscape can quickly change from lush rice terraces to imposing, mist-clad mountains in a span of a few kilometers. Sapa is home to Fansipan, Vietnam's highest peak, sometimes known as "the Roof of Indochina," which stands magnificently at 3,143 meters above sea level. The small town boasts a breathtaking view of endless valleys adorned with patchwork farmland, gushing rivers, and emerald forests.
Sapa's climate also adds to its attraction. Summers in the highlands are subtropical, with warm days and cold evenings, but winters may be fairly chilly, with the rare flurry of snow — a rarity in tropical Vietnam. From the glistening greens of the wet season to the golden hues of the harvest season, each season has its own palette, allowing hikers new perspectives with each visit.
Enchanting Cultural Diversity
Sapa's gorgeous landscape is matched by its rich cultural heritage. Several ethnic minority groups live in the region, including the Hmong, Dao, Tay, and Giay. The lives of these communities are closely woven into the ebbs and flows of nature, allowing them to coexist in harmony with the land. You will get the opportunity to observe their daily lives as you go along Sapa's trails—women weaving exquisite patterns onto textiles, farmers working on terraced fields, and children playing with simple handmade toys.
Every village you pass through has its own traditions, legends, and ways of life passed down from generation to generation. From the Hmong's indigo-dyed attire to the Dao's exquisite silver jewelry, each ethnic group adds bright strands to Sapa's cultural tapestry.
Incredible Wildlife
Nature lovers will be fascinated by Sapa's diverse variety. The district's Hoang Lien National Park is a biological treasure trove with many endemic species of flora and fauna. Hiking through the park, you may see species such as the Tonkin snub-nosed monkey and the Asian black bear, while birdwatchers may encounter the Chestnut-eared Laughingthrush and the Rufous-throated Partridge. Sapa's natural heritage will capture you whether you are a passionate naturalist or simply like the great outdoors.
Each hike in Sapa becomes an adventure, and each path leads to a discovery. Cultural encounters, spectacular vistas, and vivid wildlife combine to create a journey that touches the soles of your hiking boots and your soul as you travel rugged terrain.
>> Read More: Top 12 Best Things To Do In Sapa
Planning Your Trip To Sapa
For any traveler considering a journey to this picturesque town, the first question that comes to mind is undoubtedly, "When is the best time to visit Sapa for hiking?" The answer is two-fold and mainly depends on what you seek from your adventure.
Best Time To Visit Sapa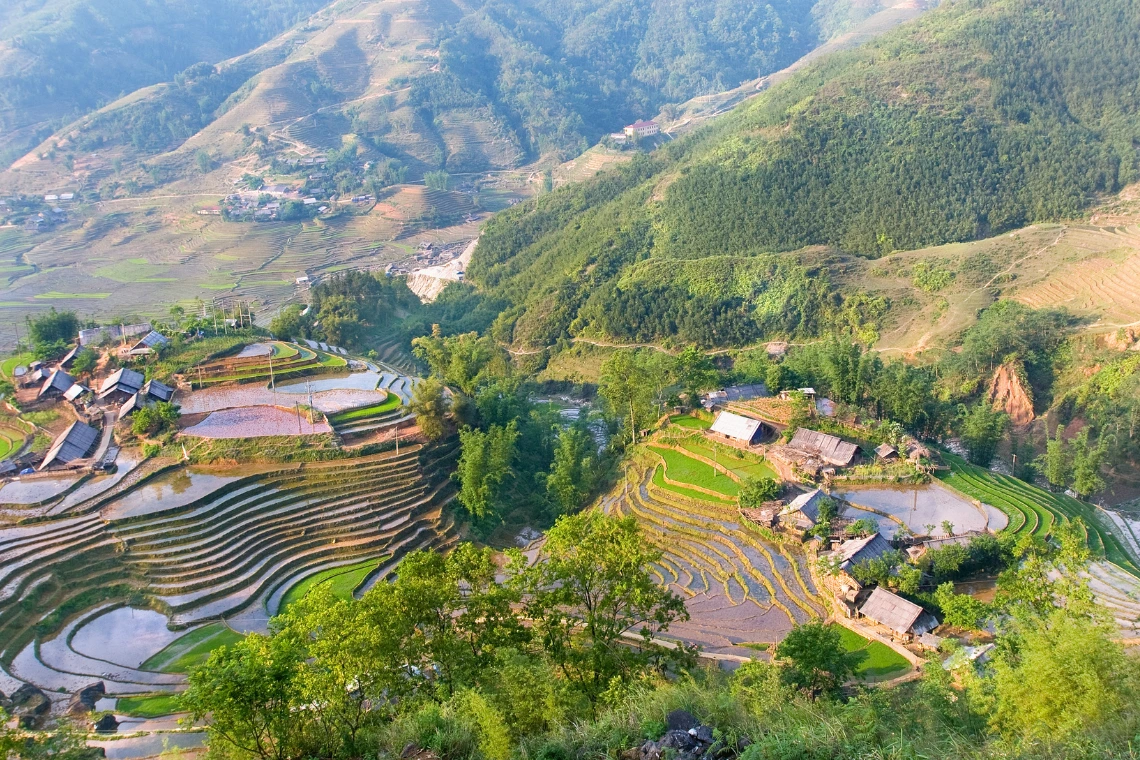 The best time to visit Sapa depends on your interests and weather preferences:
September to November: the weather is cool with little rainfall, making this an ideal season to trek comfortably and appreciate the scenery. The highlight is the rice terraces' transformation from lush green to brilliant yellow as harvest season approaches.
January to March: These months coincide with the wildflower blooming season, making the scenery extremely beautiful. The weather is cool and pleasant for trekking. During this time, there are also a number of local festivals, which allow you to immerse in the cultural heritage of Sapa's ethnic communities.
June to August: If seeing the emerald terraced rice fields at their greenest is important to you, plan a trip during these months. However, expect frequent rain showers and high temperatures, which may make hiking difficult. August often has less rain, making for a more pleasant hiking experience.
>> Read More: The 5 Most Beautiful Rice Terraces In Vietnam
Travel From Hanoi To Sapa
Sapa is accessible from Hanoi via different modes of transportation:
Night buses: These are budget-friendly and time-efficient choices. The journey lasts about 6 hours, with buses typically leaving in the evening and arriving in Sapa early in the morning.
Limousine buses: For travelers prioritizing comfort, limousine buses offer a luxurious daytime journey taking around 5 hours. These buses provide countryside views and ensure that you arrive in Sapa around noon, leaving you the rest of the day to relax or explore the town.
Train to Lao Cai: While there's no direct train to Sapa, you can take a train to the nearby town of Lao Cai. Depending on your budget, you can choose from standard to luxury options for the 6.5-hour journey. From Lao Cai, you can reach Sapa by bus, taxi, or a pre-arranged car in about 30 minutes.
Hiking Options In Sapa
Sapa's varied terrains allow for hikers of all experience levels and interests. Before embarking on your journey, you should know the hiking choices available:
1. Hiking duration
One day: A one-day trek may be ideal if you're short on time or prefer a less physically taxing experience. This option allows you to see the beautiful rice fields as well as visit local minority villages. It also allows you to escape to a luxurious hotel at the end of the day.
Two days one night: Consider a two-day walk with an overnight stay at a local guesthouse for the most enjoyable overall experience. This option immerses you in Sapa's breathtaking scenery, which includes lush rice fields, deep jungle, and remote villages. The second day of hiking usually offers more stunning scenery and fewer people, enhancing the sense of adventure.
Three days: This is an option for experienced hikers who can't get enough of Sapa's breathtaking scenery. Though the environment won't change drastically over the three days, you will explore Sapa's hills further and have more of the beautiful nature to yourself.
2. Group and Private Trekking
Group Trekking: Group tours are a popular choice, particularly for those on a budget. Trekking with a group allows you to share the experience with others while keeping costs down.
Private Trekking: If you're seeking a personalized experience or wish to explore less-traveled paths, a private tour might be the best option. While more expensive than group tours, private guides, and homestays offer a deeper immersion into Sapa's unique culture and natural beauty.
3. Trekking Difficulty
Trekking tours in Sapa can be categorized into three levels of difficulty:
Easy Trekking: For those who prefer a relaxed pace with less strenuous walking.
Moderate Trekking: For hikers who seek a bit of a challenge but nothing too taxing.
Hard Trekking: Ideal for seasoned hikers who can handle long distances and tough terrains.
The level of difficulty primarily depends on the daily walking distance, although some routes may involve more challenging uphill and downhill treks.
4. Fansipan Trekking Tour
The Fansipan trek is another popular choice for hikers visiting Sapa. Some courageous hikers complete this trail in a single day, but it requires an early start, a late return, and nearly nonstop walking. A more enjoyable choice would be the two-day/one-night hike, which includes an overnight stay on the mountain in a lodge or tent. There are other three-day excursions available for individuals who want to take a different path up the mountain. It is strongly recommended to bring a guide for the Fansipan hike for safety reasons.
Choosing the correct trekking choice can substantially improve your Sapa experience. Sapa has something for everyone, whether you're an experienced hiker searching for a challenge or a first-time visitor looking for a leisurely walk through gorgeous scenery.
>> See Tour: The Very Best of Vietnam
Packing For A Hiking Trip In Sapa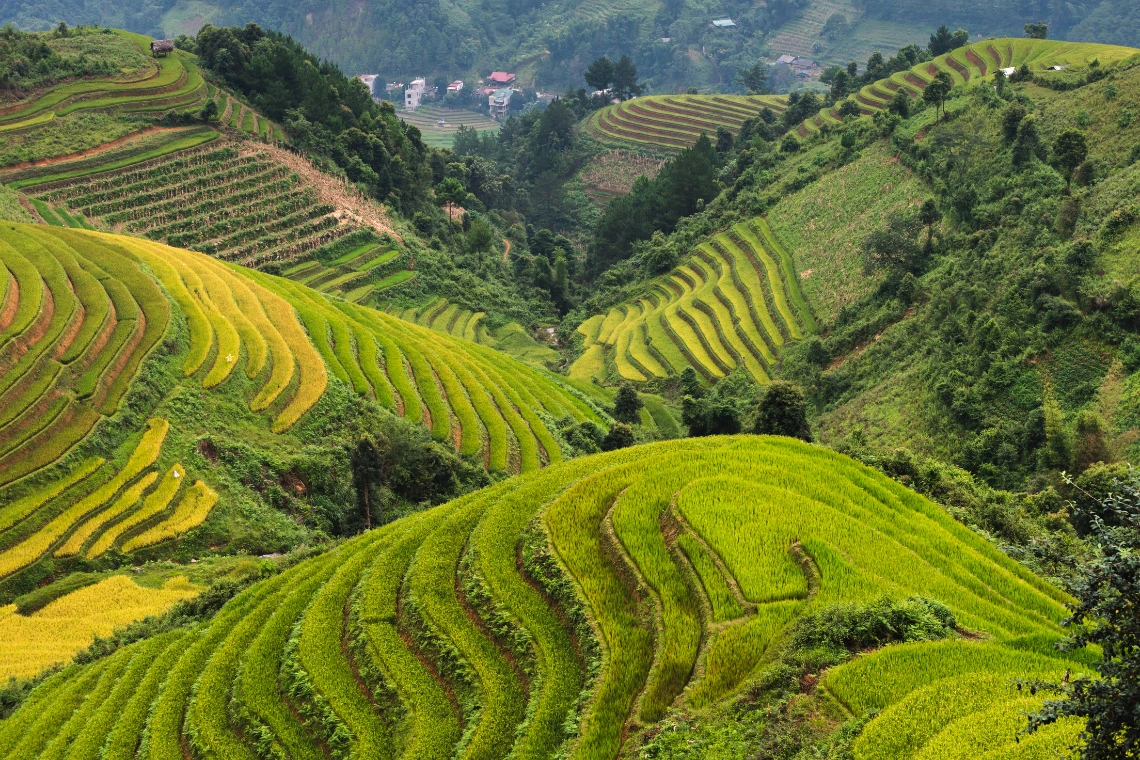 A well-packed backpack is the foundation of a successful and fun hiking trip in Sapa. Your packing list may need to be adjusted depending on the season and the length of your hike. Here are a few things to think about:
1. Trekking equipment
To navigate the trails and set up camp, include the following in your backpack:
Climbing shoes: A good pair of climbing shoes can make all the difference on your trek, providing traction and protection against rough terrains.
Trekking poles: These will help maintain balance, reduce strain on your knees, and boost your stability on tricky parts of the trail.
Camping gear: If you plan on camping, essentials include a tent, tent stakes, pins, and a sleeping bag liner.
Backpack: Choose a sturdy, weather-resistant backpack with enough room for your gear and provisions.
Map and GPS: A physical map is useful for broad navigation, while a GPS can help with precise location tracking.
2. Clothes
Dress appropriately for the weather and physical exertion:
Jackets: Pack a water-resistant jacket for the summer or a thermal jacket for the winter.
Long-sleeved sleepwear: This is essential to stay warm during the cool highland nights.
Sandals: A pair of sandals will come in handy for lounging around the campsite.
3. Foods & drinks
Keep your energy levels high with the right food and hydration:
Instant foods: Easy-to-cook and high-energy foods like instant noodles, granola bars, or canned goods are perfect for the trail.
Water: Hydration is key, so bring enough drinking water for the duration of your hike.
Mineral salt or glucose water: These can help replace electrolytes lost during physical exertion and keep your energy levels up.
4. Other items
Don't forget these important items:
Personal papers: Carry your identity card, driver's license, or passport at all times.
Thermal pads: These can provide extra warmth on cold nights.
Personal hygiene items: Include travel-size toothbrushes, toothpaste, face towel, etc.
Sunscreen and insect spray: Protect your skin from the sun and ward off any pesky bugs.
Medical supplies: Pack a basic first-aid kit with medicines for common ailments, antiseptics, bandages, pain relievers, etc.
Best Hiking Routes In Sapa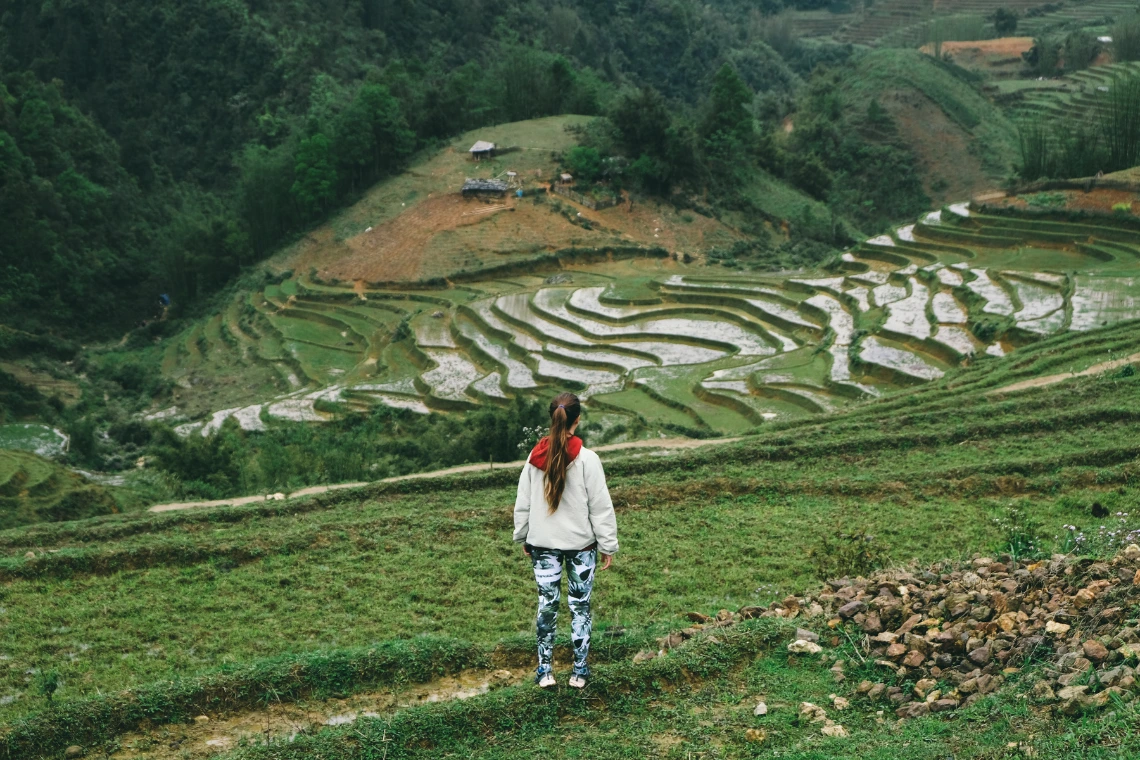 Sapa offers hiking routes for both novice wanderers and seasoned trekkers, promising captivating beauty and cultural experiences.
1. Sapa – Cat Cat Village – Sin Chai Village
Duration: 1 day
Distance: 7 kilometers
Difficulty level: Easy
To start your hike, make your way to the historic Sapa Church. From there, it's just a short 2.2-kilometer walk to the beautiful Cat Cat Village. Remember to get an admission ticket and take a relaxed stroll along the village's lovely stone-paved paths. As you keep going, you'll soon arrive at the jaw-dropping Muong Hoa Valley. A 3-kilometer walk will take you to the peaceful and untouched Sin Chai Village, which is becoming more and more popular for its pristine natural beauty.
2. Tram Ton Pass – Mount Fansipan
Duration: 2 days and 1 night
Distance: 11.2 kilometers
Difficulty level: Hard
Embark on your adventure at Tram Ton Pass, a renowned route that will take you through breathtaking mountain scenery. Make sure to set up camp near the 2,800-meter marker as night falls and enjoy the open sky as your rooftop. Rise early the next day and witness the sunrise illuminating the sky with golden tones – a moment that will stay with you forever. Upon reaching the summit of Fansipan, you will be rewarded with an unforgettable panoramic view, serving as a testament to your hard work and determination.
>> Read More: 10 Most Beautiful Mountains In Vietnam To Visit
3. Sapa – Love Waterfall – Silver Waterfall – Y Linh Ho – Ta Van
Duration: 2 days and 1 night
Distance: 20 – 30 kilometers
Difficulty level: Moderate
This hiking route is set to commence at Tram Ton Pass and will include several stops along the way. Motorcycle enthusiasts are strongly advised to take a scenic ride to Silver Waterfall and make a delightful stop at Love Waterfall en route. Exploring deeper into the Muong Hoa Valley is essential to discover Sin Chai Village, which is inhabited by the Red Dao people. Spending a night in an authentic homestay in a rural area is an experience not to be missed. The return trip features visits to the serene Y Linh Ho and the lively Ta Van rural areas, offering breathtaking views and a well-known suspension bridge.
4. Sapa – Ta Phin – Ta Giang Phinh
Duration: 3 days and 2 nights
Distance: 43 kilometers
Difficulty level: Hard
Embark on your journey from Sapa Church and marvel at the awe-inspiring terraced fields leading to Ma Tra Village. Push on through Ta Phin, taking in the majestic rolling hills and flourishing landscapes until you arrive at Phin Ho Village. As you venture further, bask in the tranquility of Suoi Thau Village and the vibrant culture of the Red Dao people. Finally, fully immerse yourself in the unparalleled cultural experience of Ta Giang Phin Village. And if exhaustion sets in, fret not – a cab ride can swiftly take you back to town.
>> See Tour: Vietnam: The Northwest Loop
Tips For Hiking In Sapa
Buy essentials in Sapa: You can find everything in the town centre, from coffee to waterproof backpacks at a reasonable price when compared to Hanoi, so if you haven't spent enough time shopping for vital gear in advance, you can definitely do it when you arrive.
Pack light but wisely: While you should travel light, don't forget to include snacks, a basic first aid kit, a map, a hat for sun protection, and bug repellant.
Respect local customs: As you'll be passing through numerous ethnic villages, it's essential to be respectful. Always ask for permission before taking photos. Learning a few basic phrases in the local language can also go a long way in building rapport.
Hire a local guide: Not only will they know the best and safest routes, but they can also provide invaluable insights into the local culture, traditions, and stories that you might miss out on otherwise.
Be eco-conscious: Sapa's beauty is pristine, and it's every traveler's responsibility to keep it that way. Always pack out what you pack in, avoid using single-use plastics, and stick to the trails to minimize your environmental impact.
Concluding Thoughts
Sapa, with its tapestry of emerald landscapes, rustic villages, and the whisper of ancient cultures, truly is a hiker's paradise. Each trail, whether gentle or challenging, paints its own unique story — a dance of nature and culture unfolding with every step. As you traverse these paths, you not only journey across the land but also through time, connecting with age-old traditions and the enduring spirit of the mountains. Whether you're an avid adventurer or a curious wanderer, hiking in Sapa promises a transformative experience, etching memories that beckon you to return. So, when the mountains call next, let your heart answer in Sapa. Safe travels and happy hiking!