The 5 Most Beautiful Rice Terraces In Vietnam

Vietnam is a country of fantastic and diverse natural beauty, with imposing limestone islands jutting out of emerald seas and mountains covered in dense forest. The vast rice fields that cover so much of the region are arguably the most beautiful sceneries. They are not only a beautiful sight to see, but they are also important to rural communities' traditions and the national economy.
Here are five top locations for seeing stunning rice terraces in Vietnam, along with the optimum times to go.
Best Time To See Rice Terraces In Vietnam
In Vietnam, May and October are the times of the harvest. In those days, the landscape enchants you with the dazzling beauty of its numerous yellow paddy fields.
The majority of rice terraces become golden in October, while the irrigation season occurs in May. However, some are harvested in May, such as the one in Ninh Binh. The greatest time to view the rice terraces is therefore during those periods.
You may still go to the rice fields year-round, excluding certain months. If you visit the rice terraces at a different season, you will be rewarded with images of limitless green covering the imposing mountains. These are equally astounding.
Mu Cang Chai
Mu Cang Chai is located in Yen Bai Province, approximately 300 kilometers from Hanoi, and is a more rural place, thus a three-day visit is recommended.
Mu Cang Chai is a small town with a proud secret. The area's magnificent rice terraces are undoubtedly the most spectacular in Vietnam. These terraces were erected by the H'mong ethnic minority, mountain people who had cultivated this area for more than twenty generations. Mu Cang Chai's terraces are spread over almost 2,000 hectares. Photographers from all over come throughout harvest season in the hopes of capturing its breathtaking splendor.
Sapa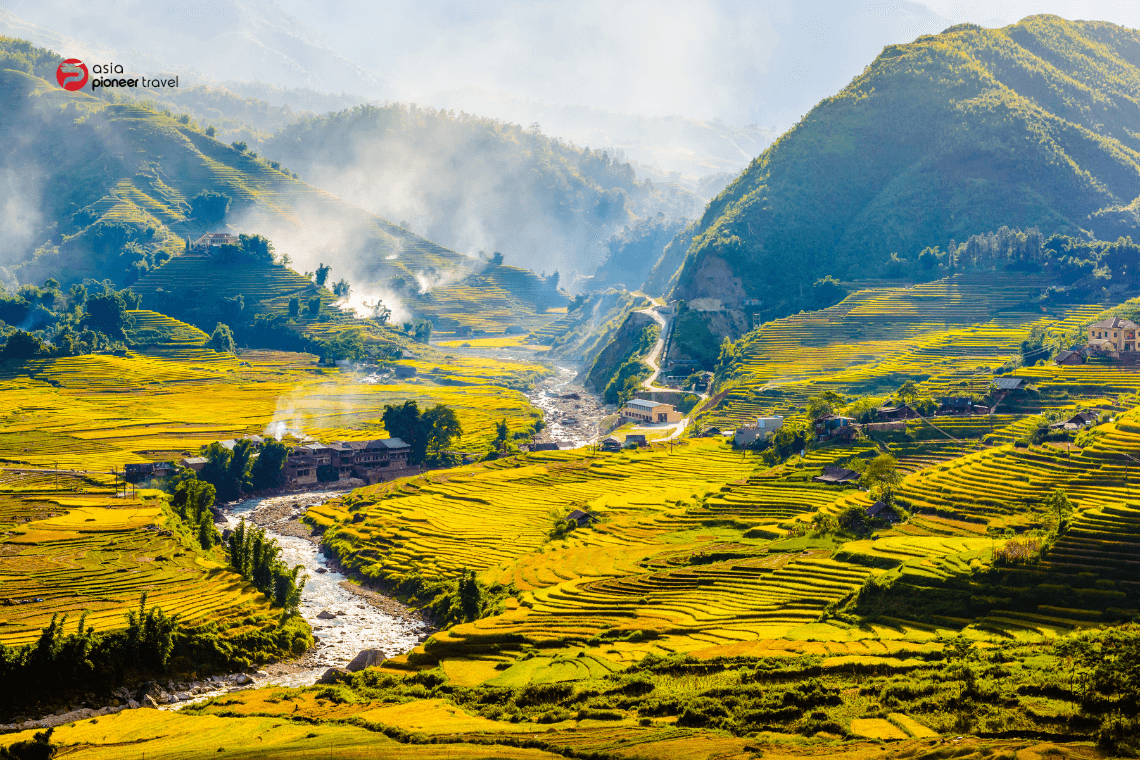 The Northern area is particularly gorgeous. Rice terraces were frequently constructed into hilly or mountainous slopes by ethnic minority populations for agricultural production. Some are hundreds, if not thousands, of years old. Although man-made, the bending terraces look to be entirely in tune with nature, generating a mesmerizing pattern across the hills and valleys.
The terrains in Sapa are great locations for trekking and photography. Aside from the famous rice terraces, the hilly terrain is a great site to learn about ethnic cultures and customs.
The rice terrace fields are one of the most prominent tourist attractions in the Muong Hoa Valley, which lies between the town and Fansipan Mountain. The rice terraces are said to originate from the 15th century. Incredible, awe-inspiring grandeur surrounds you in every direction.
>>See Tour: Vietnam Secret Revealed
Y Ty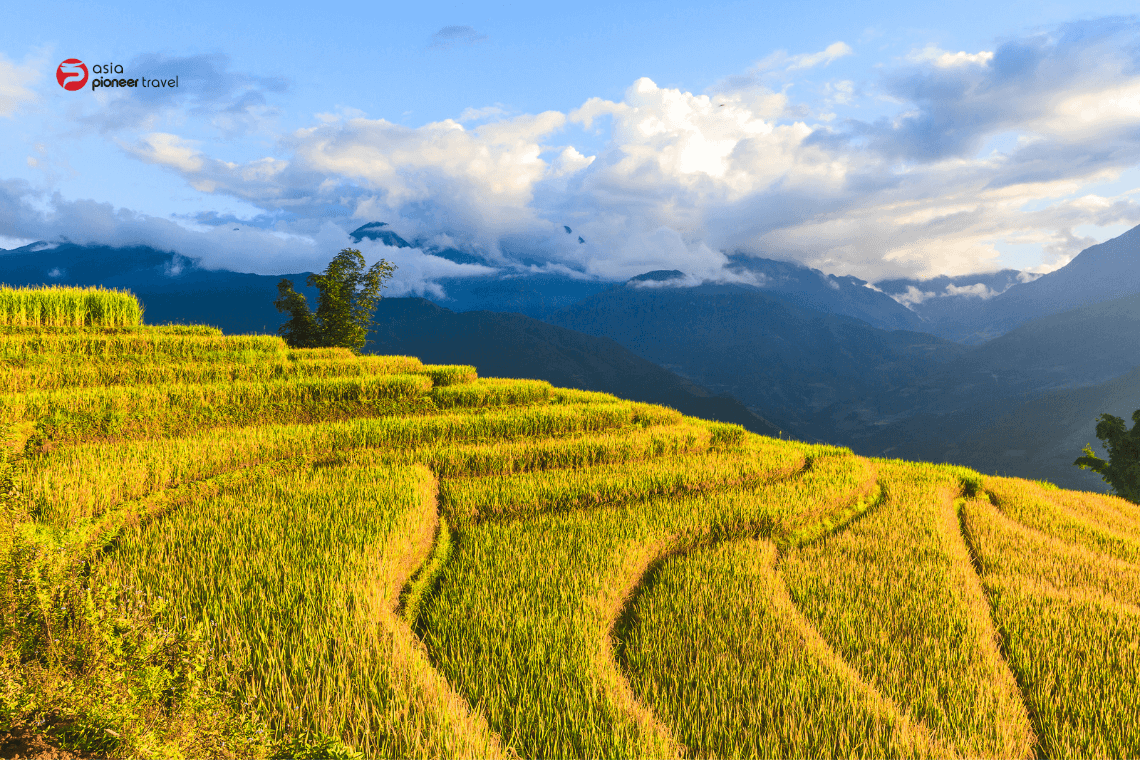 Y Ty, a highland village in the Lao Cai Province's Bat Xat District, is about a 7-hour drive from Hanoi.
The Hmong, Dzao, Giay, and Ha Nhi, the hill tribes in Vietnam with the most exquisite and vibrant clothing, all call Y Ty home. A photographer's paradise, the colors of their attire stand out against the mountains, blue sky, and rice fields. A visit to Y Ty has far more to offer than just beautiful photos.
The Hmong people have been creating these terraces for generations in order to use the land for rice farming. Learn the Hmong people's special construction and irrigation techniques when you are there. These methods contribute to the area's uniqueness and genuine beauty. Harvesting takes place from the end of September to the beginning of October.
Tip: If you have time, consider stopping by Y Ty's Saturday morning market for an opportunity to interact with people of the Hà Nhi and other ethnic groups.
Hoang Su Phi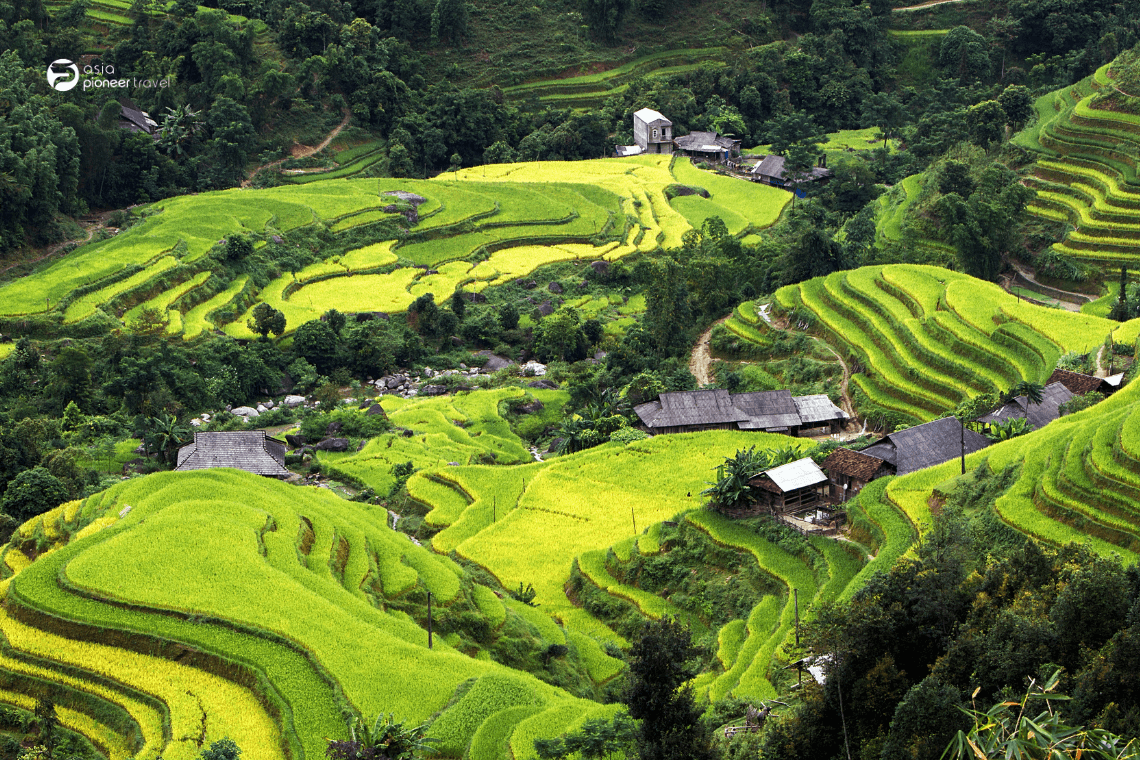 The extraordinary terrain of Hoang Su Phi is found roughly 300 kilometers from Hanoi. The region's diversified landscape gives breathtaking views of mother nature's creativity with its lush forests, deep valleys, and steep mountains.
Crop cultivation has been difficult for the locals due to the mountainous terrain of Hoang Su Phi, hence the terraced hillsides. Twelve different ethnic minority groups reside in the peaceful terraced hills. The best way to discover this area, where crops only grow once a year, is to climb into the hills, where you can take pictures of local life against the sky's deep blue backdrop. In the autumn, the rice starts to mature, resulting in an endless array of green and golden hues.
>>See Tour: Discover Ha Giang & The Far North
Pu Luong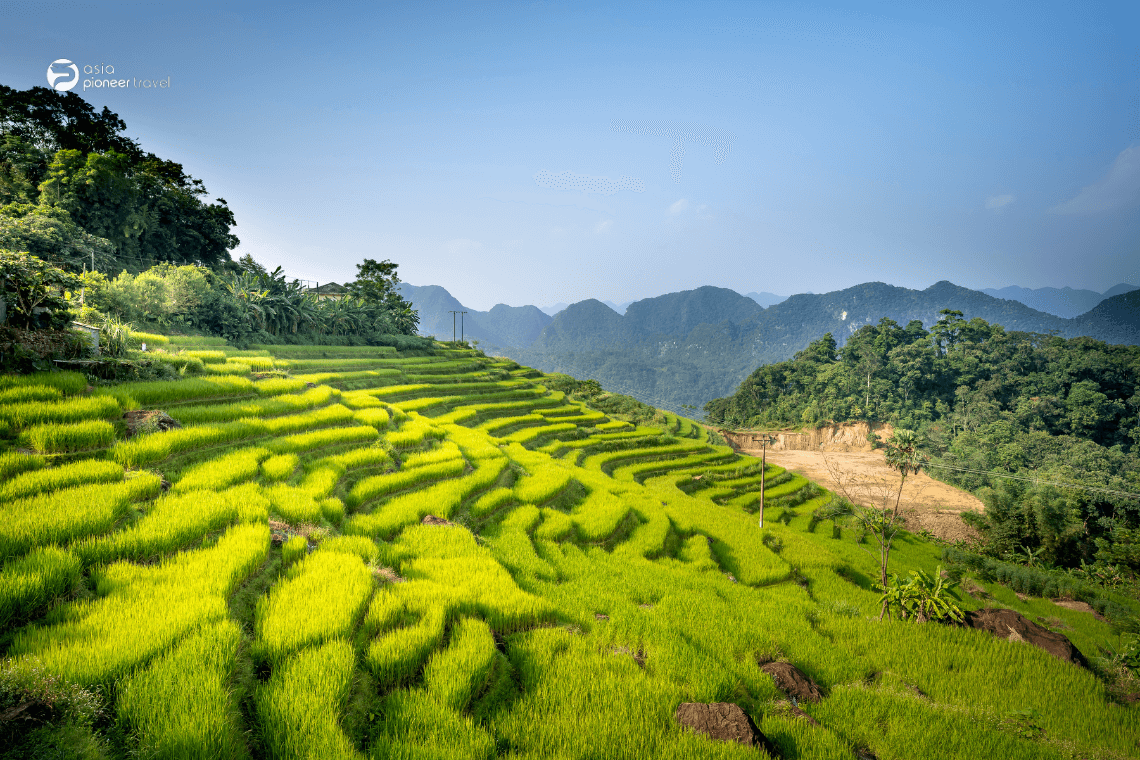 Pu Luong Nature Reserve is located in Thanh Hoa province, which is around four hours from Hanoi. Pu Luong is the perfect place for a retreat into nature because it is tucked away from the outside world.
While the valleys are home to serene tiered rice fields, the mountains are covered in a tropical forest. The reserve contains a number of tiny hamlets where ethnic Thai and Muong people have settled. Sleep in a homestay near the rice terraces so you may take long walks through the calming scenery of Pu Luong.
>>See Tour: Vietnam Family Adventure
Those who have seen both the rice terraces in Vietnam and Bali (Indonesia) would agree that the ones in Vietnam are significantly more stunning, but we will leave that to your own judgment. We are certain that the beautiful sight of golden rice terraces on a high mountainside will leave a lasting impression on your mind. There are other areas with rice terraces, but none of them can compete with the magnificence of the ones in Vietnam.
Book your upcoming trips with Asia Pioneer Travel – The Best Travel Agency in Vietnam!
Asia Pioneer Travel has over 14 years of experience in the tourism industry and has established itself as a premier, reputable, tailor-made travel agency in Vietnam and Asia. We constantly pay close attention to and comprehend the demands and preferences of our customers, enabling the creation of excellent holidays. After taking our bespoke tours, many customers have told their friends and family about them. Because our customers deserve it, we consistently strive to assure them of complete satisfaction.