Best Time To Visit Laos

Laos is a landlocked nation in South East Asia that is bordered by Myanmar, China, Vietnam, and Cambodia. The geography of Laos, which spans 237,955 sq km, is primarily mountainous, with steep terrain and narrowing river valleys. The climate of Laos, which varies in different regions of the country at different times of the year, is significantly influenced by its landscape.
We understand that being able to choose the best time to visit Laos is one of your main concerns while making travel plans. With the aid of this guide, you can determine the best time to visit Laos and have a more fun and memorable holiday.
Laos Climate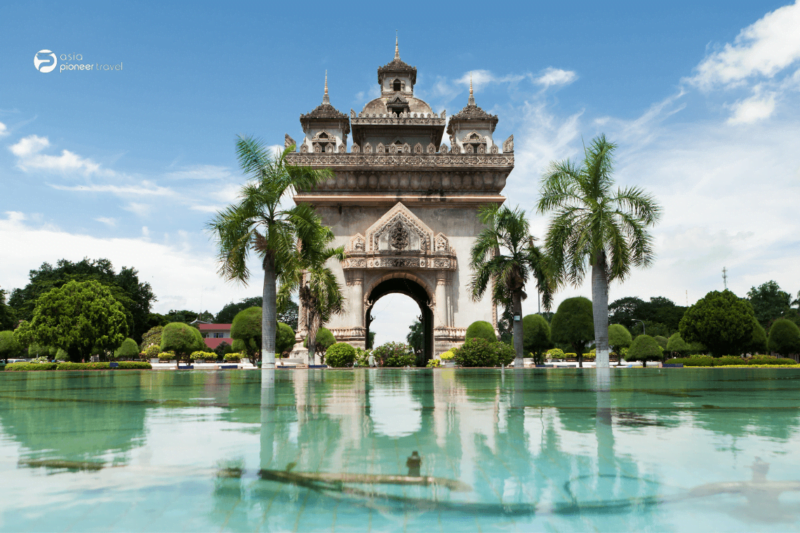 Laos, which experiences typical tropical monsoon weather, has two distinct seasons: the dry season and the wet season. Monsoons typically arrive around the same time across the country, however, this can vary greatly from year to year.
From May to October, it is hot and humid (with August being the wettest and most humid), and from November to April, it is dry and cooler. Within that broad picture, regional differences can be summarized as follows: the further south you travel, the hotter it is. In January, for example, in the midst of the dry season, typical maximum temperatures in Pakse in the south are 29°C, dropping to 27°C in Vientiane and a relatively mild 24°C in Luang Prabang.
The Best Time To Visit Laos (In Season)
Winter (December – February) 
This time of year is the best time to visit Laos for a mix of sightseeing, river travel, and countryside exploration.
In lowland Laos, November to January are the best months to travel since the days are agreeably warm, the evenings are a little cold, and the scenery is lush and green after the rains. Temperatures are substantially lower at higher elevations, occasionally reaching below freezing. In December, temperatures in Vientiane and Luang Prabang average approximately 27°C and 22°C, respectively, while temperatures in southern locations like Pakse reach over 30°C.
Water levels from the previous months' rains are high, making journeys along the Mekong River ideal. There are several options for whitewater rafting and kayaking excursions on northern rivers such as the Nam Ou and the Nam Xuang for those wanting greater water-based thrills. Vientiane, Vang Vieng, Luang Prabang, and Luang Namtha are the ideal destinations for beginning kayaking trips. Equally not to be missed are the magnificent waterfalls in the southern highlands.
During the winter, dry land conditions are great for visiting Laos for active outdoor sports such as rock climbing, challenging hiking, and bicycle excursions. You may also spend time exploring mystical Buddhist sanctuaries and intriguing caverns, as well as visiting elephant camps, coffee plantations, and local marketplaces.
Events: Laos National Day (2nd Dec); Luang Prabang Film Festival; Wat Phou Festival (dates vary); Hongsa Elephant Festival (dates vary).
Spring (March-May)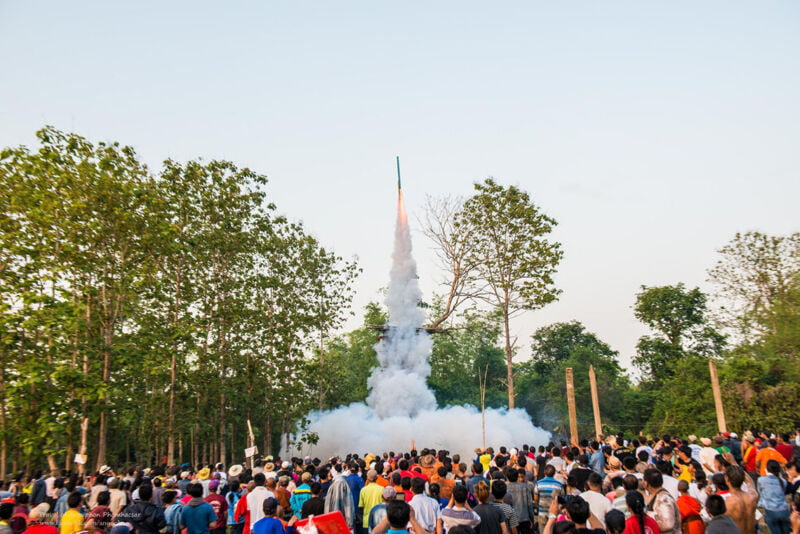 Spring is definitely the off-season for Laos travel, and there is a reason for that.
From the start of spring to its end, Laos goes through a significant transformation. The highlands are generally just as hot and muggy as the lowlands, while there are few places, like Paksong on the Bolaven Plateau, that offer a temperate temperature year-round. Temperatures climb quickly and peak in April, when the lowlands are scorching hot and humid. The average temperature is 36°C in Luang Prabang, 38°C in Vientiane, and a little bit higher in Pakse.
By April, river movement is halted as water levels are at an all-year low. However, the rainy season begins in May, when Laos gets hot and muggy. If you're ready to withstand the heat, excursions to cultural sites are still on the schedule even if trekking can be challenging as the pathways get slick.
From March until the start of the monsoon, much of the north, including Luang Prabang, is enveloped in smoke because of slash-and-burn agriculture, which may be rather uncomfortable at times.
But the weather isn't the only factor. Given that two major festivals in Laos begin in the spring, this may be the ideal time to visit. The Lao New Year, which occurs in the middle of April, is a major occasion. Water is traditionally used in water fights after locals wash Buddha statues because it is believed to bring good luck and to chill the recipient in hot weather.
Events: Lao People's Revolutionary Party (22nd March); Boun Pi Mai (Lao New Year) (14th-16th April); Boun Bang Fai (The Rocket Festival) (May or June). 
Summer (June – August)
Laos experiences extreme summertime heat, rain, and humidity, which negatively impacts travel. The network of dirt roads in Laos is affected by the rain, some of which become impassable, and the monsoon hampers various activities, especially those that take place outside. However, following rain, rivers that may be impassable at the end of the dry season become crucial transportation channels again. Moreover, the barren environment comes to life once more; emerald-hued rice fields and lush flora surround cascading waterfalls.
It's also important to note that while most of Laos has rain in June, it often doesn't linger long and the rain tends to cool things out a bit, allowing you to get in some sightseeing.
By July, the rains had slowed down and the temperature in the south is approximately 32°C; the north is cooler. Go to the Bolaven Plateau, where coffee is grown, for refuge from the oppressive heat of the Mekong Valley.
Rainfall increases dramatically in August, when showers are the heaviest, linger the longest, and the humidity is at its highest. Walking pathways that are muddy and wet making it difficult or impossible to hike, and roadways that are slick and dangerous can flood. Certain remote regions, caves, and well-known tourist destinations, such as the Kouang Si waterfalls, may be off-limits. Furthermore, tubing in Vang Vieng turns unsafe.
Pack an umbrella and light moisture-wicking clothing in case the weather turns chilly.
Events: Boun Bang Fai (The Rocket Festival) (May or June); Boun Khao Pansa (start of Buddhist Lent) (Jul to Sep / Oct)
Autumn (September – November)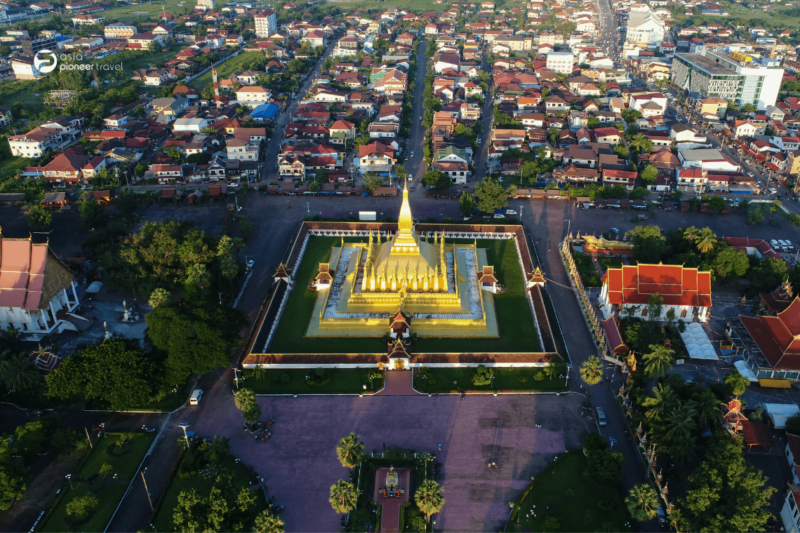 While it constantly rains for the majority of September, it turns sunny and bright again near the month's end, when the scenery is at its most gorgeous.
By October, there are just occasional sprinkles of rain and the temperature is hovering around 30°C. The best time to visit Laos to take advantage of its numerous attractions before the crowds return during peak tourist season is now that outdoor activities are once again on the agenda. Additionally, now is the best time to find a shoulder season deal.
Festivals in October center around the river. The spectacular Lai Heau Fai (festival of lights) show arrives with Boun Awk Phansa, the end of Buddhist Lent, and Luang Prabang is the scene for especially vibrant celebrations. The people launch giant paper boats illuminated only by candles along the Mekong as the town is ablaze with lanterns.
This time of year also features the largest boat racing festival of the year. The main location is Vientiane on the Mekong River, but river towns all around Laos host their own races and related festivities.
It's time to meander through the nation's waterways now that November isn't rainy but rivers are still full from the recent downpour. The popularity of outdoor activities like hiking, tubing, and swimming is growing, and the pleasant weather makes sightseeing, temple hopping, and general exploration quite fun.
Events: Bouk Ok Pansa (end of Buddhist Lent) (Sept or Oct); That Luang Festival (dates vary)
To conclude, for all-around good weather, December is undoubtedly the best time to visit Laos. The dry and pleasant weather is great for sightseeing as well as a variety of outdoor activities like hiking, cycling, cave exploration, and river travel.
Let Us Help You Plan Your Laos Trip.
Don't let the planning stress you out. Tell us your travel ideas and our travel advisors are very glad to give you suggestions and guidance for your trip planning. We can tailor-make your trip according to your interests and requirements, and help to create the best Laos vacation for you.