A Full Guide To Conquer The Ha Giang Loop

The Ha Giang loop is an absolutely breathtaking destination in the northern region of Vietnam. The road winds through awe-inspiring mountain passes and stunning canyons, making it a must-visit location for adventurous travelers seeking the ultimate thrill of the open road. The popularity of Ha Giang has recently skyrocketed on social media, piquing the curiosity of both international and local travelers.
The only way to discover the most incredible scenery on the Ha Giang Loop is on a motorcycle. Before you hit the road, it's crucial to read up on everything you need to know about conquering the famous loop. This comprehensive guide has got you covered with all the essential details on routes, paperwork, and insider tips. Don't miss out on this exhilarating experience of a lifetime!
How Does The Ha Giang Loop Become So "Hot"?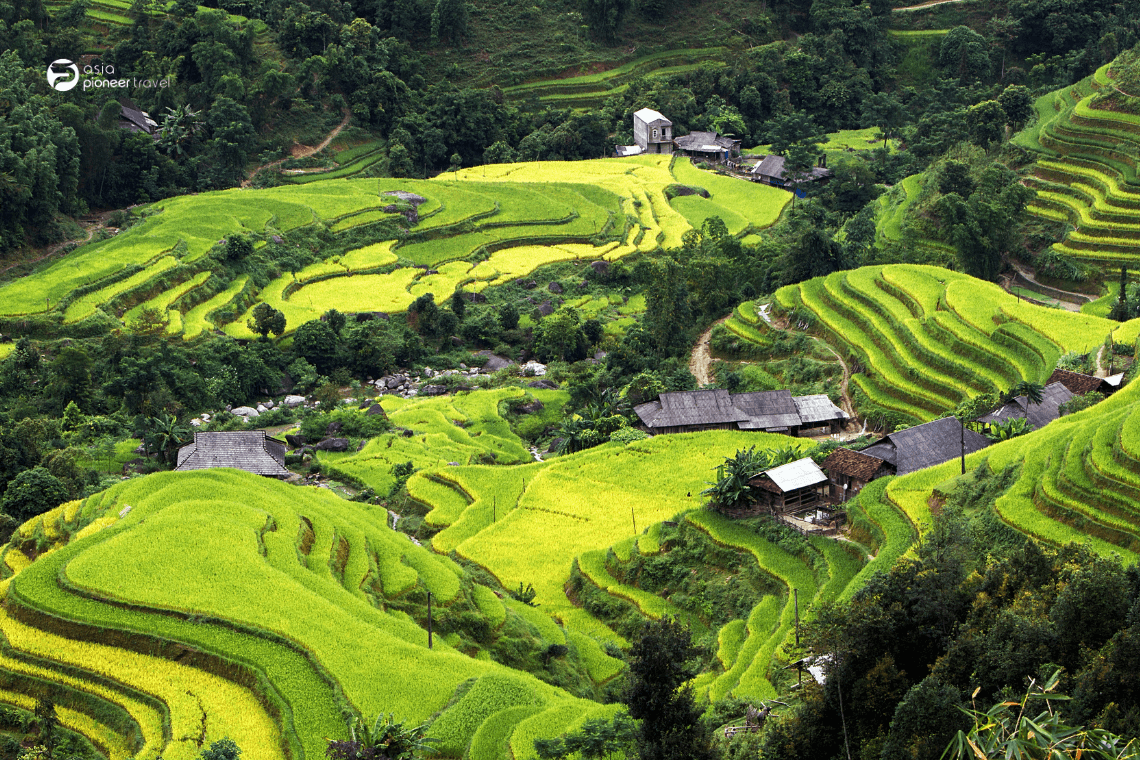 Ha Giang is a province located in the northernmost part of Vietnam and is officially designated as a Frontier Area. It boasts stunning scenery that is both wild and imposing, making it the perfect destination for those looking to travel back in time. However, compared to other areas in the north of Vietnam, like Sapa or Cao Bang, Ha Giang remains more remote and has not been crowded by tourists, meaning you have more incredible sights to yourself.
Ha Giang's topography is quite complex, consisting of three distinct regions: rocky highlands in the north, western highlands, and low mountains. This diversity in terrain results in a rich variety of flora and fauna, ranging from subtropical forests to timber and fruit tree lands. Not only that, Ha Giang is where 43 ethnic groups live, each has their own language, traditions, and subculture. The largest ethnic groups are Mông, Tày, Dao, Kinh, Nùng, Giáy, and La Chí. The people here are not very familiar with the presence of travellers, but they are very friendly and willing to help and make friends. 
We recommend embarking on a road trip with a two-wheeled vehicle to fully appreciate all that Ha Giang offers. This will allow you to take in the grandeur of the landscape and experience the unique local culture of the province's outlying settlements and ethnic minority communities.
What To Know Before You Travel To Ha Giang?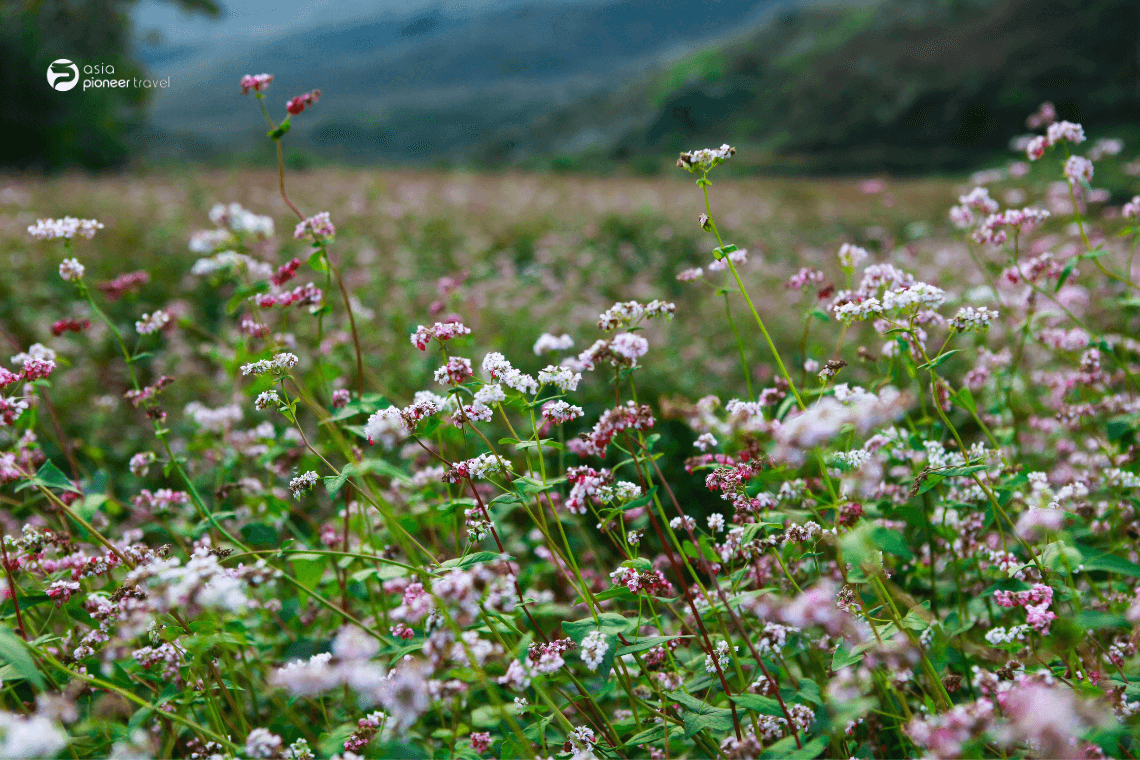 Ha Giang sounds like a perfect destination for adventures, but because of its complexity in topography and climate, as well as the travel conditions there, there are a few things to know ahead of your trip.
When to go
February, May, October, and November are the best months to take on this loop, and we will show you why.
February is when the flowers start blooming as the weather gets warmer. If you take on the loop during the latter half of February – begin of March, you can enjoy various flowers along the ride, like the light pink cherry blossoms, white plum blossoms, yellow wildflowers, etc. Also, since the temperature during the day may get over 20 Celcius degree, you may be able to wear just a T-shirt and a light jacket on the ride. 
May is also an excellent month to travel to Ha Giang, with all the cold gone and many sunny days. This is when the terraced rice fields are filled with water. You will feel like they are glowing, making it a stunning sight to behold. 
October – November is probably the best time to visit Ha Giang with cool to mild cold weather. This is time for the harvest season. Imagine watching the golden rice fields, layers after layers, as far as the eyes can see, intertwining with the green dots of the forest. There's no word that can describe such a breathtaking view. Adding to the beauty are the homes of the La Chi people, nestled into the hillsides. Hoang Su Phi is the most awe-inspiring area to see the golden terraces in Ha Giang.
*It is not advised to do the Ha Giang Loop during June, July and August since these are the monsoon months. There will be heavy rains and often landslides, making it very dangerous to travel. Also, these are the hottest months, so travelling on the loop for several hours will make you exhausted quickly. 
What to bring with you
Luggage: bring the essentials like cash (ATMs or credit cards are not common in Ha Giang); underwear, t-shirts (for summer), warm clothes (for winter), a light/thick jacket (depending on the season), trousers, trainers/riding boots, flip flops, toiletries, wash kit, sunscreen, sunglasses, electronics, bug spray, etc., and anything else you feel is important.  
Riding gear (bring them with you or buy them when you're in Ha Giang): helmet (full-face lid recommended), gloves, arm and knee pads, raincoats (essential). 
How to get to Ha Giang
Regular daytime and overnight buses depart from Hanoi's My Dinh bus station for Ha Giang. Private transportation and tours are also available in Hanoi, either online or through tour agencies.
Choose the right motorcycle
Typically, you have 3 options for a motorcycle – automatic, semi-automatic, and manual.
Yet, due to the distinctive landscape of Ha Giang, semi-automatic and manual types are the way to go. They are light and easy to use. You have the best control with this type of motorcycle, which is especially important when riding up and down mountain roads. Asides from the semi-automatic, a manual motorcycle is just as good. Of course, this is only applied when you are experienced with this type of transport, or else, go for the semi-automatic one. 
Motorbikes for rent are easy to find in Hà Giang City. In town, there are Honda and Kawasaki Service Centers.
Ha Giang Loop – The Ultimate Guide
Most travellers complete the Ha Giang Loop in 4 days, which is enough time to cover the most significant routes and sites of the trip, and allow enough time for you to make stops and enjoy the views.
This four-day journey takes the QL4C to the northeast from Hà Giang to Bo Lâm and the QL34 to the southwest to return to Hà Giang.
Day 1: Travel from Ha Giang to Yen Minh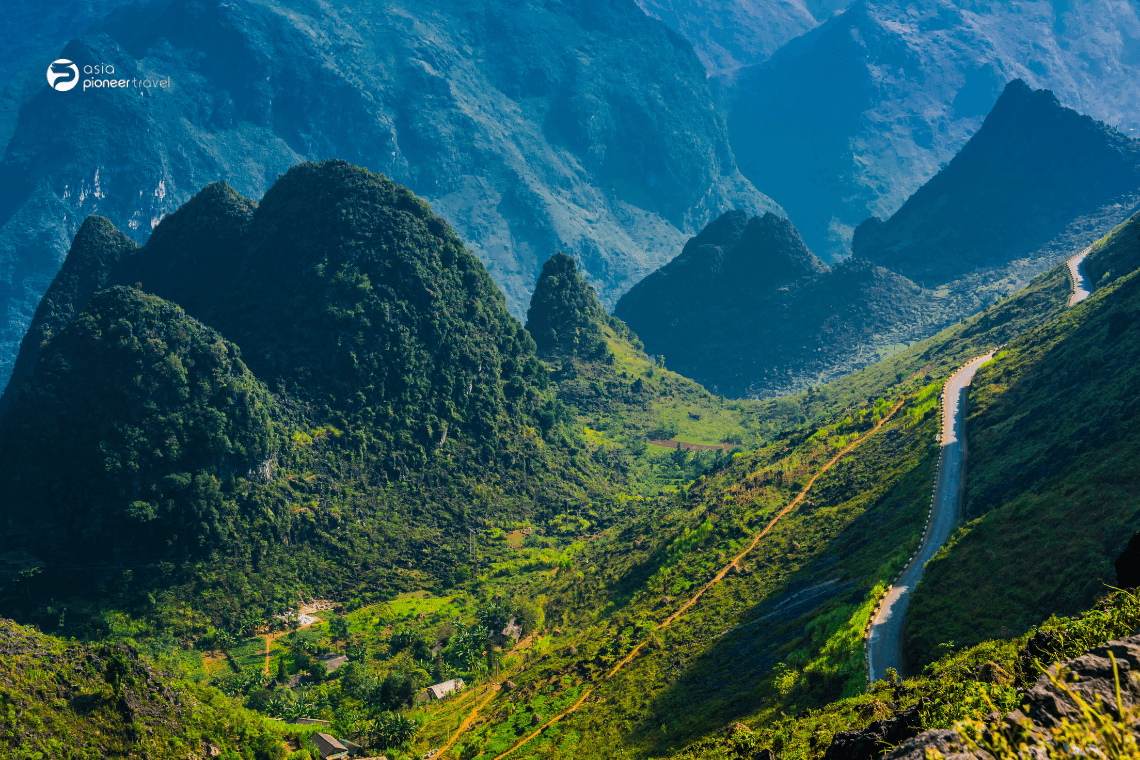 Morning
Before leaving Hà Giang City, have a full breakfast early in the morning. As you travel along the QL4C toward the north, the scenery quickly changes into a limestone mountain range covered in a verdant rainforest. You will soon arrive in the UNESCO Global Geopark Dong Van Karst Plateau. Heaven's Gate Pass, where you'll see your first thrilling views and face a few tight turns, which is the highlighted part of the journey.
As you cruise down from Heaven's Gate Pass, you'll arrive at Tam Son, a town surrounded by protruding, forested hills, just in time for lunch. Restaurants and roadside booths provide traditional Northern Vietnamese cuisine. A fantastic Vietnamese coffee, like wherever else in the nation, is easy to come by.
Afternoon
Continue on the QL4C towards Yên Minh once you have refreshed. The route follows the picturesque Mien River before ascending into a steep gorge. Travel through karst plateaus and mountain passes before arriving at Yen Minh, where you may spend the evening at a local hotel.
*Tip: Book your accommodations ahead of time in smaller towns like Yen Minh or Dong Van, especially during peak season, to secure the best options.
Day 2: Visit Vietnam – China border
Morning
Enjoy a steamy bowl of pho for breakfast before you take the QL4C northeast to Dong Van. The steep road swiftly ascends beyond the tree line, presenting an otherworldly landscape of limestone karsts and breathtaking views at every turn. Doc Chin Khoanh (Nine Turn Pass) is an excellent spot to take a break and view the curving roads that fall into the valley below. Stop for food and petrol in the Sa Phin region.
Afternoon
You may reach the Lung Cu Flag Tower after a three-hour detour. You can buy a ticket to get to the top of the flag tower. From there, you will have a panoramic view of the border into Chine, which is worth the effort. Back on the QL4C, you'll see plenty of beautiful scenery on your trip to Dong Van, where you'll stay. Make time to go to local markets (which are just around the town center) at night or in the morning and see the diverse ethnic minority going about their daily lives.
*Tip: Ask your host about local market schedules in Dong Van to experience the local culture. Don't miss out!
Day 3: Ride along Dong Van and Ma Pi Leng Pass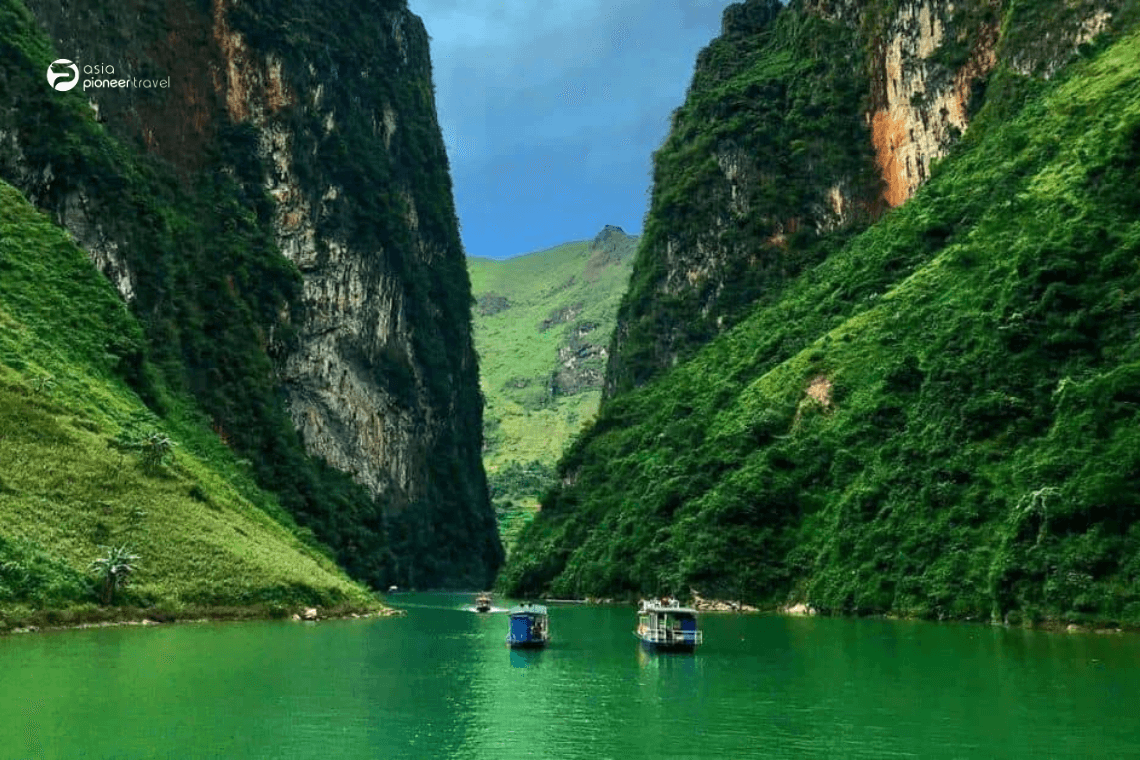 Morning
You will come through what is regarded as Vietnam's most amazing section of the road today. The valley floor drops far below as you make your way through staggering peaks and canyons from Dong Van all the way to Ma Pi Leng Pass. The only issue could be how many pauses you feel driven to make because every turn offers breathtaking scenery.
To reach Meo Vac from Dong Van, it may take a few hours due to the breathtaking scenery en route. However, it's worth stopping to appreciate the stunning views. Once you arrive, soak up the vibrant atmosphere of this delightful town and savor the local cuisine.
Afternoon
When you reach the bottom of Ma Pi Leng Pass, take a left turn from QL4C onto side road 193A for a quick detour. This short ride will offer you a closer look at the Nho Que River below (a tributary of the Gam River), which winds its way through the area. Your day will end in Bao Lam, a friendly village where you can unwind and rest before returning to Hà Giang in the morning.
*Tip: If you have about 2-3 hours to spare, the best thing to do is take the boat ride on the Nho Que River. The boat will take you to Tu San Canyon – the deepest Southeast Asian canyon. It is a jaw-dropping sight when you stand between the two cliffs and look up toward the sky. Such an experience attracts both local and foreign visitors coming to Ha Giang – in fact, it is on the must-do list when you're here. 
Day 4: Return to Ha Giang City
Morning
Begin the final day of your tour with a simple breakfast and pick-up supplies for the travel back to Ha Giang. Take QL34 southwest towards Hà Giang from Bao Lam. Most of the time, the road parallels the Gam River, allowing for a pleasant drive down the valley level. There will still be several turns and a few passes, but they won't be as difficult as they once were.
You can stop for a snack or a short break at the local food vendors once in Bac Me. There are fewer towns on the last stretch before reaching the city.
Afternoon
After traveling for four days, return to Hà Giang City and indulge yourself in some modern conveniences.
Ha Giang Trip itinerary references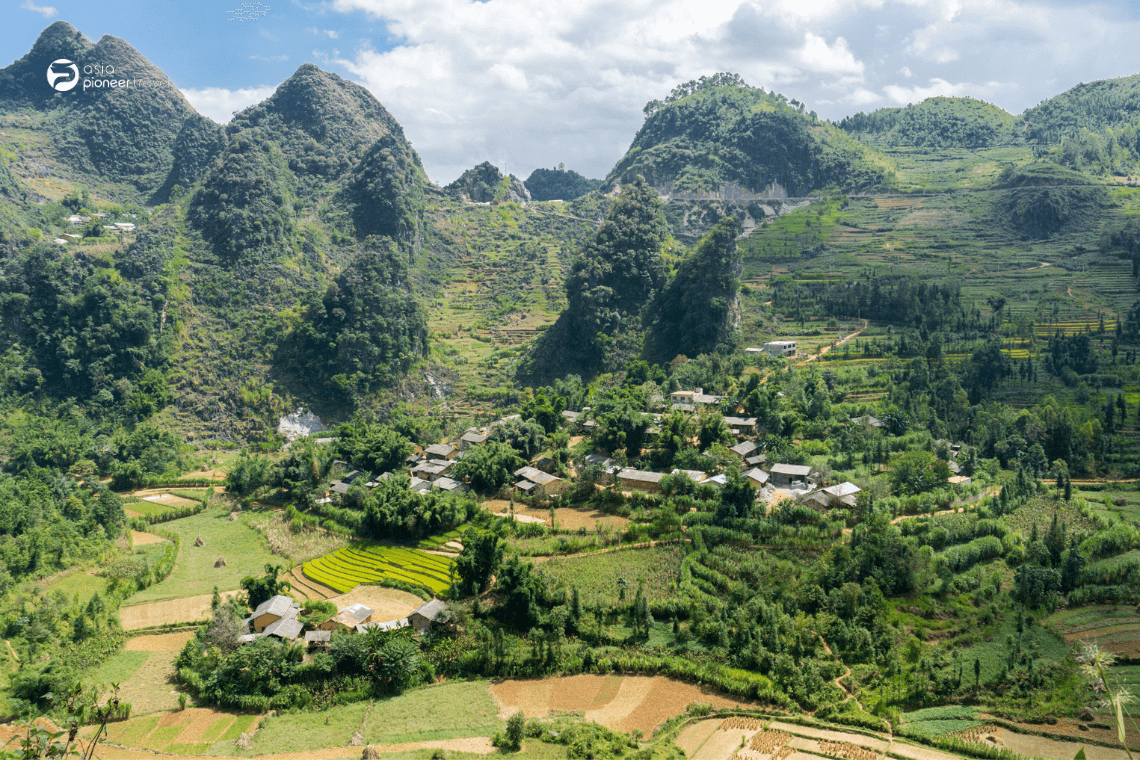 At Asia Pioneer Traavel, we offer several tours in Ha Giang, each of which is uniquely designed so that whichever route you choose, you may discover a distinctive side of this incredible northern region. 
Other than the Ha Giang Loop. you can explore Ha Giang with a different itinerary, referencing our tours:
Experience an unforgettable adventure with the "Ha Giang 8-day experience" tour and indulge in the captivating beauty of the northern region.
Day 1: Hanoi
Day 2: Hanoi – Ha Giang – Thon Tha village
Day 3: Thon Tha – Ha Thanh Village – Quan Ba
Day 4: Quan Ba – Yen Minh – Meo Vac
Day 5: Meo Vac – Ma Pi Leng Pass – Dong Van
Day 6: Dong Van Sunday Market – Ha Giang
Day 7: Ha Giang – Hanoi
Day 8: Hanoi
2. Discover Ha Giang & The Far North
Embark on a mesmerizing 13-day expedition and behold the awe-inspiring magnificence of the highly acclaimed "Discover Ha Giang & The Far North" excursion!
Day 1: Hanoi
Day 2: Hanoi – Countryside tour
Day 3: Hanoi – Bac Ha
Day 4: Bac Ha – Ha Giang
Day 5: Ha Giang – Quan Ba – Yen Minh
Day 6: Yen Minh – Lung Cu – Dong Van
Day 7: Dong Van – Meo Vac
Day 8: Meo Vac – Cao Bang
Day 9: Cao Bang – Ban Gioc Waterfall
Day 10: Cao Bang – Ba Be Lake
Day 11: Ba Be Lake – Hanoi
Day 12: Hanoi 
Book your upcoming trips with Asia Pioneer Travel – The Best Travel Agency in Vietnam!
Asia Pioneer Travel has over 14 years of experience in the tourism industry and has established itself as a premier, reputable, tailor-made travel agency in Vietnam and Asia. We constantly pay close attention to and comprehend the demands and preferences of our customers, enabling the creation of excellent holidays. After taking our bespoke tours, many customers have told their friends and family about them. Because our customers deserve it, we consistently strive to assure them of complete satisfaction.