22 Best Things To Do In Hanoi

Hanoi, the heart of Vietnam, is a must-visit for tourists coming into the country. Visiting Hanoi is like traveling through a time tunnel because, in the maze-like Old Quarter, where packed roads are flanked by contemporary skyscrapers, French colonial homes exist side by side with old temples and multi-story pagodas.
There is a plethora of activities for you to fill up your day plan, to the point that it may be confusing if you are a first-timer in Hanoi. Thus, this list of the best things to do in Hanoi can help you get started right away and fully appreciate everything that Vietnam's most historically significant city has to offer.
1.  Join a walking city tour
A walking tour is one of the best ways to become acquainted with any city in the world. Take a half-day or full-day tour around the city to see some of the top landmarks. These excursions take you to the top attractions, restaurants, pubs, and hidden corners in the city, and are truly one of the best things to do in Hanoi. They will show you the gems of the city that otherwise you will definitely not know about them. These kinds of tours focus on a variety of destinations and themes, so you may go on strolling the streets of Old Quarter, tasting the best Hanoian dishes, or checking out the historic sites of the city, etc. 
2. Explore the Old Quarter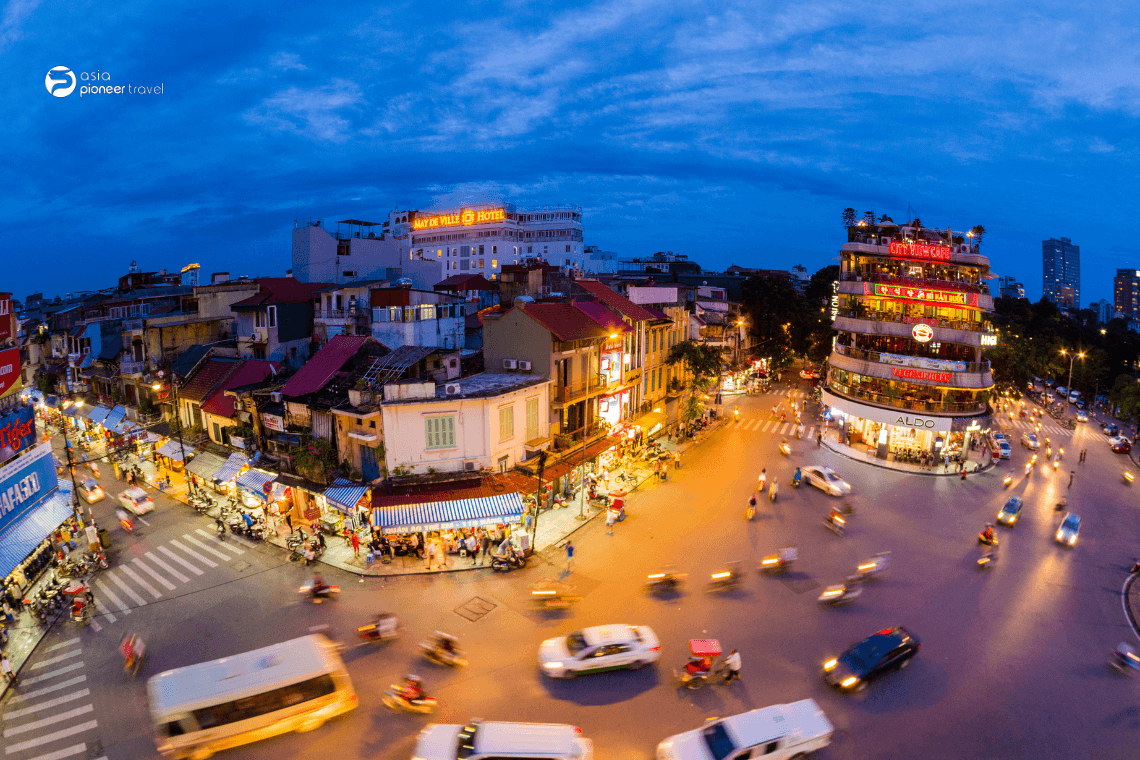 The Old Quarter in Hanoi is a fascinating neighborhood that can be easily explored on foot. It is filled with examples of Vietnamese architecture, green areas, antique stores, and mouthwatering street food.
The 36 guild streets of the Old Quarter were given their names in honor of the 36 crafts or trades that established themselves in this area north of the lake and produced high-quality goods for the nearby royals living in the Thang Long Citadel.
3. Breath in the fresh air at Hoan Kiem Lake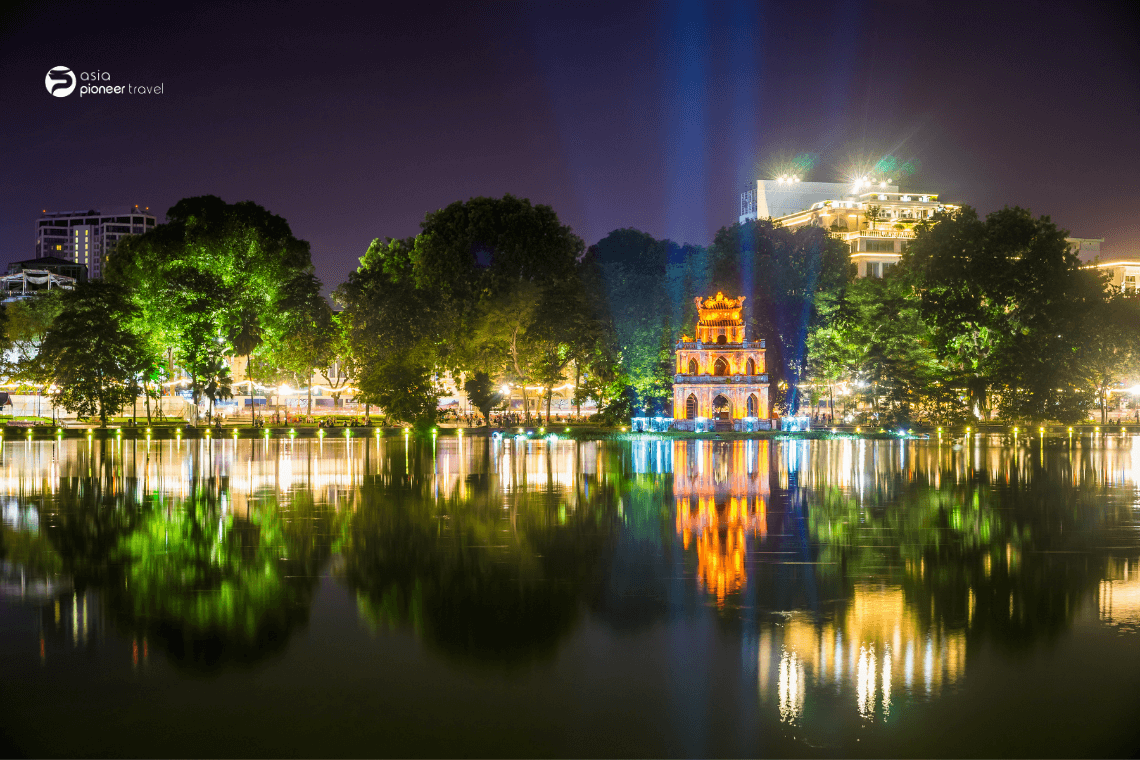 The iconic attractions of Hanoi are Hoan Kiem Lake and Ngoc Son Temple (Temple of Jade Mountain). The lake, which is close to the Old Quarter, provides a welcome respite from the congested and busy streets. This lush body of water is a great place to relax throughout the day, especially in the early morning and late afternoon. It is located in the center of the city of Hanoi. 
Hoan Kiem Lake is closed to vehicles on the weekends, making it a popular place to people-watch as young and old Hanoians gather to participate in activities and exercise outside. So if you are staying close to this area on the weekend, don't miss out on such a good chance. 
4. Watch a water puppet show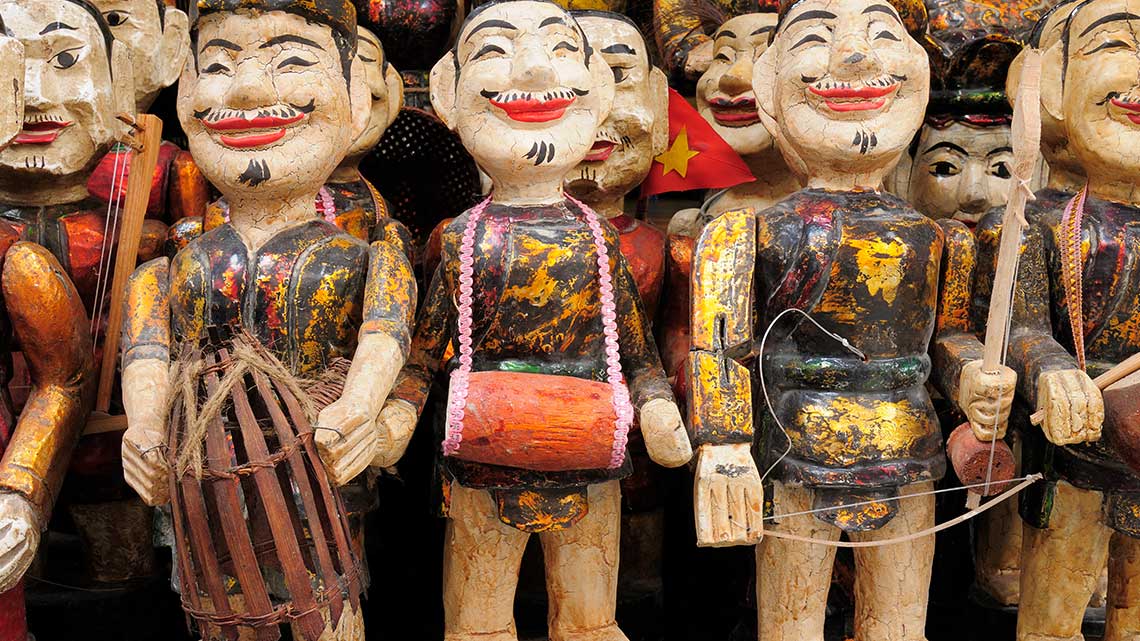 If you're traveling with kids, the water puppet shows in Hanoi are a fantastic way to see traditional Vietnamese art and entertainment. Originating in rural areas of Vietnam during the monsoon paddy field flooding seasons, this ancient art form is currently primarily performed inside specially constructed swimming pools as opposed to outside. The performances typically feature a live band playing traditional Vietnamese instruments and are based on well-known local legends.
The best place to see a show like this is the Municipal Water Puppet Theatre, located right next to Hoan Kiem Lake. 
Read More: Best Time To Visit Vietnam
5. Pay a tribute at Ho Chi Minh Mausoleum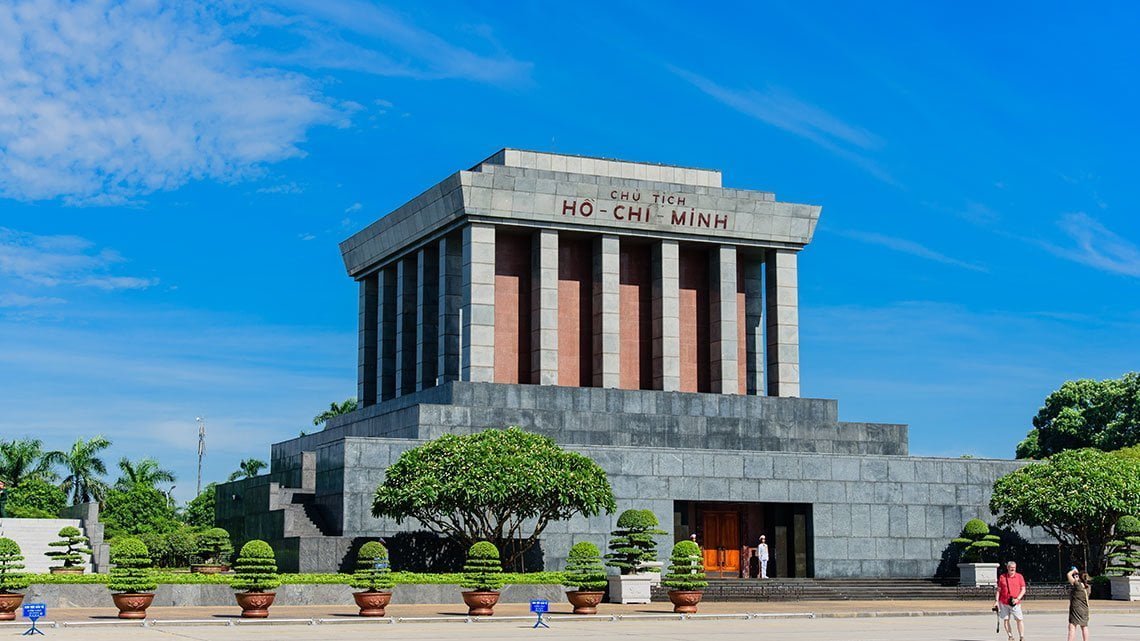 The Ho Chi Minh Mausoleum is a masterpiece that expresses the love and respect that the Vietnamese people have for their leader. It now draws many visitors in addition to serving as a cultural and historical landmark for Hanoi. Since its official opening in 1975, many generations of Vietnamese people and millions of foreign visitors have come to this place.
The Mausoleum is a part of the large Ho Chi Minh Mausoleum Complex. This is considered one of Vietnam's most revered historical sites. Visitors can discover a lot about Ho Chi Minh's life and the liberation of Vietnam under his leadership at this location. For your first visit, it's also advised that you check out the following places: House No. 54, the Presidential Palace, the Ho Chi Minh Museum, and the One Pillar Pagoda.
6. Sightsee the Temple of Literature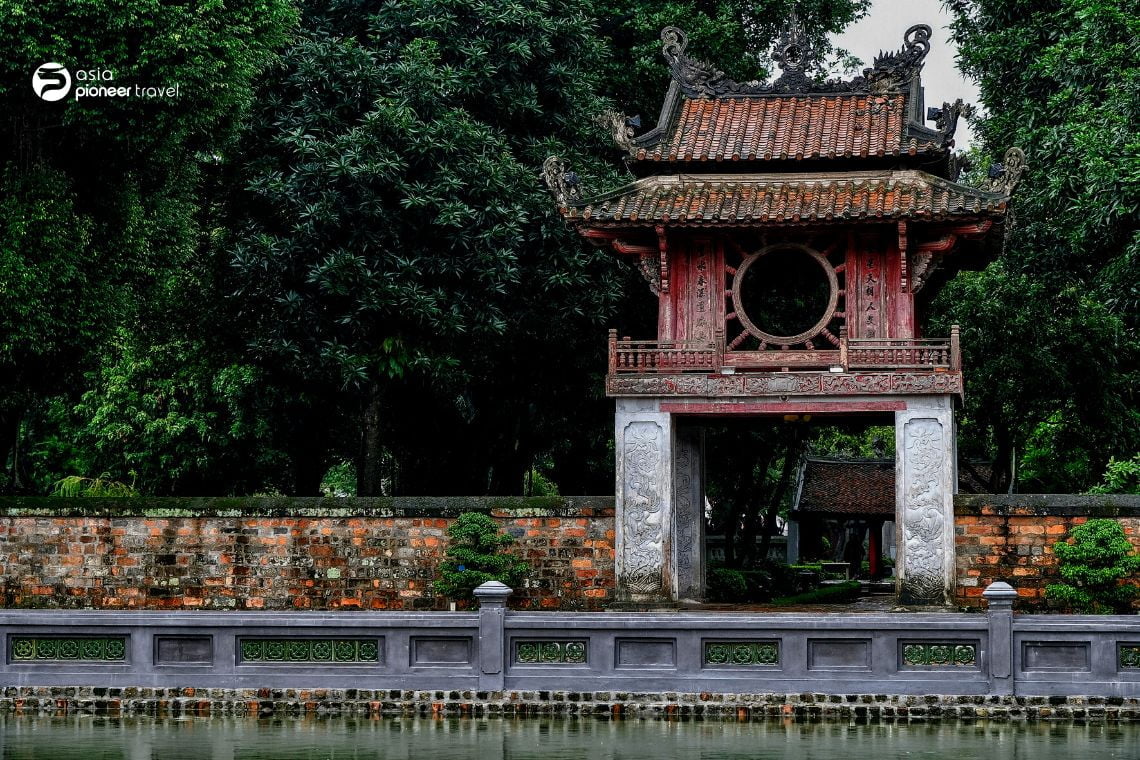 The Temple of Literature (Van Mieu) was constructed in 1070 to honor Confucius. The building also housed the first national university in Vietnam. The temple is still one of Hanoi's most impressive structures today, and it's also a peaceful retreat from the bustling city. The Temple of Literature is a haven of peace and quiet reflection, whether you want to wander through one of its five immaculate gardens or pay respect to Confucius' philosophy at one of his devoted shrines.
7. Go on a night tour at Hoa Lo prison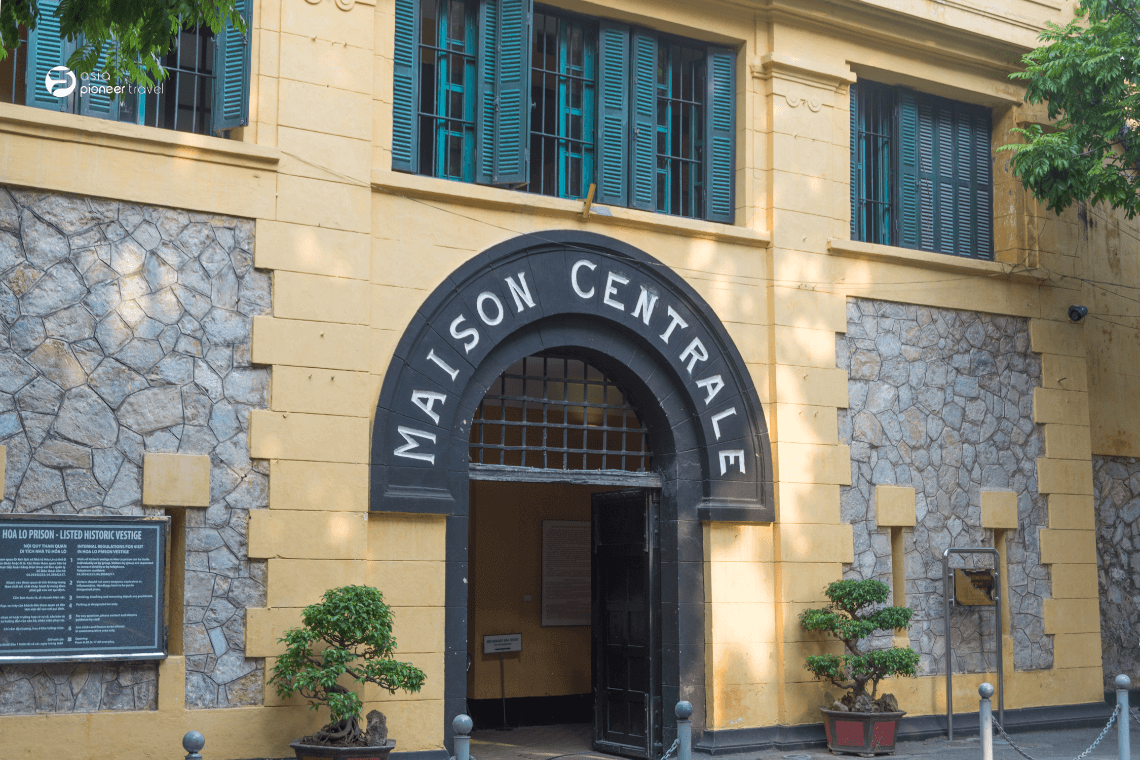 A visit to Hoa Lo Prison is an emotional experience, and this former internment facility was once known as the Hanoi Hilton. The prison was built to keep hundreds of patriotic and revolutionary Vietnamese fighters. These inmates were subjected to physical and emotional torture.
With this in mind, there are galleries that explain the history up until the 1950s, when it was used as part of the Vietnamese independence movement.
Among the horrific exhibits are a French guillotine used by colonialists to murder Vietnamese activists, as well as mementos relating to American pilots imprisoned during the Vietnam War. Hoa Lo Prison now provides night tours, so if you're feeling brave, come after sunset.
8. Go back to the history at Thang Long Imperial Citadel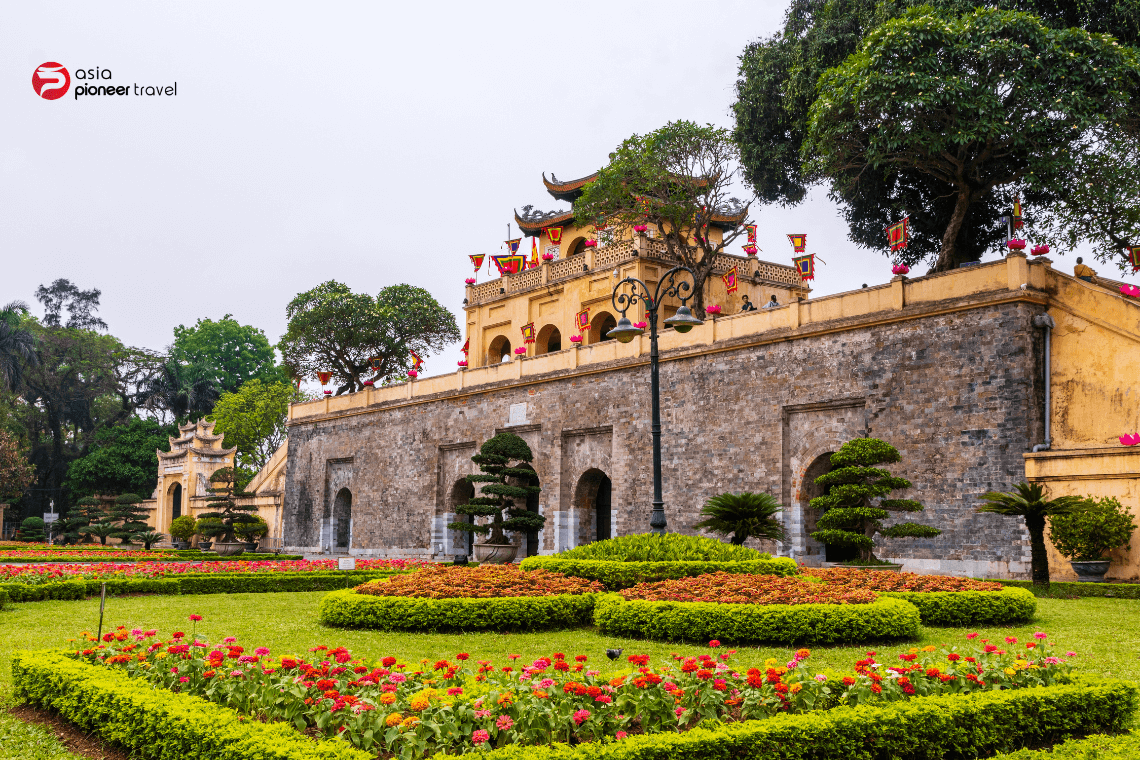 The Imperial Citadel of Thang Long, located right in the center of Hanoi, is one of Vietnam's most important historical sites ever discovered. This complex is also one of the 8 UNESCO World Heritage Sites in Vietnam. 
The Imperial Castle of Thang Long, which was built in the 11th century, was eventually abandoned when the capital of Vietnam was relocated to Hue in 1810. The archaeological treasures discovered, such as the foundations of old palaces, are one of the citadel's defining features. Walking in from the main gate (Đoan Môn), you will see Kính Thiên Palace with stone dragon steps, thousands of relics from different eras at 18 Hoàng Diệu Archaeological Site, art and ceramic exhibits, and D67 – the old headquarter of Vietnam's Ministry of Defense. Moreover, there are additional bunkers from the Vietnam War here, as well as collections of weaponry and military maps.
Read More: Top 20 Best Things To Do In Vietnam | 2023 Edition
9. Explore the Vietnam Museum of Ethnology
The large national collection is housed in Hanoi's Vietnam Museum of Ethnology, a must-visit for history lovers and museum enthusiasts. A series of excellently well-curated displays tell the story of Vietnam's diverse cultures.
Here, the numerous ethnic minorities that call Vietnam home are celebrated with lovely exhibitions of objects and art that feature metallurgy, woodwork carving, and traditional clothing. Some of the most intriguing exhibits can be found in the garden area outside the main structure. Together with the intriguing Giarai tomb, you can visit the rustic homes utilized by various ethnic minorities around Vietnam here.
10. Visit Vietnam Military History Museum
If you love history, the Vietnam Military History Museum in Hanoi is a must-see sight. The courtyard outside this museum displays a diverse collection of weapons and military machines, including downed French and American planes, tanks, and a Soviet MiG fighter plane.
Inside the museum, there is a great deal of documentation on the development and defense of the nation from the era of the Hung Kings to the final offensive that put an end to the resistance war against the Americans.
11. Tour the Vietnam National Museum of History
The Vietnam National Museum of History, established in 2011, has 2 exhibition halls on Tran Quang Khai and Trang Tien streets. These two structures—the oldest museum in Hanoi and two of the city's oldest buildings—were built in 1917 and 1926, respectively.
The Vietnam National Museum of History currently has a collection of over 20,000 papers and artifacts that spans the entirety of Vietnam's history, from the country's early years to the present. In contrast to other Hanoi museums with similar themes, this one has a lot of national treasures, and rare, and priceless relics.
12. Explore the Vietnamese Women's Museum
The museum focuses on the role of Vietnamese women throughout history. from street vendors to mothers, businesspeople, and scholars. The narratives emphasize their place in society, the challenges they overcome as society developed, and a plethora of details about daily life, including marriage, motherhood, fashion, and life-changing rituals. The role women played throughout the Vietnam War is the subject of one of the most fascinating exhibits.
The Vietnamese Women's Museum has provided extensive information about each of its exhibits in both French and English. Taoist literature and other historical artifacts, among other impressively gathered objects, provide a thorough understanding of Vietnamese women.
13. Visit Tran Quoc Pagoda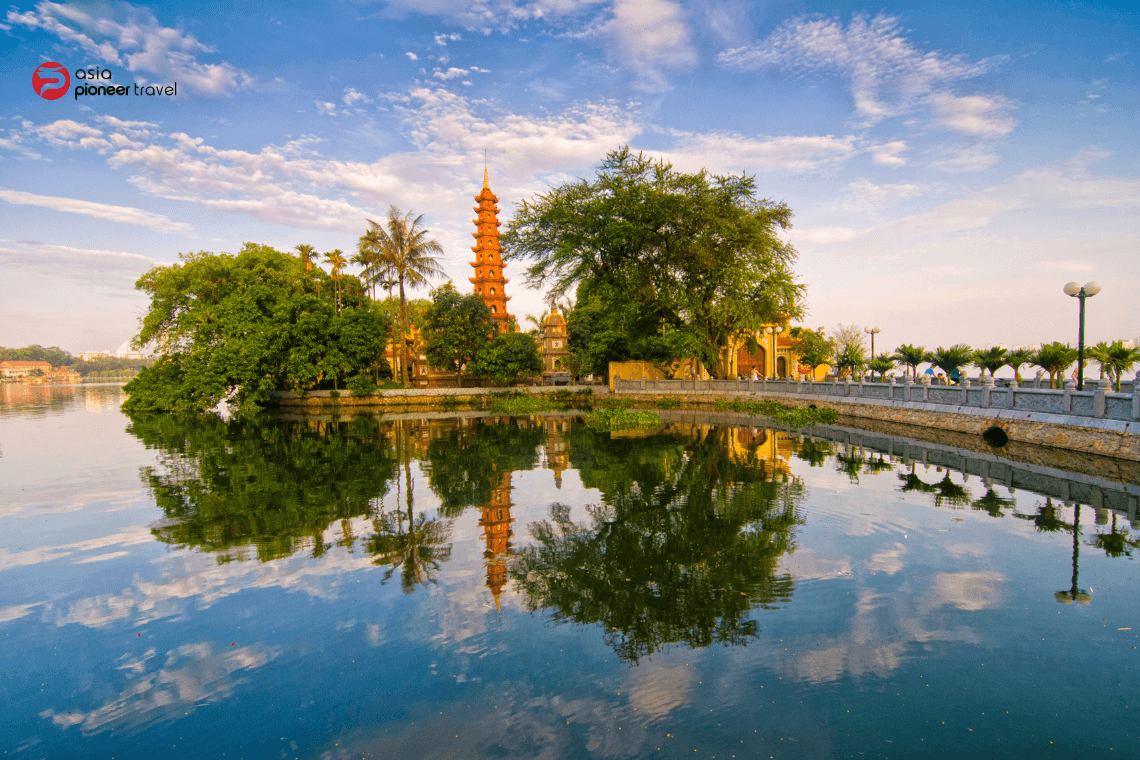 Tran Quoc Pagoda, one of Hanoi's oldest sites, is more than 1500 years old. The place has played a significant part in the growth of Vietnam in general and Hanoi in particular. Tran Quoc Pagoda worships Amitabha Buddha, Shakyamuni Buddha, and Avalokitesvara Bodhisattva. There is also an altar for Anathapindika, Zhou Shang, Guan Yu, and Guan Ping.
Despite urbanization, the pagoda nevertheless retains its popularity and distinctive architectural features after more than a thousand years. You will see the 11-story stupa, ancient worshipping statues in the Front House, The Incense Burning House, the Upper House, the Stele House, and the huge Bodhi tree.
14. Take in the city views at West Lake
Hanoi's largest lake, Tay Ho (West Lake), has a 15-kilometer-long shoreline. The majority of people come here to exercise by walking or cycling the trail that circles the shore.
Most tourists find that West Lake is an excellent site to see the skyline of modern Hanoi while also indulging in fresh seafood at one of the many eateries that are situated close to the water. If you come to visit in the late afternoon, it is recommended to chill in a bar with a lake view, you will be rewarded with a stunning sunset. 
15. Try as much tasty local food as you can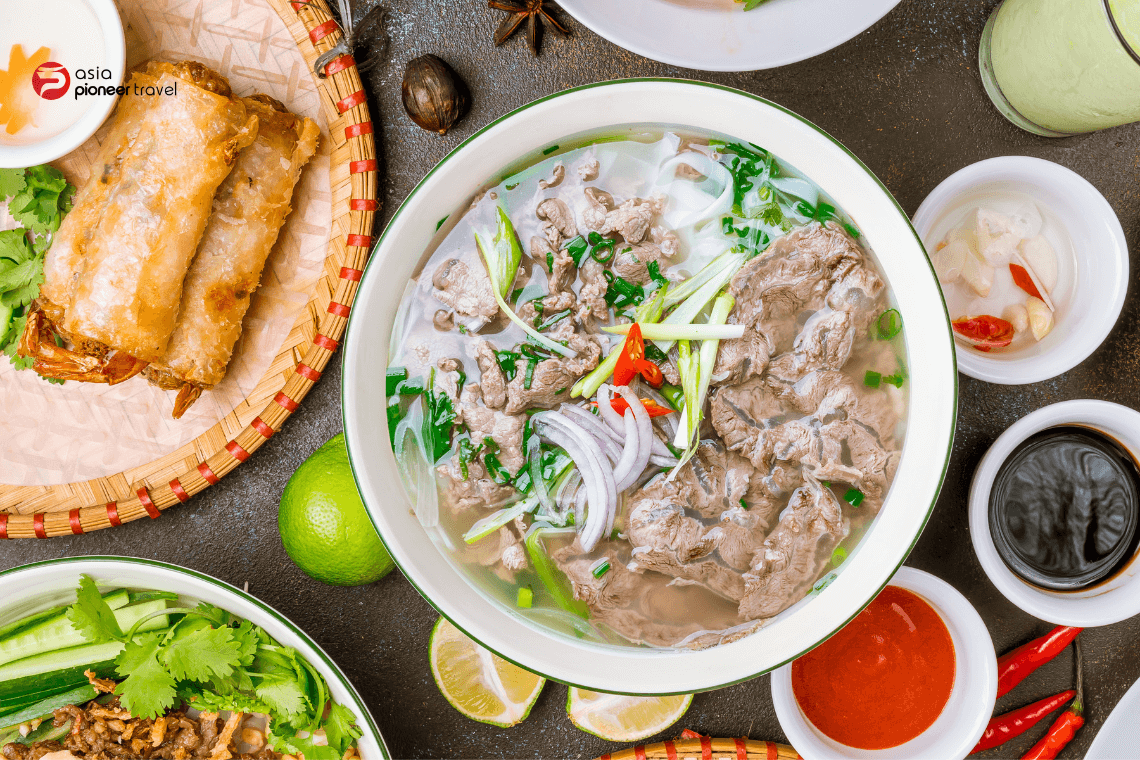 One of the appeals of Vietnamese cuisine is that its components are often believed to be fairly simple. The simplicity of the meal and the quality of its ingredients is what make the dishes distinct. The delicate balance of salty, sweet, sour, and hot flavors is key to Vietnamese cuisine.
In Hanoi, it's nearly difficult to walk a block without smelling the aroma of street cuisine coming from the vendors' kiosks. There are pho, bun rieu, bun oc, mien, banh mi, sticky rice, and streamed rolls to pick for breakfast. Then, for lunch, choose from options like chicken rice, bun cha, com suon, and bun bo hue. Dinner can include any of the above options or homemade foods.
You'll soon realize that picking what to eat when traveling in Vietnam is one of the hardest decisions you've ever had to make.
Read More: Never miss these 5 foods while being in Hanoi, the heart of Vietnam
16. Enjoy your ca phe trung in the Old Quarter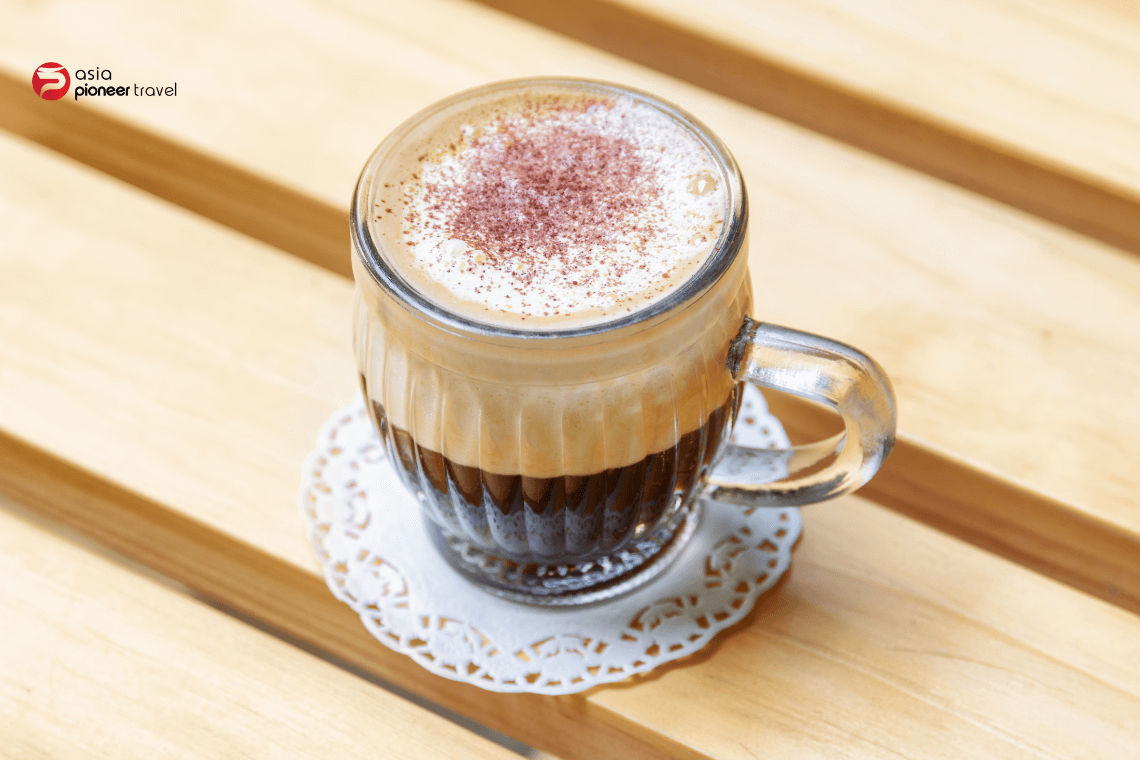 Vietnamese coffee is delicious, but this one drink is truly unique. Ca phe trung, or egg yolk coffee, is a concoction of espresso, sugar, condensed milk, and egg yolk. It has a distinct savory and foamy flavor that cannot be mistaken. Ca Phe Trung can be found in many cities in Vietnam, although the original locations are Café Giang and Cafe Dinh in Hanoi's Old Quarter. The two coffee shops still stick to the old recipient to this day.
17. Quench your thirst with the world's cheapest beer
Bia hoi, touted as "the world's cheapest beer," is only available in Hanoi and costs less than 20,000 VND (or $1 USD). Bia hoi, which is made from fermented maize, is sold and consumed on the side of the road as people relax and chat on small plastic stools. The Old Quarter's Beer Corner, where Ta Hien and Luong Ngoc Quyen meet, is Hanoi's busiest drinking location. It's an entire street packed with red plastic seats, residents, visitors, and the echo of their boasts.
18. Learn about the art of Vietnamese tea at a tea house
Aside from coffee, Vietnam is also known for its high-quality tea. Vietnamese people love tea, and the country's nature offers great conditions to grow a variety of tea types, with which we can make the best tea cups. You will see that people drink tea any time throughout the day, from early morning to late afternoon, or even after dinner. This has become a very unique culture of Vietnamese people for three thousand years, without the complex rituals found in other countries.
To learn about Vietnamese tea culture, the best place to visit is a tea house. Here, you may learn how to brew a nice pot of tea and enjoy the drink in a tranquil atmosphere. Some of the most popular tea houses in Hanoi are Hien Tra Truong Xuan, Thuong Tra Quan, Tam Tra Quan, Tra Hoa Thao Moc, Tea Corner, and Ha Thanh Tra.
19. Discover Hanoi on a motorbike
Hanoi, or Vietnam in general, is famous for traffic crowded with motorbikes. Though you may not feel familiar at first, venturing through the streets on a motorbike is actually one of the best things to do in Hanoi. 
Instead of going in blind-sighted, opt for an organized bike or scooter tour, where you have the option of riding the motorbike yourself, or you can hop on the back of one of the designated tour drivers. Scooter and motorbike excursions take you through the confusing streets of Hanoi and take the group to the city's must-see landmarks, various neighborhoods, and activities.
20. Make your pottery at Bat Trang village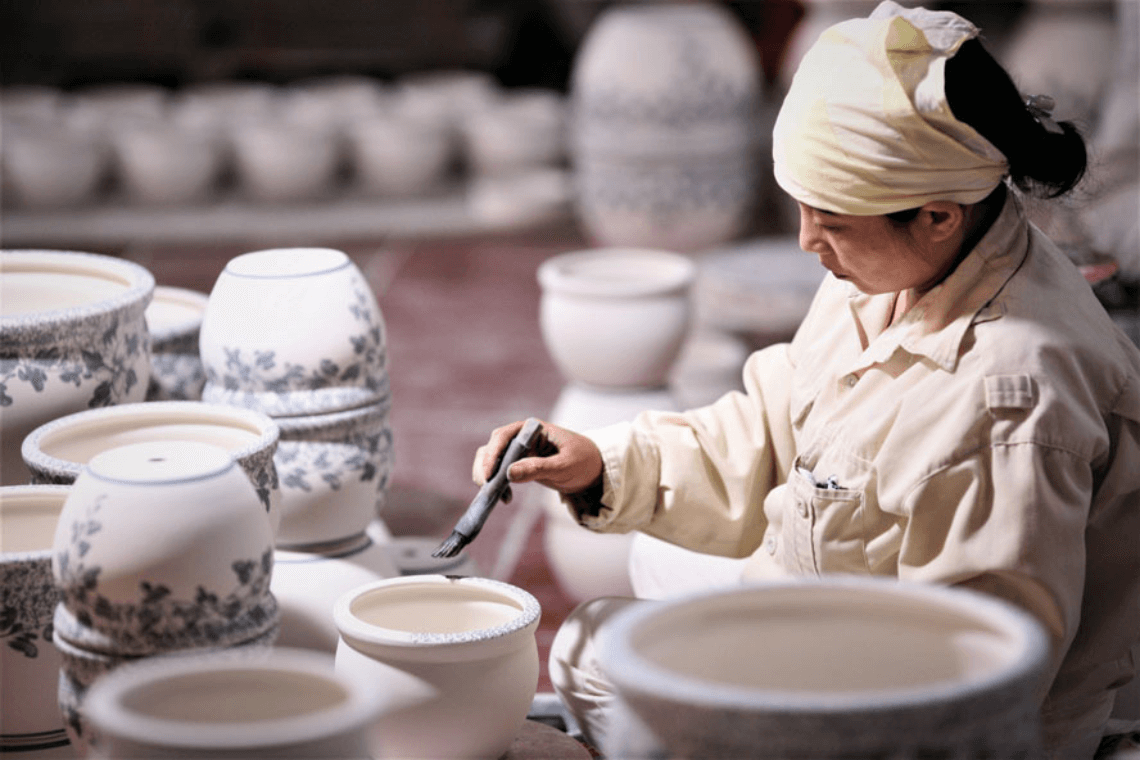 Bat Trang, a historic Hanoian village, draws both locals and visitors. The village is well known for producing traditional pottery and pottery, which have a long history. Ceramic items are displayed in stores throughout Bat Trang in a variety of forms, aesthetics, and hues.
Apply to one of the ceramics workshops to make your own handcrafted ceramic item! You will be guided through the procedure by the merchant, so don't worry. After crafting your own ceramic product (the simplest items to make are cups, pots, and bowls), give it an hour to dry before decorating it with the available colors. Another interesting thing to do here is to visit the Bat Trang pottery museum, where you can learn about the development of pottery making in history and admire hundreds of beautiful ceramic products. 
21. Experience a local's life in the past at Duong Lam ancient village
The distance between Duong Lam Ancient Village and the center of Hanoi is roughly 50 kilometers. Anyone seeking a tranquil rural setting might definitely consider this village. The majority of the characteristics of a typical northern village are present in Duong Lam, including banyan trees, water wells, common yards, pagodas, temples, winding brick roads and narrow alleyways, laterite walls, and old wooden buildings.
Mong Phu Village Gate, Mong Phu Communal House, Temples of King Phung Hung and King Ngo Quyen, Mia Pagoda, and ancient residential buildings are only a few of the attractions you should explore in this area.
22. Day trip to Co Loa Citadel
The last thing we recommend on this list of "best things to do in Hanoi" is taking a day trip to the Co Loa Ancient Citadel. The Co Loa Ancient Citadel is regarded to be both Vietnam's first and oldest fortress. In the 3rd century BC, it was constructed with the intention of being the Au Lac Kingdom's capital. Co Loa is also known as Spiral Citadel (Loa Thành) because of its distinctive spiral-shaped architecture. The Co Loa Citadel, according to legend, had nine walls and was encircled by deep moats that allowed boats to move around with ease.
Co Loa Citadel is closely linked with miraculous and interesting Vietnamese legends, such as An Duong Vuong King formed its kingdom and built the Citadel; the magical crossbow gift from the golden turtle that can kill hundreds of invaders; the heartbreaking love story between My Chau (Hung King's daughter) and Trong Thuy (son of Trieu Da King – Hung King's rival), and so on. This ancient Citadel, along with the historical personalities that once lived there, has been a part of Vietnamese legend for many dynasties.
Let Us Help You Plan Your Vietnam Trip
Don't let the planning stress you out. Tell us your travel ideas and our travel advisors are very glad to give you suggestions and guidance for your trip planning. We offer personalized tours according to your interests and requirements and help to create the best Vietnam vacation for you.