Tips To Enjoy Songkran Thailand – The Country's Biggest Holiday

You've probably heard of Songkran Thailand. Songkran, pronounced sohng-GRAHN in Thai, is the Thai New Year's holiday. Though January 1st is generally acknowledged, the Thai yearly calendar changes in mid-April. It will be impossible for a traveler to Thailand on this holiday to miss out on the festivities. Despite the festivities involving a variety of activities and events, most people regard Songkran as the world's largest water fight festival.
The unique part of Songkran is that everyone participates in the water festival. Nobody, young or old, native or tourist, is safe from len nahm, or "water play." So if you are in Thailand in April, prepare for huge water fights. First time joining such a cool event? Follow our best tips to enjoy the festival of Thailand's Songkran Festival. 
History of Songkran Thailand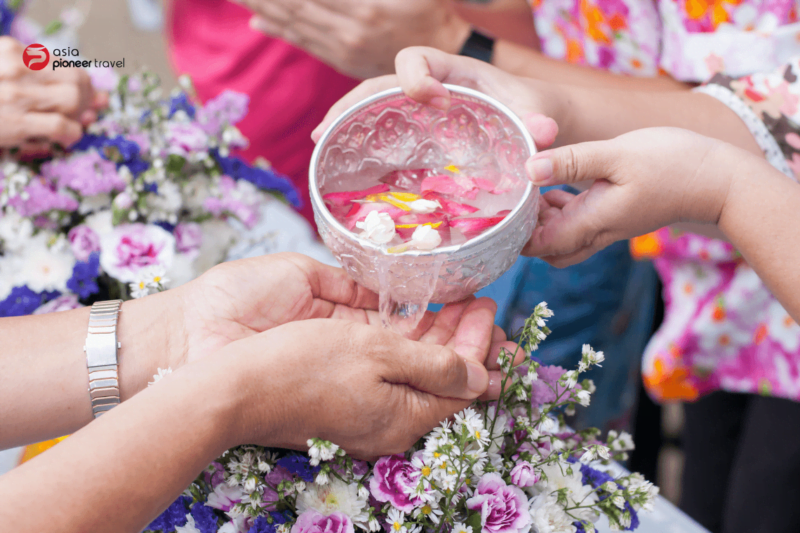 Songkran is derived from the Sanskrit word samkranti, which means "astrological passage" ("the passage of the sun from one sign of the Zodiac to another"). This name originates from a Hindu spring festival in Ancient India that marked the beginning of the new harvest season. The country will close down to celebrate the holiday and perform the associated rituals.
Songkran is on 13 April every year, but the holiday period extends from 14 to 15 April. Each day of Thai Songkran week has a related color, flower, jewelry stone, food, and other symbolic associations that link the celebrations to their historical importance. Songkran, like most new year festivals across the world, focuses on cleansing away the old and looking forward to the new.
Songkran Celebrations In Thailand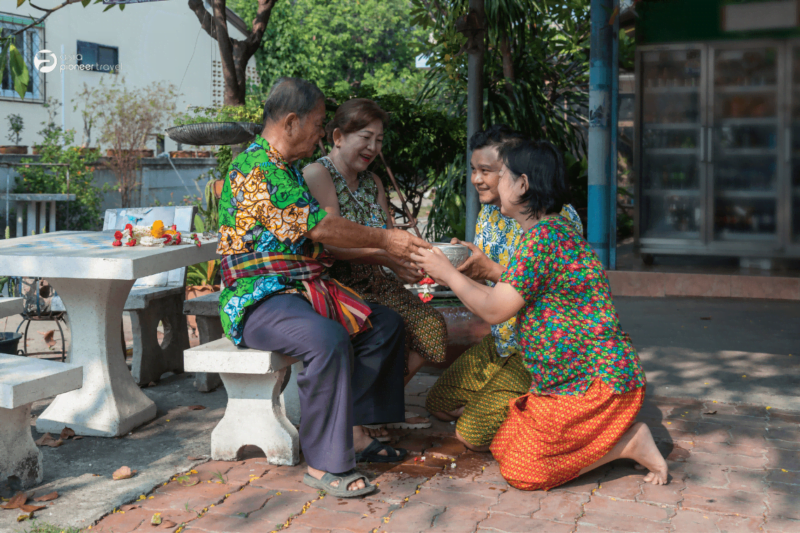 Thailand celebrates Songkran all around the country, with the biggest festivities taking place in Bangkok, Chiang Mai, Phuket, and other major towns as well as well-liked beach resorts like Koh Samui and Pattaya. Parades, festivals, beauty pageants, and splashing water on crowd are all part of Songkran celebrations around Thailand.
For Thai people living in big cities, Songkran is when them to return to their home and spend quality time with family. Devoted Buddhists will visit local temples to give their offerings. they, they follow a cleansing rite, in which they splash water on Buddha statues to wash away sins and ward off bad luck for the following year. 
Furthermore, Songkran is also a time for respect and reverence for one's elders. Younger generations do traditional foot washing and gift-giving for grandparents and parents as a sign of respect for those who set the path for their future achievement.
Tips to Have Fun While Celebrating Songkran Thailand
The traditional Thai New Year celebration has changed over time to become well-known mass water fights. These water fights are super fun exciting, not to mention it is a good way to cool off during the hot weather of Thailand. Every year, thousands of tourists are drawn to Thailand to join in the Songkran celebrations. Although Songkran celebration was disrupted for the last few years because of the pandemic, the largest Thailand festival of the year is back in 2023, so it's going to be marvelous!
So, here are some tips on what to prepare for playful water fights and merrymaking of the Songkran festival Thailand:
Join the locals: You can participate in traditional water fights with local communities. Throwing buckets of water at each other as a sign of cleaning and renewal is one of these enjoyable activities. Prepare for surprising "attacks" as you roam the streets during Songkran.
Get the "weapon" for water fights: The best Songkran participants are those with a large water cannon with minimal refill needs. You can get an sense of the size by recalling the size of the Super Soakers you had when you were 12 years old. The Central World shopping center and large supermarkets like Big C are a couple of places to look.
Dress appropriately: You should dress modestly and avoid wearing anything too exposing to the festival. In the hot weather of April, loose-fitting clothing made of light materials like cotton will help you stay cool.
Protect Your personal belongings: To keep your valuables dry during the water fights, don't forget store your passports, wallets, and phones in waterproof bags.
Wear protective eyewear: Protective eyewear (e.g. sunglasses, goggles) can shield your eyes from water and other items that may be thrown during water fights.
Bring extra clothes: After the water fights are over, you may dry off and change into clean clothes for your next activity by packing extra clothing and a towel in a waterproof bag.
Choose safe water sources: To prevent the transmission of disease, you should only engage in water fights in places that have been designated for this purpose.
Be careful on the roads: During the celebration, the roadways can become extremely crowded, and accidents are frequent. Thus, you should take caution when strolling on the roads and refrain from using motor vehicles or motorbikes. To get around safely, take advantage of Bangkok's world-class public transportation system by riding the air-conditioned BTS Skytrain and MRT Metro systems.
Keep hydrated: Because the festival will likely be held in blistering heat, it is necessary to keep yourself hydrated. To prevent dehydration, you should always have a water bottle in your bag.
Learn and respect local culture: You should respect local traditions and customs when attending the celebration. Don't splash police officers, the elderly, or monks with water, as they may need to navigate the streets during Songkran without taking part in the water fight.
Experience other activities: During the festival's processions and ceremonies, you can commemorate local Buddhist traditions by offering food or clothing at temples. You can also enjoy live performances of traditional Thai music and dance in towns like Chiang Mai or Bangkok.
Book early: This is one of the most important thing. Songkran Thailand is one of the busiest times for travel, so not only the prices will go up, things like airplan tickets and accommodations will run out quickly. 
With these tips in mind, go wild and have the best time participating Songkran Thailand this year. In Thailand, the Songkran Festival is always a big deal wherever you are. It's the ideal time to spend with family, friends, and a variety of activities and events.
Let Us Help You Plan Your Thailand Holiday
Don't let the planning stress you out. Tell us your travel ideas and our travel advisors are very glad to give you suggestions and guidance for your trip planning. We offer personalized tours according to your interests and requirements and help to create the best Thailand vacation for you.
Refresh your life! with Asiapioneer Travel
Free service. No credit card required