A Complete Guide To Exploring Phong Nha Caves

Dive into the mesmerizing world of Phong Nha Caves, Vietnam's hidden gem set within the UNESCO-listed Phong Nha-Ke Bang National Park. With breathtaking stalactites, vast underground chambers, and a tapestry of history, these caves promise more than just a visual treat. Ready for an epic subterranean adventure? Let's embark on this ultimate guide to unraveling the secrets of Phong Nha!
Why Phong Nha Caves Are So Famous?
Historical Echoes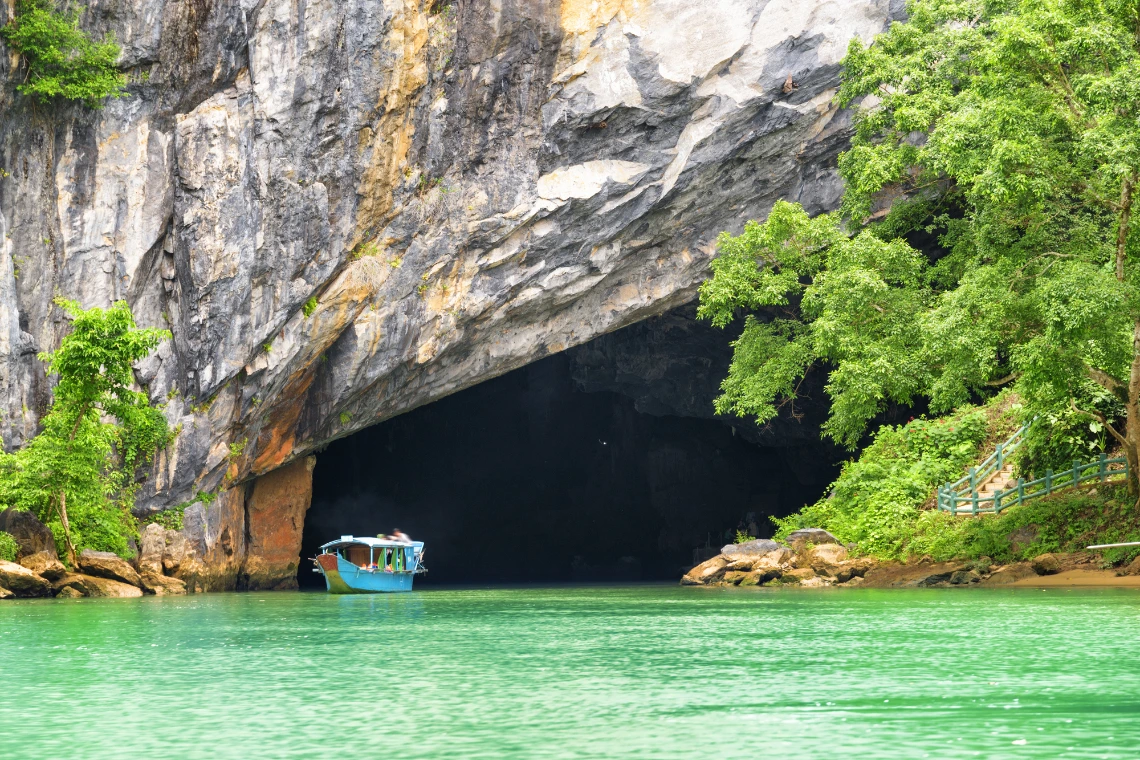 The Phong Nha Caves hold a special place in the heart of Vietnam, and it's no wonder why. The Archaeological Institute of Vietnam recognized their significance in 1995, but the caves have been treasured by locals for much longer. French missionary Léopold Cadière first noted their historical value way back in 1899. During the Vietnam War, the caves served as protective shelters during bombings, providing a safe haven for those enduring the adversities of war. It's incredible to think that such a beautiful landmark could have played such an important role in history.
Geographical Splendors
The caves located in the Phong Nha-Ke Bang National Park are a true masterpiece of nature. These caves have been carved over centuries and are a testament to the beauty of karst landscapes, boasting unique stalactites and chambers.
The Heart of Phong Nha: Its People
The heart and soul of Phong Nha lies within its local community. The people are friendly, and welcoming, and always wear a smile on their faces, making the area a unique and special place. Tourism has breathed new life into the region, with locals taking on various jobs, including fishing and guiding tourists with enthusiasm and passion.
A Cultural Tapestry
Phong Nha is a lively mix of traditions and communities. Families, usually consisting of three generations, live together in one house. Friends gather to celebrate with local rice wine and karaoke sessions. Visitors are welcomed with open arms and often take part in local celebrations and family dinners.
Festive Vibrancy
The Dragon Boat races held bi-annually on the Son River embody the festive spirit of Phong Nha. They are a lively display of local camaraderie.
Exploring The Stunning Wonders Of Phong Nha Caves
Son Doong Cave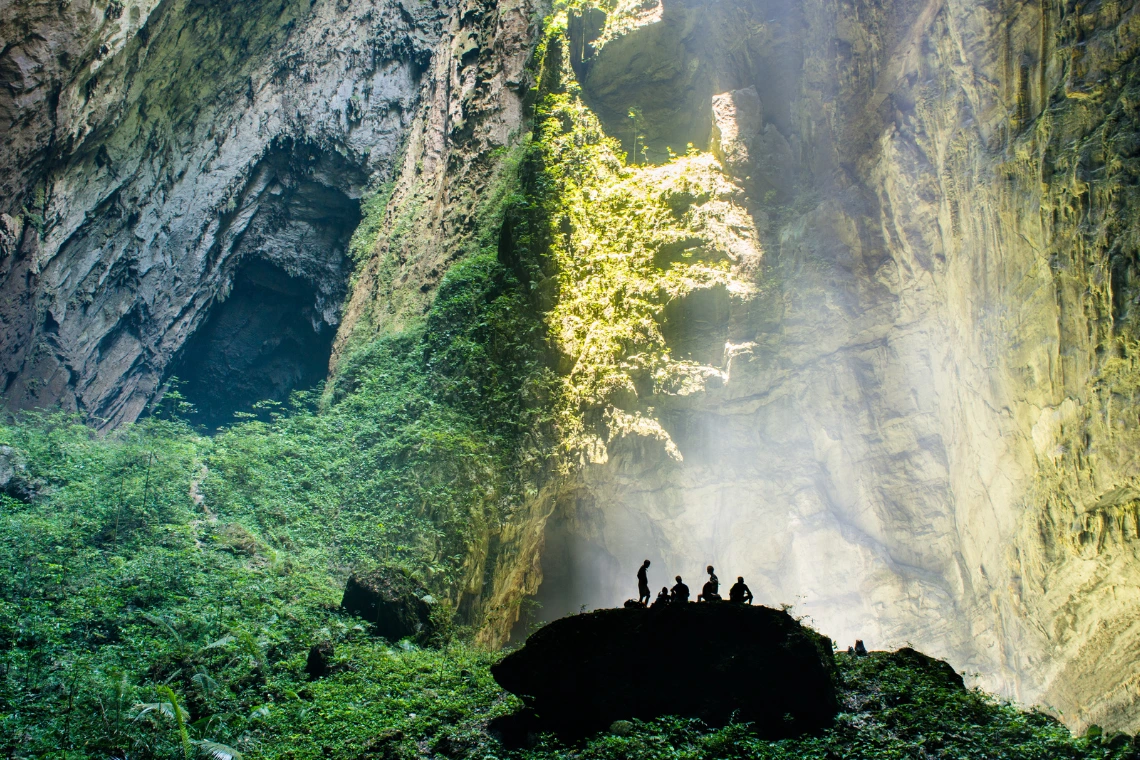 Embark on a journey to Son Doong, the world's largest cave, starting from Phong Nha town. A four-day guided expedition through this colossal marvel will take you past towering stalagmites that rival the height of London's Big Ben. The cave even boasts its own unique ecosystem, complete with cloud formations and jungles. Due to its immense popularity and the need for preservation, it's often booked out months in advance and is the costliest option among the caves in the area.
Tu Lan Cave System
The Tu Lan Cave System is an adventurer's dream. Tours usually begin in Phong Nha town, from where you're transported to a trek starting deep in the jungle. Tu Lan offers a unique blend of water-based and land-based exploration—expect to wade, swim, climb, and crawl through an intricate network of tunnels and underwater rivers. With options ranging from one-day trips to four-day expeditions, Tu Lan offers a diverse set of experiences, all governed by high-priority conservation efforts to protect its unique features.
Hang Va and Nuoc Nut
Start your guided tour to Hang Va and Nuoc Nut from Phong Nha town and prepare for a physically demanding two-day adventure. These caves are geological wonders, famous for their striking stalagmites and picturesque rock pools. Hang Va is particularly captivating between January and March when the rock pools are at their peak. Due to the fragile nature of these formations, strict conservation guidelines are in place.
Pygmy Cave
If you're looking for a challenging yet rewarding experience, Pygmy Cave offers a three-day expedition that starts from Phong Nha town. As the world's fourth-largest cave, Pygmy provides diverse terrains and activities, including abseiling and climbing. Unique elements like the underground rivers in Tiger Cave and jade-colored ponds in Over Cave make this a memorable journey. Considering the cave's unique geological features, conservation is a critical aspect here.
Hang En Cave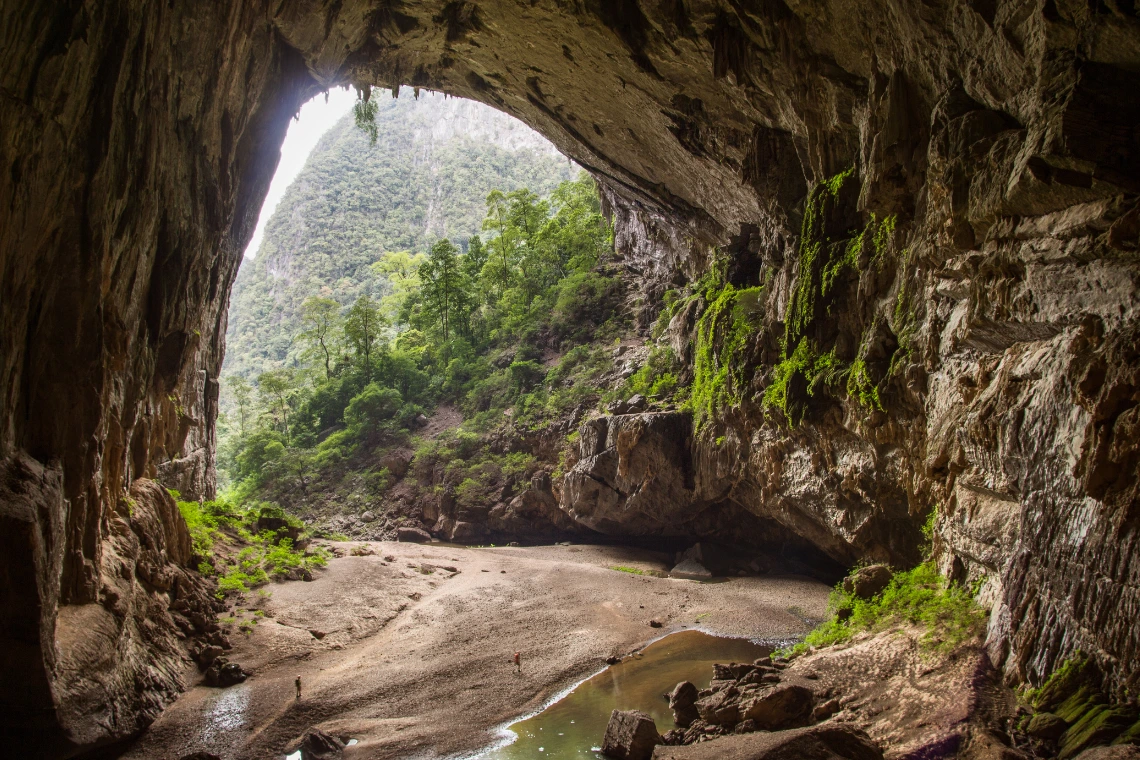 A trek through Phong Nha-Ke Bang National Park leads you to Hang En, the world's third-largest cave. This moderate, full-day expedition offers something unique—an overnight stay beneath thousands of darting swallows, either at the cave entrance or in the jungle. Its unique avian population and enormous size make Hang En a significant site for conservation efforts.
Paradise Cave
Located within Phong Nha-Ke Bang National Park, Paradise Cave is a 31-km-long wonder that you enter via a wooden staircase leading to a grand chamber. The cave is renowned for its high ceilings adorned with beautiful stalactites, some reaching down into the cavern below. While most tourists explore just the first kilometer, kayaking options allow for deeper exploration. Like all caves in the region, Paradise Cave is governed by strict conservation guidelines to protect its unique features.
Phong Nha Cave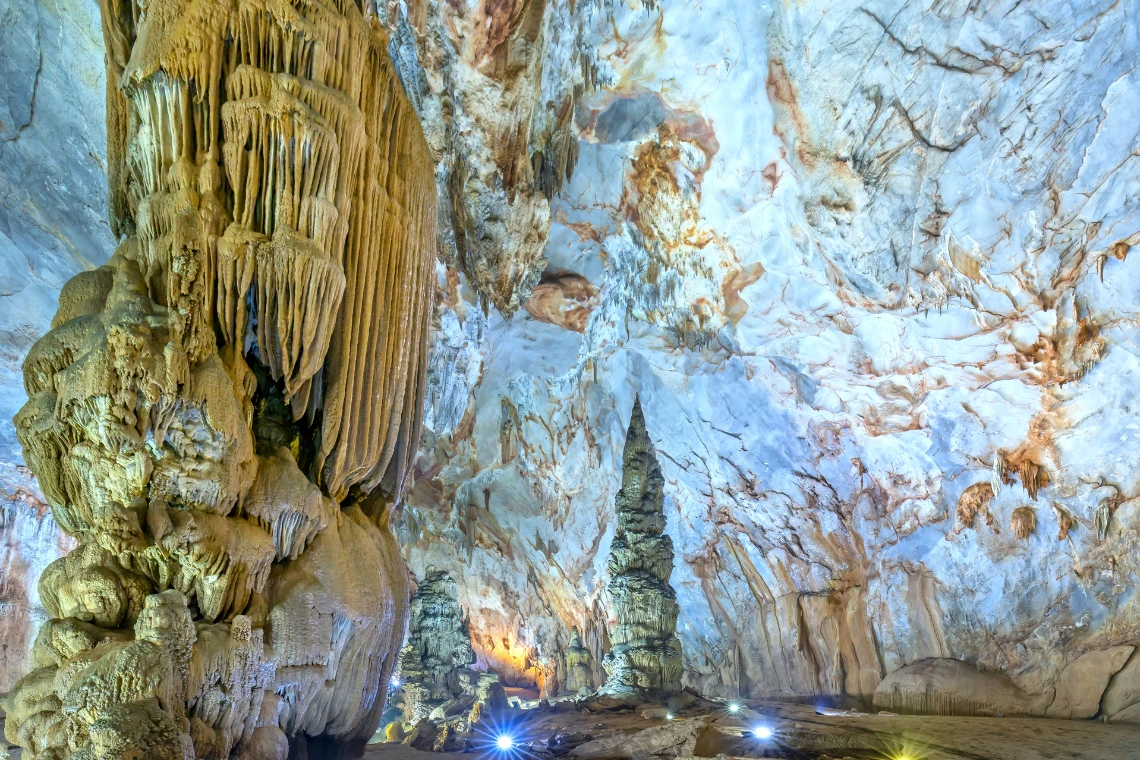 For a more tranquil experience, take a serene boat ride on the Son River to Phong Nha Cave. As you journey through, you'll be surrounded by lush greenery and magnificent karst mountains. The cave is stunning, featuring stalactites and stalagmites resembling a giant monster's teeth. With only 400 meters open to tourists, the cave offers a more relaxed exploration, yet its unique formations and status as the region's namesake make it a high-priority conservation site.
>> Read More: Top 10 Caves In Vietnam – Discover The Incredible Gifts From Nature
What Else To Do In Quang Binh Beyond The Phong Nha Caves?
Paddle Through Tranquility: Kayaking Adventures
If you're looking to escape the crowds and experience Phong Nha's aquatic beauty, kayaking is a perfect option. Paddle your way through the serene waters of the Phong Nha River, or venture towards Hang Toi for a diverse range of water activities. From kayaking to swimming and even zip-lining, Hang Toi offers a one-stop destination for water enthusiasts. For those who prefer a more DIY approach, Oxalis and Victory Road Villas offer kayak rentals for independent adventurers.
Step into the Wild: Walking & Hiking
Phong Nha-Ke Bang National Park is a hiker's dream, boasting landscapes you won't find anywhere else in Vietnam. Whether you're a seasoned trekker or new to the hiking scene, organized tours led by local experts offer the best of both worlds. Immerse yourself in nature's grandeur during the day, or opt for a night tour to experience the nocturnal side of the jungle. For animal lovers, visiting local animal rescue centers on a two-day eco-tour adds an educational layer to your adventure. Jungle Boss is a highly recommended outfit for guided hiking tours.
Pedal and Roar: Cycling & Motorbike Tours
The pastoral countryside of Phong Nha is a playground for those who love to explore on two wheels. From the meandering lanes in the town to the expansive rice paddies, cycling offers a unique perspective of the area. If you're up for a challenge, pedal your way through the 15-kilometer loop towards the Bong Lai Valley, where picturesque farms and idyllic swimming holes await. And don't worry if you're not into hardcore cycling; many hotels offer free bicycle rentals for a more leisurely experience.
For those who prefer the thrill of speed, motorbike tours allow you to explore the region effortlessly. These guided tours often include pit stops at local farms and villages, providing a wholesome experience that goes beyond sightseeing.
Where To Stay In Phong Nha?
Hotels
If comfort and luxury top your list, Phong Nha's hotels offer an elegant blend of modern amenities and traditional charm. Hotels like Phong Nha Coco Riverside, Son Doong Riverside, Thien Thanh Hotel, Karst Villa Phong Nha, Victory Road Villas, and Hung Phat Bungalow deliver an unparalleled experience.
Wake up to stunning views of nature, enjoy top-notch services from professional staff, and indulge in delicious local cuisine. Plus, many of these hotels offer activities like kayaking, allowing you to explore the region without straying too far from your comfort zone. While the prices may be higher than homestays, the experience is worth every penny.
Homestays
If you're keen to immerse yourself in the local culture, Phong Nha's homestays offer a heartfelt experience that's hard to beat. Stay with a local family and become a part of their daily lives, sharing meals and stories as if you were one of their own.
Homestays like Phong Nha Memory Homestay, Sy's Homestay, Phong Nha Farmstay, and Funny Monkeys Homestay are particularly popular for their warm hospitality and affordable pricing. These stays offer a window into the simple yet fulfilling lifestyle of Phong Nha's residents and provide a sense of belonging that hotels simply can't match.
Best Time To See The Beauty Of Phong Nha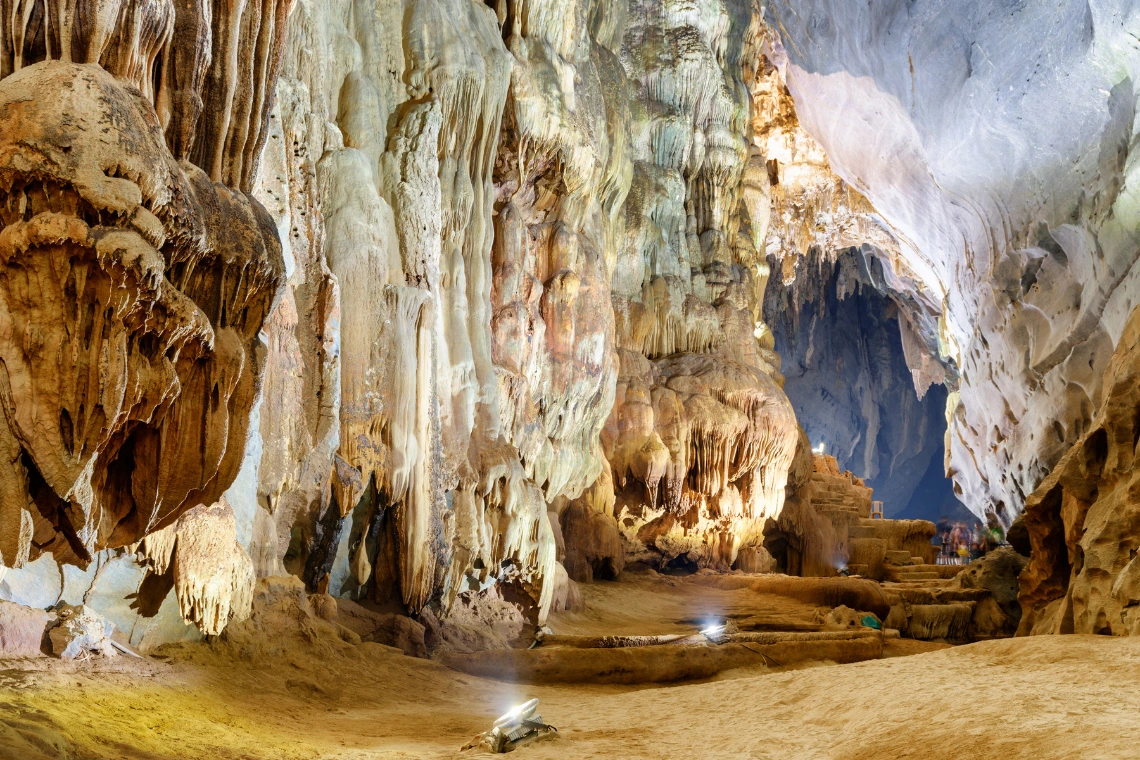 When planning your trip to Phong Nha, it's crucial to consider the weather, as it plays a significant role in determining what you can see and do. While the allure of the caves is year-round, the rainy season from September to November can disrupt your plans. Many tourist sites are closed during this time due to extreme weather conditions like floods.
For the optimal experience, aim to visit during the dry season from April to August. This period offers the best conditions for exploring the underground rivers and wet caves. It's also the ideal time for indulging in adrenaline-pumping activities like kayaking, zip-lining, and hiking. Make sure to check the weather forecast before your trip and book accommodations and activities in advance, especially if you plan to visit during these popular months.
>> See Tour: World Heritage Sites of Vietnam
Getting To Phong Nha
Option 1: Via Dong Hoi City
The first way to reach Phong Nha is to travel to Dong Hoi City, which is accessible by both plane and train. Once you arrive in Dong Hoi, you're about 45 kilometers away from your final destination. Simply drive northwest along National Road 16 until you reach the Son River. A boat ride along this river will take you straight to Phong Nha Cave. The journey from Dong Hoi's city center to the cave usually takes around one and a half hours. This route offers the flexibility of adding a stopover in a bustling city, where you can explore local markets, dine on local cuisine, or even take a quick beach trip.
Option 2: The Sleeper Bus Experience
If you're looking for a different kind of travel experience and have some time to spare, consider taking an overnight sleeper bus. These buses are particularly popular for routes from Hanoi, which take about 9 hours. Buses are also available from nearby cities like Da Nang and Hue. Sleeper buses offer a more budget-friendly option and a chance to interact with other travelers, making your journey to Phong Nha an adventure in itself.
Other Things To Know Before Travelling To Phong Nha
1. Transport Options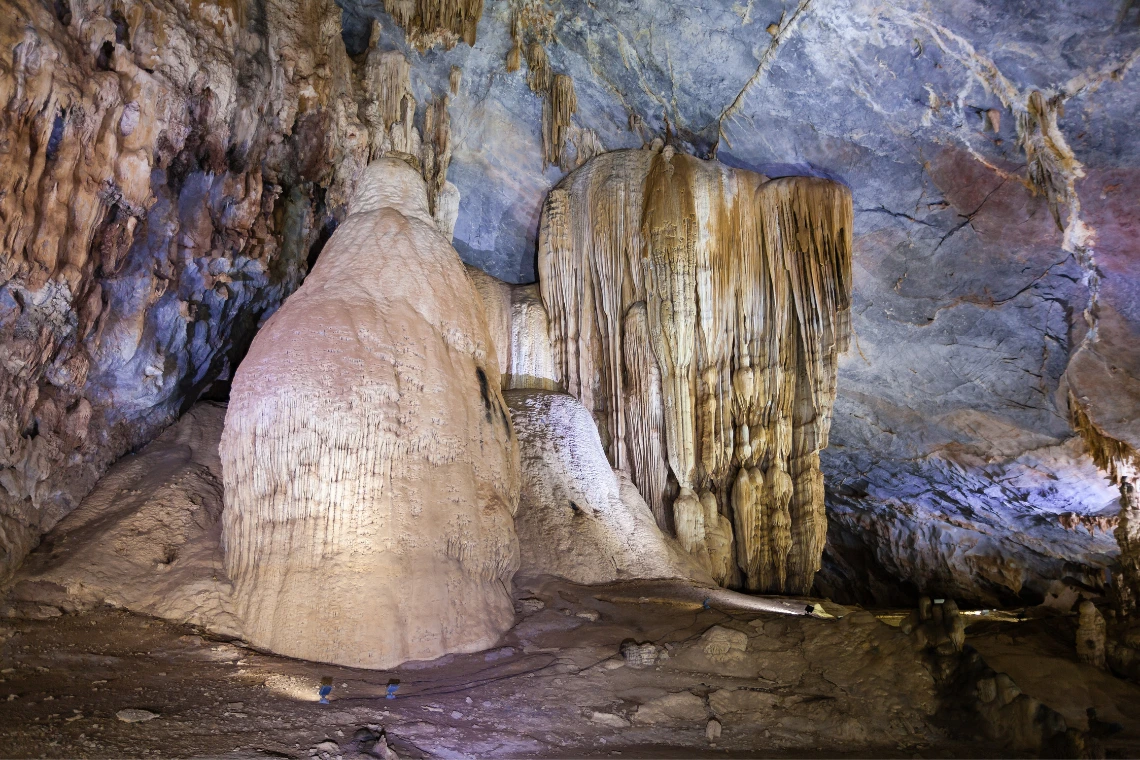 Exploring Phong Nha on two wheels is a highly recommended way to soak in the natural beauty and local culture. Whether it's a bicycle or a motorbike, rentals are readily available across the town. Your accommodation staff will often assist in arranging these rentals for you. If you're keen on exploring the national park but lack motorbike experience, you can hire a local guide to chauffeur you around. One reputable guide service is Thang's Phong Nha Riders; give Thang a call at +84 (0) 164 659 0719. Taxis are available for those who prefer four-wheel travel, and the most common local taxi is the "xe ôm," a motorbike taxi. Note that most xe ôm drivers do not speak English, but hotels and hostels can help you arrange one.
2. Local Cuisine
Phong Nha is a haven for food lovers, offering an array of local dishes, the most notable being Thit Nuong (barbecue meat). Available in chicken, beef, or pork, this dish is served with a local flavored chutney that is simply irresistible. In addition to local cuisine, you'll find a variety of Vietnamese and Western food options, thanks to the area's many restaurants and hotels.
3. Drinking Water
While the landscape may be pristine, tap water in Phong Nha is not suitable for drinking. Due to the high mineral content, including limestone and calcium, it's advised to stick to bottled or boiled water during your stay.
4. Nightlife & Entertainment
After a day of exploration, unwind with the locals at a karaoke party, a cornerstone of Phong Nha's entertainment culture. If you're in the mood for something more energetic, the town boasts a couple of nightclubs: Andy's Disco Bar and Hair of the Dog. Your night out won't break the bank with drink prices as low as VND80,000 ($4 USD) per hour.
5. Local Market
Phong Nha's market is a hive of activity, best visited between 6 and 9 AM. It is located along the main road and offers everything from fresh produce to essential items like hats, raincoats, and snacks. While you won't find high-end trekking gear, you'll find plenty of basic items to meet your needs. Feel free to haggle and explore—the market is a microcosm of Phong Nha's vibrant community.
Your Adventures Await In Phong Nha
In Phong Nha, every cave is a hidden world waiting to be explored, every trail an invitation to adventure, and every meal a taste of the local culture. From the awe of its underground wonders to the warmth of its people, Phong Nha is more than a travel destination—it's an experience that stays with you long after you've left.
So why wait? Pack your bags and set your sights on this Vietnamese gem. Whether you're an adventurer, a foodie, or a nature lover, Phong Nha promises a journey you'll treasure forever. Your unforgettable adventure starts here. See you in Phong Nha!