How To Plan A Family Holiday In Vietnam?

Vietnam is an excellent family-friendly vacation location, with lots of things to keep everyone occupied. Vietnam has something for everyone, with its vibrant cities and breathtaking natural beauty.
Whether you wish to visit historical places or spend the day resting on the beach, your children will enjoy it just as much as you do!
By following these suggestions and remaining open to new experiences, you can ensure that your next family holiday in Vietnam is one to remember!
Why Spend A Family Holiday In Vietnam?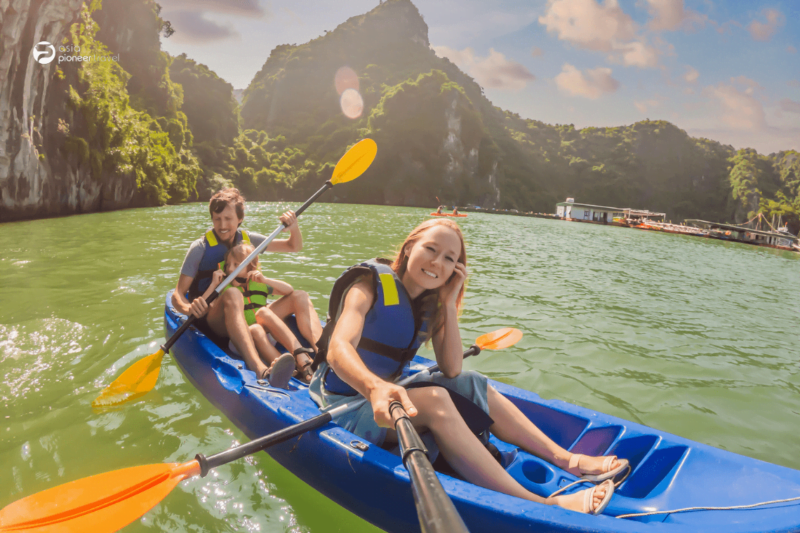 Vietnam is at the top of many families' trip wish lists for its excellent value for money. Some of Vietnam's top activities, tours, and sites are quite affordable, enabling longer vacations. You'll learn that you may have a relaxing family vacation without breaking the bank.
Vietnam is also renowned for its diverse landscapes, which range from vibrant cities and beautiful beaches to remote mountains. There's something for everyone, no matter what type of activities you're searching for.
Will The Kids Enjoy Vietnam?
Vietnam is a welcoming and safe place for families of all ages. With a low crime rate and kind residents, your family will feel comfortable while spending time here.
In Vietnam, there are multiple kid-friendly attractions and activities for people of all ages. There are many activities for children to take part in, ranging from kayaking through the limestone caves of Halong Bay to watching the water puppets in Hanoi.
People here are kind and courteous, and they are always willing to help. There are many parks and playgrounds for children to play in the cities, and in the countryside, you may explore nature trails or take a bike ride through some of Vietnam's most beautiful terrain.
Plan Your Family Holiday In Vietnam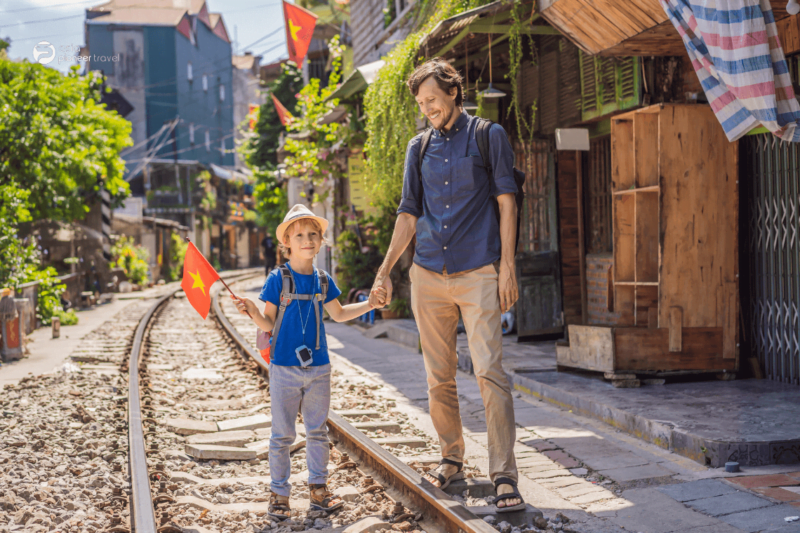 1. Decide the destinations you want to visit
What do you actually want to get out of your family trip? Are you going to the beach to unwind? A lively city break? What about history and culture? What are theme parks? All of this is possible in Vietnam, but if you have one core objective, you can arrange the remainder of your time exploring.
We frequently encourage customers to spend 5 – 7 days on the beaches in between experiences, so the kids may relax and play.
One of the most significant factors influencing the trip is the weather. So, for reference, we've divided the weather into three parts based on the country's three major areas.
Between December and February, North Vietnam (including Hanoi and Halong Bay) has colder weather and low humidity. From June through August, it can be extremely hot, wet, and humid, and children may suffer from heat exhaustion.
Central Vietnam (Da Nang, Hue, and Hoi An) has a tropical climate and is hot almost all year. The dry season lasts from November to April.
South Vietnam (home to Ho Chi Minh City and the Mekong Delta) has two distinct seasons: rainy and dry. Again, it is fairly hot all year, with the wet season running from May to November.
2. Consider your budget and holiday duration
Your trip budget is greatly affected by the number of days you'll spend in Vietnam, as well as the sorts of hotels and activities you'll partake in.
We offer a 10-day journey to explore the highlights of the best cities in Vietnam from north to south, including Hanoi, Halong Bay, Hoi An, Ho Chi Minh City, and the Mekong Delta. If you have time, you should visit additional places like Ninh Binh, Quang Binh, and Phu Quoc.
International flights may account for the majority of your tour costs. Airfares for various itineraries vary significantly so compare prices before booking. Check with your consultant: he or she may be able to secure a better deal.
For your reference, the costs for a private tour based on a party size of two during the high season are as follows:
Touring Vietnam on a medium budget normally costs roughly US$200-250 USD per day per person (including 4- or 5-star accommodations, domestic airfare, attractions, guides, and transportation).
With a higher budget of US$250–350 per day per person, you can enjoy more comfort. This includes 5-star or plus hotels, flights within Vietnam, attractions, guides, and transfers.
A family trip to Vietnam or Southeast Asia for two weeks (two adults with 2-3 children) typically costs US$10,000-20,000 per family, excluding international flights from/to America or Europe.
3. Research where to stay in Vietnam with family
There is plenty of family-friendly lodging in Vietnam, ranging from inexpensive hostels and guest homes to luxury hotels. The good news is that most establishments provide large, family-sized rooms, and children may often stay for free in existing bedding.
You can inform our consultants about your requirements and tastes, and we will propose the best hotels and resorts for your family. We have a large network of hotels that allows us to meet all of your requirements.
4. Make it easier with a Vietnam family tour package
We all know that organizing a trip requires a lot of work, and this is especially true when taking into account additional people, particularly children. A Vietnam family package may be exactly what you need in this situation.
You can view either "Vietnam Family Adventure" or "Vietnam Family Vacation" on our tour.
The "Vietnam Family Adventure" tour is designed to assist you and your family in discovering the country's hidden charm through a variety of activities.
The "Vietnam Family Vacation" tour is ideal if you'd like extra downtime. Everyone will have the opportunity to take part in amazing activities, enjoy the beaches, and learn more about the local culture.
9 Tips For Family Travel In Vietnam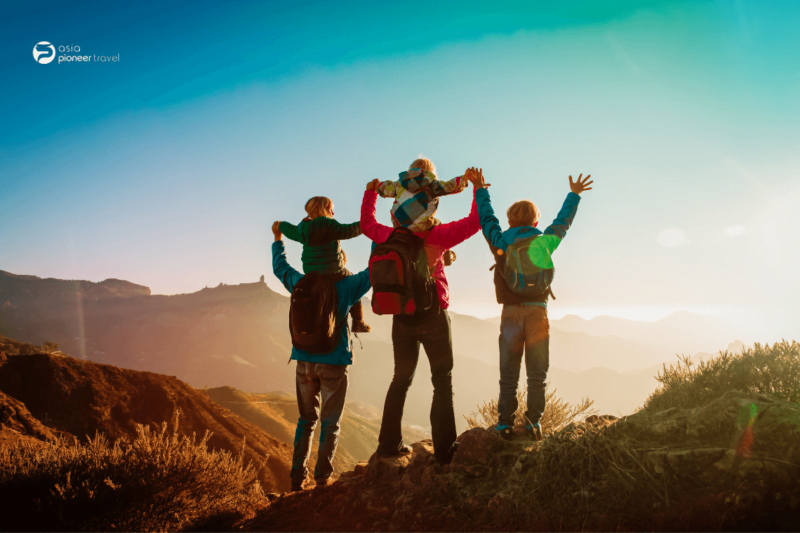 These tips are just what you need to prepare for a family holiday in Vietnam with kids. Make sure that your entire family has a fantastic time in Southeast Asia's top tourist destination.
1. Prior to your travel or at the airport, exchange your currency
When traveling with kids, it is best to have local currency on hand before entering the new nation to reduce stress and travel time. To pay for modest amounts of food or to tip for services, be sure to also have smaller notes on hand.
2. Choose a travel agency that has lots of experience with family holiday planning
It is recommended to do some research about the destination and have a checklist handy. Even before you arrive, the front desk of your hotel can assist you in planning your itinerary and making recommendations for nearby or family-friendly attractions.
3. Invole your kids in the planning if possible
Young children will be content to splash around in the pool or play on the beach, but older children might require more stimulation. Ask the teenagers what they want to do to ensure a pleasant trip. Instead of offering them a blank schedule, give them options. For instance, would they rather visit the local market or the floating market?
To arrange a family holiday in Vietnam, you can occasionally need professional assistance. Using a tour operator that specializes in kids will make the Vietnam vacation successful, whether you're searching for a full-service tour or just a half-day tour, to plan a boat tour of the Mekong Delta, cookery classes on Cat Ba Island, or even a Halong Bay cruise.
4. Bring some masks and hand sanitizers with you
Give your children masks, and bring a couple of extras. This is a COVID-19 precaution, but masks are also useful when traveling through Vietnam's dusty roads. Smog is an issue, especially in large cities. Buy hand sanitizers while you are still in the city if you want to travel to a more remote location because restrooms there might not offer hand soap.
5. Book your accommodations in advance
Even for families that enjoy adventure, looking for lodging only once you get there can turn out to be disastrous in many ways! This advice is particularly advised for distant regions of Vietnam, such as Sapa's rural districts, where many homestays require an early warning of visitors. Although it could be challenging to reserve such lodging online, there are many tour companies available to assist!
6. Be ready for lengthy trips by car, bus, rail, or airplane
While parents are typically ready for the flight, don't forget about long car trips or overnight train excursions. Kids may become bored fast. From large towns, such as Ha Long Bay or Sapa from Hanoi or Mui Ne or Vung Tau from Saigon, many destinations in Vietnam may only be reached via long trips.
Make transportation arrangements in advance, carry games, books, and power banks with you, and don't forget to remind the older kids to bring their own entertainment. There will be a few stations along the way for bus travel where you may purchase Vietnamese food and drinks. Make sure to arrive early at the bus or train terminal!
7. Look for kid-friendly Vietnamese food
Vietnam is known for its delicious food, yet fish sauce and blood pudding could be perhaps too adventurous for most children (and even foreign adults). Start out the children's meal with some delicious spring rolls, banh khot (little savory pancakes), and of course, pho. Taking kids to markets is an excellent way to introduce them to local cuisine because the fresh produce on display will pique their interest in trying new dishes.
8. Always use sunscreen
The vast majority of Vietnam experiences a tropical climate with warm temperatures throughout the year. Because there is no need to bring bulky winter clothing and keep track of mittens, traveling with children in Vietnam is made easier in part by this. But even in Northern Vietnam, the sun can be intense. Take plenty of sunscreens and a hat with you when you go to the beach, cruise along Halong Bay, hike up Marble Mountain, or take a boat trip on Perfume River.
9. Ensure your schedule is flexible
Vietnam is a country where even the best-laid intentions sometimes fail. Even during the official opening hours, attractions may be closed, traffic backups may develop without warning, and even the streets in the city center may flood during heavy rain. Vietnam will be a fantastic vacation no matter what unexpected obstacles come your way if you have a flexible, positive mindset that will also inspire your children.
Most Importantly, Make Memories
Family vacations are a wonderful way to escape the stress of contemporary life and give your kids the chance to experience new things. Visitors to Vietnam will discover a wide variety of sights and tours, many of which are secure and kid-friendly, thanks to a society that likes kids.
When a family travels together, they make special memories. There are so many places in Vietnam that are suitable for kids of all ages and levels of adventure-seeking.
Book your upcoming trips with Asia Pioneer Travel – The Best Travel Agency in Vietnam!
Asia Pioneer Travel has over 14 years of experience in the tourism industry and has established itself as a premier, reputable, tailor-made travel agency in Vietnam and Asia. We constantly pay close attention to and comprehend the demands and preferences of our customers, enabling the creation of excellent holidays. After taking our bespoke tours, many customers have told their friends and family about them. Because our customers deserve it, we consistently strive to assure them of complete satisfaction.