Top 5 Destinations To Celebrate Christmas Holiday In Southeast Asia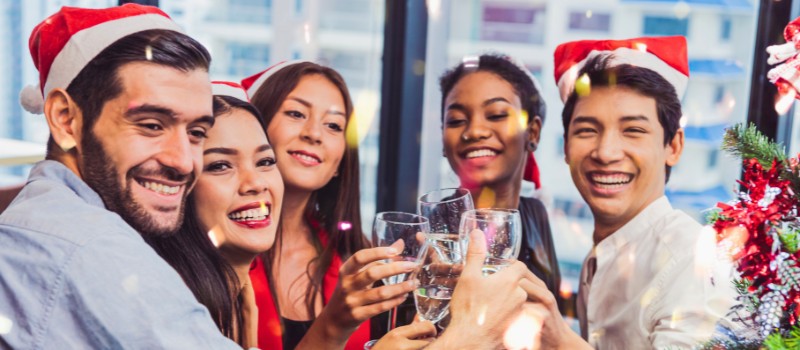 As the air turns crisp and the scent of mulled wine fills the streets, the anticipation of the holiday season begins to build. It's the time of year when we seek the perfect destination to make our Christmas and New Year's celebrations truly extraordinary. While many embrace winter's cold and cozy traditions in their hometown, why not flip the script this year? Picture yourself surrounded by swaying palm trees, warm ocean breezes, and the vibrant colors of Southeast Asia. Follow this ultimate guide to unwrap the magic of the best Christmas holiday in Southeast Asia.
Reasons Why Southeast Asia Should Be Your Christmas Destination
Warm Weather
Bid farewell to frosty winters and embrace the warmth of Southeast Asia's tropical climate. Instead of snowflakes, picture yourself surrounded by palm trees and gentle sea breezes. Imagine sipping cocktails on a sun-kissed beach or exploring lush jungles without bundling up. With temperatures that feel more like a summer's day than a winter wonderland, Southeast Asia promises a positively balmy Christmas.
Vibrant Festivities
In Southeast Asia, Christmas isn't just a holiday; it's a dazzling spectacle of diverse cultures coming together. Experience the magic of local traditions, from mesmerizing lantern festivals to captivating parades. The streets come alive with vibrant processions, music, and dance, making it impossible not to catch the holiday spirit. Prepare to be enchanted by a kaleidoscope of colors and cultures this Christmas.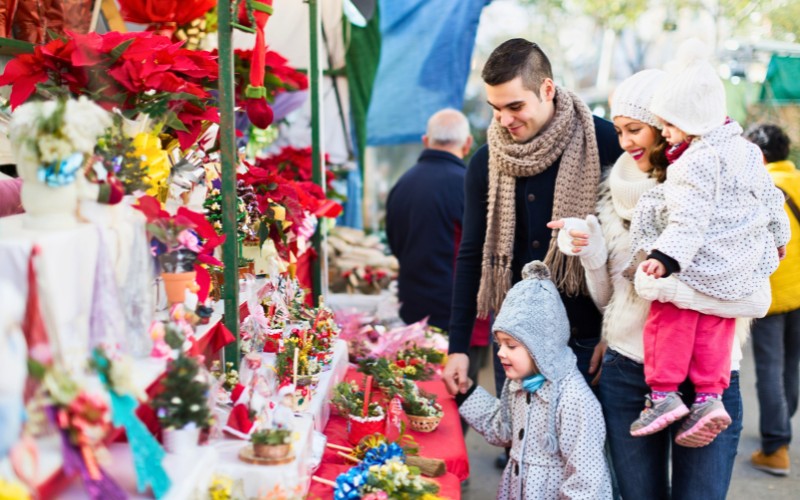 Enjoy Christmas vibes in Southeast Asia countries
Budget-Friendly
You don't have to break the bank to have a memorable Christmas holiday in Southeast Asia. This region offers budget-friendly travel and accommodation options that won't leave your wallet feeling the holiday blues. From charming guesthouses to cozy beachfront bungalows, you can find a range of choices to suit your budget, giving you more spending power for festive fun and gifts.
Diverse Cuisine
One of the greatest joys of traveling is tasting the local cuisine, and Southeast Asia doesn't disappoint foodies. This Christmas, tantalize your taste buds with mouthwatering dishes that range from fiery curries to delicate street snacks. Picture yourself enjoying a delicious bowl of steaming pho in Vietnam or feasting on Bali's sumptuous seafood flavors. Southeast Asia's culinary delights are a Christmas gift you will never forget.
Adventure Opportunities
Why settle for a traditional Christmas when you can make it an adventure of a lifetime? Southeast Asia offers a cornucopia of activities, from island hopping and jungle trekking to diving into crystal-clear waters. Adrenaline junkies and tranquil moment seekers can both find their best alternatives in this region.
Top 5 Countries To Celebrate Christmas Holiday in Southeast Asia 
Thailand: Where Festivities Shine Bright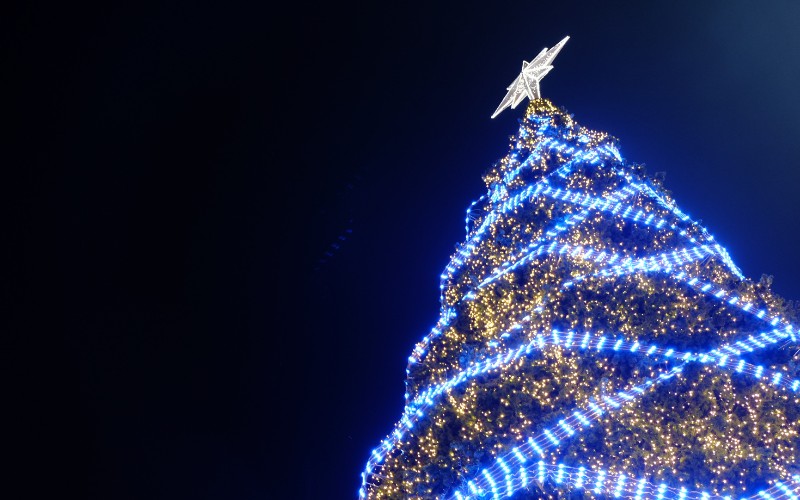 Giant Christmas Tree at Central World in Bangkok
Bangkok: Witness Stunning Light Displays and Festive Markets
Bangkok, the vibrant capital of Thailand, transforms into a dazzling wonderland during Christmas. The city's streets and landmarks come alive with breathtaking light displays that rival the stars in the night sky. You'll be mesmerized by the magical ambiance created by the beautifully decorated malls and markets. Make sure to visit Asiatique the Riverfront and CentralWorld Plaza for an unforgettable shopping and dining experience.
Chiang Mai: Embrace the Annual Yi Peng Lantern Festival
Chiang Mai, located in northern Thailand, is famous for its Yi Peng Lantern Festival, which coincides with Christmas. Picture the night sky illuminated by thousands of floating lanterns, creating a surreal and enchanting atmosphere. Join the tradition of releasing your own lantern and watching it soar into the heavens, carrying your wishes for the new year.
Phuket: Celebrate with Beach Parties and Fireworks
For a Christmas celebration with a tropical twist, head to Phuket. This island paradise welcomes the holiday season with open arms, offering beachfront parties and mesmerizing fireworks displays. Whether dancing under the stars or simply lounging on the sandy shores, you can feel the complete festive vibes in the air. Phuket is where the magic of Christmas meets the beauty of the Andaman Sea.
>> See Tour: Thailand Holiday: Bangkok, Phuket & Koh Yao Yai
Vietnam: A Tapestry of Traditions and Joy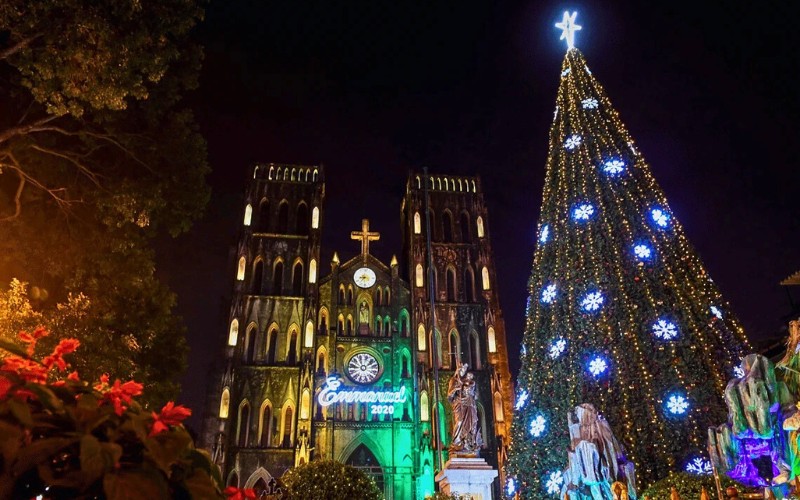 St Joseph's Cathedral in Hanoi during Christmas time (Source: Collected)
Hanoi: Embrace the Holiday Spirit with Traditional Decorations
In the charming city of Hanoi, Christmas is celebrated with grace and tradition. Stroll through the old quarter, where the streets are adorned with sparkling lights and festive decorations. Be sure to visit St. Joseph's Cathedral, a stunning neo-Gothic church that becomes the centerpiece of the city's Christmas festivities.
Ho Chi Minh City: Explore the Vibrant Streets and Markets
Ho Chi Minh City, formerly known as Saigon, bursts with energy during the Christmas season. The bustling streets are lined with stalls selling everything from ornaments to sweet treats. Join the locals as they gather at the beautiful Notre-Dame Cathedral Basilica of Saigon, which is beautifully illuminated for the occasion.
Hoi An: Experience the Enchanting Lantern-Lit Atmosphere
Head to the charming town of Hoi An for a Christmas celebration that feels like a fairy tale. Known for its ancient architecture and picturesque canals, Hoi An becomes even more enchanting during the holidays. The entire town is decorated with colorful lanterns, creating a magical atmosphere that will transport you to a world of wonder.
>> See Tour: Vietnam Family Vacation 
Indonesia: An Island Paradise Awaits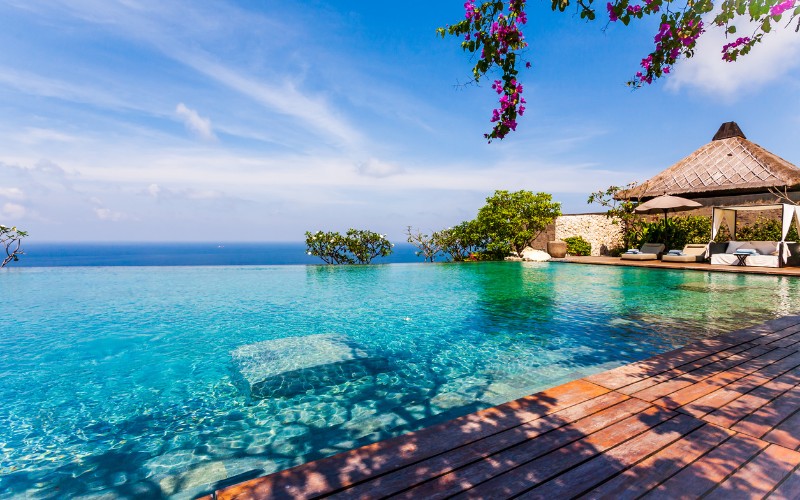 Spend a different Christmas holiday in Bali
Bali: Attend Beachfront Parties and Cultural Performances
Bali, often referred to as the "Island of the Gods," is a Christmas destination like no other. Bali hosts lively beachfront parties and cultural performances during the holiday season. Imagine celebrating Christmas on pristine beaches, with the sound of the waves as your backdrop. Whether you're looking to dance the night away or simply relax with a cocktail in hand, Bali offers a slice of paradise for everyone.
Yogyakarta: Discover Javanese Traditions and Artistry
Yogyakarta, located on the island of Java, provides a unique Christmas experience steeped in Javanese culture. Explore the ancient temples of Borobudur and Prambanan, beautifully illuminated for the occasion. Yogyakarta's art scene comes alive during Christmas, with local artists showcasing their talents in exhibitions and performances. Take a chance to explore the rich traditions and artistry of Java this holiday season.
Jakarta: Enjoy Dazzling Christmas Lights and Festive Malls
Indonesia's bustling capital, Jakarta, embraces the holiday spirit with a dazzling display of Christmas lights and festive decorations. The city's malls transform into winter wonderlands, with Santa Claus appearances and joyful caroling. Take a leisurely stroll along Jalan Thamrin to witness the mesmerizing lights and ornaments that adorn the city, creating a festive atmosphere that's simply magical.
>> See Tour: Bali Essence
Cambodia: A Land of Mystical Beauty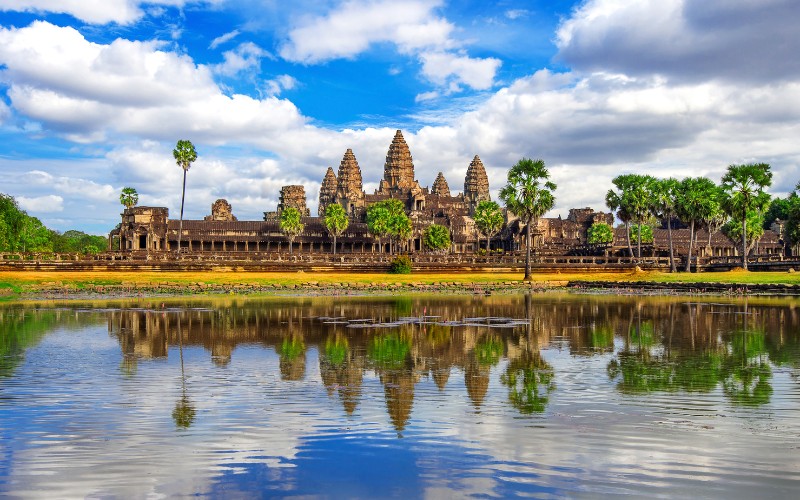 Visit the famous Angkor Wat temple in Siem Reap
Siem Reap: Witness the Majestic Angkor Wat 
Siem Reap, home to the iconic Angkor Wat temple complex, offers a truly mystical Christmas experience. Imagine standing before the awe-inspiring Angkor Wat as it's bathed in a golden glow during the evening hours. Join fellow travelers and locals alike in witnessing this breathtaking spectacle, which combines the wonder of Angkor Wat with the joy of the holiday season.
>> Read More: Top 15 Things To Do In Siem Reap Besides Temples
Phnom Penh: Join in the Joyful Celebrations and Parades
The capital city of Cambodia, Phnom Penh, comes alive with joyful celebrations and colorful parades during Christmas. Streets are embellished with twinkling lights, and locals gather at churches to celebrate this special occasion. Join in the festivities, sample local delicacies, and immerse yourself in the warm and welcoming culture of Cambodia.
Battambang: Experience a Quieter, More Authentic Christmas
For a quieter and more authentic Christmas experience, head to Battambang, a charming town in northwestern Cambodia. Here, you will find a more serene celebration, where you can escape the crowds and embrace the true spirit of the season. Take a scenic ride on the bamboo train, explore the historic colonial architecture, and savor delicious Cambodian cuisine in a relaxed setting.
>> See Tour: The Very Best Of Vietnam & Cambodia
Singapore: Where Magic Meets Modernity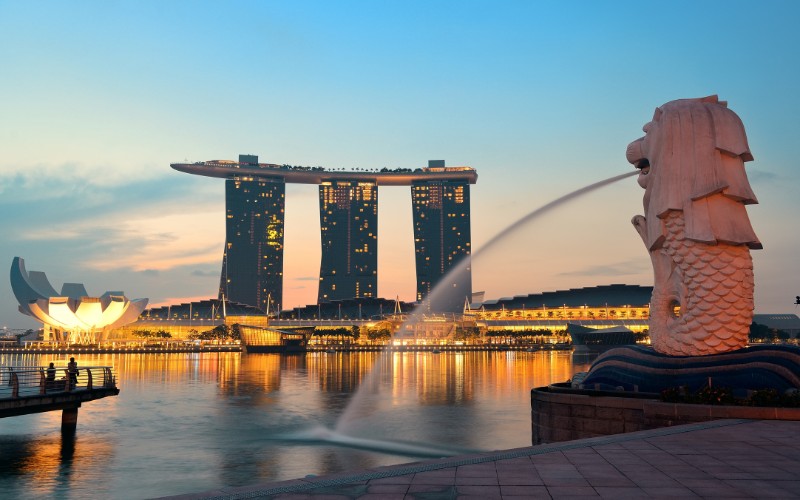 Explore Christmas in Singapore with a tropical climate year-round
Marina Bay: Admire Breathtaking Light Displays
Marina Bay Sands, with its futuristic skyline, offers a Christmas experience that's both breathtaking and modern. The iconic Marina Bay Sands resort lights up the night with dazzling displays, and the city skyline becomes a canvas for mesmerizing light shows. 
Orchard Road: Stroll Through a Glittering Christmas Wonderland
Singapore, known for its modernity and innovation, goes all out when it comes to Christmas celebrations. Orchard Road, the city's premier shopping district, transforms into a glittering wonderland of lights and decorations. Take a leisurely stroll down this iconic avenue and be mesmerized by the extravagant displays that line the streets, turning them into a sparkling holiday spectacle.
Sentosa Island: Celebrate with Beach Parties and Entertainment
Sentosa Island, just a stone's throw from the city center, is the place to be for beachfront Christmas parties and entertainment. The island's beaches come alive with live music, dance performances, and even visits from Santa Claus himself. Whether you're looking for a family-friendly Christmas or a vibrant party atmosphere, Sentosa Island has it all.
These five Southeast Asian destinations promise a Christmas like no other, each offering its own unique blend of traditions, culture, and holiday spirit. Stay tuned as we share essential tips for making the most of your Christmas vacation in Southeast Asia!
Essential Tips for Spending Christmas Holiday in Southeast Asia  
Embark on a memorable Christmas holiday in Southeast Asia
To make the most of your holiday, here are some essential tips to keep in mind.
Plan Early
Christmas is a popular time to visit Southeast Asia, so it's wise to plan and book your accommodations and flights well in advance.
This ensures you get the best deals and availability, allowing you to enjoy your holiday without any last-minute stress.
Respect Local Traditions
Take the time to understand the significance of their holiday celebrations and respect them.
Participate in local customs and rituals when appropriate, and you'll gain a deeper appreciation of the culture.
Pack Light
Bring comfortable, breathable clothing suitable for the region's weather.
However, it's essential to pack modest attire for visits to religious sites or cultural events.
Be Prepared for Crowds
Popular destinations can get crowded during the holiday season, so it's a good idea to have a backup plan in case your initial choice is too busy.
Flexibility is key, and with a little patience, you can still have a fantastic Christmas experience, even in slightly less crowded spots.
Celebrate Christmas Holiday in Southeast Asia with Asia Pioneer Travel
Southeast Asia offers a unique blend of warm weather, vibrant festivities, budget-friendly options, diverse cuisine, and adventurous activities that will make your holiday season truly memorable.
Come and explore Southeast Asia with Asia Pioneer Travel's delicate travel designers, who are always ready to listen to your requirements with the aim of creating unforgettable memories for customers. Let's Create Your Christmas Dreams in the enchanting landscapes!