Koh Phi Phi Travel Guide: Discovering Thailand's Beautiful Beach Paradise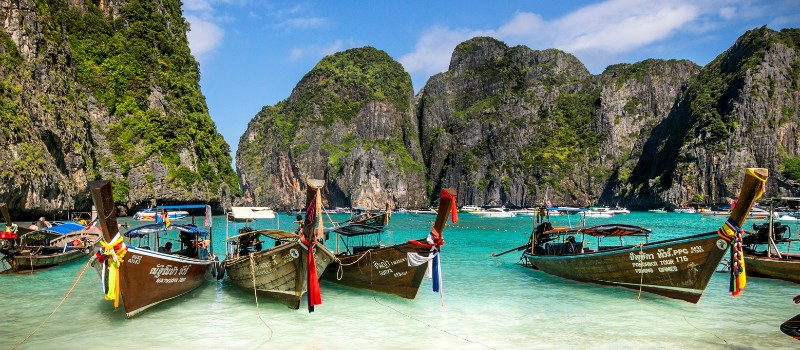 Koh Phi Phi, nestled in the Andaman Sea, boasts a unique blend of past and present. This must-visit place in Thailand, where turquoise waters kiss golden sands, is on the top list of any wanderlust seeker. Let's follow our ultimate Koh Phi Phi Travel Guide to know the best way to create memorable times on this paradise island! 
When And How To Get To Koh Phi Phi?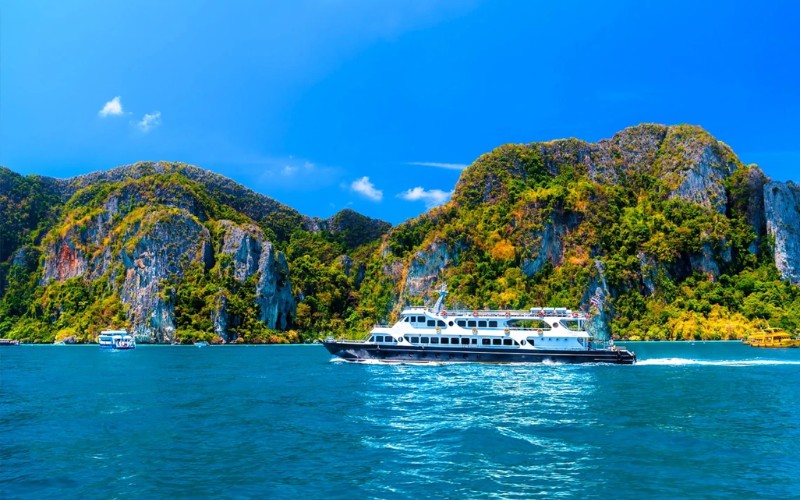 Take A Ferry Ride To Koh Phi Phi
Jetting off to Koh Phi Phi is easier than you might think. The nearest airports lie in Phuket and Krabi, which are well-connected with international destinations. From these airports, a scenic ferry ride will whisk you away to the islands. Remember to book your ferry tickets in advance, especially during peak seasons, to ensure a seamless journey to this slice of paradise.
For the best travel experience, consider visiting between November and April. The seas are calm, the skies are clear, and the transportation services run smoothly. 
>> Read More: Best Time To Visit Thailand
Where To Stay On Koh Phi Phi?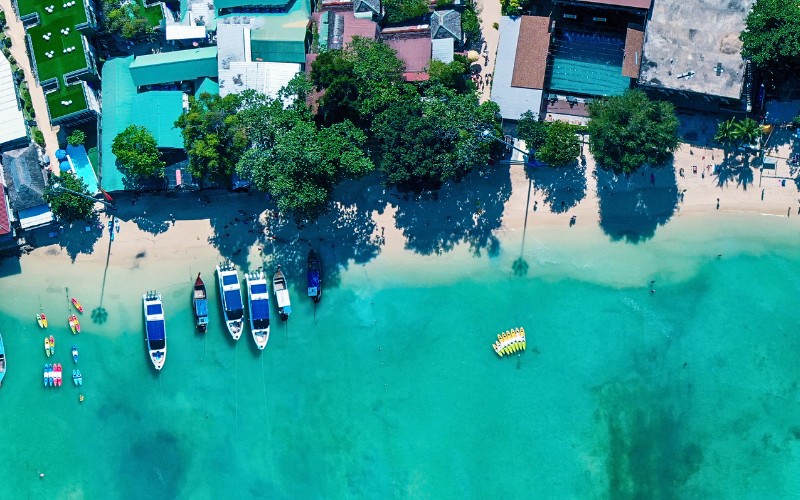 Stay In A Hotel Or Resort Close To The Beach
Budget Options
For those watching their pennies, there's no shortage of affordable options. Hostels and guesthouses dot the island, providing a cozy, community-oriented environment. It's a chance to mingle with fellow travelers, share stories, and make lasting memories without breaking the bank.
Our suggestions: Hangover Hostel, Dee Dee Sea Front, Magic Hostel.
Mid-range Choices
Seeking a bit more comfort without the hefty price tag? Boutique hotels and bungalows are your go-to. They offer a blend of traditional Thai charm with modern amenities. Wake up to the sound of the waves, enjoy the island's natural beauty, and relish the intimate setting these mid-range accommodations provide.
Our suggestions: P.P. Palmtree Resort, Viking Nature Resort, Phi Phi Relax Beach Resort.
Luxury Alternatives
For those who wish to indulge in sheer opulence, Koh Phi Phi's resorts and villas won't disappoint. From private beaches to world-class spas, these establishments ensure an unparalleled experience. Revel in the lap of luxury with top-notch services at your fingertips, and create memories that will last a lifetime.
Our suggestions: SAii Phi Phi Island Village, Zeavola Resort, Phi Phi Holiday Resort.
Top 8 Koh Phi Phi Attractions That Not To Be Missed
Maya Bay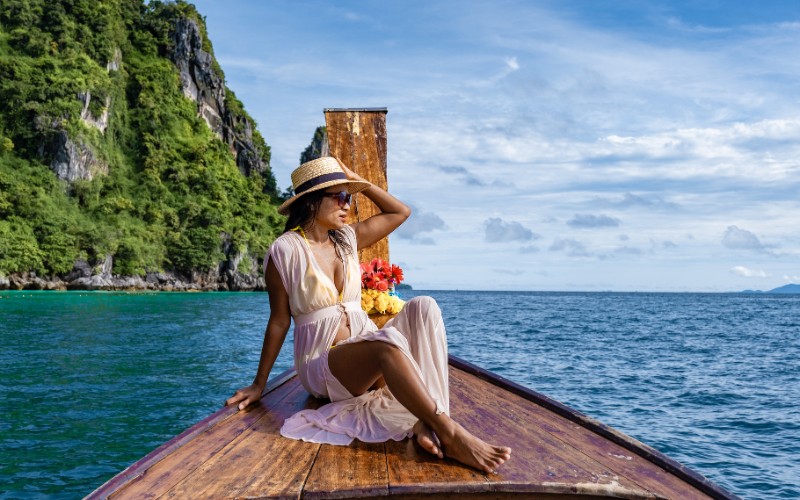 Maya Bay Is Koh Phi Phi's Most Popular Attraction
Once immortalized by the movie "The Beach," Maya Bay is more than just a film location. With emerald water framed by towering limestone cliffs and soft golden sands, it offers a tranquil escape that feels almost otherworldly. While it's a popular spot, visiting in the early morning or late afternoon lets you experience its beauty with fewer crowds.
Monkey Beach
As the name suggests, Monkey Beach is not just about its pristine shores but also its mischievous resident monkeys. This picturesque beach offers the unique experience of observing these creatures in their natural habitat. One important note in your Koh Phi Phi travel guide is to keep your belongings safe and avoid feeding the monkeys to maintain a respectful distance.
Viking Cave
A blend of natural wonder and historical significance, Viking Cave boasts ancient cave paintings that hint at its storied past. Additionally, it's a center for the bird's nest harvesting industry, a key ingredient in the prized Chinese bird's nest soup. Tours that delve into the cave's history and the intricate process of nest collection are available, which is notable to add to your Koh Phi Phi travel guide.
Bamboo Island
Just off the coast of Koh Phi Phi, Bamboo Island is a tranquil haven for beach lovers and snorkeling enthusiasts. Its shallow waters teem with marine life, making it a snorkeler's paradise. The island's interior, covered in lush greenery, is perfect for leisurely picnics and relaxation.
Phi Phi Viewpoint
A moderate hike takes you to Phi Phi Viewpoint, where you're rewarded with sweeping views of the island's twin bays and isthmus. It's a photographer's dream, especially during sunrise or sunset when the sky paints a myriad of colors over the landscape below.
Loh Samah Bay
A magical underwater realm awaits at Loh Samah Bay, especially at night. The bay's clear waters come alive with bioluminescent plankton, creating an ethereal snorkeling experience. Floating amidst these glowing organisms feels like being in a star-studded universe.
Shark Point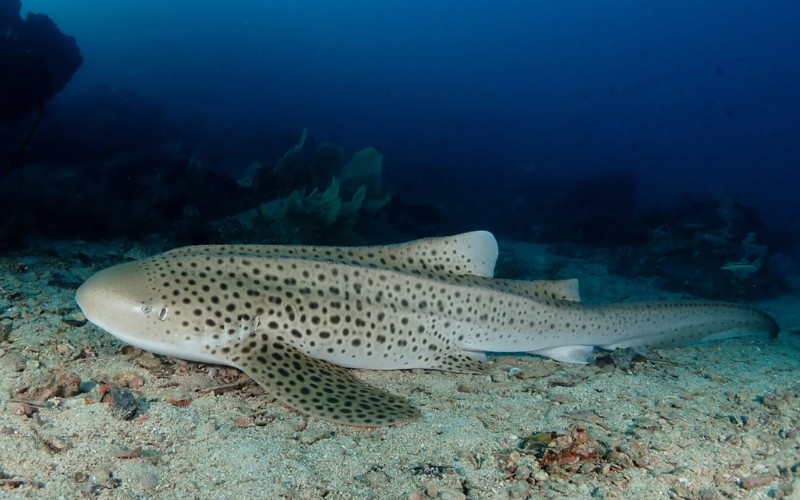 Dive Alongside Reef Sharks At Shark Point
For adventurous souls, Shark Point is a great option. It offers the thrilling opportunity to dive alongside reef sharks. Fear not, as these creatures are more curious than aggressive. With its diverse marine life and coral formations, Shark Point is a must-visit for diving aficionados.
Tonsai Village
The heart and soul of Koh Phi Phi, Tonsai Village, pulsates with energy. From bustling markets selling local crafts to beachfront restaurants offering delectable Thai cuisine, it's the place to immerse yourself in the island's culture. As night falls, the village transforms into a lively hub with beach parties and fire shows.
>> See Tour: Thailand Holiday: Bangkok, Phuket & Koh Yao Yai 11 Nights
Activities and Experiences That Let You Fully Enjoy Koh Phi Phi
Boat Tours Around the Islands
Navigate the azure waters of Koh Phi Phi on a boat tour that promises enchanting discoveries. Venture into hidden lagoons sheltered by limestone cliffs and explore mysterious caves that tell tales of ancient times. Keep your eyes peeled, for these waters are teeming with diverse marine life, from playful dolphins to colorful schools of fish.
Diving and Snorkelling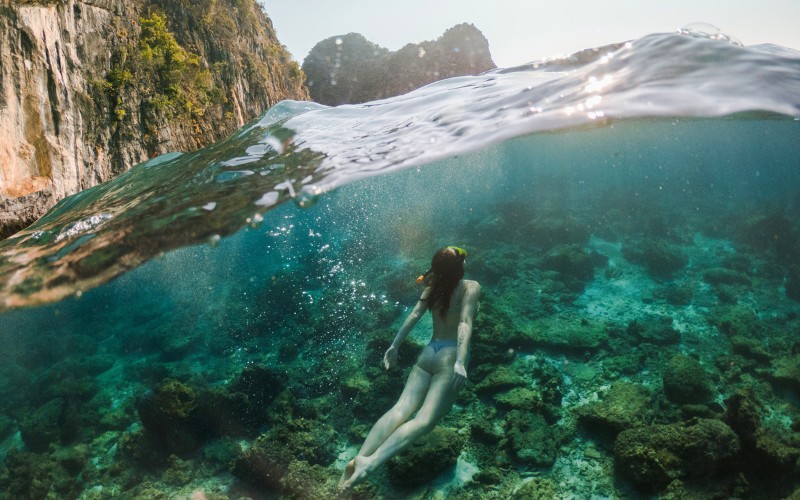 Snorkeling In Koh Phi Phi Water Is An Unrivalled Experience
The underwater realm of Koh Phi Phi is nothing short of magical. Explore well-liked locations where a variety of marine life finds refuge from colorful corals. For those not keen on diving, snorkeling offers a window into this biodiverse world. Many local shops provide equipment rentals and guided tours to ensure you have the best experience.
Rock Climbing and Trekking
The rugged terrains of Koh Phi Phi beckon adventure enthusiasts. Scale the famous rock formations with available climbing courses catering to both beginners and pros. If you prefer staying grounded, the island's nature trails promise invigorating hikes through lush landscapes, leading to panoramic views.
Thai Cooking Classes
Dive into the Thai culinary right here in Koh Phi Phi. Join local chefs in interactive cooking classes where you'll learn to whip up traditional recipes. From spicy curries to tangy salads, experience the vibrant flavors of Thai cuisine firsthand.
Nightlife and Entertainment
As the sun sets, Koh Phi Phi comes alive with energy. Dance the night away at lively beach parties or be mesmerized by captivating fire shows. Explore the various bars and clubs, each offering a unique vibe, or enjoy local performances that showcase the island's rich culture.
>> Read More: Guide To An Unforgettable 10-Day Beach Vacation In Thailand
The Local Life And Culture In Koh Phi Phi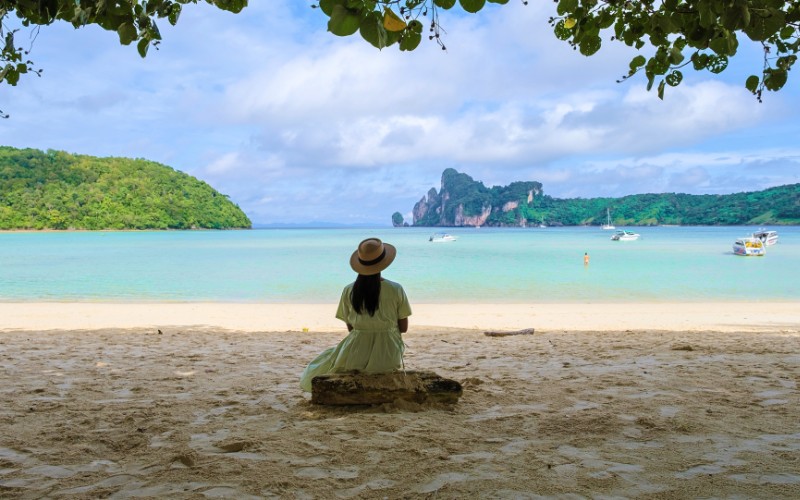 Koh Phi Phi travel guide for local experience
Festivals and Events
Besides many famous cultural festivals in Thailand, Koh Phi Phi has the  Regatta as the most typical carnival. It is an annual sailing event that sees participants from various parts of the world, adding a vibrant marine festivity to the island's atmosphere.
Local Interaction
The Longtail Boat Ride is a must-do traditional activity for your Koh Phi Phi travel guide. Engage with local boatmen who often narrate intriguing tales of the island's folklore and history during rides.
Customs and Etiquette
Given Phi Phi's focus on eco-tourism, many visitors participate in beach clean-up activities: Island Clean-Up Participation. It's a great way to give back to the paradise you're enjoying.
Traditional Dishes
Once you set foot on the island, you cannot miss the following food.
Pineapple Rice: Often served in a hollowed-out pineapple, this dish is a mixture of rice, pineapple chunks, cashew nuts, and prawns or chicken, symbolizing the island's tropical vibes.
Seafood BBQ: Given its coastal location, Koh Phi Phi is renowned for its fresh seafood. Grilled fish, squid, and prawns with spicy Thai dips are must-tries.
Dining Spots
These are the most vibrant and stunning locations where you may have a unique meal in a distinctive setting.
Sunset Restaurants: Along Loh Dalum Bay, eateries are offering not just delicious food but also panoramic sunset views.
Beachfront BBQ Stalls: Scattered along the beaches, especially in Tonsai Village, these stalls offer freshly grilled seafood under the starry island sky.
>> See Tour: Thailand Family Discovery
Essential Tips For Your Koh Phi Phi Travel Guide
Here are some practical Koh Phi Phi travel guide notes to help you navigate your way and ensure a seamless experience.
Credit Card Usage
While some establishments on Phi Phi Island accept credit cards, many, especially local eateries, operate on a cash-only basis. It's wise to use your credit card for significant expenses like hotel bookings and tour packages.
Cash for street delights: When it comes to savoring mouth-watering Thai street food or shopping at local stalls, it's best to have cash on hand.
ATMs on the Island
ATMs are conveniently scattered throughout the town of Phi Phi Don, the main island. We found Krungsri ATMs reliable, with a withdrawal fee of around 220 baht.
Higher Withdrawal Limits: These ATMs allow for substantial cash withdrawals in one go, making it convenient for travelers.
Staying Connected
Cell Service: Phi Phi Don, the largest and most populous island in the archipelago, boasts robust phone reception. However, as you venture towards Phi Phi Leh, the second largest island, especially areas like Maya Bay, the signal might wane due to the island's towering mountains.
WiFi Accessibility: Over the years, WiFi connectivity on Phi Phi Don has seen notable improvements. Many hotels and restaurants offer decent internet speeds, suitable for emails, browsing, and even some light streaming. It might not rival the connectivity in Phuket, but it's more than adequate for most needs.
Power Supply
Power outages are rare on Koh Phi Phi. Though during the rainy season, post-storm blackouts might occur, they are usually short-lived, with power being restored swiftly.
Convenience Stores
Phi Phi Don is dotted with mini-marts, making it easy to grab snacks, beverages, toiletries, and other essentials.
While they offer a variety of items, it's worth noting that their range might not be as extensive as stores in larger cities like Phuket.
Eco-conscious Travel
Refill Stations: Carry a reusable water bottle and refill at designated stations to reduce plastic waste.
Coral Care: Avoid touching or stepping on corals when snorkeling or diving.
Create Your Exclusive Koh Phi Phi Holiday
From its sun-kissed beaches to its lively culture, Koh Phi Phi is a patchwork of experiences, where a mosaic of captivating encounters awaits your arrival. Thus, gather your belongings, allow APT's exclusive Koh Phi Phi travel guide to Navigate Your Journey, and fully experience the splendors of this island.