Guide To An Unforgettable 10-Day Beach Vacation In Thailand

Thailand is a tropical paradise with over 2,000 miles of coastline and some of the most stunning beaches and islands in the world, including the world-famous Phuket and Koh Samui. We'll show you how to spend 10 days on a beach vacation in Thailand, from resting on the beach to visiting the forest and experiencing local culture, in this blog. Join us for a once-in-a-lifetime journey in one of the world's best destinations.
Beach Vacation In Thailand – Itinerary For 10 Days
Day 1: Bangkok Arrival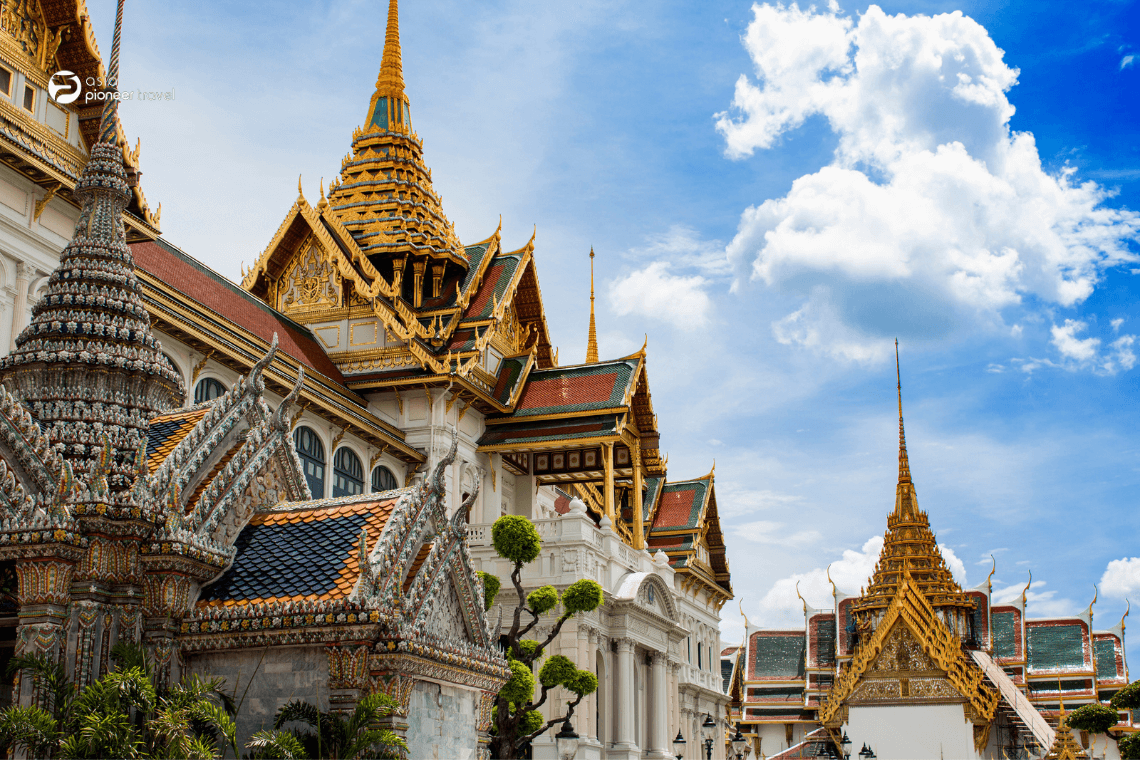 On the first day, you will land in Bangkok. Upon arrival at Bangkok Airport, your private driver will pick you up and transfer you to your hotel for check-in. The rest of the day is yours to relax or explore Bangkok's towns and markets at your leisure.
Day 2: Explore Bangkok's iconic landmarks
After breakfast at the hotel, you will start your exploration of Bangkok with a private tour guide and driver.
Your first stop will be at the Golden Buddha, located in an interesting part of the city. The statue, which can be disassembled into nine pieces, was previously housed in a wat in Ayutthaya until the mid-19th century. Its provenance from Ayutthaya excludes the possibility of it having been made after about 1750.
Next, you will visit the Reclining Buddha. The chapel and the Buddha, named Phra Buddhasaiyas, were built by Rama III in 1832. The image of the reclining Buddha represents the entry of Buddha into Nirvana and the end of all reincarnations. The posture of the image is known as sihasaiyas, the posture of a sleeping or reclining lion.
After lunch, you can visit the Grand Palace. This is probably the most visited and remembered landmark of Thailand, and every visitor must pay a visit at least once in their lifetime. The Grand Palace served as a significant royal residence until 1925 and is now only used for ceremonial purposes.
You will explore the Coronation Hall, Funeral Hall, and the famous Emerald Buddha.
Your trip will continue with a long-tail boat ride along the canal to see Thai houses and typical rural life. You will also visit the Temple of Dawn before ending your day.
Day 3: Enjoy the stunning coast of Krabi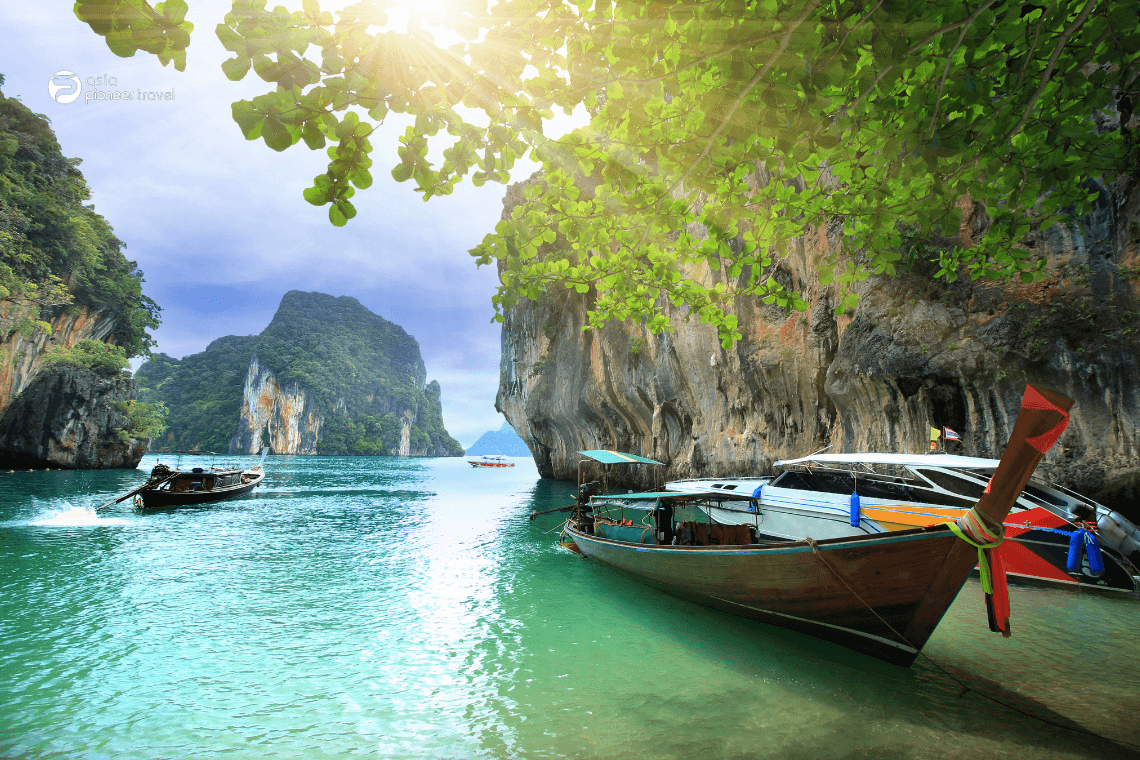 As you are in Thailand for a beach vacation, time to get to the actual highlight of this trip. 
After breakfast, relax at your leisure until the check-out time. Your private driver will take you to the airport for a short flight to Krabi.
Krabi is a stunning province located on the west coast of southern Thailand. It is known for its beautiful beaches, crystal-clear waters, and towering limestone cliffs. Visitors can explore the province's many islands, including the famous Phi Phi Islands, or take a dip in the Emerald Pool, a natural swimming hole surrounded by lush jungle. Krabi is also a popular destination for rock climbing, with many challenging routes available for experienced climbers.
On the first day in Krabi, feel free to relax on the beach or discover the town's sites at your own pace. 
Day 4: A day of leisure at Koh Lanta
Following a lovely 15-minute speedboat ride, you will get to Koh Lanta. 
Koh Lanta, with just under 20,000 inhabitants, is a must-visit destination in Thailand! This island paradise offers everything you could dream of for an unforgettable beach vacation. Picture yourself lounging on beautiful beaches, sipping cocktails at chilled beach bars, exploring fantastic bungalows by the sea, wandering through a small and charming old town, and discovering hidden waterfalls and caves in lush rainforests.
Day 5: Land in Phuket – Cheow Lan Lake boat trip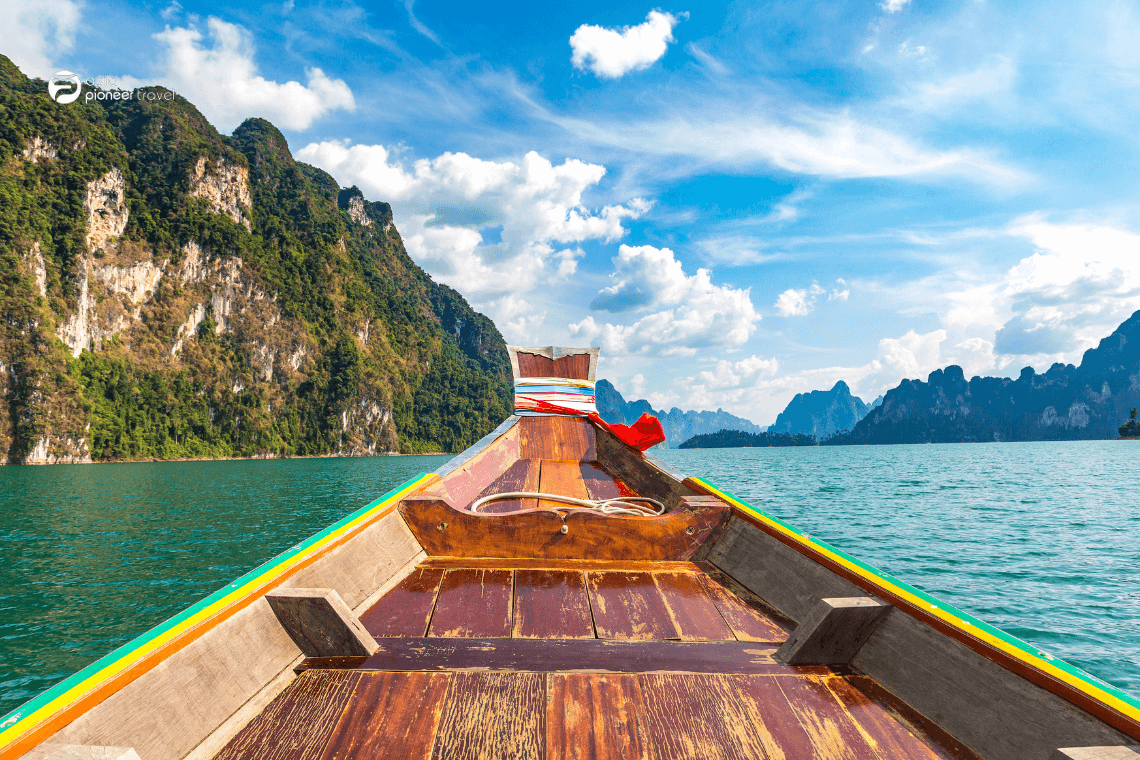 You will return to Krabi before traveling to Phuket, and the highlight today will be a boat trip on the picturesque Cheow Lan Lake.
The main attraction of Khao Sok is Cheow Lan Lake, which covers an area of 165 km2. In Khao Sok National Park, tourists can explore a cave, go trekking, swim, rent a kayak, and have lunch at a raft house, which is a well-known floating home.
Start your day at Cheow Lan Lake with a colorful local market to soak up the early morning vibe. Then, in a longtail boat, cruise the lake. Immerse yourself in the green water when you reach a suitable swimming place. Here, you can go hiking, kayaking, or just relax.
Day 6: Phuket – Full-day island tour
Phuket also has a lot to discover aside from idyllic beaches, and you may follow this itinerary to tour the island.
Kick off your sightseeing tour in Phuket with breakfast at your hotel and cover the main landmarks.
Begin the trip with stops at Karon View Point, Kata View Point, and Promthep View Point, all of which provide stunning views of the island. Then you may head to Wat Chalong, one of Phuket's most famous temples. This temple is renowned for its stunning architecture and exquisite designs, as well as its long history and cultural significance. The Big Buddha Statue, a 45-meter-tall renowned landmark visible from many sections of the island, is the next stop.
Finally, you will see Phuket's ancient town, where you may admire the architecture of the buildings and enjoy the charm of the ancient city and town, where people live. This part of the tour provides an excellent opportunity to immerse yourself in local culture and learn about the history of this gorgeous island.
Day 7: Free day in Phuket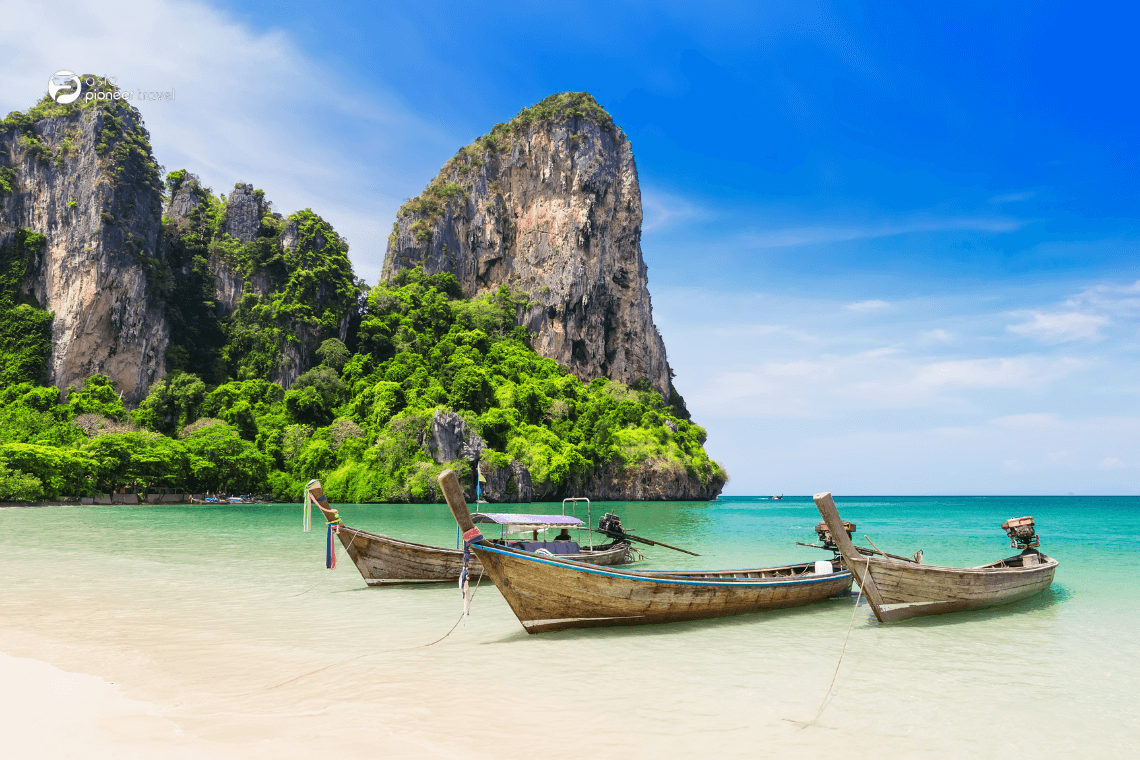 You will have the whole day to refresh yourself on the stunning beaches of Phuket. With exquisite white sands, nodding palm trees, and shimmering oceans, this island is ranked among the world's best beach resorts, so make the most of it.
Day 8: Phuket – Transfer to Phi Phi Island
After a free day in Phuket, you will take a ferry or speedboat for around 2 hours to Phi Phi Island. Day 8 and day 9 of this beach vacation will also be free to spend as you please.
Day 9: Relax on Phi Phi island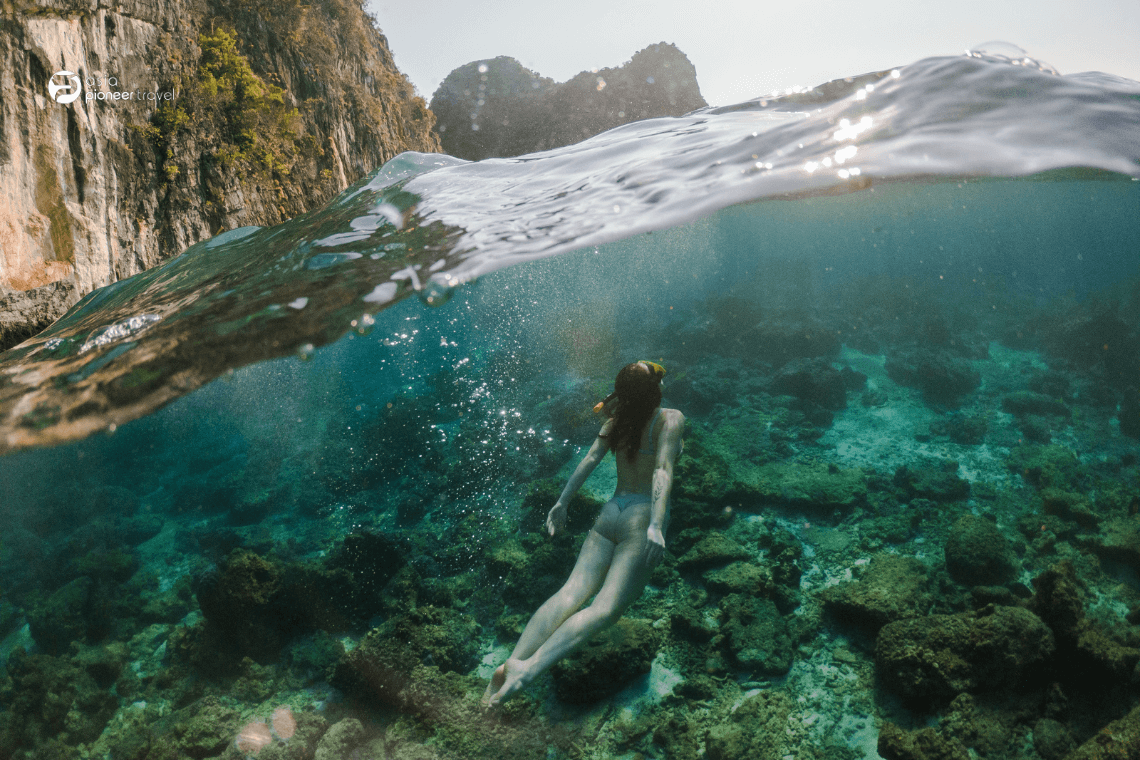 Phi Phi Island is a fantastic tropical getaway with something for everyone. This Southeast Asian island is home to terrifying rock formations, charming beaches, crystal-clear turquoise waters, and thriving marine life.
Travelers on Phi Phi Island can take part in a variety of water sports while admiring the breathtaking scenery along the beaches. Thai cooking lessons are also available to those who enjoy cooking and wish to know how to prepare Thai cuisine to share with family and friends.
Day 10: Bangkok Departure
After breakfast, you can say goodbye to Phi Phi island, and head back to Phuket for the flight to Bangkok. 
In Bangkok, depending on your next plan, you can go to another country or return home. 
Tips To Make The Best Out Of Your Beach Vacation In Thailand
Here are some tips for visitors to enjoy the beaches in Thailand:
Look up the best beaches to visit based on your preferences, such as secluded vs. lively, and activities available
Pack sunscreen, a hat, and sunglasses to protect yourself from the sun
Wear appropriate clothing for the beach, such as swimsuits and cover-ups
Be respectful of local customs and traditions, such as not wearing revealing clothing in conservative areas
Stay hydrated by drinking plenty of water
Follow safety guidelines, such as swimming only in designated areas and avoiding strong currents
Try local cuisine and drinks, such as fresh fruit and coconut water, for a taste of Thai culture
Participate in water activities, such as snorkeling and kayaking, to explore the beaches and surrounding areas
Take care of the environment by disposing of trash properly and avoiding activities that harm marine life.
Book your upcoming trips with Asia Pioneer Travel – The Best Travel Agency in Vietnam!
Asia Pioneer Travel has over 14 years of experience in the tourism industry and has established itself as a premier, reputable, tailor-made travel agency in Vietnam and Asia. We constantly pay close attention to and comprehend the demands and preferences of our customers, enabling the creation of excellent holidays. After taking our bespoke tours, many customers have told their friends and family about them. Because our customers deserve it, we consistently strive to assure them of complete satisfaction.