What To Wear In Vietnam – A Comprehensive Packing Guide

Vietnam is a welcoming country that invites you to immerse yourself in its rich culture and diverse landscapes. Nevertheless, dressing appropriately is not only a matter of climate but also of showing respect for local customs and practices. This guide will help you answer "What to wear in Vietnam?" with insights to navigate both the weather and cultural expectations, allowing you to fully embrace all that Vietnam has to offer.
Seasonal and Activity-Based Clothing Recommendations on What to Wear in Vietnam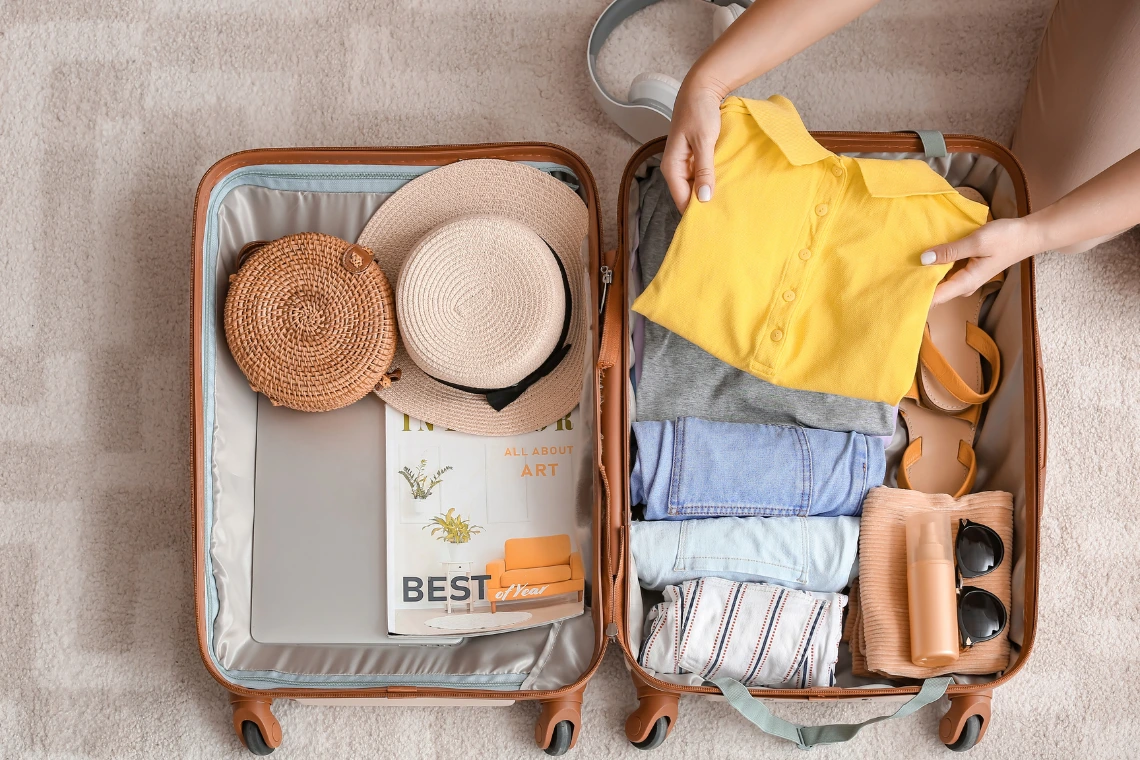 When planning an adventure to Vietnam, wardrobe choices should be high on your list of considerations. Vietnam's diverse climate and wide range of activities demand a wardrobe that's both versatile and culturally sensitive. Let's explore the optimal clothing choices, taking into account the season and the kind of experiences you won't want to miss.
What to Wear in Spring
Spring in Vietnam offers mild weather and a burst of floral vibrancy. For this season, footwear should be both comfortable and versatile. Closed-toe, breathable shoes are your best option, suitable for both urban explorations in cities like Hanoi and nature hikes through terraced fields in places like Sapa.
Light layers are advisable for your upper body, such as cotton long-sleeved shirts or blouses. These will serve you well in fluctuating temperatures, whether you're navigating a bustling market or soaking up the tranquility of a hidden pagoda.
As for lower-body garments, casual pants or capris offer flexibility. If your adventures are city-centric, skirts can be a stylish and comfortable choice. Springtime accessories can include a lightweight scarf for the cooler evenings and a wide-brimmed hat for sunnier daytime activities.
What to Wear in Summer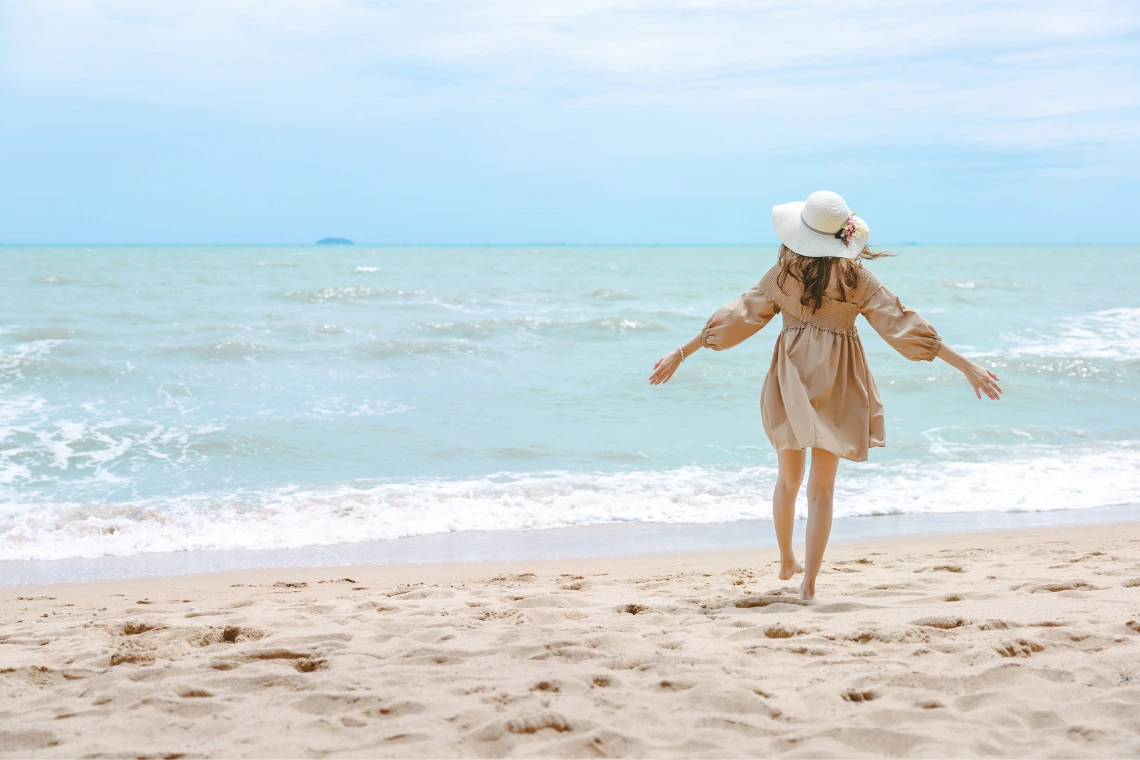 Vietnam's summer is hot and vibrant, demanding a wardrobe that allows you to move freely while staying cool. Breathable walking shoes are essential for traversing cities and quaint villages alike. When beach-bound to spots like Phu Quoc or Nha Trang, flip-flops or water shoes should be in your travel bag.
For upper-body wear, think of moisture-wicking T-shirts or breezy sleeveless tops. These pieces are perfect for a variety of activities, from scaling the Marble Mountains to exploring the urban maze of Ho Chi Minh City.
Shorts or skirts are liberating choices for the sweltering heat, but if your itinerary includes rural escapades, consider lightweight pants for mosquito protection. The summer accessory must-haves are a stylish sun hat, polarized sunglasses, and a quick-dry towel for spontaneous swims.
>> Read More: Top 7 Names That Definitely Should Be On Your Vietnam Beaches List
What to Wear in Autumn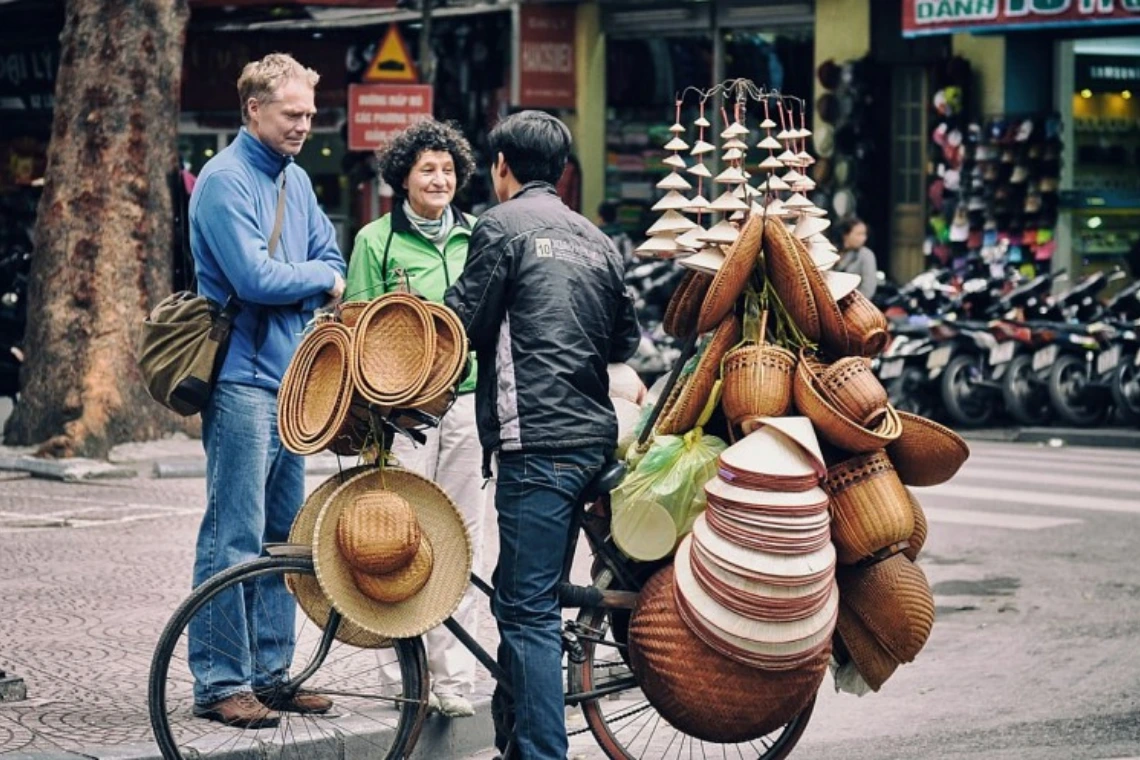 As autumn graces places like Hanoi and Sapa with its moderate and sometimes capricious climate, a versatile wardrobe becomes indispensable. Start with dependable walking shoes; they'll be your companion through Hanoi's Old Quarter and the cobblestone paths of Hoi An.
Your upper body will appreciate light, breathable layers like a casual shirt or blouse, easily complemented by a light sweater for cooler temperatures—essential whether you're mingling in busy city centers or basking in Sapa's golden terraces.
For your lower half, casual pants offer the most flexibility, while a skirt presents a chic yet comfortable alternative for city explorations. As finishing touches, pack a light scarf for the evening chill and a foldable, water-resistant jacket for those unpredictable showers—especially handy if you're visiting the climate-variable Ha Long Bay.
What to Wear in Winter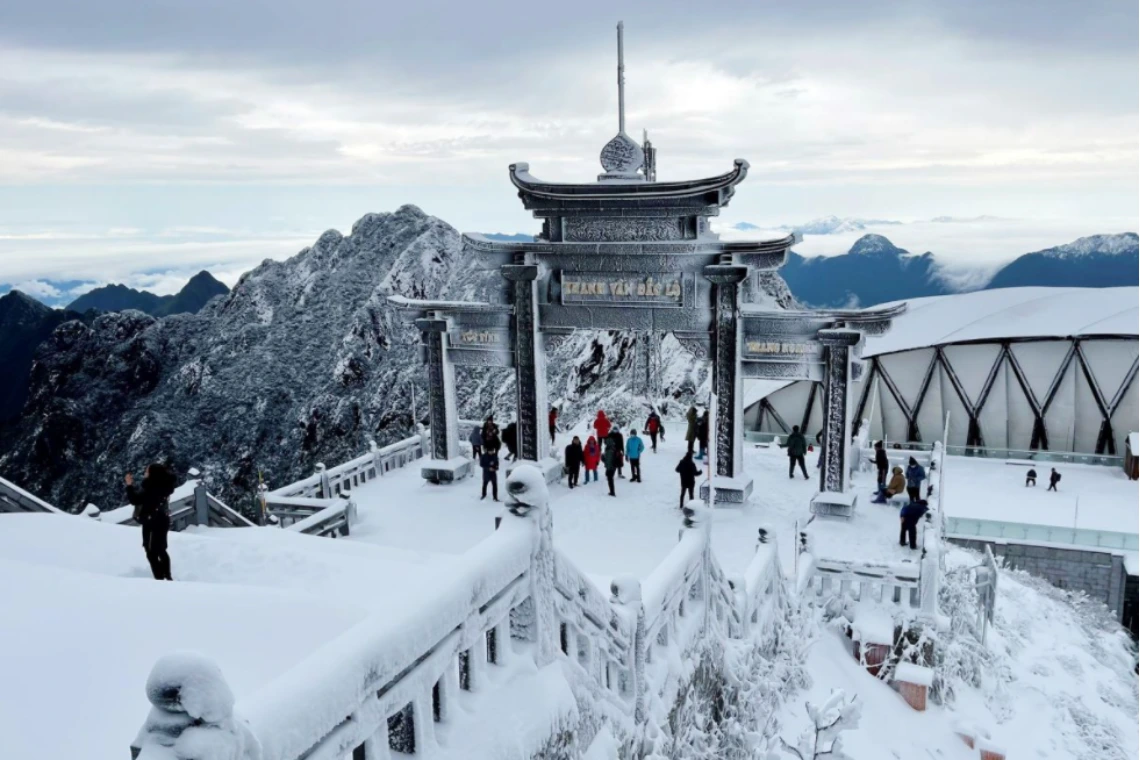 The winters, particularly in northern Vietnam, can be quite chilly. Here, insulated and waterproof boots are your go-to for footwear. These will be vital whether you're trekking in Sapa or walking through the historical sections of Hanoi.
Layering is crucial in winter. Start with thermal tops and add sweaters or jackets to adjust to varying levels of cold. Lower body comfort can be assured with insulated pants or jeans. For added warmth, don't overlook the potential of thermal leggings.
To round out your winter wardrobe, consider essential accessories like a warm hat, insulated gloves, and a heavy scarf. These are indispensable for dealing with the lower temperatures, ensuring that you remain cozy while exploring.
By thoughtfully selecting your attire according to both seasonal and activity-based needs, you'll engage more comfortably and respectfully with the diverse environments and cultures that Vietnam has to offer.
>> Read More: Hiking In Sapa: Best Time, Planning, Treks and Trails
Understanding Vietnam's Cultural Sensitivity and Dress Code
Places of Worship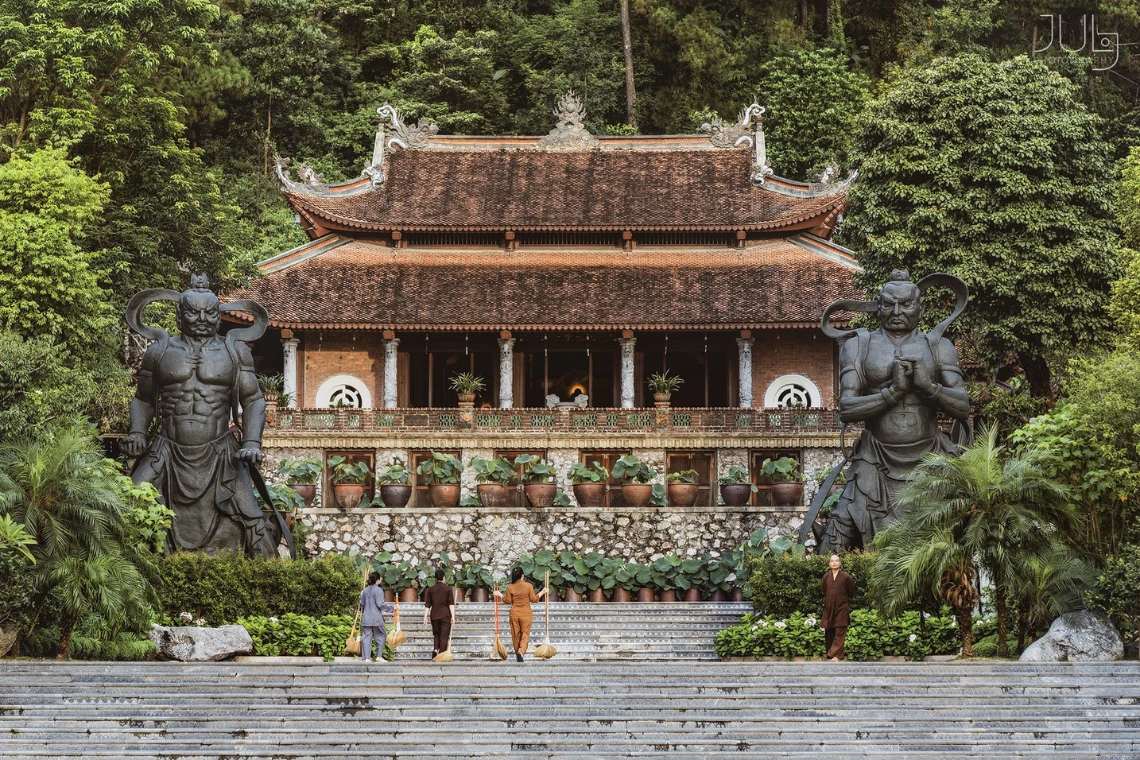 When visiting sacred sites like pagodas, temples, or churches, modesty is key. Generally, covering your shoulders and wearing clothing that extends below the knees is a respectful practice. Notable religious sites like the One Pillar Pagoda in Hanoi or the Cao Dai Temple in Tay Ninh are not just tourist attractions but active centers of worship, and dressing appropriately shows respect for their spiritual significance.
Traditional Events and Festivals
Vietnam is home to numerous festivals like Tết (Vietnamese New Year) and the Mid-Autumn Festival. During such occasions, traditional attire like Ao Dai for women and simple but modest garments for men are appreciated. Understanding and respecting these cultural norms not only enriches your travel experience but also fosters mutual respect between you and the locals.
Everyday Interactions
Even in casual settings, Vietnamese culture leans toward the modest and conservative, particularly in rural areas. While beachwear is acceptable on the shores, a more covered-up approach is advised when venturing into town. Recognizing and adhering to these norms is significant for respectful cultural immersion.
Packing Tips and Tricks
Mastering the Art of Layering
Get ready to conquer any weather Vietnam throws your way by mastering the art of layering! Versatility is the name of the game here, allowing you to switch from misty mountain paths to sunny coastal vistas without breaking a sweat. Imagine easily slipping on or off a lightweight jacket, a thermal layer, or a trendy scarf to suit the moment's climate. It's like having a wardrobe for all seasons, all neatly packed in your suitcase!
Selecting Dual-Purpose Items
Now, let's turn packing into a joyous puzzle where every piece fits perfectly! Consider packing items that serve dual functions. How about a chic scarf that doubles as a head cover for religious sites? Or maybe a versatile wraparound skirt that transitions from casual strolls to formal dinners? These are the ingenious additions that make you feel like a packing genius, saving both space and time as you experience Vietnam's multifaceted beauty.
The Virtues of Lightweight Luggage
Ah, the freedom of lightweight luggage! It's an unsung hero in the travel world. Picture yourself gliding effortlessly through bustling markets or hopping onto a last-minute ferry for an island escapade. Choose lightweight yet durable luggage, and prioritize multipurpose essentials. The lighter your load, the more room you'll have for unexpected souvenirs and spontaneous adventures!
Conclusion
You've done your research om "What to wear in Vietnam" and packed intelligently. Your clothing selections aren't simply for keeping cool or warm but also a nod to Vietnam's intricate culture. With luggage full of versatile and appropriate attire, you're not only prepared for the weather but also ready to immerse yourself in the local lifestyle. So go ahead and close your suitcase and take a deep breath. An enriching, respectful, and completely phenomenal Vietnamese holiday is just a flight away.