Top 4 Vietnam New Destinations To Put On Your List In 2023

Vietnam has been a hotspot for global travelers for the last 5-6 years, and even the Covid19 pandemic couldn't change that. After countries slowly gained back a normal lifestyle, travellers also return with their postponed adventures.
There have been a lot of changes in Vietnam after the pandemic, including in travel. Numerous new destinations in Vietnam have been developed to attract both domestic and international visitors, meeting the demand for distinctive experiences on each trip. In this blog, we will point out the 4 Vietnam new destinations that promise will provide you with a completely different experience. Let's read on!
Top Vietnam New Destinations That You Can't Miss Out On
1. Glass Bridge in Moc Chau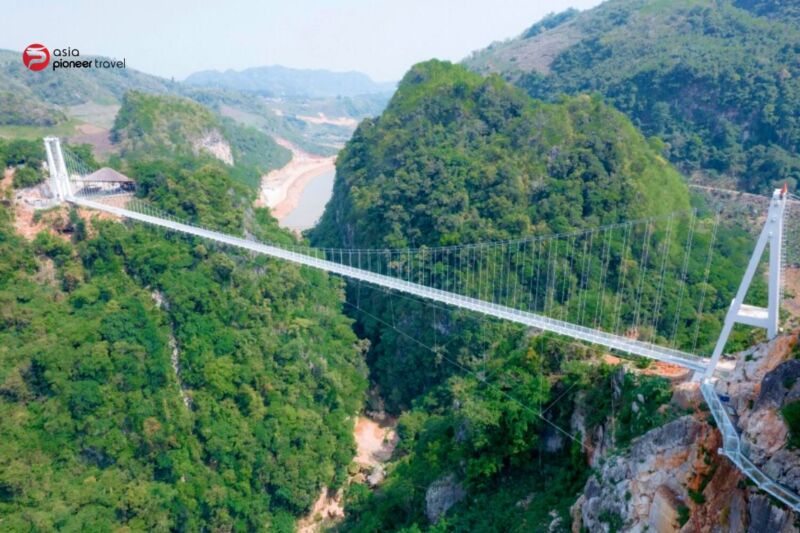 Guinness World Records officially approved Vietnam's new glass-bottomed suspension bridge, Bach Long Bridge (White Dragon Bridge), as the world's longest. The bridge can be found in Moc Chau, Son La. The province borders Laos and is around 200 kilometers northwest of Hanoi.
The bridge spans 150 meters (492 feet) over the forest below, has a width of 2.5 meters, and is 633 meters long (2,073ft). Some of the walkways follow the ridges of the mountainside, while another 290 metres span a gorge between two peaks. It is made of tempered glass imported from France and can support the weight of 450 people at once. In short, it is super safe, so you can walk on it confidently!
Nature lovers will appreciate the panoramic views, which will allow them to feel completely immersed in the surrounding wildlife. The transparent walkway leads to the Muong Moc Cave, also known as the Chim Than Cave. Inside the cave, you can see natural stalactites and stone sculptures that reflect the daily lives of the ancient Thai ethnic minority group. To make the trip even more worthwhile, there is a nearby play area with many fun games, restaurants, and a resort.
If the bridge at such a height isn't your thing, Moc Chau still has a lot to offer. The area is best known for its deep pine forests, beautiful tea plantations, primeval grasslands, and hill tribe villages. So there's a lot to do here; you could spend four days here and still be occupied. Hike to viewpoints such as Pha Luong and Ta Xua. View the beautiful Dai Yem waterfall. Alternatively, capture the spectacular flower fields when they are in bloom. The blooming season for plum trees, peach trees, and orchids occurs between February and March.
2. Kiss Bridge on Phu Quoc Island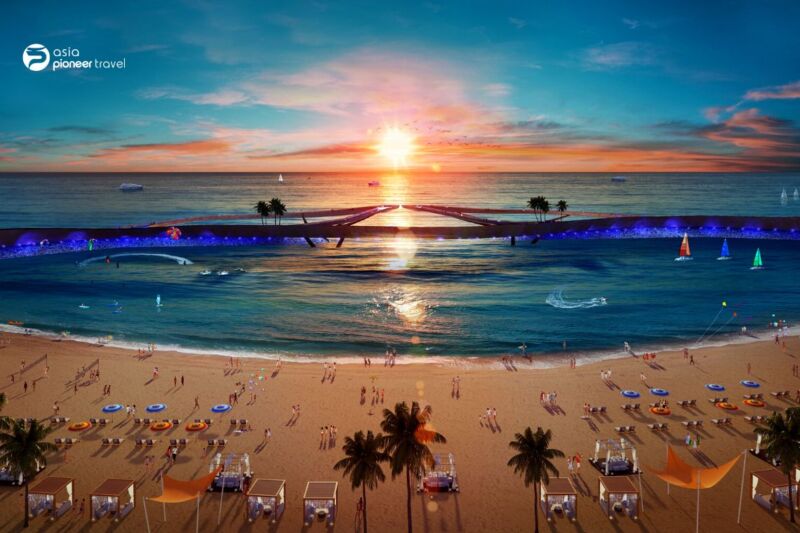 Have you heard of, or even better, been to the Golden Bridge in Danang? The striking bridge took the world by storm the time it was introduced, and now a new bridge on Phu Quoc Island promises to be the next global sensation. The Kiss Bridge is officially opened to the public in March 2023, and multiple videos have showcased the epic beauty of this bridge.
This one-of-a-kind bridge is inspired by eternal love, beautiful kisses, and the love story of Nguu Lang and Chuc Nu in Vietnamese fairy tales. It is a magnificent symbol of love, intimacy, and harmony. 
The brain behind this spectacular bridge is the famous Italian architect, Marco Casamonti, who is the Italian ambassador of culture and art in Vietnam.
Kiss Bridge is 810 metres long in total, including two spans. Unlike other bridges across the world, the two spans of Kiss Bridge are not joined and are separated by 50 centimetres. This 50-centimeter zone is ideal for two people in an intimate relationship as it's neither too close nor too far apart.
Instead of a flat shape, the architects created a bevelled cut at the two launching noses to increase the area for sunlight to pass through (doesn't it sound incredible?). The sun is directly in the middle of two spans of Kiss Bridge every year from December 24th to January 1st, creating a gorgeous and marvellous landscape. These days are thus known as "Wishing Days," and it is supposed that any couples who make a wish together in Kiss Bridge on Wishing Day will live happily ever after.
So, if you plan to propose to your girlfriend/boyfriend, where else can be a better location than the Kiss Bridge – the symbol of love, in a romantic sunset, on one of the most beautiful islands? The bridge will witness your memorable moment, blessing you with eternal love. 
*Fun fact: The Vietnamese name of Kiss Bridge is "Cau Hon". "Cau Hon" is a polysemous word, which both means "Kiss bridge" and also refers to "proposing marriage". 
Read More: You can't miss these experiences while being on paradise island Phu Quoc of Vietnam
3. Con Dao Island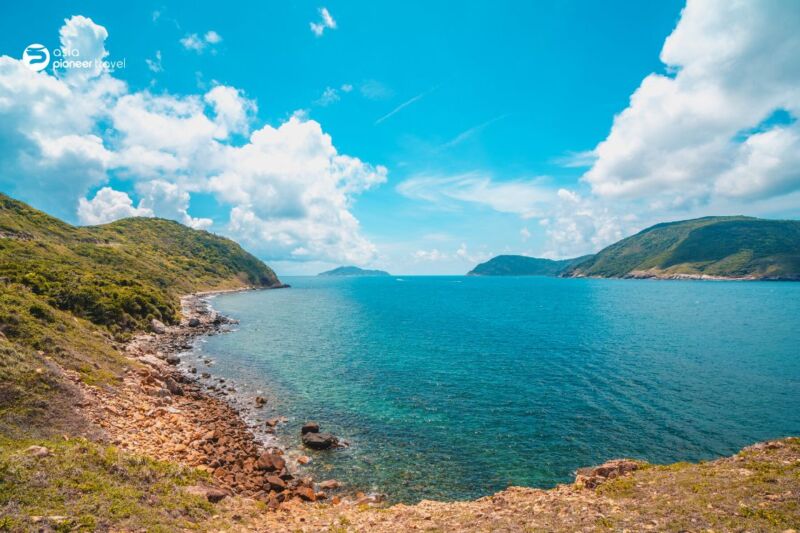 About 5-6 years ago, Con Dao was not that much of a place where tourists would come, especially those who are not Vietnamese. Most people at the time went here for spiritual reasons. But this hidden gem has lots to offer. From historic sites, and sacred places, to unspoiled nature, Con Dao has emerged as one of the top Vietnam news destinations in recent years. 
The archipelago is in Ba Ria – Vung Tau province, southern Vietnam. Once here, you will spend the most time on Con Son – the biggest island of the Con Dao archipelago. This place used to be called "hell on earth", since it was the biggest prison in Indochina before 1975. To learn about the history of the island, you can visit Con Dao Museum and Prison, Ma Thien Lanh Bridge, and 914 Bridge, and Hang Duong Cemetery. Con Dao prison and museum are now being restored as a place to remember the Vietnamese who battled for national freedom and independence.
Asides from being a destination with history, Con Dao island also attracts visitors for its spectacular landscape. You can easily find untouched beaches, vibrant forests, and unique wildlife here. Swimming, snorkeling, scuba diving, or touring the island on a motorcycle are the top things we recommend doing. If you are yearning for a true retreat, stay at Six Sense Con Dao. This is one of the best resorts in Vietnam. 
*Tip: Only on Con Son island, you can see airplanes landing so close. Check for the flight arrivals in the day and come to Dam Trau beach, you will be able to watch the airplanes landing at Con Dao Airport. Don't forget to keep a safe distance!
4. Ba Den Mountain
The last name on our list of Vietnam new destinations for 2023 is Ba Den Mountain (or The Black Virgin Mountain), which is located in Tay Ninh Province. Located at an altitude of 986 metres above sea level, this mountain is renowned as the roof of southern Vietnam and the distinctive attraction of Tay Ninh province. Sun Company established a cable car system in 2020, and the location has become an attraction for visitors to Tay Ninh.
The Ba Den Mountain is a part of Nui Ba Historical and Cultural Complex, so there are a variety of things to do when you come here. For instance, you can see the 72m-tall "Tay Bo Da Son", Bodhisattva statue which was carved delicately and is made of more than 170 tons of bronze. It was recognized as the tallest bronze Bodhisattva statue on a mountain in Asia by the Asia Book of Records. Moreover, visit the entire system of pagodas on Ba Den Mountain including Trung Pagoda, Quan Am Pagoda, Hang Pagoda, Ba Pagoda and Kim Quang cave which are located in the middle of the majestic mountain. Other attractions here include the large cable stations and the Buddhist art gallery, as well as the cool landscape and fresh air.
The Best Way To Explore Vietnam
Our list of Vietnam new destinations for 2023 ensures that your interests are met, whether it is a place to unwind with beautiful beaches, to historic and spiritual sites. You can combine visiting the already famous and these emerging destinations in Vietnam to make the best out of your time here. If you have been to Vietnam multiple times before, then self-planning can be a great option. But for those who have never visited the country, it may or may not be the best way to explore Vietnam. You can miss out on amazing experiences or hidden destinations without the help of an expert. 
Inform us about your plans, and our travel advisers will gladly make suggestions and provide help for your trip planning. We can personalize your trip according to your interests and requirements, creating the best Vietnam vacation for you.