Top 20 Best Things To Do In Vietnam | 2023 Edition

Planning your holiday in Vietnam? It is likely that you have on your list the most popular places and activities to do already. But are they enough yet? Many travellers miss out on some seriously amazing things to do, just because others don't talk about them enough. 
We have seen many visitors only cover the popular destinations in Vietnam, but our country has a lot more to offer. That's why we think it is necessary to prepare a list of "Top 20 best things to do in Vietnam" for you. We hope this list will help you explore our lovely country to the fullest, and have the best time of your life in Vietnam.
Why You Need To Visit Vietnam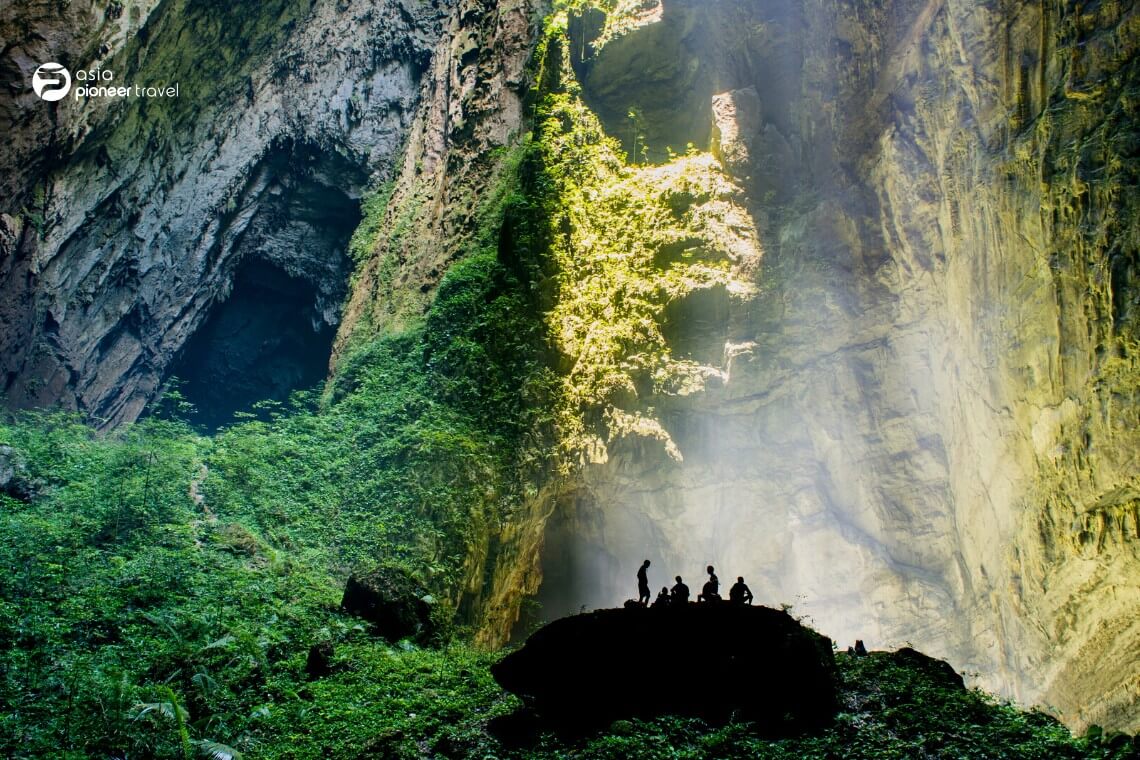 Southeast Asia is a gifted region, for it has diverse weather and landscape, with rich flora and fauna. But when comparing countries in this region, Vietnam is probably the most spectacular one. 
Vietnam has all 4 seasons, unlike other Southeast Asian countries. You can explore Vietnam any time of the year, and find that there is always something to do. 
When it comes to nature, Vietnam is proud as the country is gifted with the world's best beaches, towering mountain ranges, lush forests, massive untouched caves, picturesque rivers, etc. Many of Vietnam's sites have had the world awe-inspired, such as Halong Bay – one of the world's 7 natural wonders or Son Doong cave – the largest discovered cave until today. Such diverse habitats are also home to many plants and animals, with some rare species that are only recorded in Vietnam.
The culture and history of Vietnam are just as intriguing as their nature. The country has a thousand-year-old history, with wars and victories that still make the world in awe when they learn about it. Vietnamese culture is distinctive, while it still shares some familiarities with neighboring countries. It is a fascinating thing about Vietnam that you can only feel once you visit, meet the people, eat the food, learn the history, and explore the sites.
You get the best value for your trip here! That is one thing our experts always mention to customers. Services in Vietnam are mostly affordable, and there are many fine hotels and resorts where you can have a luxurious stay for a good price. 
The Best Time For A Vietnam Vacation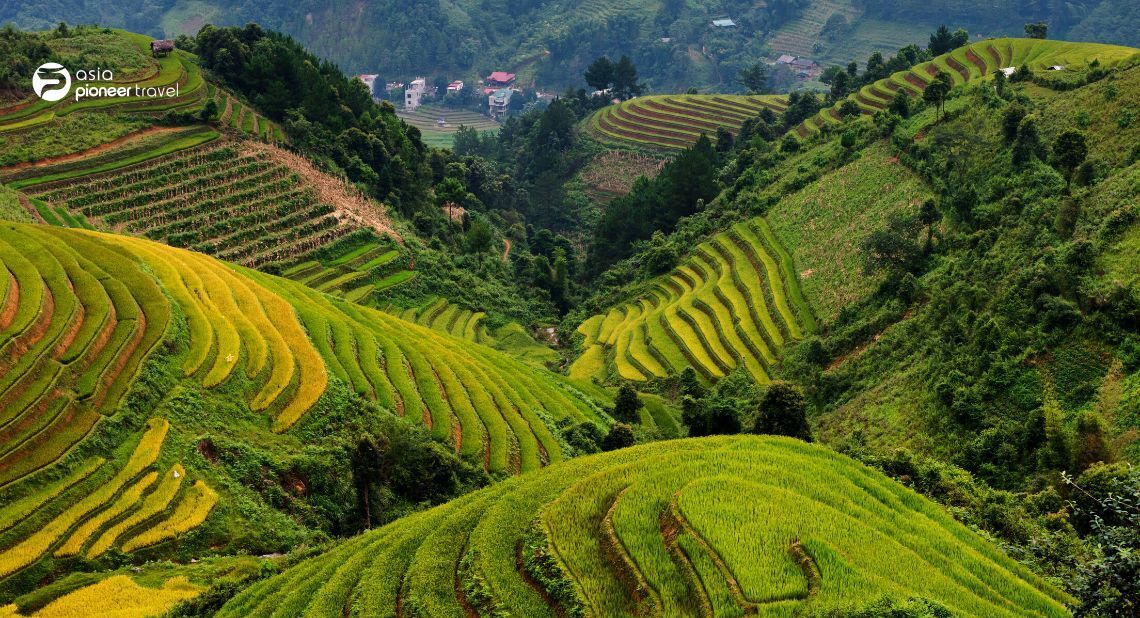 To be fair, we would say you can visit this beautiful country any time around the year, be it in Spring, Summer, Autumn, or Winter. You will have the best trip of your life, as long as you pick the right place to visit in a season. From our experience, the best time to travel in Vietnam is December – March, the good time is September to November or April- May and the Okay time is June – August.
December – March is the most ideal time to explore Vietnam, and you can enjoy diverse activities from northern to southern regions:
Northern Vietnam: As you travel around this time, the weather is mild and cold, and will get warmer in February – March. These months are the most ideal time for trekking and sightseeing the untouched nature of the northern provinces like Ha Giang, Lao Cai, and Lang Son. You will be rewarded with unprecedented views of towering mountains, endless blossoms, and turquoise-colored rivers and meeting the people from hill tribe villages. Also, Dember – March is a lovely time to discover Hanoi and Halong Bay (Quang Ninh) since the weather is cool enough for walking around the Old Quarter or enjoying the cool breeze on a cruise. 
Central and southern: Visiting during this time lets you avoid the monsoon season, which bears heavy rains and even floods in some areas. Because you are in the central and southern, the weather ranges from warm to hot, but such condition is perfect for beach lovers. When the temperature is 25 – 30 degrees Celsius, there is nothing better than chilling on the white sand beaches or participating in a bunch of water sports like swimming or surfing, right?!
If you can't make it for December – March, the weather in September – November is the best alternative choice. You also get to discover Vietnam's wonders in cool weather. In the north, see the beauty of Hanoi or go for the golden rice terraces in the northern regions. In the south, experience life on boats in Mekong Delta and relax on the incredible beaches of Phu Quoc Island in autumn. 
>>Read More: Best Time To Visit Vietnam
Top 20 Best Things To Do In Vietnam
So, you know the perfect time to travel to Vietnam is December – March, now check out the top things to do once you are in the country. The list goes from the north to the south (which is the most popular itinerary for tourists), covering all the top places to visit in Vietnam.
1. Face the twin Ban Gioc waterfalls as you peek into China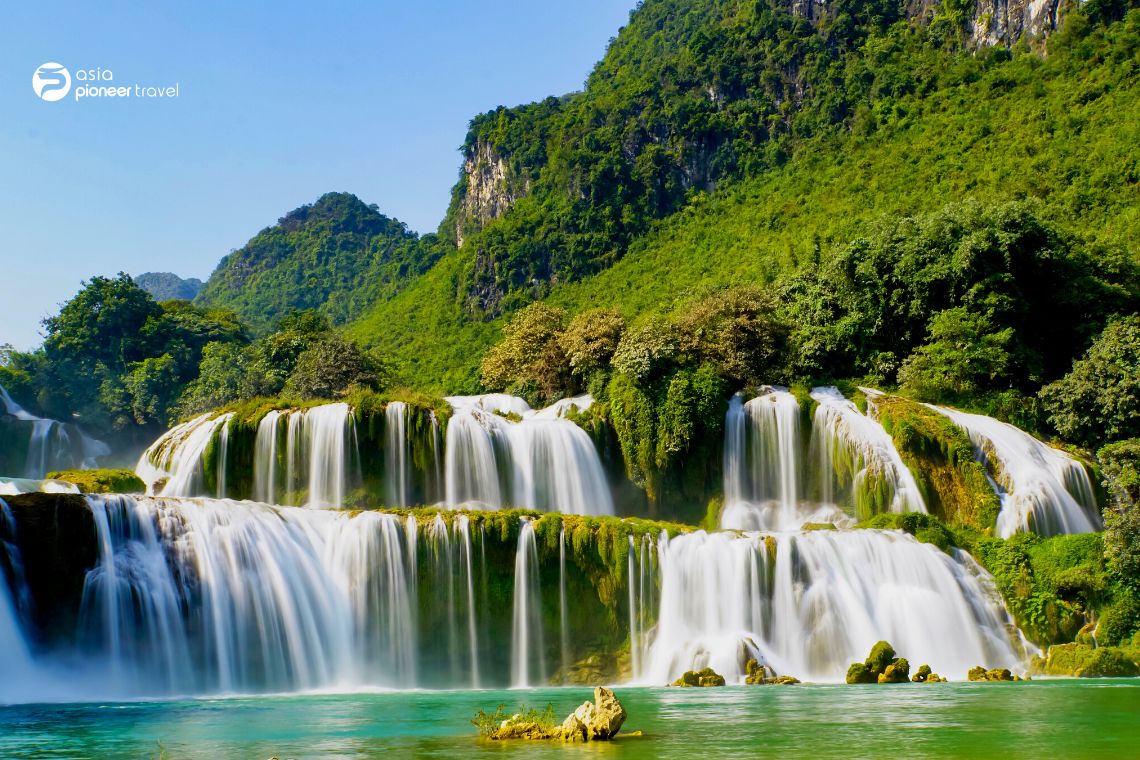 When you are traveling in northern Vietnam, you have to visit Ban Gioc Waterfalls. The majestic Ban Gioc Waterfalls on the Quay Son River, which are 208m (682ft) wide and 70m (229ft) tall, are the widest falls in Vietnam. They mark the border between Cao Bang and China's Guanxi provinces, you can actually look over the falls on China's side from this area. Bamboo rafts on both sides of this liquid boundary ferry visitors to the base of the cascade for up-close views.
2. Trek the mountains of Lao Cai, Lang Son, and Ha Giang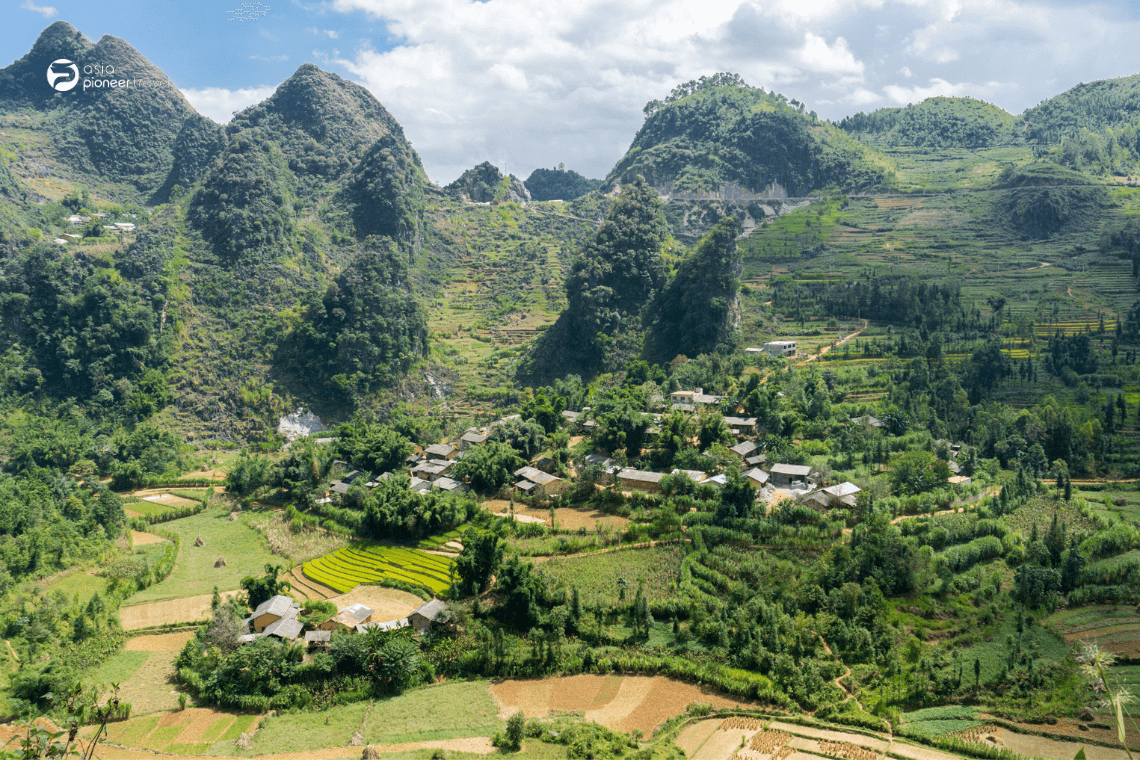 Vietnam's mountains make up some of the best treks you may find in Southeast Asia. The treks vary from easy ones for beginners to tremendous ones for experts, so you can pick the suitable level for you. You will hike through primeval forests, on some of the country's tallest mountains, and be rewarded with the most breathtaking scenery from above. If you love trekking, then you have to take note of this one!
3. Complete the Ha Giang loop on a motorbike
In recent years, this mountainous province has been a popular spot for nature lovers and adventurers. Ha Giang is packed with magnificent landscapes of massive karst plateaus, towering mountains, turquoise rivers, and winding roads. There is no feeling compared to when you are riding a motorbike on the Hạnh Phúc (Happiness) Road. On one side will be the mountains, while on the other is stiff cliffs. You will see awe-inspiring views of the valleys and Nho Que river below, which change after every turn but retain their spectacular. It is hard to find a person who is not in love with Ha Giang after their first trip here. 
>>See Tour: Discover Ha Giang & The Far North
4. Visit rice terraces in Mu Cang Chai and Hoang Su Phi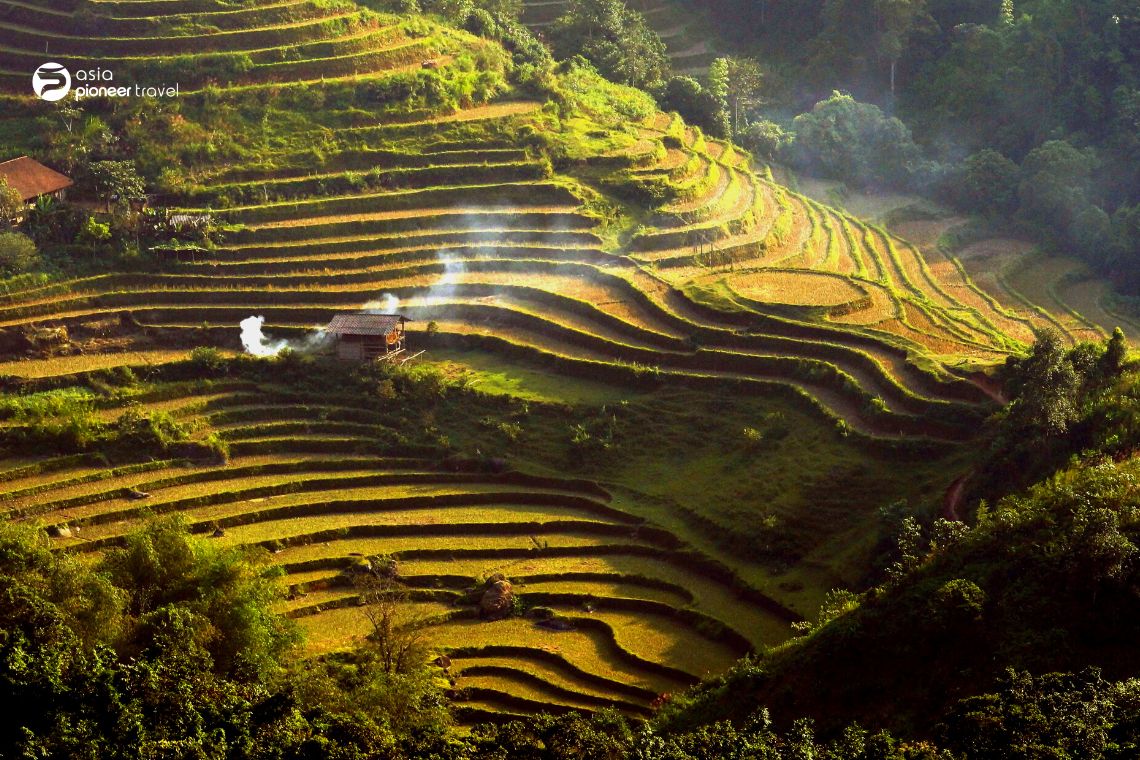 The harvest season, which spans from the middle of August until the end of September, is the finest opportunity to visit the rice terraces in northern Vietnam. During these weeks, the rice terraces transform into seas of gold and dazzle in all their splendor. If the terraces are already beautiful in the summer with green blankets covering the mountains, they become even more so when the rice plants are ripped. You'll also get to see H'mong ethnic minority farmers in traditional costume harvesting ripe rice grains and carrying fruit baskets through highlands and hills.
5. Visit the hill tribe villages
Vietnam has 54 ethnic groups, each with its distinct culture represented via beliefs, clothes, languages, and lifestyles. Despite modernization, most ethnic groups maintain their cultural customs. The ethnic groups are dispersed from north to south, with the greatest concentration in the north.
In the north, ethnic groups dwell in modest wooden houses on stilts or houses, whereas in the center region, communal housing and long buildings are common. Not only that but the color of the outfit varies greatly based on ethnicity. There are ethnic groups that utilize numerous bright colors and large patches, such as the H'mong, while the Ede people prefer fewer colors and smaller patterns. And there are many other unique things that each ethnic group posses, the more you meet and learn about them, the more fascinated you will become! 
6. Cruise the Halong Bays (and other amazing bays in the north)
Halong Bay is undoubtedly one of Vietnam's most stunning places, with 1,600 limestone spires soaring from its blue seas. As a result, it's on everyone's bucket list, and hundreds of vessels provide daily cruises. Whether you've been to Halong Bay before or simply would rather skip the crowds, Bai Tu Long Bay, just a few miles away, has the same breathtaking beauty but only a fraction of the people. Explore uncrowded caverns and little beaches while feasting on super-fresh delicious seafood.
7. Discover Hanoi's culture on feet and by bike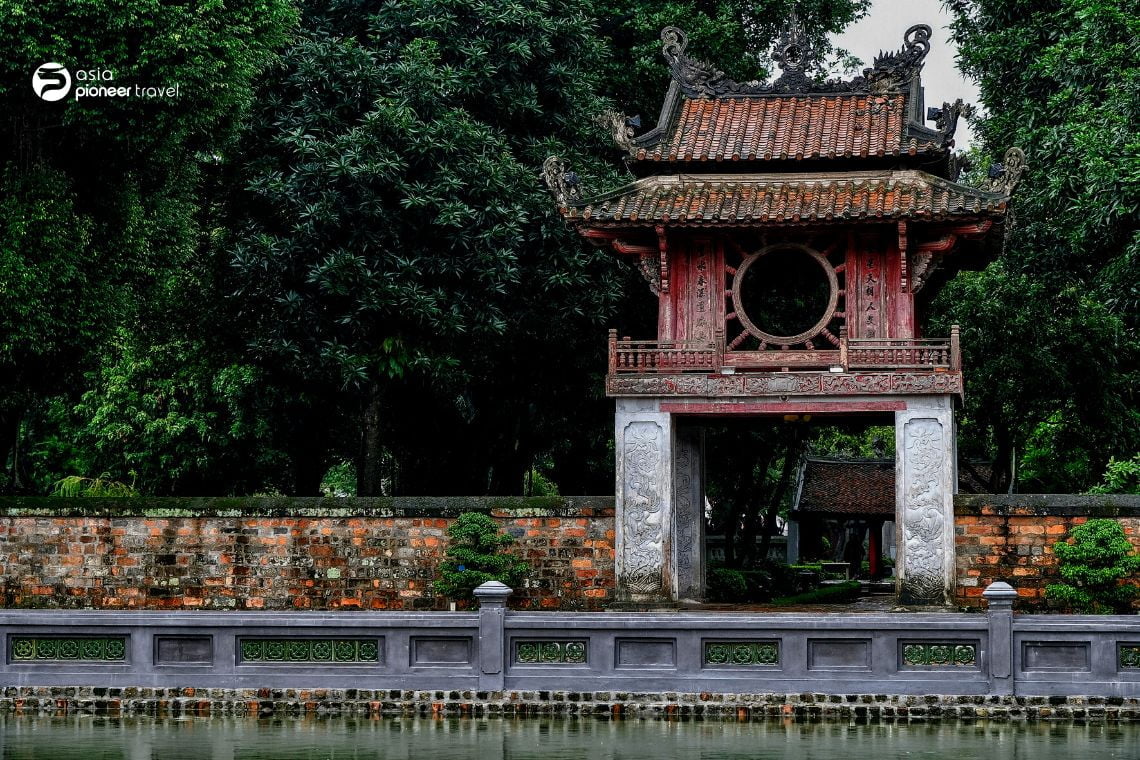 No trip to Vietnam is complete without a visit to Hanoi – the heart of the country. This lovely capital has a thousand-year history, with old sites that stand against time and amid the rising skyscrapers. Some of the must-visit in Hanoi include the Old Quarter, the Imperial Citadel of Thang Long, the Temple of Literature, Ho Chi Minh Mausoleum, Hanoi Tower, and Hoa Lo Prison.
The best way to feel Hanoi's dynamic vibe is on foot or by bike. You will be able to appreciate the beauty of Hanoi through its ancient structures, daily activities, and culture. All of these elements combine to make Hanoi stand out in the minds of visitors. Have a bowl of pho or a plate of banh cuon with a cup of coffee in the morning. After that, stroll about the Old Quarters and take in the fresh morning air. Don't be shy to chat with the locals; they are very kind and can tell you about excellent areas that few tourists know about.
>>Read More: 22 Best Things To Do In Hanoi
8. Visit Ninh Binh's limestone karsts, rice fields, and historical sites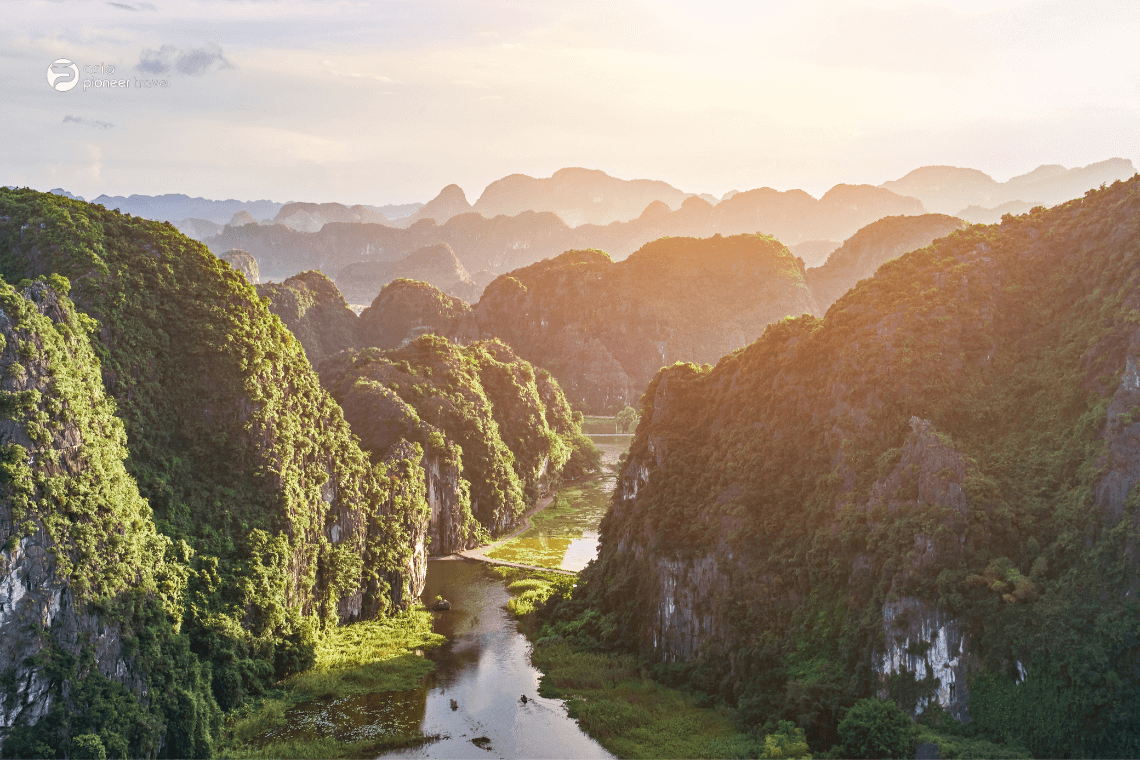 About 3-hour of driving from Hanoi, Ninh Binh has made its name known on the Vietnam travel destination list with unrivaled attractions. You can sightsee the rice paddies and dramatic limestone karsts on a boat in Tam Coc – Bich Dong, taking in the entire picturesque landscape and the cool breeze. Tam Coc means three caves, which are Hang Ca, Hang Giua, and Hang Cuoi. The dark tunnel caves have quite low ceilings, so watch out for your head! If you go in during May – June, which is the harvesting time, you can catch the stunning view of beautiful golden rice fields on the river. 
Aside from the Tam Coc grottos, Trang An is a major destination to see in Ninh Binh. It is a compound of the Hoa Lu Ancient Citadel protected area, a center area, grottoes, and Bai Dinh Pagoda. Trang An was declared a World Heritage Site by UNESCO in 2014. The boat trips in Trang An take 3 – 3.5 hours, but they are worth every second. You will become lost in the space of mountains and blue water, countless caves, limestone mountains, wild natures of forests and rivers, and an extensive system of distinctive caves.
9. Explore the magnificent caves of Quang Binh
Quang Binh is noted for its breathtaking natural beauty, limestone mountains, lush forests, and pristine beaches. Quang Binh also has some of the world's most dazzling caves, including the world-famous Son Doong Cave. While exploring Son Doong Cave would be any adventurer's dream, the opportunity is not for everyone. But there is nothing to be sad about. This region has the greatest concentration of caves in Vietnam. As a result, you can have a good time visiting Phong Nha Cave, Paradise Cave, and Dark Cave.
10. Taste the Old Empire's food in Hue
Hue was not just the country's seat of power but also the birthplace of its famous cuisine: 1,700 of Vietnam's estimated 3,000 specialties originated in Hue. The Old Empire cuisine was comprised of "imperial meals" (ẩm thực cung đình) and royal dishes (ẩm thực hoàng gia), which are made within the Imperial City by an entourage of 50 royal chefs using ingredients acquired from all over the world. The food in Hue is crazily flavourful. But not only that, the dishes here are known for the complexity of the ingredients. Even dishes that people have every day may have 5 to 10 ingredients. This is one of the foot hubs of Vietnam, asides from big cities like Hanoi or Ho Chi Minh City. 
>>See Tour: A Food Lover's Tour of Vietnam
11. Visit Danang's Golden Bridge and beautiful beaches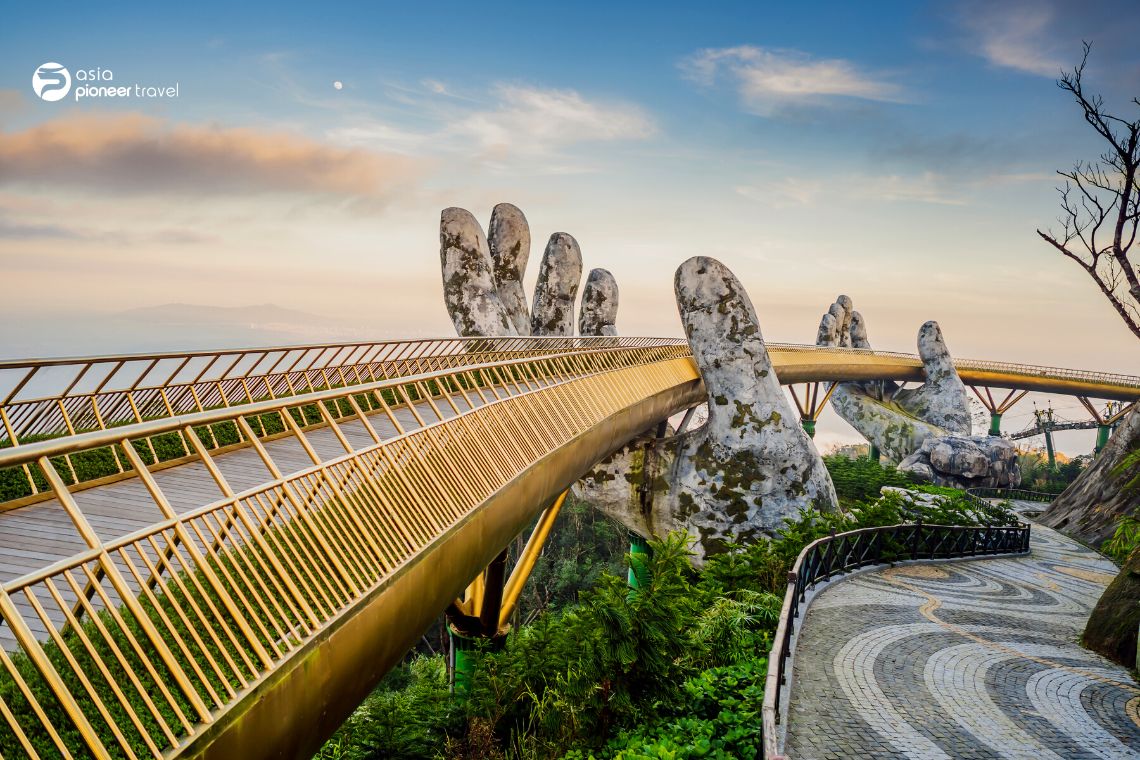 Danang is one of the big 3 in any Vietnam trip. This is the most developed city in the central region, yet it maintains a balance of lively and relaxing lifestyle. Danang is gifted with good weather, idyllic beaches, and lush mountains. 
The most famous attraction in Danang is undoubtedly the Golden Bridge (also known as the Golden Hands Bridge or the Giant Hands Bridge) with its unique design. Visitors can walk across the 150m-long pathway, high above the seemingly-endless greenery of the Ba Na Hills, and feel as though they're being held in the sky by two huge, God-like stone hands.
Read More: Go to Danang of Vietnam, and enjoy these spectacular things!
12. Relish the peaceful vibe in Hoi An
Hoi An is a delightful spot to spend a few days, with its rich cultural heritage, beautifully preserved merchants' mansions, and languid pace of life. The small town of Hoi An has a laid-back vibe and displays a rich architectural fusion of Chinese, Japanese, Vietnamese, and European influences. It is well-preserved and full of captivating attractions.
The lovely Japanese Covered Bridge is the town's most photographed landmark. The most iconic image of Hoi An, though, is of yellow-painted buildings lining the streets on the river's banks. It is a sight you can't find anywhere else in Vietnam. Besides architecture, Hoi An is also a great destination for foodies. They sell delicious dishes of the central region, tasty banh mi with lots of fillings, and some distinctive food like cao lau, so make sure you try them all. 
13. Enjoy the coffee in Daklak
If you love coffee, then this is no doubt one of the best things to do in Vietnam for you. With its continuous undulating basaltic hills, the Dak Lak province marks the southern extremity of Vietnam's Central Highlands. At 1600m (5250ft), this is the ideal coffee-growing terrain.
Coffeeholics should visit the region's capital of Buon Ma Thuot to explore the surrounding hills, where eco-sustainable farms grow dozens of various coffee strains ranging from Arabica to Liberica and Robusta. You can learn everything about the coffee production process, from farming and roasting, to making a good cup of coffee. We recommend buying some coffee to take home as a souvenir from your Vietnam trip.
14. See the spectaculars of the Tay Nguyen region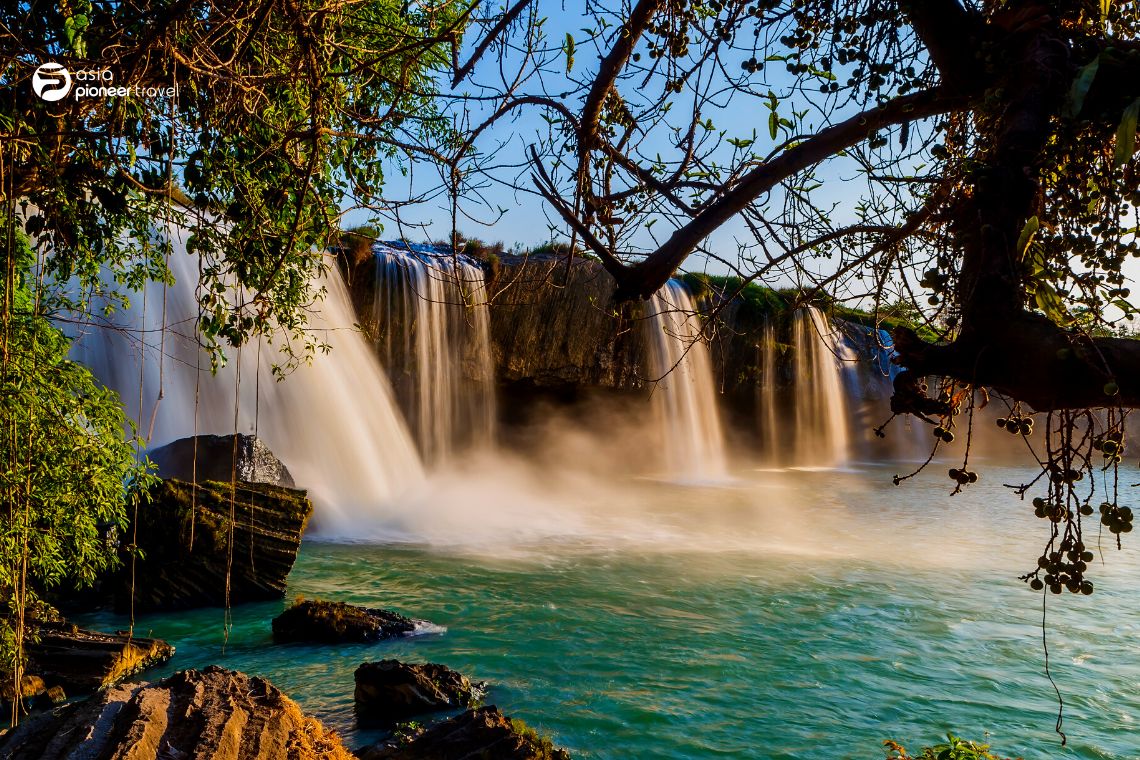 While waterfalls in Vietnam's north are famed for their scenic splendor, those in Tay Nguyen are known for their strong torrents. Thus, if you're planning a trip to Tay Nguyen, don't miss out on seeing the gorgeous Dray Nur (wife), Dray Sap (husband), or Pongour Waterfalls. The Dray Nur and Dray Sap waterfalls surge down from 30m high cliffs during the wet season, spouting white foam and creating a wild, breathtaking landscape in the center of the forest.
The Pongour Waterfalls, on the other hand, is a whole spectacle. The water flow gushes through 7 distinct levels, creating a magnificent 3D visual experience for visitors, similar to a gorgeous young woman's hair stream. The bursting water jets then soften and reach the bottom of the pond.
15. Visit wildlife in the Cat Tien National Park
Cat Tien National Park in southern Vietnam is a wildlife lover's paradise: a 720-square-kilometer biosphere reserve made up of botanical gardens and lowland forest, with a plethora of rare species and birdlife, kept safe and sheltered in a number of sanctuaries and rescue centers.
The Dao Tien Endangered Primate Species Centre has seen golden-cheeked gibbons, silvered langurs, and native pygmy lorises, among other rare primates. Asiatic elephants and clouded leopards have also been spotted here by wildlife enthusiasts. If you're looking for a one-of-a-kind wildlife experience in Vietnam, consider staying the night in one of Cat Tien's homestays or hotels and going on a moonlight drive.
16. Discover the dynamic vibe of Ho Chi Minh City
Ho Chi Minh City, formerly known as Saigon, is a renowned tourist destination in Vietnam where visitors may experience the intriguing culture, sleek skyscrapers, classic French architecture, and exquisite temples and pagodas.
You should explore the city's museums while you're here. Ho Chi Minh City Museum, War Remnants Museum, Ao Dai Museum, and so on will teach you about the city's history, people, and culture. Despite its modern lifestyle, Ho Chi Minh City is home to a number of temples and pagodas built by Vietnamese, Chinese, and other groups. Last but not least, take advantage of the city's nightlife. That is what this city is most famous for, and you will have no shortage of places to have a good time.
Read More: Exciting things to do in Ho Chi Minh City, the most vibrant city in Vietnam
17. Float on the Mekong Delta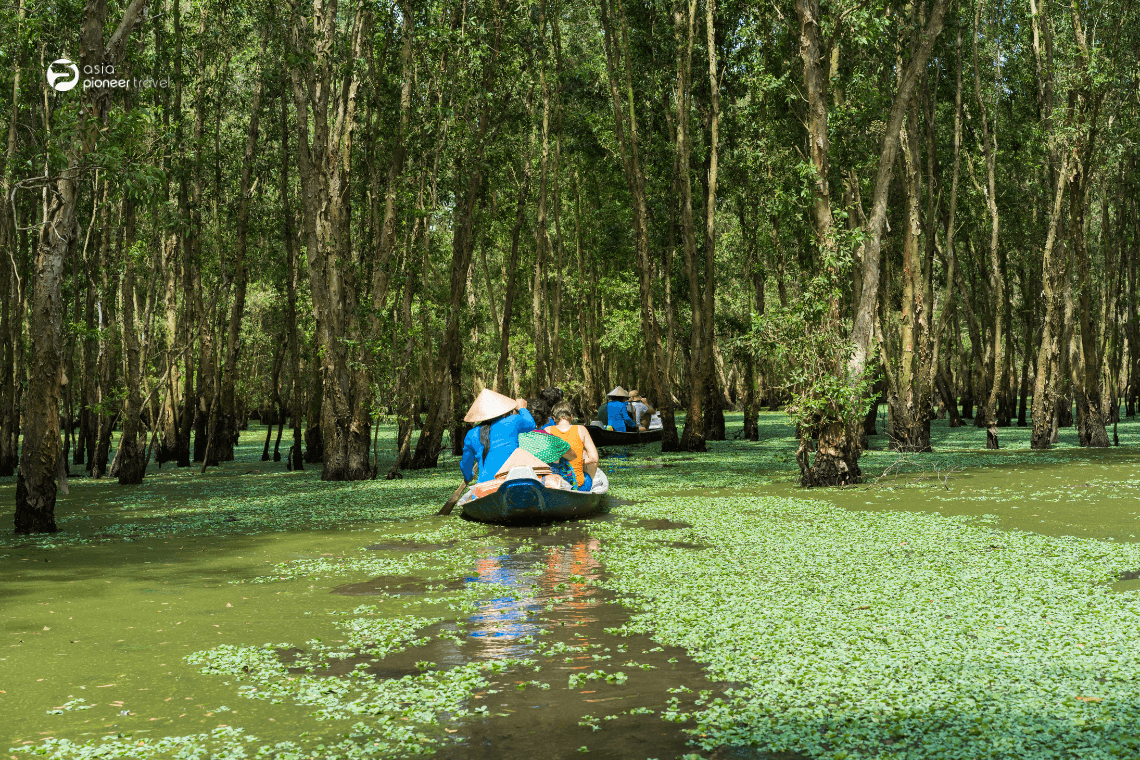 The Mekong Delta has served as Vietnam's rice bowl for centuries, sustaining a network of peaceful cities and villages on stilts that rely on the river for life and trade. The ideal way to explore is to take to the waters, either by cruising overnight on the major canal between Cai Be and Can Tho or by having locals take you on their tiny boats through the backwaters, where the smaller waterways become so tight that you may come face to face with a heron or two.
18. Explore Ba Den Mountain
Tay Ninh Province is home to the Ba Den (or Black Virgin) Mountain. At an elevation of 986 meters above sea level, this mountain is known as the roof of southern Vietnam.
Because the Ba Den Mountain is part of the Nui Ba Historical and Cultural Complex, there are a variety of things to do when you visit. You may admire the 72m-tall "Tay Bo Da Son" Bodhisattva statue, which was meticulously crafted and is comprised of more than 170 tons of bronze. See the full system of pagodas on Ba Den Mountain, including Trung Pagoda, Quan Am Pagoda, Hang Pagoda, etc. The big cable stations and the Buddhist art exhibition are also attractions here.
Read More: Top 4 Vietnam New Destinations To Put On Your List In 2023
19. Learn the past of Con Dao island
Con Dao has emerged as one of the top Vietnam news destinations in recent years, with historical monuments, spiritual areas, and unspoiled nature. The archipelago is located in the province of Ba Ria-Vung Tau in southern Vietnam. When you arrive, you will spend the majority of your time on Con Son, the largest island in the Con Dao archipelago. Before 1975, this place was known as "hell on Earth," as it was the largest prison in Indochina. You may learn about the island's history by visiting Con Dao Museum and Prison, Ma Thien Lanh Bridge, 914 Bridge, and Hang Duong Cemetery. Con Dao prison and museum are now being restored as a memorial to the Vietnamese who fought for national liberation and independence.
Aside from being a historical attraction, Con Dao Island also draws visitors because of its stunning nature. Unspoiled beaches, thriving woods, and rare wildlife can all be found here. The top activities we recommend are swimming, snorkeling, scuba diving, and touring the island on a motorcycle.
20. Refresh on the pristine beaches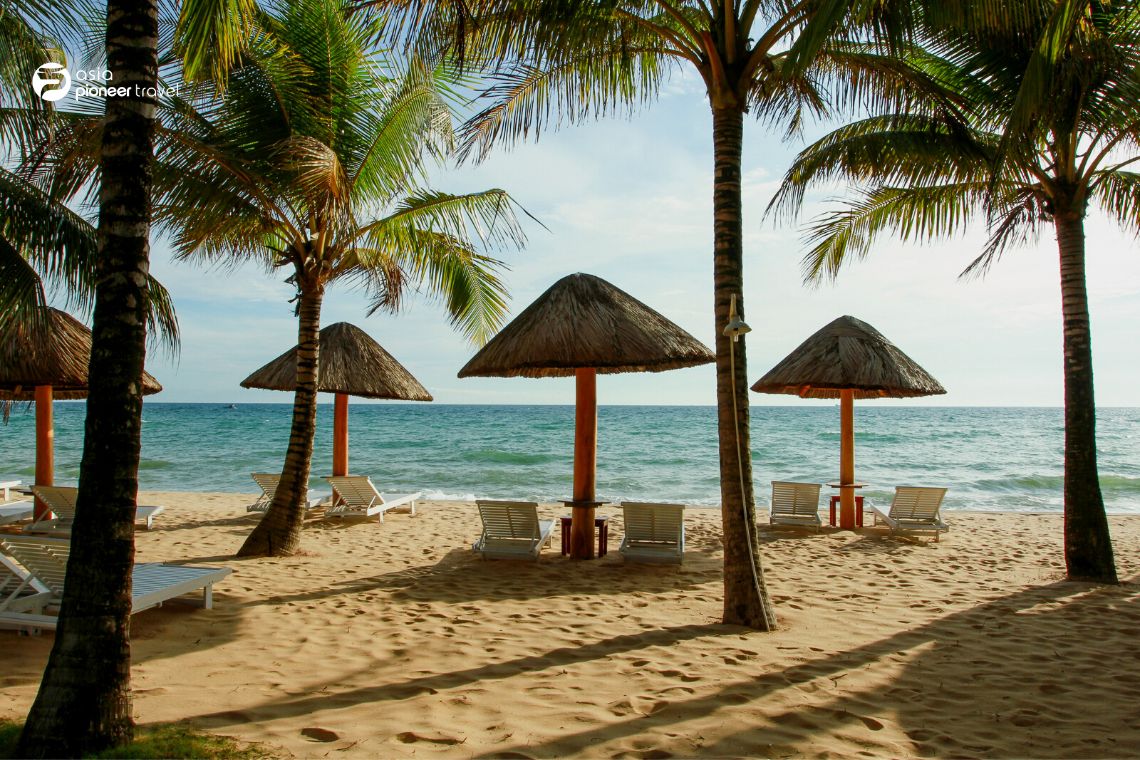 Vietnam is world famous for its beaches, so apparently, enjoying the pristine beaches will be on the list of "Top 20 best things to do in Vietnam". The beaches in the southern region are the most popular, for they have clear blue water, and soft white sand, combined with the ideal temperature of 30 – 35 degrees Celcius most time of the year. 
Top favorite destinations for beaches are Nha Trang (voted one of the world's most beautiful coasts), Phu Quoc island (known for crystal-clear water with romantic sunset), and Danang. But there are other emerging hot spots for beaches in recent years, such as Binh Dinh, Ninh Thuan, and Con Dao island. After days of travelling, you would definitely appreciate relaxing on the beach or swimming in the cool water. Such a perfect way to mark the end of your adventure in Vietnam!
How To Have The Best Vietnam Holiday?
So, we have gone through all the 20 best things to do in Vietnam – 2023 edition. From sightseeing the most beautiful places, tasting the mouthwatering cuisine, and experiencing life like a local, to sunbathing on a lovely tropical beach, Vietnam has it all. 
We are certain that after reading through the entire list above, you want to cover all of them on your next trip to Vietnam. That is fantastic!
The only issue is that it may be difficult to plan and arrange everything yourself. "How many days should I spend in the north, what to see there? "Do I have enough time for a trek? "Which hotel should I book to stay near the beach?" etc. Do you also share the same struggle? 
Let us help you create the best Vietnam holiday. From your ideas for the trip to your preferences, and interests, our travel experts will design a personalized Vietnam tour only for you. We believe that there are no two trips that are the same.