Why You Definitely Should Travel To Vietnam In Autumn

Autumn is the most beautiful time of year to visit Vietnam, particularly the northern area. From September through November, the searing heat of summer is replaced by a mild fall wind, and the leaves begin to change colour.
Apart from the weather, there are other reasons why you should travel to Vietnam in autumn. Scroll down to find out!
Vietnam's Weather In Autumn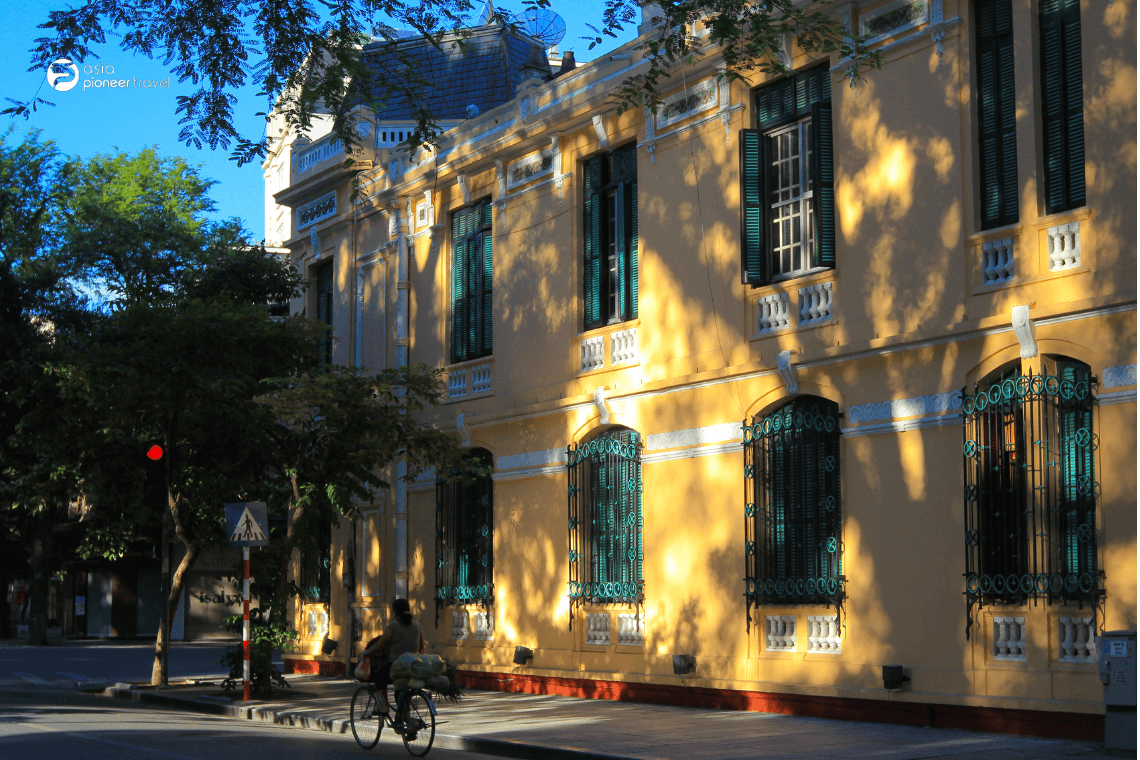 There is a good reason that Vietnam's peak travel season is in autumn, which lasts from September through November. In particular, Hanoi and Northern Vietnam enjoy the most pleasant weather during this time of year. The regions see bright, cool weather between 24 and 30 degrees Celsius.
Hanoi is known for the romantic ambiance that autumn brings. As a tourist, you can indulge in various regional delicacies such as green rice flakes (Com), dracontomelon (Sau), and chalkboard trees (Hoa Sua). These regions are similar to the North Highlands as they offer stunning views and landscapes that attract numerous visitors and photographers. The sight of golden grains covering the area is truly breathtaking.
Vietnam's Central and South regions may not be as popular during autumn due to heavy rainfall in September and October. Nonetheless, as November approaches, the rainy season subsides, making it an opportune time to discover the Central Highlands, beaches, and the Mekong Delta. Rest assured that temperatures in both regions remain below 30 degrees Celsius. More details are presented in the following section.
Top Vietnam Destinations To Explore In Autumn
1. Hanoi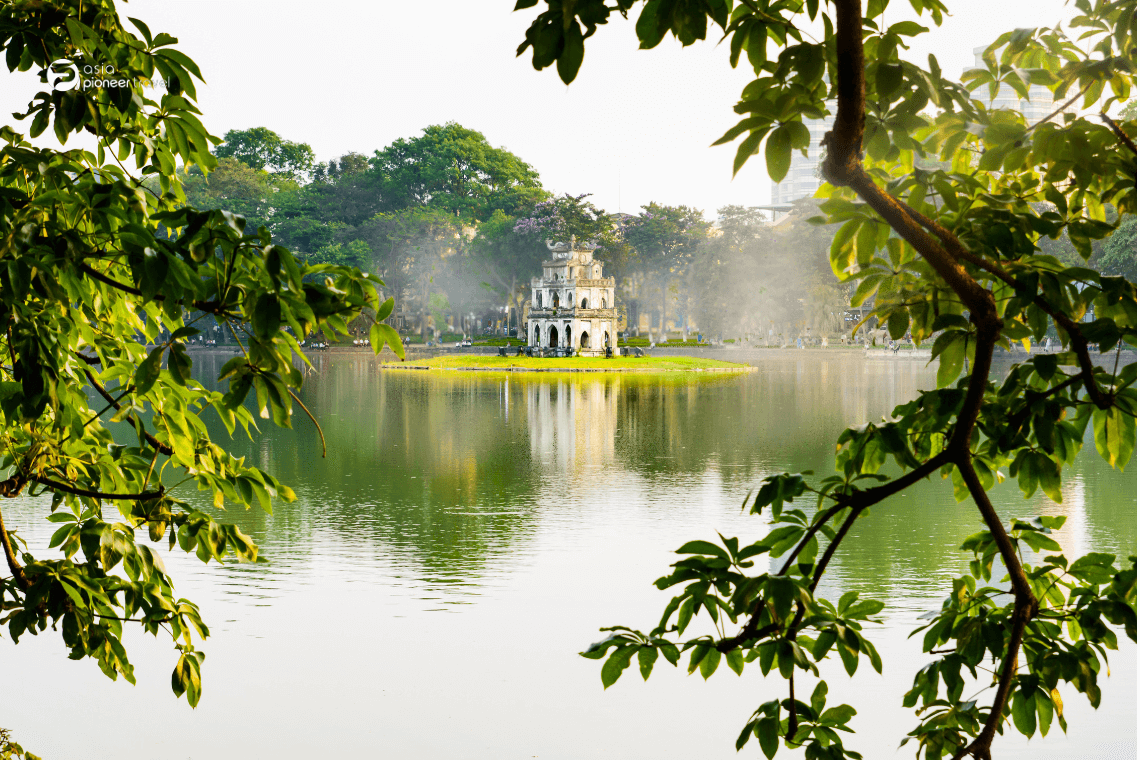 As a traveler in Hanoi during the fall season, you're in for a treat! The city transforms into a magical wonderland with the most enchanting and delightful atmosphere imaginable. From the crisp and fresh air to the aromatic milk blossom, you'll be surrounded by enchanting scents that you won't soon forget.
Take a stroll along the streets surrounding West Lake, like Phan Dinh Phung, Quan Thanh, and Quang Trung, and you'll be mesmerized by the beauty of the milk blossom. And, if you're feeling adventurous, navigate through the maze of alleyways in the Old Quarter to discover local autumn delicacies like green rice flakes (com) and ragworm fritters.
For a more relaxing experience, find an open-air café and enjoy a cup of Vietnamese egg coffee while enjoying the cool autumn breeze. Trust us, as a traveler in Hanoi during the fall season, you'll never run out of exciting things to do and see.
2. Sapa
Imagine the thrill of feeling the crisp autumn air brushing against your skin as you journey toward the heart of Sapa. The breathtaking sight of the terraced fields in all their colorful glory will take your breath away and remind you that the rice season has just begun. Trust us, there's no better time to explore this charming destination than during the autumn months.
Discover the breathtaking beauty of Sapa during the rice ripening and harvesting seasons, especially in September when the entire valley is adorned with shimmering golden rice fields. The refreshing and crisp air provides the perfect setting for exploring and capturing stunning photos while also embarking on an exhilarating hike to the summit of Fansipan.
Immerse yourself in the vibrant culture of the Sapa ethnic groups as they showcase their traditional clothing against the backdrop of majestic mountains, verdant forests, winding rivers, and babbling streams. A trip to Sapa during this time is an unforgettable and truly unique experience that every traveler should add to their bucket list!
3. Ha Giang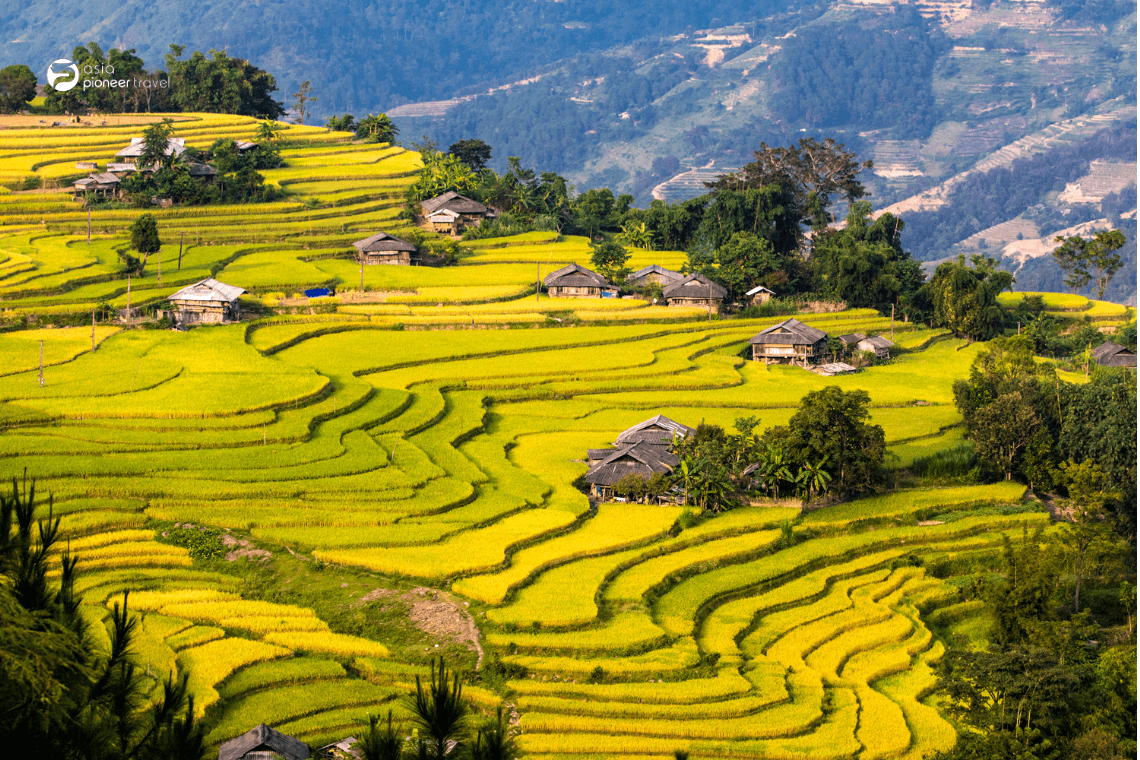 During the months of October and November, the Dong Van Karst plateau is adorned with beautiful fields of tam giac mach (buckwheat) flowers in shades of white and pastel pink. Many visitors come on motorbikes through mountain passes to witness this breathtaking sight.
Buckwheat is a crucial grain for the locals, and it's usually planted after the summer-fall rice crop each year. The buckwheat flowers are in full bloom all over the mountain slopes of Dong Van District. Therefore, during your autumn journey, you can enjoy the beautiful and vibrant colors and relish the taste of spicy buckwheat wine or soft buckwheat cake.
The buckwheat plants are planted in September and bloom a month later. They continue to grow for another month before they are ready for harvest.
4. Yen Bai
As autumn sets in, the northern provinces of Vietnam become a sight to behold. Mu Cang Chai (Yen Bai) is particularly famous for its stunning natural scenery, especially the mature rice fields that attract many visitors and photographers. Situated about 300 kilometers from Hanoi, this place is considered one of the most picturesque locations in the region.
In September, the mountains and forests of the Pacific Northwest region transform into a yellow paradise. The weather around this time is also perfect for travelers to explore the area's rugged mountain routes and enjoy the unspoiled beauty of nature.
5. Son La
Moc Chau (Son La) has much to offer for those seeking a unique autumn vacation spot.
As the season progresses, cauliflower and buckwheat flowers bloom on the slopes, radiating against the morning mist. The Moc Chau Plateau features rolling hills of green tea that stretch across the landscape, including the breathtaking Moc Chau Tea Hill. Although it's an artificial beauty crafted by workers at tea plantations, visitors can still harvest young green tea while wearing H'Mong and Thai costumes, creating a memorable experience.
6. Lan Ha Bay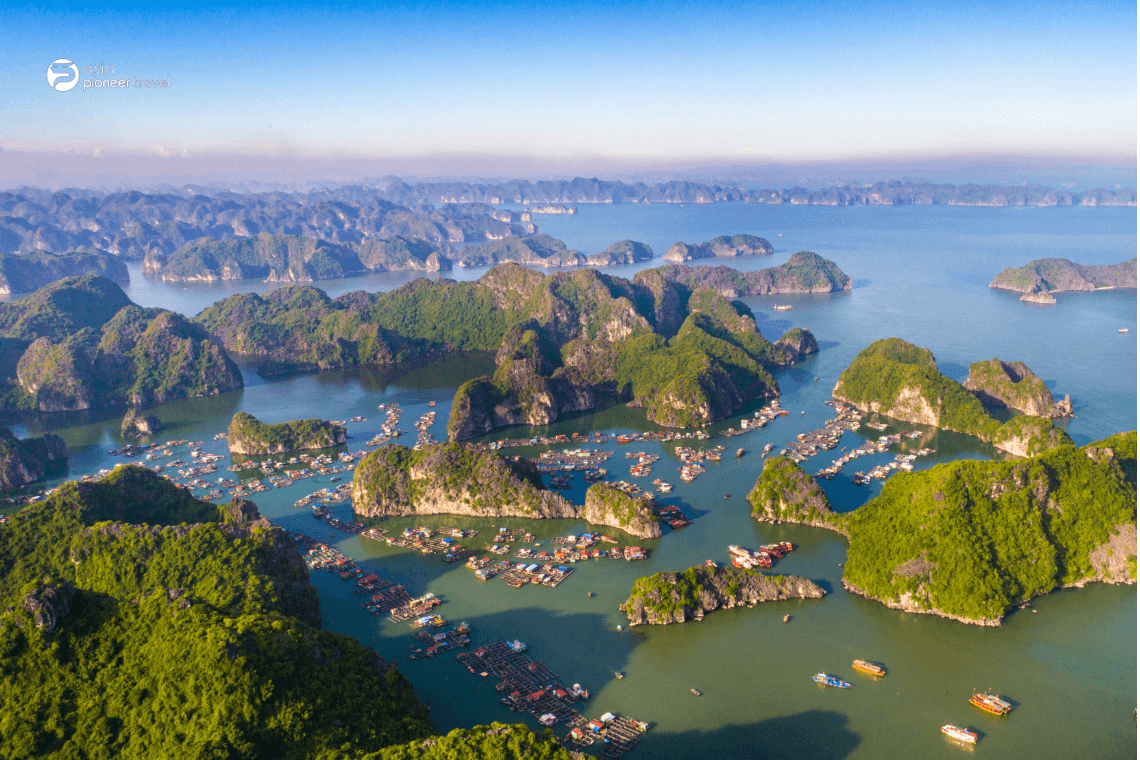 Nestled south of East Bay and Cat Ba Island, the hidden gem of Lan Ha Bay awaits to be explored by adventurous travelers. Spanning over 7,000 hectares, this breathtaking area boasts around 400 small islands with unique and enchanting shapes. What sets Lan Ha Bay apart from Ha Long is that all its islands are lush with verdant forests, except for one tiny islet.
Despite being off the beaten path, Lan Ha Bay is considered one of Vietnam's most stunning bays, offering a refreshing boat ride to soak in the magnificent scenery when the weather is just right, with a pleasant temperature and a cool ocean breeze. For those seeking to escape the hustle and bustle of typical tourist spots or who have already explored Halong Bay, Lan Ha Bay is an excellent option to discover and immerse yourself in the beauty of Vietnam's natural wonders.
7. Ninh Binh
Ninh Binh is a must-visit destination, which has been recognized as one of the friendliest destinations to travel by Booking.com's annual travel awards. Although this destination is small, it has much to offer for explorers. Visiting during autumn, with its cool weather, is the perfect time to witness the wonders of Ninh Binh.
Mua Cave, which was built a long time ago, has over 500 stairs leading to the peak of Mua Mountain and offers stunning, unspoiled views. The entire Tam Coc region can be seen from the top of Mua Mountain, and autumn is the best time to experience the beauty of ripe rice in Ninh Binh. Ninh Binh is a charming place combining architecture and nature, making it one of many "hot spots" to visit.
When you're in Ninh Binh, be sure to include a trip to Tam Coc – Bich Dong in your itinerary as well. This destination is a must-see, as you can take a boat ride along the stunning Ngo Dong River while admiring the breathtaking views of majestic mountains and golden rice terraces. During your boat ride, you'll also have the chance to see Bich Dong Pagoda, a historic temple that spans three levels of the mountain. Visitors from all over the world come to burn incense and offer prayers at this revered site.
Ninh Binh's Trang An Scenic Landscape Complex is another popular destination worth visiting. You can enjoy a boat ride to explore the area, similar to Tam Coc. During autumn, the landscape boasts a tranquil atmosphere with a beautiful combination of mountains, valleys, and a lake system.
8. Dalat
Autumn weather in Da Lat, Southern Vietnam, is ideal for travelers to visit and fall in love with this mountain town. Da Lat is adorned with wild sunflowers that bloom in various areas as it enters September.
As travelers make their way from the Bao Loc mountain pass to Da Lat, they can witness the vast mountains covered in wild sunflowers that mix with the greenery of pine trees. These beautiful flowers can also be seen in other parts of the countryside, such as Lien Khuong, Trai Mat-Cau Dat, D'ran – Da Lat, and Chu Dang Ya Commune in Gia Lai Province, where evidence of a century-old extinct volcano can still be found. Da Lat, often referred to as 'Little Paris', 'city of eternal spring', 'city of flowers', and 'city of love', is a popular romantic destination for honeymoon couples. Additionally, it provides a cool and comfortable escape from the heat in a typically warm country.
9. Mekong Delta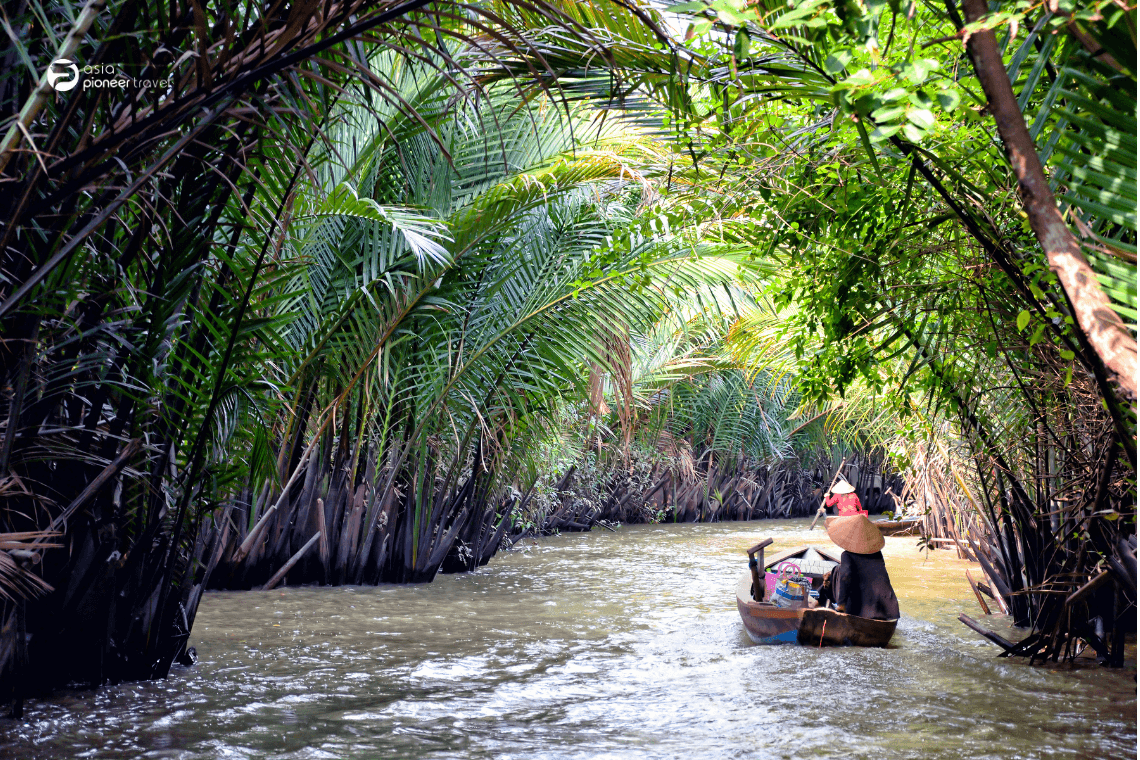 Foreign visitors are drawn to the Mekong Delta all year round due to its expansive canal system, fruit orchards, and seafood. However, the area truly shines during the peak flooding season in October.
The Mekong Delta welcomes floods because they bring in nutrient-rich silt, which greatly benefits the area. Local people consider floods a blessing from God as it provides an abundance of fish and fertilizes the crops in the paddy fields. To fully enjoy the delta's mangroves, cajuput woods, floating markets, and fruit plantations, taking a boat is the best way to go.
From the boat, you can take stunning photos of sunrises and sunsets and observe locals casting their nets to reap the river's bounty. For the ultimate experience of the Tra Su cajuput forest, a boat ride is recommended. The best location to do so is in Tinh Bien District, approximately 26 kilometers (16 miles) from Chau Doc, the capital of An Giang province.
10. Phu Quoc
Phu Quoc, Vietnam's largest island, boasts pristine white-sand beaches and charming fishing villages. October – November is a perfect time to explore Phu Quoc and enjoy its natural beauty.
The island offers a range of activities, from swimming in the clear blue waters and taking long walks on the sandy beaches to cycling, kayaking, and scuba diving among the stunning coral reefs. September is an ideal time for seafood lovers to visit Phu Quoc and savor the fresh and delicious seafood. Visitors can stay in traditional huts with the locals or luxurious five-star hotels with breathtaking views of the islands.
Festivals In Autumn
Mid-Autumn Festival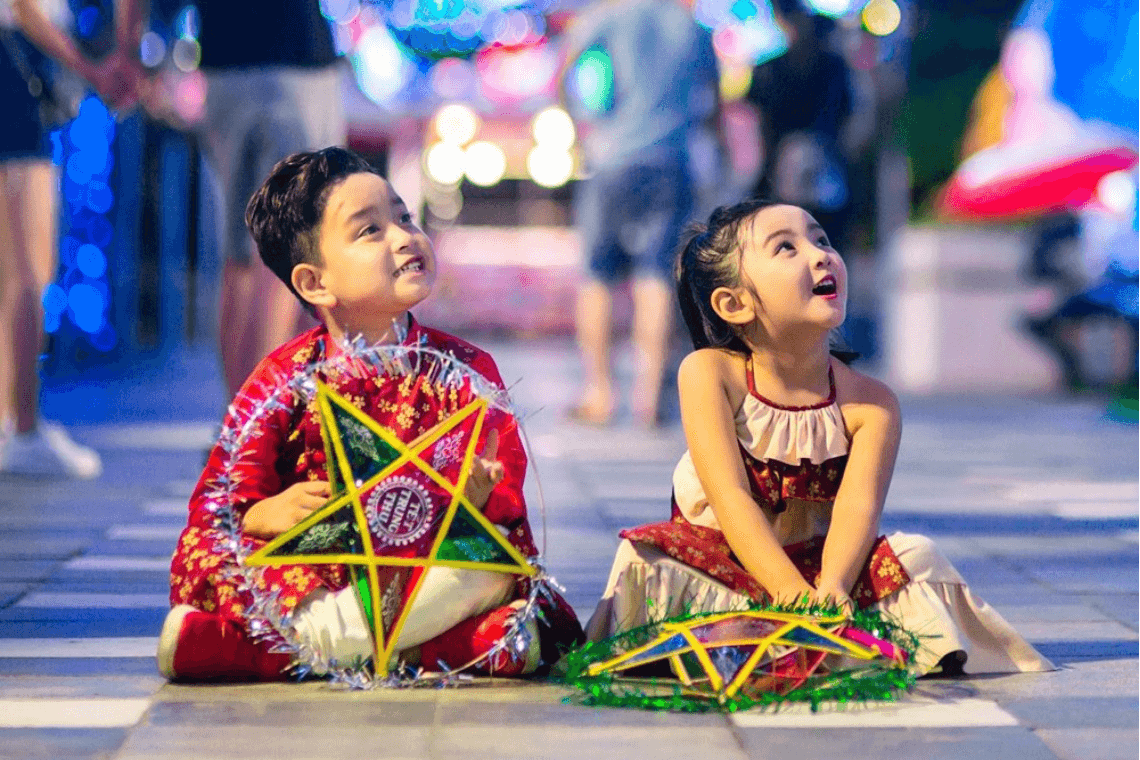 The Mid Autumn Festival has been celebrated on the fifteenth day of the eighth lunar month for many years in Vietnam. This particular day is a time for parents to show love to their children by giving them gifts. It is also a time for families to come together and reunite.
In Vietnam, the Mid Autumn Festival is a long-standing tradition celebrated on the fifteenth day of the eighth lunar month. It is a special day when parents express their love for their children by giving them presents. Additionally, many families use this occasion to reunite and spend time together.
During the Mid-Autumn Festival, children enjoy playing with star-shaped lanterns, wearing masks, watching lion dances, and singing Moon songs. On the night of the full moon, both adults and children prepare and enjoy various cuisines, with moon cake being the most popular dessert due to its symbolism of luck, happiness, and fortune.
Con Son – Kiep Bac Festival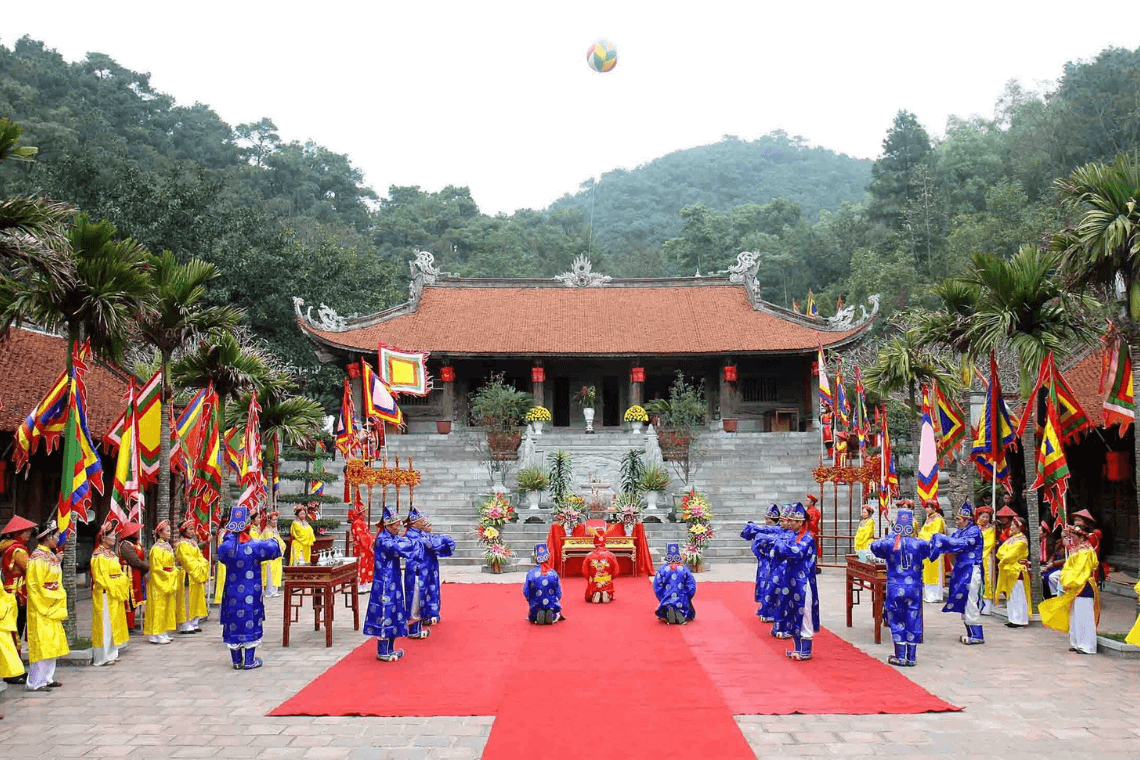 Every year, people from all over the country visit the Con Son – Kiep Bac region in Chi Linh town, Hai Duong province, from the 15th to the 20th of the eighth lunar month to participate in an ancient festival. The ceremony starts with a solemn procession, accompanied by drums and a dragon dance, to remember the great achievements of Tran Quoc Tuan in fighting against the Mongol invaders.
The celebration also includes a memorial parade on the Six Heads River (Song Luc Dau) and a reenactment of the historic triumph over the Mongol invaders by watercraft. This traditional rite is an important part of the Con Son – Kiep Bac festival.
Buckwheat Flower (hoa tam giac mach) Festival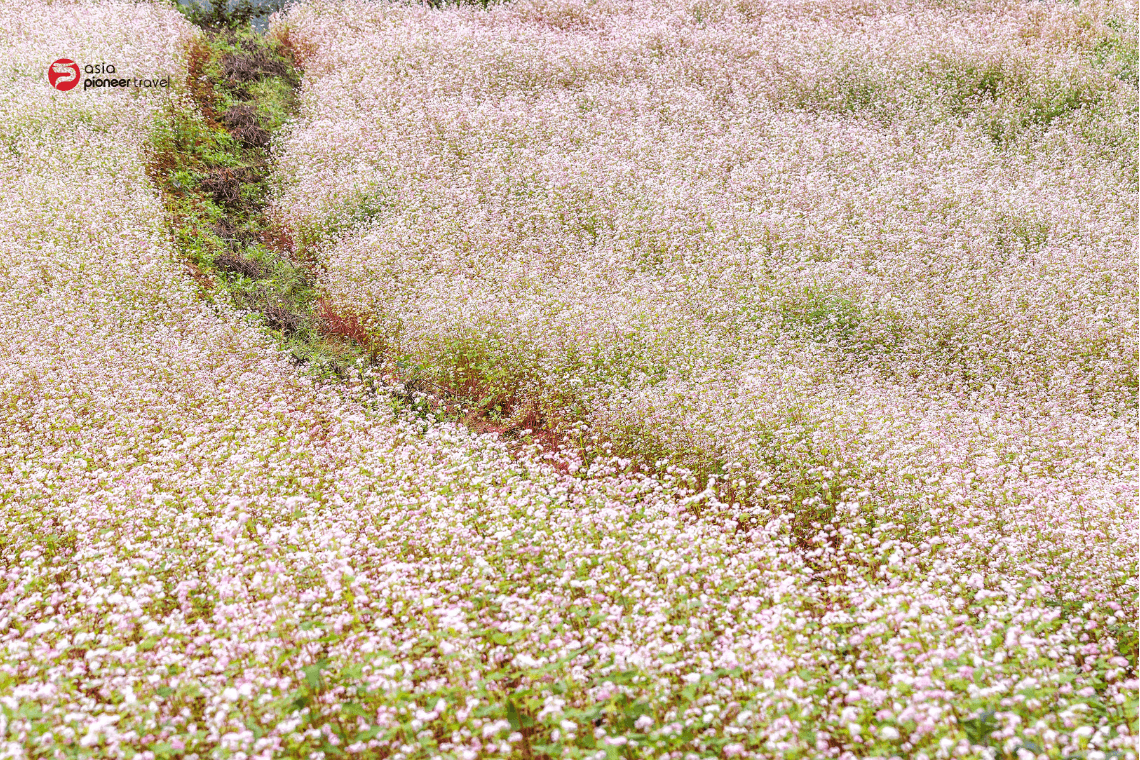 In Dong Van province, the buckwheat flower season starts at the end of the ninth lunar month and goes on until the end of the tenth lunar month. During this time, many districts such as Quan Ba, Yen Minh, Dong Van, and Meo Vac celebrate with a three-day festival.
The festival honors the unique cultural value of the Dong Van stone highland by showcasing the triangular circuit flower. There are many cultural events that happen during the festival, including exhibitions of goods made from the flower, a wine festival, and traditional ethnic entertainment. Travelers can also participate in the festivities and experience the local culture.
Kate Festival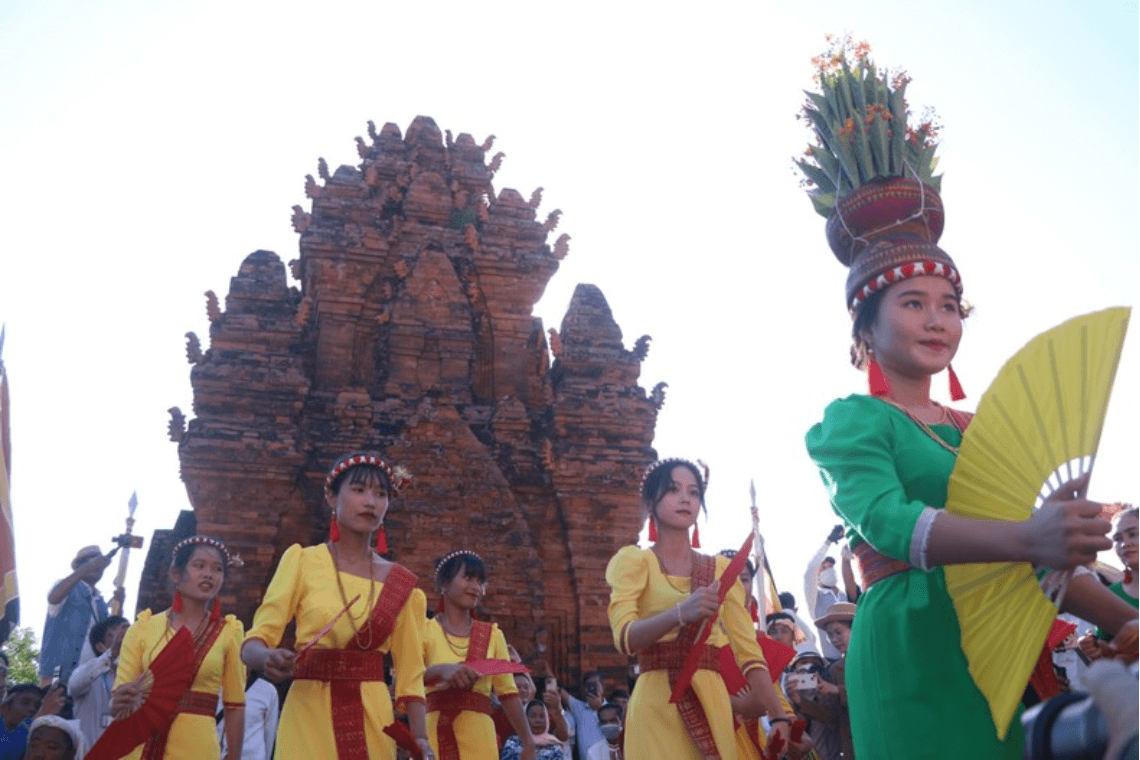 The Kate Festival is a time of both solemn remembrance and joyful celebration. It's a significant event in the Cham Brahmanist calendar that pays tribute to the brave heroes of the past, such as Po Klong Garai and Po Rome, and honors families' losses. But it's also a time for locals to come together, relax, and exchange good luck wishes. With its rich cultural traditions and festive atmosphere, the Kate Festival is truly a sight to behold.
The Kate festival begins with welcoming costumes and the opening of temple gates. The deity statues are bathed, and their attire is changed. The main ritual involves offering goat meat, chicken, rice, wine, fruit, and other items. After the holy dances, lively celebrations continue into the second day's twilight.
On the final day, villagers offer prayers and contributions in the community house. The performers who lead the festival are well-liked and knowledgeable about ancient traditions. They speak to the gods on behalf of their community, offering oblations and requesting good fortune. The festival also includes folk games, weaving competitions, and folk song performances.
Keo Pagoda Festival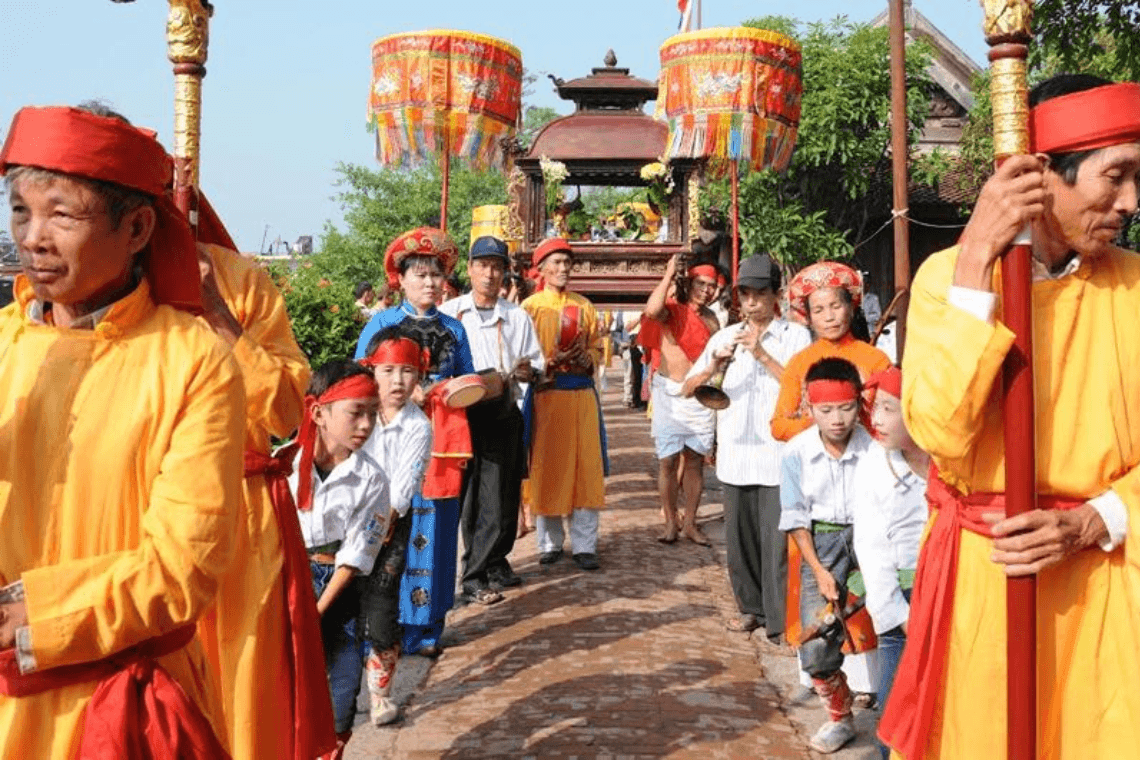 The Keo Pagoda, nestled in the serene Thai Binh province, boasts a rich history that dates back to the early 17th century. This exquisite temple was constructed to honor Duong Khong Lo, a venerated Vietnamese monk who, according to local legends, achieved nirvana.
Every year, the province comes alive with the vibrant Keo Pagoda festival, spanning three days of festivities. The event starts with a grand parade, where locals pay tribute to the revered monk's life, followed by thrilling competitions for trumpet and drum players and exciting boat races. The festival culminates in a jubilant celebration featuring many activities, from duck-catching to rice collection. Without a doubt, participating in this fantastic festival promises to be an unforgettable experience that will leave you with countless cherished memories.
Book your upcoming trips with Asia Pioneer Travel – The Best Travel Agency in Vietnam!
Asia Pioneer Travel has over 14 years of experience in the tourism industry and has established itself as a premier, reputable, tailor-made travel agency in Vietnam and Asia. We constantly pay close attention to and comprehend the demands and preferences of our customers, enabling the creation of excellent holidays. After taking our bespoke tours, many customers have told their friends and family about them. Because our customers deserve it, we consistently strive to assure them of complete satisfaction.