You Can't Miss These Experiences In Phu Quoc – The Paradise Island Of Vietnam

If you've already checked off Phuket or Bali from your travel list and are seeking a fresh paradise in Southeast Asia, consider Phu Quoc in Vietnam. It's a true gem, ideal for relaxation, unwinding, and admiring the most stunning ocean view in Vietnam, perhaps even in all of Southeast Asia. You won't be disappointed.
While enjoying the beauty of this paradise island, what other activities can you partake in besides leisurely strolls on the perfect sandbank or relaxing in the calm and crystal clear waters? Let's discover all the amazing experiences in Phu Quoc – the Pearl Island of Vietnam!
When Should You Visit Phu Quoc?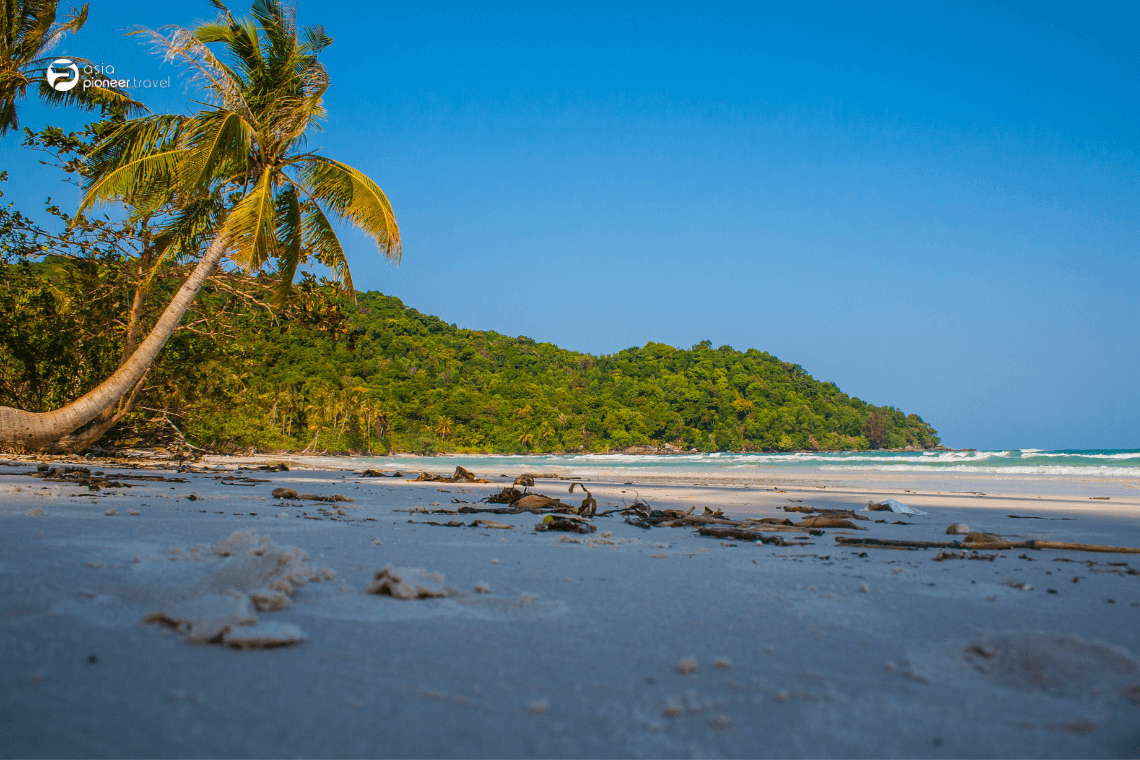 The dry season in Phu Quoc starts from late October to April, making it the perfect time for sightseeing and participating in tourism activities. The pleasant Phu Quoc weather during this season allows visitors to soak up the sun while lying on the sandy beaches. It's an unforgettable experience that adds to the charm of Pearl Island in Kien Giang Province.
10 Best Experiences In Phu Quoc That Will Complete Your Holiday
1. Check out the stunning Sao Beach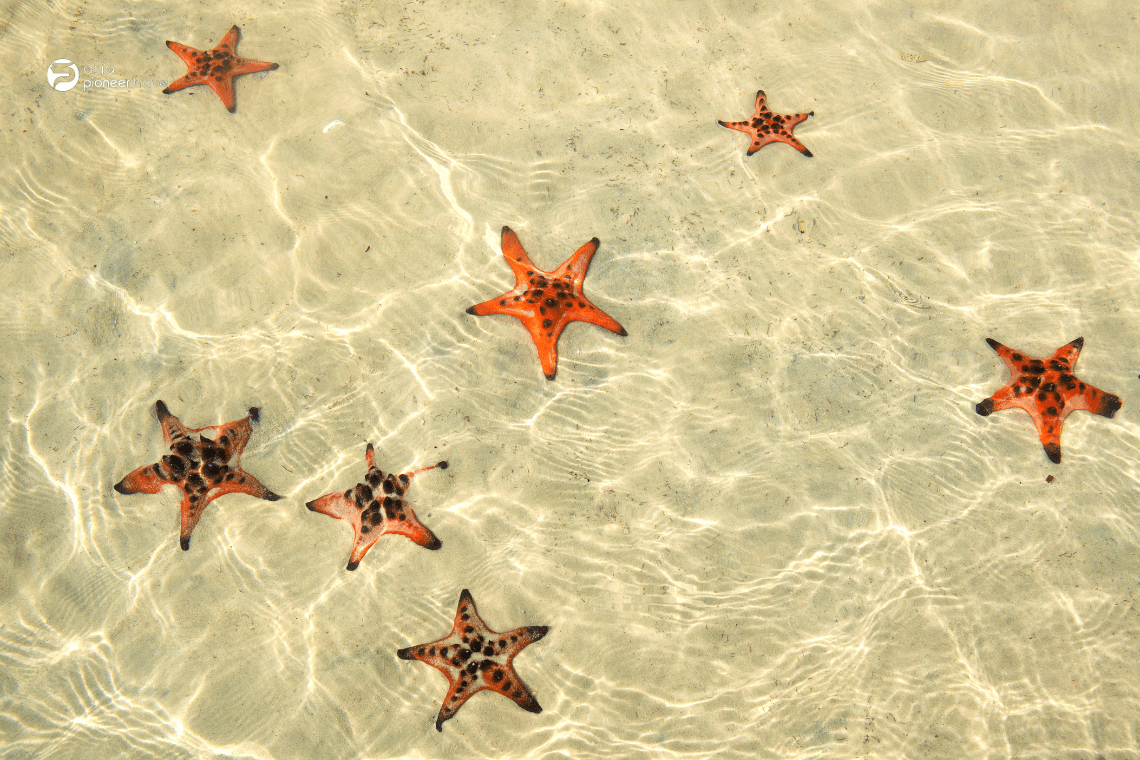 This beautiful stretch of white sand beach, crystal clear water with abundant starfish is perfect for snorkeling, swimming, sunbathing, and relaxing. With crystal clear water and a peaceful atmosphere, it's no wonder that Sao Beach is considered one of the best beaches in Vietnam.
The long beach is perfect for walking and enjoying the sunset. Also, when snorkeling, you can see tons of starfish of different sizes and colors, and if you're lucky, you might spot some other marine creatures like sea cucumbers and sea urchins. In addition, there are some restaurants and bars for you to enjoy a meal or a drink by the sea.
2. Explore wildlife at Phu Quoc National Park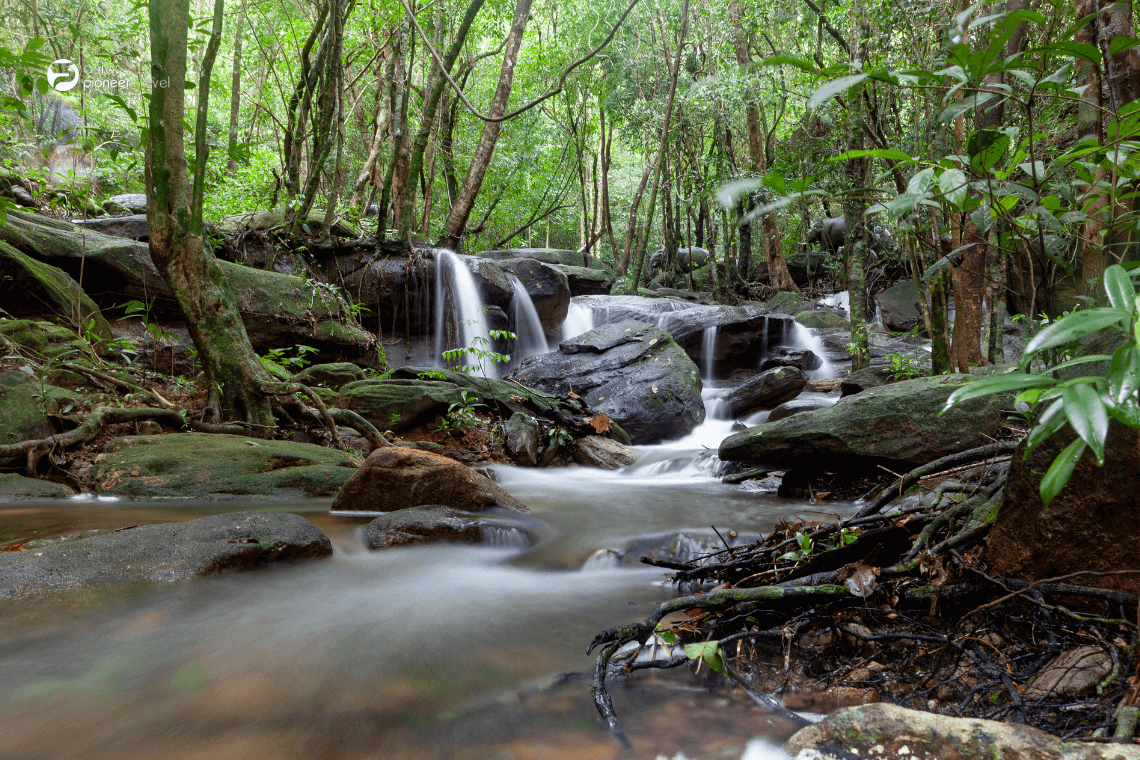 With over 50% of the island covered in the lush forest, Phu Quoc National Park is a nature lover's paradise. Hike through the park to discover hidden waterfalls, stunning viewpoints, and a variety of wildlife. The park is home to unique flora and fauna, including the Phu Quoc langur, a critically endangered species of primate that can only be found on the island. You might spot one of these rare animals during your hike if you're lucky.
3. Admire the sunset on the beach with a cocktail in your hand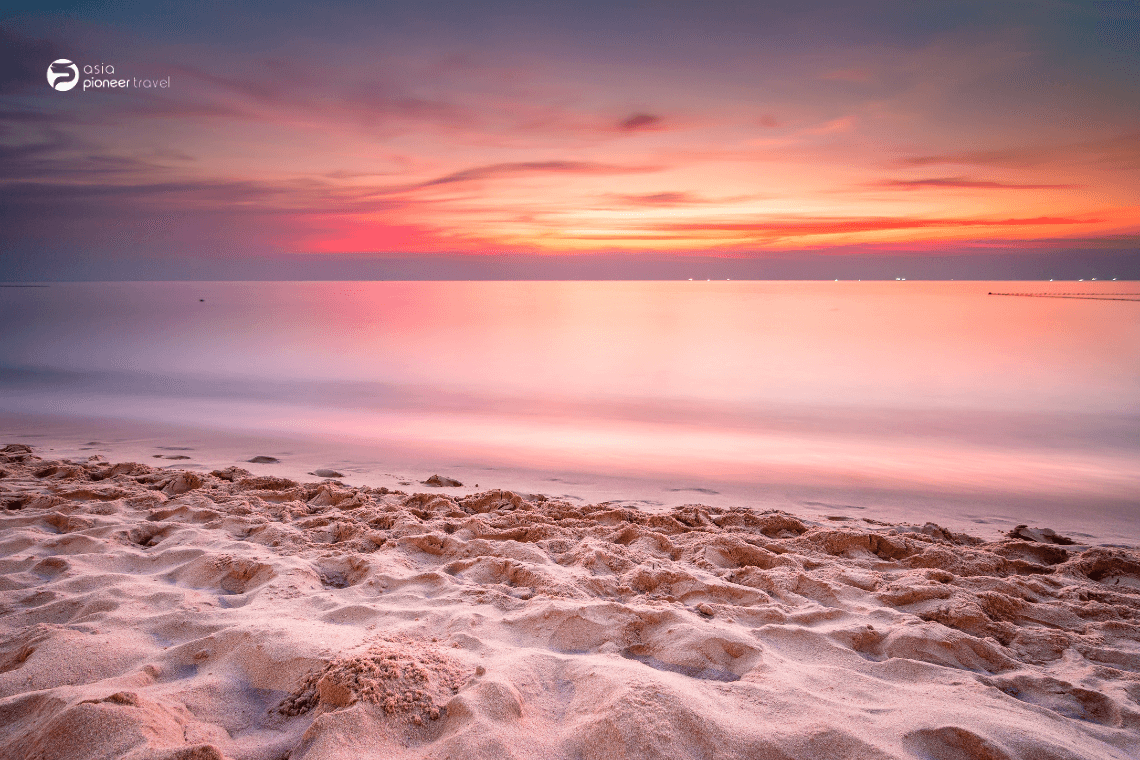 After a long day of enjoying the beach or exploring the island, you can wind down by finding a comfy bean bag at a chic beach bar. Sip on a refreshing cocktail and witness the stunning sunset. As the sun sets in the west, it resembles a small glowing pearl slowly descending toward the horizon, illuminating the vast sea. The silver waves catch the enchanting light creating a lively painting. It's no wonder the island is called 'the best place to watch the sunset in Vietnam!'
Witnessing the sunset on the sea has become a specialty of Phu Quoc, making it a must-see experience for any traveler on their Vietnam vacation. Beach bars are perfect for families with kids, as they can play in the sand or go for a swim while the adults relax with a few drinks. Enjoy the breathtaking scenery with lovely background music and take some time to unwind!
4. Wander all the night markets to have the best street foods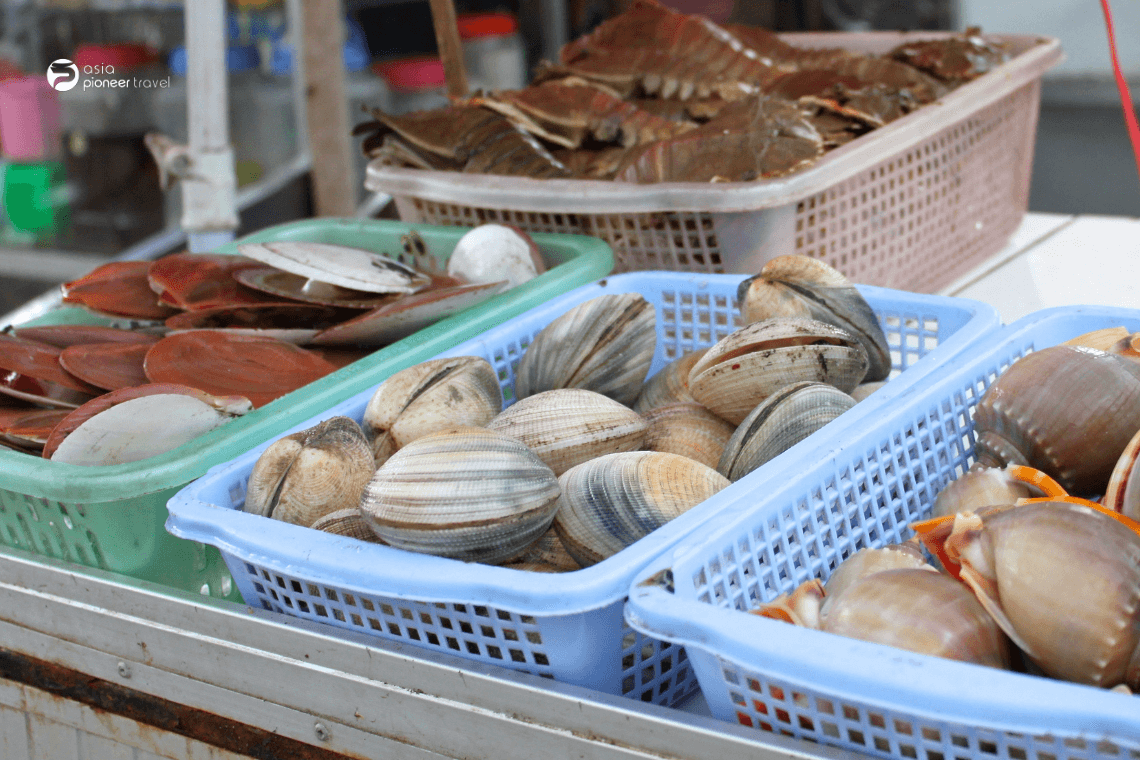 The night markets in Phu Quoc (like Dinh Cau, and Duong Dong) are the perfect place to try some of the island's famous street food and pick up souvenirs to take home. With a wide variety of vendors selling everything from fresh seafood to handmade crafts, the Phu Quoc Night Market is a must-visit. You can try some of the local delicacies like sea urchin, squid, and grilled fish. There are also plenty of souvenirs to choose from, such as handmade jewelry, clothes, and bags.
5. Enjoy the magical lands of Vietnam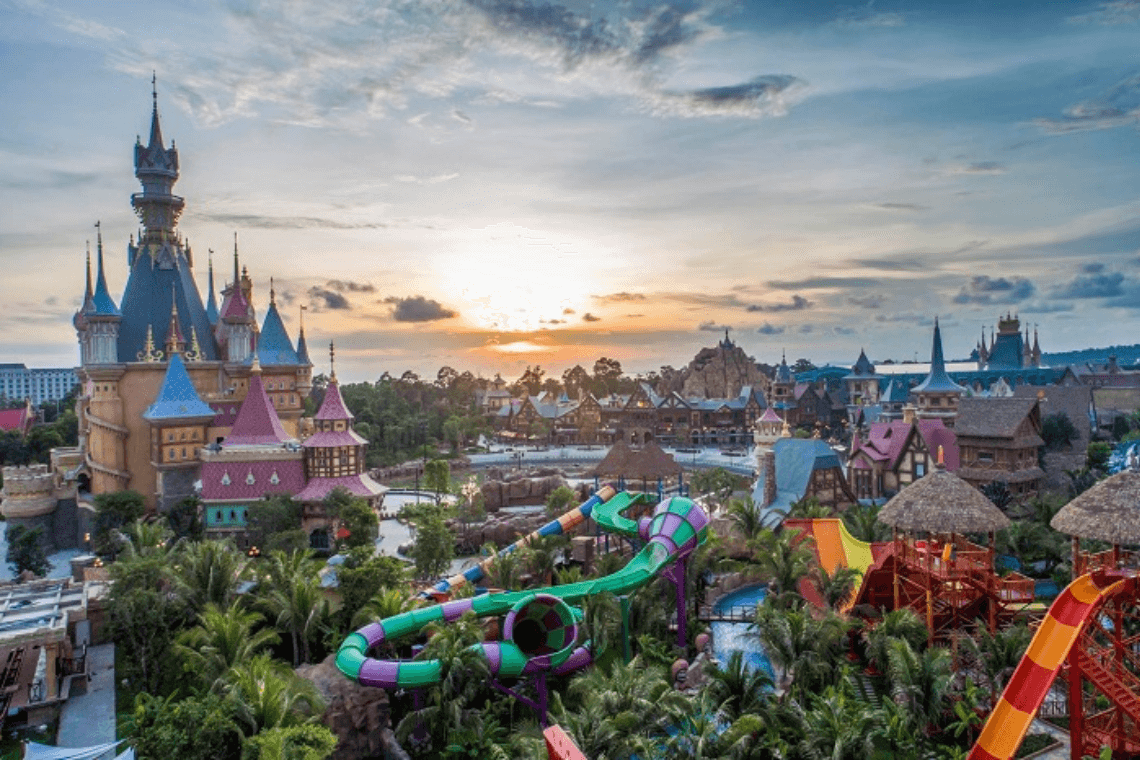 Vietnam's largest theme park, VinWonders Phu Quoc, is perfect for families and thrill-seekers. It has a variety of attractions, including water slides, roller coasters, and Ferris wheels, making it an ideal place to spend an afternoon. You can also enjoy some of the cultural shows and events, like the lion dance and the water puppet show. There are also plenty of restaurants, cafes, and shops for you to enjoy.
Sunset Town, a gorgeous area built with Mediterranean style in mind, is worth seeing in addition to Vinwonders Phu Quoc. The 75-meter-tall, brick-red clock tower that looks out over the water is the focal point of the community. With its proximity to the coast, the Central Village Clock Tower resembled a lighthouse and was designed in the style of the bell tower of St. Mark's Campanile in Italy. This magnificent building offers visitors a breathtaking perspective of the choppy ocean.
6. Dive into the spectacular ocean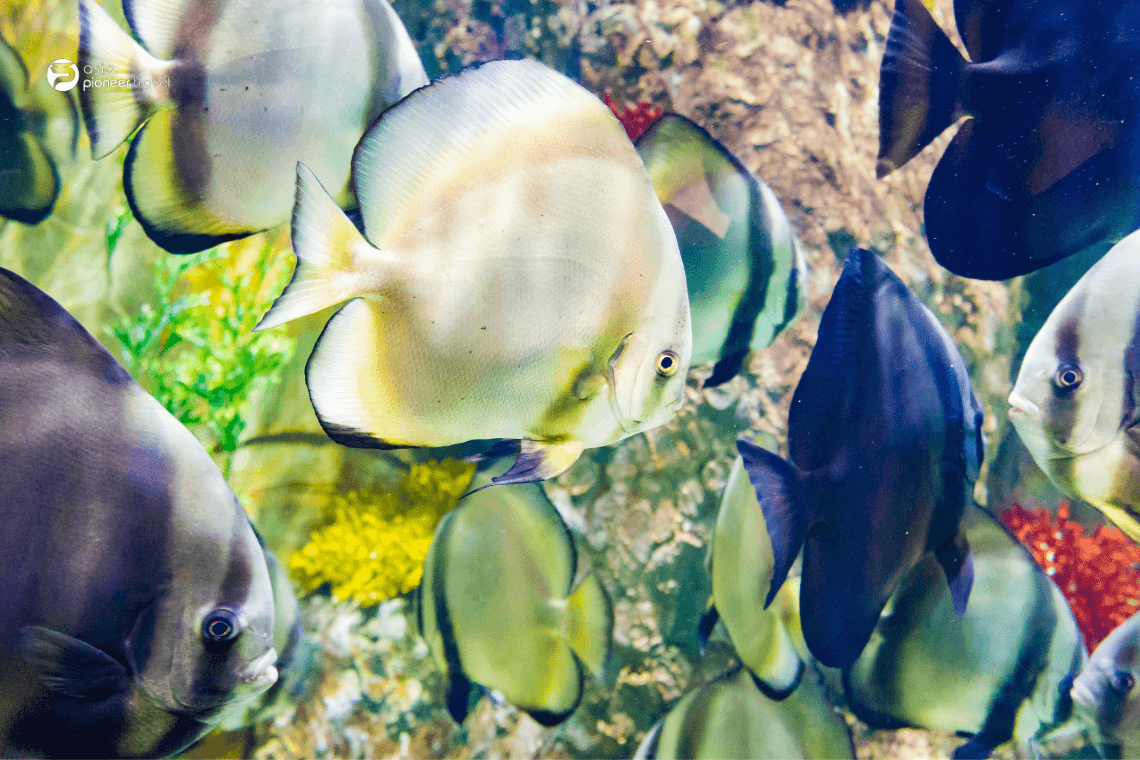 With crystal clear waters and abundant marine life, Phu Quoc is a paradise for diving enthusiasts. The northwest of Phu Quoc, a diver's paradise, is the place to go if you're seeking the experience of a lifetime. You'll discover a variety of dive locations with ideal conditions in these crystal-clear waters, offering you a calm and tranquil atmosphere to explore. Prepare to be amazed by the wide variety of marine life, including hard and soft corals and a rainbow of vibrant reef fish.
7. Blend into the local life at Ham Ninh Village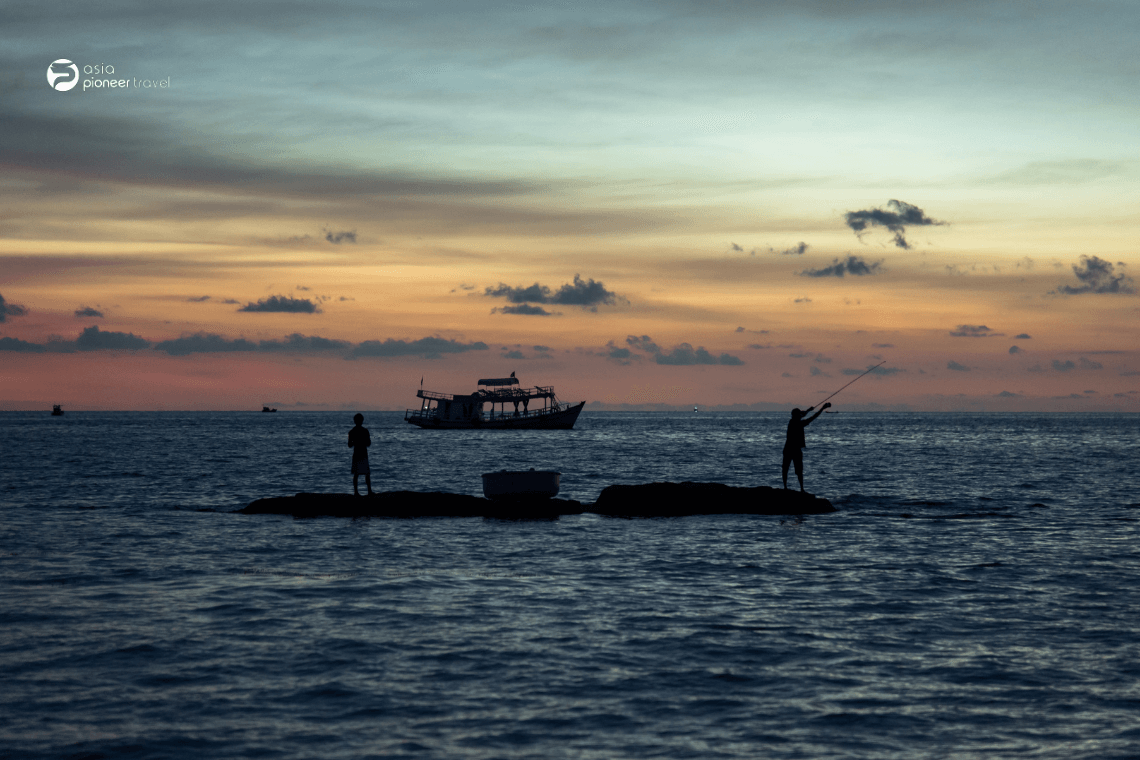 Experience the authentic everyday life of local fishermen at the charming Ham Ninh Village, a picturesque fishing village. For seafood enthusiasts, the village is a must-visit destination, offering a variety of bargain-priced seafood dishes, including unique options like sea cucumber soup.
Additionally, this village provides the perfect setting to witness the beauty of a sunrise, making it the ideal spot to start your day and unwind during your Vietnam trip. The tranquil atmosphere of the early morning at sea promises to leave you feeling relaxed and rejuvenated.
8. Visit the prison?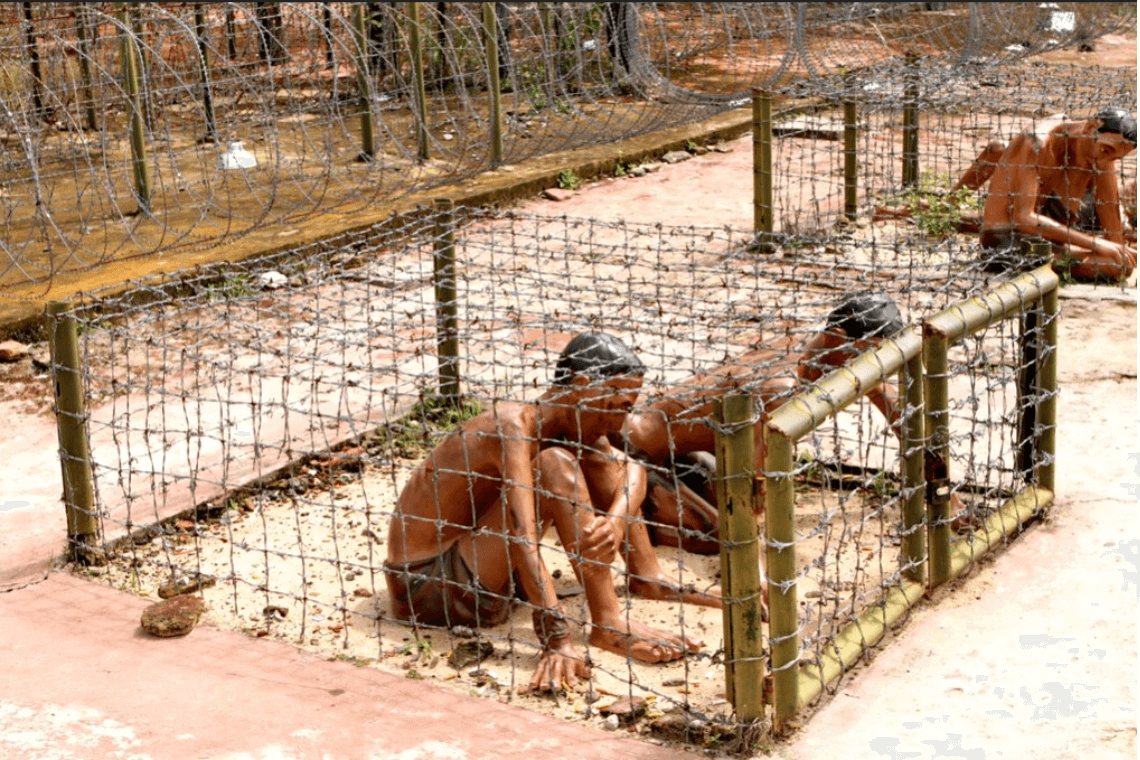 A significant historical site on the island, Phu Quoc Prison is a reminder of the island's turbulent past. The prison is now a museum that showcases the inhumane treatment of prisoners during the Vietnam War. You can see the cells, torture chambers, and other facilities that were used to imprison and torture political prisoners. It's a somber but essential reminder of the island's history. 
9. Learn about pepper cultivation in Phu Quoc Pepper Garden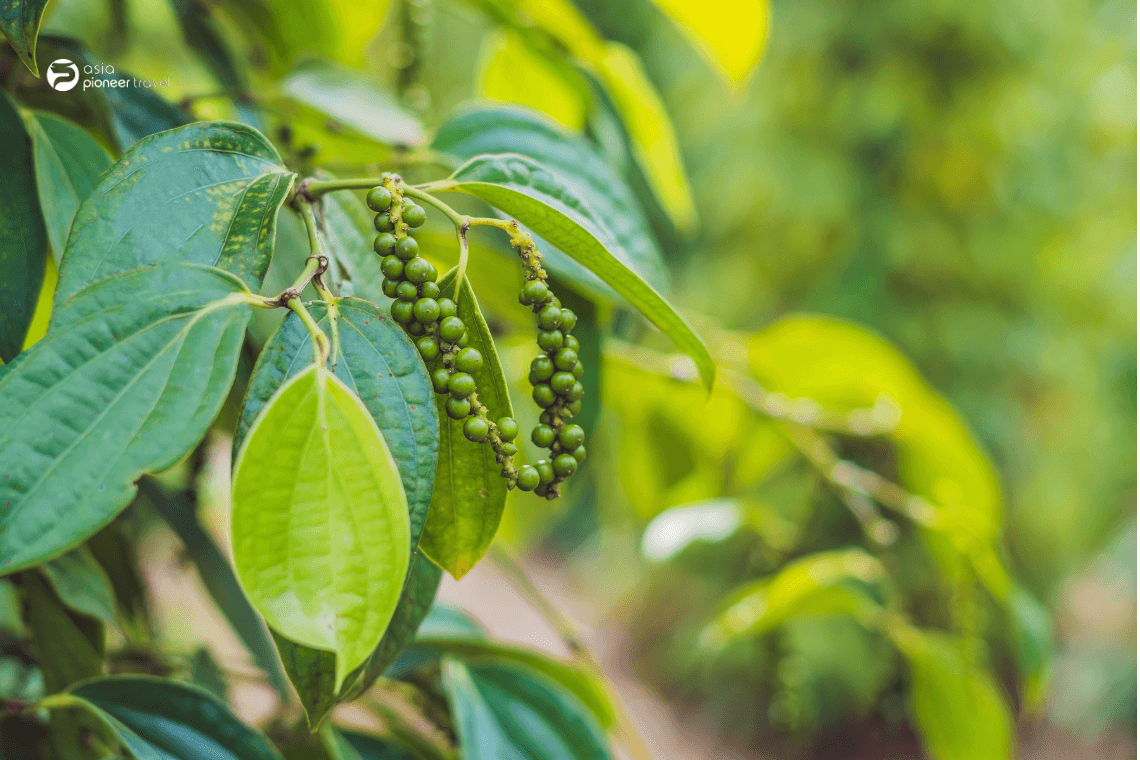 The Phu Quoc pepper is famous for its high-quality seeds, fragrant shell, and distinctively pungent flavor. Most of this pepper is grown in the Khu Tuong Area, which is approximately 15 kilometers away from Duong Dong Town. Visitors to the pepper garden can take pictures, explore the area, and even participate in the farmers' pepper harvesting process.
10. Take a day trip to the An Thoi Islands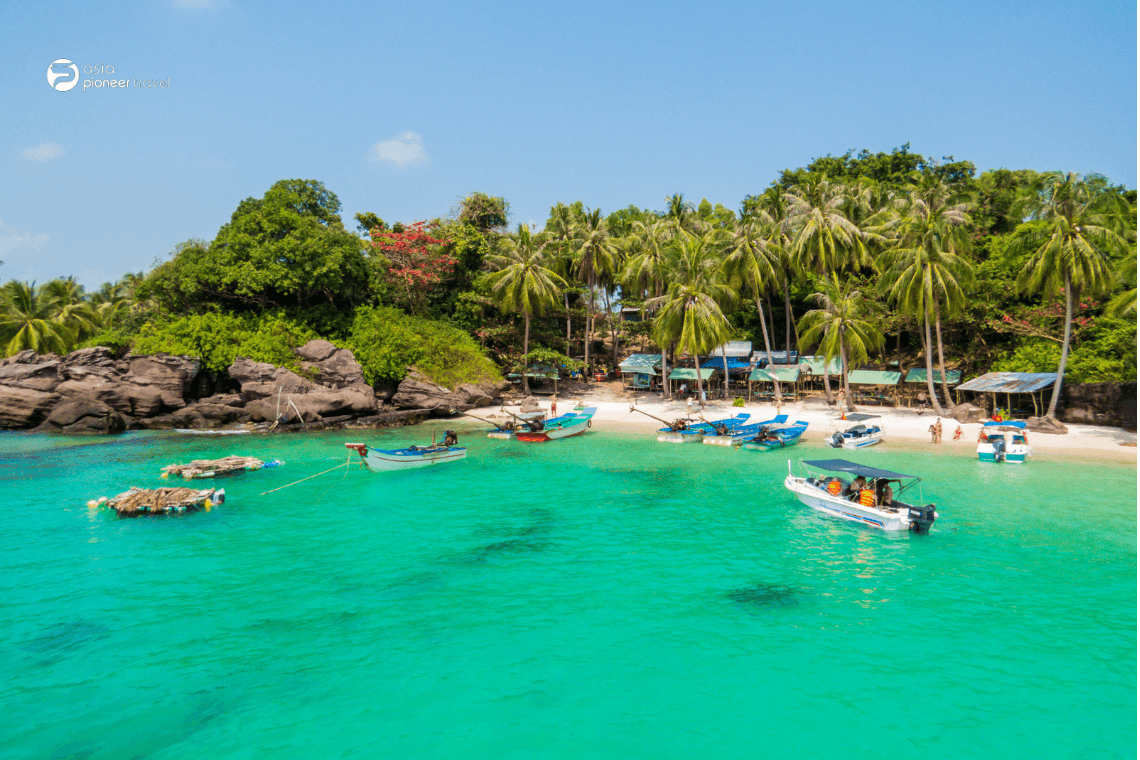 Just off the southern coast of Phu Quoc, the An Thoi Islands are a group of 15 small islands known for their crystal clear water and pristine beaches. Take a day trip to explore these beautiful islands and enjoy snorkeling, swimming, and sunbathing. You can see diverse marine life like colorful fish, sea turtles, and even sharks. You can also enjoy some of the local seafood like grilled squid and shrimp.
 Let Us Help You Plan Your Vietnam Trip.
Don't let the planning stress you out. Tell us your travel ideas and our travel advisors are happy to give you suggestions and guidance for your trip planning. We can tailor-make your trip according to your interests and requirements and help to create the best Vietnam vacation for you.