Best Time To Visit Vietnam

Vietnam is known for its monsoon-influenced tropical weather because of its special location – close to the equator and next to the South China Sea. For first-time visitors to Vietnam, you might keep asking "when is the best time to visit Vietnam", "which month I should head to this beautiful country?", "is it too hot to visit Vietnam in the summer?"…
Well,  it's true that every season in Vietnam has its especially charm, so it really depends on which parts of the country you're planning to go to, and which season you choose actually fits your traveling expectations. The north, the central, and the south of the country experience a great difference in weather, thus why you may often hear something like "there is not really a right or wrong time to visit Vietnam," that there is always good weather somewhere to be found in Vietnam that travellers can always visit Vietnam year-round.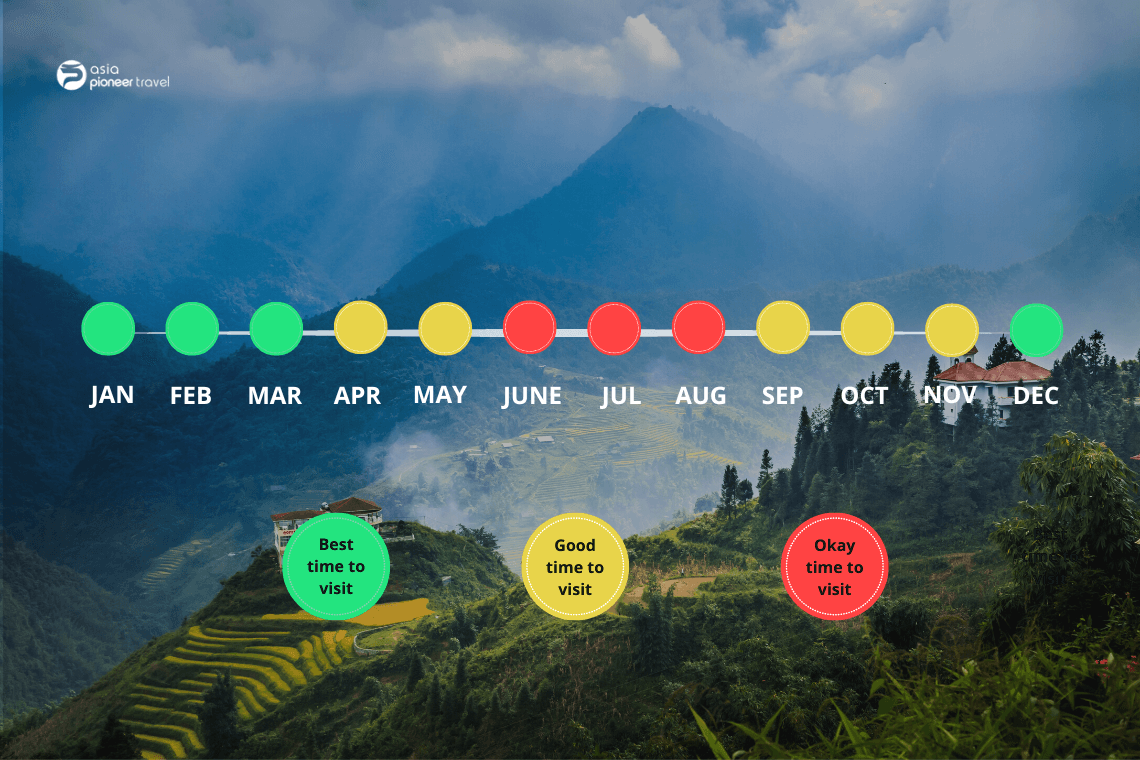 However, in our opinion, the best time to visit Vietnam is December – March, the good time is September – November or April- May and the Okay time is June – August.
You may wonder why December – March is considered the ideal season to visit the country, we will explain in detail the weather conditions in the north, the central, and the south of Vietnam in this period of time so you can understand why we say that.
The Best Time To Visit Vietnam
Northern Vietnam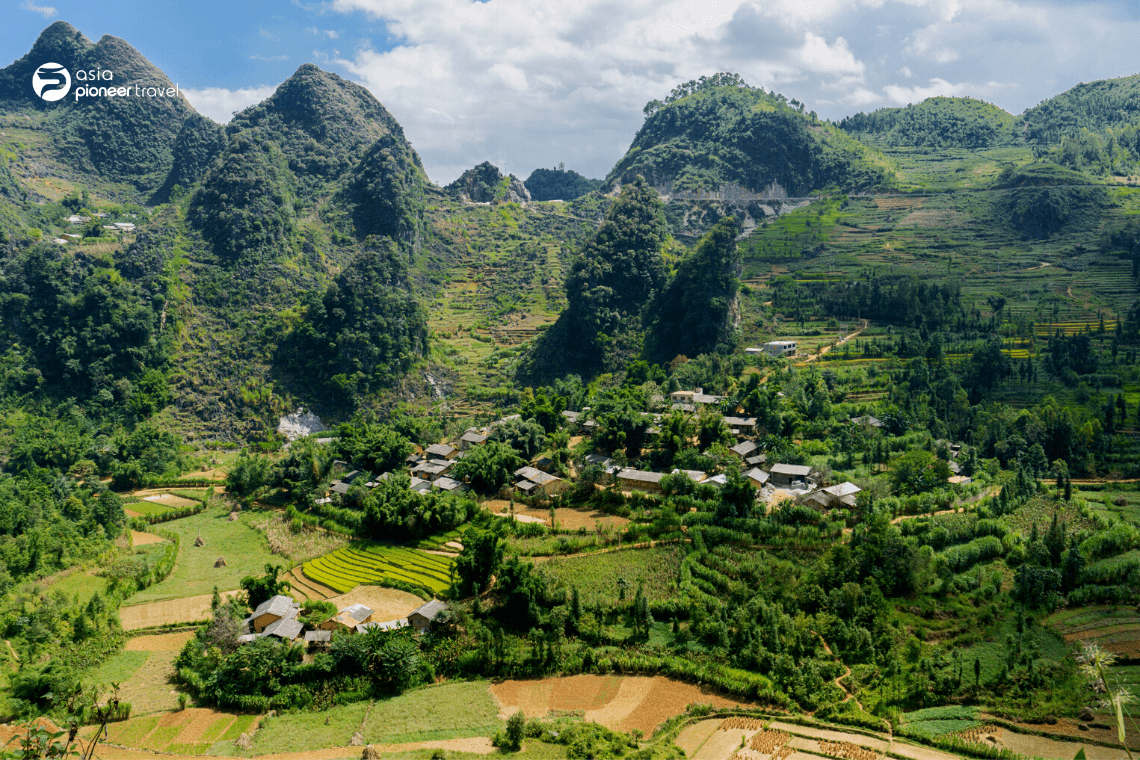 Four distinctive seasons play out across the year in Northern Vietnam, and if you come during December – March, then you can enjoy a bit of the country's winter and spring.
The weather in the north of Vietnam in December – January range from mild to cold, and the temperature varies from 15 – 20 Celsius degree. If you visit the country in February and March, the temperature is a bit higher (18-22 Celsius degree). Rain is not frequent at this time of the year.
Comes with the mild weather is a clear sky, providing excellent views of the breathtakingly beautiful landscapes in the north. Obviously, there is no better activity to do in the north of Vietnam than trekking. The highlands of Vietnam is the most picturesque in spring, too. Cherry blossoms, and plum and apricot flowers are in bloom when spring comes, coating the grand mountain ranges in pink and white. So, trekkers, you would not want to miss a hike when exploring Ha Giang, Mu Cang Chai (Yen Bai), or Sapa (Lao Cai) during this season! As you are heading up to the mountains, the temperature gets lower and may even drop below 0 Celsius degree (especially in December – January), so make sure to pack some warm clothes for hiking.
The weather in December – March is perfect for visiting the mountains, but it is also ideal to see the big cities like Hanoi or Quang Ninh (home of the world-famous Halong Bay). You can walk around the Old Quarter of the capital without sweating buckets, instead, you'll be welcome by breezy wind and warm sunlight. Or relax on a luxurious cruise in Halong Bay, watching the incredible scenery of this place. 
Central Vietnam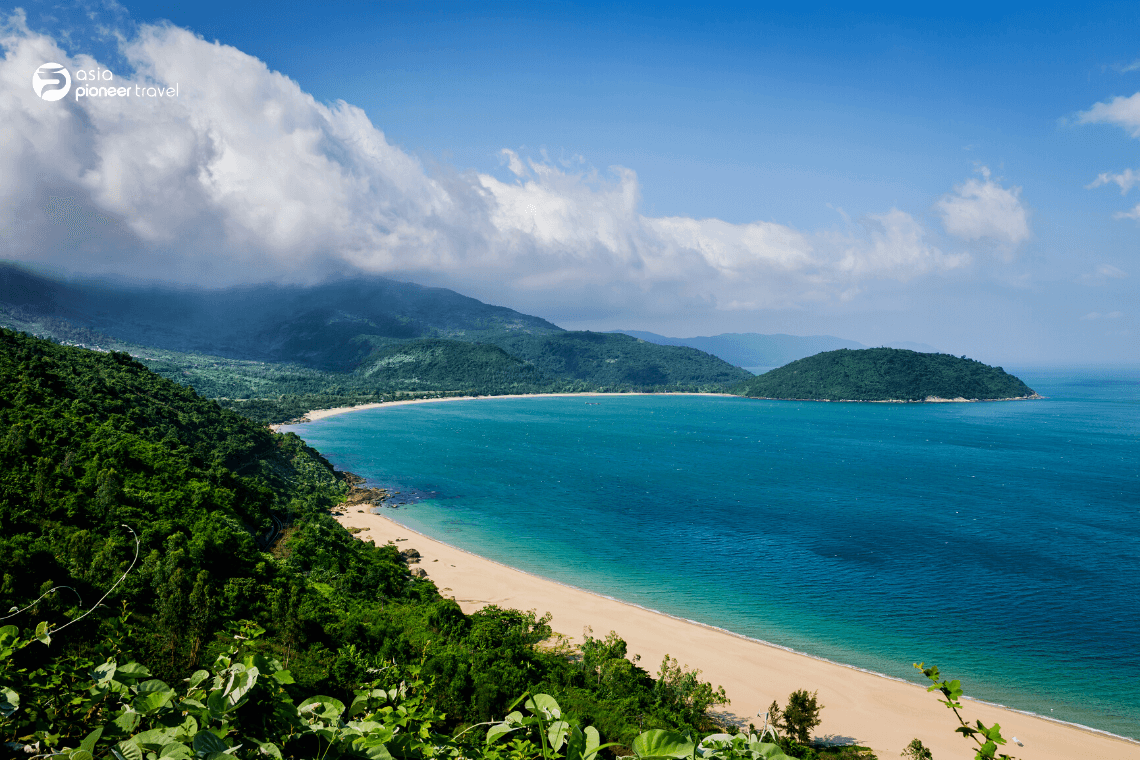 From the central to the south of Vietnam, the seasons are divided into dry and rainy seasons. Central Vietnam is affected by the monsoon and typhoon season, meaning it sees lots and rain and storms in the summer, especially from August – October. Cities in the central have higher temperatures, typically 25 – 30 degrees Celcius and are more humid than the north. 
December – March is a perfect time to travel to any destination in the central. From the beaches of Danang, Hue, and Binh Dinh, to the mountains of the Tay Nguyen region. The weather is cool, maybe a bit cold in the mountains, and has little rain, all of which make perfect conditions to travel anywhere you prefer.
Southern Vietnam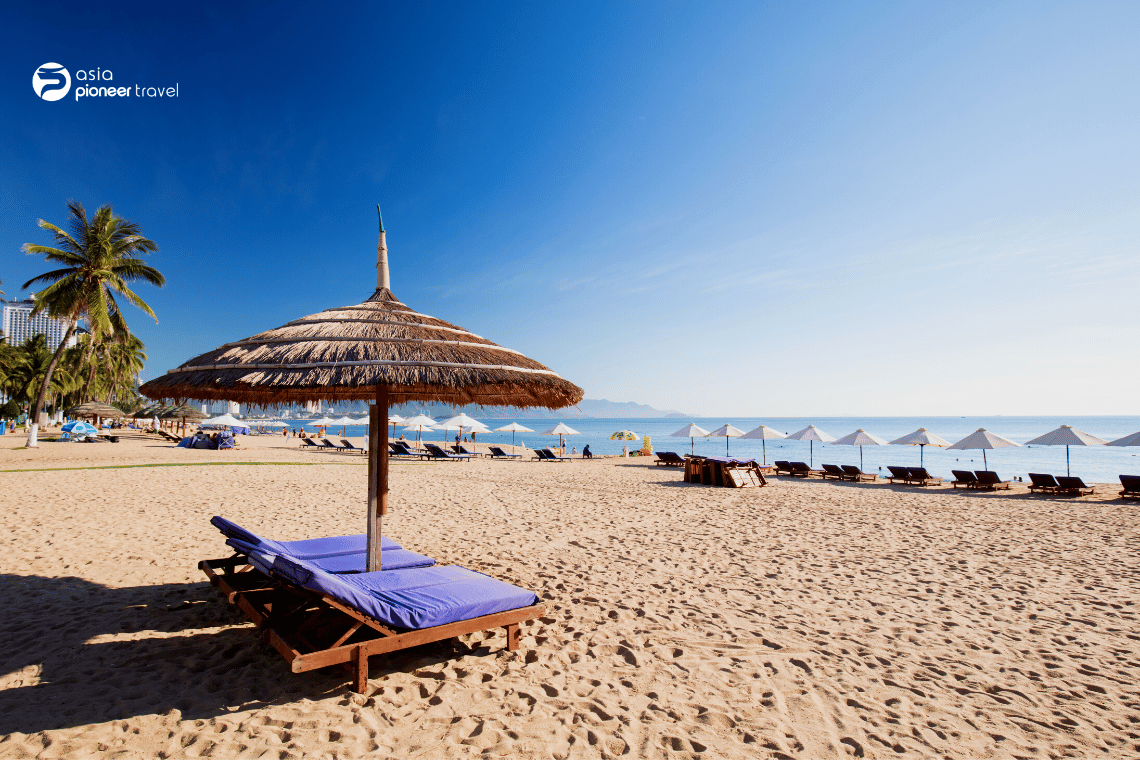 While it is obviously hotter in the central and the south during December – March, this is an excellent season for beachgoers. The average temperature is 27 degrees Celcius. There is plenty of sunshine in January – March, thus you can get that beautiful tanned skin on some of the most idyllic beaches in Vietnam, and afterward head into the water for some swimming or surfing, sounds awesome, right?! Nha Trang, Phu Quoc island, and Mui Ne (Phan Thiet) are at the top of the list.
If your holiday is a getaway from the freezing wind at home, the coastline of Vietnam will be a brilliant choice of destination. A nice BBQ on the beach with all the fresh seafood is another activity you can put on your to-do list in Vietnam. The best thing yet?! At the end of the day, reward yourself by simply enjoying the spectacular view of the sunset from the beach, and don't forget to get a cocktail to make it perfect!
Visit Vietnam In Other Months
As mentioned, you can still plan your trip around other times like September – November, April – May, or even during the rainy season June – August. The catch is that you will have to be more selective of where to visit in Vietnam around those months.
September – November & April – May
If you are in Vietnam from September – November, we suggest spending more time in the north as it will be autumn. The weather is cool and comfortable with a temperature of around 25 degrees Celcius during the day and can drop to 20 degrees Celcius at night. There may be still some rains in September – October but the frequency decreases significantly compared to June – August. For autumn, you can head to see the rice terraces in Sapa or Ha Giang. The stunning sight of endless golden rice terraces in harvest season will leave you in awe. Or enjoy the lovely sight of Hanoi in autumn, and try some specialty of this season like com (young green rice). 
From September – November, the typhoon season occurs in the central and then moves to the southern. The center is the most affected by typhoons, and there will likely be floods in areas like Hue, Quang Nam, Quang Ngai, etc, and they can be very severe so always check the weather if you plan to spend some days during this season. The south is less affected by the typhoon season, typhoons still happen occasionally, but only for short time in mid-October – early November. 
April – May is a nice time to travel anywhere from the north to the south. The only thing to take note that the temperature will be higher with an average of 30 degrees Celcius in the north and 33 – 35 degrees Celcius in other regions. In short, it will be hotter, and there will be more rain during this time. Nevertheless, the weather is perfect for less strenuous activities such as relaxing on the beaches.
June – August
This is the hottest season in Vietnam. In summer months like June – August, the temperature may reach 35 – 40 degrees Celcius.  Such high temperatures can make you feel exhausted quickly and even get sick. Not only that, heavy rains and floods usually occur during these times. 
Because of the blazing heat, strenuous activities like trekking are definitely not recommended, stead, you can head for the beaches. However, summer is the peak season for domestic travel, so be ready for the crowds on the beaches. Also, the rise in domestic travel will make the price go up significantly, so plan your trip for a different time if possible. 
Tips To Make Your Vietnam Holiday More Enjoyable
So you know the best time, good time, and okay time to Vietnam, let's go through some tips to ensure you will have incredible experiences here:
With a tropical monsoon climate, so there would be times when the weather changes dramatically in just a few hours. So it's best to check the weather before heading out and maybe have a backup plan for the day. 
Bring a hat and an umbrella with you
Because the weather can be unpredictable, especially in the summer, you should bring a hat and an umbrella with you all the time. You would not want to get sick and ruin the rest of your trip to Vietnam.
We always tell our customers this. Booking in advance allows you to pick better seats, and better accommodations, and have enough time to prepare for the trip. Even in the peak season when all costs might double, if you book early enough, you will likely have good prices for hotels. 
Travel with a reliable agency 
If you have never been to Vietnam, or are travelling with a large group and need someone to take care of all the planning and booking for you, a travel agency will be your best option. Asia Pioneer Travel have had over 14 years of arranging holidays for customers from all over the world, so you can rest assured that you will be in good hands. Our travel experts put their heart into planning every trip and always try to find a way to help you have a trip of a lifetime in Vietnam. 
To sum up, if your goal is to visit Vietnam and do loads of different activities from the north to the south, the best time is December – March. Not only that, the Christmas holiday will make it easier since you and your family have more time to travel, and why not experience celebrating New Year's Eve in Vietnam? Otherwise, you can opt to see this beautiful country in February when it's the Tet holiday, we are sure you will love to see how Vietnamese families celebrate the biggest event of the year.
Once again, Vietnam's climate varies from region to region, in case a trip between December – March does not work for you, you can always travel another time. Apart from December – March, September, and October are also a good time to visit with cooler temperatures, but like a trip to any part of the world, be sure to look at the weather forecast to make the best out of your holiday in Vietnam.
Let Us Help You Plan Your Vietnam Trip
Don't let the planning stress you out. Tell us your travel ideas and our travel advisors are very glad to give you suggestions and guidance for your trip planning. We can tailor-make your trip according to your interests and requirements, and help to create the best Vietnam vacation for you.