Top 20 Best Cruises In Halong Bay For A Luxury Holiday | List Of 2023

Planning to visit Halong Bay, one of the world's seven wonders? That's great! However, your experience of this spectacular site would only be complete with a stay on a cruise in the bay.
There are many cruises in the bay to choose from, most of which are 4 or 5-star quality and promise top-notch service during your stay. We have compiled a list of the best cruises in Halong Bay, ensuring our customers receive excellent service on board. Check out the list to see what each cruise has to offer and find your best match!
Best 4-star Cruises In Halong Bay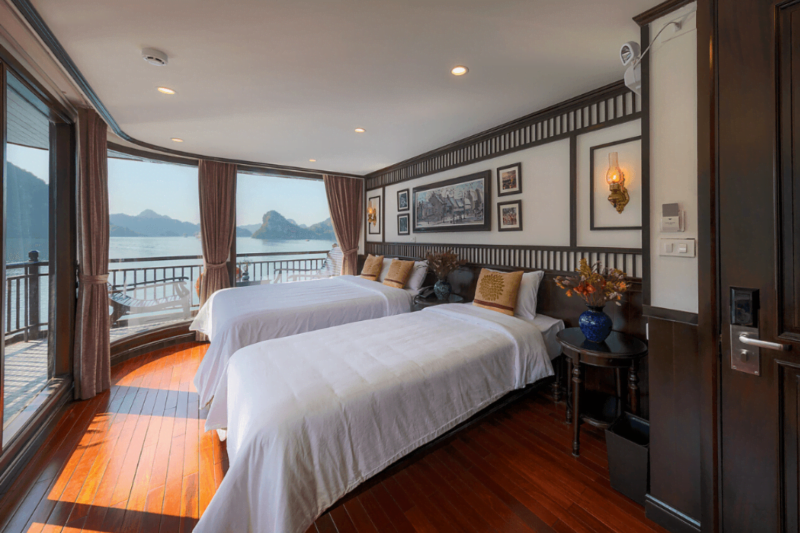 Experience the beauty of Halong Bay like never before with Sena Cruise, a luxurious Vietnamese boat with a touch of French boutique design. As the leading mid-range cruise, Sena has been praised by passengers for its all-inclusive and authentic cultural experience. The name "Sena" symbolizes feminine beauty and intellect, and is sure to transport you to a heavenly paradise during your overnight cruise. Don't pass on this once-in-a-lifetime opportunity!
Cabins: 
SENA TERRACE SUITE CABIN
BALCONY DELUXE CABIN
BALCONY DELUXE CONNECTING CABINS
BALCONY EXECUTIVE CABIN
BALCONY EXECUTIVE CONNECTING CABINS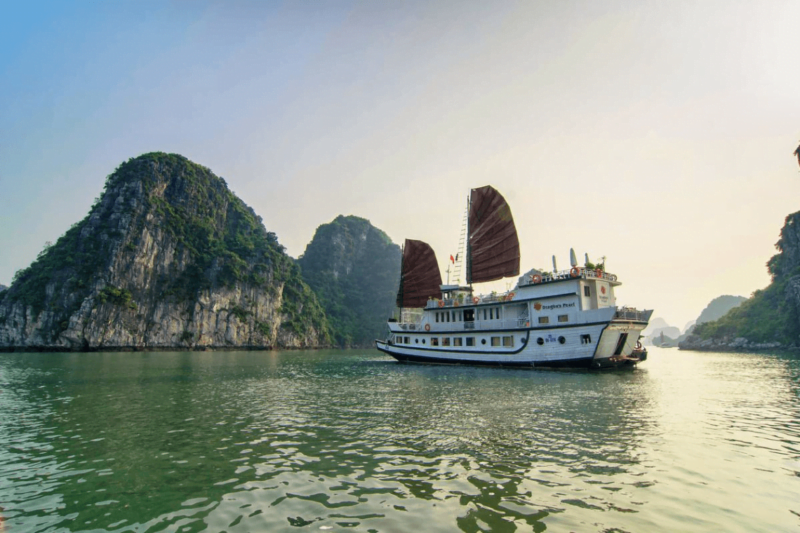 Dragon's Pearl Junk offers an unforgettable cruise experience to Bai Tu Long Bay, immersing you in the rich cultural legacy of traditional Chinese junk. With its 10 beautifully decorated cabins and 3 decks, both inside and outside dining areas, and modern amenities, you will be ensured a comfortable and luxurious stay. The off-the-beaten-track itinerary includes a variety of interesting activities, while the attentive crew will go above and beyond to ensure your satisfaction until the very end of your trip. Get ready for a unique and unforgettable adventure with Dragon's Pearl Junk!
Cabins: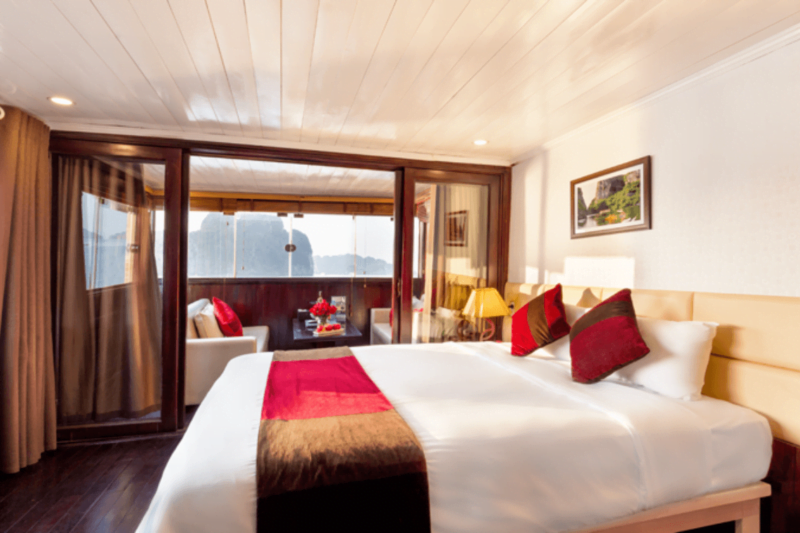 Experience the ultimate in luxury and comfort with Paloma Cruise – your home away from home while traveling in Halong bay and Bai Tu Long bay. Get ready to be blown away by the exquisite decor and personalized attention of our friendly and professional staff who are committed to making your stay unforgettable. But that's not all – embark on a journey of a lifetime and witness the exceptional and serene natural beauty of Halong bay and Bai Tu Long Bay, a UNESCO Natural World Heritage Site, from the comfort of your very own floating paradise.
Cabins:
DELUXE OCEAN VIEW
PREMIUM OCEAN VIEW
PALOMA SUITE WITH PANORAMIC WINDOW
FAMILY SUITE WITH BALCONY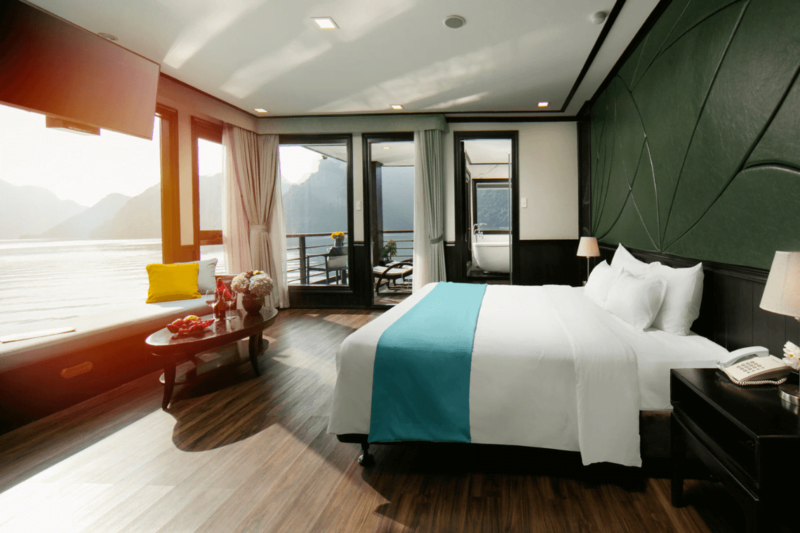 Peony Cruises is one of the most luxurious cruises in Ha Long Bay. With Peony Cruises, you'll explore the hidden gems of Lan Ha Bay, surrounded by enormous limestones, pristine beaches, and mysterious caves that will take your breath away. Let yourself be pampered as you embark on an adventure of a lifetime, enjoying some of the most breathtaking scenery on Earth.
Cabins:
PEONY EXCLUSIVE SUITE
FAMILY PREMIUM DELUXE CABIN
PREMIUM DELUXE CABIN
FAMILY DELUXE CABIN
DELUXE CABIN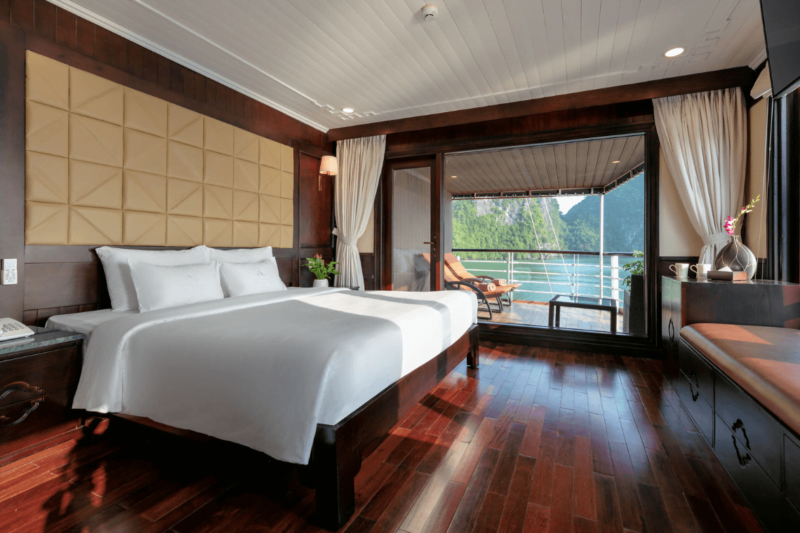 Pelican Cruises with high-quality services, luxurious facilities, impressive culinary taste, relaxing massage treatments and many other interesting activities in the itinerary will surely bring guests a memorable experience.
Cabins:
CLASSIC FAMILY DELUXE/SUITE
CLASSIC DELUXE
CLASSIC ROYAL SUITE
CLASSIC SUITE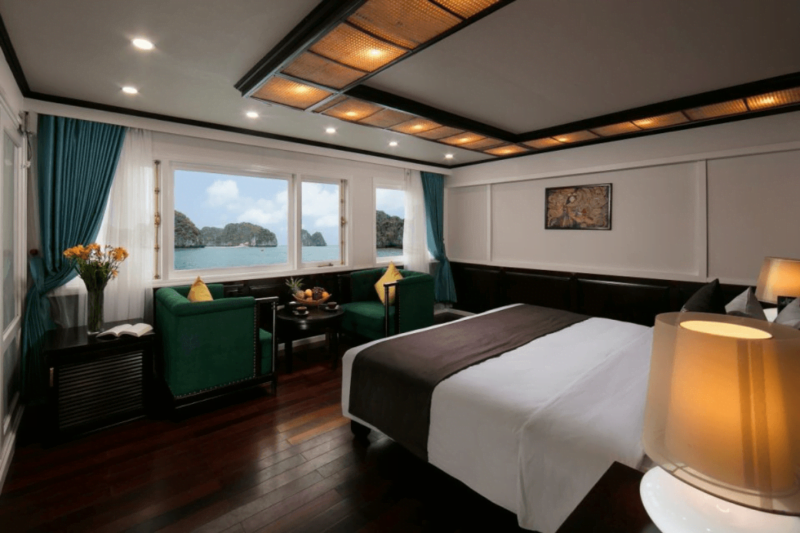 La Regina Royal Cruise is not merely as elegant and luxurious in every detail, but also youth oriented with a cozy atmosphere and a delightful blend of traditional Vietnamese design. A cruise trip with La Regina Royal is a combination of the bay's most magnificent scenery, local attractions, and onboard amenities. Get ready for your most unforgettable moment on La Regina Royal.
Cabins:
NOBLE SUITE
IMPERIAL SUITE
GRAND ROYAL SUITE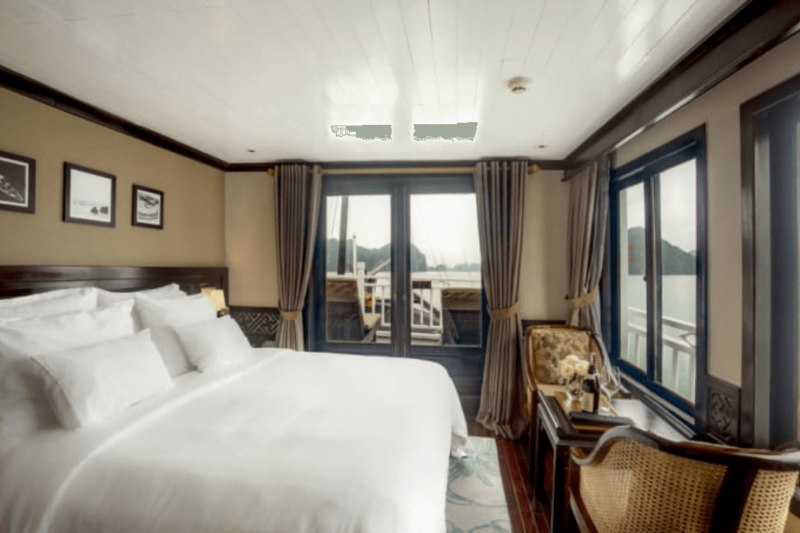 The Paradise Sails is a modern twist on a traditional wooden junk, offering a personalized experience with a chic design and Vietnamese detailing. The warm and cozy wooden interior provides classic charm and comfort. The dining room offers an intimate setting with a tailored menu, a Vietnamese royal-like menu, and a variety of drinks. The sundeck provides stunning views of Halong Bay's karst limestone formations and emerald waters, along with comfortable lounge areas and sun beds. With a world-class day spa on board, this wooden palace offers luxury cruising like no other in Halong Bay.
Cabins:
DELUXE CABIN
DELUXE BALCONY CABIN
TERRACE SUITE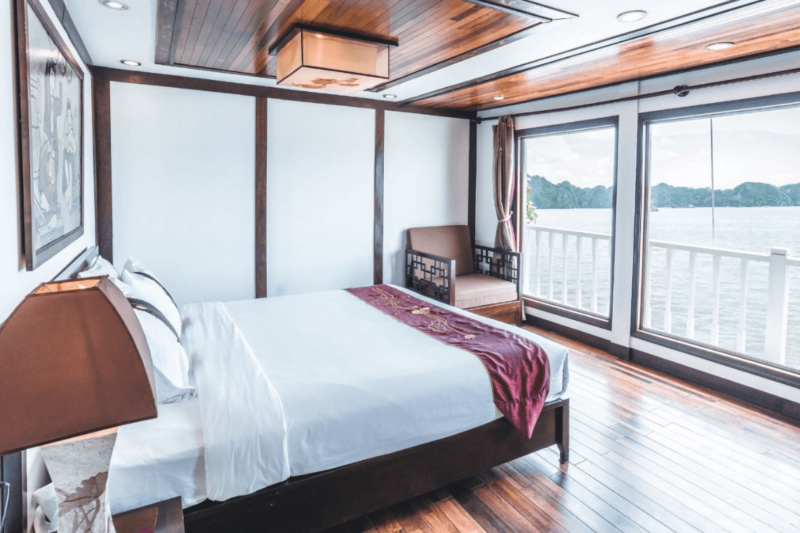 Experience the magic of Halong Bay on Indochina Sails Premium, a traditionally styled Indochine aromatic wooden cruise with large sails that the captain will raise on calm days. With 23 finely crafted luxury cabins, you'll be transported back in time to a more gracious, bygone era, where old-fashioned elegance blends seamlessly with modern facilities. Let the mystical beauty of Halong Bay take your breath away as you sail in style on Indochina Sails Premium.
Cabins:
SUPERIOR
DELUXE
SUITE
PRESIDENT SUITE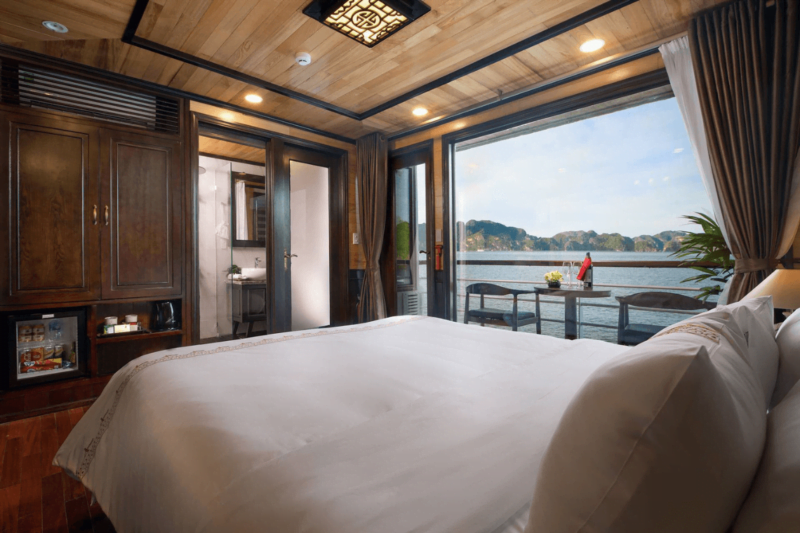 The word "V'Spirit" actually means "Vietnamese Spirit", and our goal is to help you experience that feeling which is part of our daily lives. With this in mind, our two, newly built wooden junks are designed in the time-honored traditional style, but with contemporary, deluxe cabins and facilities, including sea-view windows in each cabin, private, modern bathrooms, and a comfortable sundeck bar. Our cooks will serve you the tastiest traditional Vietnamese foods, and our staff will help you learn about our current lives as well as our ancient history.
Cabins:
JUNIOR SUITE
EXECUTIVE SUITE
JUNIOR SUITE CONNECTING
JUNIOR SUITE TRIPPLE
SENIOR SUITE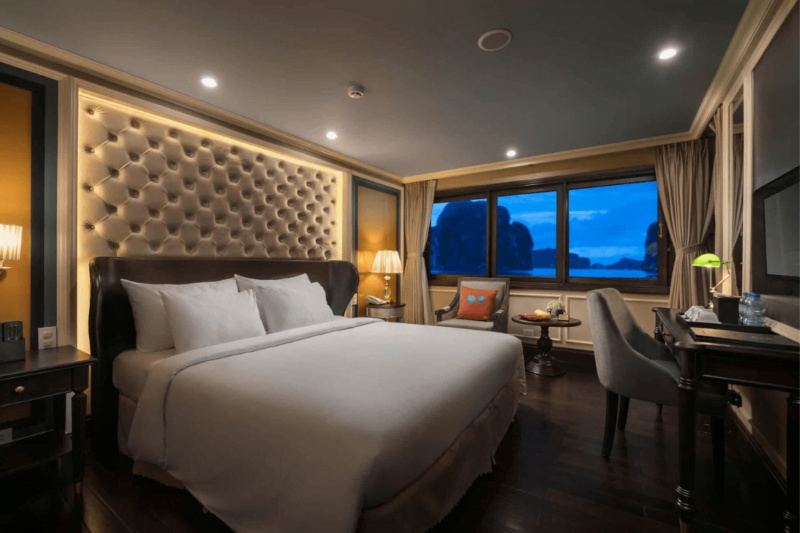 Set sail through the spectacular landscape of Halong Bay with our Athena Cruise. As known for a worldwide reputation for cruising services in Halong Bay, Athena Cruise offers a harmony of relaxing in the magical landscape and experiencing the rustic culture of fishing with local people in the floating village.
Cabins:
LUXURY EXECUTIVE SUITE
LUXURY ELEGANT SUITE
LUXURY TERRACE SUITE
LUXURY FAMILY TRIPLE SUITE
LUXURY FAMILY CONNECTING SUITE
Best 5-star Cruises In Halong Bay
Here are some of the best 5-star cruises to book in Halong Bay. All of them offer top-notch services, elegant and spacious cabins, among a wide range of facilities and activities to ensure you never have a boring moment on board.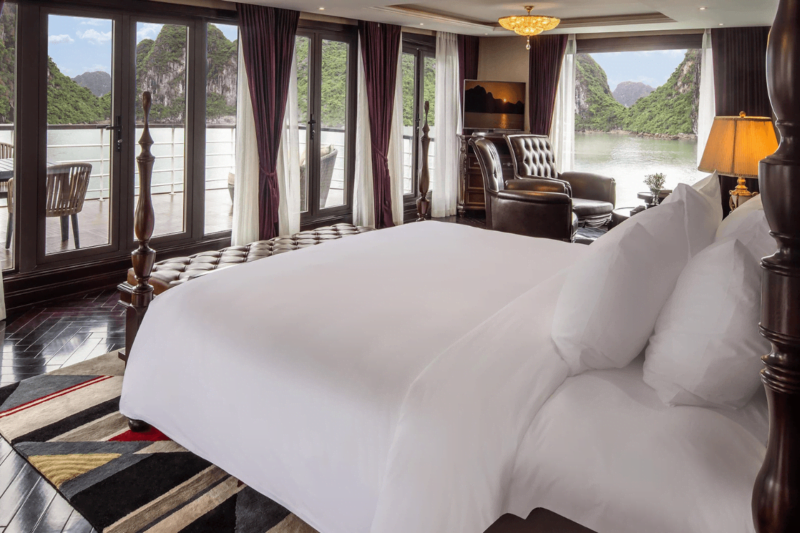 Explore the magnificent Halong Bay in style with the Ambassador Overnight Cruise, the largest 5-star overnight cruise in the area. With an elegant design and unique twin sundecks, guests are treated to breathtaking views of the bay. Enjoy the ultimate indulgence with two luxurious restaurants, 46 cabins, and an open-air Jacuzzi pool. Experience the best of the Heritage line and create unforgettable memories with Ambassador Overnight Cruise. Book now to embark on an unforgettable journey.
Cabins:
AMBASSADOR PREMIUM
AMBASSADOR DELUXE
AMBASSADOR SUITE
AMBASSADOR CAPTAIN SUITE
PRESIDENTIAL SUITE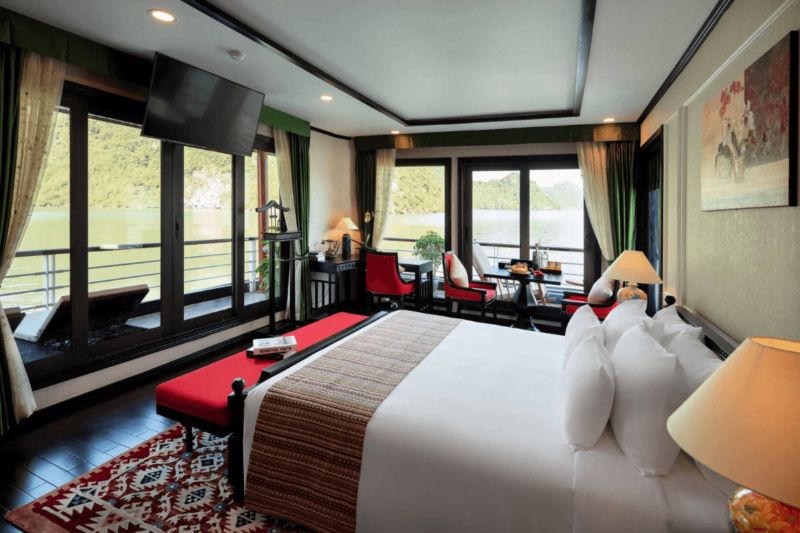 The Orchid Premium is a stunning display of Indochine architecture, seamlessly blending the rich heritage of Asia with the grace and sophistication of French design. With only five luxurious suites, each featuring a balcony and private bathtub that overlooks the beautiful gulf, the Orchid Premium is the epitome of refined comfort. The hotel also boasts 24/7 private butler service, ensuring that guests are taken care of to the fullest extent during their stay.
Cabins:
ORCHID PREMIUM EXCLUSIVE SUITE
FAMILY PREMIUM TERRACE SUITE
PREMIUM TERRACE SUITE
FAMILY TERRACE SUITE
TERRACE SUITE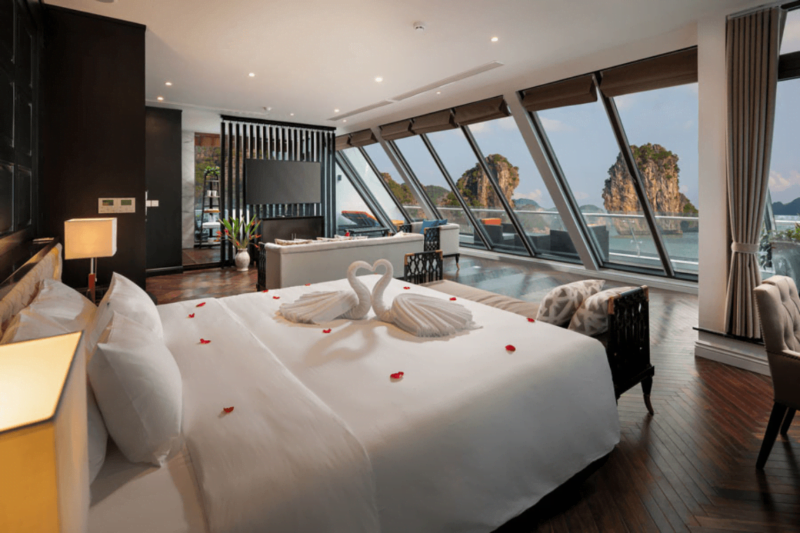 Embark on a once-in-a-lifetime adventure with Stellar of the Sea cruise. This luxury cruise service not only promises the highest safety standards but also an entirely unique and carefully crafted experience. From the authentic decor to their attentive service and delicious cuisine, every detail has been meticulously considered to ensure your vacation is truly unforgettable. Stellar Of The Seas has 22 luxury cabins with an elite, professional crew that provided you with the best services during your trip in Ha Long!
Cabins:
JUNIOR SUITES WITH PRIVATE BALCONY
SENIOR SUITES WITH PRIVATE BALCONY
EXECUTIVE SUITES WITH PRIVATE SUN TERRACE
PRESIDENT SUITE WITH LARGE PRIVATE SUN TERRACE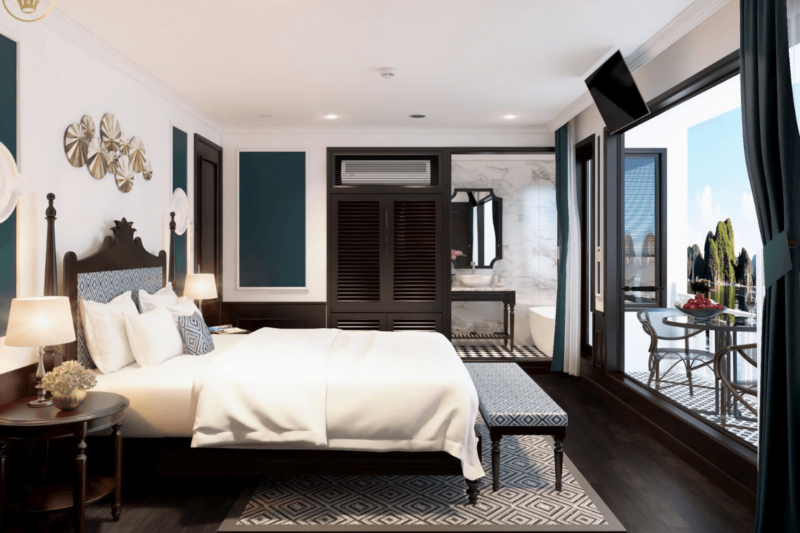 Embark on a luxurious journey with the Genesis Regal Cruise, a stunning blend of Vietnamese royal tradition and French neoclassical style. This large-sized cruise boasts 20 spacious rooms and offers the most outstanding features in Ha Long Bay and Lan Ha Bay. Departing from Tuan Chau Wharf, get ready for an unforgettable experience as we take you to less touristy and enchanting scenes for various outstanding activities such as swimming, boating, cycling, Tai Chi, cooking lessons, fishing, and visiting local people's houses. Take a break from the ordinary and immerse yourself in a world of wonder and relaxation like never before!
Cabins:
JUNIOR SUITE FULL OCEAN VIEW WITH PRIVATE BALCONY
SENIOR SUITE FULL OCEAN VIEW WITH PRIVATE BALCONY
REGAL PANORAMA SUITE WITH PRIVATE TERRACE
JUNIOR FAMILY/TRIPLE SUITE FULL OCEAN VIEW & PRIVATE BALCONY
JUNIOR CONNECTING SUITE FULL OCEAN VIEW WITH PRIVATE BALCONY
SENIOR CONNECTING SUITE FULL OCEAN VIEW – PRIVATE BALCONY
SENIOR FAMILY SUITE FULL OCEAN VIEW
EXECUTIVE SUITE FULL OCEAN VIEW PRIVATE BALCONY
PREMIUM SUITE FULL OCEAN VIEW PRIVATE BALCONY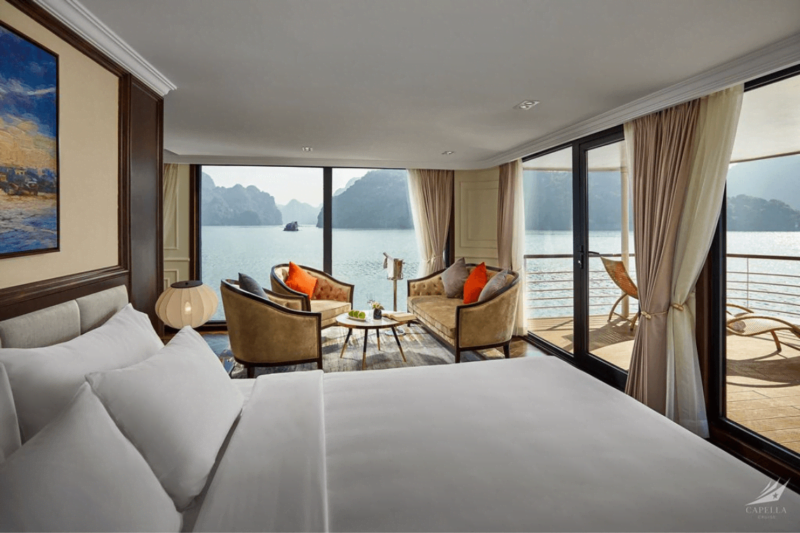 Capella is a cruise ship that boasts an architectural marvel that exceeds what one would expect on a typical cruise ship. The ship's design is sophisticated and harmoniously blends with nature, giving passengers the chance to enjoy breathtaking views from any part of the ship. Traveling with Capella not only takes you to the secret corners of legendary bays but also provides an opportunity to unleash your imagination and be inspired by an unparalleled experience.
Cabins:
SKY FAMILY SUITE
HARMONY SUITE
HARMONY FAMILY SUITE
LA SUITE DE CAPELLA
SKY SUITE
SKY TERRACE SUITE
OASIS SUITE
OWNER SUITE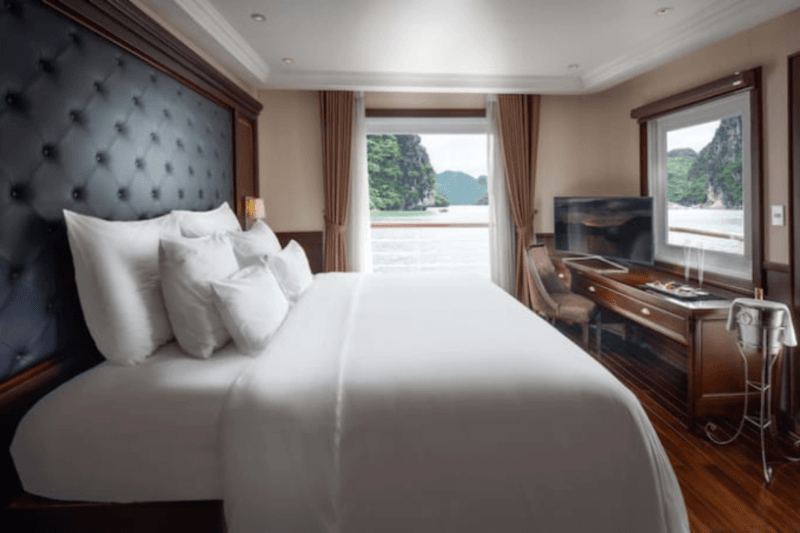 The Paradise Elegance is the epitome of luxury cruising on Halong Bay. It blends contemporary style with Vietnamese design for all 31 cabins to create a sleek and modern vessel that is a true work of art. From the piano bar to the day spa and wellness center, every detail has been meticulously crafted to provide an exquisite experience. And with butler service and a full range of dining options, the journey is nothing short of flawless. Come aboard and discover the ultimate in luxury cruising.
Cabins:
DELUXE BALCONY CABIN
EXECUTIVE BALCONY CABIN
ELEGANCE CABIN SUITE
CAPTAIN'S VIEW TERRACE SUITE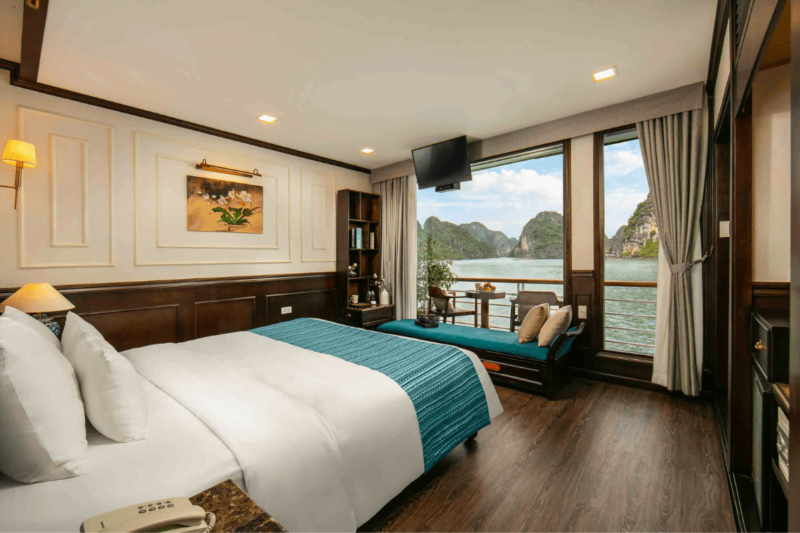 Orchid Trendy Cruise offers a new route through Halong Bay – Lan Ha Bay, complementing the classic architecture of Vietnam's French colonial era with an Oriental touch. The cruise features 20 cabins with private balconies overlooking the scenic bay, an outdoor Jacuzzi, a restaurant serving a fusion of Asian and European cuisine, and a unique itinerary through Halong Bay and Lan Ha Bay. It promises to provide an unforgettable and luxurious experience to all its clients.
Cabins:
EXCLUSIVE SUITE
FAMILY PREMIUM DELUXE CABIN
PREMIUM DELUXE CABIN
FAMILY DELUXE CABIN
DELUXE CABIN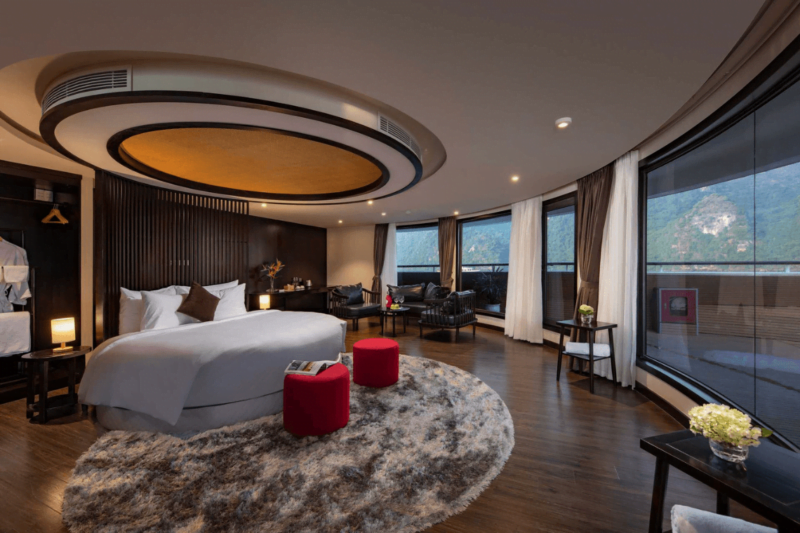 The Scarlet Pearl Cruise is an architecturally designed luxury cruise ship that offers guests the chance to stay in one of 23 cabins, each featuring one of four themed suites. These suites are equipped with smart control systems that make the cruise more energy efficient and environmentally friendly. Guests can enjoy a unique experience cruising over Halong Bay on a Catamaran Sailboat and exploring the bay's best spots. Scarlet Pearl Cruises offers an unforgettable experience that will leave guests with lasting memories.
Cabins:
SILVER PEARL ROOM
GOLDEN PEARL ROOM
ONYX PEARL ROOM
SCARLET PEARL ROOM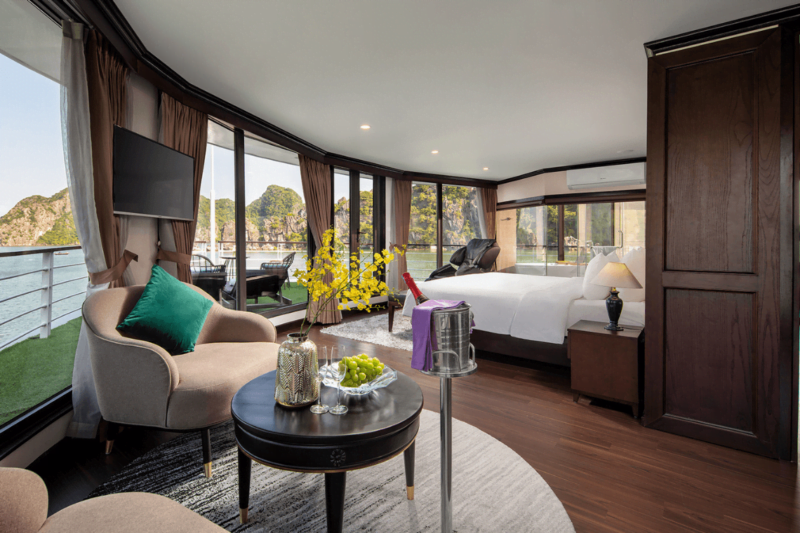 Experience the perfect blend of sophistication between classic European form and rustic Vietnamese styling aboard Mon Chery Cruise. Our elegant design distinguishes us with tiny, unique features in each of our 42 spacious cabins. Immerse yourself in the charm of traditional music while enjoying dinner in the restaurant, or find a place on the sundeck with a cocktail to taste the sweetness of peace in the evening. Reward yourself with an exquisite experience and a flawless journey aboard Mon Chéri Cruise.
Cabins:
PRESIDENT SUITE TERRACE
MON CHERI SUITE TERRACE
ELEGANCE SUITE BALCONY TRIPPLE
ELEGANCE FAMILY BALCONY
ELEGANCE SUITE BALCONY
OCEAN SUITE BALCONY
OCEAN SUITE BALCONY TRIPPLE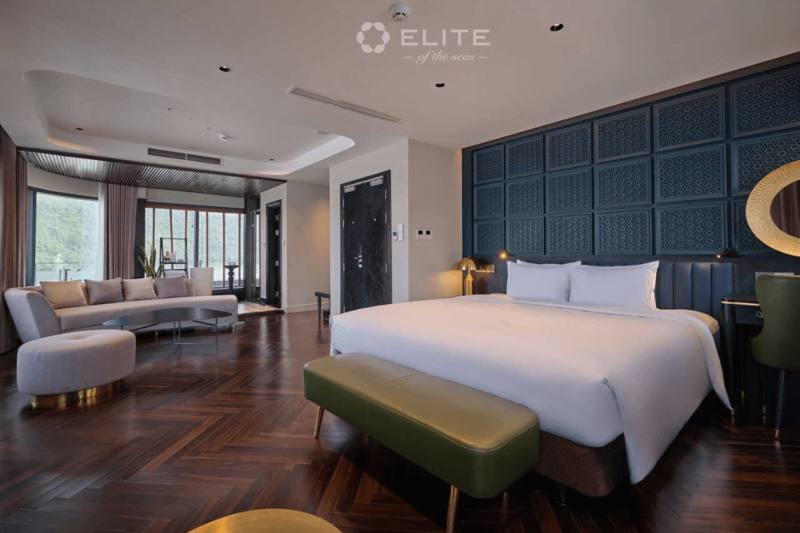 Elite of the Seas is a luxurious and contemporary cruise that embodies the quintessential style. With 35 elegantly spacious rooms, guests can indulge in the finest comforts such as a fine dining restaurant, indoor and outdoor bars, a wine and cigar cellar, a mini-golf course, a year-round large swimming pool, a sauna spa & massage, a fitness room, and a children's playroom. Boarding the Elite of the Seas cruise is the perfect choice for those seeking an opulent and unforgettable experience.
Cabins:
ELITE JUNIOR SUITE
ELITE JUNIOR PREMIUM SUITE
ELITE SENIOR SUITE
ELITE SENIOR PREMIUM SUITE
ELITE EXECUTIVE SUITE
ELITE EXECUTIVE PREMIUM SUITE
ELITE PRESIDENTIAL SUITE
Tip: While you can book your stay with any cruise on your own, we recommend doing it via a reliable travel agency like Asia Pioneer Travel. We can book you with the best cruises in Halong Bay but for a much better price. Moreover, when booking with Asia Pioneer Travel, we can tailor a Vietnam tour in accordance with your interests, with excellent guides and activities included. 
Book your upcoming trips with Asia Pioneer Travel – The Best Travel Agency in Vietnam!
Asia Pioneer Travel has over 14 years of experience in the tourism industry and has established itself as a premier, reputable, tailor-made travel agency in Vietnam and Asia. We constantly pay close attention to and comprehend the demands and preferences of our customers, enabling the creation of excellent holidays. After taking our bespoke tours, many customers have told their friends and family about them. Because our customers deserve it, we consistently strive to assure them of complete satisfaction.