10 Most Beautiful Mountains In Vietnam To Visit

Welcome to the breathtaking country of Vietnam! It has something for everyone, whether you're a foodie, a nature lover, a beach bum, or an adventure seeker. And it's not just about the hustle and bustle of the cities or the crystal-clear waters of the beaches. This place is also renowned for its awe-inspiring mountain ranges. If you're an adventure seeker, then conquering the breathtaking mountains in the northern regions is an absolute must-do on your travel itinerary. If you're seeking a truly awe-inspiring adventure, be sure to explore the most renowned mountains in Vietnam!
What To Prepare For Your Mountain Trip?
Top 10 Must-visit Mountains In Vietnam
1. Fansipan Mountain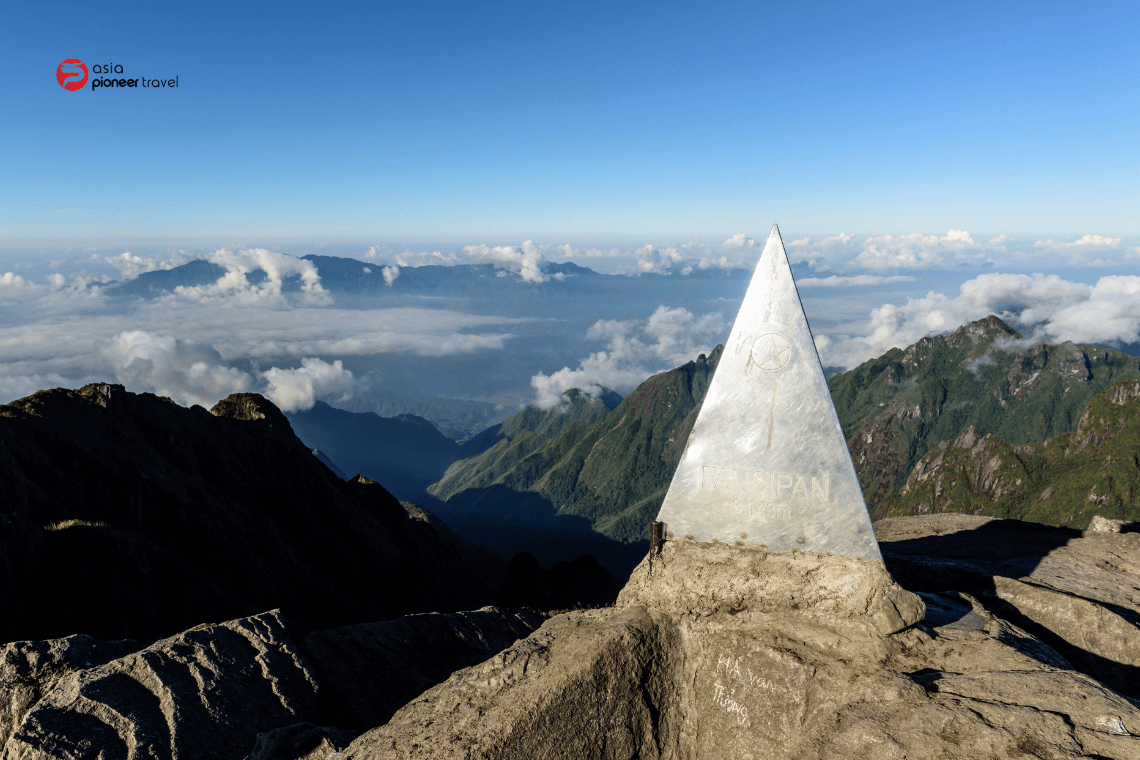 Nestled in the stunning Lao Cai Province of Sapa, Vietnam, lies the magnificent Fansipan – also known as The Roof of Indochina. This towering peak stands at an impressive 3143m, making it the highest mountain in all of Vietnam. The peak is part of the Hoang Lien Son mountain range, which is one of the largest in Vietnam. Fansipan means "giant stone plate" in the local language.
This breathtaking region is a must-visit destination for nature enthusiasts and adventure seekers, with diverse flora and fauna and awe-inspiring views.
If you're looking to conquer Fansipan, be prepared to spend at least 2 or 3 days on the craggy route. Asides from good health, it's important to have sufficient experience and expertise in hiking, trekking, and navigation. It is recommended that you hire a local guide or porter to accompany your group so that he can not only show you the best and safest route but also assist you with carrying some belongings.
Those who do not enjoy trekking can take the Fansipan Cable Car to the summit. The fare for two ways, including the mountain-climbing train from Sapa Center, is about $40. You may easily book it at your hotel or any travel agency in Sapa center.
2. Pu Si Lung Mountain
Pu Si Lung is located near the Vietnam-China border landmark No.42 in Pa Ve Su commune, Muong Te district, Lai Chau province, at an elevation of 3,083m above sea level.
It is a hiker's and climber's dream. The 100-kilometer route will take you across a variety of topography. The curvy mountain roads are only 1 to 2 meters wide, requiring extreme caution. The steep mountain slopes are bigger than the curving roadways, but they are densely packed with rocky impediments.
One of Pu Si Lung's greatest charms is its pristine, unspoiled nature. You will see a wide variety of unique species and vegetation as you stroll through the primate forests. As you go, the spectacular, raging streams of Nam Si Luong come into view. The bridges composed of broken trees linked together are a unique way to traverse these waters.
3. Pu Ta Leng Mountain
Pu Ta Leng does not typically appear in Vietnam holiday ads, although it is an excellent destination for climbers. It is one of the best mountains in Vietnam, rising 3,049 meters above sea level. The mountain is also part of the Hoang Lien Son range and is located in Ta Leng Village, Tam Duong Commune, Lai Chau Province.
This wild, pristine, and mysterious mountain is a popular spot for adventure seekers. Although not as high as Mount Fansipan, this is the most difficult mountain to conquer due to the lengthy climbing distance of more than 100 kilometers on both the way up and back.
With the exception of a few large rocks to climb over, the trail begins with a flat path. Everything points to a gentle journey requiring only physical endurance. Don't let these beginning points fool you. The path will gradually become steeper and craggier. More obstacles appear, challenging you to use different climbing techniques and pushing you closer to exhaustion. The journey may be difficult, but the rewards of climbing Pu Ta Leng go beyond the victorious moment of reaching the summit.
4. Bach Moc Luong Tu Mountain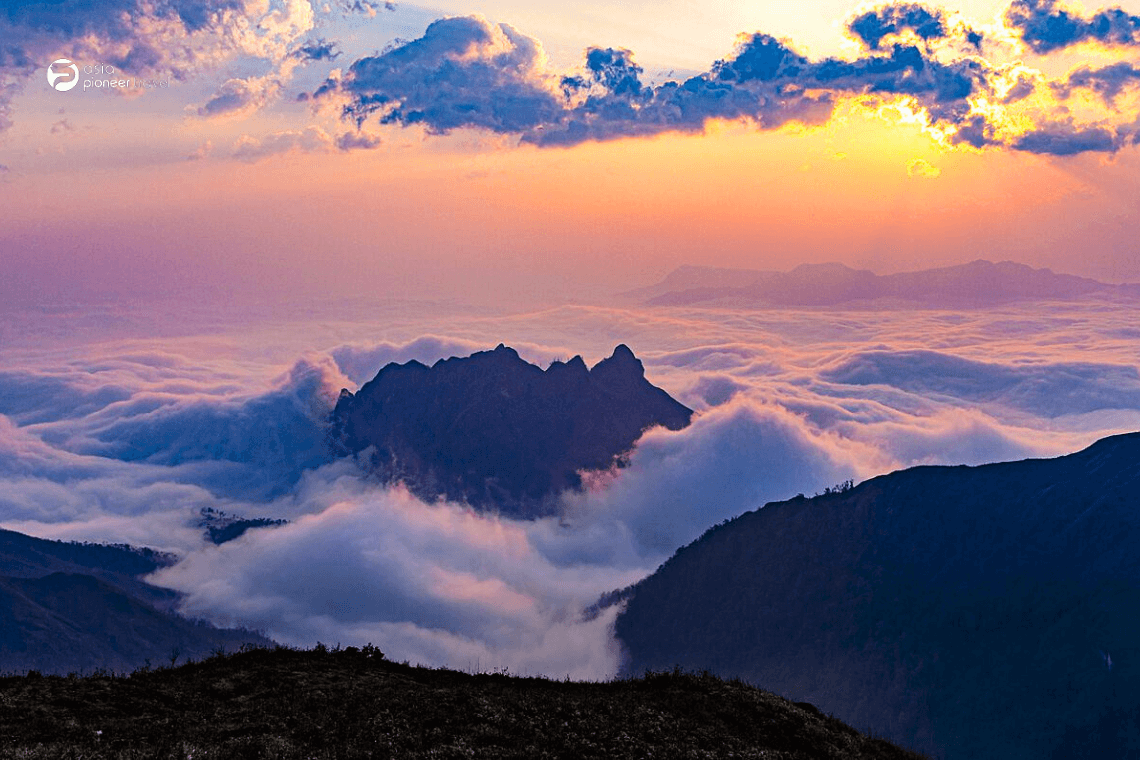 Bach Moc Luong Tu is part of the Ky Quan San Mountain Range, one of Vietnam's most stunning mountain ranges, and is 3,049m above sea level. It forms the natural border between Sin Suoi Ho Commune, Phong Tho District, Lai Chau Province, and Sang Ma Sao Commune, Bat Xat District, Lao Cai Province.
Climbing this peak is not for the faint of heart, either. The route is muddy, rocky, and steep in places, but you will be greeted with incredible views. At an elevation of 3,046 meters, you will view Bach Moc Luong Tu's unique scene: a breathtaking sea of clouds. It is not only a wonderful reward for your efforts, but it also honors your dedication and persistence during the entire trip.
5. Tay Con Linh Mountain
Tay Con Linh mountain is 2,427 meters above sea level and spans two districts in Ha Giang province, Hoang Su Phi and Vi Xuyen. The Dao ethnicity resides on this mountain, and you may come across them when wandering here. 
This mountain is far more difficult to ascend than Mount Fansipan because of its dangerous rocky, dense, and deep road. Trekking on Tay Con Linh will take you through plenty of landscapes, from primal rainforests to sparsely inhabited areas. The vast landscape surrounding Tay Con Linh has been cultivated for agricultural growth, and the sight of green tea farms and rice terraces is exquisite. Shan Tea Tree, a 100-year-old Ha Giang Province speciality, is planted at an elevation of 1,500 meters. In the morning, the lush tea bushes hidden behind heavy fog form a wonderful scenery that can only be seen in fairy tales.
6. Ba Den Mountain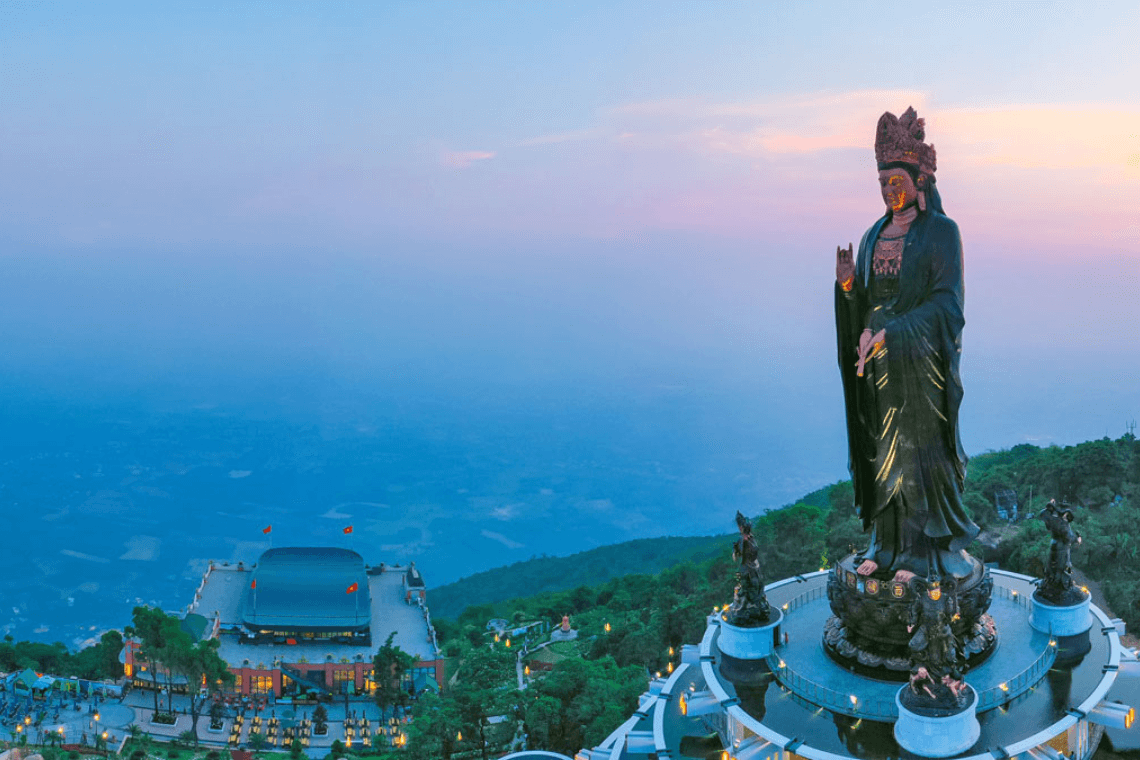 Ba Den (Black Virgin) Mountain is roughly 100 kilometers from the center of Ho Chi Minh City and can be reached within 2 to 3 hours of driving. Surprisingly, the mountain is just about 986 meters high, far lower than the northern peaks. A fun fact is that Ba Den Mountain is the highest mountain in the southeastern part of Vietnam. Because you can reach the top in a couple of hours, this destination is ideal for a weekend getaway.
The path is well-marked but steep, rocky, and rough at times, but you will be treated to astonishing views along the way. The recently developed cable car system by Sun Group, on the other hand, makes it a lot easier to reach the mountain summit. Instead of the tough trek of the past, all guests, young and old, can move quickly and comfortably when visiting Ba Den Mountain.
7. Bach Ma Mountain
Bach Ma, also known as White Horse Mountain, is a natural boundary between the province of Thua Thien Hue and the city of Danang. Bach Ma mountain range, is located at an elevation of 1450 meters above sea level, with average weather on both sides of the mountain.
Because of its renowned history, exotic environment with outstanding beauty, amazingly pure atmosphere, and cool air all year round, it is frequently featured in Vietnam mountain trips. If you love nature, this spot is a must-see, with over 1400 plant species and 132 animal species.
8. Ta Xua Mountain
Ta Xua, one of Vietnam's top ten highest mountains, is an amazing spot for a cloud-hunting experience. This mountain range consists of three peaks that form a line that resembles the jagged back of a dinosaur.
What makes it one of the most popular mountain climbing locations is the extraordinary occurrence that occurs surrounding its mountains: the creation of thick clouds, just like a White Clouds Sea. The Instagram-worthy scenery makes it nothing short of a paradise.
9. Mua Mountain (Mua Cave)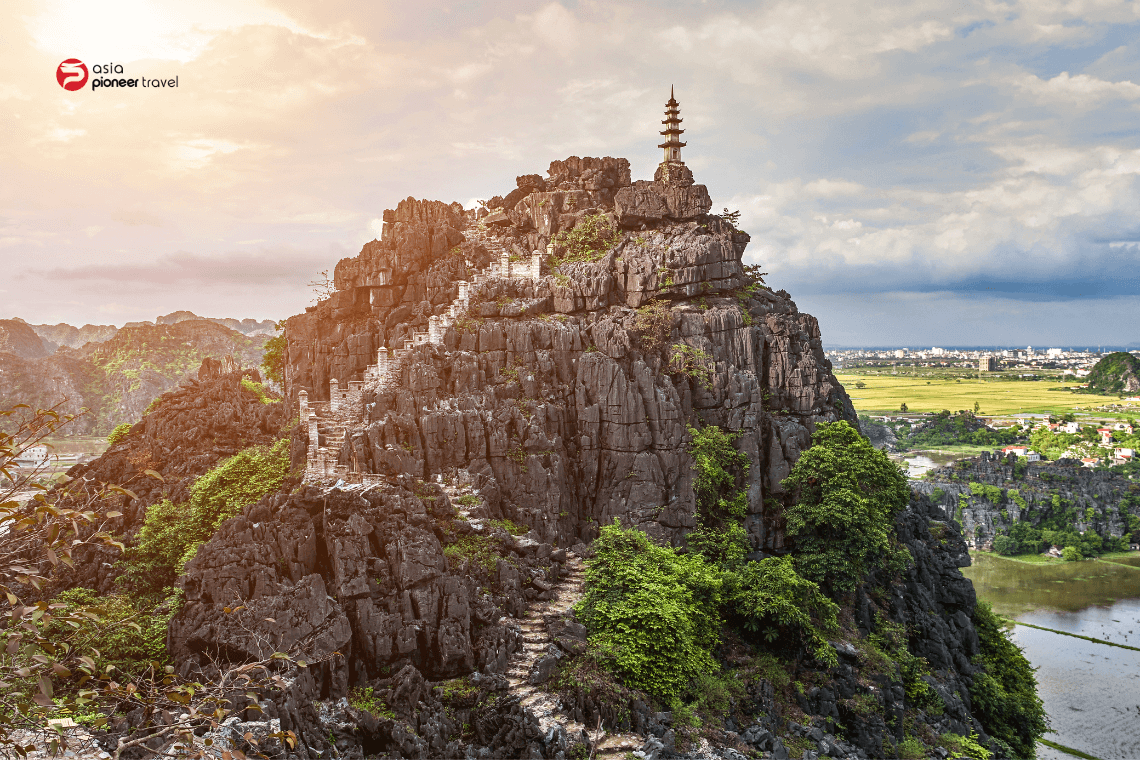 Mua Mountain is not only a must-see attraction in Ninh Binh; it also entices hikers to come and climb the mountain's top.
The mountain is home to a famous complex of sophisticated cave systems and stunning limestone mountains. The mountain peak is reached through a meandering path peppered with rugged slopes and 500 stairs.
Feast your eyes on one of Vietnam's most famous sights, with towering limestone karsts, beautiful paddy fields, and a flowing river. The magnificent cave system is certainly worth a visit when exploring this hidden gem. When standing at the top, you can also see the local attractions.
10. Son Tra Mountain
If the Marble Mountains are a well-known tourist destination in Danang's south, Monkey Mountain is located just north of China Beach on the mainland. Monkey Mountain, nestled on a picturesque peninsula, is definitely worth visiting to soak up the unique views of Cham Island, Danang City, and beaches, and the Son Tra Peninsula itself.
With its ideal location, it's a favorite hideaway for both visitors and residents wishing to beat the heat and escape the madness of the large metropolis. This lush mountain is ringed by isolated beaches such as Bai Bac, Bai But, Bai Nam, and Tien Sa Beach. To reach the peak, you may get on a motorcycle and follow the twisting and sloping roads encircling the mountains, or you can enjoy the verdant paths to be close to nature.
Book your upcoming trips with Asia Pioneer Travel – The Best Travel Agency in Vietnam!
Asia Pioneer Travel has over 14 years of experience in the tourism industry and has established itself as a premier, reputable, tailor-made travel agency in Vietnam and Asia. We constantly pay close attention to and comprehend the demands and preferences of our customers, enabling the creation of excellent holidays. After taking our bespoke tours, many customers have told their friends and family about them. Because our customers deserve it, we consistently strive to assure them of complete satisfaction.