TRAVELING TO VIETNAM DURING TET: YAY OR NAY?
You'll hear several optimistic and pessimistic opinions when you mention your next vacation to Vietnam during Tet Holiday, from your mom (read our "05 THINGS THAT MOM MAY NEVER TELL YOU ABOUT VIETNAM" for more facts), friends, Vietnam experienced travelers or even some tour operators.
Let's see all the pros and cons of traveling to Vietnam during Tet
1. NAY!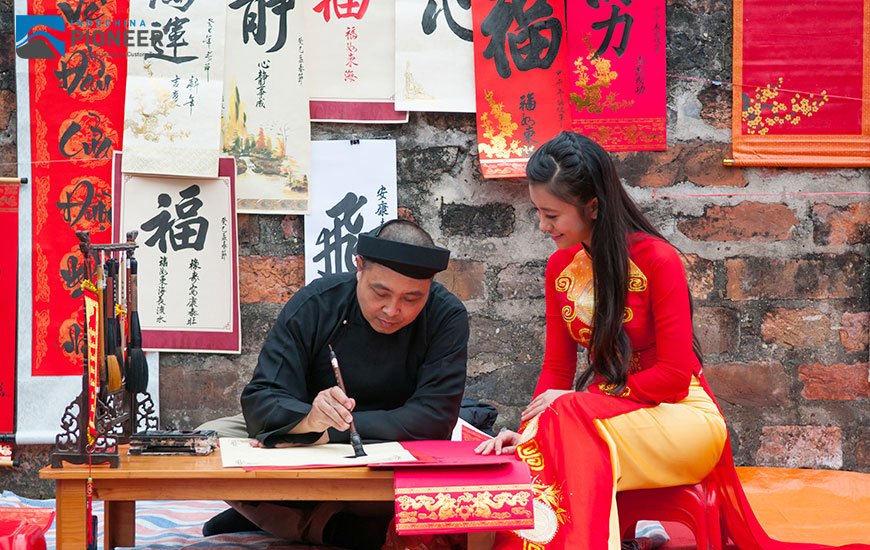 "The airplane ticket price will knock you down!"
It is undeniable that transportation in Tet holiday is a big concern for travelers. Without doubts, it is quite difficult to plan your trip when air, train, and coach are mostly fully booked; and the price is also totally uncomfortable at all. Some will see up to 30% fare increase while many agents will turn down your requests for tickets if the traveling date is too close.
"Lack of services because of the increase in tourists and the shortage of human resource"
You are not the only one got this idea. And all staffs working in this industry need their holiday. So lack of service is one difficulty that you must be ready to face. Do not expect that there's always a local staff appearing to help you with all your questions or requests. In case you are in all the V.I.P lists, our apologies.
"You will be haunted by the BIG RED "CLOSED" board!"
The bad news is that this fact is true. Many museums, mausoleums, indoors exhibition, and art houses will be closed for at least 04 days. Most restaurants and shopping areas will be not opened, too.
This is not the best time for culinary tours fan or people who interest in indoors exhibitions. In case you are a shopaholic, Vietnamese Tet is a good opportunity for you to save an amount.
2. YAY!

"Everybody is in a good mood"
Christmas leave you hanging on for a whole year, so when it comes, everybody tries to make it as special as possible. So does Tet with Vietnamese people! They even take the first interactions of the year a little bit more seriously as their belief of having a good start means the whole year more prosperous. People will be keen to make sure you are happy and all your interactions with them are trouble-free. Therefore, this could be the best time of the year for you to experience the social and cultural aspects of this nation. Local people are in the mood of serving their customers in the best way.
Fare increase for the best serve? You are making profits for your decision.
"Good time for cultural discovery"
Tet is the most important holiday in Vietnam that shows-off many interesting traditional rules. What it celebrates, why people give children red envelopes, the reason you should not turn up your voice in the 1st day morning of Tet, etc. Feel curious yet? You could totally turn your normal trip into a cultural discovery vacation. As in this time, all the stories are told.
"The country is a real beauty"
Tet is the flowery time in Vietnam. Flowers are everywhere and shaped in many forms. They are filling the streets which are covering in the beautiful red and yellow color of Tet decorations and red envelopes, and there are numerous flower markets or festivals. You will be amazed by the massive presence of three traditional Tet flowers: peach blossoms, kumquat trees, and chrysanthemums.
Plus, the weather in Vietnam this time is very comfortable. It is the end of the rain season in the South and the beginning of Spring in the North. The first 3 months of the Lunar year are filled with village festivals, weddings, and other special events. This time is also the start of new crops for farmers. Don't you want to live such a spiritual time?
"Big red "Closed" Board is actually a good idea!"
So, all the indoor places are closed. Yes, they should be. Because the good news is that the beaches will be empty, cities will be vacant on the actual date of Tet, sounds excellent for enjoying the tranquility. Holding your camera and taking a walk around quiet streets with many vintage corners is not a bad idea. You could also blend into the crowd to visit all the temples and pagodas.
In the first day of Vietnamese Tet (also the most important day), time seems to stop and tourists could enjoy the most original beauty of all cities.
3. Our suggestions:

Strongly recommend you book everything as early in advance as possible.
Plan your itinerary smartly: visit the indoor attractions just before or after Tet, and during Tet, relax or with your loved ones in a walk around Hanoi Old Quarter or sunbathing in Da Nang beach.
Get ready to face delays or cancellation.
Don't miss the chance if you are invited to a local family and taste all Vietnamese traditional dishes. Otherwise, visits to Cho Tet- Special market selling New Year stuff- will surely an amazing experience. But remember, try not to bargain or if you do, do as politely as it will be considered to bring about bad luck for the whole New Year.
Book a Vietnam private tour with a local company; they'll surely be your local guru!