Top things to do for families with kids in Vietnam

Taking kids on a vacation is always a tough mission of any parent. Certainly, you want your kids to have fun first, yet something safe, healthy and educational is still at the top priority list. The good news is that Vietnam has more than those to offer.
Let's see what you can surprise your kids in this beautiful country.
It's beach time, it really is!
As one of the most prized destinations in Asia which is well-known for beautiful beaches, Vietnam is the best for you as well as your kids to enjoy a beach vacation. The beaches here are so fabulous with crystal clear water and white sands, offering both convenient accommodations and luxurious resorts.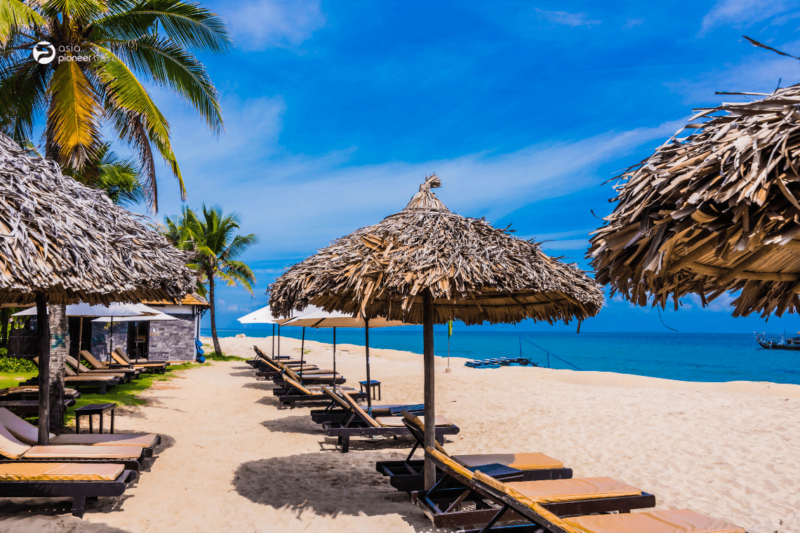 In the north of Vietnam, Halong Bay is a great choice for any Vietnam family adventure, thanks to not only the opportunity to do cruise trip- which is actually more than a trip- to enjoy the breathtaking nature with thousands of limestone islands emerging from clear water of the sea, but also plenty of activity choices from kayaking on the Bay, swimming in the ocean, laying on the beautiful beaches to going squid fishing. And in central and southern Vietnam, coastal cities like Nha Trang, Mui Ne and Da Nang are perfect for swimming and awesome outdoor activities like snorkeling, diving, windsurfing, etc.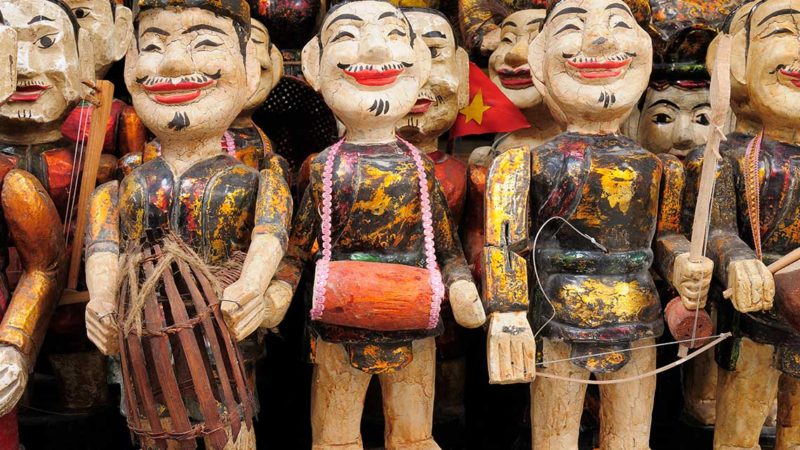 Water puppetry is a traditional Vietnamese art form that dates back several centuries and is performed in a shallow pool of water. The wooden puppets are manually controlled behind a screen by master puppeteers who splash them through the stage with precision and skill. Epic stories are sung with many different characters, often depicting traditional scenes of Vietnamese life. These unique forms of Vietnamese traditional art will give your family a lot of "wow", and the music is extremely lovely, also.
And if you make a good choice, there are a few options to watch the water puppet performance, and let your kids try their skill to control the puppets!
Making handicrafts at traditional villages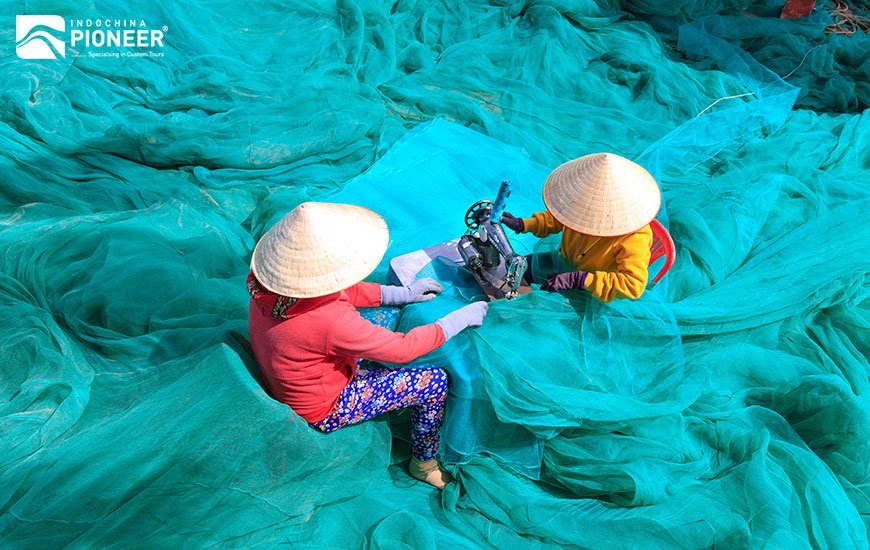 A simple day-trip to traditional villages around cities like Hanoi, Hue or Hoi An, Sapa will become an unforgettable memory for your family, especially your kids, as in those villages they can observe the artisan making the handicraft products. The most beautiful thing in these kinds of trips is that you will not only "see" but also have chances to make and paint a real handicraft item such as a pot, a cup, a vase, etc. by yourself, and then bring home as a souvenir. Your kids may have hidden talents in arts, who knows?
Taking cooking classes
Prove to your kids that cooking is not just a boring homework, it's fun and it's appreciative!
Let your kids discover themselves their cooking talents to make some authentic Vietnamese dish. An easy cooking class in Vietnam will bring your family more than a chance to learn how to cook Vietnamese dishes as well as enjoy Vietnam cuisine, but also it will help your family to experience the original Vietnamese market. With the children, that will be great to see a lot of people and products at a local market as well as give a hand helping their parents to cook a meal. Hanoi, Halong Bay, Hoi An, and Ho Chi Minh are the best places to learn about Vietnamese cuisine and join an easy cooking class.
Soft- Cycling in small town and villages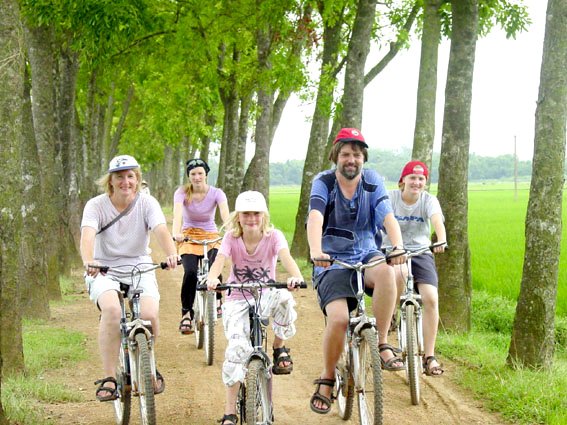 Not only the major cities in Vietnam but also the countryside around the big cities such as Hanoi, Hoi An and Mekong Delta offer stunning backdrops for a biking trip. Take a cycling trip and go further from the noisy and crowded places to the peaceful and lush countryside. The family will have time to drive together over the paddy fields, chat with the locals and learn more about Vietnam culture.
Shopping at "toy streets"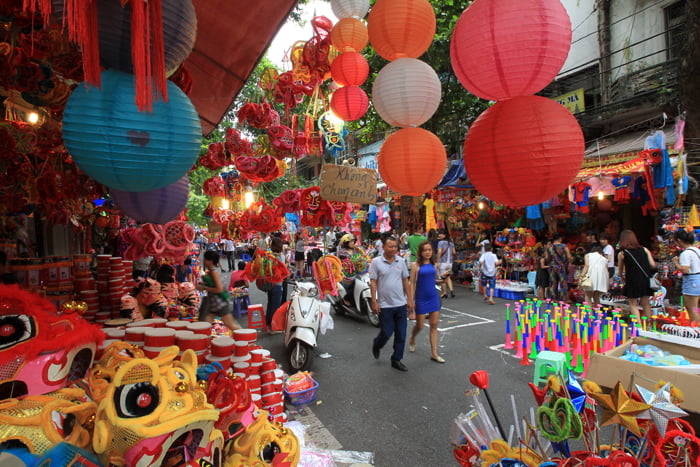 "Toy streets" are unique attractions which you can hardly find anywhere except Vietnam. These are streets which are decorated with many colors and variable types of lovely toys. Your kids will be enjoyable and really excited during the Vietnam trip if being taken to these bustling streets. Luong Van Can Street in Hanoi and Le Van Tam Park at Hai Ba Trung Street, District 01, Ho Chi Minh City are two favorite streets to take your children around for vibrant atmosphere and toy shopping choices.
Enjoying Water and Amusement Park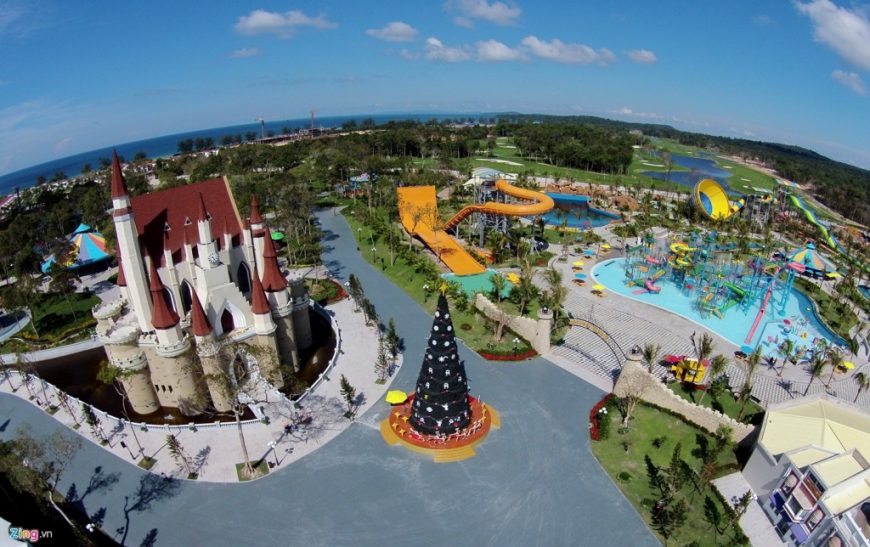 Many big cities and famous tourist sites in Vietnam offer a variety of amusement parks which can charm any children with super fun activities and games. Take the children to amusement parks are the best way to keep your children active and smart in outdoor activities. Moreover, the amusement parks can be considered as the safest place for children free to do what they want, playing with water, and you are able to join the party anytime or have private time to seat together and see their lovely kids playing with local children. Hanoi, Nha Trang and Ho Chi Minh City are great spots for amusement parks.
Let Us Help You Plan Your Vietnam Trip.
Don't let the planning stress you out. Tell us your travel ideas and our travel advisors are very glad to give you suggestions and guidance for your trip planning. We can tailor-make your trip according to your interests and requirements, and help to create the best Vietnam vacation for you.