A taste of Vietnam: Vietnamese food guide for Culinary Art "faithful"

"An com chua?". If you want to start to learn Vietnamese, this phrase is one of the first musts! As a friendly greeting exchanged throughout the day, it poses a seemingly mundane question: "Have you eaten yet?". As food is the very heart of Vietnamese culture, and you will definitely see if you have the opportunity to experience this charming land. You could go around the world and taste it all, but one day you will have to crawl back into Vietnam, just to sit at a small street corner, and enjoy a "Banh mi".
Vietnamese culinary is really distinct and, really, addictive. Every dishes are the perfect balance of tastes and ingredient. One bite and you could cover both salty, sweet, sour, and hot flavors. Vietnamese gastronomy specialists name it as Ying and Yang balance. And in this article, we will help you to pick top dishes that you need to try in Vietnam.
Banh xeo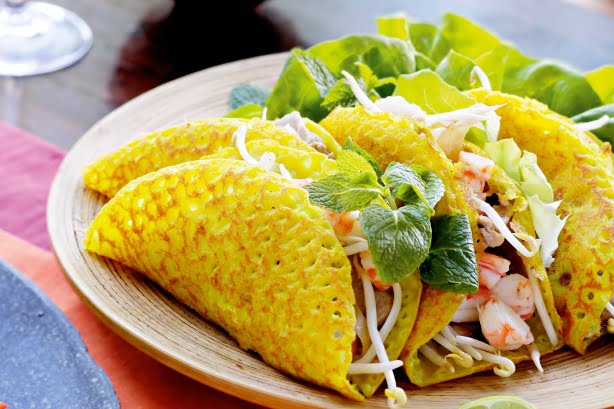 Banh Xeo – the colorful sizzling cake – which sounds, looks and tastes delicious to the even the most difficult gourmet, is always the number one must try in the long list of Vietnamese specialty dishes. The sophisticated taste of Banh Xeo is woven from pork, beans proud, shrimp, and egg, which are all then fried, wrapped in rice paper with greens and dunked in a spicy sauce before eaten. Once you have your first bite on a Banh Xeo, you'll realize how much you have missed in your life!
Banh mi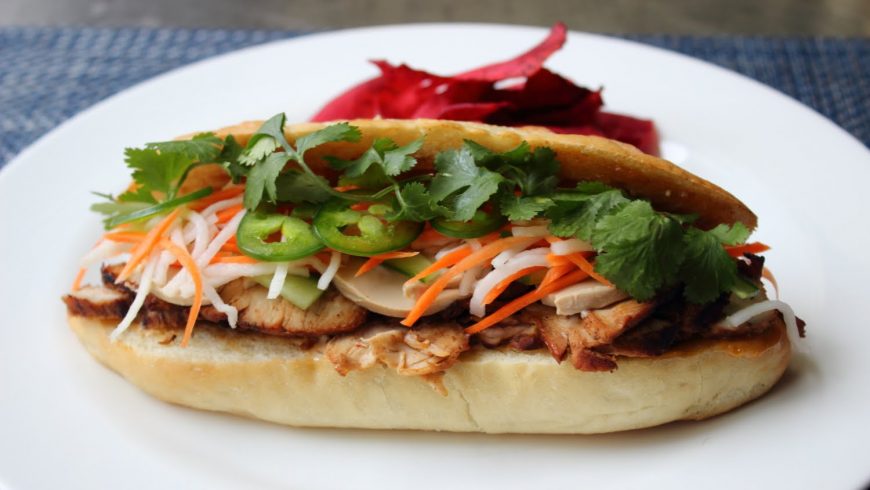 May be most of you have heard about this famous Vietnamese sandwich, as it has been in numbers of culinary top-list these recent years. If food is your oxygen, the baguette sandwich filled with greens and a choice of fillings, including paté and freshly made omelets MUST BE in your bucket list (guys and girls, write it down, please). We don't think there is the second place that is able to bring the same wonderful taste like in Vietnamese street vendors, even Banh mi has been imitated around the world. It is definitely what you will miss when you leave.
Pho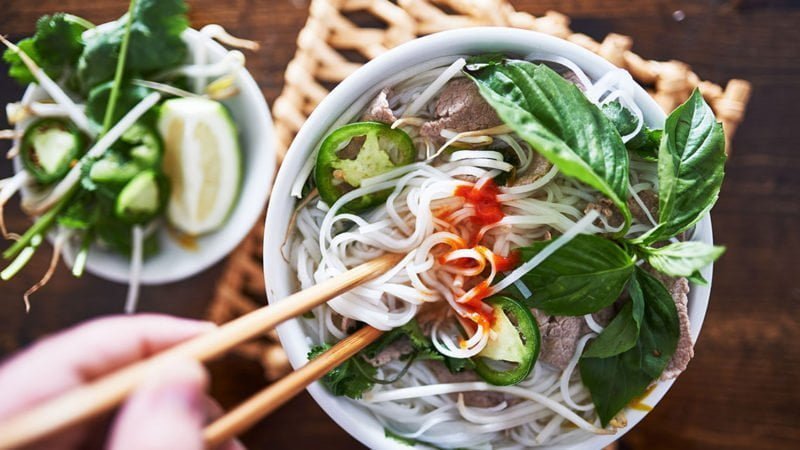 Come to Vietnam and see how important Pho is to Vietnamese. It is one of the most popular Vietnamese street eat, and it represents the Vietnamese art of gastronomy too. You have not eaten anything here yet until you met "Pho". The basic bowl of pho features a light beef or chicken broth flavored with ginger and coriander, to which are added broad, flat rice noodles, spring onions and slivers of chicken, pork or beef. Sounds simple, right? But in Vietnam, the true flavor of Pho broth is only created from "Pho master" with years of experiences. That broth must have some know-how hidden inside!
Bun cha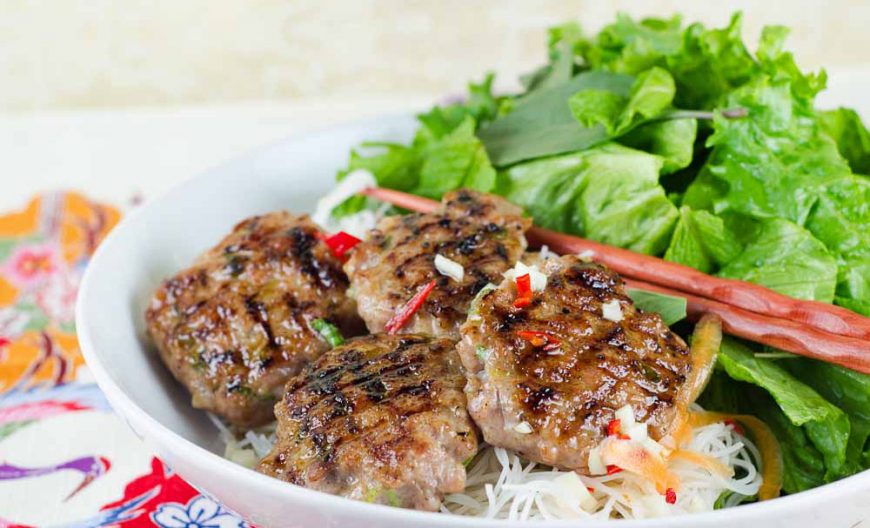 Not until Anthony Boudain's Parts Unknown TV show featured President Obama at a street-side restaurant, Bun Cha has been famous as one of the best Vietnamese food, which is raved about on all the international travel forums. "Bun cha"- a Hanoi specialty that can be found at a range of food stalls and street kitchens across the city- is created from the pork patties that are barbecued on an open charcoal brazier, then served on a bed of cold rice noodles with assorted foliage and a slightly sweetish sauce. Essentially, it is like a small hamburger, but you don't have with baguette and ketchup, but rice noodle and "edited- version" of fish sauce. It sounds strange at the beginning, however always finishes with "my holy grail!" exclamation at the end of the meal.
Goi cuon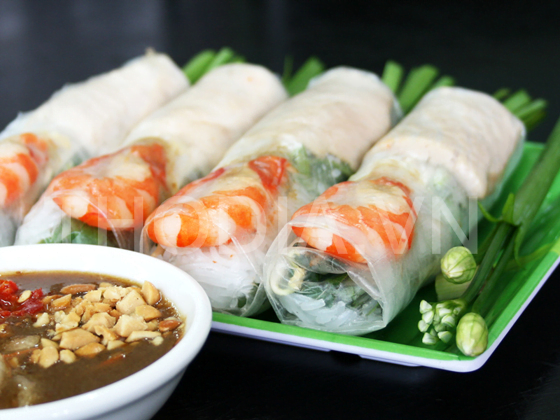 Let's all imagine about a translucent spring roll packed with greens, coriander and various combinations of fresh minced pork, shrimp or crab (in some places it is served with a bowl of lettuce and/or mint). A southern variation has barbecued strips of pork wrapped up with green banana and star fruit, and then dunked in a rich peanut sauce – These lines describe a piece of art or a type of food? Only thoughts about it could make anyone feel hungry right away.
Cha ca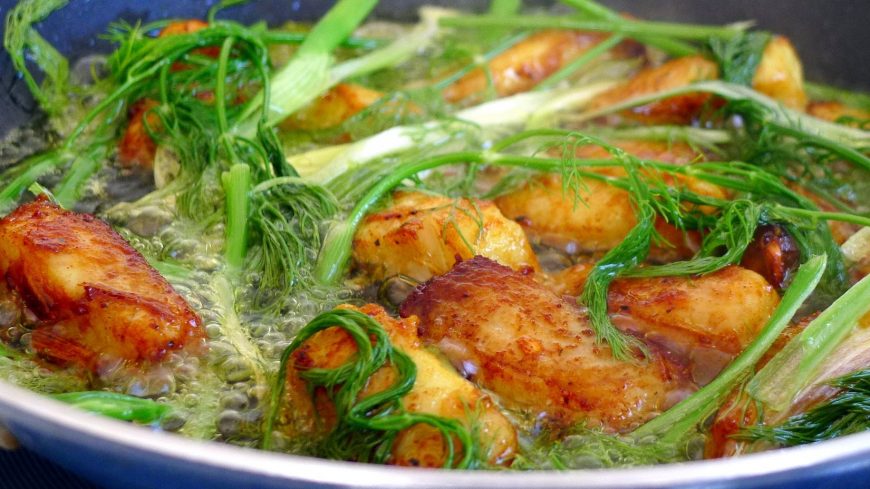 Vietnamese seafood dishes are among the best in this country's cuisine. They are fresh, tasty and at a very comfortable price level, especially "Cha ca"- reportedly devised in Hanoi. It is made of fish sautéed in butter with dill and spring onions, then served with rice noodles and a scattering of peanuts.
Bun bo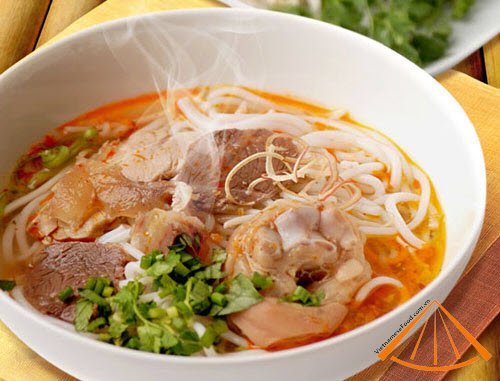 The specialty came from the Imperial City Hue in central region of Vietnam, "Bun bo" is a mighty dish which sometimes is considered as "more over than Pho". A noodle soup starts with pork and beef bones, gets a kick from lemongrass, annatto and shrimp paste, and finishes the job with a tangle of herbs, a squeeze of lime and a few delicious add-ons like sliced brisket, crab balls and, in some cases, cubes of congealed pig's blood. Sound like the heaven in one bowl!
Don't know whether you have felt hungry when you read until here, but to us, just lay us down with Vietnamese foods around.
Let Us Help You Plan Your Vietnam Trip.
Don't let the planning stress you out. Tell us your travel ideas and our travel advisors are very glad to give you suggestions and guidance for your trip planning. We can tailor-make your trip according to your interests and requirements, and help to create the best Vietnam vacation for you.