Let's spend some money: A Vietnam Shopping Guide for Shopaholics

"A man will never love you or treat you as well as a store. If a man doesn't fit, you can't exchange him seven days later for a gorgeous cashmere sweater. And a store always smells good. A store can awaken a lust for things you never even knew you needed. And when your fingers first grasp those shiny, new bags…"
― Sophie Kinsella, Confessions of a Shopaholic
These lines have haunted (at least) me and (I know for sure) a number of people out there, regardless of our gender, nationality or belief, for the rest of our life. And if you are one among millions of people who consider shopping mall smell is the pure oxygen, and the sound of card swiping action is the chant, you MUST be here, Vietnam- the real shopping heaven for shopping angels like us.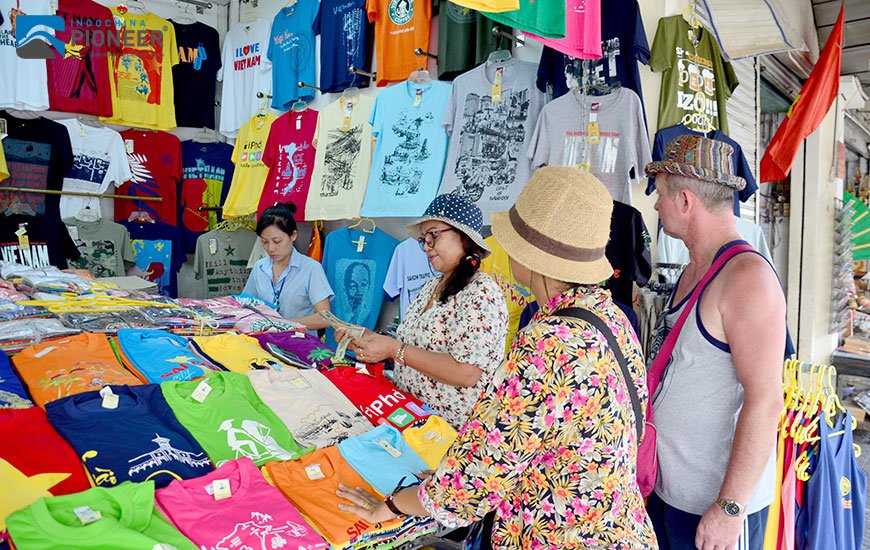 The variety of high-quality goods comes together with tempting prices, making travelers keep throwing themselves into markets and shopping centers. The list of Vietnamese bargains is seemingly endless and features bespoke tailoring and the national dress, the 'ao dai' from high-quality silk and many other types of material and textiles while many shoppers cannot get enough of the local handicraft, art and jewelry.
The lines below will show you the exact way in which you should "shop-until-you-drop" in Vietnam.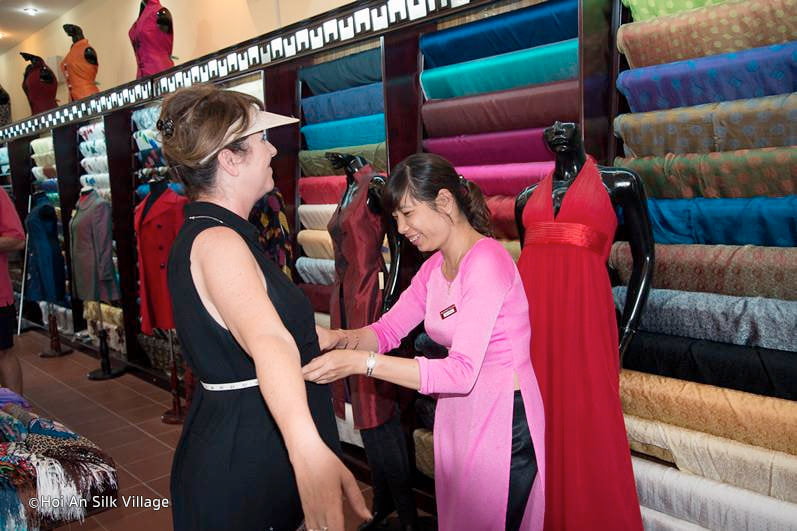 What to buy in Vietnam
Outfits and accessories shopping
Vietnamese style is something that is really notable for all fashion "victims". The elegance, the magnificence, the detail perfection in their traditional and handmade fashion items can attract everybody around the world. Below are some suggested fashion items that should be in your shopping checklist.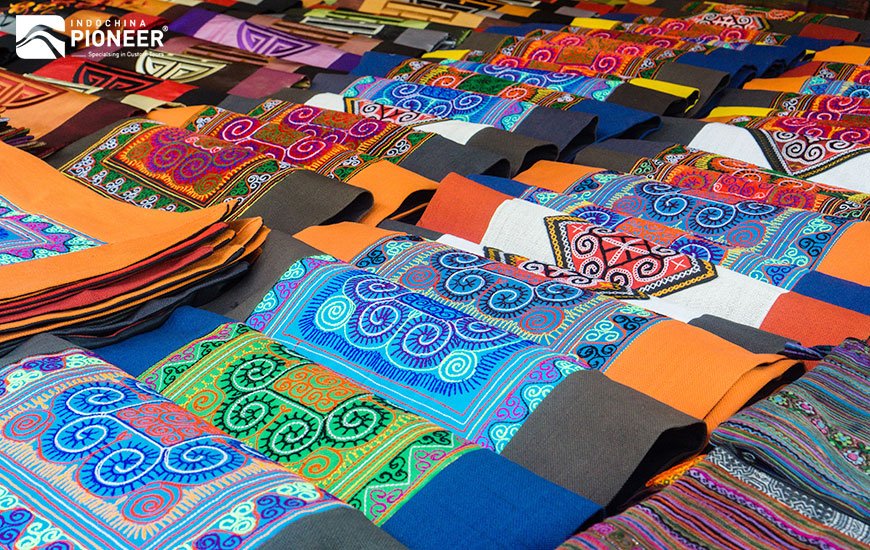 Traditional "Ao Dai": The Vietnamese national costume for women and men, consists of a long tight-fitted dress that's worn over slacks with contrasting colors, is definitely one thing that you should get in this charming land. This special outfit can be found easily in tourist-friendly markets and fashion boutiques, at ready-made forms or you could require the service of a local tailor to get your costume fitted according to your body type. Hoi An is renowned for its professional tailoring services, where you can choose from an extensive collection of fabric and have your very own custom-made ao dai for about $35 to $100. In Vietnam today, many young designers have created the "modern Ao dai" lines, with pretty styles and a slightly lower price, for the young market segment.
Silk: Guys and girls, if you have ever walked into a silk shop in Vietnam, the one thing we could say is YOU BETTA GRAB THEM, and grab them quick, and as much as you can, or you will die in hell of regrets! Silk in Vietnam is made from the cocoons of silkworms using manual looms and comes in a variety of patterns and colors, and the quality reaches an extreme level. You can find plenty of fashion boutiques and souvenir shops selling shirts, ties, accessories, and dresses at relatively affordable prices. Silk up, for your own good!
Vietnamese Embroidery: If you have an opportunity to visit Sapa and the northern highlands of Vietnam, you will find really exclusive embroidered clothes, scarfs, small bags, pillowcases and more. From different villages or weekend markets like the Bac Ha market. You can see how it's made straight in your eyes in the evening market in the main square of Sapa. These colorful and spectacular things are totally hand-made, and becoming a master in this art can take 8-10 years. Therefore, with the price of around $6 per product, you are making a profit by buying these handicrafts and (also) fashionable goods.
Pearl Jewelry: Pearl farms are mainly found in coastal locations such as Halong Bay, with a range of authentic and fabulous pearls and jewelry for its admirers. You will be lost in the heaven of sparkling necklaces, bracelets, pendants, earrings, and rings (and once again, they come with good prices). If you are not a fan of pearl, you will also find lovely accessories made of gold and other gemstones as well.
Conical Hat: Also known as "Non la", these hats have been around since the 18th century and are typically handwoven using bamboo, palm leaves, and the bark of Moc trees. It is not simply a souvenir, but also the most practical item for Vietnam traveling, especially during Vietnam's downpours and summers. You could find them in many local shops or street vendors with the price of nearly $0.5, or in some souvenir shops with the more fancy forms costing between $1.5 to $5. Just like "Ao dai", "Non la" is something deserving a place in your Vietnam shopping list.
"Guoc moc"- Wooden Clogs: These are the traditional footwear for males and females in Vietnam. Before females were wearing these with the traditional Ao Dai dress. Now it's not so traditional wear, but you can still buy these unique footwear in stores. This is a really unique fashion item, which has been imitated in many places around the world and even edited in many interesting forms.
International Brands: Besides Vietnamese unique fashion items, you can find many international brand stores in Vietnam, from middle level like Adidas, Zara, Topshop, Mango to luxury one like Marc Jacobs, Balenciaga, Burberry, Dior in big cities 'shopping malls. The choices are endless. You are able to get whatever you want right here, even they are 100% authentic Vietnam to your homeland's products.
Souvenir Shopping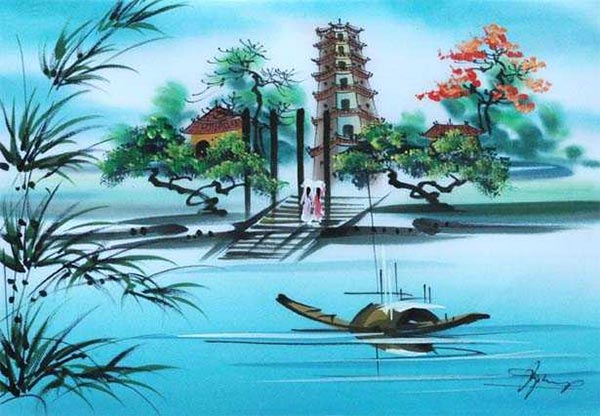 Silk paintings: Silk painting is the most iconic of traditional Vietnamese art which originates from painting and drawing on homemade rice paper. Today this art has become famous around the world for its simple poetic themes and vibrant colors. Vietnamese artists find the technique to be a unique way to create a mystique in their paintings. The Vietnamese style of silk painting emphasizes softness, elegance and has a flexibility of style. Travelers can find them in souvenir stores in Hanoi Old Quarters.
Lacquerware: Lacquerware is a traditional form of craftsmanship commonly used on furniture, dishes, bowls, vases and paintings, which takes up to four months to produce. There are several galleries along Hang Bac Street in Hanoi and An Dong Craft Market in Ho Chi Minh City sells high-quality lacquerware at reasonable prices, many of which depicting mythical creatures and the daily lives of the Vietnamese.
"Do" paper postcards, notebooks: "Do" paper is made from the bark of the Do tree, a wild plant commonly found around local riverbanks. It was popular for many years before the modern paper. Now Do paper is only used to make Hanoi's ethnic greeting cards, watercolor, folk paintings and bamboo-bound notebooks. Do paper cards with embroidered squares, hemp covered notebooks cost more or less $ 2.00, bamboo bound notebooks are from $ 1.50. They are provided widely in bookstores in Vietnam.
Bamboo and wooden products: You can buy beautifully carved bamboo hats or salad bowls, trays, baskets and more such items made out of bamboo and wood. Apart from being cheaper alternatives, they are also eco-friendly. It's cost from $13.00 to $45.00
Where to shop in Vietnam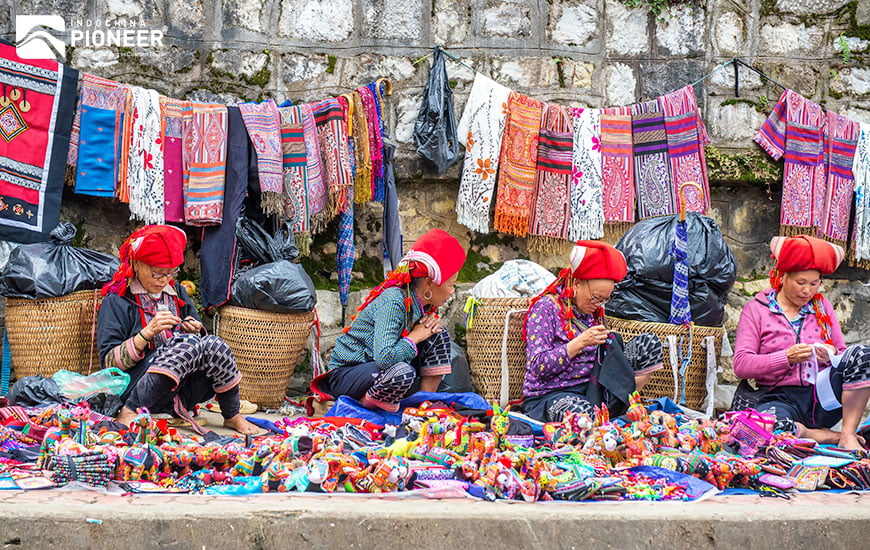 This is the top 10 markets for travelers in Vietnam
1. Hoi An Central Market  
Location: Nguyen Hue and Tran Phu Streets, Hoi An
For: Fresh fruits, vegetables, spices, handicrafts, street snacks, silk and textiles.
Open: Daily 07:00 – 20:00
2. Bac Ha Market
Location: Sapa, Lao Cai
For: Handicrafts, food, horse, poultry and blacksmith
Open: Sunday 07:00 – 12:00
3. Hanoi Night Market
Location: Hang Dao Street, Hoan Kiem, Hanoi
For: Exotic street foods vendors, clothes, handicrafts, accessories, shoes, sunglasses and souvenirs
Open: Friday – Sunday 20:00 – 23:00
4. Dong Ba Market
Location: Tran Hung Dao Street, Hue
For: Household items, clothing and fresh produce at affordable prices
Open: Daily 03:00 – 20:00
5. Quang Ba Flower Market
Location: Au Co Street, Tay Ho, Hanoi
For: Rows of colorful flowers (Daisies, cherry blossoms, roses, orchids and sunflowers, etc.) from local villages Dong Anh, Soc Son, Me Linh, Dalat, and Nhat Tan
Open: Daily 02:00 – 12:00
6. Cho Lon (Binh Tay Market)
Location: 57 Thap Muoi, District 6, Ho Chi Minh City
For: Extensive range of handicrafts, lacquerware, textiles, and fresh produce
Open: Daily 07:00 – 18:00
7. Dong Xuan Market
Location: Dong Xuan Street, Hoan Kiem, Hanoi
For:
The ground floor: seafood, meat, vegetables, pets (cats, dogs, and fish), fresh flowers from all across Vietnam
The upper levels: tee shirts, fabrics, school uniforms, handbags, handicrafts
Dining area within Dong Xuan Market, with food vendors selling Vietnamese coffee and exotic local dishes
Open: Daily 06:00 – 19:00
8. Dong Van Market
Location: Dong Van, Ha Giang
For: Vegetables, fruits, spices, food, colorful brocade products, household devices, cloths and several types of livestock, such as pigs, buffaloes and cows
Open: Sunday 7:00 – 12:00
9. Ben Thanh Market
Location: Ben Thanh, Ho Chi Minh City
For: Vietnamese Coffee, apparels, textiles, luggage, watches, handicrafts, and electronic goods
Open: Daily 6:00 –24:00
10. Nha Trang Market
Location: Ben Cho, Van Thanh, Nha Trang
For: Handmade clothes, trinkets, seafood, fresh produce, and packaged goods to locals and tourists
Open:Daily 04:00 – 18:00
Let Us Help You Plan Your Vietnam Trip.
Don't let the planning stress you out. Tell us your travel ideas and our travel advisors are very glad to give you suggestions and guidance for your trip planning. We can tailor-make your trip according to your interests and requirements, and help to create the best Vietnam vacation for you.