Must-read for 02 week Vietnam and Cambodia travelers

Congratulations on your holiday plan to Vietnam and Cambodia! For sure you've made a great decision as Vietnam and Cambodia will no doubt give you a trip of a lifetime. Anyway, this may be your first trip to South East Asia, the notes below may help you enjoy your trip much better.

With outstanding nature, UNESCO Heritage series, historical and cultural values, Vietnam and Cambodia is a good idea for all types of travelers from couples, family to group. No matter what you are seeking for, going around these two charming lands will be really easy if you follow some useful travel tips below:
Duration: In case you want to discover both the mighty Angkor and the majestic Halong Bay in one trip, 14-15 days seem to be a reasonable length of time. You will get more precious experiences if you are able to make your trip longer, but cut down the vacation will only make you want to spend more money and time for a future return trip. It is advised to start your Vietnam and Cambodia tour in Hanoi, Ho Chi Minh or Siem Reap in order that it will be easier for you to book internal flights as well as covering the best destinations. For a honeymoon tour to Vietnam and Cambodia, you can arrange a perfect end in the South of Vietnam with Phu Quoc or Mui Ne which are the 2 best beaches in Vietnam.
Best time to travel: One important question needs to be answered is what the best time for travelling both Vietnam and Cambodia is. Vietnam and Cambodia are well-known as the all-year-around places available for traveling. This long exotic trip will bring you through many kinds of topography with different weather patterns, therefore it is not really necessary to pick an exact time period, just leaning on your plan. You could expect 04 seasons in only one vacation, covering the bright sun, the romantic rain and even the snow in some northern highland regions of Vietnam.
International flights: While there are sufficient airliners who fly directly to Vietnam and Cambodia, the main regional air hubs such as Bangkok, Singapore, Hong Kong, Kuala Lampur and Narita offer a lot more choices of carriers with low-cost code-shared flights. It is an easy mission to book suitable international flights for your vacation, as there are numbers of international airports in both Vietnam and Cambodia, such as Noi Bai International Airport in Hanoi, Tan Son Nhat International Airport in Ho Chi Minh, Da Nang International Airport, Siem Reap International Airport & Phnom Penh International Airport in Cambodia.
Currencies: Tourism is now too much developed in both Vietnam and Cambodia that you can easily pay by USD for hotels, restaurants, flight tickets or shopping stores. But you should prepare also some local currencies and enjoy a feeling of being a millionaire in Vietnam. For big amounts, you can use credit cards as they are always available in big cities like Hanoi, Da Nang, Ho Chi Minh, Siem Reap & Phnom Penh (just make sure your bank know you're using your card in Vietnam and Cambodia at the time of your travel). One Interesting fact is that all the ATMs in Cambodia give out American Dollars.
Phone and Internet: While Wi-Fi is now covered in most hotels and restaurants, you may still want to use some data. Pre-paid data sim cards for tourists are now popular and as long as your phone is working internationally, buying a sim card is not a problem. For sure you stay connected!
Sample itinerary: Everything will be much better if it comes with a plan. In case you prepare your itinerary well in advance or work with the right tour operator, your vacation will soon be a life-time experience. The sample itinerary below is our top recommendations for people who intend to spend around 02 weeks in these two countries.
Day 1: Siem Reap – Arrival
Of course, you're excited to see the man-made marvel complex of Angkor Wat, your arrival day should be at a nice pace! Relax, treat yourself with a nice meal, nice drink and a good sleep as you will need to be fully charged for the following energetic days!
Day 2- 3: Siem Reap – Angkor Temples Discovery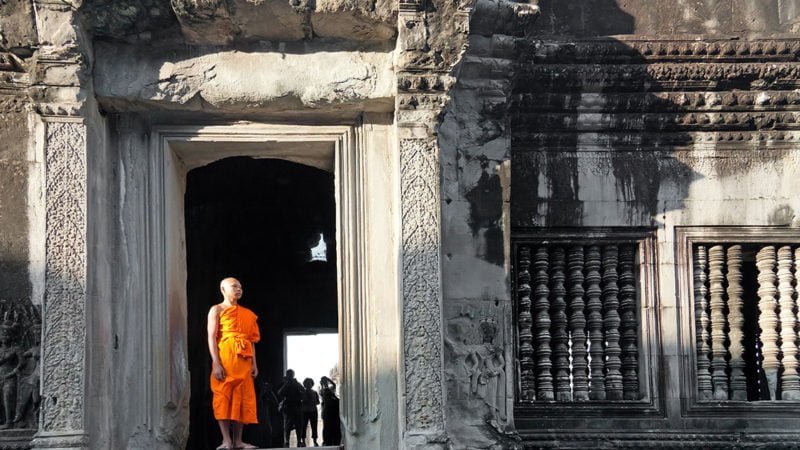 It usually takes more than one day to discover the full version of the Angkor complex. And get ready to marvel at the eerie stone heads and evocative bas-reliefs of the Bayon temple and the Terraces of the Elephants and Leper King or find the tree-covered ruins of Ta Prohm, used as the set for the movie Tomb Raider. Remember to take a ride by tuk-tuk or your private vehicle before dawn to see the unforgettable sun rising over Angkor Wat before spending a couple of hours exploring the famous temple.
Suggested places to visit: Bayon, Royal Palace, Terrace of the Leper King, Baphuon, The temples of King Jayavarman VII, Ta Prohm Temple, Angkor Wat
Day 4: Siem Reap – Phnom Penh
Although it sounds a bit more tiring, driving from Siem Reap to the vibrant Phnom Penh is a better choice than flight, as it will help you to get some insights to life in the Cambodian countryside, bypassing through provincial towns, villages and roadside hamlets. Lunch en route will be a good idea to experience the interesting culinary art of Cambodia.
Phnom Penh is both a testament to its French-colonial past and a city reinventing itself, where you can find many historical and cultural places, like the Royal Palace situated on the site of the former citadel and built by King Norodom in 1966, which still serves as the King and Queen's residential quarters; or National Museum of Khmer Art, featuring the world's leading collection of Khmer art and sculptures.
A dinner cruise is worth the experience, too.
Suggested places to visit: The Royal Palace, The Silver Pagoda, National Museum of Khmer Art, Wat Phnom, Russian Market etc.
Day 5: Phnom Penh – Chau Doc – Can Tho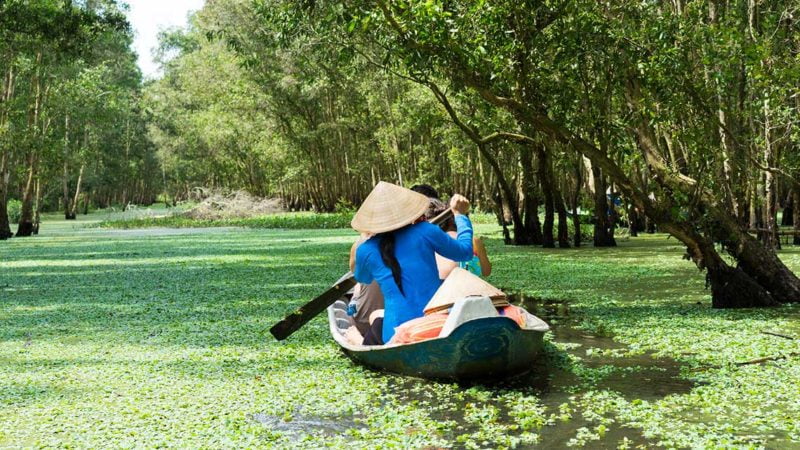 You could spend the morning taking a walking tour to the infamous Killing Fields of Choeung Ek, and the Tuol Sleng Museum before saying to Cambodia to start discovering the charming land Vietnam. Both sites commemorate the atrocities that occurred during the regime of Pol Pot and it could be an emotional experience.
The afternoon speed boat ride will take you downstream to the Mekong Delta through border gate Chau Doc, and from here a bus ride to Can Tho will be the easiest way. You'll be amazed by the fertilized delta and the density of rivers and canals networks.
This itinerary idea will help you get the full experiences along the road, also save time and costs, and not too heavy to follow.
Day 6: Cai Rang Floating Market – Ho Chi Minh City/ Saigon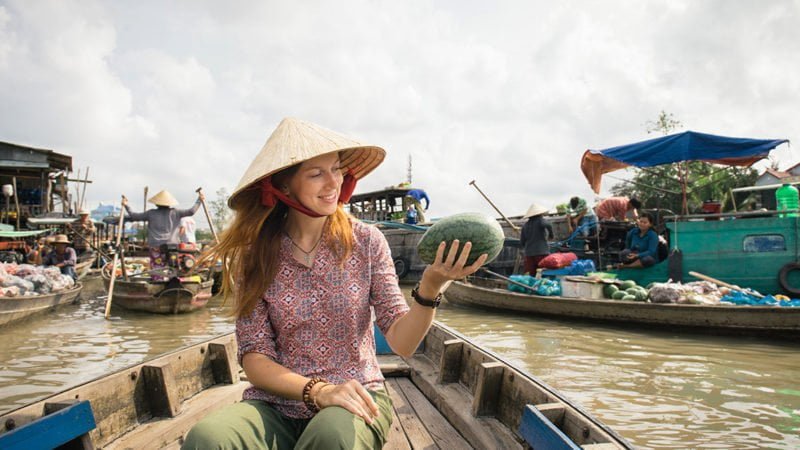 In the morning, it is so interesting to board a sampan boat to the Cai Rang floating market, the biggest floating wholesale market of the Mekong region. The Mekong Delta is a series of tributaries leading from the powerful Mekong River out to the sea. An abundance of water powers this region, often referred to as rice bowl of Vietnam. Let your sampan boat pull up next to the merchants' boats, as it gives you the opportunity to interact, talk and bargain. If the water level cooperates, you will also be able to take a short walk to Ba Bo Bridge.
Don't ever refuse a local breakfast at the Cai Rang Floating Market, or you'll regret!
You may arrive at Ho Chi Minh City in the mid-afternoon after 4-hour drive and lunch stop, but it is still sufficient time for a short sightseeing tour in this cosmopolitan city. Stroll along the former Rue Catinat, now the busy Dong Khoi Street, for a taste of local life and see the Notre Dame Cathedral. The War Remnants Museum and Reunification Palace both deliver very real insight to the Vietnamese-American War.
Suggested places to visit: Jade Emperor Pagoda, Dong Khoi Street and Nguyen Hue Boulevard, The Opera House, Notre Dame Cathedral, The War Remnants Museum, Reunification Palace, etc.
Day 7: HCM City – Cu Chi Tunnels – Cao Dai Temple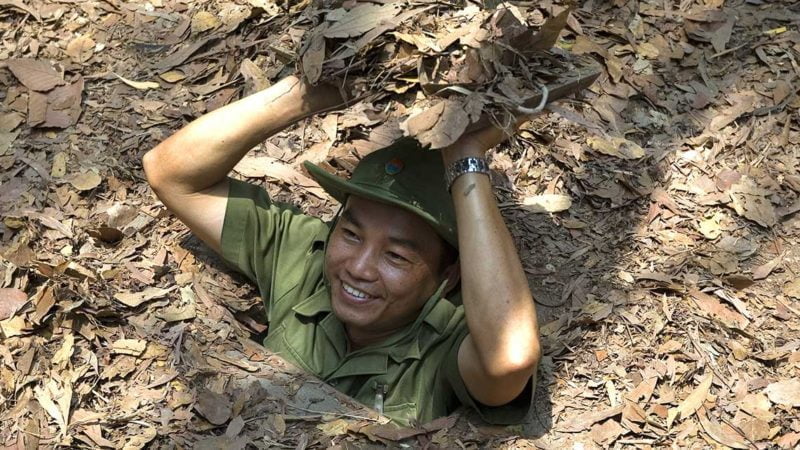 While being in Ho Chi Minh City, don't miss the chance to visit Cu Chi Tunnels, an incredible underground tunnel network constructed by the Vietnamese resistance fighters during the long struggle for independence. This vast network of tunnels played a huge part in the Viet Cong's victory over the Americans, allowing them to control a large rural area surrounding HCM City. The tunnels are a sobering insight into the dedication of the Viet Cong who lived almost entirely underground in the narrow and claustrophobic tunnels, for up to 10 years! Today, some of the remaining tunnels have been opened to tourists, offering a unique insight into what underground life must have been like during the 'American' war.
At the Cu Chi Tunnels, you will watch a brief introductory video, followed by a walk through the reserve. If you are feeling brave, you can crawl inside the Cu Chi Tunnels to experience how difficult life must have been, and discover the 3 underground levels. There will also be a chilling exhibition of the traps and weapons used against the American GIs.
After the visit to the Cu Chi Tunnels, head to the Tay Ninh Holy See, about a 1½ hour drive away, and watch a Cao Dai service. Tay Ninh is home to the unique Cao Dai sect, whose patron saints include Joan of Arc, Victor Hugo and Winston Churchill, to name a few. The religion is an odd mix of Buddhism, Taoism, Confucianism and Christianity.
Another idea for late morning people is to see the Cao Dai Holy See first, then lunch, then Cu Chi Tunnels.
Day 8: HCM City – Flight to Da Nang/ Hoi An
Make up your mind if you wish to have more time for the vibrant Ho Chi Minh City or for the elegant charm of Da Nang and Hoi An, just to decide which flight to catch today.
From Da Nang airport to the famous Hoi An ancient town, you may want to visit the Cham Museum and the Marble Mountains.
And certainly Hoi An, which is full of shops and restaurants, and you know what to do there.
Day 9: Hoi An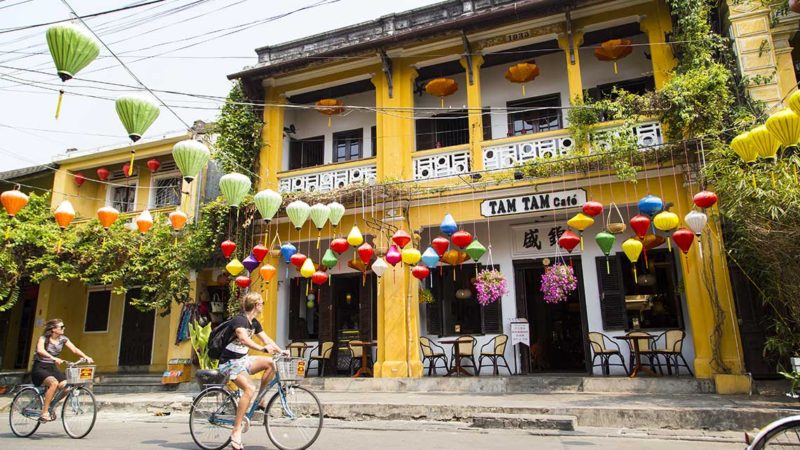 Not only shop and eat! Count on your time and take a chance for a sunset cruise on Hoai River, or Down cycling to Duy Hai Village, or a tour of Tra Que Vegetable Village, or learn to make some ceramic artwork at Thanh Ha Pottery Village, or take a day trip to My Son Holly Land, or to pay a visit to My Lai Massacre village, etc. Well, the list of what to do seems to be enough for a week stay!
But Hoi An is also best for just days of doing nothing.
Day 10: Hoi An –Hue
If you do it right, the journey today is no less interesting than the destination.
All the famous stops are the My Khe Beach, the Hai Van Pass, the Lang Co Beach… But if you can have a full day for this trans-city journey, do a tour of Tam Giang Lagoon, or take a short trek at Bach Ma National Park.
If just the city, then the afternoon should be for the Imperial City, a listed UNESCO site – Hue was the ancient capital of Vietnam from 1802 to 1945, under the reign of the Nguyen dynasty.
If time permits, take your walk through the Dong Ba Market which sells everything Hue people have to sell, then walk to the back of the market where there are dozens of thin rowing boats await, take one of those to cross the Perfume river to make your way to your hotel. You'll love the experience!
Day 11: Hue – Flight to Hanoi
Since there are only 02 flights to Hanoi today and only one in the evening, take your day time to see all the best of Hue. Besides all the monuments and temples, take a chance for a vegetarian lunch in a Buddhism Nunnery
Day 12: Hanoi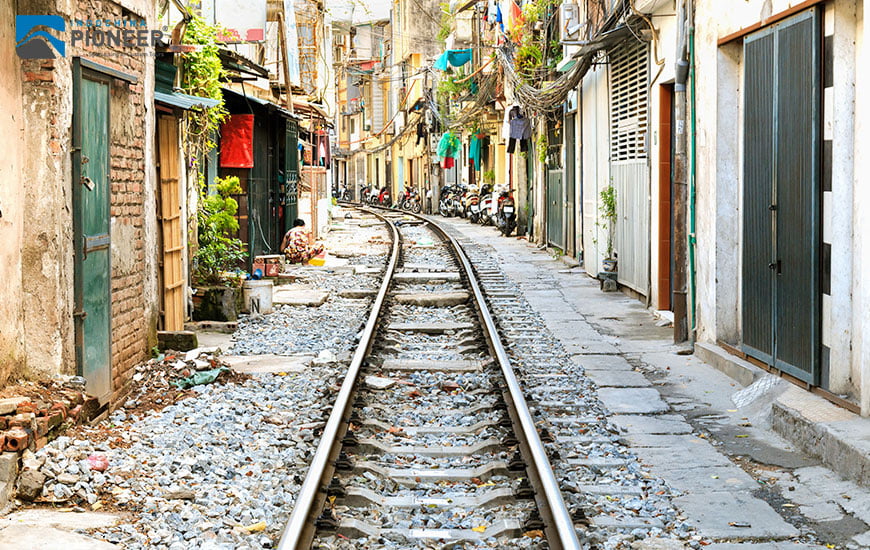 Hanoi has too many things to show off, then pick which is of your most interests. Maybe an early morning walk in Quang Ba Flower market, or a Tai Chi/ Yoga class by Hoan Kiem Lake, or just a normal city tour with main tourist attractions, etc.
Yet perhaps the best part of Hanoi is the street food in the Old Quarter. No matter how short your time is, make sure that you don't miss it.
Suggested places to visit: Ho Chi Minh Mausoleum & the Presidential Palace, One Pillar Pagoda, Tran Quoc Pagoda, Huu Tiep Lake and the Downed B-52, Museum of Ethnology, Temple of Literature, Hoa Lo Prison (so-called Hanoi Hilton), etc.
Day 13: Hanoi – Halong Bay – On board a junk boat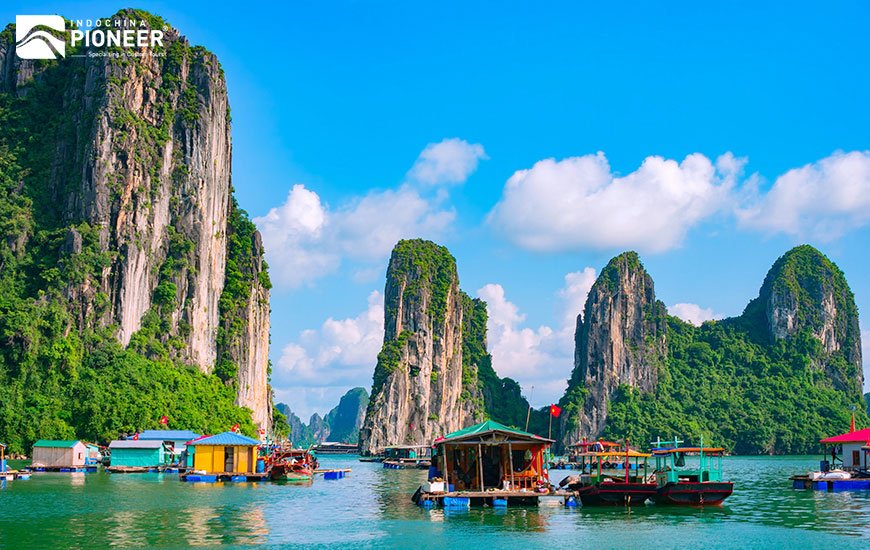 Choosing the right cruise for your stay in Halong Bay may be a headache as so many cruises are inviting! There are two main routes for Ha Long Bay and Bai Tu Long Bay, plus the budget for each boat, the itineraries and services provided can make it hard to make a choice. However once you made up your mind for a particular cruise, just enjoy your ride. Anyway, you are in one of the most beautiful parts of the world, why not give yourselves a treat?
Day 14: Halong Bay – Hanoi
The journey back to Hanoi may be boring so work with your tour guide and make some random stops en route. Who knows a sudden walk into a roadside village, or an accidental run into a church may bring you.
So Hanoi for your last day! Don't let time slip up; take your time to walk around, enjoy a Bia Hoi, do some more shopping, or explore the Hanoi nightlife.
Day 15: Hanoi – Departure
Assuming you perfectly packed? Maybe not yet as you may still want to do some last-minute shopping while waiting for your airport transfer time.
Let Us Help You Plan Your Trip To Southeast Asia.
Don't let the planning stress you out. Tell us your travel ideas and our travel advisors are very glad to give you suggestions and guidance for your trip planning. We can tailor-make your trip according to your interests and requirements, and help to create the best vacation for you.