ICP Picks: Top destinations for Christmas and New Year trip in Vietnam

So we have been running to the holiday season of the year. This is the time of all sweetest plans, some people will start balancing the frenzy of shopping, company parties, and family time while the others will find affordable rates, seasonal revelry, and beautiful landscapes to cap off another great year. If Vietnam is your choice this year, we have a very useful list of suggested destinations which are perfect for this festive period. Let's roll!
Vietnam is such a good choice for holidaymakers with the affordable price level, rich culture, exotic foods, the lush mountain landscape, and sweeping white sands. This country can satisfy all kinds of celebrations you are looking for Christmas and New year event, whether it is party vibes, shop-till-drop spirit or ocean escape. Christmas and New Year Eve is also the most beautiful time for any Vietnam trip with a pleasant, mild climate in every region of the country. You will experience sunny days with a touch of wind in attractive beaches and spectacular sites in the South and the Center while you will enjoy cold weather in the North.
To help you plan your perfect Vietnam holiday, here is a list of the best attractions which will give you the best experience of these biggest events of the year.
Moc Chau plateau

Moc Chau plateau, located about 200 km west of Hanoi is one of Vietnam's most attractive places in December. It is well-known for poetic landscapes with endless grass fields, huge gardens of plum and apricot trees and various flowers, immense tea plantations and large herds of milk cows. During the holiday, there are vast forests of blossoming plum trees, especially around Kia Cave, Paco, and Tan Lap tribal village, where the white plum flowers are so numerous that they are like snow blanketing the valleys. What's more, you can also visit tea farms and learn how to pick tea leaves, dry them and then brew a cup of tea and enjoy it in the cold weather.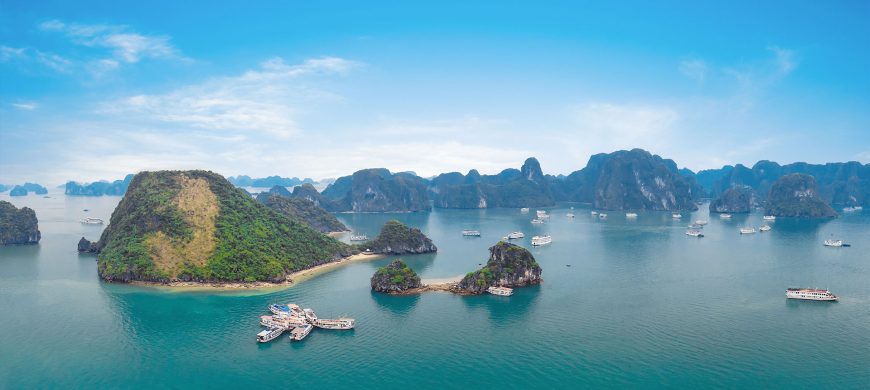 Halong Bay's aqua-green water and a spectacular cluster of limestone truly bring scenes from fantasy stories into real life. Even on a grey day (and they can happen), mist forms a halo around the tip of each of the karsts, giving the whole place an otherworldly feel. This place is beautiful enough to take your breath away, which is really suitable for romantic trips. It is even more exciting to discover the bay during the New Year holiday. One of the most popular ways to discover this famous bay is to cruise around the islands. Just take the overnight trip and enjoy your silent night there, in the sparkle lights, and holiday-themed music filling the air.

Vietnam's largest, most majestic waterfall with 30 meters high and 300 meters wide always can catch some eyes. Although the road leading to Ban Gioc might be a little tricky, it is actually part of the fun, and at the end, you know this place totally worths it. The landscape is breathtaking, especially seeing the river reaches the ledge and pour over sharply. The surrounding rice fields, wooden bridges, and limestone mountains add more flavors to the party, and we can ensure that there's no regret to add Ban Gioc into your Vietnam tour. December comes signing the blooming season of wild sunflowers and buckwheat flowers stretching along the sides.

Lying in the south of Da Nang, Hoi An is truly the magical little town and a perfect candidate for what the Vietnam tourism industry is aiming to show the world. Also recognized as a UNESCO World Heritage Site, the town itself is beautiful to explore, with charming yellow tea houses and lantern-lit alleyways. On full moon days, it gets extra special as the whole city will be full of lanterns. There are plenty of historical spots to explore in Hoi An, but that's not all. Tra Que Organic Vegetable Garden where you can try your hand at farming and fishing and An Bang/Cua Dai beach is within minutes reach as well, providing plenty of opportunities for you to explore, and take a few Instagram-perfect shots. On the outskirts of the city are specialty villages you can reach by cycling such as Thanh Ha Pottery Village, Tra Nhieu Fishing Village, and Duy Vinh Sleeping Mat Village, etc. And this setting will be even more bustling if you visit Hoi An on the Christmas or New Year occasions. On Christmas and New Year night, almost all visitors pour out the road to enjoy a view, ramble and join in the jubilant, animated crowd. Spending Christmas in such a gentle and peaceful place is an experience you will forever remember.

Think luxury beach break in the Maldives with a much more reasonable budget. Think Phu Quoc! Voted The Cleanest and Most Beautiful Beach In The World' by ABC News in February 2008, with such acclaim, thrust upon its shores, it's no wonder that Phu Quoc is steadily rising on many travelers' must-visit lists. Apart from its beaches, Phu Quoc offers night squid fishing tours, which give you an opportunity to catch your own song for dinner! Don't worry if you don't manage to catch anything though – the crew will prepare squid congee for you. Regular snorkeling and fishing tours are available as well. For travelers not into fishing, Phu Quoc has waterfalls nearby Duong Dong Town, fishing villages open for visiting,  as well as night markets to get your grub on.
Let Us Help You Plan Your Vietnam Trip.
Don't let the planning stress you out. Tell us your travel ideas and our travel advisors are very glad to give you suggestions and guidance for your trip planning. We can tailor-make your trip according to your interests and requirements, and help to create the best Vietnam vacation for you.