Guide To A Perfect Honeymoon In Laos

After months of wedding planning and a post-wedding hangover, there's a breathtakingly tranquil area in Southeast Asia where you can relax for your honeymoon. If you and your spouse want to mix in some exploring with your relaxing time, this country has it all. That is Laos's magic!
Spending your honeymoon in Laos could be the best decision you've ever made. Our team of experts can provide you with the guidance you need to turn this occasion into a truly unforgettable honeymoon experience.
Why Laos Makes A Perfect Destination For Honeymoon?
Laos is famous for its stunning forests and lush rice terraces, as well as its laid-back lifestyle. It's the perfect destination for a peaceful or exciting honeymoon getaway. Laos has a rich history and was previously part of French Indochina, Cambodia, and Vietnam. The Mekong River runs through the country, dividing East and Southeast Asia.
Laos offers a unique experience in every region, from north to south. The northern region holds the essence of Laos culture, featuring iconic cultural sites, while the southern area boasts breathtaking landscapes, ideal for unwinding and appreciating nature.
You will get the whole idea of this statement as we will go into detail on destinations to explore with your husband/wife in Laos in the next section.
>>Read More: Best Time To Visit Laos
Destinations In Laos To Explore With Your Spouse
1. Discover the fairy tale kingdom of Luang Prabang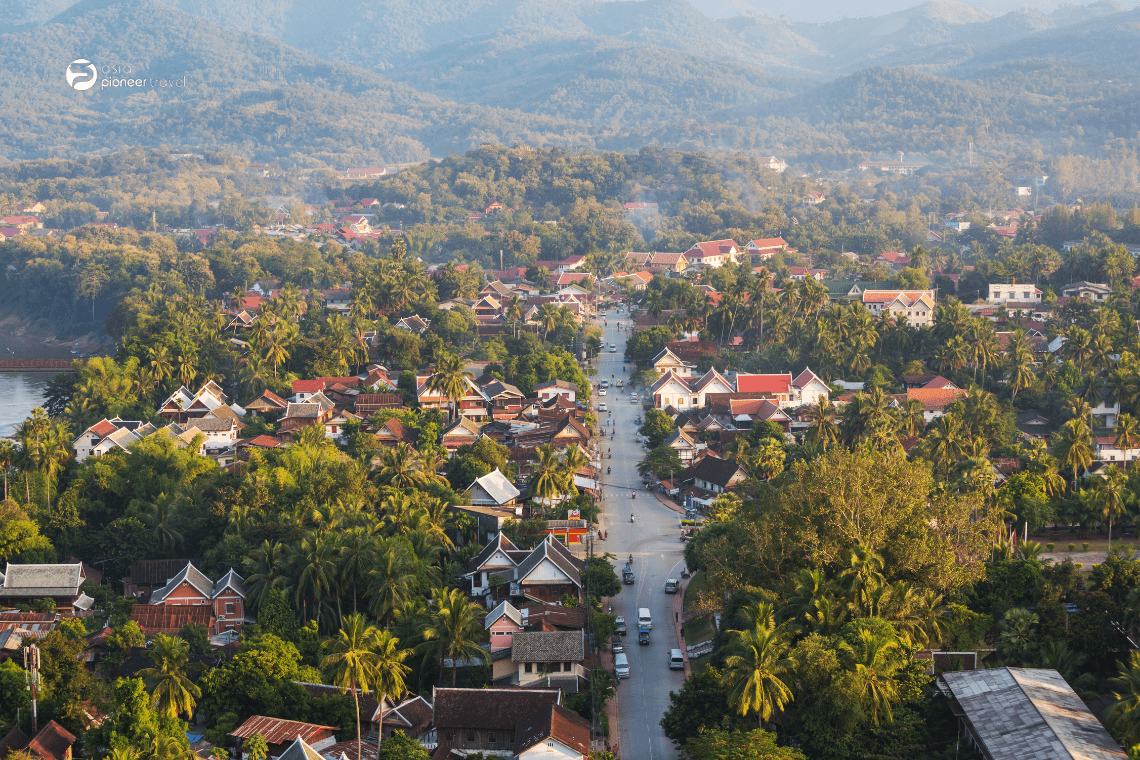 Nestled at the confluence of the Nam Khan and Mekong rivers, Luang Prabang boasts a captivating and tranquil atmosphere that radiates an ageless sophistication. As the former royal capital of Laos and a UNESCO World Heritage site, this town seamlessly blends the past and present, the urban and rural, making it a cherished destination for travelers seeking authentic cultural experiences and breathtaking natural scenery.
To fully immerse yourself in the local culture, you should wake up early and observe the saffron-clad monks silently collecting alms from devout worshippers along the streets. Additionally, one cannot miss the morning market, where the alluring aroma of breakfast delicacies being whipped up for busy commuters permeates the air.
2. Enjoy a lovely picnic breakfast at Kuang Si Falls
When in Luang Prabang, you simply cannot miss the awe-inspiring Kuang Si Falls. Picturesque and surrounded by lush greenery, this waterfall is a sight to behold. Cascading over white limestone tiers and into shallow pools across three levels, the azure water is simply inviting and perfect for a refreshing swim.
Although a popular tourist spot, arriving here early will allow you to enjoy the falls peacefully. For a truly romantic experience, why not indulge in a gourmet picnic breakfast while immersing yourself in the sounds of the forest and waterfall? This is an experience you will never forget.
3. Tune out the city sounds at Muang La
Muang La is an idyllic town nestled beside the Nam Pak River, enveloped by majestic mountains, serene forests, and peaceful farmland punctuated by Khmu villages. The only sounds permeating the air are those of nature, creating the perfect haven for anyone seeking to unwind and escape from the hustle and bustle of daily life. With its renowned natural hot springs, Muang La is the ultimate destination for couples seeking a relaxing soak.
The town's simplicity is its charm; there may not be much to do, but that's what makes it so alluring. Visitors can take leisurely strolls through the rice fields, explore unchanged rural villages, relish in forest picnics, and bask in the restorative hot springs for as long as they desire.
4. Cosy up in the Nam Et Nests
If you and your partner are looking for an extraordinary experience, Nam Et Nests offer a unique opportunity to create unforgettable memories while enjoying seclusion and tranquility. These bamboo eco-pods are located in the jungle of northern Laos, providing an immersive nature experience.
You can embark on a 2-day or 3-day trek to explore the pristine and fragile natural landscape of the Nam Et-Phou Louey protected area, spot wildlife, interact with local villagers, and learn about the region's medicinal plants. As the sun sets, you'll arrive at the campsite and climb up to your private idyll, floating above the forest floor. After a long day of trekking, the nests are the perfect place to snuggle up and fall asleep to the sounds of the forest.
5. Take in the view of Vang Vieng from above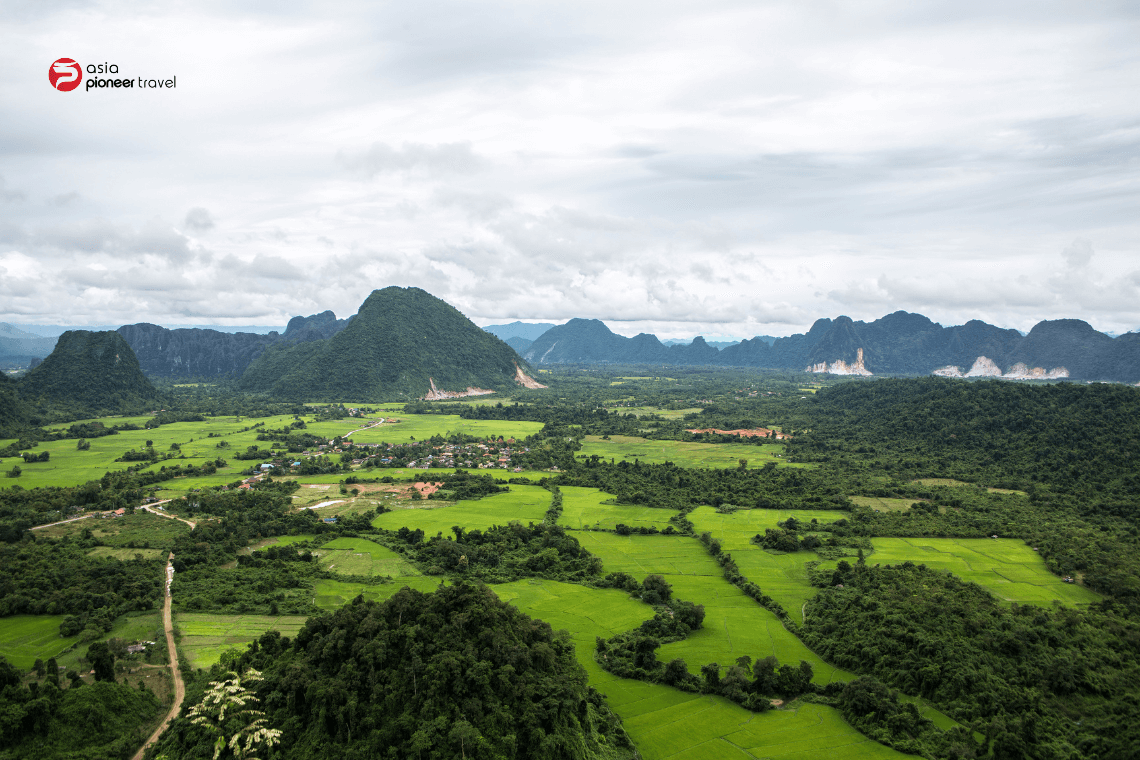 Vang Vieng boasts a stunning town setting along the Nam Song River, encircled by serene cliffs and verdant rice fields. The towering karst mountains in the valley present an awe-inspiring spectacle for visitors to behold. Delving into the mysterious caves, plunging into turquoise lagoons, and scaling sheer cliffs are just some exhilarating activities awaiting you.
For an even more breathtaking experience, a hot air balloon ride over the Song River at sunset is an absolute must-try during your Laos honeymoon. From the balloon, you'll take in a spectacular aerial view of Vang Vieng's beautiful countryside, with the sun's golden rays enveloping the town and casting a warm glow over the rice paddies, colorful tin roofs, and majestic mountain peaks.
6. Admire the quaint town of Champassak
Located on the west bank of the Mekong River, approximately 40 km south of Pakse, Champassak is a charming small town in southern Laos. Its rich history as a former royal seat is evident in the beautiful architecture of the town center, which showcases elegantly decaying relics of French colonial buildings and ancient treasures.
Imagine waking up with your husband/wife to the panoramic views of the Mekong sunrise or emerald paddy fields alight with the glow of morning. You can travel around the village to see historical ruins, river islands, and majestic waterfalls, or even journey by elephant into the surrounding hills.
7. Explore the Mekong and Nam Ou rivers
Embarking on a peaceful cruise down the Mekong or Nam Ou rivers in Laos is an excellent way to immerse yourself in the natural surroundings and spend quality time with your loved one. Start your journey from Pakse on a charming colonial-style riverboat and head towards the captivating Khmer-era ruins of Vat Phou. Take in the scenic views from the Champasak province foothills before making your way down to the serene '4,000 Islands' region of Si Phan Don.
For a more laid-back experience, opt for a relaxing boat ride from Luang Prabang to Ban Lan Commune for a homemade lunch and a gentle kayak ride downstream. Alternatively, bask in the tranquility of the Nam Ou River and its breathtaking karst mountains while admiring the thousands of butterflies fluttering in the air at Nong Khiaw.
8. Go Irrawaddy Dolphin spotting at the 4000 Islands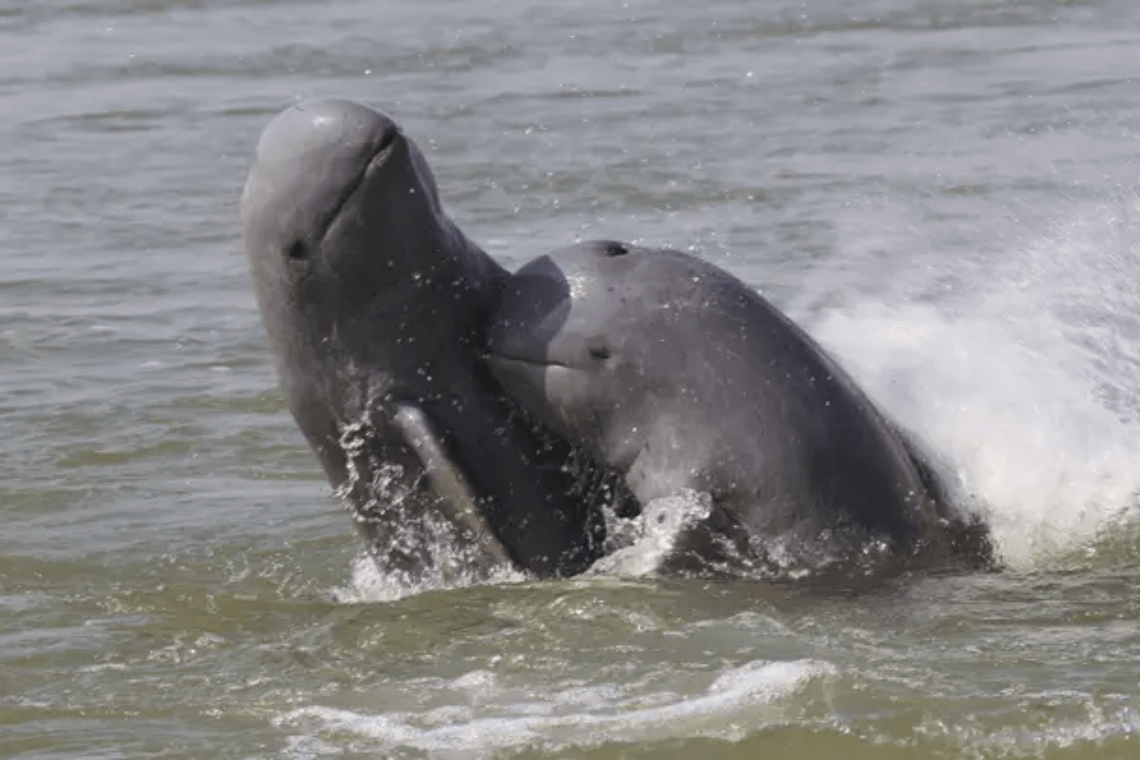 (Source: Collected)
Si Phan Don, also known as The Four Thousand Islands, is an idyllic and charming destination located near the Laos-Cambodia border. It comprises a series of small islands scattered throughout the vast Mekong Delta, most of which are uninhabited and too small for roads. The area has recently been electrified, providing visitors with modern amenities. 
While there, you can engage in a thrilling kayaking excursion to catch a glimpse of the renowned Irrawaddy Dolphins, cycle across the islets, explore timeless fishing villages, visit remote Buddhist temples, and share a meal with welcoming locals. At the end of each day, you can relax on a hammock, sip a cold BeerLao, and watch the sun set below the horizon. The area doesn't offer much to do, but that's the beauty of it – an unhurried, tranquil escape.
The Best Resorts For Your Honeymoon In Laos
More than just touring, your honeymoon in Laos will be completed with a romantic stay at the best properties in Laos. Although yet less developed, Laos still provides enough luxury experience for any couple as the perfect treat.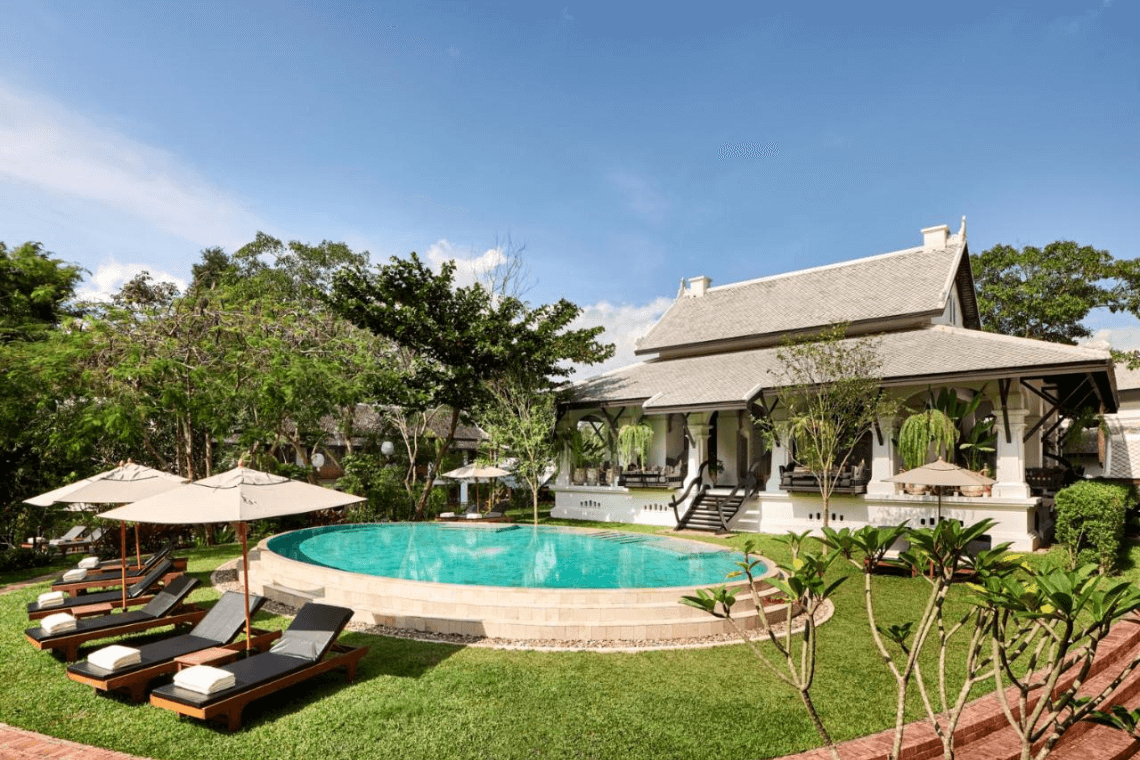 (Source: Rosewood Luang Prabang)
A river emerging from a rushing waterfall passes through the center of this exotic retreat, hidden in the lush landscape surrounding the old royal village of Luang Prabang. The resort's interiors reflect the influences of old temples and take their lead from the French-Lao architecture for which the town is famous, while lavish tented villas honor the spirit of exploration.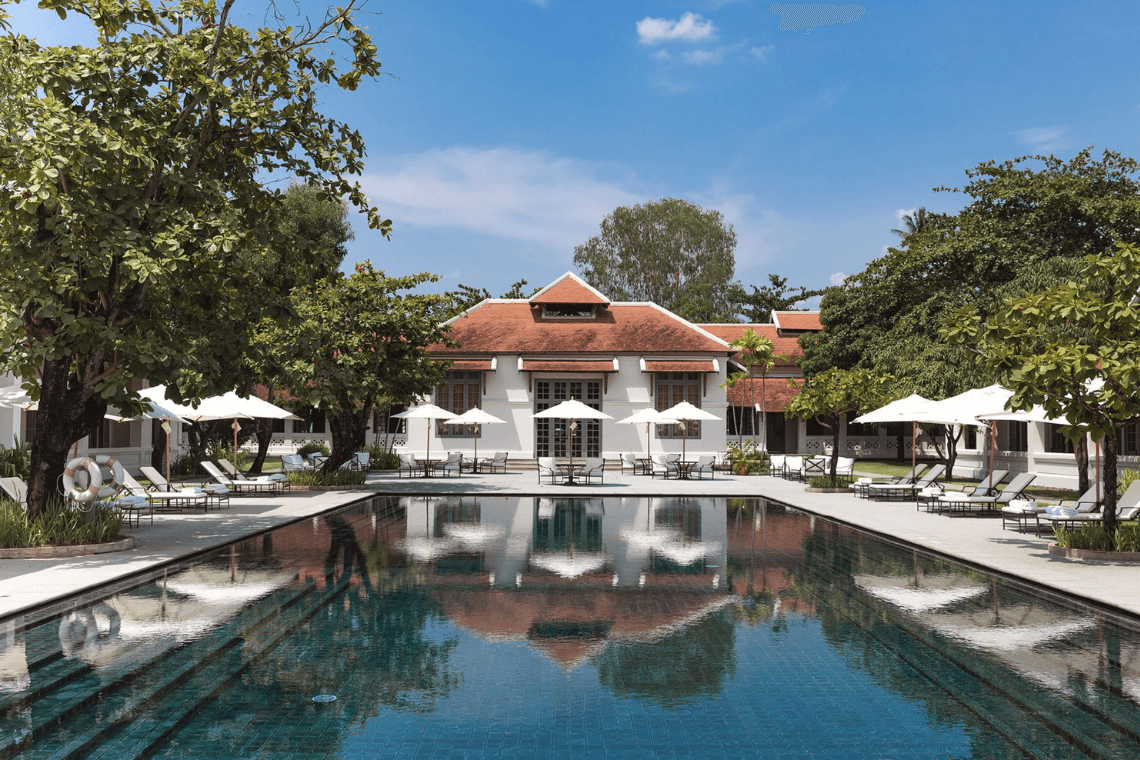 (Source: Amantaka)
Amantaka is situated at the base of the revered Mount Phousi, amidst the golden-spired wats and small pathways of this lovely Unesco World Heritage Site. It is perfectly attuned to the seductively languid pace of Luang Prabang. The resort has a glittering pool and tranquil Aman Spa, only a short stroll from the banks of the powerful Mekong.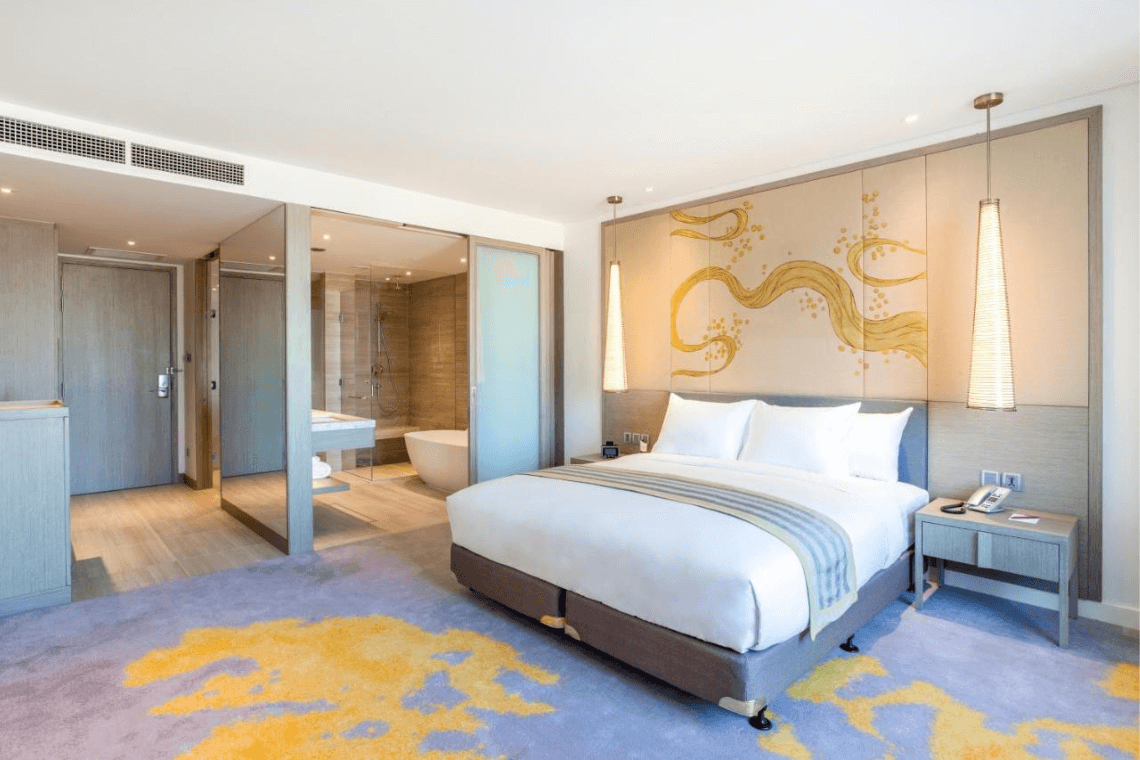 (Source: Crowne Plaza Vientiane)
Located in the heart of the city and only 15 minutes from Wattay International Airport is Crowne Plaza Vientiane. This luxurious hotel has 198 beautifully designed rooms and suites that blend ancient Lao architecture with contemporary comforts to provide a peaceful stay. It is one of the best hotels ranked by couples, so you are guaranteed a pleasant stay!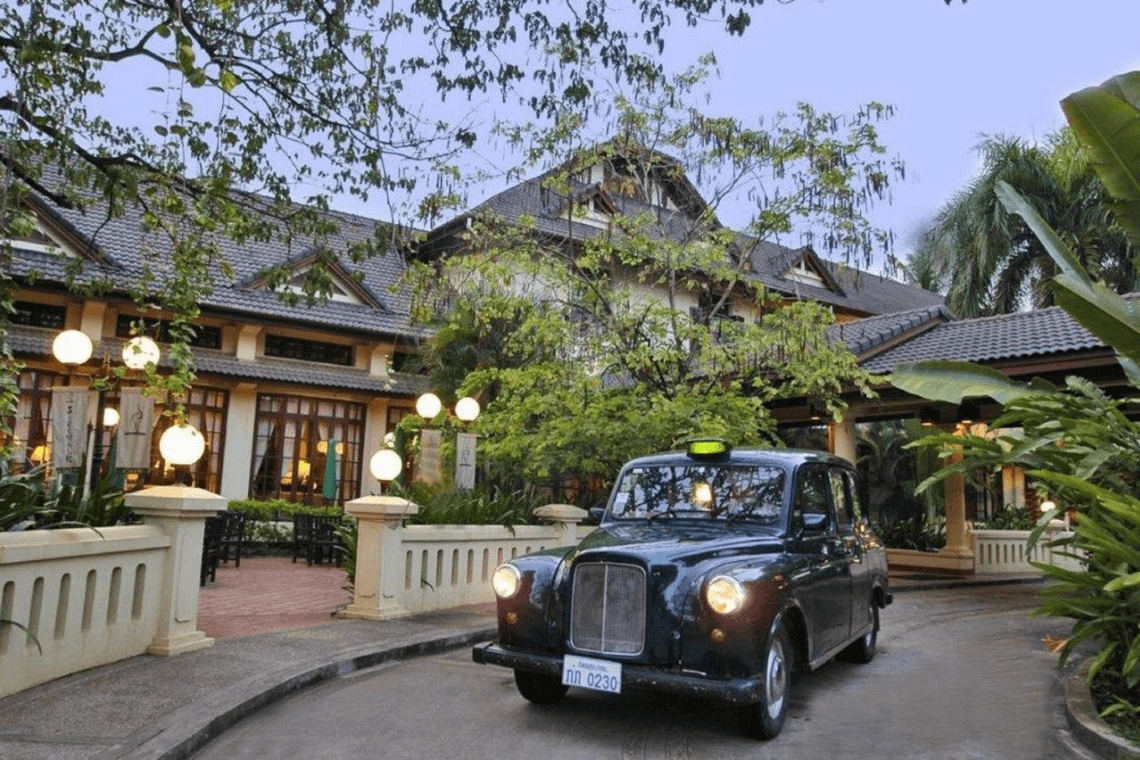 (Source: Settha Palace Hotel)
The Settha Palace Hotel has maintained its charm throughout the years and is undoubtedly the name on this list with the longest history. This hotel, which was constructed in 1932 at the turn of the century with a nod to French architecture and colonial design, includes 29 well-furnished rooms and suites. The hotel itself is a historical landmark. You get the impression that you are traveling back in time because of the sophisticated, fashionable decor, which combines classical, informal, and elegant elements.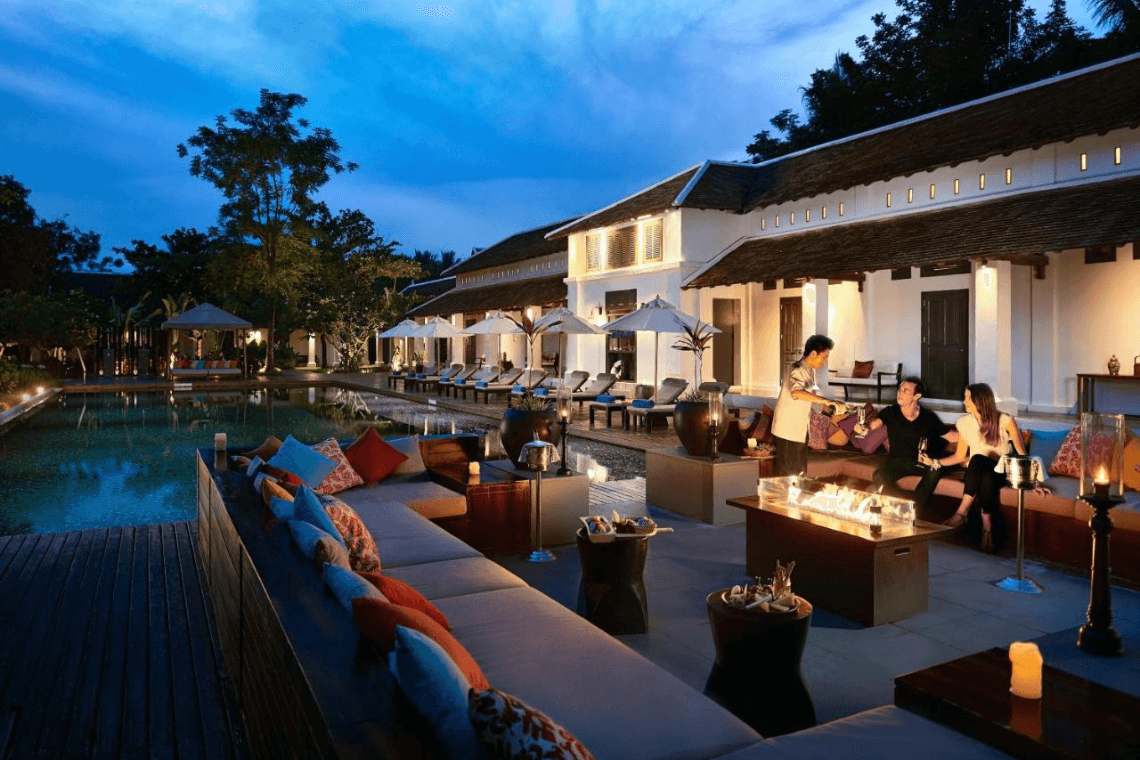 (Source: Sofitel Luang Prabang)
The Sofitel Luang Prabang is a beautiful hotel located within a short drive from the international airport. The hotel's impeccably appointed rooms and villas accommodate business and leisure guests, providing the distinctive Sofitel blend of elegance, comfort, and convenience. Its guests may expect to enjoy the best of both worlds: contemporary amenities and breathtaking architecture and design inspired by Lao artists throughout history.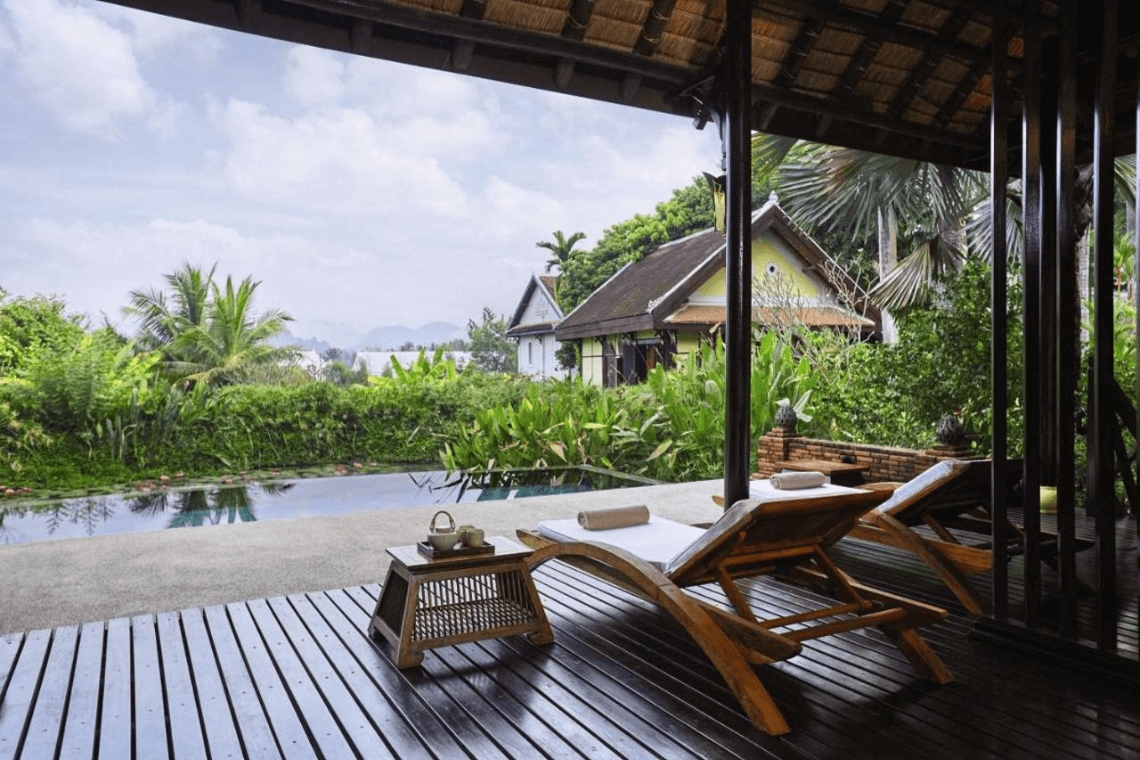 (Source: La Residence Phou Vao)
La Residence Phou Vao's unique location in this UNESCO Heritage zone provides terrific mountain views. The vast cloud forest gives way to beautifully sculpted fields. Indulge in the Mekong Spa or recharge in the freshwater infinity pool perched on a rock. Every minute in this place is a treasure to be cherished since it is still, serene, and exquisite.
Planning For Your Honeymoon In Laos
Depending on how many days you plan for your honeymoon, you may cover just Luang Prabang, which is the best destination for honeymooners in Laos, or go further to other areas or to the south of the country. 
At Asia Pioneer Travel, we have tailored a tour for newlywed couples; you can check it out – Laos Honeymoon Vacation.
Our itinerary for this tour has been crafted with utmost care to provide you and your spouse with a delightful and indulgent experience. Every detail has been meticulously planned, from your accommodations to the restaurants and couple activities in Luang Prabang. Our Laos Honeymoon Vacation is ideal for couples who want to explore the country but have limited time for their honeymoon, with the package lasting for just one week.
Another suggestion for your honeymoon is the Laos Luxury Adventure tour. This tour is perfect if you have a week to spare and want to explore beyond the beautiful landscape of Luang Prabang. It is an ideal opportunity for you to fully experience Laos if you have more time on your hands. The tour takes you from Vientiane to Muang La, and then to Luang Prabang, where you can witness all the finest sights of Laos while enjoying the top-notch services that you deserve.
*Tip: We suggest picking out 2-3 tour packages from our website that you are interested in and then contacting our travel experts. They will listen to your requirements and preferences to tailor the selected itinerary so that you have a unique customized trip just for you and your spouse. 
Book your upcoming trips with Asia Pioneer Travel – The Best Travel Agency in Vietnam!
Asia Pioneer Travel has over 14 years of experience in the tourism industry and has established itself as a premier, reputable, tailor-made travel agency in Vietnam and Asia. We constantly pay close attention to and comprehend the demands and preferences of our customers, enabling the creation of excellent holidays. After taking our bespoke tours, many customers have told their friends and family about them. Because our customers deserve it, we consistently strive to assure them of complete satisfaction.