[Where to stay] 15 Best Hotels In Hanoi

With design styles ranging from colonial French grandeur to towering new skyscrapers, Hanoi has something for every type of traveler. Stay in the Old Quarter to be within walking distance of old-school shops and restaurants, as well as the Opera House and National Historical Museum. Or you may opt for the expat-heavy West Lake, with its new wine shops and cocktail bars.
Wherever you choose to stay, the city center is never far away. Here are the 15 best hotels in Hanoi, ranging from colonial-style boutiques to modern luxury hotels.
Best-rated 5-star hotels 
Sofitel Legend Metropole Hanoi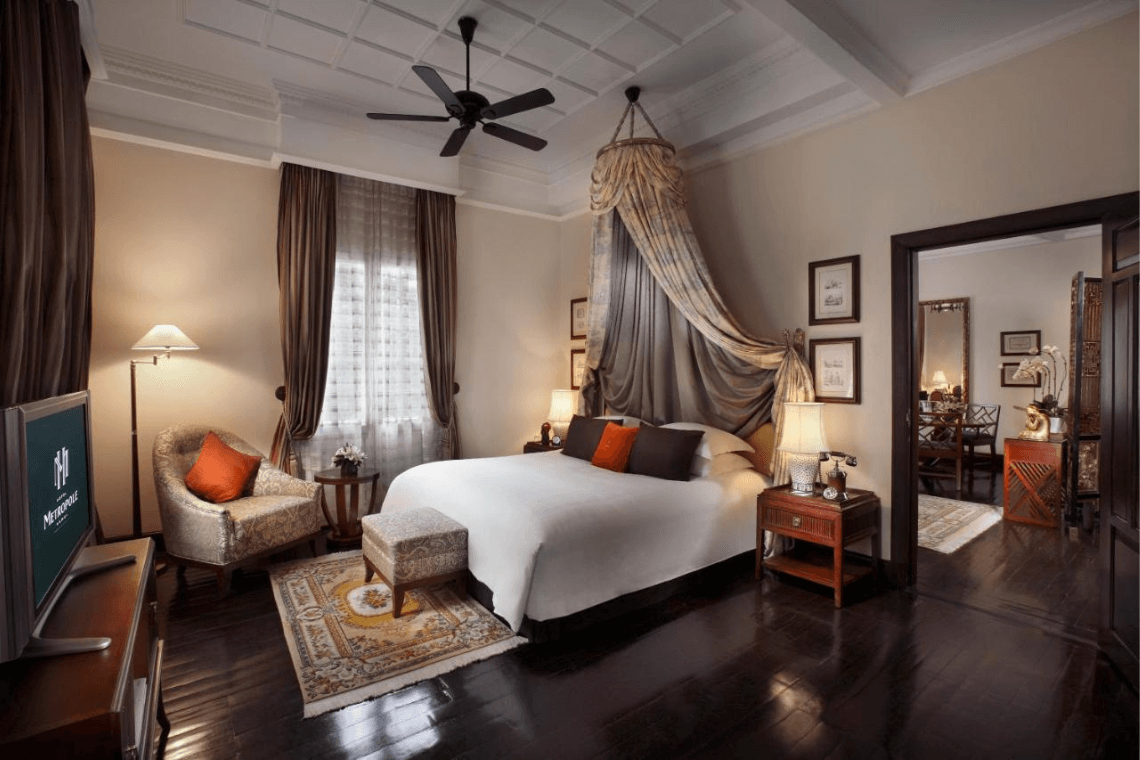 Sofitel Legend Metropole Hanoi, located at 15 Ngo Quyen, has operated since 1901. The hotel has incorporated a century's worth of stories to create a nostalgic and enriching experience for its guests in the heart of Vietnam's capital city.
You can opt for the original Metropole building's stunning rooms or the more contemporary accommodations in the Opera Wing, both of which are equally luxurious. The hotel offers an excellent array of dining options, a sophisticated spa, and an in-house historical tour, ensuring that there is plenty to keep you occupied during your stay.
Hotel de l'Opera Hanoi – MGallery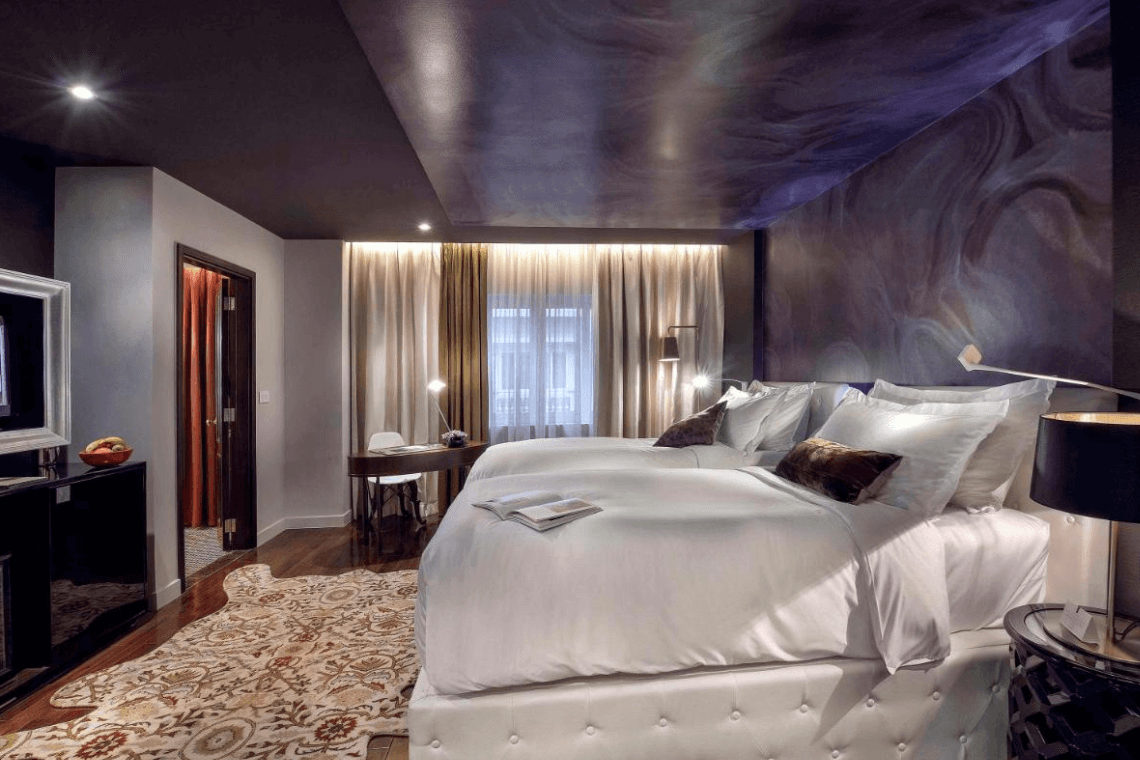 It's no surprise that the Hotel de l'Opera Hanoi features on this list. Enjoy the operatic glamor of "A Night at the Opera" at this 5-star boutique hotel right in the heart of Hanoi. The hotel represents the finest of Hanoi with excellent elements of French colonial architecture and operatic decor. It was named the best Boutique Hotel in Asia in 2015 by SmartTravelAsia readers.
Each MGallery boutique hotel shares a different story, encouraging visitors to immerse themselves in tales of adventure, romance, history, culture, nature, and more for the entire delightful stay.
Lotte Hotel Hanoi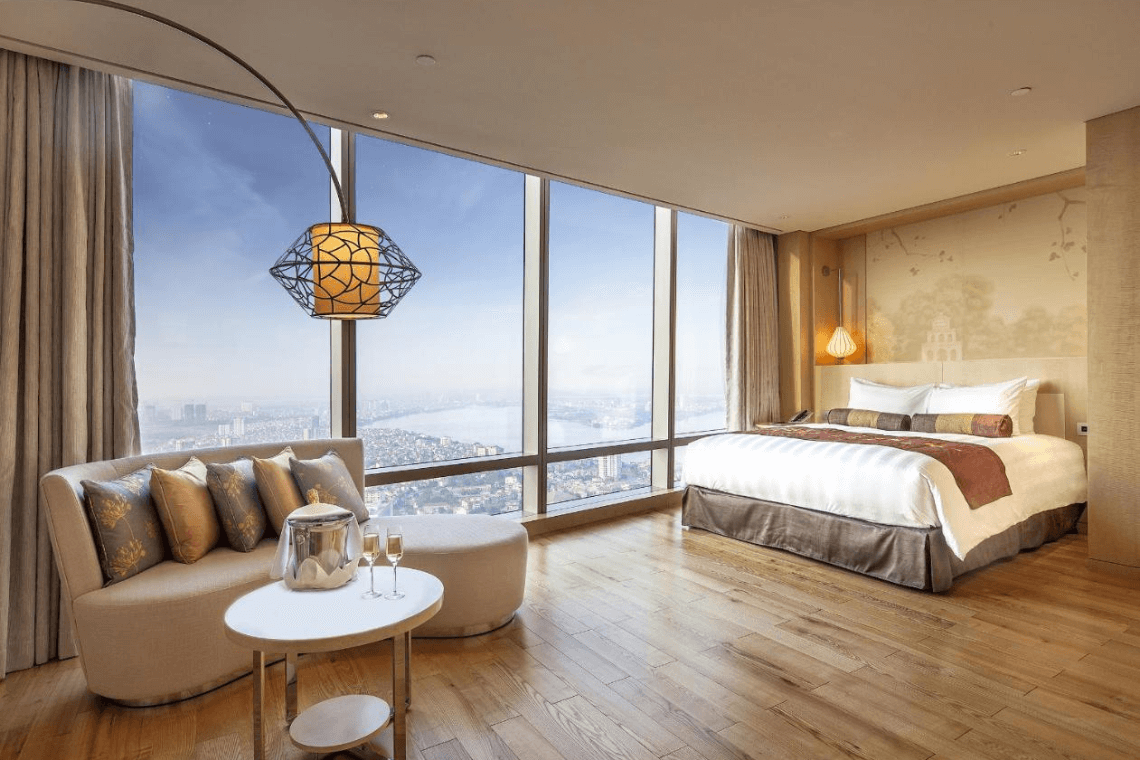 The Lotte Hotel Hanoi is ideally situated between Hanoi's Old Quarter and the New Business District. Located on the 65th level of the Lotte Center, the hotel represents a new standard for worldwide 5-star hotels.
There are 235 regular rooms and 83 suites, all providing a panoramic view over Hanoi. You may enjoy our fine-dining choices, in which restaurants and bars combine the finest of local culture and cuisine with delicacies from across the world, as well as an outstanding fitness center, large yoga room, indoor golf range, and sauna.
JW Marriott Hotel Hanoi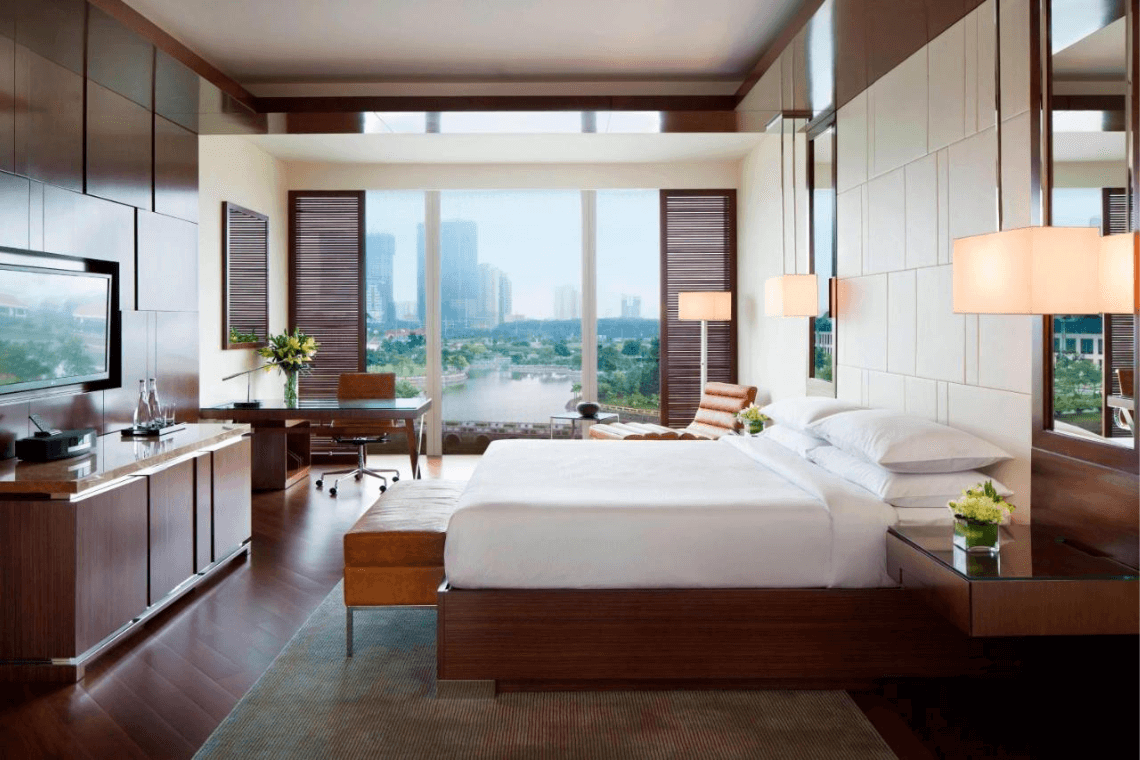 The JW Marriott Hotel Hanoi is located in the center of the city's new Central Business District, near the Vietnam National Convention Center. This luxurious hotel offers a modern design and top-notch services, catering to the needs of today's travelers.
Guests can enjoy a variety of amenities, including spa services, a large pool, and a 24-hour fitness facility. The hotel also boasts renowned restaurants and a lounge with live jazz performances.
InterContinental Hanoi Landmark 72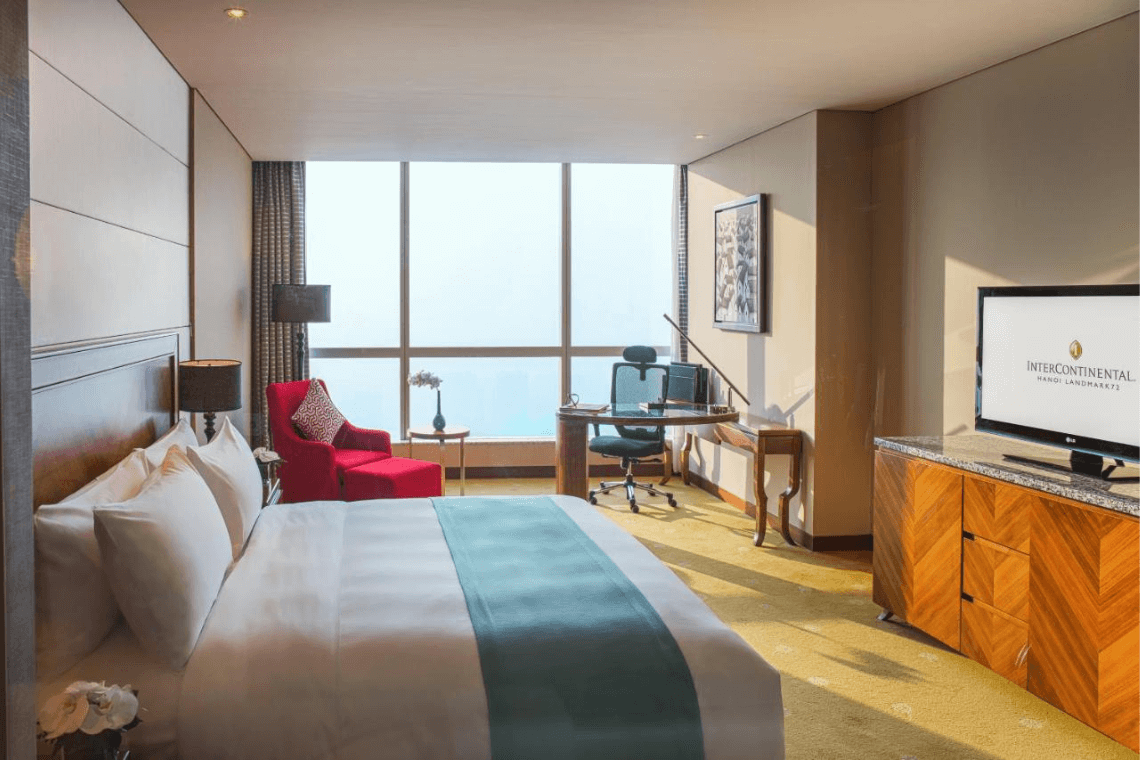 The InterContinental Hanoi Landmark72 is Hanoi's highest hotel, perched atop the renowned Landmark72 Tower. This Hanoi hotel in Vietnam provides a genuine feeling of glamour and travel inspiration. The hotel has 359 guest rooms and suites in Hanoi, 5 dining venues with dynamic cuisines and panoramic views, one of Hanoi's most expansive event spaces, and the largest Club InterContinental Lounge in South East Asia.
A thoughtful combination of luxury and personalization in accommodation, dining, and business services, complemented by panoramic views of the city from above – all at the InterContinental Landmark 72!
Peridot Grand Luxury Boutique Hotel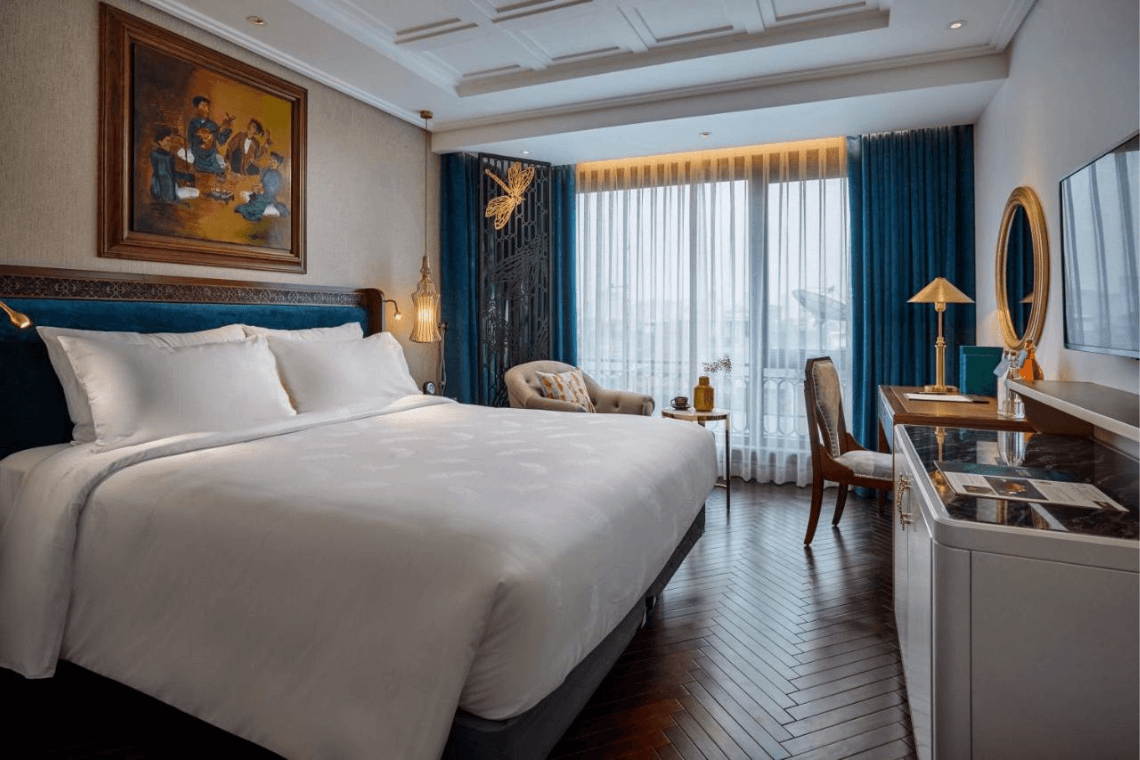 The 5-star Peridot Grand Luxury Boutique Hotel stands out as an artistic and urban-chic venue. By mixing natural elements, as well as combining refined luxury with mesmerizing grandeur and promising services, each room and corner of the hotel is a feast to the eye.
Peridot Grand Luxury Boutique Hotel is recognized for its exceptional services, welcoming atmosphere, and sense of elegance, uniquely combined in a picturesque location and natural surroundings, encouraging visitors to enjoy moments of absolute luxury.
>>Read More: 22 Best Things To Do In Hanoi
Top 4-star hotels
Scent Premium Hotel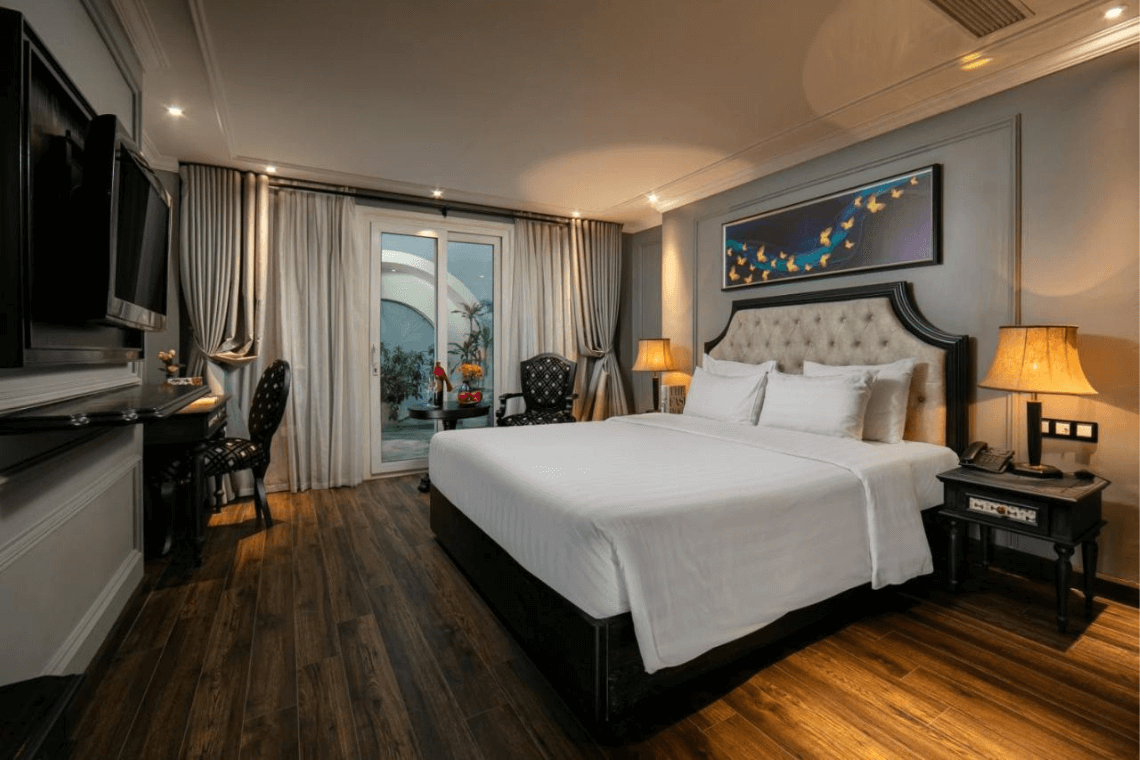 Scent Premium Hotel is a hidden gem in Hanoi's Old Quarter. The location of this modern hotel is great for shopping, entertainment, and business.
With 35 contemporary and beautifully decorated rooms, Scent Premium Hotel provides something for every guest. From its floor-to-ceiling windows with breathtaking views of Ha Noi's expanding city to its pleasant ambiance and luxurious neo-classical decor, this hotel has it all. Aside from the exquisite suites, you can unwind at their fine-dining restaurant and the Scent Sky Bar, one of Hanoi's greatest rooftop bars.
La Siesta Classic Ma May Hotel & Spa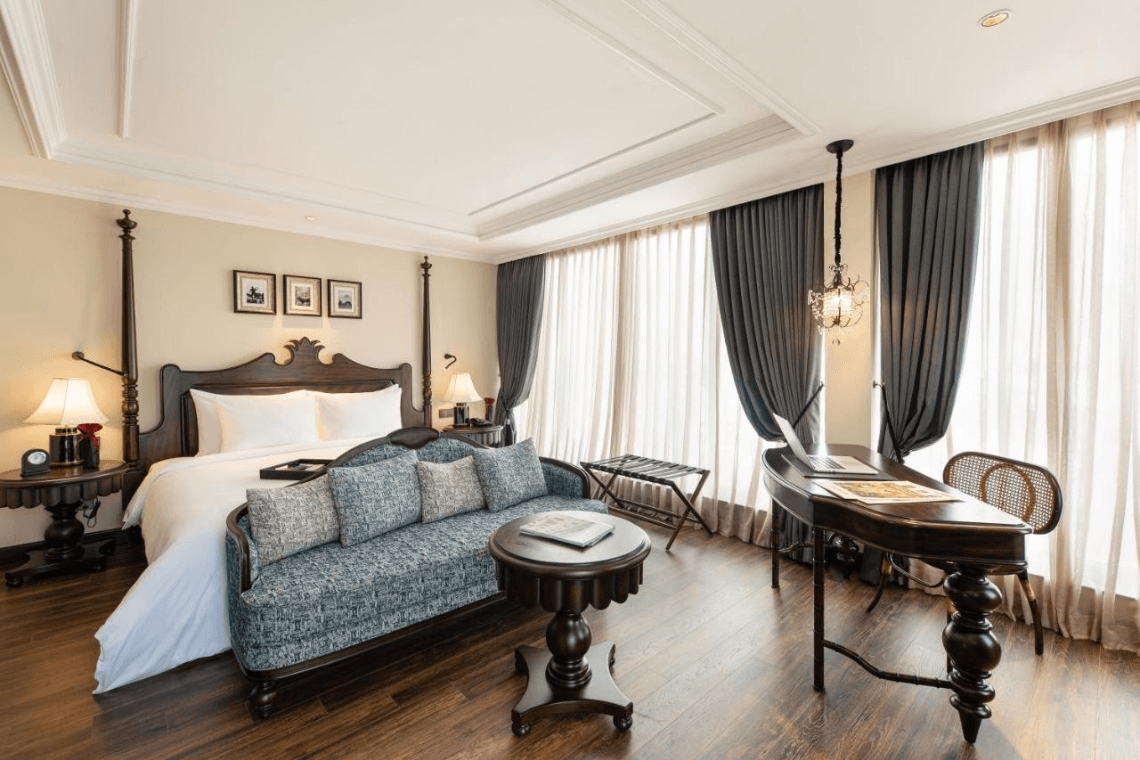 La Siesta Classic Ma May (previously Hanoi La Siesta Hotel & Spa) is Elegance Hospitality Group's first La Siesta Classic hotel. The hotel is located in the center of the Old Quarter, near Hoan Kiem Lake, and offers a wonderfully peaceful respite among the bustling streets. The large white classic facade of La Siesta Classic Ma May takes pride in place at the Hang Bac Street end of Ma May. A warm Asian-inspired home with colonial elements uses neutral tones, tints, and fine period furnishings to create harmony and balance.
The hotel features 75 uniquely designed bedrooms and suites, the Moonlight Sky Bar on the 11th floor, La Spa and gym on the 2nd level, and Red Bean Restaurant on the first floor.
Hanoi Emerald Waters Hotel Valley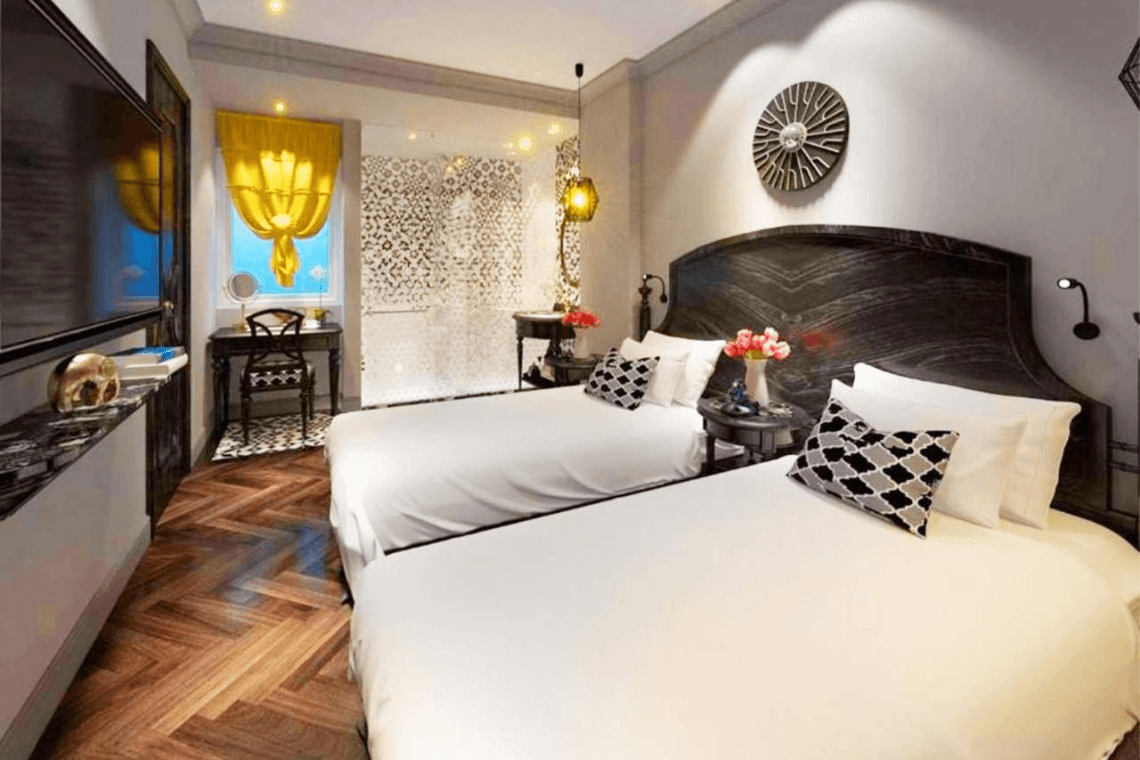 The Hanoi Emerald Waters Hotel Valley is situated in the heart of Hanoi, just 300 meters away from the Thang Long Water Puppet Theatre.
It offers a communal lounge, patio, and bar for guests to enjoy. The rooms are designed in a stylish Indochina style that combines comfort and luxury. The friendly hotel staff is always eager to assist visitors with the best possible experience during their stay.
Soleil Boutique Hotel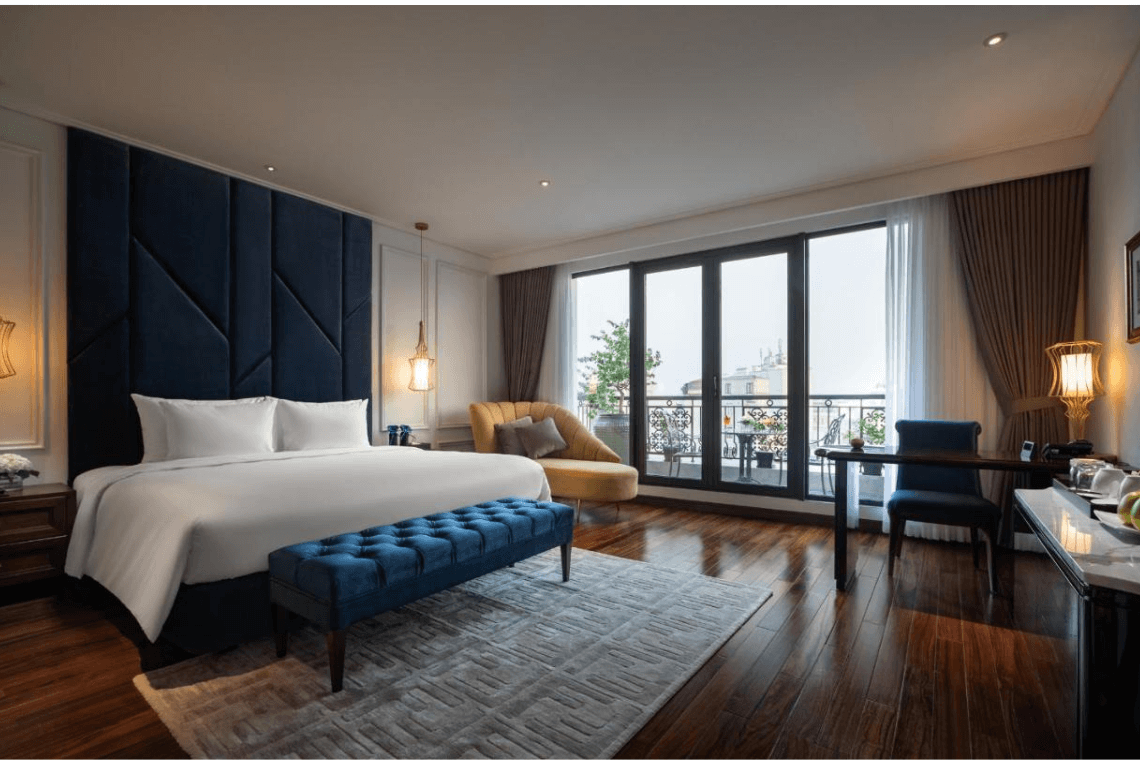 The Soleil Boutique Hotel is located on Hang Bong Street and is part of Hanoi's old quarter complex, making it excellent for visiting and seeing tourist attractions in the center region. Hoan Kiem Lake (Sword Returning Lake) is about 5 minutes away on foot. And a few steps more to the bustling shopping districts.
Soleil Boutique Hotel's design is a one-of-a-kind blend of Vietnamese history with Western refinement. It creates a feeling of comfort in a stunning setting, with professional facilities and services that promise a high-class experience right in the center of the old town.
JM Marvel Hotel & Spa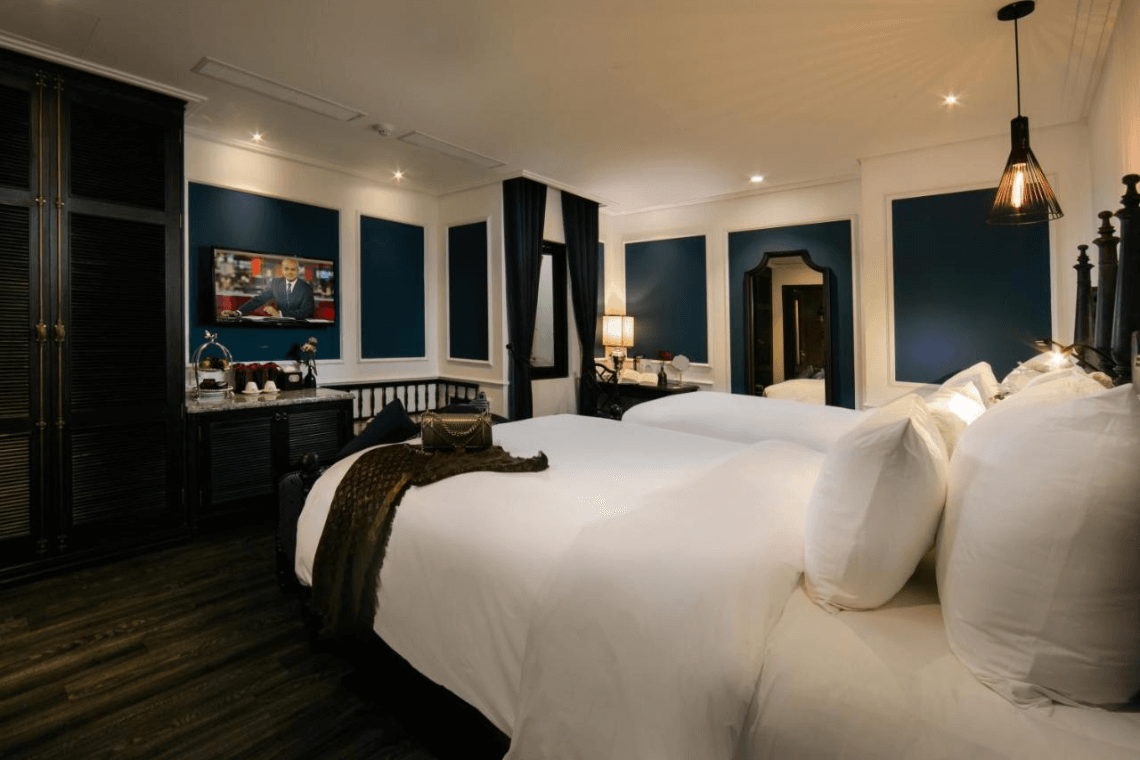 JM Marvel Hotel & Spa sparkles like a diamond in the middle of Hanoi Old Quarter, the most hútle and bustle city, with professional staff and superb services. JM Marvel Hotel, as a heaven of relaxation, will undoubtedly provide you with the finest time of your life.
Timeless but modern, classic yet cutting-edge, the exquisite blend of luxury and comfort elevates JM Marvel Hotel to the top of the list of great four-star hotels.
This new building houses 45 rooms and suites built with traditional and charm, romantic style, and well-equipped facilities. Many rooms with a large window, a city view, or a balcony will provide customers with a relaxing and delightful stay.
>>Read More: Never miss these 5 Hanoi foods while being in the "heart" of Vietnam
Best 3-star hotels
Hanoi Esplendor Hotel & Spa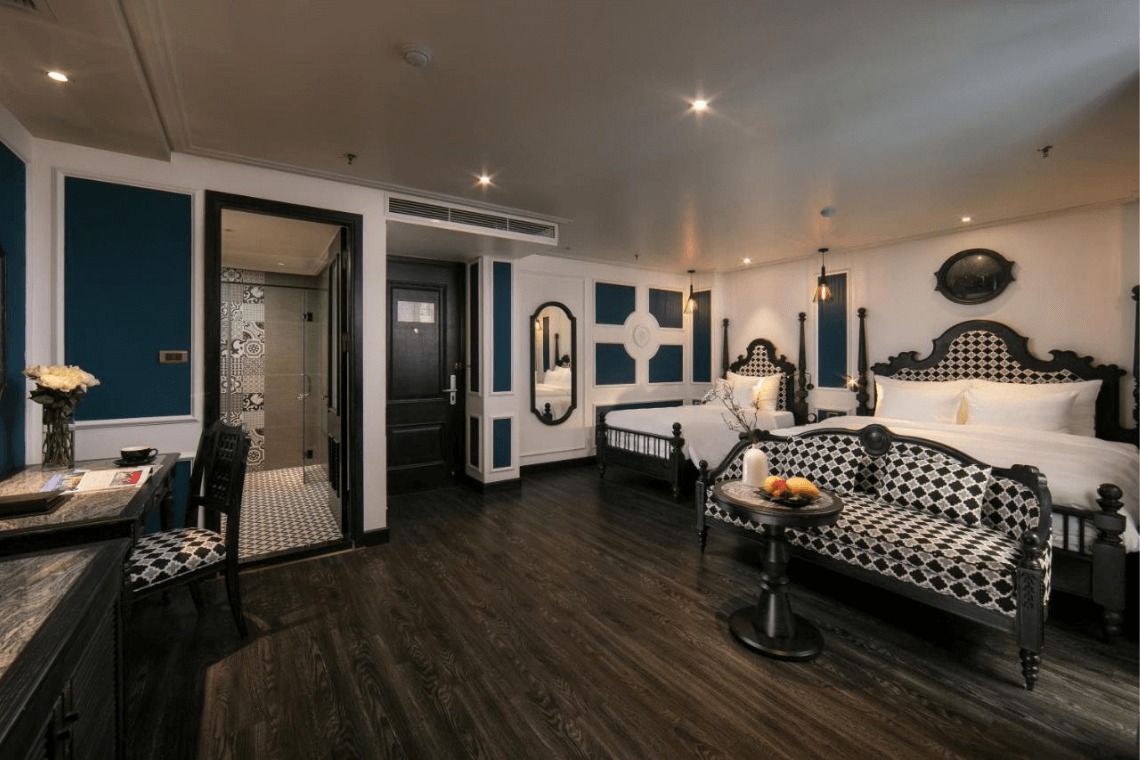 The Hanoi Esplendor Hotel & Spa, located in the center of the picturesque Hanoi Old Quarter – Vietnam's most bustling city – stands out like a gleaming jewel for its remarkable aesthetic design and superb services. Esplendor will guarantee you superb service and a trip to remember as the pinnacle of Hanoian elegance.
This amazing three-star hotel has been produced by the supreme combination of traditional yet contemporary décor, a sense of comfort, objet d'art, and period pieces.
Golden Rooster Hotel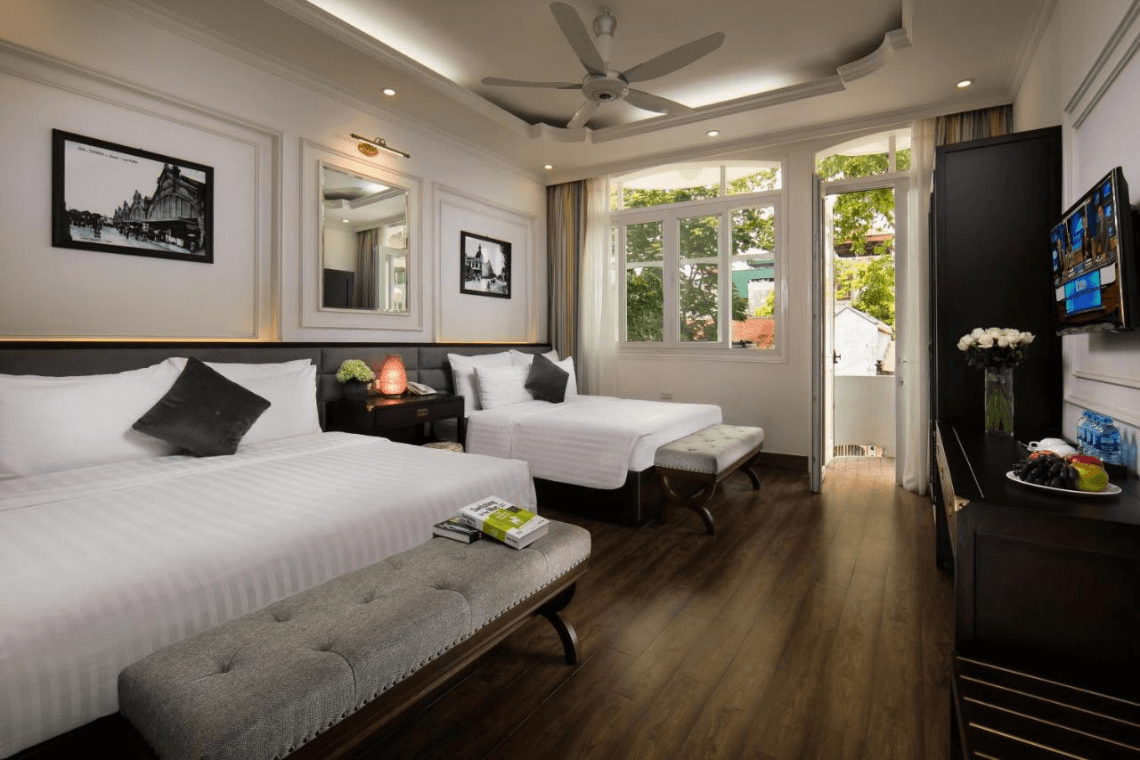 The Golden Rooster Hotel, located in the heart of Hanoi's Old Quarter, features contemporary design and personalized services. Because it is entirely new, your stay at Golden Rooster Hotel will be luxurious and hassle-free.
Enjoy Hanoi Old Quarter with so much ancient history, such as Hoan Kiem Lake, Dong Xuan market, Hang Ma, Thai Cam Pagoda, and Ta Hien international intersection… only a few doorsteps away.
May Flower Hotel Hanoi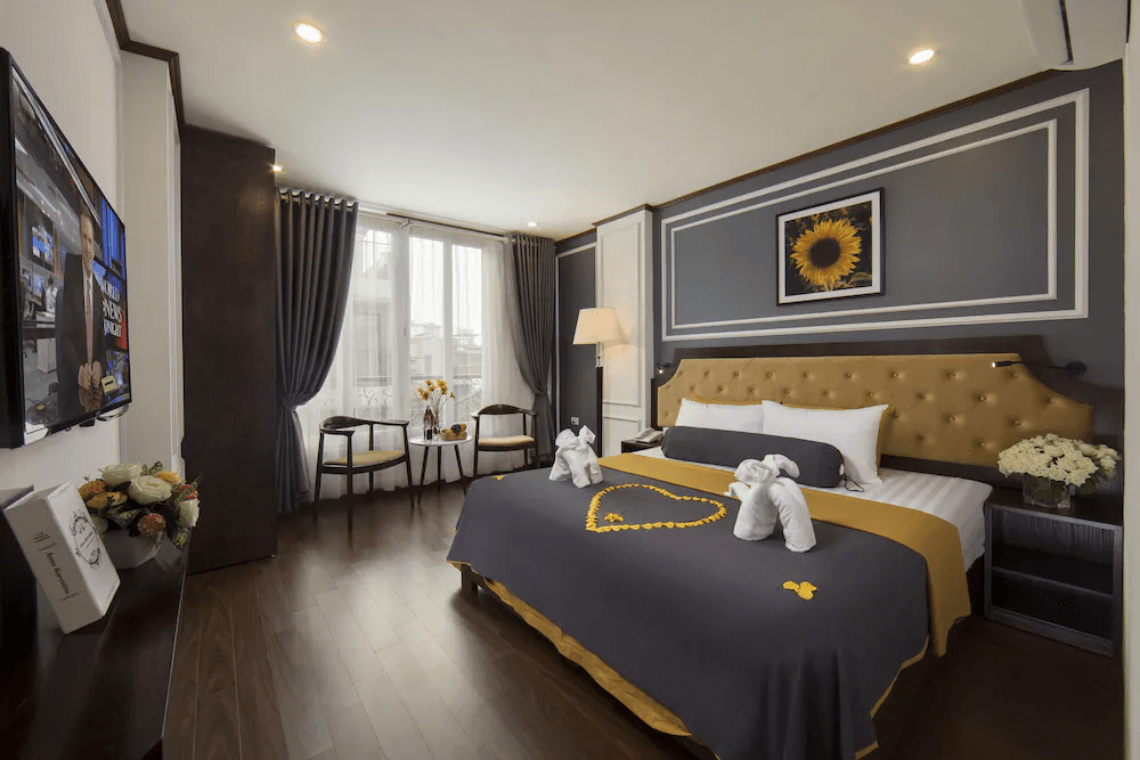 May Flower Hotel Hanoi is in the Old Quarter of Hanoi, a 10-minute walk from Hoan Kiem Lake. Thang Long Water Puppet Theatre and Dong Xuan Night Market are both within walking distance of May Flower Hotel Hanoi. The rooms of the May Flower Hotel Hanoi are furnished with hardwood. Every room has a minibar and a refrigerator.
The hotel offers money exchange as well as automobile hire. A tour desk can assist with travel and sightseeing plans. Guests may dine at the on-site restaurant, which provides various Vietnamese foods.
Golden Sun Hotel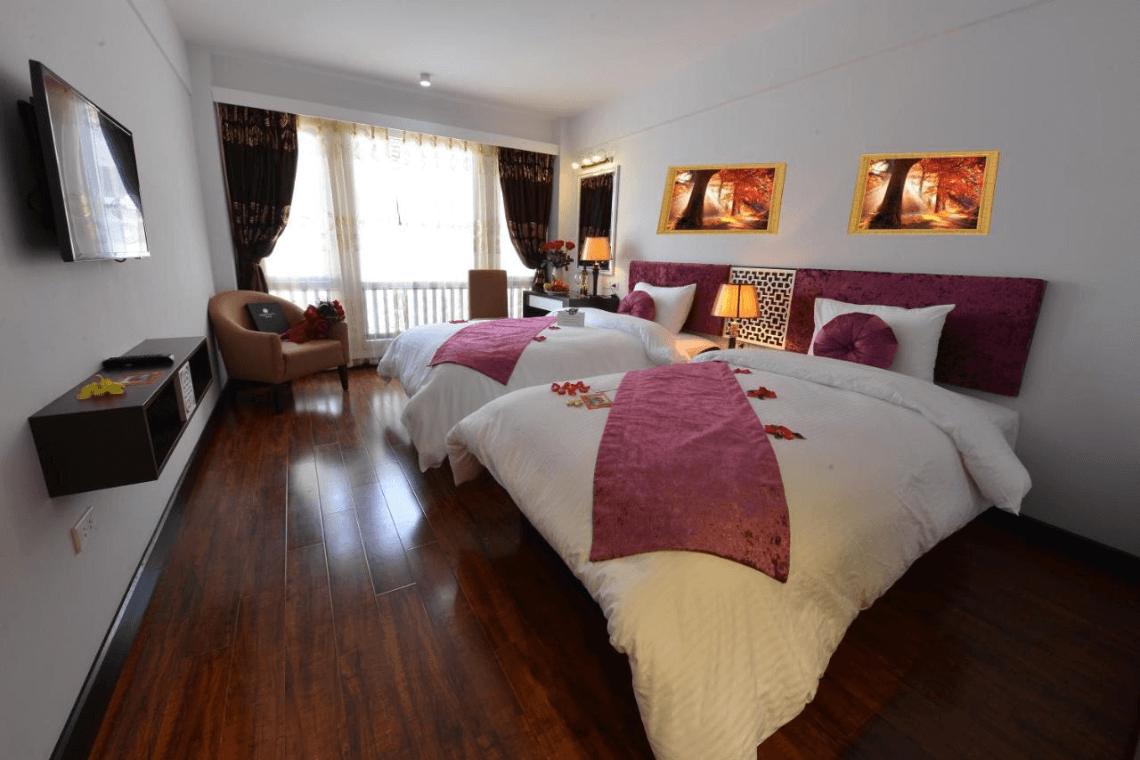 Golden Sun Hotel, a 3-star hotel, is an excellent pick. The hotel is close to the city center so that you can stroll to Hoan Kiem Lake, Thang Long Water Puppet Theater, Dong Xuan Market, and the night market. The surrounding area has several cafés, restaurants, and other establishments.
Despite its simple style, the hotel rooms are spacious and well-equipped, combined with the excellent services and friendly staff, you will undoubtedly have a very pleasant stay here. 
So here are the 15 best hotels in Hanoi, ranging from 5-star for a luxurious stay to 3-star for a good deal. All of them provide outstanding services, so you can be positive that you will have a good time in Hanoi.
Nonetheless, as a travel agency, we have access to a far larger selection of rooms. So, whenever you book with us, tell our travel expert your preferences, and he or she will find the perfect match for you. Furthermore, because we reserve your stay, you will be able to enjoy a lower price than you would receive from other booking sites. So leave everything to the experts; your job is to relax and prepare for your holiday in Vietnam!
Book your upcoming trips with Asia Pioneer Travel – The Best Travel Agency in Vietnam!
Asia Pioneer Travel has over 14 years of experience in the tourism industry and has established itself as a premier, reputable, tailor-made travel agency in Vietnam and Asia. We constantly pay close attention to and comprehend the demands and preferences of our customers, enabling the creation of excellent holidays. After taking our bespoke tours, many customers have told their friends and family about them. Because our customers deserve it, we consistently strive to assure them of complete satisfaction.