What To Do In Vietnam For A Week As Suggested By Travel Experts

The ideal length for a Vietnam holiday is two to three weeks so that you can see all of the main attractions. Yet not everyone is capable of doing so. Visitors frequently only have a week (or a bit longer) to marvel at Vietnam's beauty. It may be tricky to schedule your trip with only 7 days. As a result, you must make a decision. Check out Asia Pioneer Travel's itinerary to address the widespread topic "What to do in Vietnam for a week?"
There will be two routes: one from north to south and one from south to north.
You'll spend more time in the north on Route 1, North-South. And, of course, Route 2 will take you to further southern regions.
Route 1: Hanoi – Ninh Binh – Halong Bay – Hoi An – Cu Chi Tunnels – Ho Chi Minh City
Day 1: Arrive in Hanoi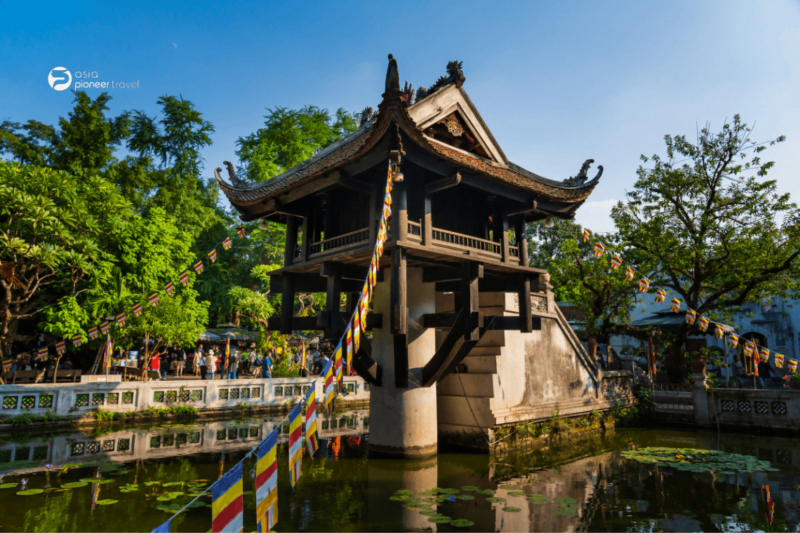 Welcome to Hanoi, Vietnam!
After landing in Hanoi, start your day with a filling breakfast or lunch at a local eatery. Because you'll be exhausted after the trip and drive, an electric tram or cyclo tour of Hanoi's Old Quarter should be a great way to spend your first day in Vietnam.
The famed 36 alleys used to offer Hanoi's native handicrafts. In recent times, Hanoi Old Quarter has become the most central quarter of Vietnam's capital, where tourists can experience Vietnam culture, traditional architecture, and food in a modern setting. You may visit Hoan Kiem Lake, a freshwater lake, and the neighboring Ngoc Son, both are just next to the Old Quarter area.
Day 2: Discover Hanoi's charms
You should spend the second day exploring the spectacular historical attractions in central Hanoi. The Imperial Citadel of Thang Long, a UNESCO World Heritage Site, is a major draw for visitors. The sheer beauty of this beautiful artwork might take most of the morning. 
Go to the Ho Chi Minh Mausoleum Complex at Ba Dinh Square, a popular tourist destination in Vietnam, to witness the preserved body of Ho Chi Minh, the country's most important political figure. Then, head to see Tran Quoc pagoda – one of the oldest religious sites of Hanoi. Afterward, you should check out the Temple of Literature & Quoc Tu Giam – the first university established in Vietnam. 
Day 3: Explore the marvelous sites of Ninh Binh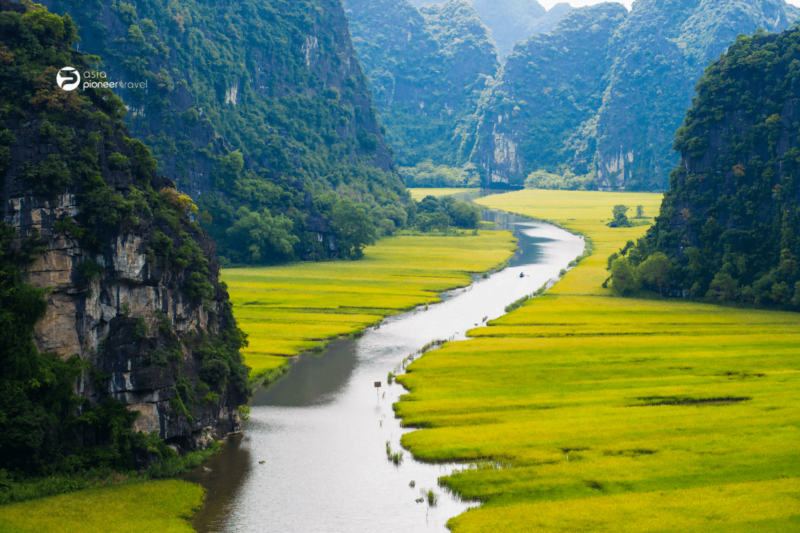 Plan to spend the day filled with sightseeing in Ninh Binh Province.
Trang An is an area in Ninh Binh that has breathtaking views of valleys, caves, and limestone mountains. You may schedule a boat ride (about 3 hours) through the caves and sail among Vietnam's stunning scenery. Or else, you can also do a boat ride at Tam Coc – Bich Dong, which taking you through 3 low-celling caves with an equal stunning landscape, but only takes 2 hours. On the other hand, Hoa Lu was Vietnam's former capital, hence there are many historical structures in this neighborhood. Nothing beats seeing and touching history to learn about it.
Day 4: Visit Halong Bay – UNESCO World Heritage Site
You will not miss out on the top Vietnam's major UNESCO World Heritage Site. Halong Bay is famous for its magnificent limestone islets. You can go to Tuan Chau Island, from whence you may take a 4-hour boat ride to the Bay. The lengthy travel may cause appetite, so eat some delicious Halong Bay food while you're here.
After that, stop by the famed Dau Go Island to have a glimpse of the Thien Cung Grotto. Within this grotto, you may explore the labyrinthine maze of stalactite and stalagmite constructions.
Day 5: Find peace in Hoi An
After a one-hour flight and 30 minutes of driving from Hanoi, you will arrive at Hoi An Ancient Town. This is a UNESCO World Heritage Site, and there are plenty of activities to enjoy in this port city.
You may spend a quiet day sitting and watching folks worship at the Ong Pagoda, or you can go explore the Chinese assembly halls for amazing Instagram feeds. You may also find beautiful antiques at the Ancient House of Tan Ky. Later in the day, for a truly magnificent experience, make a brief stop at the Japanese Bridge. Spend the night here to observe how gorgeous the town will be when the lanterns light up the streets.
Day 6: Navigate Ho Chi Minh City & Cu Chi Tunnels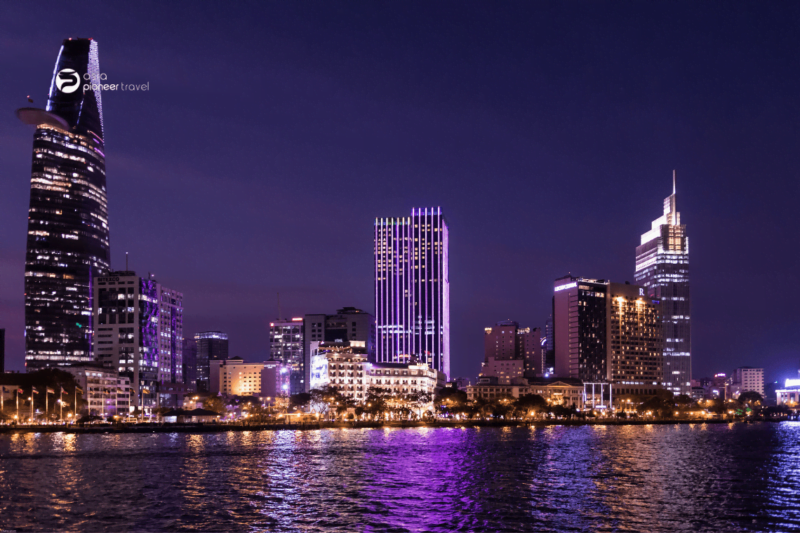 Catch a flight from Da Nang to Ho Chi Minh City, a must-see destination in Vietnam. You may observe the market pandemonium by walking through the streets of Ben Thanh Market. Undoubtedly, Ho Chi Minh City is notorious for its traffic and crowds. You may hire a motorcycle to make commuting easier.
Go to the Cu Chi Tunnels in the afternoon. It is a maze of underground tunnels that stretches all the way to the Cambodian border. The network provided a means of communication between communities and assisted the Vietnamese in evading French scouting personnel.
Day 7: Depart from Ho Chi Minh City
If you don't have an early flight, the final day can still be fruitful. See Notre Dame Cathedral, the Central Post Office, and the Independence Palace. These places are significant in Saigon's history and architecture (old name of Ho Chi Minh City).
Route 2: Ho Chi Minh City – Cu Chi Tunnels – Mekong Delta – Hue – Halong Bay – Hanoi
Day 1: Arrive at Ho Chi Minh City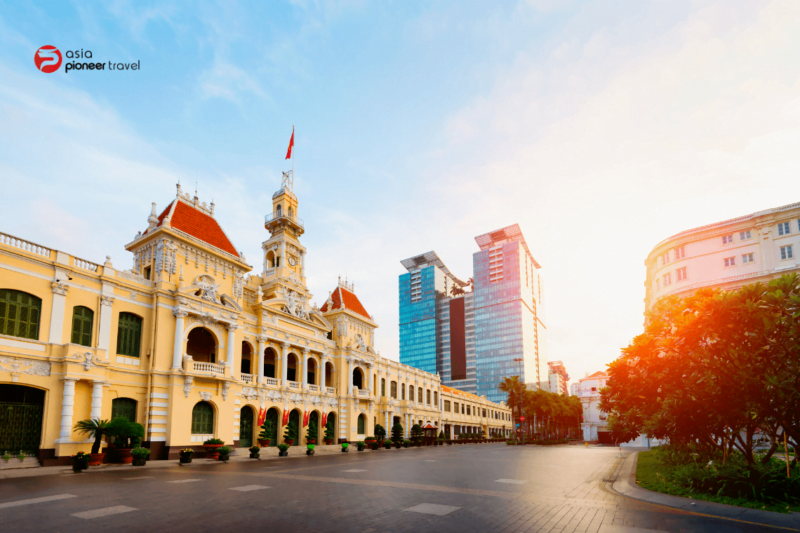 Welcome to Ho Chi Minh City, often known as Saigon by the Vietnamese, one of the most renowned and lively cities in Vietnam. You may be exhausted from jet lag, so take a break in your private. Afterward, to experience this city at night, take a Saigon night tour.
A Luxurious Dinner Boat on the Saigon River is another option. A great supper on the Saigon River is also a relaxing way to unwind. Cultural A O Show is the greatest option for everyone who enjoys culture.
Day 2: Discover the history of HCMC & Cu Chi Tunnels
Numerous visitors travel to the Cu Chi Tunnel Discovery to see the 250-kilometer-long underground tunnel system. As you enter the tunnel's exclusive setting, you will discover the lives of Vietnamese soldiers during the Vietnam War.
Following lunch, you can return to Saigon for a tour of Ho Chi Minh City. The kye highlights you should not miss out on include the War Remnants Museum, the Reunification Palace, the Saigon Notre Dame Cathedral, the Old Post Office, and Ben Thanh Market.
Day 3: Explore Mekong Delta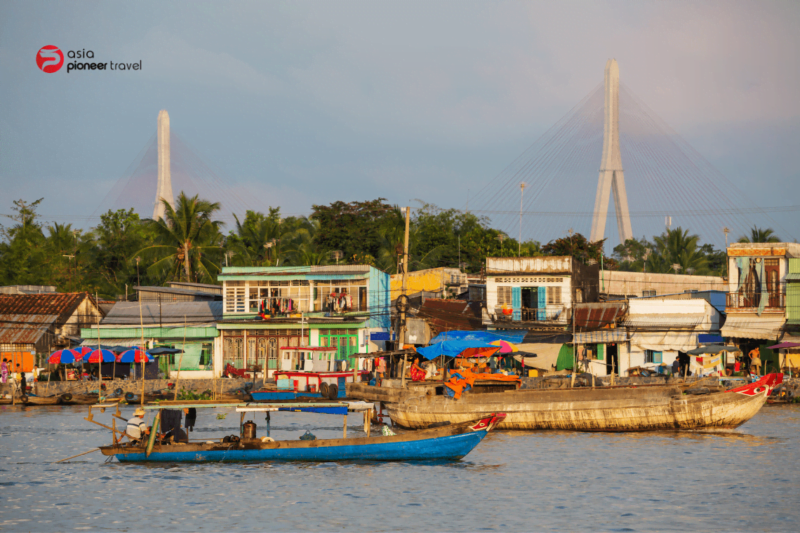 Ben Tre is a Mekong Delta town known for its vast rice fields, many canals, and stunning scenery. This region, known as Vietnam's "rice bowl," produces the majority of the country's fruit, rice, sugar cane, and coconuts.
At Ben Tre, you will go on a motorized boat tour through the coconut forest's narrow channels. On the boat ride, you will stop at local cottage industries to learn how the locals hand-weave sleeping mats and produce bricks. Learn about their craft, which has been passed down through centuries.
Then, catch the flight to Hue – a city in Vietnmost famous for its rich heritage and history.
Day 4: Admire the historical and cultural heritage sites of Hue
Hue is more than often passed by by tourists, but it is truly a gem of Vietnam. Unlike many other cities in the country, Hue is tranquil with a relaxing lifestyle, which has remained unchanged for so many years. 
Walk along the lovely Perfume River to the Imperial Citadel. Don't miss the Tu Hieu Pagoda and the Imperial Tombs, which are largely from the 19th and 20th centuries. The Tomb of Minh Mang, Tu Duc, and Khai Dinh are three of the most important tombs to visit. Besides, try out Hue cuisine, the food is elegant, distinctive, and more than often packed with a bunch of flavors, requiring a long list of ingredients in each dish.
In the evening, you can flight to Hanoi, and be ready for the next day discovering Halong Bay.
Day 5: Enjoy the striking landscape of Halong Bay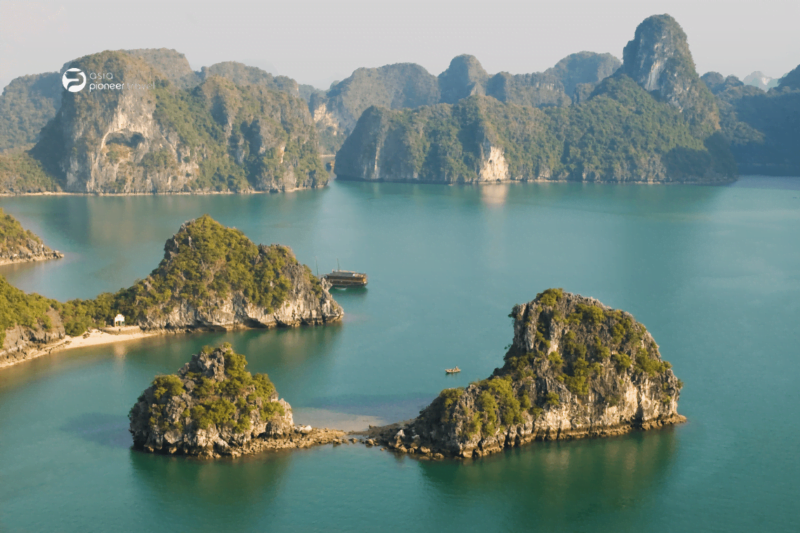 Ha Long Bay, a Unesco World Heritage Site, is made up of hundreds of limestone karsts protruding from the sea. The greatest way to appreciate its breathtaking scenery is from the balcony of a cruise ship. There are many of them, each with varied service quality and pricing, so you may seek a decent offer that meets your needs.
After your boat sets sail, take a seat on the deck and watch the rock structures emerge in front of you. During a two-day tour, you'll be able to kayak and cliff dive into gorgeous lagoons.
Day 6: Tour the streets of Hanoi
You have a whole day to visit Hanoi, one of the world's most ancient cities. With its remarkable destinations, you will learn more about Vietnam's country, people, and history.
You begin by visiting the Temple of Literature, the first national university founded approximately 1000 years ago and then go to the One Pillar Pagoda. The distinctive architecture of this Buddhist temple, which is shaped like a lotus blossom, Vietnam's national flower, will captivate you.
After your visit to the Ho Chi Minh Mausoleum, you can proceed to West Lake to breathe in some fresh air and observe the tranquil lake flow. Continue walking till you reach Tran Quoc Pagoda, Vietnam's oldest Buddhist pagoda.
Day 7: Depart from Hanoi
If you have some time to spare prior to your departure flight, take it easy and experience the morning like a Hanoian. Warm yourself with a hot bowl of pho, wake up your mind with a Vietnamese coffee, and watch people exercise, drive to work or run their shops. This is the most special way to mark the end of your holiday in Vietnam.
Tips To Build The Best Itinerary For Your Vietnam Holiday
So above are the two suggested itineraries for first-timers in Vietnam. Whichever route you choose, you should have seen the significant attractions of the country. 
Next, we will go through some advice to ensure your travel plan is well planned out:
Pick destinations based on your interests
You don't have to cover all historical landmarks or see all of the museums you have seen your friends visit in Vietnam, especially if those are not your cup of tea. Vietnam has plenty of cool and interesting destinations, so search them up and make the best of your time at those places. Nature lovers, go and navigate Vietnam's National Parks. Beachgoers? Then you may want to look up Nha Trang, Da Nang, Phu Quoc Islands – those are 3 destinations with the most idyllic coastlines in Vietnam.
Consider factors such as weather, travel time, etc., of the destinations
You may (or may not) know that Vietnam features a tropical climate zone as well as a temperate climate zone, with the yearly monsoon affecting the whole nation. Thus, depending on the regions you will visit, the weather can be vastly different. You can decide the best destinations to explore according to the time of your travel here: Best Time To Visit Vietnam
Check out advice from reliable travel blogs
A travel blog is usually a great source of information. You may get information from reputable websites like Lonely Planet, Culture Trip, and others, as well as well-known travel firms like Asia Pioneer Travel, Asian Way Travel, and Asia Highlights. Furthermore, some companies provide free consultation services, so you may inform them about your concerns. If you book through these travel tour companies, they may even be able to negotiate better offers for you to have a lovely trip at the lowest possible cost.
Finally, you may book tour packages through a Vietnam travel agency. There are several companies that can help you modify the itinerary to your preferences, so don't worry about not being able to enjoy the vacation that someone else arranged for you. As previously said, because travel agencies are specialists and know Vietnam like the back of their hands, they can provide you with amazing rates and helpful advice on where to stay, where to eat, and where to go for the finest experiences.
Let us help you create the best Vietnam holiday.
From your ideas for the trip to your preferences, and interests, our travel experts will design a personalized Vietnam tour only for you. We believe that there are no two trips that are the same.