What should you do with a day in Phnom Penh, Cambodia?
Most travelers think that Cambodia is only famous for being home to Angkor Wat, but after experiencing the whole country, you will know that there's so much more to this country yearning to be explored. In the short 40 years since its independence, Phnom Penh- the heart of this nation has grown a long way. And while being in this capital, don't forget to include these activities below to your Cambodia list.
With just a day, a bunch of funs is waiting for you to discover.
In the morning
Watch the sunrise by the riverfront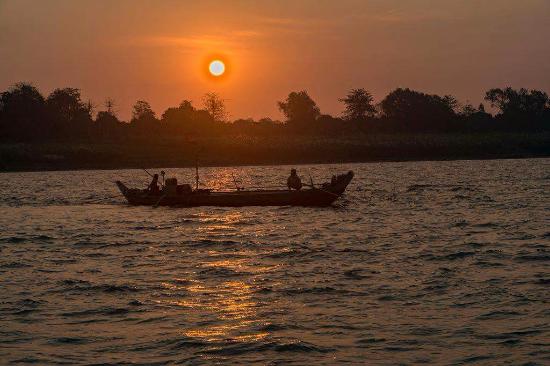 No trip to Phnom Penh is complete without watching the sunrise by the riverside. In fact, this is one of the first few things you should do: drag yourself out of bed at 5 am to catch the sunrise. Waking up at 5 am sounds horrible, but your eyes (and your Instagram feed) will thank you for it. You will watch a spectacular view as the sky turned from a deep shade of blue to a sparkly golden sheen. The river was empty and serene, with only 1 boat in sight, providing a beautiful panoramic view.
Do taichi with the locals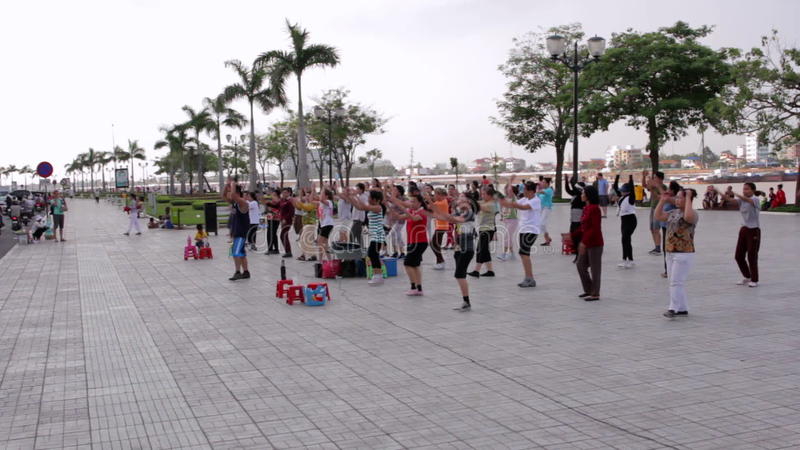 Cambodians start their day really early. At 06:00, half of Phnom Penh was already in full swing. While it's a stark contrast to the way of life back home, it was refreshing to live like a local. If you're up for some Tai Chi by the river, don't miss the chance to drop by Riverfront Park. Whether you'll be people watching or joining in the fun, it's going to be a unique experience.
In the afternoon
Explore the city on a tuk-tuk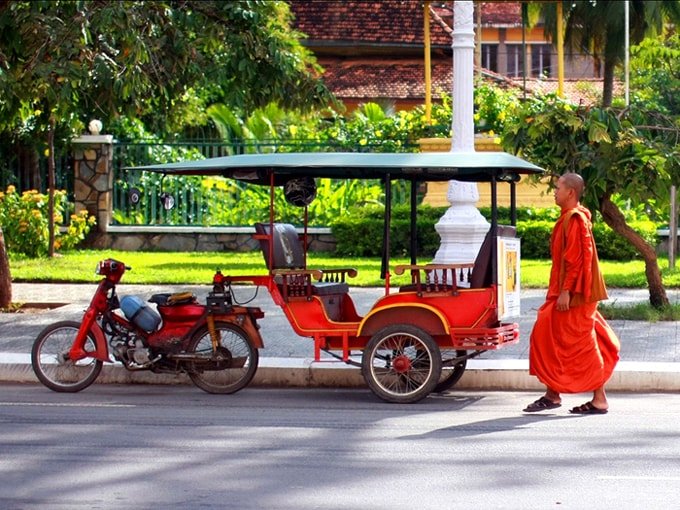 There were barely any cabs on the road as most locals travel around either on foot, bicycles, tuk-tuks or motorcycles. The best way to navigate around the city is on a tuk-tuk. It is small, quick to weave through travel at peak hour and so affordable! Tuktuks are as common as motorcycles in Phnom Penh – but 10 times safer. And at least there will be a roof over your heads if it rains!
Immerse yourself in the sights and sounds and enjoy your ride. You're in for a real treat. Tuktuks are available for hire anywhere along the roadside in the city center and are a budget-friendly way to get to your destination. Tuktuks do not run by the meter, so always agree on a set price prior to the ride.
Shop at the Russian Market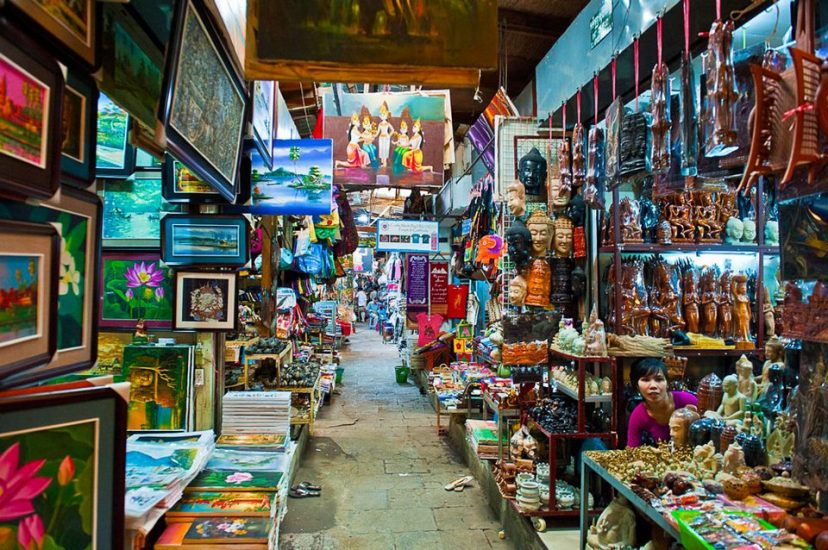 You can't give the Russian Market (Toul Tom Poung) a miss. This is the most popular market among travelers and expats and probably the best place to pick up souvenirs.  It does not look like much from the outside but when you get in you will find everything from beautifully hand-carved statues, colorful lanterns and gorgeous handmade silk scarves to funny printed T-Shirts. Unlike the Chatuchak market in Thailand, which's impossible to navigate, the Russian Market is structured in a simple square, making it easy to understand. No worries about getting lost here!
Be prepared to haggle your way through your shopping spree to reduce prices by more than 1 USD for a piece, especially if you purchase items in bulk.
In the evening
Hang out at The Royal Palace and watch the sunset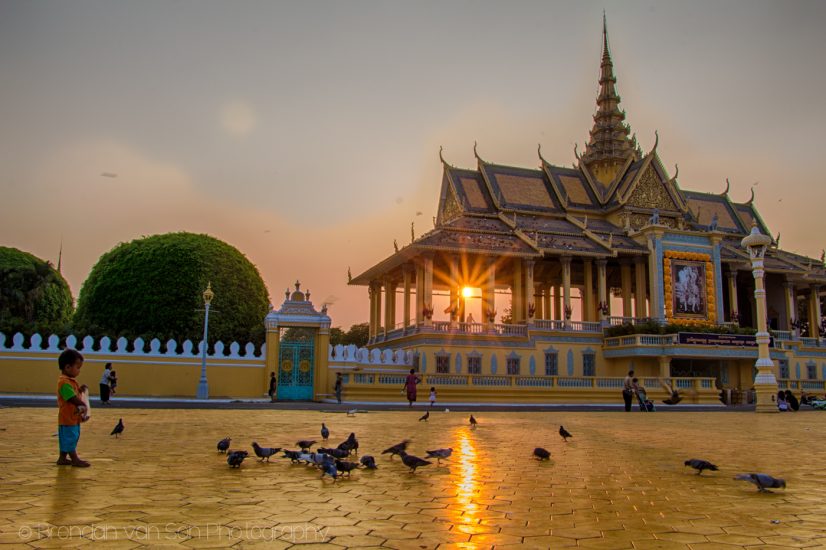 At 17:30, you should camp at the Royal Place, do what the locals do: take a seat anywhere on the grass patches all over the compound, and wait for the sun to go down. Forget the time of day. Listen to endless chatter coming from left, right, center. Take a bite off the street snack you've just bought. Play with the kids running around. Watch the sun go down. Embrace it all.
Set against the dark night sky, you will find a spectacular sight in front of you, the Royal Palace illuminates brightly. It's a gradual process, but also a distinct one.
Explore Phnom Penh's nightlife
If you're bored after nightfall and in need of some ice-cold beer, Phnom Penh has it all. With a vibrant night scene, there are many nightspots for the party animal in you. Nightlife activities in Phnom Penh are more chill and casual while retaining the level of energy of the dance floors here.
Let Us Help You Plan Your Cambodia Trip. 
Don't let the planning stress you out. Tell us your travel ideas and our travel advisors are very glad to give you suggestions and guidance for your trip planning. We can tailor-make your trip according to your interests and requirements, and help to create the best Cambodia vacation for you.