Top "like catcher" check-in places in Ho Chi Minh City

The sleepless Ho Chi Minh City is one of the most vibrant and dynamic towns in not only Vietnam but also Southeast Asia. This is an unmissable place in almost every Vietnam vacation, with strong marks from the interesting history, all kinds of fun experiences, and different architectural styles dotted in tree-lined boulevards.
The international and modern breath and plenty of old colonial structures remain, adding a beautiful contrast to the everyday life of Ho Chi Minh City residents. And it also makes this town become an ideal place for Instagram players and Facebook lovers, as it is really easy to take a "thousand likes" picture here. Let's take a look at the list below, and get your phone ready!
BEN THANH MARKET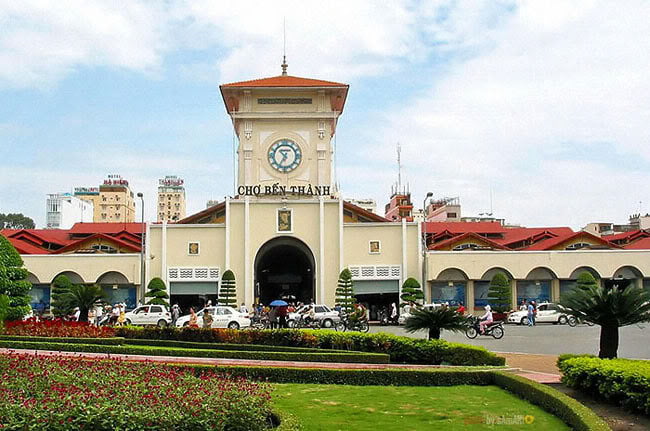 Ben Thanh market is not only the most famous market in Vietnam for travelers but also the oldest. This emblematic place has witnessed all the ups and downs of this beautiful city. In addition to being a market, the structure serves as a historical site, landmark, rendezvous point and background for beautiful photo-ops.
NOTRE DAME CATHEDRAL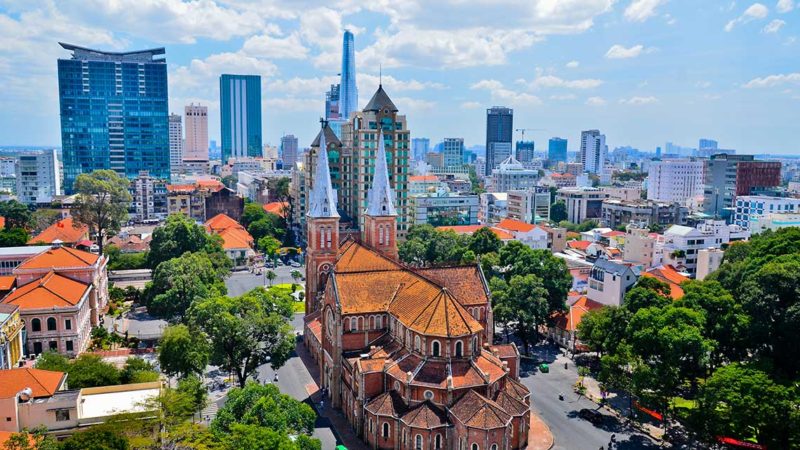 Completed in the late 19th century with materials that were imported exclusively from France, Notre Dame Cathedral is such a wonderful destination. It also is called the Vietnamese version of the Notre Dame in Paris. The cathedral has all the conditions creating a perfect picture, from the vintage model to the Parisian style. Standing out front is a statue of the Virgin Mary that became a sensation in 2005 when eyewitnesses claimed to have seen tears being shed from her eyes.
CENTRAL POST OFFICE
The Central Post Office is located right next to the Notre Dame Cathedral and this too was constructed in the late 19th century. The name of the architect should be familiar to you–Gustave Eiffel. He's known for architecting some pretty awesome stuff. The post office looks like a giant railway station and still functions today, so make sure to send some postcards back home to make your loved ones jealous of your adventures.
SAIGON OPERA HOUSE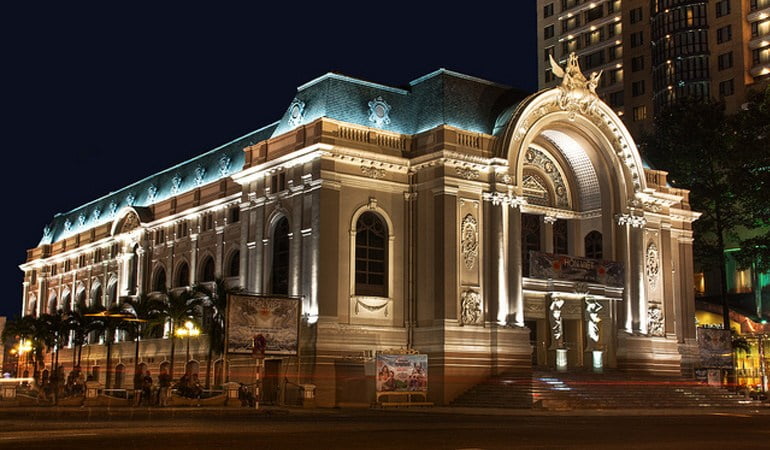 Great photo opportunities await travelers who seek out the Saigon Opera House, as the building is a fine example of French colonial architecture. Take a seat and watch the action of Saigon whiz by. The Opera House is surrounded by a wide, tree-lined boulevard which is so oddly European that you may need to remind yourself that you are in Ho Chi Minh City, not Paris.
NGUYEN HUE STREET
Nguyen Hue Street is a broad walking promenade in the middle of District 1 city center. This pedestrian area is flanked by some beautiful French colonial architectural wonders like the People's Committee, the Rex Hotel, and a luxury shopping mall. In front of the People's Committee, you find a statue of Uncle Ho Chi Minh and a fountain show by night. At the other end of the promenade, you find the Saigon River from where you can enjoy a nice view with a breeze. A definitely cool place in Ho Chi Minh City for pictures, even with the locals!
BITEXCO FINANCIAL TOWER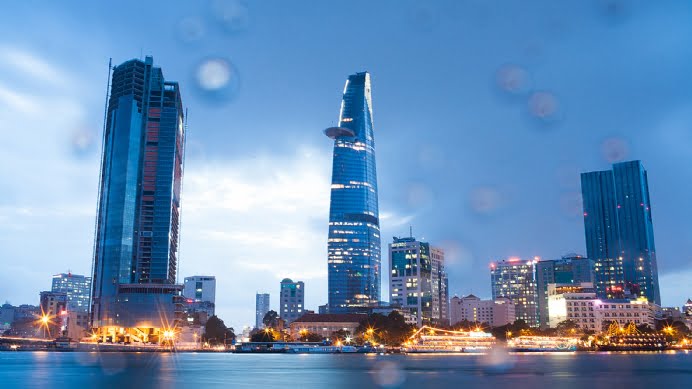 The observation deck of the Bitexco Tower, the tallest building in the city, will give you a bird's eye view of the city's hustle and bustle from 52 floors above. The photos will surely make your Instagram followers dizzy.
BUI VIEN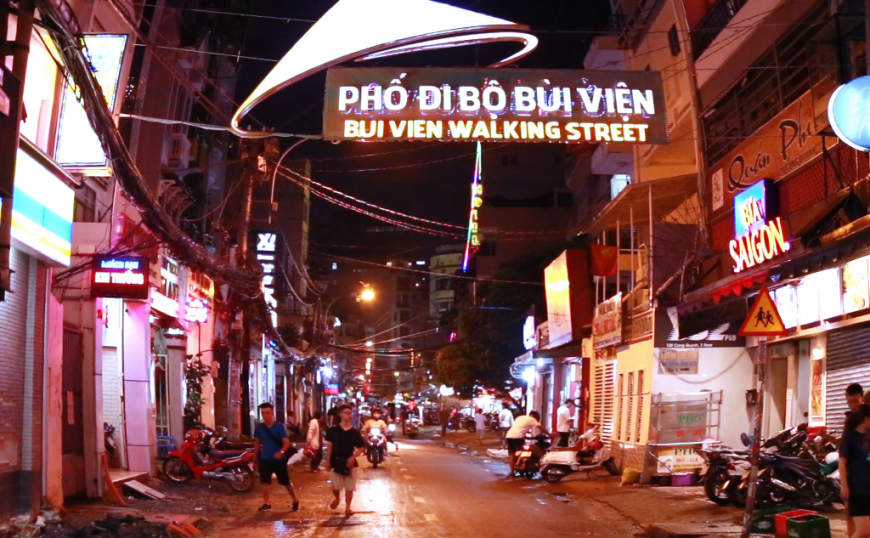 Bui Vien is the popular backpacker street and party central of Ho Chi Minh City, akin to Khao San Road of Bangkok. Neon lights, sidewalk bars, people dancing in the street, nitrous balloons–you will capture all of this in one shot.
THIEN HAU TEMPLE
This is one of the most famous pagodas in the city and is located in the middle of Chinatown, or Cho Lon as the locals call it. It's a Chinese-style temple so you can expect a lot of colors and intricate artwork. It is a very photogenic pagoda but be respectful of the locals as the temple is still an active site of worship today.
JADE EMPEROR PAGODA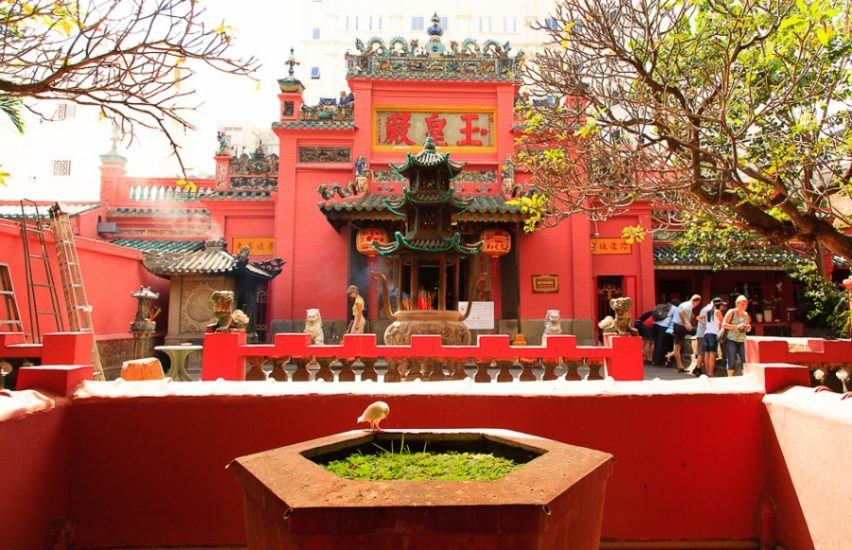 The Jade Emperor Pagoda has many chambers to explore, each with its own array of intricate woodwork and statues. The dark lighting and incense smoke-filled rooms will certainly allow you to get some unique snaps, but again, please be mindful of the locals.
THE CRESCENT WALK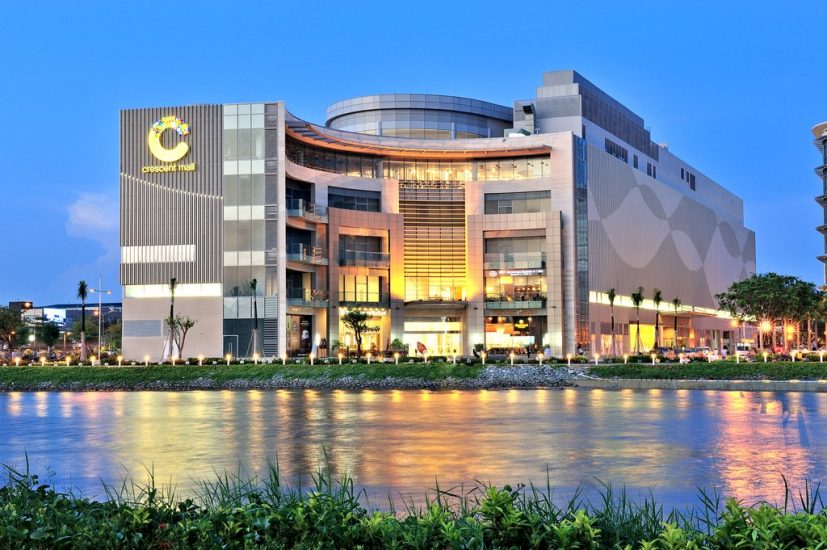 Troll your Instagram followers for a bit by pretending you're in Singapore. Walking around the Crescent Walk really does seem as if you are no longer in Vietnam–it's high-end and international. There is a bridge that connects The Crescent to Ho Ban Nguyet Park and at night, the fine streams of water on both sides change color thanks to the neon lights installed in the bridge.
Let Us Help You Plan Your Vietnam Trip.
Don't let the planning stress you out. Tell us your travel ideas and our travel advisors are very glad to give you suggestions and guidance for your trip planning. We can tailor-make your trip according to your interests and requirements, and help to create the best Vietnam vacation for you.