Tours In Hanoi: A Curated Guide To Experiencing The Capital's Best

Searching for the perfect way to uncover all the layers of Hanoi—from its storied past and architectural wonders to its culinary delights and artistic vibrancy? You're in the right place.
This article is your all-access pass to discovering the best tours in Hanoi. Whether you're keen to explore ancient temples, savor street food delicacies, or experience the local lifestyle, we have the perfect tour recommendation. Read on and prepare to embark on a journey that captures the essence of Hanoi in ways you never imagined.
Why Hanoi Is One Of The Top Destinations In Vietnam?
Are you searching for a destination that offers both excitement and relaxation? Look no further than Hanoi! Picture yourself strolling along the charming streets of the Old Quarter. Each turn reveals something special, whether it's a piece of Vietnamese history or a mouth-watering local dish. And speaking of food, have you ever indulged in Pho for breakfast? It's a morning tradition in Hanoi that you can't miss!
Don't think of Hanoi as just another bustling city. Take a break and unwind at Hoan Kiem Lake, a tranquil oasis nestled in the heart of the city. If you're a coffee enthusiast, you're in for a real treat! Vietnam's coffee culture awaits with unique blends like Egg Coffee. And if that's not enough, a quick trip to Halong Bay will leave you awestruck by its breathtaking views.
Hanoi has an enchanting quality that continually surprises visitors. It's a captivating place that will leave you yearning for more. So, are you prepared to embark on your next adventure in Hanoi?
>> Read More: 22 Best Things To Do In Hanoi
8 Top Tours In Hanoi That Let You Touch The Soul Of The City
1. Hanoi Walking Tour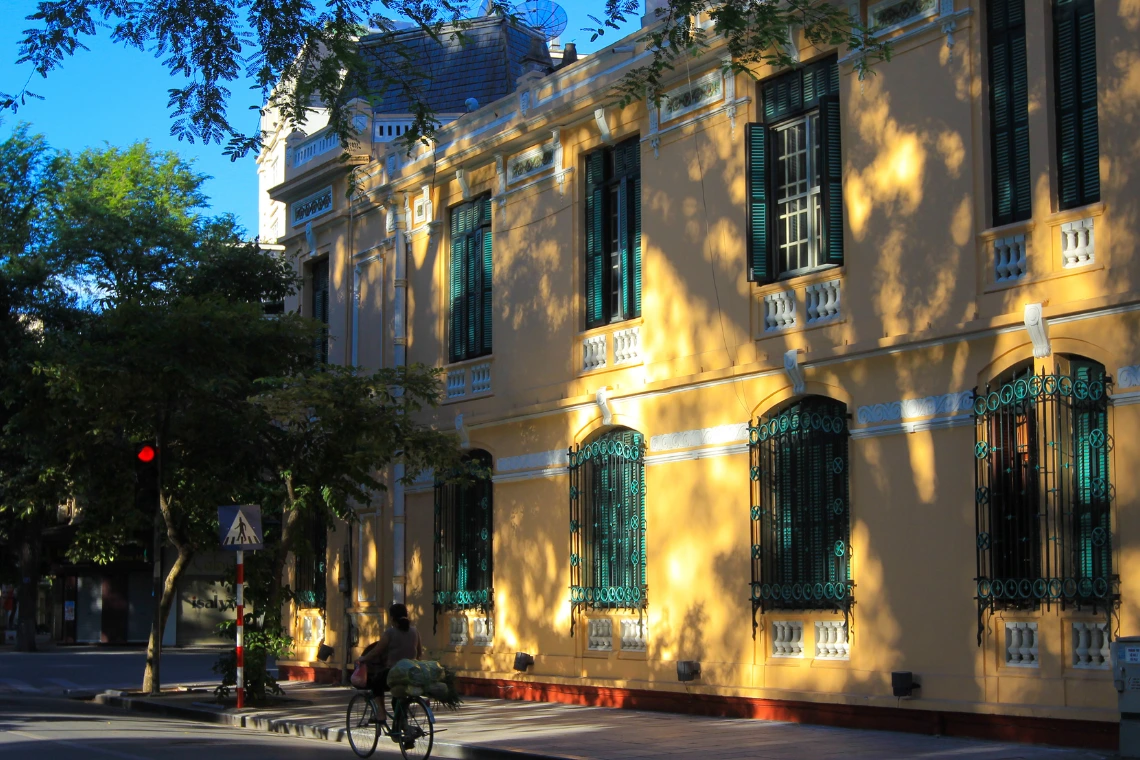 Get ready to step back in time and immerse yourself in the rich history and culture of Hanoi's Old Quarter! Once a bustling trading hub, this vibrant neighborhood has maintained its old-world charm and takes visitors on a journey through its thousand-year history. Follow a knowledgeable guide as you explore the maze of streets and alleys named after the goods they sold in the past.
With a guided walking tour, you'll not only see the sights but also experience the sounds, smells, and flavors of Vietnamese daily life. Sample local delicacies at street markets and sip traditional Vietnamese coffee at cozy cafes tucked away in hidden corners. Even the locals here are friendly and welcoming, making it easy to connect with them.
This personal and enriching experience is more than just a walk; it's a journey through a thousand years of Hanoi's history, culture, and daily life. So grab your walking shoes and prepare for an adventure unlike any other in this historic neighborhood. The Hanoi Old Quarter is waiting for you!
2. Hanoi Street Food Tour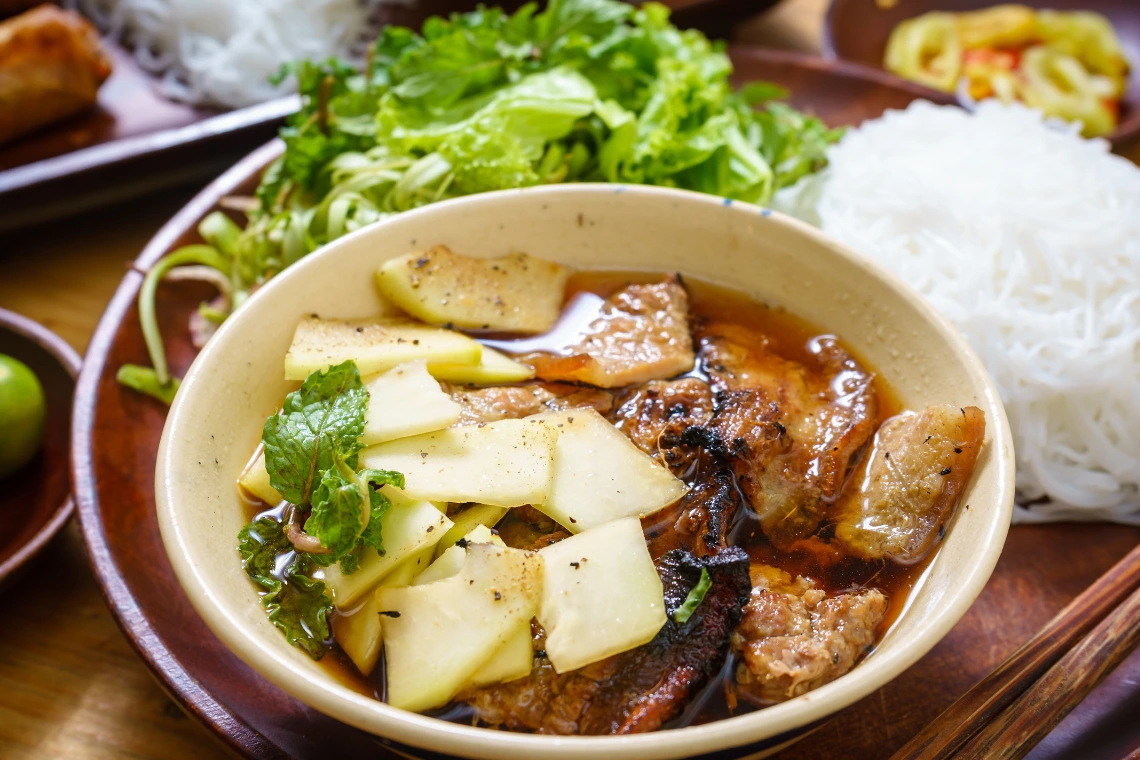 A Hanoi street food tour promises to tantalize your taste buds and let you immerse in the vibrant culture of this beautiful city! Indulge in a diverse and delectable array of dishes, from flavorful bowls of bún to crispy fried treats, pastries, and desserts. Your guide will lead you through the bustling food stalls and carts, providing both gastronomic delights and cultural insights. 
But this isn't just any food tour – it's a journey into the heart of Hanoi's rich history and the fascinating stories behind each dish. As you feast on the various dishes, your guide will share stories about the area's past and cultural landmarks. Whether you prefer early afternoon tastings or an evening exploration under the neon lights, the tour is flexible with its timing.
So come hungry, bring your curiosity, and prepare to be delighted on a Hanoi street food tour that promises an unforgettable feast for both the palate and the mind. Don't miss out on this must-try experience for foodies and culture enthusiasts alike!
>> See Tour: A Food Lover's Tour of Vietnam
3. Hoa Lo Prison Night Tour
Hoa Lo Prison, in the heart of Hanoi, is a stark testament to the indomitable spirit and bravery of the Vietnamese people. As the sun sets, this historic site takes on a whole new dimension with its "Sacred Night Tour." Walking through its corridors, you'll feel the weight of history, sensing the anguish and determination that still echo through the walls. The night tours of Hoa Lo Prison will be held at 7 p.m. every Friday, Saturday, and Sunday. 
Often referred to as one of the "hells on Earth," Hoa Lo Prison reveals tales of courage, where Vietnamese freedom fighters stood their ground against overwhelming odds. Each cell and corner whisper stories of resilience, serving as a poignant reminder of the sacrifices made in the name of liberty.
More than that, the tour also deeply resonates with the portrayal of Vietnamese women during wartime. Their narratives, so powerfully depicted, pull at your heartstrings, reminding you of the unsung heroines who too bore the heavy brunt of war. You'll be moved by the reenactment of the daring prison escapes of 1945, particularly the narrative of revolutionary Nguyen Phong Sac and his wife Hoang Thi Ai. The journey concludes with a solemn moment, allowing you to pay respects to the fallen at the prison's memorial.
Taking this journey through Hoa Lo Prison is a walk through time and beyond that. It's an emotional voyage, shedding light on Vietnam's tumultuous past, allowing visitors to understand the depth of struggles and sacrifices that shaped this nation. The prison, under the cloak of night, truly becomes a portal to another era, urging everyone to remember and honor the nation's brave souls.
4. Imperial Citadel of Thang Long Night Tour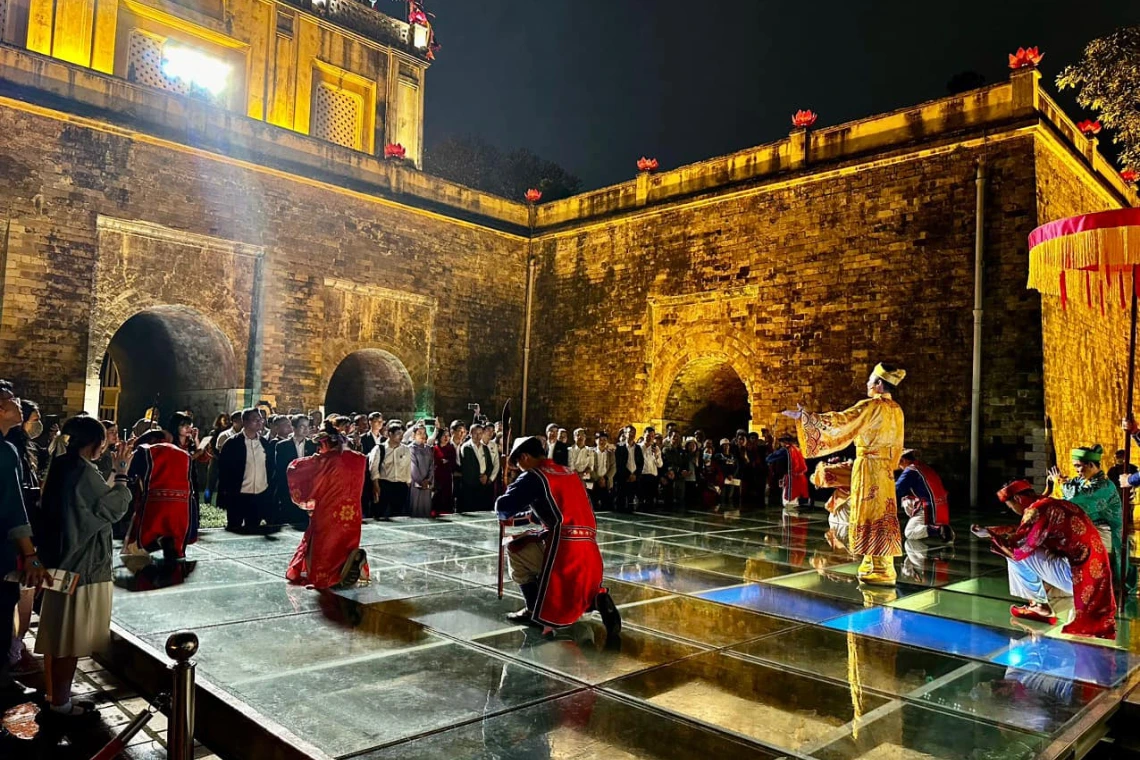 Located right in the heart of Hanoi, the Thang Long Imperial Citadel is a living testament to Vietnam's storied past. Built in 1011 during King Ly Thai To's reign, this UNESCO World Heritage site is an architectural gem brimming with tales of grandeur and resilience. 
Just imagine you're wandering the pathways of Thang Long Citadel under a moonlit sky, the echoes of ancient tales murmured with each step. The Thang Long – Hanoi Heritage Conservation Centre's night tour offers a captivating journey through this UNESCO gem. Available every Tuesday and Thursday, this night tour is a journey back in time, making history palpable and unforgettable.
Starting at Doan Mon, the gateway to the once-royal Forbidden area, you'll unearth archaeological treasures, marvel at millennia-old antiquities in the exhibition hall, and be drawn to the allure of the Kinh Thien Palace. As the evening deepens, traditional music heralds a puppetry show, capturing the heart of Vietnamese folklore. Dine royally beneath the Bodhi tree, tasting dishes reminiscent of a bygone era, and conclude with souvenirs that carry blessings of prosperity—memories of a journey through time.
But this tour is not just about relics—it's an experience. A traditional puppetry performance brings folklore to life, and a royal feast beneath the Bodhi tree lets you savor age-old culinary traditions. As a memento, pick up souvenirs symbolizing luck and prosperity.
5. Hanoi Motorbike Tour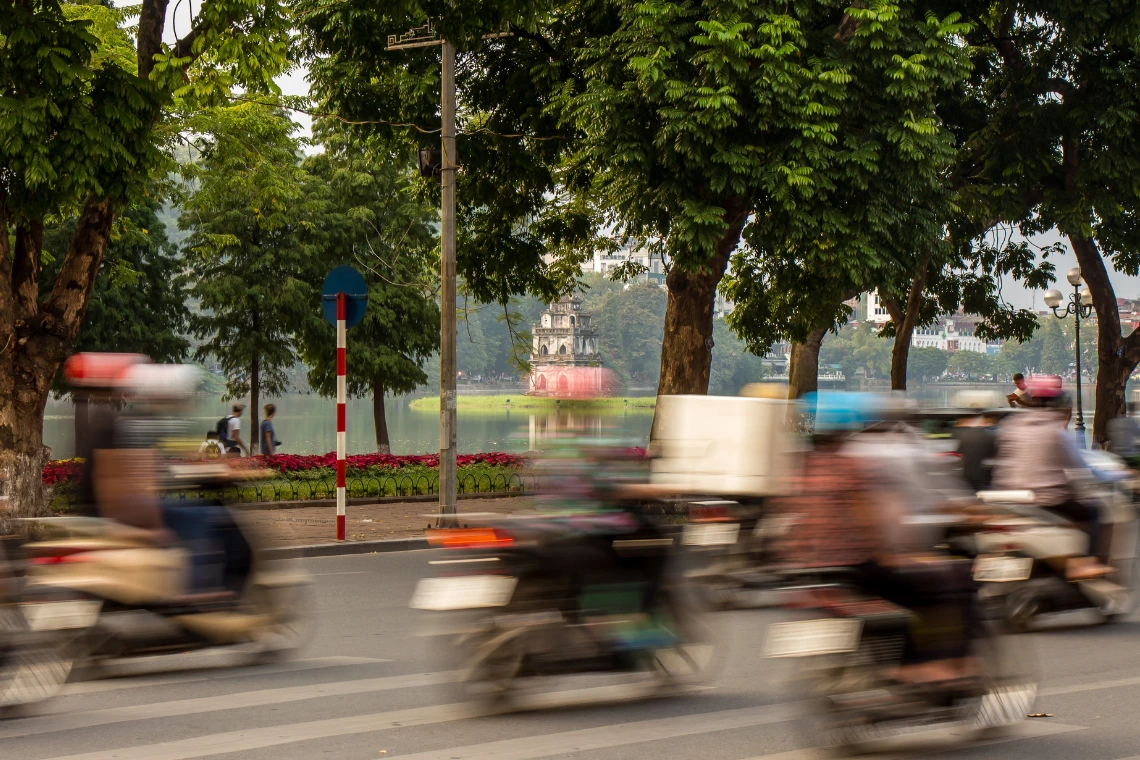 Exploring Hanoi on a motorbike tour offers a unique lens into its vibrant culture and rich history, blurring the line between the traditional and modern.
Feel the city's heartbeat as you effortlessly glide past architectural gems like the historic Hanoi Opera House, a testament to the grandeur of French colonial times. Learn about the country's history with a stop at Ho Chi Minh Mausoleum, the resting place of Vietnam's revolutionary leader. Not far away, the One Pillar Pagoda, an iconic symbol of Hanoi's resilience, beckons with its serene ambiance.
Your journey also takes you to the tranquil surroundings of Tran Quoc Pagoda, the city's oldest temple from the 6th century. And no tour of Hanoi is complete without delving into the labyrinthine streets of the Old Quarter, a treasure trove of historical landmarks, local crafts, and mouth-watering street food.
As you pause for a local lunch, savoring regional delicacies, you'll find that the motorbike tour seamlessly melds Hanoi's picturesque sites with its evocative sounds and flavors, ensuring an immersive experience.
6. Hanoi – Bat Trang Tour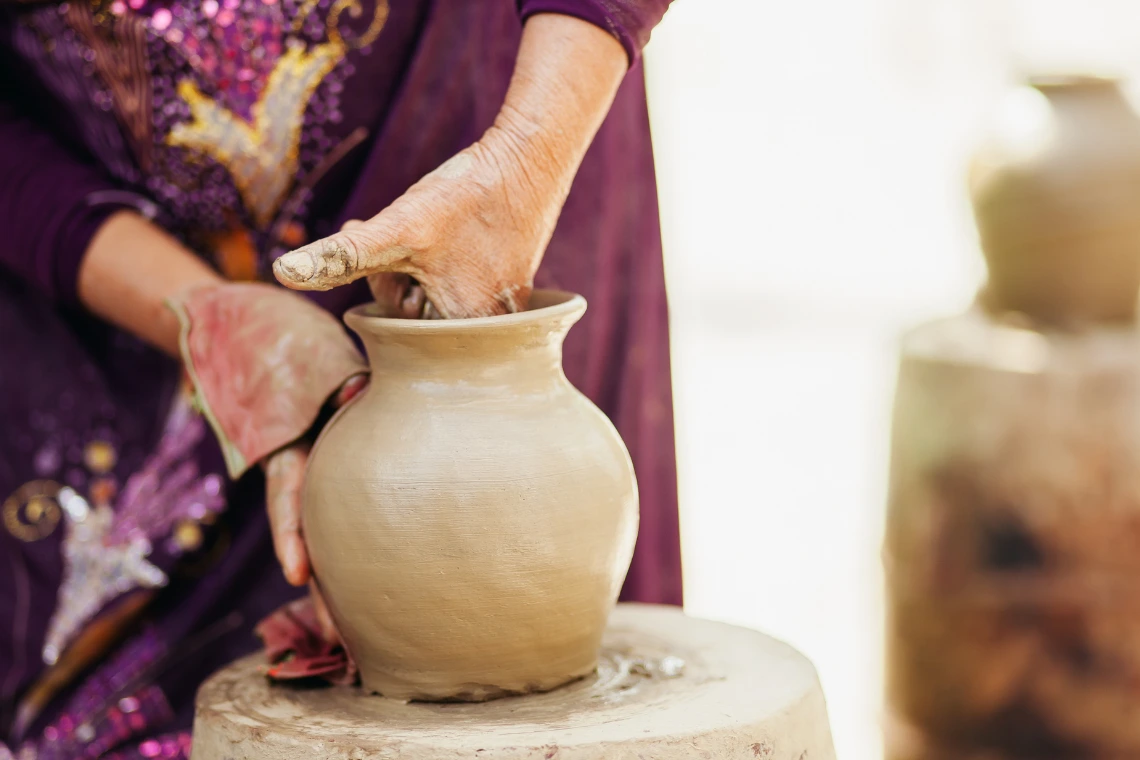 Step into the enchanting world of Bat Trang ceramic village, just outside of Hanoi, and let yourself be transported to a world where ancient traditions meet modern creativity. Marvel at the intricate artistry of the skilled artisans as they mix clay, glaze and hand-paint each piece. The village is alive with the sounds of workshops and the warm glow of historic kilns, including the iconic "Lo Bau" kiln, a 19th-century relic symbolizing Bat Trang's illustrious ceramic legacy.
But the experience doesn't stop there. Roll up your sleeves and dive into the hands-on pottery workshops, where skilled craftsmen will guide you in molding your very own unique creation from a lump of clay.
As you work, the aroma of fresh clay will mingle with tantalizing scents of Bat Trang's local delicacies like the mouth-watering "banh san nuong" and "banh te". Savor each bite as it becomes a testament to the village's rich culture, both in craft and cuisine. Every corner, workshop, and kiln tells a story, inviting travelers to be a part of its continuing legacy. 
7. Hanoi Night Tour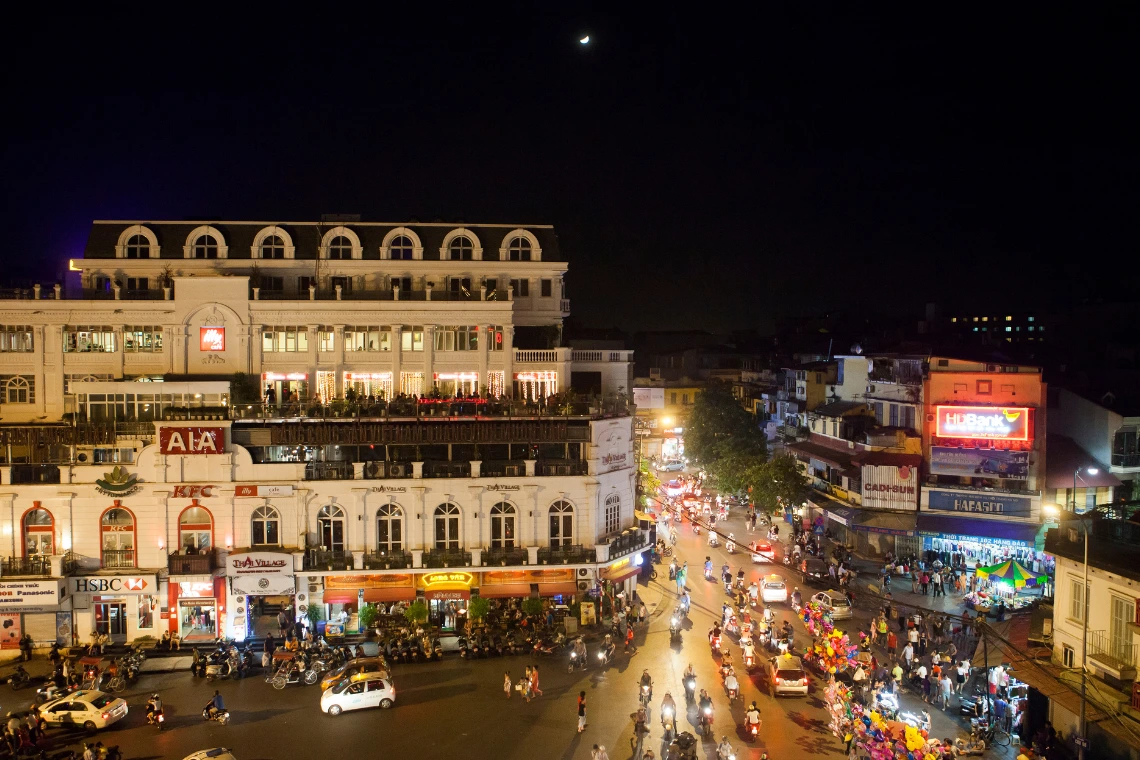 Hanoi at night transforms into a tapestry of luminous charm, where narrow alleyways are bathed in the soft glow of lanterns, and the hum of the city takes on a melodious tune. The streets brim with life as locals and tourists alike come together, while the aroma of street food fills the air, encapsulating the true essence of a Hanoian evening.
Experience the magic of Hanoi under the cover of darkness with a night tour that brilliantly captures the city's soul. A Hanoi night tour often begins with the enchanting Water Puppet Show. It is a mesmerizing performance that transports you back to 11th-century Northern Vietnamese villages, intertwining age-old folk tales with captivating puppetry, music, and dance.
After this, indulge in the flavors of the night, be it tantalizing street food or evening favorites like hot pot and BBQ. These dishes, often enjoyed by locals in the cool Hanoian twilight, offer a delightful gastronomic journey through the city's vibrant culinary scene. As the evening winds down, nestle into one of Hanoi's quaint street-side cafes, cradling a cup of aromatic Vietnamese tea, letting the city's nocturnal vibes envelop you in its warm embrace. A night in Hanoi like this is both a journey through time and a feast for the senses.
>> Read More: Never Miss These 5 Hanoi Foods While Being In The "Heart" Of Vietnam
8. Hanoi Museum Day Tour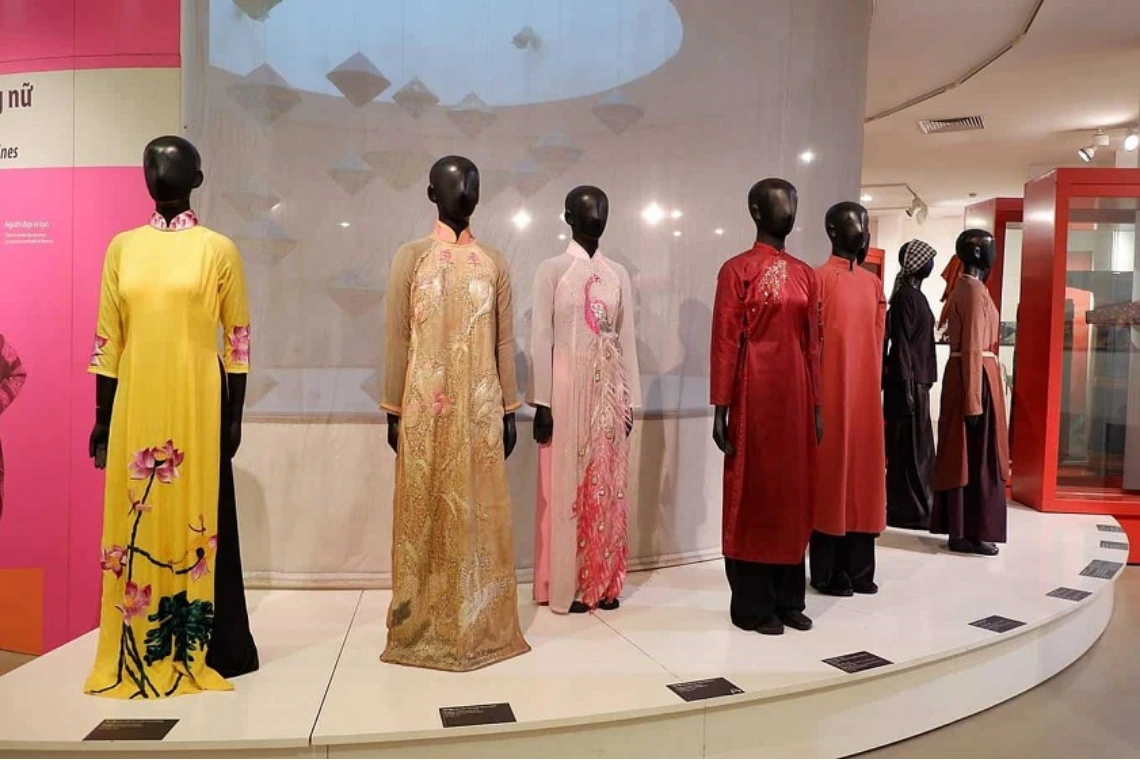 This tour lets you discover the intriguing history and culture of Hanoi by visiting its fascinating museums. These often-overlooked attractions are home to a plethora of artifacts and stories. You'll have the chance to explore some of the most renowned museums in the city, such as the History Museum, the Women's Museum, the Fine Arts Museum, and the Ethnic Museum. These museums are the best storytellers about Hanoi's heritage.
The History Museum is a peaceful haven where you can immerse yourself in the diverse past of Hanoi with captivating tales and relics that bring the city's bygone eras to life. Meanwhile, the Women's Museum provides interesting insight into women's pivotal roles and contributions throughout Vietnam's history.
Art enthusiasts will be delighted by the Fine Arts Museum, which houses an impressive collection of Vietnamese art from different periods. Lastly, the Ethnic Museum showcases the rich cultural tapestry of Vietnam, highlighting the different communities that make up this vibrant nation.
Visiting these museums provides a deeper appreciation of Hanoi's complex heritage, uncovering lesser-known stories that add to the city's allure. You will gain a comprehensive understanding of Hanoi's culture and history and fall in love more with this beautiful country. 
So there you have it, our top picks for experiencing Hanoi in all its multifaceted glory. But why stop at just Hanoi? With a reliable travel agency like Asia Pioneer Travel, you can combine these incredible experiences as you journey through Vietnam. From tasting street food in Hanoi to sailing in Halong Bay, let Asia Pioneer Travel guide you through an unforgettable adventure!