Top photogenic destinations in Vietnam which are really "healthy" for your Instagram feed

Instagram and Vietnam will be two elements which can create a bomb in a period of your lifetime. Because they are both things making the world is crazy about. One is a star in social media networks, and one is the new star on the travel map. So don't miss the chance to hashtag #Vietnam in your Instagram posts today!
Spicing up your account with these 10 places below where you can take some unique photos and add beautiful scenic pictures to wow your followers.
Muong Hoa Valley, Sapa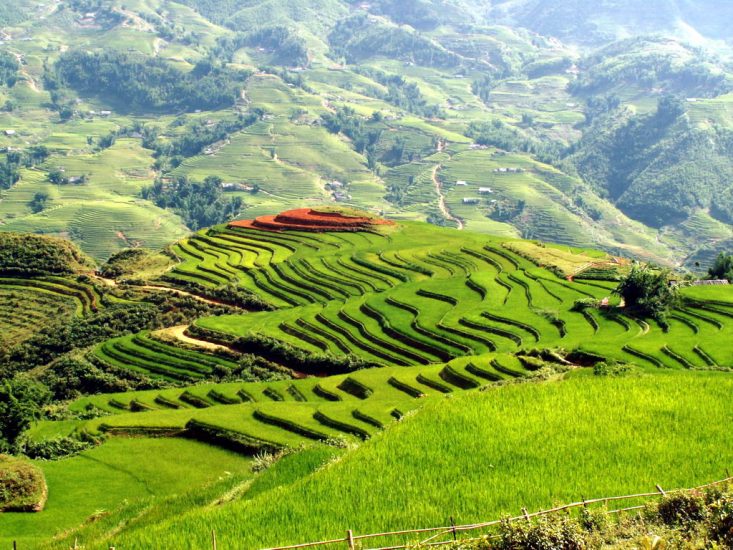 Muong Hoa Valley is one of the most famous treks in all of Vietnam which lies between two ranges of mountains running parallel to each other in the southeast of Sapa town. You will have endless opportunities to take some of the most unique photographs here – of mountains, terraced rice fields, waterfalls and streams, and of course, the beautiful ethnic minority tribespeople in their colorful attire going about their day. Spend the night at a homestay for more cultural insights.
Ban Gioc-Detian falls, Cao Bang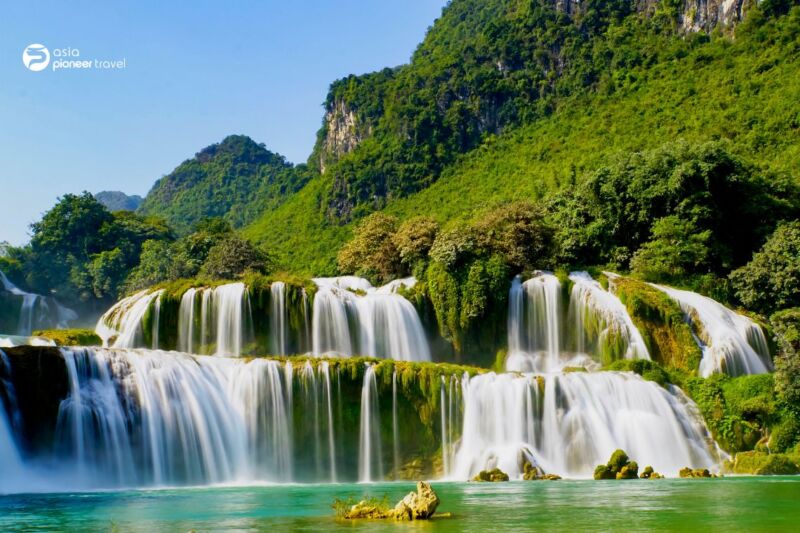 Vietnam's largest, most majestic waterfall with 30 meters high and 300 meters wide always can catch some eyes. Although the road leading to Ban Gioc might be a little tricky, it is actually part of the fun, and in the end, you know this place totally worths it. The landscape is unbelievable, especially seeing the river reaches the ledge and pour over sharply. On the way, you can stopover at the Nguom Ngao caves, which you may even end up having to yourself! You'll barely see other foreign tourists in this area.
Ma Pi Leng pass, Ha Giang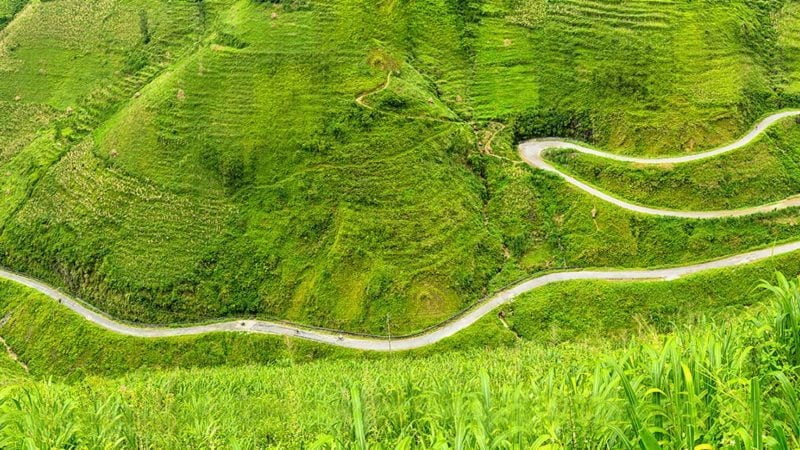 The Ma Pi Leng Pass is a mountainous pass in Ha Giang, a province in the north of Vietnam. It is approximately 13 miles (20 kilometers) long and connects the towns of Dong Van and Meo Vac. It's a spectacular stretch of road overlooking stunning rock formations, rice terraces, and gorgeous scenery. Conquer this on a motorbike so you can stop at every possible opportunity to take photos.
Hanoi train street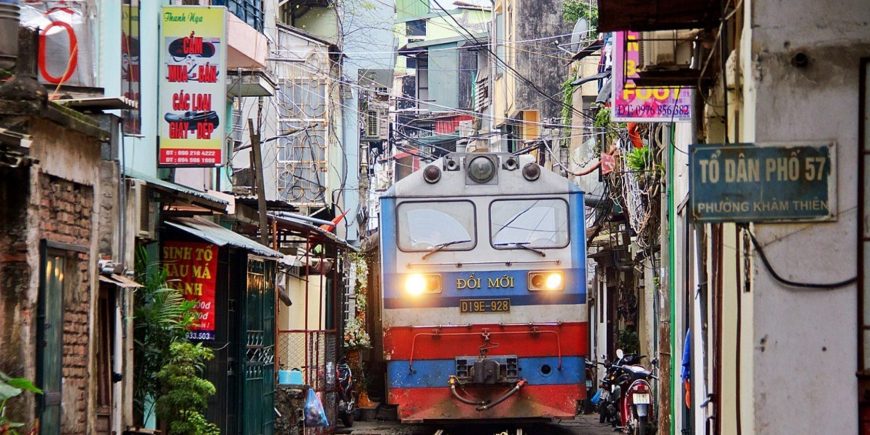 The Hanoi Train Street will undoubtedly add a unique photo to your feed and make your followers curious. This is a narrow residential alley through which train tracks run in the middle, frighteningly close to the homes of the locals. Trains only pass twice a day, and when they do, as if on some silent cue, the residents pack up their chairs, tables, and games and move into their houses. Soon after you will hear a horn and the train will pass by, allowing life to resume like it was again.
Ha Long Bay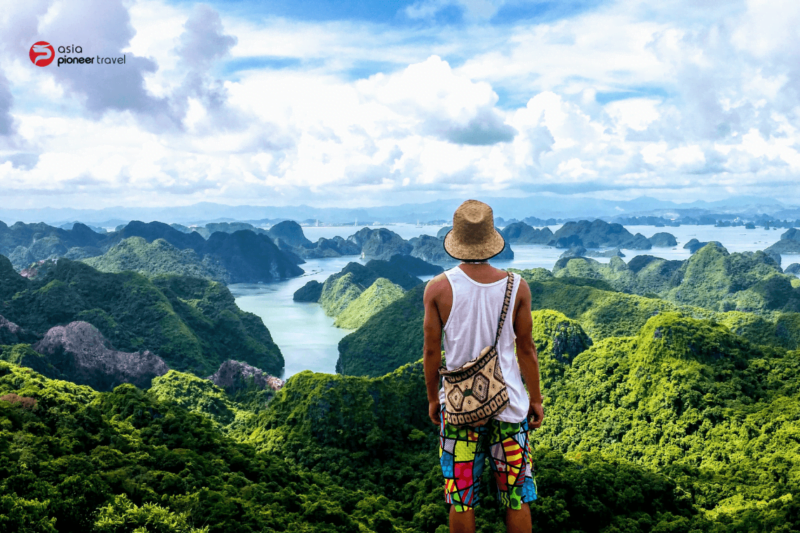 Ha Long Bay is a must on any Vietnam trip. This UNESCO-protected 75-mile long (120-kilometer) coastline features thousands of limestone karst peaks rising from the water, natural stalactite caves, picturesque islands, and unique fishing villages. It is the most popular tourist destination in Vietnam and the best way to get around is by sailing on a junk boat.
Tam Coc, Ninh Binh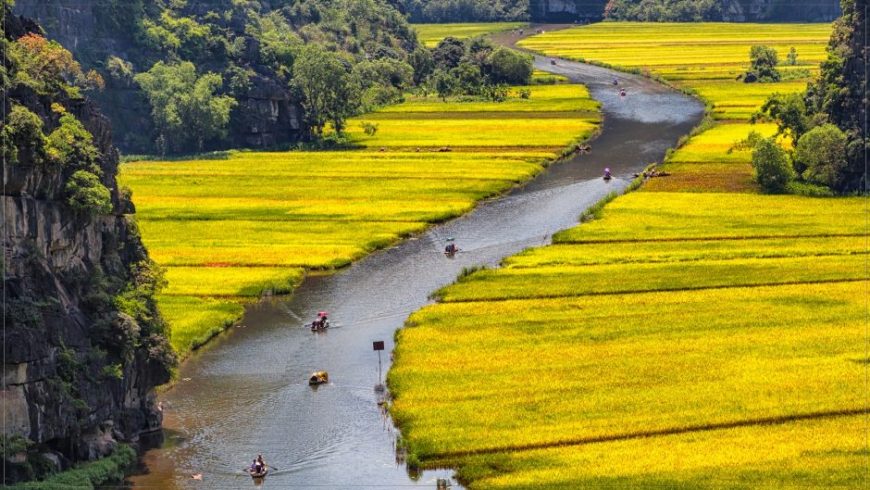 Ninh Binh is extremely similar to Ha Long Bay, with hundreds of limestone monoliths topped by dense greenery scattered around the region. The only difference is that these don't emerge out of the water but from the ground. There are rivers flowing through them, forming caves, and there are plenty of pagodas and peaks for you to explore as well.
Hai Van Pass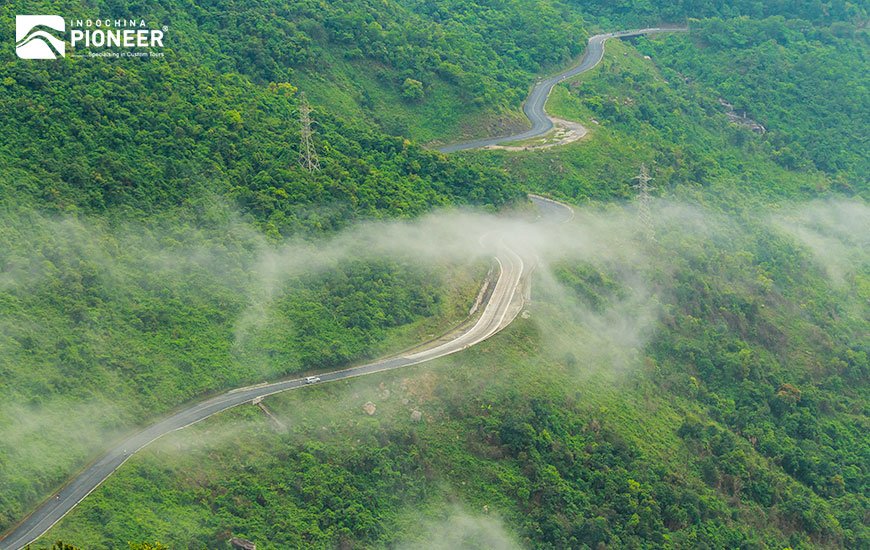 Hai Van pass can be considered as one of the most scenic hillside roads in the world, with the surrounding of jungles and vistas which are able to melt any heart. It's a serpentine stretch carved into the side of a mountain just north of Da Nang and climbs over a chunk of the Annamite Range, which are the mountains bordering Vietnam and Laos. You will have amazing views of the surrounding mountainous landscape and turquoise coastline below.
My Son Sanctuary, Quang Nam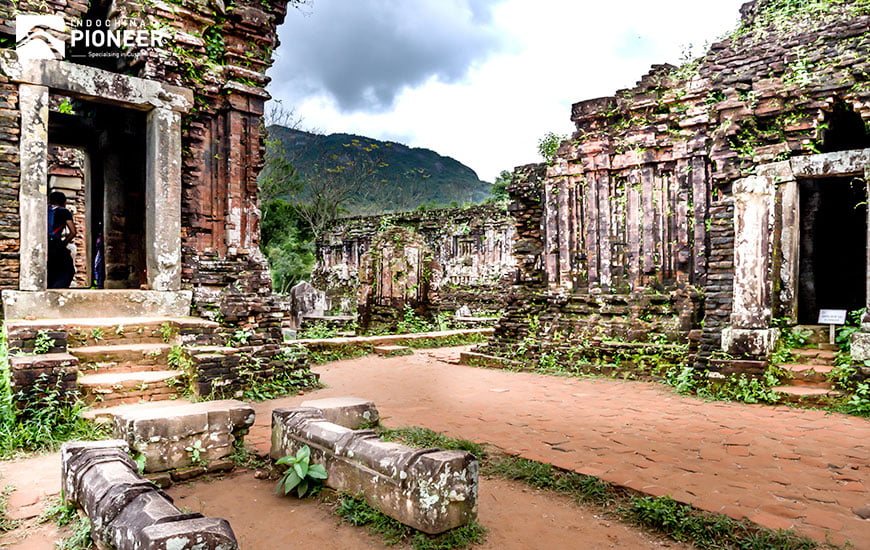 Recognized as a UNESCO World Heritage site is the My Son Sanctuary – ruins from the ancient Champa Civilization that served as an important political and religious site back in the day. Commonly referred to as the Angkor Wat of Vietnam, these were built between the 4th and the 14th centuries A.D. The ruins are now overgrown with weeds, making them even more enchanting.
Sand Dunes, Mui Ne

Don't be surprised to face another version of Saharan in your Vietnam tour. The red and white Sand Dunes of Mui Ne are two geological wonders no visitor should ever miss while being in this beautiful country. A stroll onto the dunes at dusk will often be rewarded with a dazzling blaze of colors: amber, crimson and blue. Visitors can rent plastic sleds to make the super-fun sand slipping activities, or try kite flying to catch the beautiful sunset here.
Ben Thanh Market, Ho Chi Minh City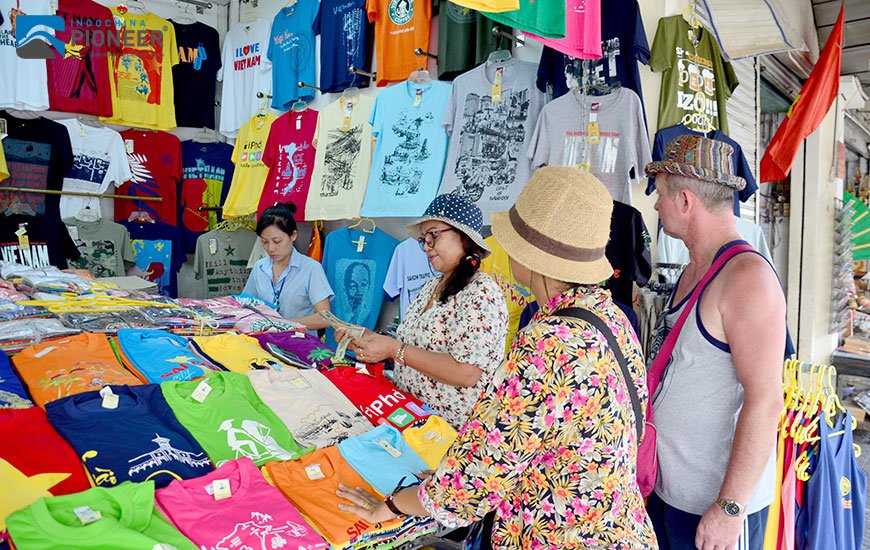 Not only is Ben Thanh Market a structure where the daily trade of goods takes place within its walls, but it also serves as a historical site that has witnessed the ups and downs of Ho Chi Minh City, a landmark, a rendezvous point and a beautiful background for photos.
Mekong Delta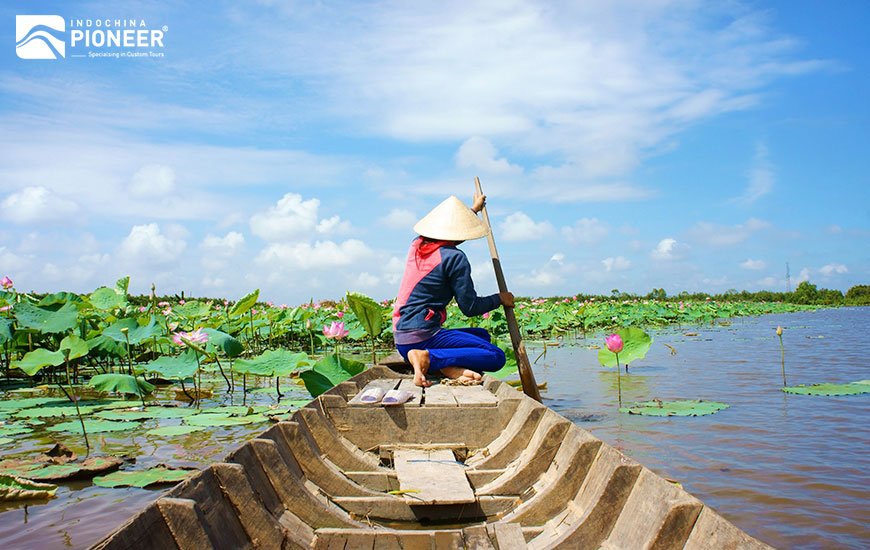 Mekong Delta can be described as a flooded world of super-vibrant floating markets, rugged houses where you can see piles of fruits on bustling clusters of boats or navigate through rows of coconut palms, forests of cajuput and mangrove and immerse yourself in the natural wilderness. Get that iconic picture of yourself wearing a conical hat while rowing a boat through a canal of the Delta surrounded by palm tree fronds on both sides.
Long Beach, Phu Quoc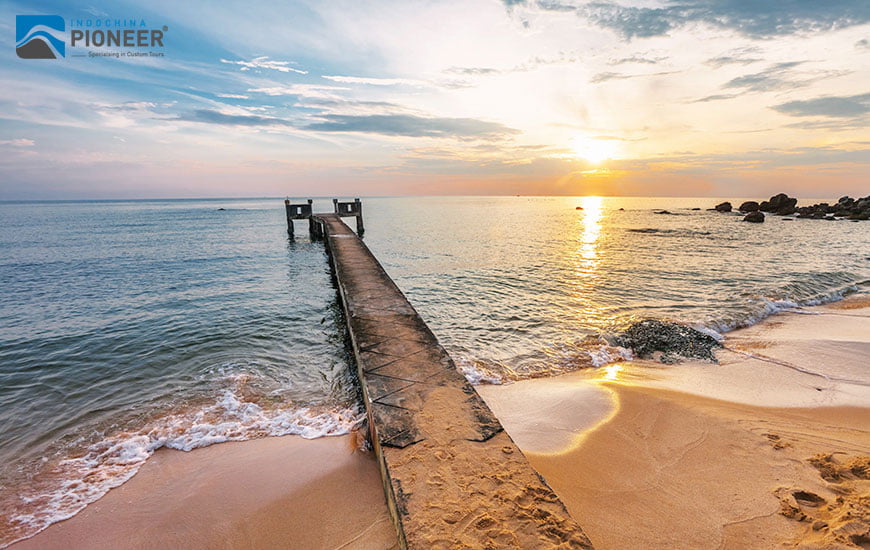 Phu Quoc has some of the best beaches in the country. Long Beach is known to have the most spectacular sunset views, and so is lined up with luxury resorts. If you're looking to wow yourself and your Instagram followers, head over here and make the rest of us jealous.
Let Us Help You Plan Your Vietnam Trip.
Don't let the planning stress you out. Tell us your travel ideas and our travel advisors are very glad to give you suggestions and guidance for your trip planning. We can tailor-make your trip according to your interests and requirements, and help to create the best Vietnam vacation for you.