Top 12 Things To Do In Ninh Binh, Vietnam

If you're planning a trip to northern Vietnam, Ninh Binh should be at the top of your list of places to visit. Only 90km from Hanoi, this stunning destination boasts breathtaking natural scenery, charming rural areas, and rich historical sites that cater to all types of travelers. Whether you're a seasoned adventurer or a first-time tourist, check out the top 12 things to do in Ninh Binh; you won't want to miss them. It's no wonder that Ninh Binh has earned the moniker "Halong Bay on land" – once you're there, you'll see why.
When To Visit Ninh Binh?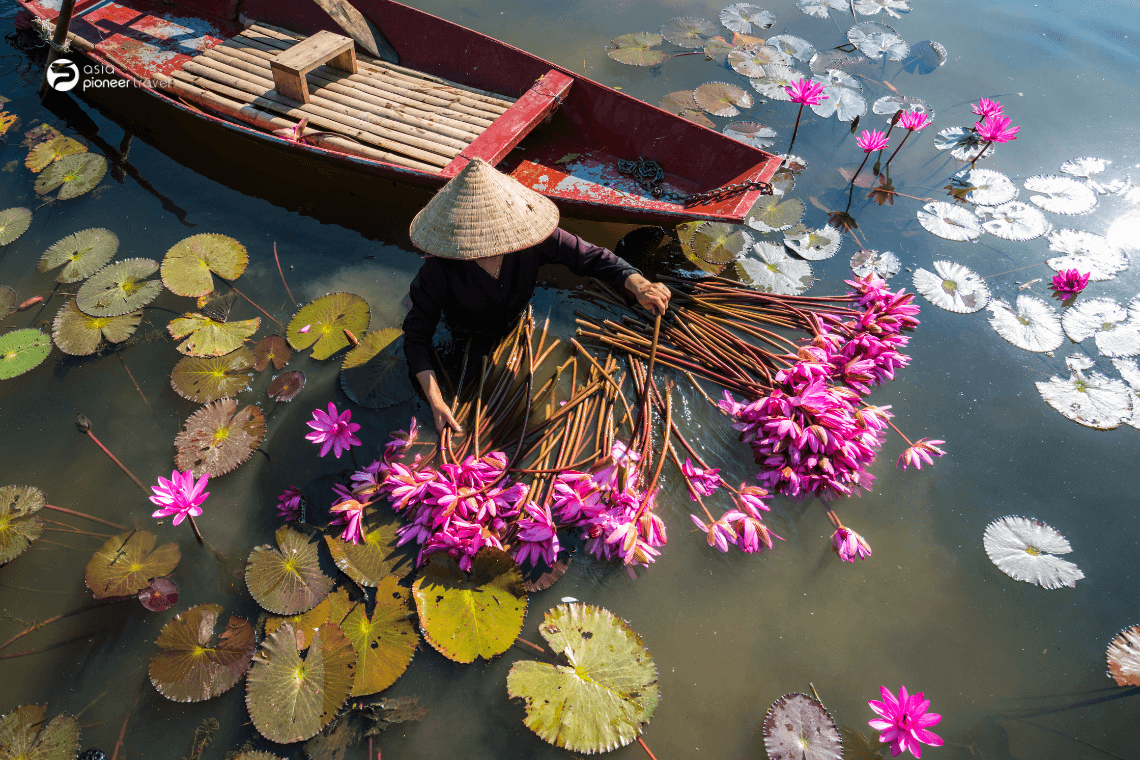 As it is a northern area, Ninh Binh also goes through 4 seasons like all other neighboring destinations. Here are the recommended times to explore this lovely destination. 
Rice fields season: There are two times of the year when you may observe the golden rice fields. This is between May and early July – when the rice is harvested and the lotus flowers are in bloom; and September and October – when the weather is cool with fewer days of rain.
Dry season: From November to April, the temperature is chilly and dry. If you go to Ninh Binh during this time, bring something warm.
Rainy season: From May through August, the temperature is considerably high and more humid, with a greater chance of rain.
Top 12 Things To Do In Ninh Binh
1. Sightsee Trang An on a boat trip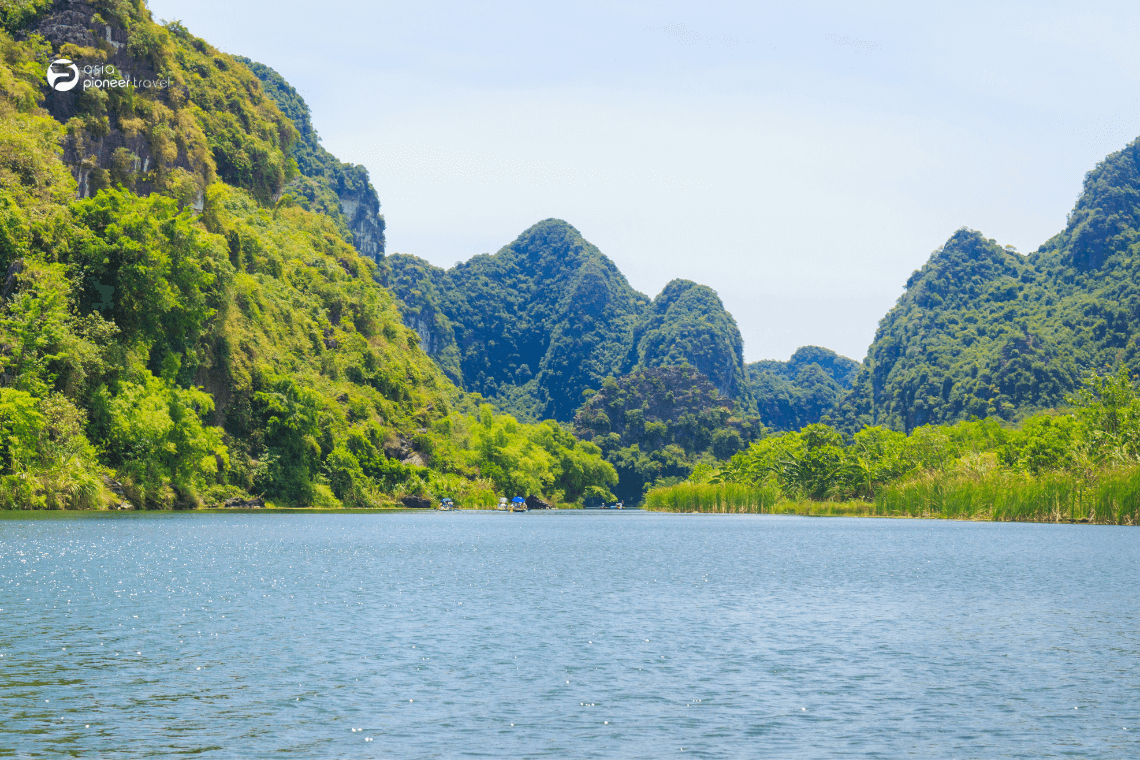 Trang An is a famous tourist destination in Ninh Binh, known for its stunning karst formations that include limestone mountains, caverns, and rivers. The place is so beautiful that it has been declared a UNESCO World Heritage site and was even chosen as a filming location for the movie Kong: Skull Island.
Trang An can be explored by taking a boat journey through the twisting riverways, passing past various caverns, and marveling at the spectacular natural beauty. You may also trek up one of the mountains for a panoramic view of the region. The hiking trail is well-kept and easy, making it accessible to most tourists. You will be treated to a fantastic experience whether you opt to discover Trang An by boat or on foot.
2. Explore Tam Coc's tranquil scenery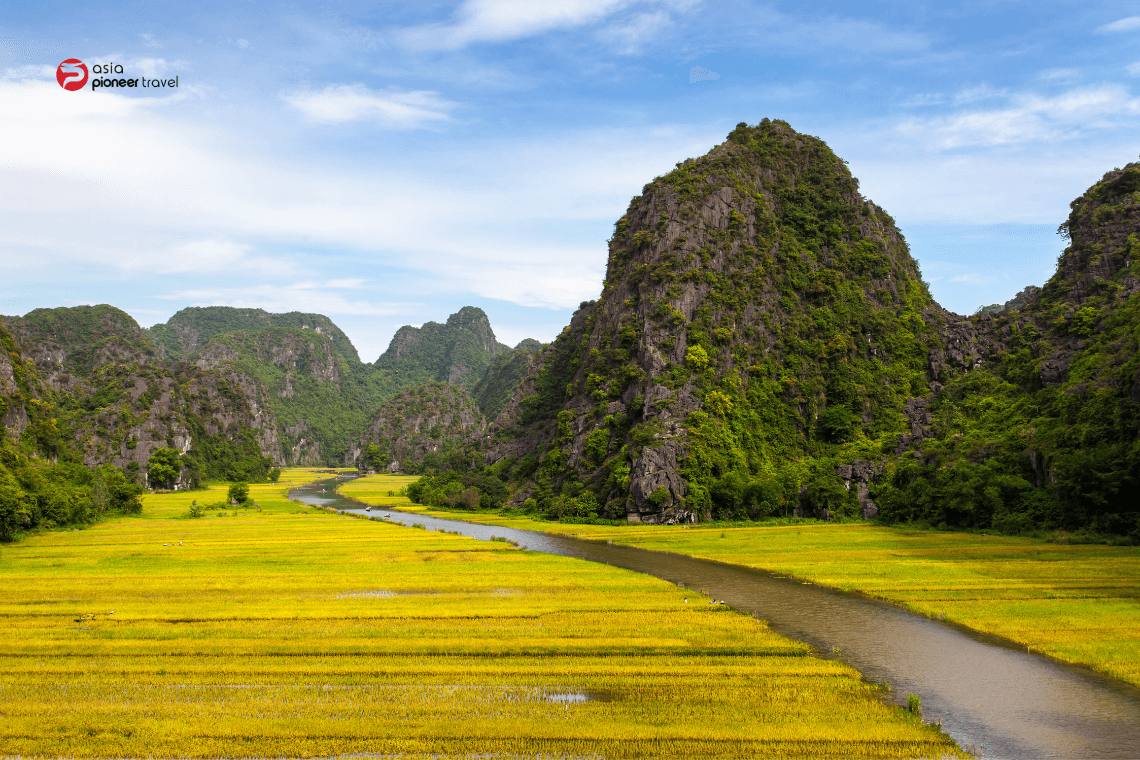 Trang An's scenery has been declared a UNESCO World Heritage Site, which is no exaggeration. The disconnected mountains are made of thickly vegetated slate, and the sheer cliffs in juxtaposition to the mirror-smooth crystal water add to the dramatic impact.
You will board a small rowboat and sail past caverns, temples, and lakes for two hours. In the shade of massive, jungle-covered karsts, your own boatman or lady will paddle you down the calm river. Along the route, the boats stop at temples and glide beneath grottoes. 
>>Read More: Top 20 Best Things To Do In Vietnam
3. Forest bathing in Cuc Phuong National Park
One of the best things to do in Ninh Binh is to explore the natural beauty of Cuc Phuong. As Vietnam's first national park, it is home to a wide variety of flora and animals, including rare and endangered species that will enchant nature aficionados.
The butterfly season spans from April to June and is one of the park's most magnificent sights to see, with hundreds of multicolored butterflies flitting around. If you're in the area at the right time, you may join guided tours of the park to witness this lovely spectacle and learn more about the ecology of the area.
Aside from the butterfly season, visitors may enjoy the park's various hiking trails, the Endangered Primate Rescue Center, and the old caverns and limestone formations.
4. Admire the ariel view of Hang Mua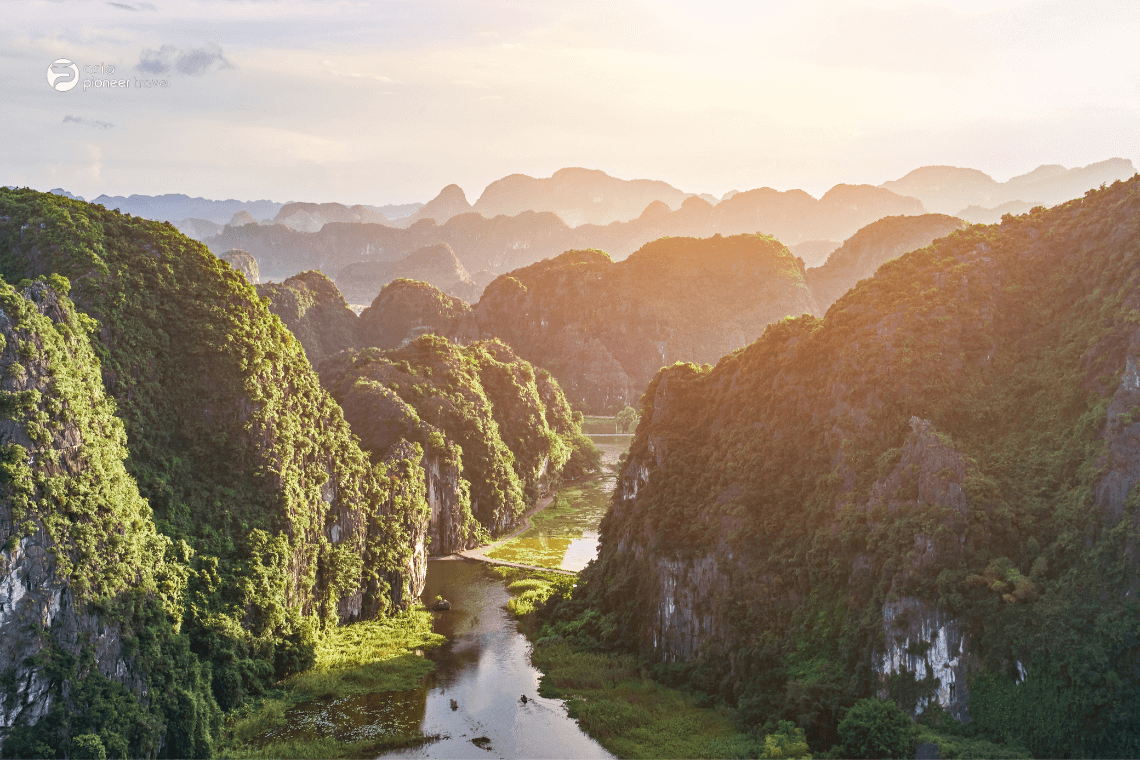 Hang Mua viewpoint is at the summit of a steep mountain, but the views are worth the 500 stairs up (just 15-20 minutes!). You'll be rewarded with a 360-degree vista of Tam Coc Valley from the summit. The patchwork quilt of verdant rice fields and twisting rivers winding in, out, and around the old karsts will take your breath away. The caverns themselves include intricate sculptures and old shrines, which add to the historical value of this destination.
Hang Mua is best visited early morning or late afternoon when the sun is not as hot and the scenery is at its finest.
>>See Tour: Classic Vietnam: Ho Chi Minh City to Hanoi
5. Go temple trekking at Bich Dong Pagoda
The Bich Dong Pagoda is a cluster of stunning mountain cave temples situated at the base of a massive mountain. Its construction dates back to the 15th century and features a stone bridge spanning a large lotus pond. During the summer, the pond blooms with lovely pink petals.
Just outside the gate, visitors can find a peaceful courtyard and a traditional Buddhist temple, which is a popular spot for Instagram photos. Climbing up the steps provides breathtaking views of the surrounding area, and two other 18th-century temples can be found carved into the mountain. This pagoda remains an active place of worship, underscoring its significance as a cultural and historical landmark.
6. Cycle through Ninh Binh's peaceful countryside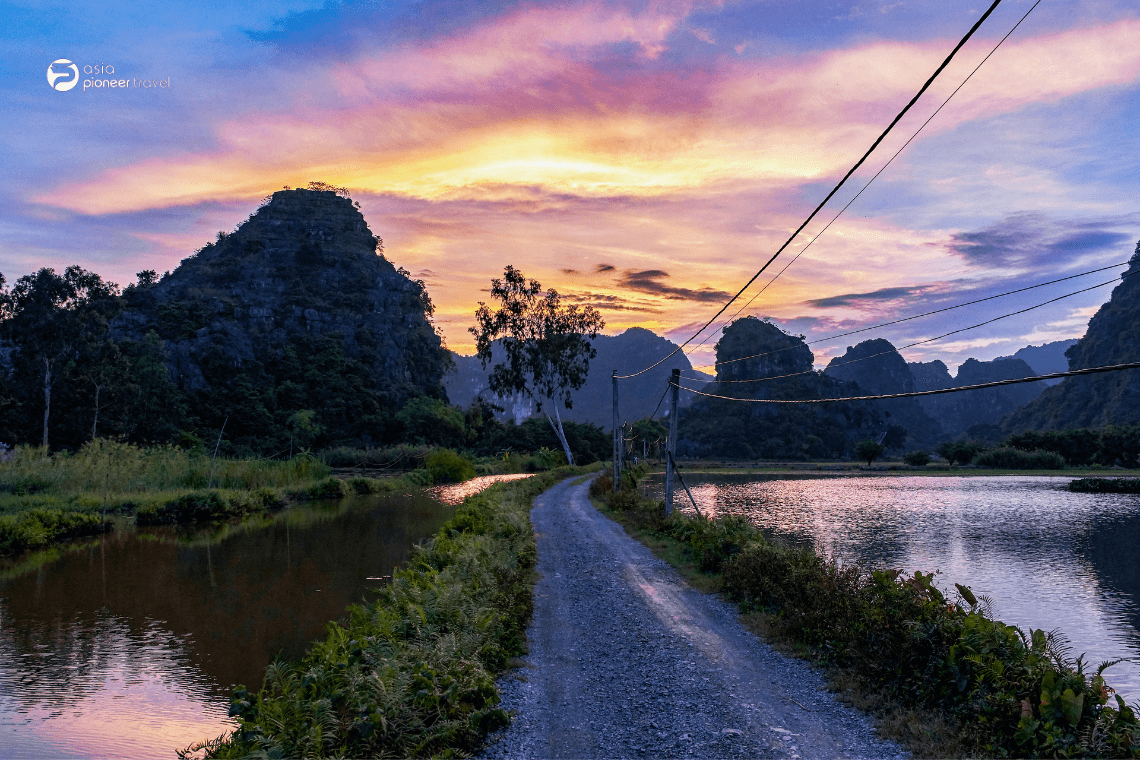 The best way to see Ninh Binh is probably from the saddle of a bicycle. Most hotels offer free bicycles or rent them for only one dollar. Or else, you can check nearby hotels and stores. The majority of Ninh Binh's sights can be easily reached by bicycle. 
Riding a bike in the countryside is a delightful experience. The roads that pass through the rice fields are incredibly beautiful. Plus, there are charming lotus lakes and small towns where you can stop for a refreshing drink. However, be prepared to encounter the occasional stray goat or water buffalo along the way.
7. Discover the unspoiled beauty of Van Long Nature Reserve
Van Long Lagoon is a serene and beautiful natural wonder located in Gia Vien District, Ninh Binh. It is Northern Vietnam's largest wetland reserve, covering over 3,500 hectares. You may take a boat ride on the lagoon and relax in the calm waters while admiring the breathtaking views of the limestone mountains and rice fields.
The lagoon also has a broad range of fauna, including rare and endangered species like the Bonelli eagle, langur monkey, and black-faced spoonbill, making it a fascinating spot for nature lovers. Animals are rehabilitated here and then released back into the wild following treatment. It is undoubtedly a spectacular experience, with peaks of limestone mountains and paddy fields reaching the horizon.
8. Stroll through Hoa Lu – Vietnam's first Ancient Capital
Imagine if walls could talk; you would be intrigued to know what Hoa Lu's brick and vine-covered structures have witnessed. Hoa Lu was Vietnam's first capital city and is just a 20-minute drive from the Trang An region.
During the 10th and 11th centuries, Hoa Lu was at its peak and it was built between two towering limestone mountains, providing natural protection against invaders. Today, you can explore two atmospheric constructions that have survived the ancient fortress. The building's archways, banyan trees, and brick courtyards will transport you back in time.
>>Read More: What To Do In Vietnam For A Week As Suggested By Travel Experts
9. Wander the enormous Bai Dinh Pagoda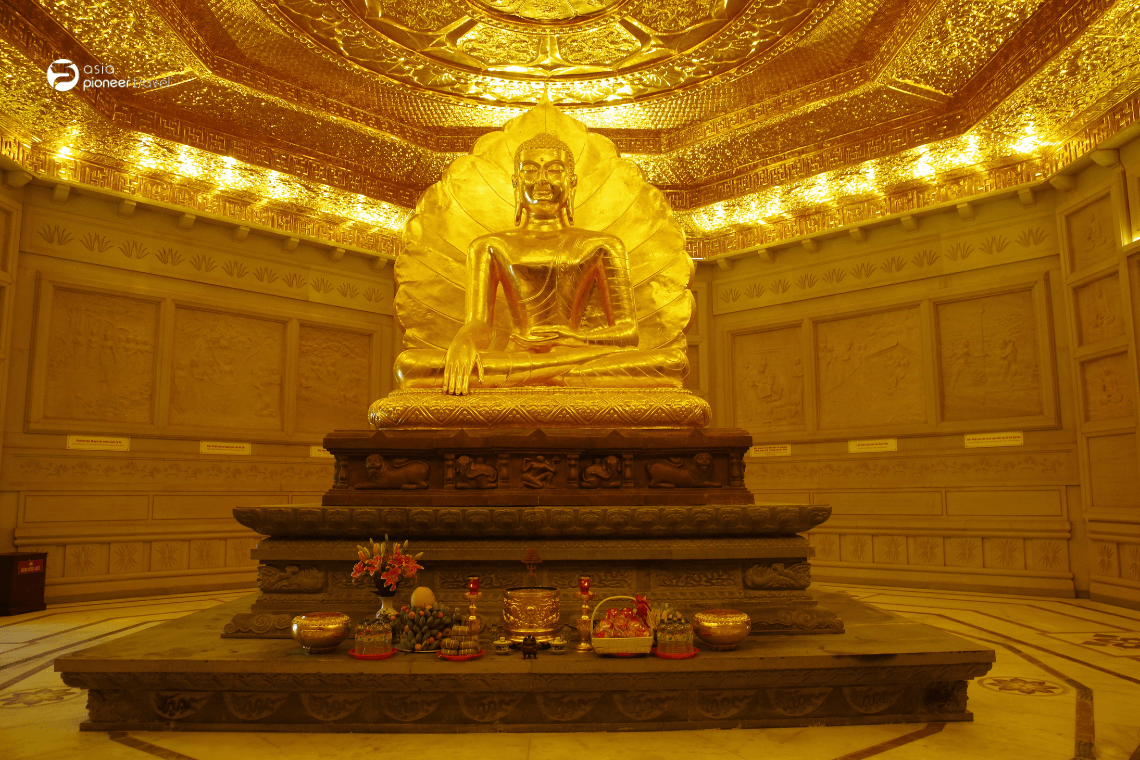 A visit to the Bai Dinh Pagoda in Ninh Binh is a must for anyone interested in Buddhism and Vietnamese culture. This temple complex, which spans an impressive 539 hectares, is one of the largest in Southeast Asia.
Between 2003 and 2010, the complex was constructed with a combination of historic and modern architectural works, including the old Bai Dinh Pagoda and the newly built one. Coming here, you may experience the pagoda's tranquil environment, which is surrounded by breathtaking natural landscapes. The complex's centerpiece is a gigantic bronze Buddha statue that stands 10 meters tall and weighs 100 tons. This makes it Vietnam's largest bronze Buddha statue and a famous tourist attraction for both locals and visitors. In addition, the site contains 500 Arhat sculptures, each with a different facial expression!
10. Go bird watching at Thung Nham Bird Park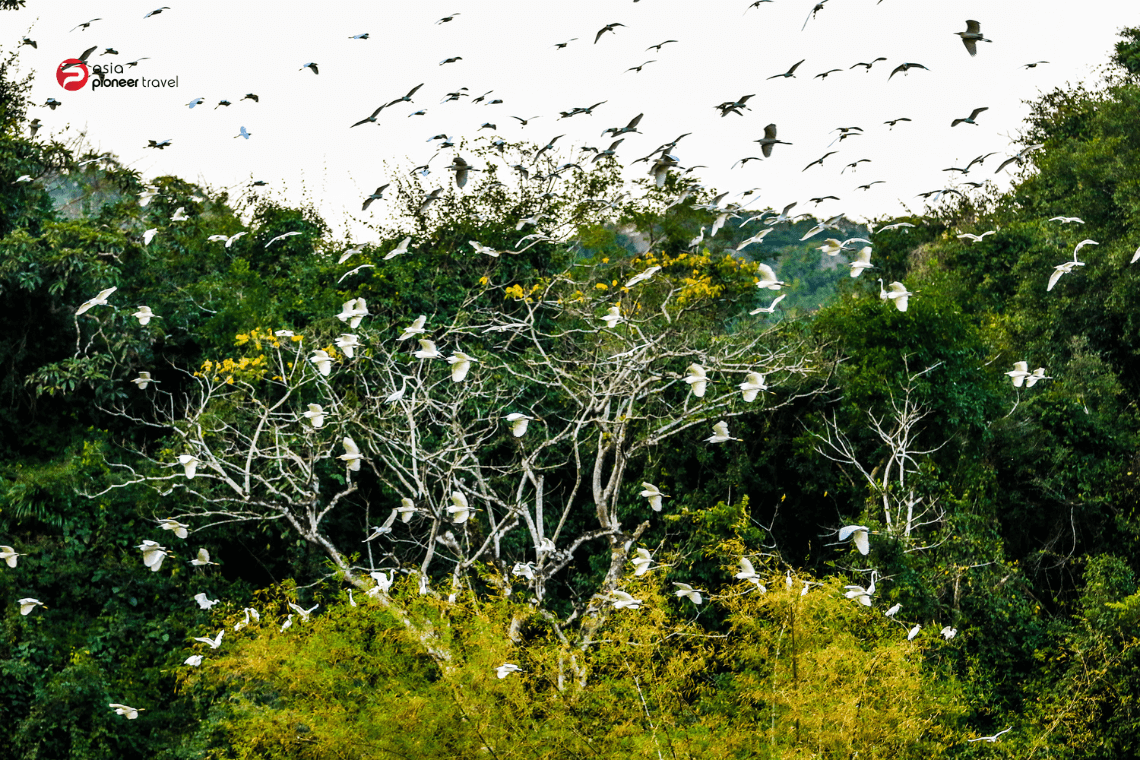 Thung Nham Bird Park is a new attraction in Ninh Binh, yet it is a pleasant spot to visit as there aren't too many people compared to other well-known sites like Tam Coc or Trang An. The park is well-known for the numerous birds that live there.
It's better to go late in the afternoon or early in the morning before the birds go. The birds come home at about 4-5 p.m., but the park is vast enough that there is enough to do before watching the birds. Boat rides to the forest, where the birds return every evening, are available.
>>See Tour: Vietnam Off the Beaten Path
11. Taste the local specialities
Try the province's signature meals, com chay, and de tai chanh, while in Ninh Binh. Com chay is a fried rice crust that may be consumed as a snack or dipped into a hot stew. De tai chanh is made with goat meat, which is the most popular protein in Ninh Binh, and is mildly cured in lemon juice before being tossed with chiles, lime leaves, and sesame seeds.
Other than these two dishes, there are several foods you should try as well. Try to order a dish of banh cuon for a real local breakfast; fresh rice paper rolls stuffed with chopped pork and mushrooms and garnished with mint and a light fish sauce.
12. Book a local homestay
Ninh Binh offers great beer bars and local restaurants, but you should consider staying in a homestay in Trang An or Tam Coc. They are conveniently located just a short distance away and offer breathtaking views of rice terraces and lush scenery.
Homestays provide a picturesque setting with towering karst stones and small streams, and the friendly locals are happy to share insider information about the area. For a peaceful escape from the hustle and bustle, check out Emeralda Resort, Chez Beo, or Nguyen Shack.
Book your upcoming trips with Asia Pioneer Travel – The Best Travel Agency in Vietnam!
Asia Pioneer Travel has over 14 years of experience in the tourism industry and has established itself as a premier, reputable, tailor-made travel agency in Vietnam and Asia. We constantly pay close attention to and comprehend the demands and preferences of our customers, enabling the creation of excellent holidays. After taking our bespoke tours, many customers have told their friends and family about them. Because our customers deserve it, we consistently strive to assure them of complete satisfaction.