Pai, the small town with big attraction in Thailand

In the heaven of gorgeous beaches, fancy cities, and irresistible shopping centers, it is a little bit difficult to notice a small town tucked into the mountains of the Mae Hong Son district – Pai. This is a place where you can disconnect from the world, a town which is filled with nature's wonders like mountains, waterfalls, hot springs and canyons.
So are you ready for a visual trip to this wonderful place?
Why Pai?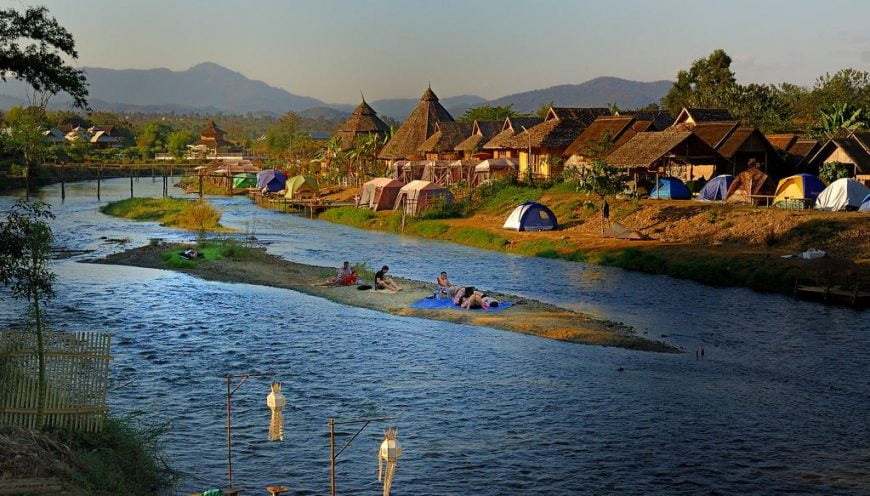 So why Pai? The energy of this place is almost indescribable. It is surrounded by mountains with jungle, waterfalls, hot springs, and canyons. Pai wears many hats as it manages to satisfy soul searches, naturists, party revelers, cultural enthusiasts and more. This town is nestled on the banks of the Pai River which makes for idyllic relaxation. The Pai river is also popular for rafting, kayaking, and fishing. You should not miss this destination in your Thailand tour as this is a highlight of the Thai northern region, and well worth exploring for a few days.
Highlights
Preserve Natural Forests: A unique elephant sanctuary and forest conservation project. This one-of-a-kind organization rehabilitates elephants from the tourism industry in order to release them into a protected national forest where they live freely.
Pai Hot Springs Resort: Buy a day pass and enjoy the hot spring pools, swimming pool, and gorgeous mountain views.
The Land Split: In 2008, with no explanation this farmer's land literally split in two, ruining his crops and making the land impossible to farm on, so he turned it into a tourist attraction. Relax on the shady hammocks as you enjoy a spread of local fruits, nuts, and other snacks with a refreshing glass of hibiscus wine. Afterward, check out the legendary land split and beautiful landscape surrounding it. Free of charge, donations accepted.
Pai Canyon: Hop on your motorbike and head out to explore the canyon in the afternoon, then stay for the sunset.
White Buddha: This giant Buddha statue is nestled in the mountains at Wat Phra That Mae Yen temple overlooking the city. This is also a great place to watch the sunset, but go up in the morning if you want fewer crowds and more peaceful experiences.
Hiking & Waterfalls: Pai is surrounded by mountains and jungle, so there is plenty of opportunity for hiking and waterfall chasing. Ask the locals or the people working at your hotel or hostel where to go!
Restaurants: Pai has such a huge variety of incredible restaurants, this subject needs its own post! You can easily find cheap Thai food at local restaurants and street vendors, nourishing vegan, vegetarian, and all-natural options, some of the best breakfasts, and an array of international foods.
Let Us Help You Plan Your Thailand Trip. 
Don't let the planning stress you out. Tell us your travel ideas and our travel advisors are very glad to give you suggestions and guidance for your trip planning. We can tailor-make your trip according to your interests and requirements, and help to create the best Thailand vacation for you.