Looking for a holiday in 2020 and 2021? No worries about Coronavirus!

Coronavirus: Should I book my 2020 or 2021 holiday now and are there Great Deals?
Sure this is the question that travellers have been asking themselves recently, and the answer is Yes.
We understand how you have been waiting to hop on your flight and head to a destination for an unforgettable journey in 2020 or 2021. The Covid-19 pandemic has, unfortunately, affected your travel plans. Nevertheless, we all know for sure the pandemic will not last forever, and you will soon be traveling again!
Reports have suggested that the pandemic can be controlled in several months, thus travel activities will return to normal by the end of this year, or at the beginning of 2021 at the latest.  Therefore, there are no reasons for you not to book your holiday to Vietnam, Thailand, Laos, Cambodia and beyond and enjoy many special offers for Xmas 2020 and Spring break 2021 from Asia Pioneer Travel with our flexible booking policy.
In order to assist you in the current situation, and it's also a way to help ourselves, Asia Pioneer Travel would like to offer the following options for new inquiries, new and already-confirmed bookings. Please find more details below and remember we're here for you now and if you need assistance, we are always happy to help:
Frequently Asked Questions
Before you book your trip with us: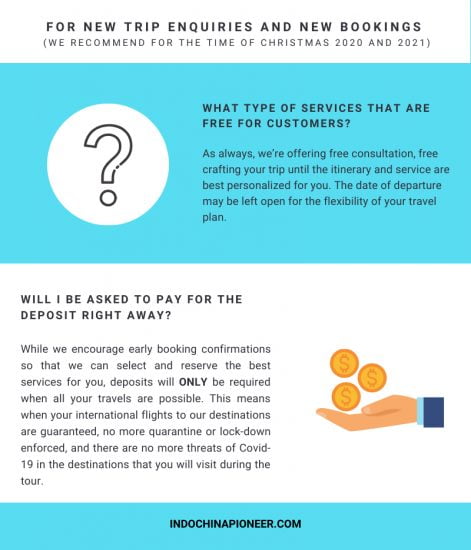 After your booking is confirmed but something unexpected happens:
In this situation, the best thing to do might be postponing your trip until a later time, when it is safe to travel again. Don't cancel that wonderful holiday you have been looking forward to and waste all the effort put into planning it!
"Changing the date of that booked holiday could be the kindest thing to do right now.", Juliet Kinsman, a well-known luxury travel blogger and writer, wrote on CNN Travelers in early April. Postponing your trip means you are supporting the people working in tourism, whose lives are also deeply affected by the Covid-19. It's really an act of kindness that goes a long way!
Asia Pioneer Travel, as a tour company, has seen the severe damage of this pandemic on our side as well! Beyond the daily business, maintaining bookings, expecting guests, having reasonable cash flow and especially keeping our staff at their dedicated jobs and income are crucial. We are doing our best to find solutions that can work in favour of both our customers and our staff.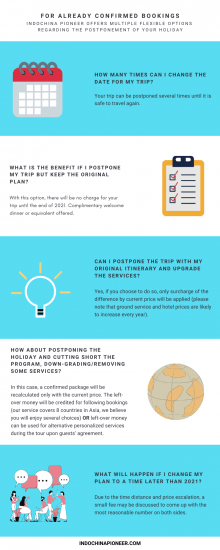 All of the above options focus on the quality of our customer service to make your upcoming holiday with Asia Pioneer Travel the best experience of a lifetime! Rest assured that your safety is our priority, we always monitor the situation closely and update you accordingly.
So don't hesitate and Start Planning Now! In this time of social distancing and of working from home, use it as a good opportunity to plan your next trip. Asia Pioneer Travel are here to make organizing your trip easier and more secure for you!