If you are in Nepal this merry season, we have excellent suggestions for you!

Don't be so hurry to pack your packs and jump to a flight home! As if you are in Nepal at this Christmas, you will not miss anything which is magical, and maybe there's a high chance that you will have the best Christmas season ever with this country. Just follow our suggestions below!
Holidays are not only for the family gathering, cuddling inside the blankets and exchanging gifts but also an excellent period for going out and enjoy the world. So if you are in Nepal this merry season, make sure that you will not miss the opportunity to celebrate the holy night in some of the greatest pleasures the mankind can ever enjoy.
Here're the top 5 places you should consider in your Nepal vacation this Christmas.
Thamel, Kathmandu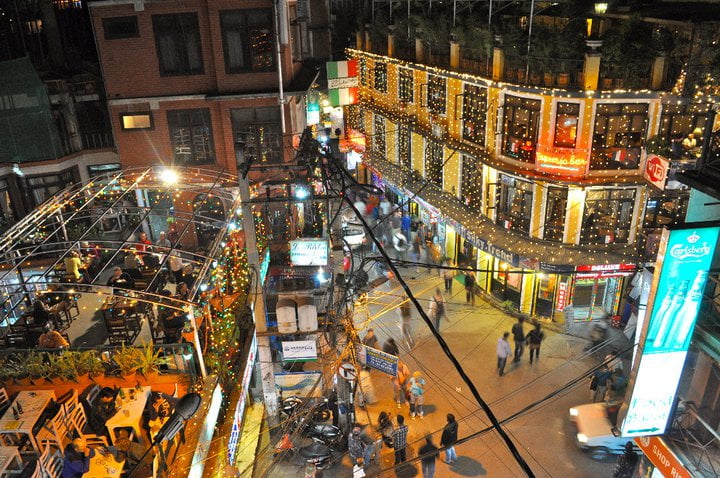 Thamel is the mecca. Thamel has it all. And Thamel is never disappointing. Located at the center of the capital Kathmandu, this is the only place that blends perfectly authentic eastern and western cultures. It is a colorful and beautiful mixture of craft shops, boutique cafes, trekking gear, and rainbow prayer flags. A one-stop-shop for every available item in Nepal, it is one of the most visited places by travelers and celebrities. The most popular diners, pubs, outdoor agencies, and outfitters are also in this dingy region.
"Thamel has transcended itself to a new hub of glitter and glamour where it wakes-up in the night showcasing a new exhilaration and excitement in satisfying the zeal of visitors. When the sun sets down in Kathmandu, Thamel and its lifestyle rise up. It is a happening place in Nepal; the only place in Nepal where nightlife exists."
All you need for Christmas is placed in the heart of Kathmandu, whether it is funky rock music bars, wine stops or an excellent restaurant for delicious steaks.
Lakeside, Pokhara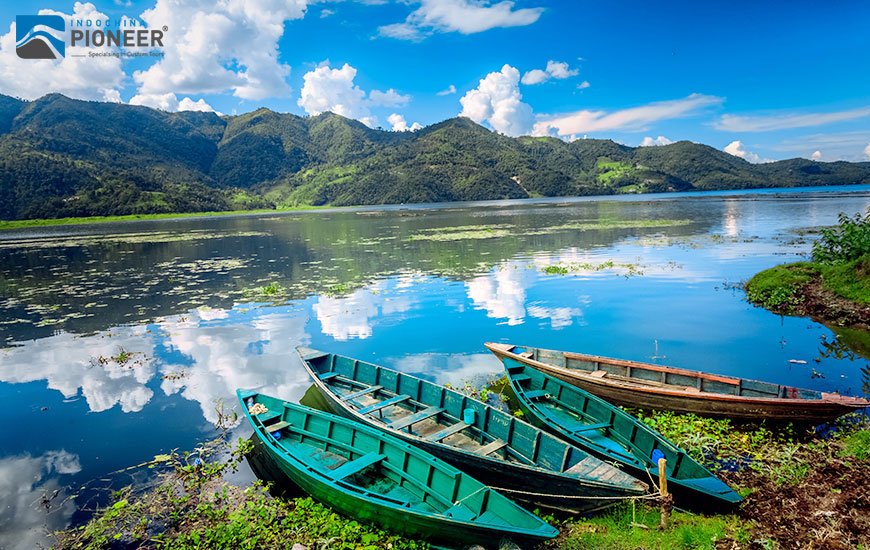 The lakeside city Pokhara is originally known as an ideal stop for trekkers leaving or returning from the mighty Annapurna Base Camp in their Nepal trip. Over time, this peaceful and beautiful town transfers to a popular destination attracting both local and international holidaymakers. To be named as "northwestern pearl", Pokhara deserves its title. The town is just like a water painting, with snow-capped Annapurna ranges standing as a perfect backdrop for the tranquility of the three Phewa, Rupa, and Begnas natural lakes. The range of recreational activities in Pokhara is at large. You can consider spending time in a peaceful restaurant beside the Phewa lake or go boating instead. If it suits your nerve, you can either paraglide from the cliffs of Sarangkot, jump off in tandem or plunge 70 m into the air through a bungee jump. The place is also popular for cycling and touring. In the holiday season, the Lakeside market of Pokhara gets festive with Gala dinner, parties, street festivals with Christmas and New year special menus.
Everest Base Camp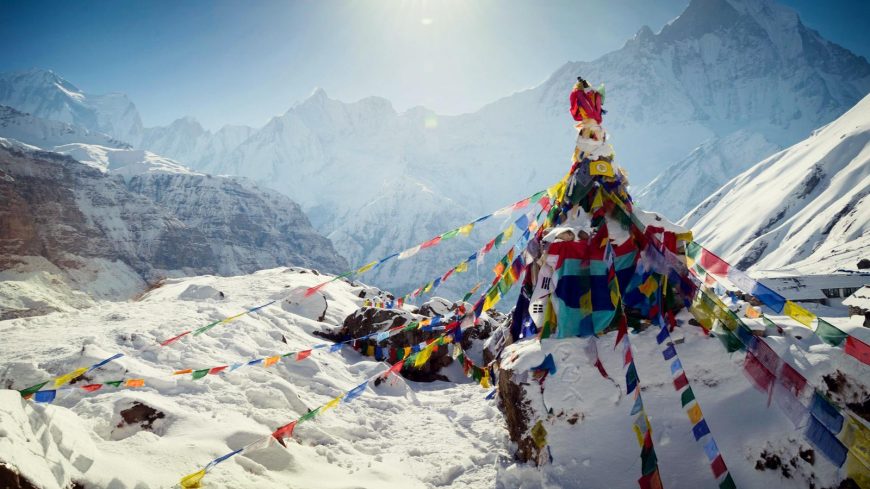 Located on the foot of the highest mountain peak in the world, Everest Base Camp (EBC) can't be beaten in terms of adventurer favorite spot. And don't be tricked by the word "camp", as this may be the most beautiful camp in the world you have ever met. Including the pristine winter lakes, the Buddhist monastery, and ethnic Sherpa villages, EBC is on the bucket list of any explorer. In this holiday season, you can be more than proud to be surrounded by the spectacular view of majestic mountains touching the sky. And that view only is able to make every normal thing back home (like the colorful socks hanging on the garner, the big turkey laying on the dinner table, etc.) suddenly become so "normal". suddenly Hold your breathe dear, as a deep one may blow away the fantasy land in front of your eyes. Visiting Tyangboche monastery, the Shangri-La of Everest, and watching Mt.Everest from the close proximity of Kala Patthar can be the greatest experiences of this trip.
Annapurna Base Camp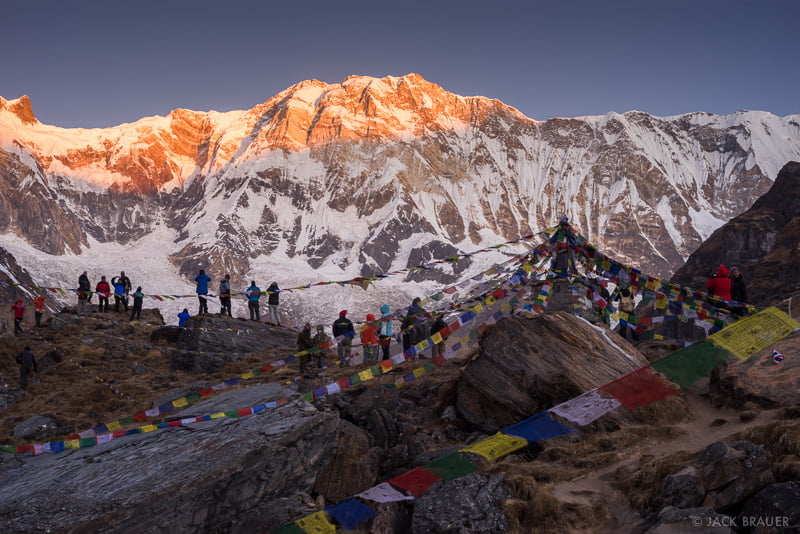 Annapurna Base Camp (ABC) is the second popular camp boasting some of the unique mountain ranges and a large number of trekkers every year. Annapurna base camp trek is an amazing walk through diverse landscape and culture complete with rich mountain vistas, terraced fields, quaint Gurung villages and a wide variety of flora and fauna. It will be a real adventure in your life. Ghandruk, Chhomrung, Machhapuchhre Base Camp and Ghorepani are the must-stop destinations during the ABC trek.
Sauraha, Chitwan
In case you are so tired of the frozen snow back home, head to Sahara at Chitwan and enjoy the warm weather which remains throughout the year. As the largest wildlife park in Nepal, Chitwan surely offers nature-lovers the most authentic and exotic experiences. There is a bunch of activities waiting for you to experience, from jungle trekking, wildlife safari discovering, to boating on the river and touring indigenous Tharu villages. The flora and fauna are extremely diversified, and there's a high chance to meet very rare animal species like rhino, Bengal tiger, deer, etc. Besides Chitwan, you can make a visit to many interesting landmarks of the region, for example, Tharu Museum, Devghat — as the Hindu pilgrimage destination, International elephant polo games, and The Elephant Breeding Center. This year you don't have to play "The Jungle Book" DVD anymore, as you are living the movie 😉