How Central Vietnam catches our soul
Together with the rising reputation of Vietnam in the world travel map, the country's central region become a "target" for passionate travelers. Danang, Hoi An, Hue, etc. quickly turn to hot keywords and hashtags on social networks. So let's discover the own unique charm and beauty of each town in this region, to understand why you should include them into your Vietnam travel itinerary.
Danang
To be named as "the most worth-living city" in Vietnam, the beautiful coastal town of Da Nang covers approximately the same land size as Ho Chi Minh City and Hanoi but is only home to 1 million people as compared to 7 or 8 million. Home to mountains, beaches and some of the region's tastiest food, Da Nang is one place where you can taste some of the best that Vietnam has to offer.    
Visit the biggest Buddhist statue in Southeast Asia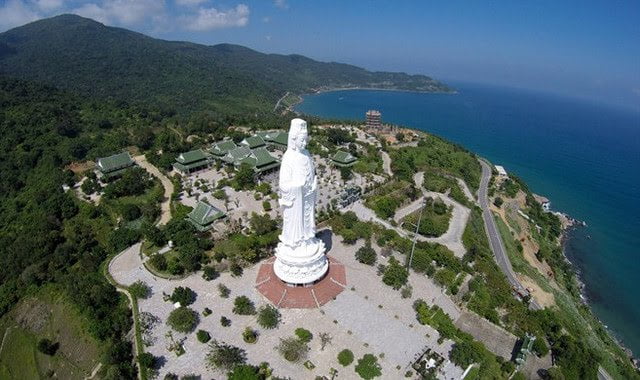 Driving along Da Nang, it's impossible to miss the massive white statue of the Buddhist Goddess of Mercy (or Lady Buddha) perched atop a hill looking out to sea. Standing 72 meters tall and carved out of one gigantic piece of marble, this statue is reportedly the largest Buddhist statue in Southeast Asia. As the statue is located at Linh Ung Pagoda on Son Tra Peninsula, even the windy road trip to it is so poetic with excellent sea-view on one side and lush forest on the other side. You'll be surprised to know the statue actually houses 17 floors with each floor celebrating the lives of different Buddhas. It's such an experience to make a visit to the statue!
The excellent and abundant cuisines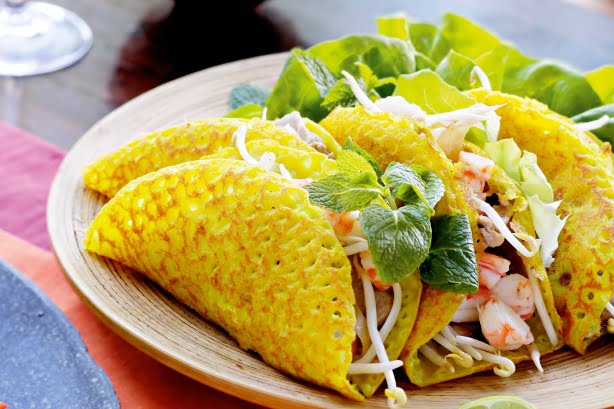 For a foodaholic (like me), Danang is totally a "worth-living" town in the culinary aspect 😉 The food choice seems to be endless, from Vietnamese, Japanese,  Korean to French and Korean. But the real treasure is hidden in the street stalls, with so many mouthwatering dishes. One of the most famous cuisine in Danang is "Banh xeo" (Vietnamese pancake) eaten rolled up in rice paper and fresh greens. And believe or not, you will never go wrong with it. Or, you can have the "Bo ne"  (meaning 'avoid the beef') for breakfast! Named as such for the splattering oil produced from placing raw beef on the hot plate, all you need is a bit of baguette and that impossibly delicious egg and mayonnaise gravy to start your day right.  Talking about drinks, the corn milk is surprisingly addictive and a great relief for the spiciness Central Vietnam food is renowned for.
Hoi An
With a reputation for being Vietnam's most romantic city, there's no way you can visit Da Nang and NOT visit Hoi An. Located just under an hour's car ride away from Da Nang's city center, this charming town with its melting pot of cultures is one place you will definitely regret not visiting. And while being here, you will reward the chance to:
Star in your very own Disney movie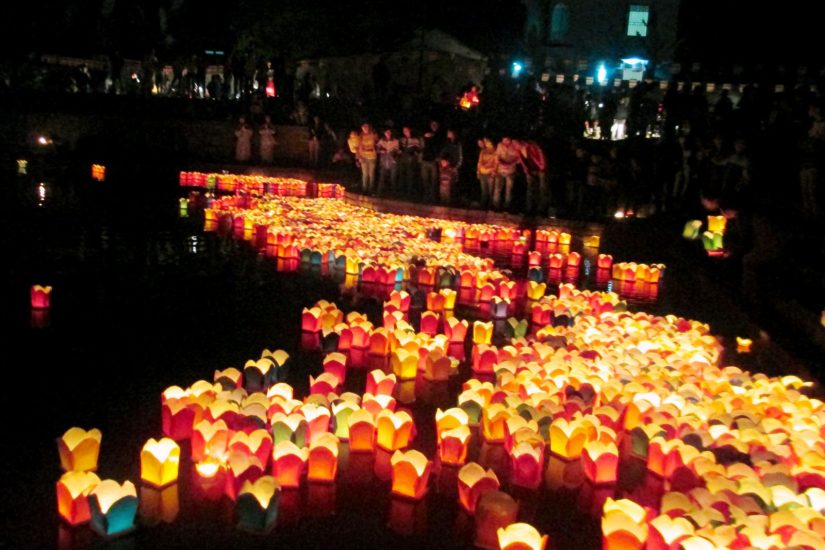 On the 14th day of every Lunar month, Hoi An transforms under flickering candlelight into a city truly deserving of its romantic reputation. People from all over Vietnam travel to Hoi An on this day to set little lotus-shaped lanterns upon the Thu Bon river for luck, love, and happiness. And you know what? This is totally the movie "Tangled" in real life! The beautiful and peaceful Thu Bon in a Full moon night, a slowly floating boat, and hundreds even thousands of candle lights… They are just a combination of perfection.
Learn how to cook in the Vietnamese countryside
We firmly believe one of the best ways to get to know someone's culture is via their food and there's no better way to go about it than with a cooking class with a difference! So in Hoi An, participating in a cooking class is among the most joyful experiences you will have in your Vietnam trip. You will be brought to visit the local market to get acquainted with ingredients regularly used in Vietnamese cooking. And after the main cooking part, you will have the chance to sit back, enjoy your "artwork" and discuss with the locals. Be free to feel at home!
Hue
The historical city of Hue was once Vietnam's national capital from 1802-1945 as its central location meant the Nguyen Dynasty emperors could rule both the North and the South with ease. Full of historical significance and relics from the past, this charming city still remains steeped in history and culture today and is recognized as a UNESCO World Heritage Site.  
Feel on top of the world at Vietnam's highest driveable point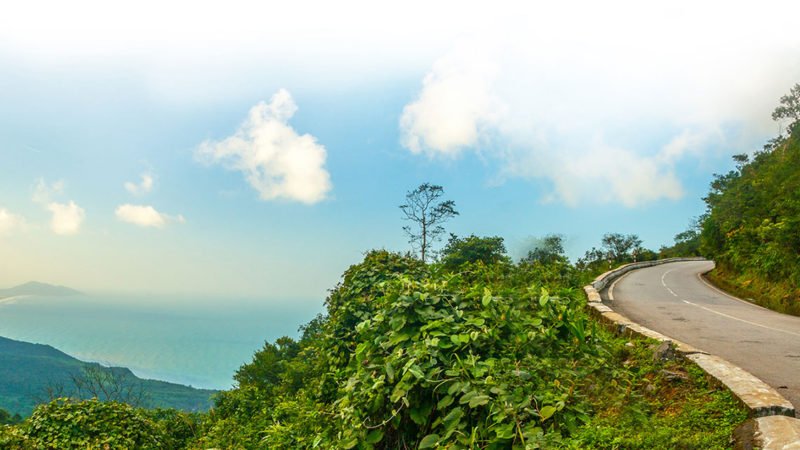 There are two ways to go to Hue from Da Nang: either up the Hai Van Pass or through it via the Hai Van tunnel. Unless your pet goldfish in Hue is dying and you need to save it, you should always, always travel through the Hai Van Pass. And you will have the most scenic drive ever! The amazing views of the surrounding mountainous landscape and turquoise coastline below are something is not easy to catch many times in your life. Don't miss it.
Become Lara Croft for a day (literally)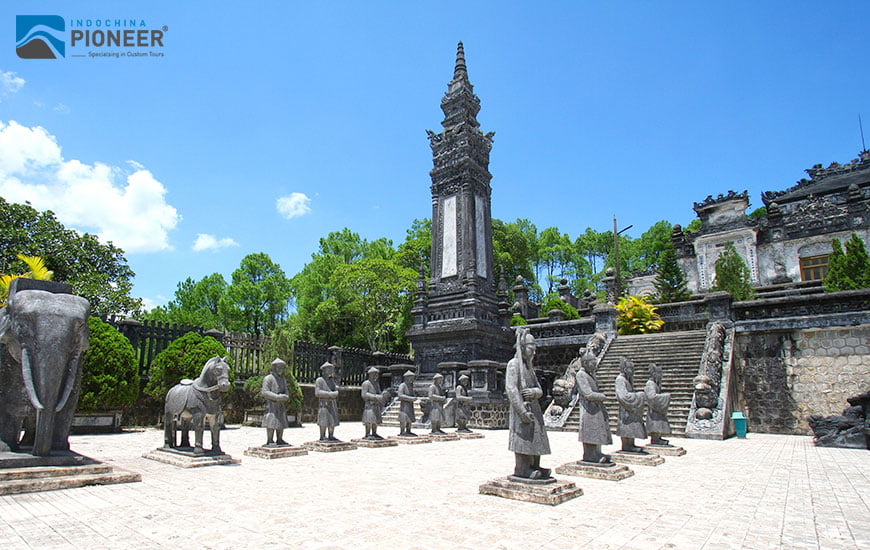 Hue is home to numerous tombs of emperors from the past and they are all unique. With some surrounded by moats, lush forests or even high concrete walls, every tomb will give you the experience to remember. The past seems to be still here, in this pretty city, and you will collect a lot of historical stories along your road.
Seal your love on Love Hill – one of Vietnam's most romantic spots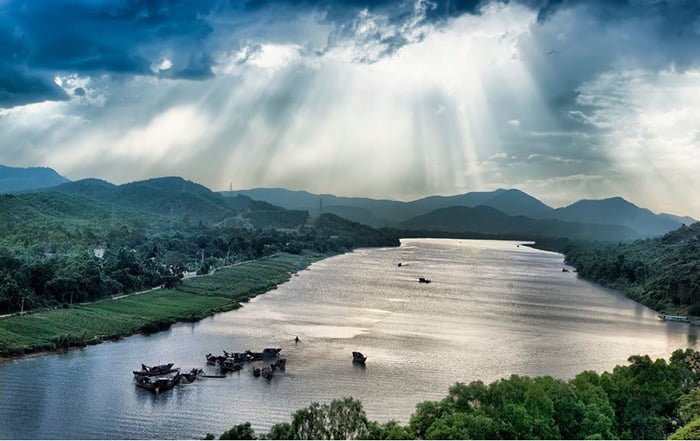 Named as such for the dense forest that accords starstruck lovers some privacy, many a couple have come here to cement their love with a kiss at this popular spot with a panoramic view of the Perfume River. Quiet, serene and peaceful, even if you don't have someone to cement your love with on Love Hill, it's still a scenic place to visit that will have you wondering if you're still in Vietnam.
Stand in awe at the tallest religious building in Vietnam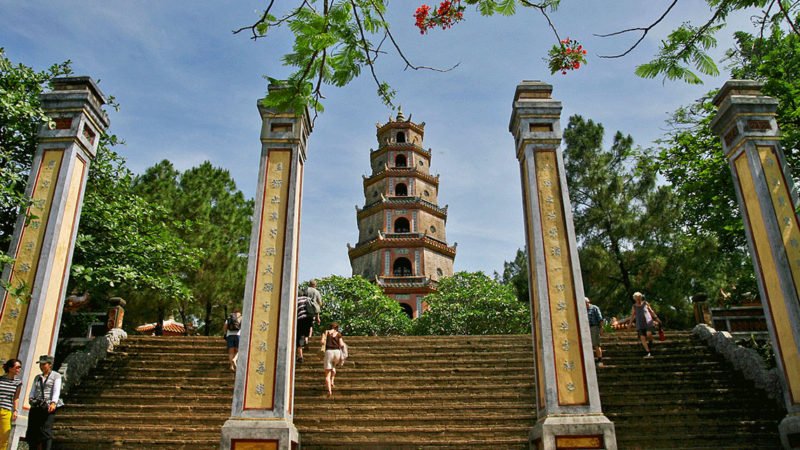 The Thien Mu pagoda sits by the banks of the Perfume River. At seven stories tall, this is the tallest religious building in the whole of Vietnam. Walking amidst the weather-worn structures, one can truly appreciate how old and regal the structures are. For many local Vietnamese, Thien Mu pagoda is also regarded as a symbol of the previous imperial regime.
Catch a vermillion sunset on one of Vietnam's most iconic rivers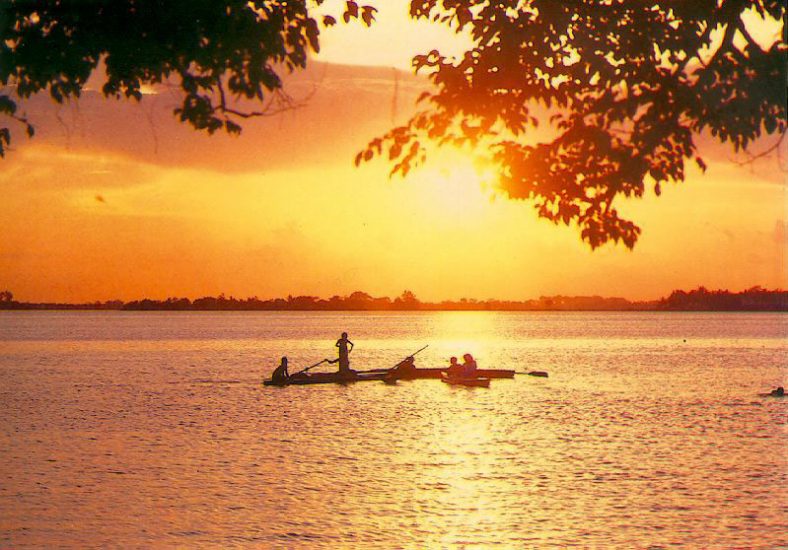 Often depicted in many forms of Vietnamese art, the Perfume River in Hue stretches for 30km through the heart of Hue. Origins of its nickname stem from the fact that flowers from surrounding orchards would fall into it in Autumn, causing the river to take on a hypnotizing floral fragrance.
End your day with a slow cruise along the river aboard one of the many boats that the boat owners themselves often use as homes. The Thien Mu pagoda is also accessible via the Perfume River, and a tour can be arranged via your hotel.
Let Us Help You Plan Your Vietnam Trip.
Don't let the planning stress you out. Tell us your travel ideas and our travel advisors are very glad to give you suggestions and guidance for your trip planning. We can tailor-make your trip according to your interests and requirements, and help to create the best Vietnam vacation for you.