Go where to eat what in your amazing Cambodia vacation

The culinary art reflects the country. And I guess it's true, at least in the Cambodia case. Although Vietnam and Thailand are two leaders for yummy dishes in Southeast Asia, Cambodia still has its place in travelers' heart (and stomach). And the whole nation is like a hearty party table, with each dish stand strongly for its region.
In thousand of mouthwatering foods — from the flavorsome to the weird and wonderful — here are some of the best places to sample the truly authentic Cambodian cuisine.
Visit Phnom Penh for Phnom Penh "Kuy Teav"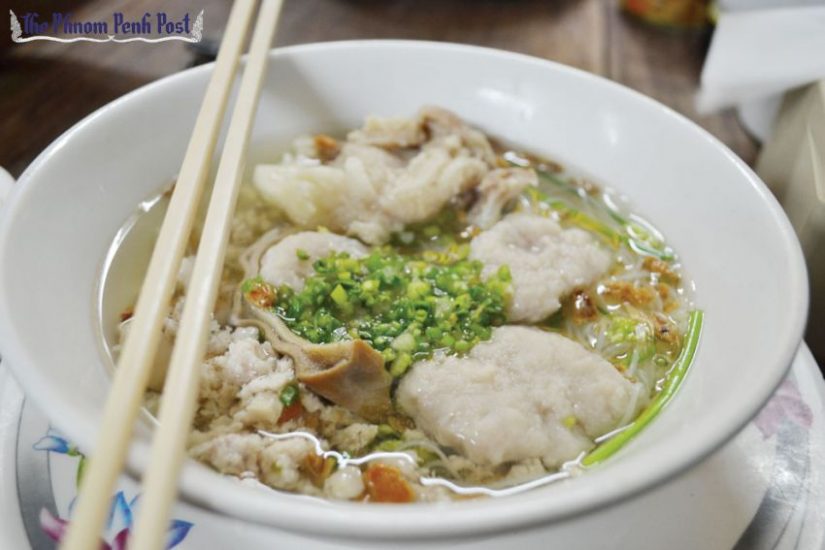 "Kuy Teav", the pork broth-based rice noodle soup, is like basic things for Cambodian every morning. This signature breakfast dish is served with garnishes of lettuce, bean sprouts, chopped scallions, coriander, black pepper, lime juice and caramelized garlic oil. The capital of Phnom Penh is the home of another version, which is the most extravagant of the range of options. Here, the soup comes loaded with extra nutritious ingredients, such as pork blood, chopped pork intestine, heart, liver and lung, roasted duck, Mekong river prawns, fish cake, and squid.
Banteay Srei and its wonderful "Nom Banh Chok"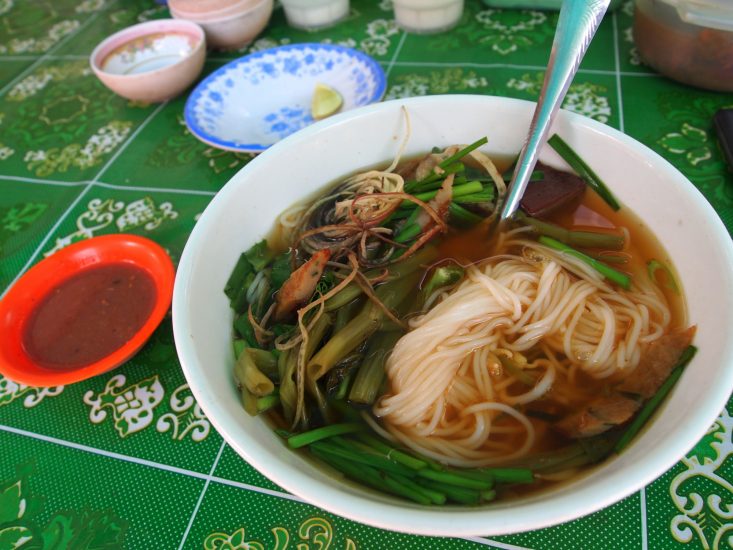 Another national favorite comes in the form of nom banh chok, or Khmer noodles — a rice noodle dish that is served with fish broth or chicken curry, cucumbers, bean sprouts, banana blossom flowers, water lily stems, basil, and mint. While it's typically a breakfast dish, it's also eaten as an afternoon snack, with women flogging bowls of it served fresh on the street from buckets hanging off poles balancing on their shoulders. Prevalent throughout the country, the noodles are laboriously made in the provinces by hand with regional variations available. For example, in Kampot, the dish includes locally-produced sweet dried shrimp, coconut cream, and peanuts. In Siem Reap, more garlic and coconut milk are used. A good spot to sample nom banh chok is at Preah Dak village in the Banteay Srei District of Siem Reap. Here, you'll find a whole street with stalls serving up the authentic local dish.
You will love Sticky Bamboo Rice in Kratie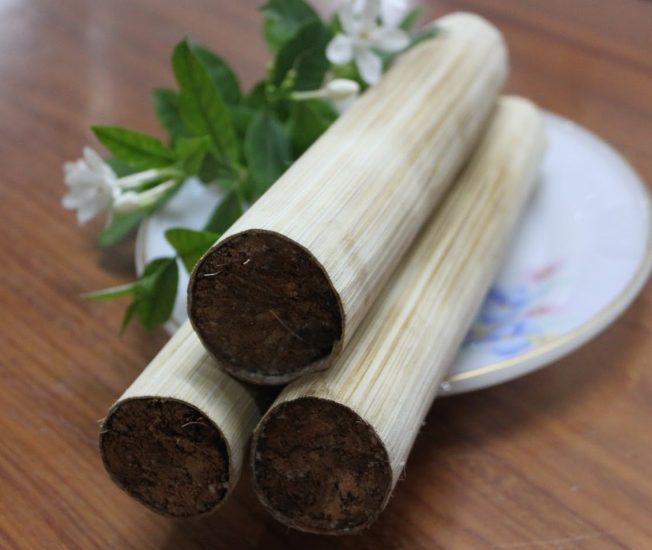 At 3 am daily, the day starts for Kratie's swathe of sticky bamboo rice makers as they set to work on creating the popular savory snack that is devoured across the country. By 6 am, vendors line the province's roads, selling the cylindrical bamboo cones to middle-men, who sell them to the markets. Kralan is a common sight throughout Cambodia and is made of sticky rice and red beans soaked in coconut milk before being stuffed in bamboo. The bamboo is then cooked over a charcoal or wood fire for several hours before the sticky and sweet snack is ready to be served. This snack is commonly sold on the streets and at markets.
Kep: Stir-fried Crab and Kampot Pepper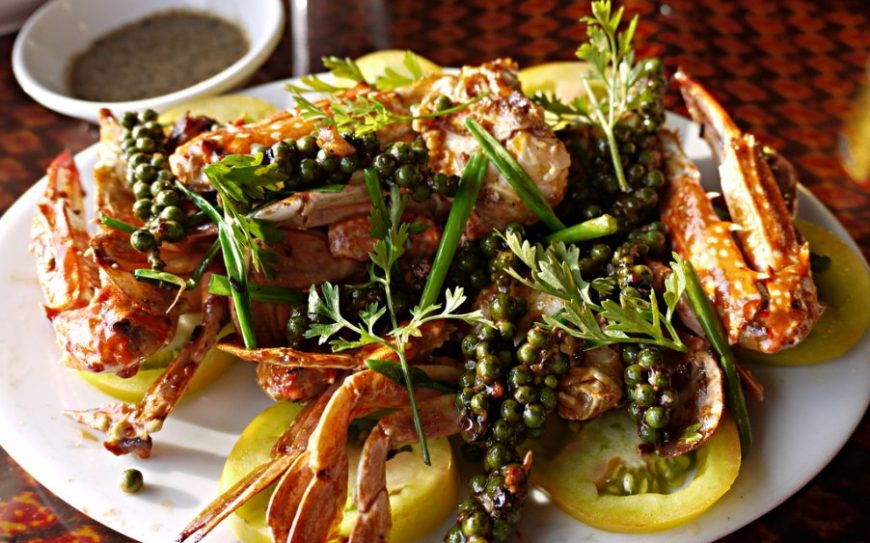 Kep is famous countrywide for its fresh seafood, thanks to the coastal town's crab market, which is a hive of activity throughout the day, as fishermen offload their catches and women wade into the shallow waters to check their crab baskets. Naturally, the town is home to some of the country's finest crab shacks and seafood restaurants, all serving the town's iconic dish — stir-fried crab served with neighboring Kampot's signature pepper: fiery Kampot pepper.
Kampot: Durian
Kampot's fertile soil not only makes it the prime spot for growing pepper but also durian. In fact, Kampot is so proud of its durian production, a roundabout featuring this giant fruit is the town's focal point. As the Marmite of fruit — you either love it or hate it — durian has a bad rap among Westerners, thanks to its putrid stink. In fact, some hotels and bus companies have banned it from their premises because it smells so bad. Regardless of whether you like it, it's a popular fruit across Southeast Asia, and it is pretty pricey too. You just need to follow your nose around any market to stumble across the fruit.