Cambodia Travel Requirements | 2023 Updated

Cambodia is a popular Southeast Asian destination for visitors with historic sites dating back thousands of years, breathtaking nature, an intriguing history, a unique culture, and most significantly, lovely people. Along with Thailand and Vietnam, it was one of the most visited countries in Southeast Asia prior to the Covid19 pandemic.
The Cambodian government has opened its doors to welcome foreign visitors now that things have returned to normal. As a result, you can start making travel plans for this country. Check out critical information regarding Cambodia travel requirements before boarding your flight, nevertheless. You should think about issues like if you'll require an entry visa, the regulations for international visitors, the travel documents you'd need to bring, etc.
In order for your trip to Cambodia to go smoothly, we have compiled the most recent entrance criteria. Find out by scrolling down!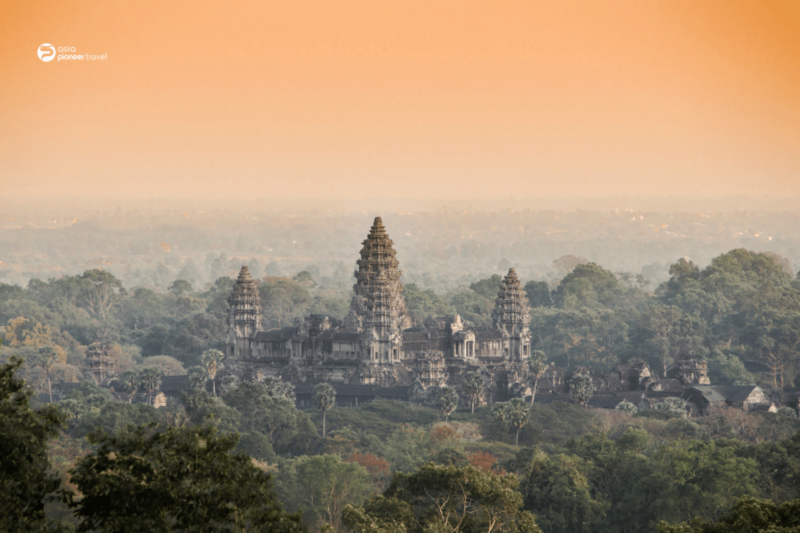 Cambodia Travel Requirements
Visa Exemption
Visa-free entry is available to visitors from a small number of countries.
The duration of this visa exemption is 30 days. Visitors from these nations must apply for a visa to Cambodia if they intend to stay longer.
14 days – Myanmar, Thailand, Brunei
21 days – Philippines 
30 days – Indonesia, Laos, Malaysia, Singapore, Vietnam
Visa on Arrival (VOA)
At the border with Cambodia, travelers can obtain a visa on arrival. It may be given out for both leisure and business travel.
Visitors from less than 10 countries are not eligible to apply for an e-visa online, but they are eligible to apply for a visa for Cambodia when they arrive.
Only a few points of entry into Cambodia, notably the international airports in Phnom Penh and Siem Reap, as well as a few land border crossings, offer visas on arrival.
Visa on Arrival Application
1. Actual (Original) passport (This is required because the visa is a sticker visa).
– must be valid for at least six(6) months from the date of entry in Cambodia.
– blank (2) visa pages for visa stickers and entry stamps.
2. Visa application form with one(1) 2×2 passport photo attached.
Recently taken at least six(6) months.
Kindly securely attached with a staple or glue (DO NOT use paper clip).
Click this link to download the visa application form.
3. Copy of Passport bio-page (passport name & photo information) – see image 01
Black & white copy is accepted.
4. Visa fee
– $ 30 USD in form of a Money Order or Cashier Check only payable to the Embassy of Cambodia.
– Credit card, personal cheque, or cash is not accepted.
5. Prepaid self-addressed return envelope (for mailing applicants only) to send back your passport.
For more details, you can visit Cambodia go visa website.
E-visa
Foreign nationals may enter Cambodia for tourism purposes with the help of an electronic visa (eVisa).
Most people can obtain a Cambodian e-visa to enter the country because it is available to about 220 different nations.
The single-entry Cambodia eVisa allows for a stay of up to 30 days in the country and is valid for 90 days from the date of issue. The electronic visa for Cambodia is only valid for one entry, therefore you will need to submit a new application for your next trip there.
You don't have to pick up the granted visa for Cambodia at the embassy as it is sent directly to the applicant's email address. Just keep in mind that you must print out your eVisa and produce it at the port of entry.
Please be aware, nonetheless, that only a few Cambodian entrance points accept the electronic visa system:
Phnom Penh International Airport
Siem Reap International Airport
Sihanouk International Airport
Cham Yeam (Koh Kong Province) (from Thailand)
Poi Pet (Banteay Meanchey Province) (from Thailand)
Bavet (Svay Rieng Province) (from Vietnam)
Tropaeng Kreal Border Post (Stung Treang) (from Laos)
E-visa Application
Step 1. Apply online
You can go to the Cambodian government's website for evisa to submit your documents, which include:
– a valid passport (valid for at least 6 months before your travel), with at least one (1) blank page
– a recent passport photo in digital format (JPG or PNG)
And complete the Cambodia eVisa online application form.
Step 2. Pay the visa application fee
You need to add a debit/credit card to pay for the application fee, which is $36 USD (including the processing charge)
Step 3. Receive your e-visa
You are required to enter an email address that will be used for communication when completing an online application. The Cambodian visa in PDF format will be delivered right to your email inbox after the government of Cambodia has finished reviewing and approving your application.
Note: You no longer need to show a pre-arrival COVID-19 test, a full COVID-19 vaccination card or certificate, or a passenger's health declaration on arrival in Cambodia. This applies at all land, sea or air entry points.
Let Us Help You Plan Your Cambodia Holiday
Don't let the planning stress you out. Tell us your travel ideas and our travel advisors are very glad to give you suggestions and guidance for your trip planning. We offer personalized tours according to your interests and requirements and help to create the best Cambodia vacation for you.