Laos Travel Requirements | Updates in 2023

Laos is often regarded as the hidden gem of the Southeast Asia region. Unlike its neighbors Thailand and Vietnam, both are known for splendid destinations with many modern cities, Laos attracts travellers with a more serene landscape, and a relaxing vibe. The peacefulness brings a distinctive charm to Laos. If you're looking for an adventure with a more relaxing pace and still rewards you with incredible sights, come to Laos.
Like other countries in Southeast Asia, Laos has also opened its door for travellers and is fully back to normal: no quarantine, no test, and no need to show proof of vaccination! Awesome. So, asides from planning your Laos holiday, the only thing left is to research the Laos travel requirements in 2023 and see whether you'll need to apply for a Laos visa.
Scroll down to find all the information you'll need in this article.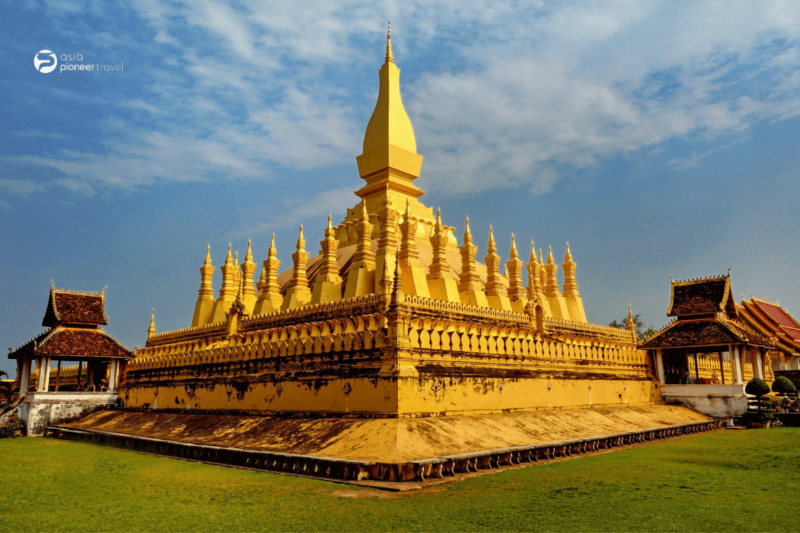 Visa Exemption
There are now 36 countries with which Lao PDR has visa-free agreements, and there are various types of passports available, including diplomatic, service, and ordinary ones.
Below is the duration for ordinary passports:
14 days – Myanmar
15 days – Japan, Luxembourg, Switzerland, 
30 days – Brunei, Cambodia, Indonesia, Malaysia, Philippines, Singapore, South Korea, Russia, Thailand, Vietnam
Visa Required
Visas can be obtained in advance from Lao embassies and consulates overseas, through a travel operator accredited by the Lao PDR, or on arrival at the border crossing.
Visa On Arrival (VOA)
Travelers may apply for a Laos visa upon arrival at either the Vientiane or the Luang Prabang international airports.
At the immigration counter, which is located directly outside the entry gate, are Visa Forms. You must fill out and obtain a visa.
Although there aren't many people in line for visas, if you fill out the Visa Form in advance, you won't have to wait too long to get to the front of the line.
Where to get a VOA
International Airports
Wattay International Airport in Vientiane
Luang Prabang International Airport in Luang Prabang
Pakse International Airport in Champasack
Savannakhet International Airport in Savannakhet
Border Checkpoints
China – Laos
Mohan, Yunnan – Botene, Luang Namtha
Thailand – Laos
Chiangkhong, Chiang Rai – Houixay, Bokeo
Nakaxeng, Loei – Kaenthao, Sayabouly
Houi Koln, Nan – Nam Ngeun, Sayabouly
Lao-Thai Friendship Bridge I, Nongkhay – Vientiane
Lao-Thai Friendship Bridge II, Moukdahan – Savannakhet
Lao-Thai Friendship Bridge III, Nakorn Phanom – Khammouane
Chongmek, Ubol Ratchathani – Vangtao, Champasack
Vietnam – Laos
Na Meo, Thanh Hoa – Banleui, Huaphanh
Nam Dan, Nghe An – Namkan, Xieng Khouang
Cau Treo, Ha Tinh – Nampao (Lak Sao), Bolikhamxay
Lao Bao, Quang Tri – Dansavanh, Savannakhet
Cambodia – Laos
Dong Calor, Cambodia – Veun Kham, Champasack
VOA Requirements
The fee for VOA is $40 USD, and it takes only a few minutes to process.
Make sure you bring the following documents to apply for a VOA:
Your original passport with at least 6 months of remaining validity and a blank page for a visa sticker.
A Visa application form, filled out and signed by the applicant (available at the visa window at Lao ports of entry or given before landing if you are arriving by plane).
Two (2) recent passport-type photographs.
Visa fee (in cash).
Laos E-visa 
With the Laos e-visa application, residents of about 160 different nations can get a single-entry tourist visa, allowing them to remain in the country for a total of 30 consecutive days. Laos entry requires a valid e-visa, which is valid for 60 days after the date of approval.
The e-visa fee ranges from $35 – $50 USD, depending on your original country. So check out the rate here.
Laos e-visa preparation
The following documents must be uploaded if you're applying for an eVisa:
• 4×6 cm photograph size (have been taken no longer than 6 months).
• Passport cover page.
• Passport bio page.
Please attach a passport photo that completely covers the bio page, including the MRZ (two lines at the bottom of the page)
Steps to apply
Applicants can apply in 3 simple steps.
Step 1: Provide the application details and upload the necessary documents on the website E-visa Laos.
Step 2: Review your application and pay the fee online.
Step 3: Download the E-visa Approval Letter.
Let Us Help You Plan Your Laos Holiday
Don't let the planning stress you out. Tell us your travel ideas and our travel advisors are very glad to give you suggestions and guidance for your trip planning. We offer personalized tours according to your interests and requirements and help to create the best Laos vacation for you.