All the places to admire spectacular sunset view in Myanmar

There are many reasons making travelers all around the world praise Myanmar as the "Golden Land". The reputation is built up because of not only the wealth of natural resources and shimmery pagodas covered in real gold but also some of the world's richest sunsets which create an extraordinary beauty when the daylights fade in this country. At that moment, the whole Myanmar will turn into a real sparkle treasure being able to catch anyone's soul.
Make sure that you will not miss this magical moment in your Myanmar tour, and we are going to introduce the most exotic landmarks to admire the sunset.
Bagan and the most iconic sunset of Myanmar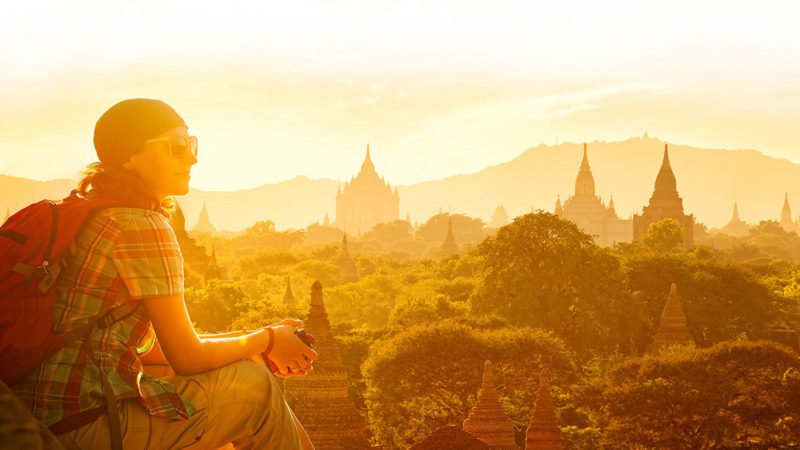 Touching the otherworldly reddish-orange skyline from hot air balloons, and watching  Bagan's glittery pagodas below are surely some of the most iconic experiences in any Myanmar trip. That will be a moment lasting forever in your memory. The sky seems to be so close to your heart, and Bagan seems to be the most valuable artwork below. If riding in a balloon basket is a little bit costly option, the next best spot would be atop a temple or a building. If this is the case, opt for Nan Myint Tower and enjoy dinner with the sunset on the ninth floor, or go directly to the observation deck on the 12th. Nan Myint Tower isn't the most attractive structure around, but its astonishing views almost make up for it.
Inle Lake and gentle, golden waves
Inle Lake is a place coming from Asian fairy tales. This freshwater lake is located in the Nyaungshwe Township of Shan State, and as a traveler, you should be aware, because it is insanely beautiful! You will be shocked, by the wild beauty of this area, and the peaceful silence surrounded in your boat trip. When the day fades out, the whole lake will be covered with unforgettable charm. You will bask in a calm but gorgeous sunset as fishermen prepare to head home and stilted villages get ready to settle down for the night. Let's grab a bottle of wine (or three), pack a light picnic dinner and let the sunset lap against the boat as it pours over the surrounding hills of Shan State. It's time for you to immerse in nature!
Sunset meets luxury on Ngapali Beach, Myanmar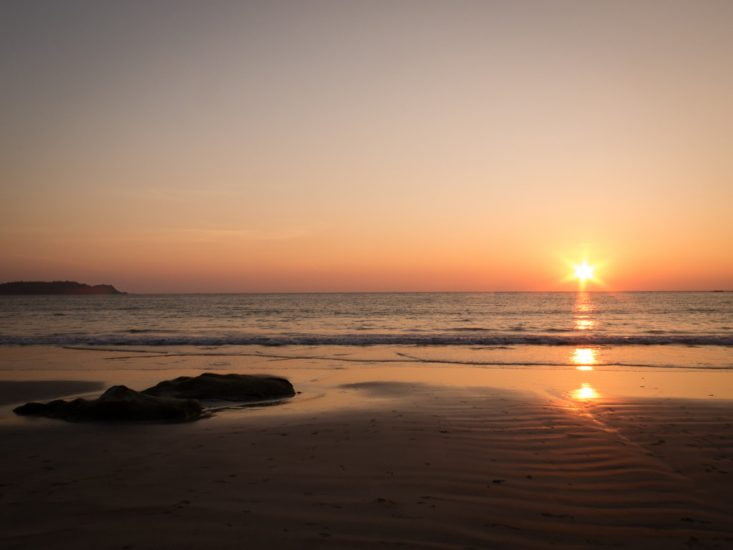 Gorgeous white sand, turquoise waters, and luxurious hotels are what people often expect when it comes to Ngapali Beach. So not many travelers know that this premier beach also promises sunset views dipped in luxury. Some of Myanmar's most exclusive resorts can be found on this short strip of stunning white sand. If a more affordable but just as nice of a glimpse of the sunset is desired, there are some midrange accommodations available at Ngapali or venture to Ngwe Saung Beach instead.
U Bein Bridge offers the most spectacular twilight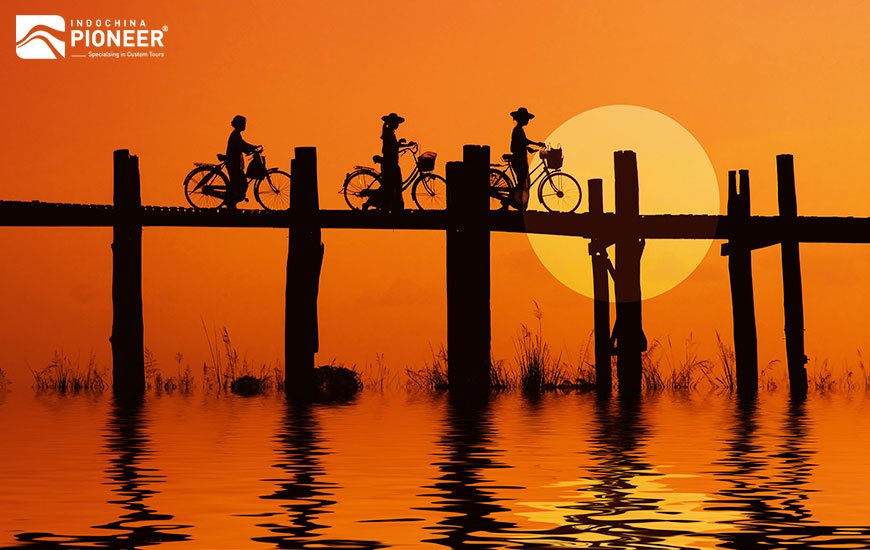 U Bein Bridge, the longest and oldest teakwood bridge in the world, will put you in an otherworldly moment. Grabbing a seat after walking along the bridge that spans nearly 4,000 feet over Taungthaman Lake near Mandalay, you will be given a free ticket to an absolutely mesmerizing show. The large columns of U Bein Bridge – and the hustle of people walking, biking and carrying goods across them – become the main characters of a performance spectacularly highlighted with the setting sun as its backdrop.
The Shwedagon Pagoda is even more dazzling at sunset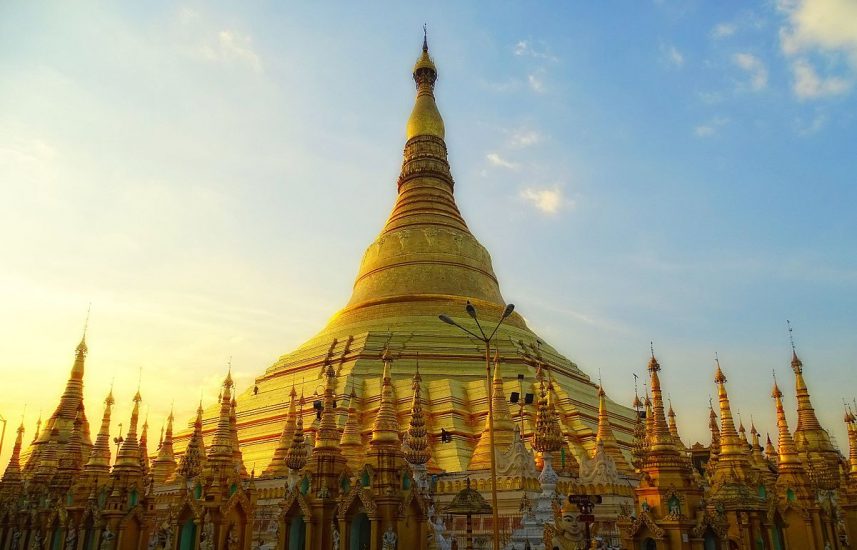 The golden hour is certainly the recommended time of day to fully appreciate the Shwedagon Pagoda in Yangon. Temperatures are cooler, there are many people dressed in gorgeous local attire to observe and the colors of sunset combined with the goldenness of the Shwedagon's stupas make for a truly awesome sight. Pour water over a statue of Buddha in the area that goes on the day of the week you were born, and then locate a step to sit on and watch night fall upon this ancient marvel.
Mount Popa is a dream at dusk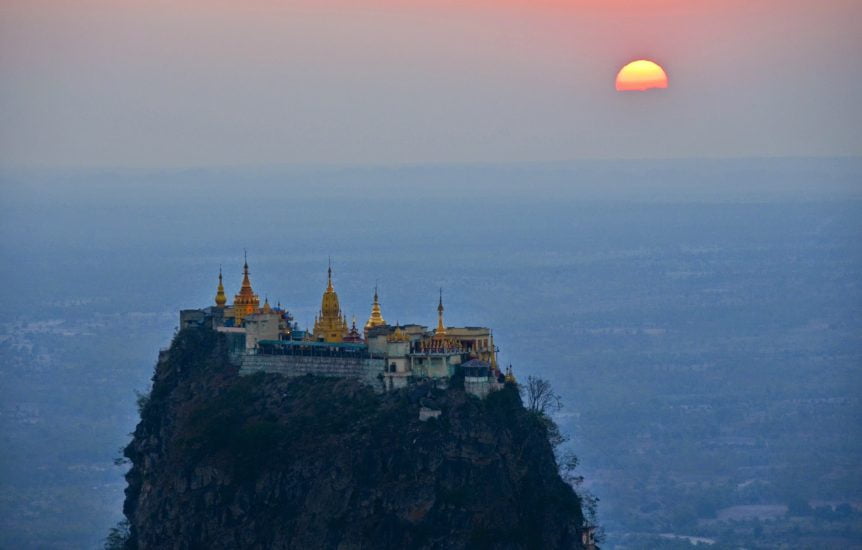 Mount Popa is a well-known pilgrimage site for nat (spirits associated with Buddhist belief in Myanmar) worshippers. Locals often refer to both the volcano and its neighboring volcanic plug as Mount Popa. Hiking up Mount Popa or 'Mother Mountain' to catch a sunset smoldering over the expanse of the Myingyan Plain is worth the effort. Taung Kalat Monastery located up 777 steps at the top of the nearly 2,500-foot volcanic plug is definitely the focal point from this perspective.