10 Photos prove that a Vietnam vacation is the best way to boost your Instagram account

As a traveler, also an Instagram user, I used to think that I had been "tortured" so hard by a lot of thousand liked pictures of Vietnam each day on Instagram. Until one day, I decided that I have been tortured enough, and my Vietnam trip must be made. So after that epic trip, it's my turn to torture you back 😉
Vietnam deserves a fairer look into its charm than just a Halong Bay day trip, a "Banh mi" or a bowl of "Pho". This country is so graceful, stunning, and amazing in its unique way. The landscapes are majestic, the history and culture are fascinatingly rich, and the people are amazingly friendly. Whether you are a gourmand, a history addict, a mountain hiker, a trek lover or a leisure traveler, the country certainly has immense options for experience seekers.
And these photos below surely don't let you down. Actually, they will help you to boost your Instagram account to the world better than ever.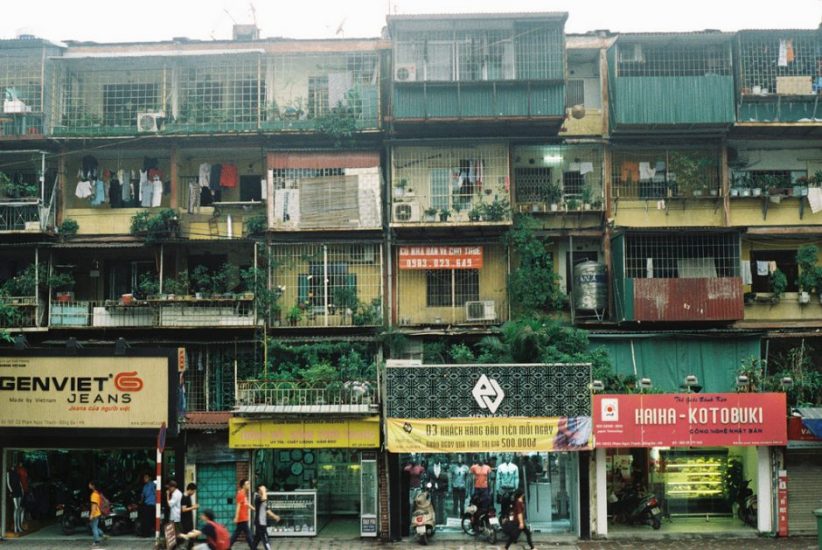 A collage of old apartments in Hanoi | © Huong Chi / Flickr
Hanoi- the heart of Vietnam is the one-and-only town in the world. You will be attracted by its diversity nearly immediately. This town may be the most complicated combination you have ever experienced. Everything is the opposition to each other, then also the perfect replacement for each other. The buildings versus the Old Quarters, the highways versus the small alleys, the high-end gastronomy restaurants versus the pavement life and art of casual cuisine.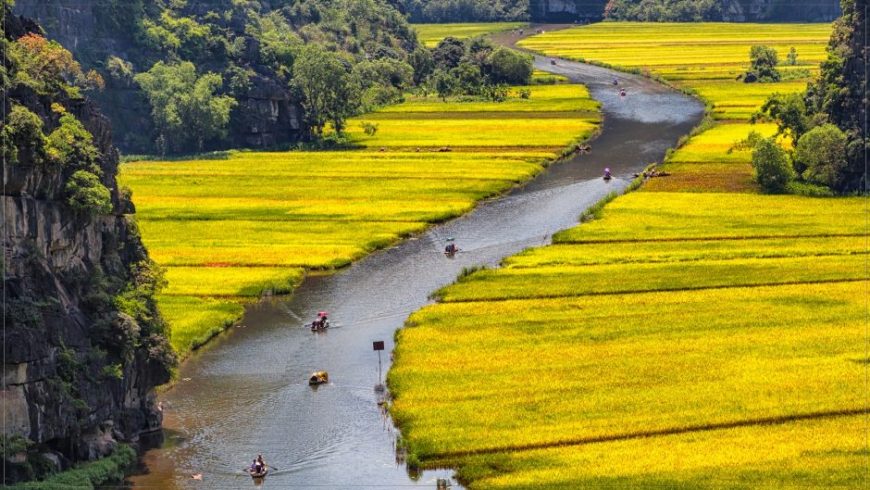 Boat rides around Tam Coc rice terraces, Ninh Binh | © Tuấn Mai / Flickr
Here we are, the land of blockbuster "Kong: The Skull Island"! With an approximately 2-hour drive trip from Hanoi, tourists can access Ninh Binh, and explore royal ruins, Limestone Mountains, caves and crystal rivers. Ninh Binh has it all, the ancient capital of Vietnam Hoa Lu (10th century), the stone cathedral Phat Diem, religious complex Bai Dinh (which belongs to Trang An Eco-tourism Complex), and Cuc Phuong national park.
Facing Halong Bay | © Asia Pioneer
Halong Bay is surely the most famous destination in Vietnam. This otherworldly bay is made of aqua-green water and the cluster of limestone rocky outcrops rising from the water like dragons, seems to bring scenes from fantasy stories into real life.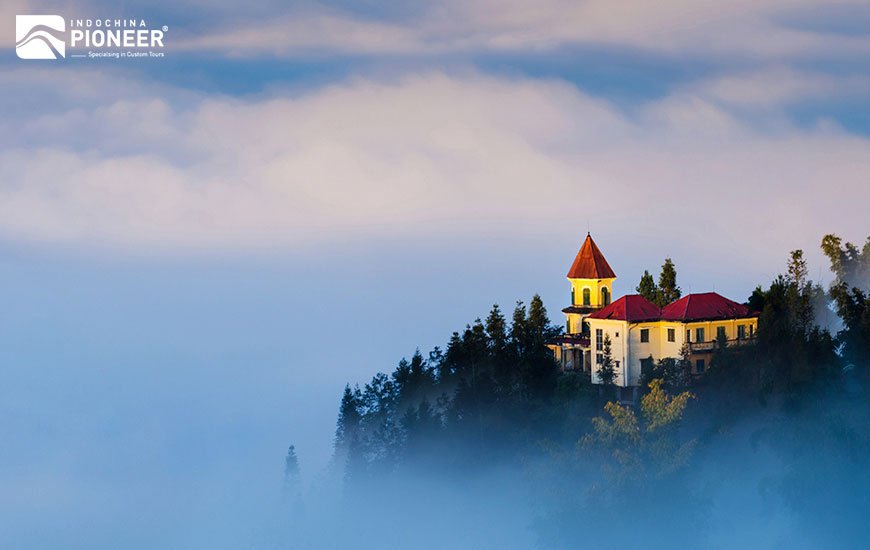 The iconic Sapa | © Asia Pioneer
Surrounded by picturesque mountains, rice terraces, fog and a diversity of hill tribes in the remote northwest of Vietnam, Sapa embodies the fanciful town from many bedtime stories. This is the homeland of the ethnic Hmong and Dao, with unique culture and traditions.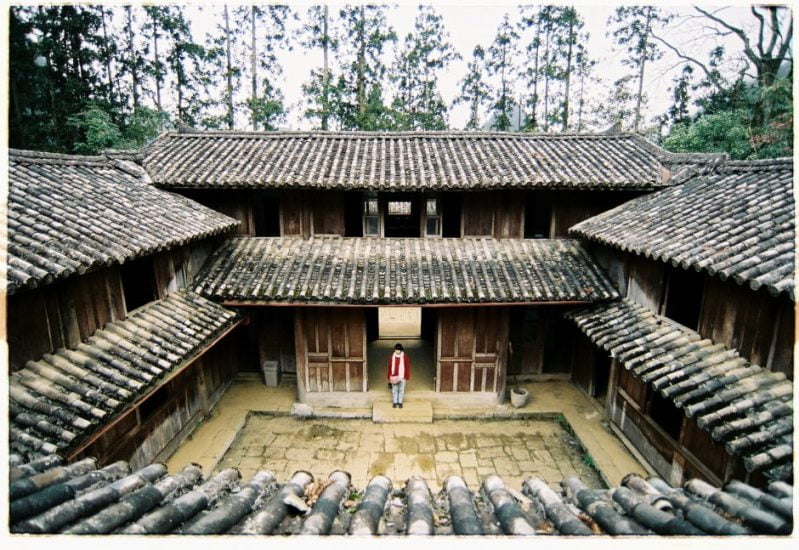 H'Mong King Palace in Dong Van stone plateau | © Khánh Hmoong / Flickr
Located over 1,000 meters above sea level, Dong Van Stone Plateau is formed by narrow valleys alternating with rocky mountain ranges in the north of Vietnam. This is one of the most beautiful mountainous regions in this country, which will give adventurers unforgettable memories.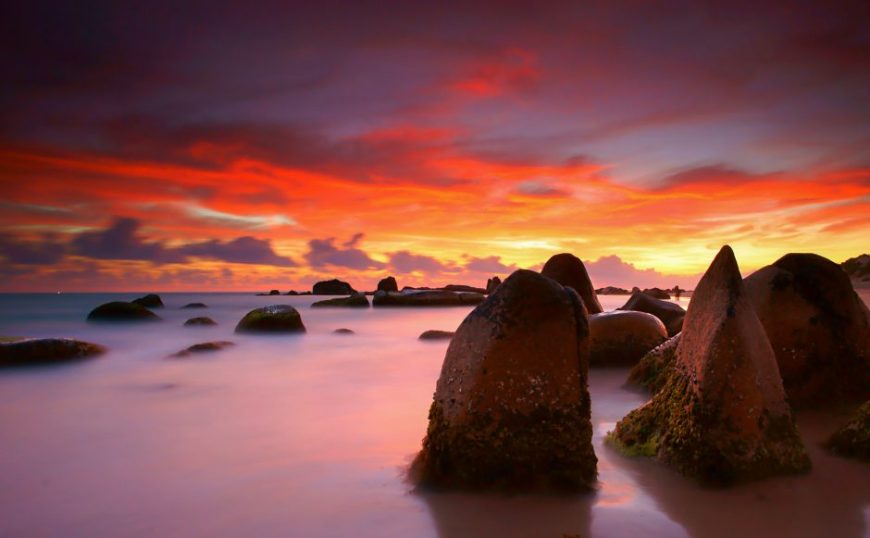 Sunset in Co Thach Beach, home to a majestic landscape with colorful rocks covered in moss | © Lê Anh Khoa / Flickr
Co Thach beach is an epic place located in a deserted area 90km from Phan Thiet City. This pristine beauty has clear water and quiet waves. The beach is covered with small stones in various colors and shapes, pushed to the shore for thousands of years.
Hoi An ancient town | © Asia Pioneer
Hoi An wasn't just a town, it was a tone that either one carries forever in one's soul or one does not. You may be alone, but you will not feel lonely. You got Hoi An as a friend.  The sunlight in the hundred-year-old street, with two sides filling with wooden-fronted shop houses, bohemian galleries selling local artwork and laid-back open-air cafes. Evening floating in the Thu Bon river surrounded by beautiful lanterns. The morning in exotic nearby villages.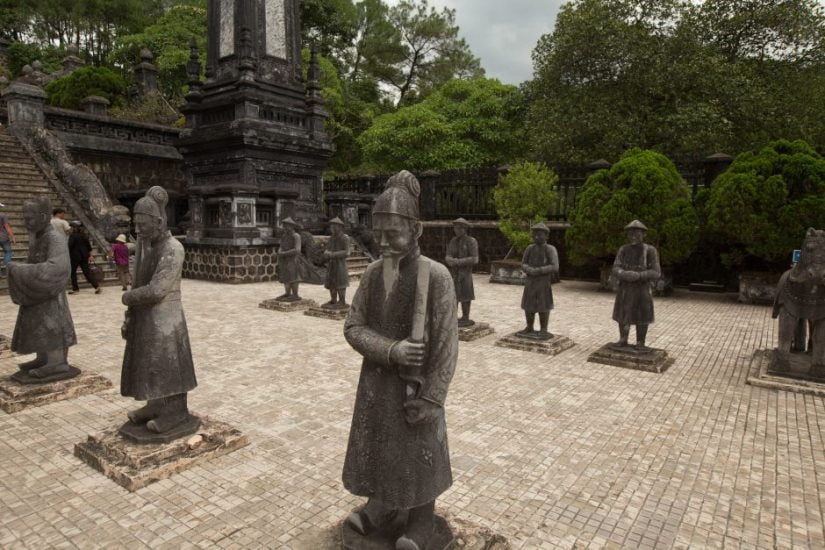 The Imperial City of Hue | © Chris Hoare / Flickr
Hue- the former capital of Vietnam- seems to still retain a thousand years of history in its heart. Visiting this imperial city is like making a journey back to the past, where you can see the resurgence of the Nguyen emperors' 143-year- glories. A substantial imperial city, as well as a collection of tombs still stands proudly along the banks of scenic Perfume River.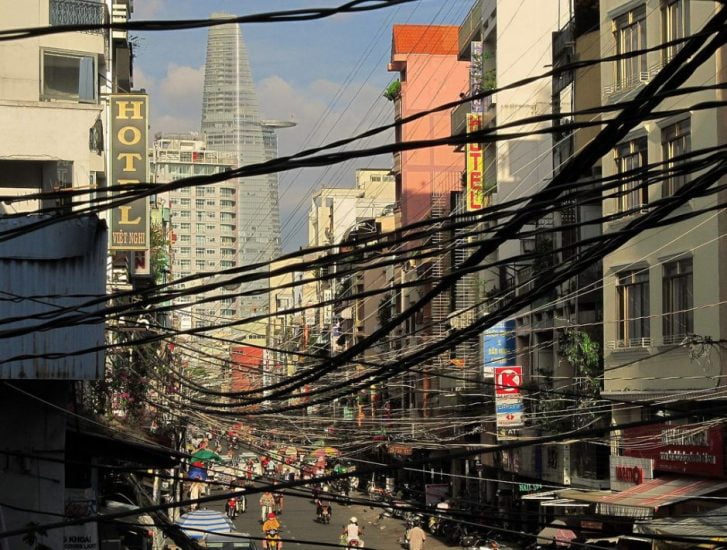 A cluster of electric wires in Ho Chi Minh City | © Soreen D / Flickr
The thriving metropolis Ho Chi Minh City, previously known as Saigon, is like a colorful dream that will never stop (unless you do). In this city, travelers can find fine-dining restaurants, flash hotels, glitzy bars and clubs, shops and malls selling imported luxury brand products; adding a glossy veneer to the city's hotchpotch landscape of French stones of the empire, mystic pagodas and temples, Soviet-style housing blocks.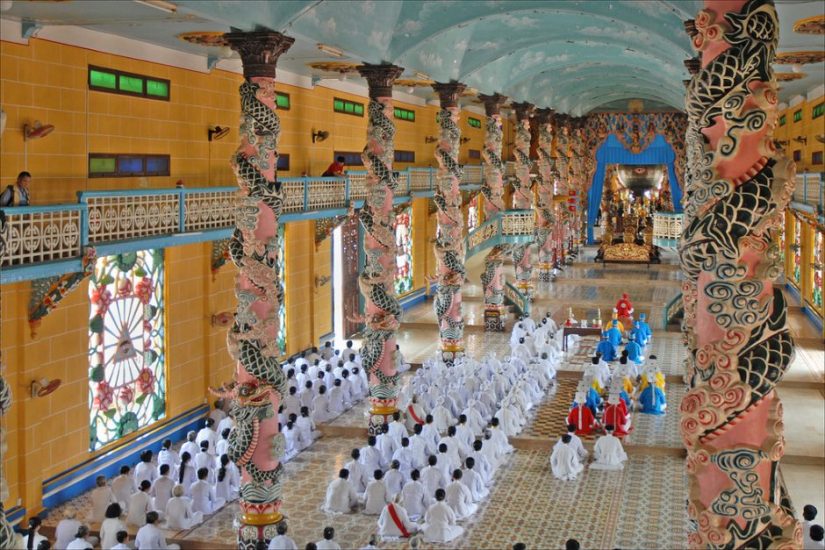 The Cao Dai's followers | © Jean-Pierre Dalbéra / Flickr
The construction of Cao Dai temple started in 1933, but it was not completed until 1955. The temple spreads over an area of 5600 m2 with a length of 140m and a width of 40m. Its architecture is so unique and worth a visit.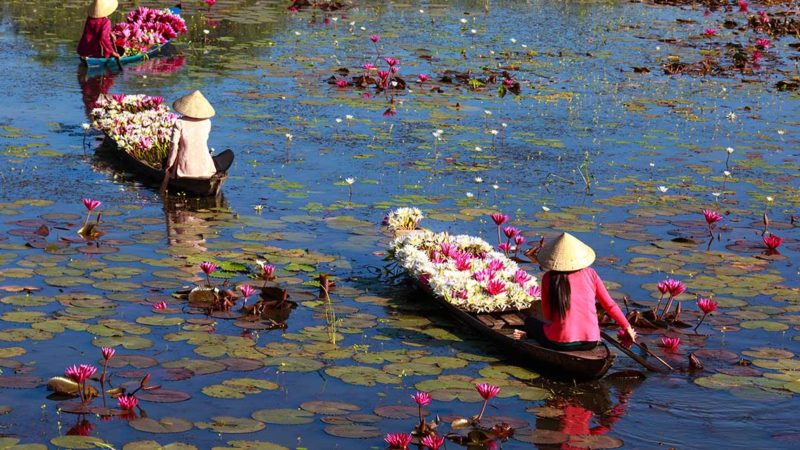 Moc Hoa District, Long An Province, Mekong Delta | © Asia Pioneer
A visit to the Mekong Delta is so memorable because of the region's diversity. Everyday scenes include children riding on the backs of water buffalo, flocks of storks circling over a sanctuary at dusk, Khmer monks walking mindfully, and locals scampering over monkey bridges or rowing boats on the delta's maze of channels.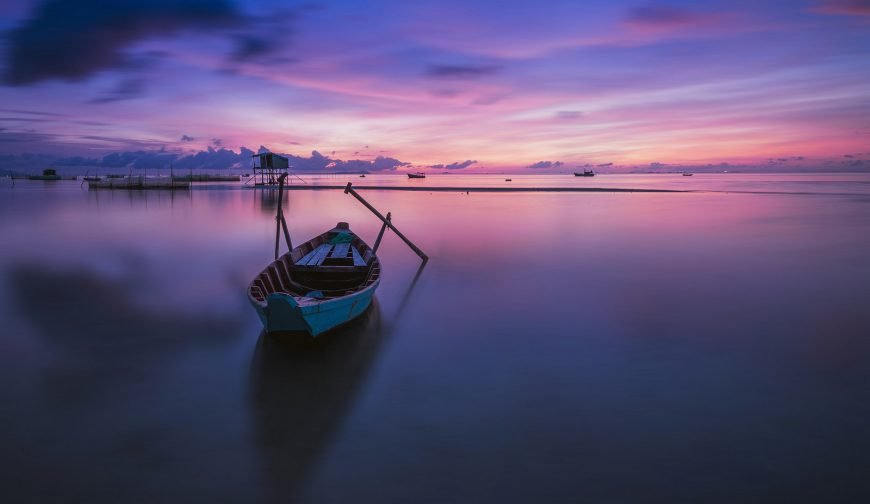 Sunset in Phu Quoc Island | © Lenny K Photography / Flickr
Phu Quoc, the biggest island in Vietnam, is the favorite getaway of thousand people thanks to its excellent natural seascape and huge tourist potential. The diverse topography is made up of national forest land, pepper plantations, and sprawling white sands beaches. The island still maintains some of its untouched charm with dirt roads, quiet shores, and limited tourist services