Top 5 Vietnam hotspot for travelers in 2017 which you have not known

So another "up-and-down" year has come to an end. We all gained some, lost some, and with people whose passion for travel is running in your blood, we hope that you had collected a thousand of interesting stories and lessons through the road.  For travelers who have felt in love with Vietnam in these recent years, hope that you ticked off all the "hidden" destinations below, or be ready to put them on your 2018 travel wishlist.
So where did travelers discover for their Vietnam vacation in 2017, besides worldwide famous destinations like Halong Bay or Hoi An ancient town? Let's go across North to South of this country to explore.
Am Tien Cave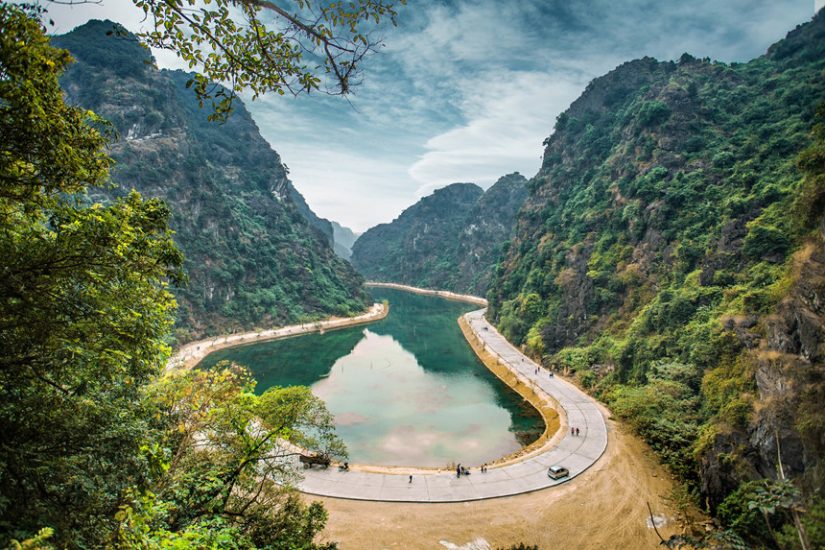 100km away from the capital Hanoi, you will be caught by Am Tien cave within the cultural-historical relic complex of Hoa Lu ancient capital in the northern province of Ninh Binh- the backdrop of the Hollywood blockbuster last year: "Kong: Skull Island". Coming to Am Tien is just like entering a journey to the past. This destination is so beautiful that you may have an illusion that this is a slice of heaven on earth. However, poetic mountainous landscape and emerald water lake are not all about Am Tien. It's only the first breathtaking impression this place can bring to visitors after a long way. Actually, Am Tien is one of the memorable places in northern Vietnam which hides a mysterious aura of the past. This was the location where King Dinh Tien Hoang (who reigned from 968 to 979) raised tigers and built execution grounds, also the dowager empress Duong Van Nga (reign 979-800) led a religious life in her old age. Everything seems to still remain the same after a thousand years of history. You will surely be attracted by the mysterious and wild atmosphere here.
Pu Luong Nature Reserve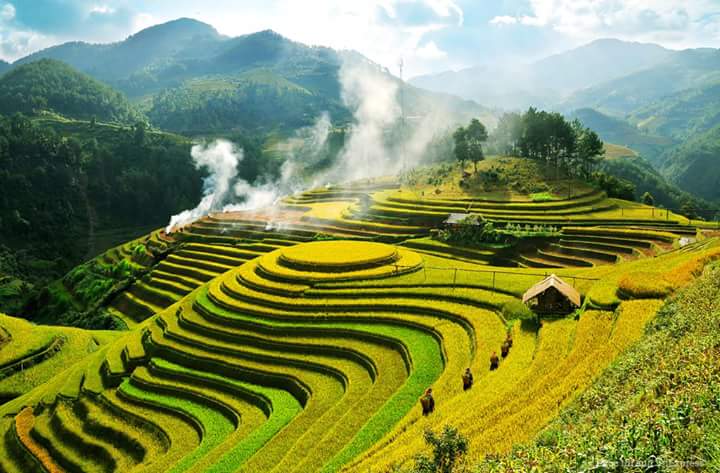 Located in Thanh Hoa province, Pu Luong Nature Reserve is totally a masterpiece made by mother nature which can charm any adventurer from the first sight. Covering an area of 17,662ha, this is the largest low area of limestone mountain forests left in the north of Vietnam.  Arriving in Pu Luong Nature Reserve where there are immense green forests and green terraced fields, travelers seem to be lost in a valley, completely separated from the outside world, with many mysteries expecting to be discovered. There is plenty of things and activities here, from the super-diversity fauna and floral, ethnic culture, mysteries caves to sparkle waterfalls and beautiful rice paddies. For this reason, it becomes an ideal destination for both domestic and foreign visitors.
Cu Lao Xanh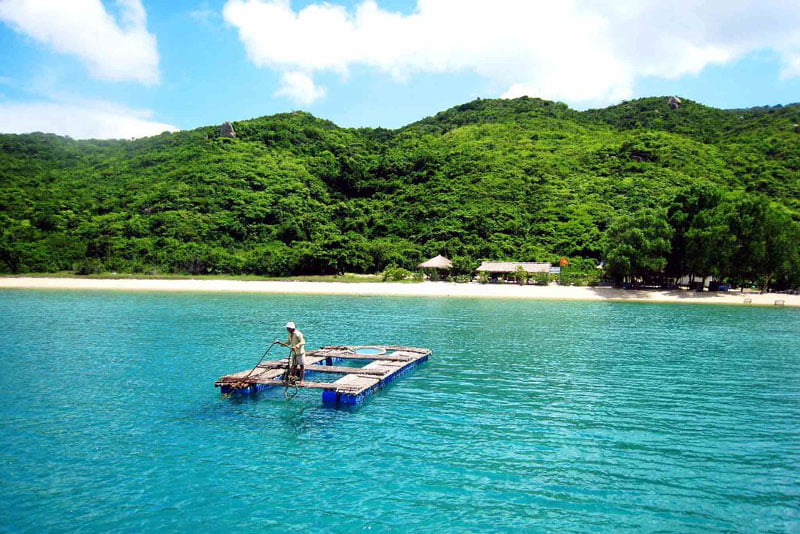 To be named as the "The pearl of the South China Sea", Cu Lao Xanh is a super-beautiful island in Quy Nhon which, strangely, is not well-known among travelers. The first time you see this remote island in the middle of the blue ocean, your heart may skip a beat. The water is perfectly crystal, the white sand beach seems to be endless and the fishing village leans peacefully on the side of the mountain range. You may ask yourself whether things in front of your eyes are the real landscape or something in a postcard. Looking up to the top of the mountain is a lighthouse built from the French time. Cu Lao Xanh is not only a place which is perfect for enjoying the sun and sea, but also an ideal destination for seafood lovers and scuba divers. The coral here is so unforgettable!
Ghenh Da Dia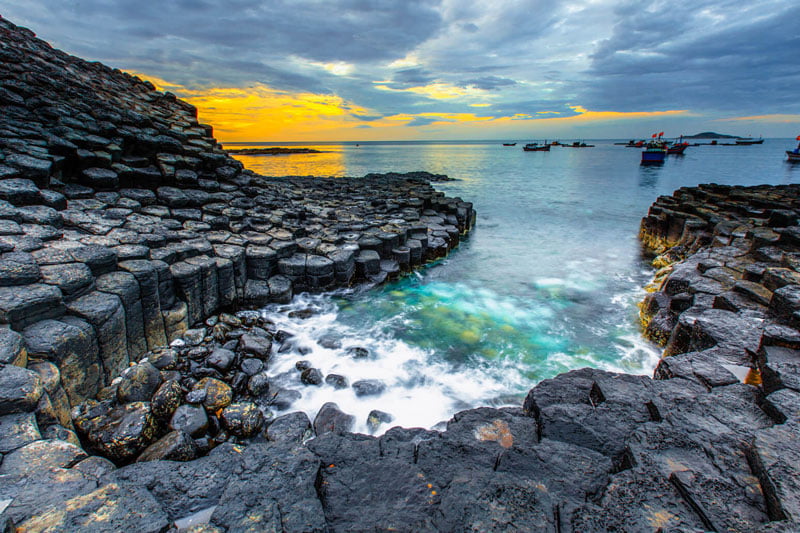 Located in An Ninh Dong Commune, Tuy An District, Phu Yen Province, Ghenh Da Dia – Rapids of Stone Plates is strangely structured rocks include large upright stones equally arranged in a star pattern. Being a riddle of nature, like a giant jigsaw, the rapids are irritatingly made of the same shaped pieces and forms a solidified structure that has proved more than just a curiosity for thousands. In Ghenh Da Dia, there only remains the unique scenery of the sea and stones, so everything is still primary, the environment is so pure, the air is fresh and comfortable. Have been listed as a National Heritage Site by the Ministry of Culture and Information, Ghenh Da Dia is a potential tourist attraction. And a visit to the rapids, you will be certainly worth it…
Gam Ghi Island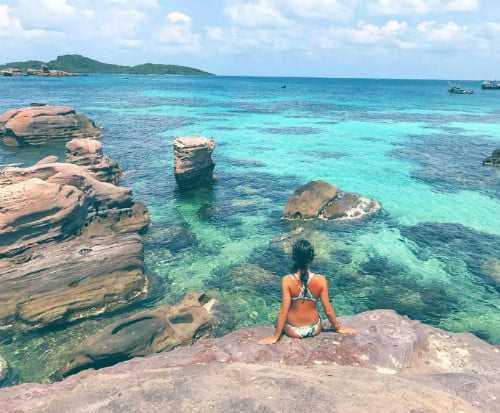 Gam Ghi island in Phu Quoc province is sometimes called 'Robinson Island' with the idyllic characteristic. This place captivates visitors with its colorful coral reefs and large sea-worn rocks in interesting formations. It is likened to small Bali Island in Indonesia. The pristine island is a paradise for sea divers and a fairyland for beach hoppers
Let Us Help You Plan Your Vietnam Trip.
Don't let the planning stress you out. Tell us your travel ideas and our travel advisors are very glad to give you suggestions and guidance for your trip planning. We can tailor-make your trip according to your interests and requirements, and help to create the best Vietnam vacation for you.