This is Thailand or another planet?

You may hear a lot about Thai reputation as a travel destination. To be described as the most attractive country in Southeast Asia, Thailand never disappoints its admirers, with a guaranteed brand name in islands, natural landscape, foods, nightlife, markets, and shopping centers. However, this time we're going the extra mile – or light-years – to prove that there are otherworldly splendors in the Land of Smiles that require your immediate attention.
Before our spaceship starts its journey, you should note that these special places are mostly off the beaten track, which means it can be a little difficult to find without a local. Curious enough?
The Spaceship Temple – the controversial Buddhist wonder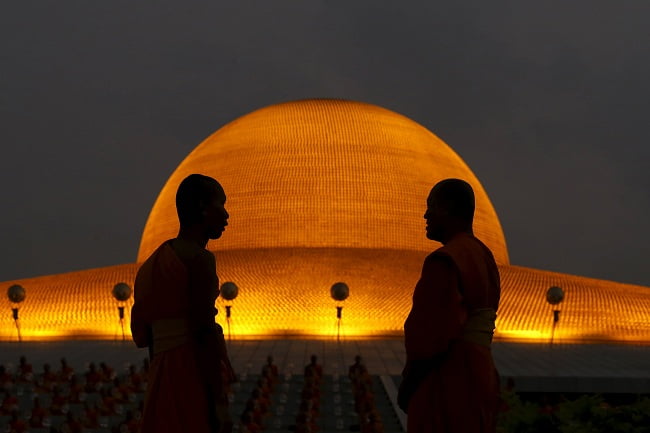 Located 16 km from Bangkok, Wat Phra Dhammakaya is praised internationally as one of the "Buddhist wonders" in the modern world. This is also the largest temple in Thailand, home to the Dhammakaya movement which promotes "The Reality of The True Self". The temple shape is similar to a UFO spaceship on the water, with the main highlight of this unique work is the huge dome called Dhammakaya Cetiya covered by 300 thousand gold-plated Buddha statues. There are also 700 thousand similar statues inside the temple.
On one hand, the temple has withstood accusations of fraud and embezzlement, although none of them have been validated. On the other hand, the imposing temple has received numerous international awards for architecture and promoting peace. In spite of all the controversial issues, the temple and its "one-and-only" architecture are still attracting a lot of explorers.
A portal to another dimension at Guardian Angel Cave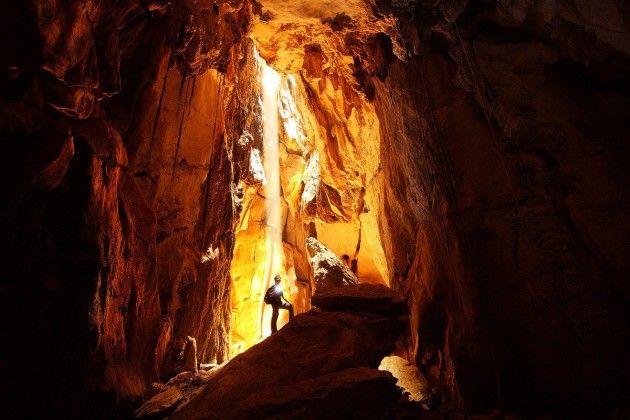 The caves are located in Lopburi province, about a 2/3hr drive from Bangkok, and its name only can stir our imagination. This place was definitely forged as a passage to a parallel version of Earth where whitewashed entities disguised as sonorous stalactites or oddball rock formations capture visitors at first sight. The caves are peppered with relics and worship tokens and down at the bottom is a tiny chedi. After climbing up about 500 meters, then doing a little crawl, you will reach the main hall.
Discovering the Asian version of  Grand Canyon: Sam Phan Bok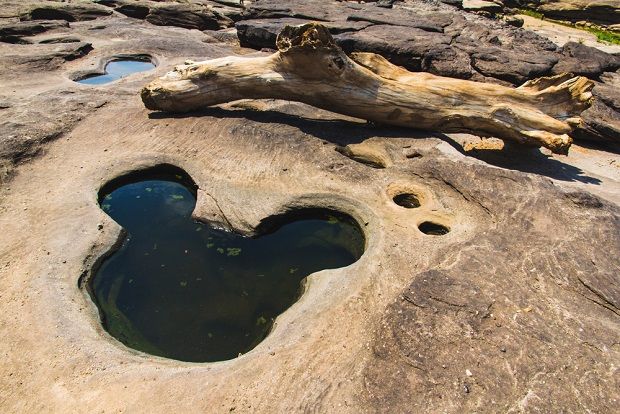 Stretching for about 10 km between the riveting Mekong River and a grass-covered levee, the volcanic rock formations appear like alien color-shifting craters that will make your hair stand on end. The name Sam Phan Bok is translated as "3000 holes", and this unique place is also classifieds one of the tourist attractions of "12-month 7 stars 9 sun, amazing Thailand that must be experienced" by  The Tourism Authority of Thailand (TAT).  The beautiful rock holes were caused by the rushing water. Some are big enough for people to get through and some are small. The rock holes are scattered all over the place in different shapes and many other imagined things such as a star, circle, heart and even, a Mickey Mouse! Sam Phan Bok will surely leave you so breathless in your Thailand trip.
Standing on the edge of the world at the Three Whale-shaped Stones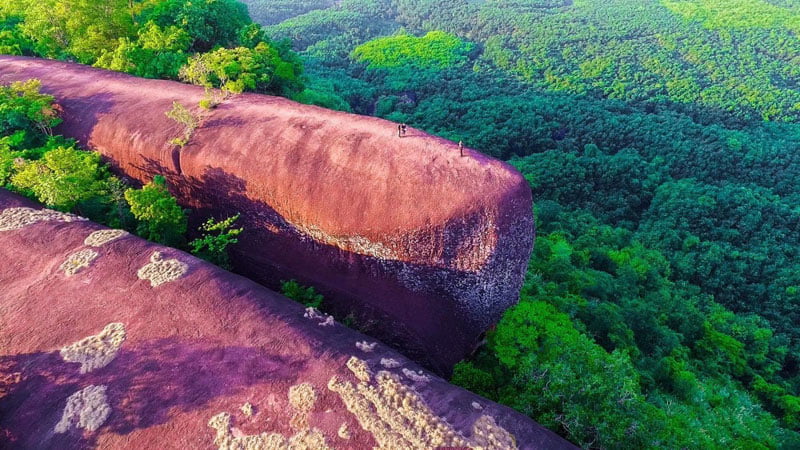 Located in Thailand's newest province, Bueng Kan, Hin Sam Wan Cliffs are not for the faint hearts. From a drone view, it has been revealed that these giant rock formations look like a family of whales. The heads of the whales stick out from the mountain as if they were about to fly off from their mountain home into a magical land. It's impressive enough how these massive and ancient (over 75 million years) rocks can sit on top of the mountain 350 meters high above the ground. You are allowed to walk on the rock but do be cautious as there are no guard rails, and you should not walk too close to the steep (and slippery if wet) edges.  There's an extremely stunning view when you reach the top of the rock (or the back of the whale), looking over the forest down below.
A million-star view from Samet Sisterhood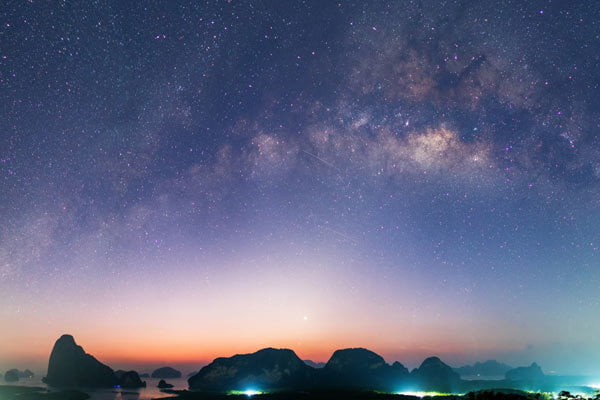 This remote location is an excellent choice if you want to marvel at the Milky Way with the naked eye. Even without the cosmic view of our galaxy, this natural wonder is so unspoiled and virgin in its magnitude that you'll have a hard time believing you're still on Earth. The best way to experience this viewpoint from Phang Na province is to rent a tent and try your luck at catching a starry night that will reward you with once-in-a-lifetime photography. Also, bring some warm clothes as this tropical region can get a bit chilly at night due to the high altitude.
Let Us Help You Plan Your Thailand Trip.
Don't let the planning stress you out. Tell us your travel ideas and our travel advisors are very glad to give you suggestions and guidance for your trip planning. We can tailor-make your trip according to your interests and requirements, and help to create the best Thailand vacation for you.