The most photogenic temples in Southeast Asia for "thousands of likes" Facebook post

The deep history, rich and unique culture, strong spirit and a lot of mysteries have made up Southeast Asia. A beautiful chaos that can attract us at every single moment. And thing describing the belief and the portrait of Southeast Asia the best is their temples. Standing for hundreds, even thousands of years, they are the witness of this land's history, they show what this land was, has been and will be.
Thousands of temples of all varieties can be found within this populous sub-region of Asia. And while each is magnificent in its own right, these 17 examples of Southeast Asia's famously picturesque temples are among the best.
Wat Pho (Bangkok, Thailand)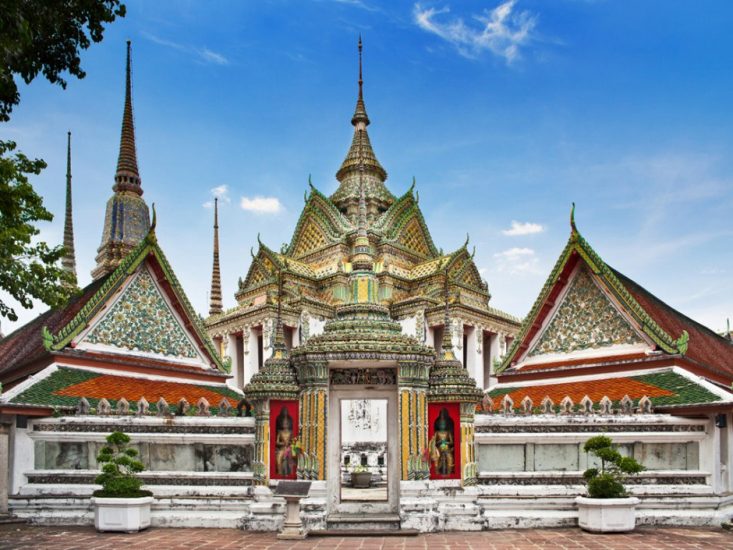 The temple of the Reclining Buddha – Wat Pho is the oldest and largest temple complex in Bangkok. It is additionally known as Thailand's first public university, and often considered as the birthplace of traditional Thai massage. This is a valuable historical destination which no one should miss in their Thailand vacation.
Ta Prohm (Siem Reap, Cambodia)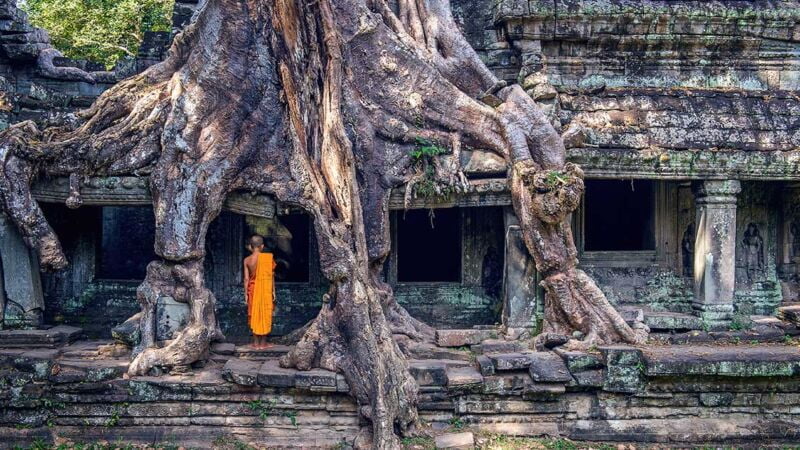 Widely known as the filming location for Tomb Raider, Ta Prohm was built in the late 12th and early 13th centuries. Located inside the Angkor Complex, this is one of the most beautiful temples here. A mysterious and ruined temple which is surrounded by giant tree roots can stir the curiosity of anyone.
Wat Phra That Doi Suthep (Chiang Mai, Thailand)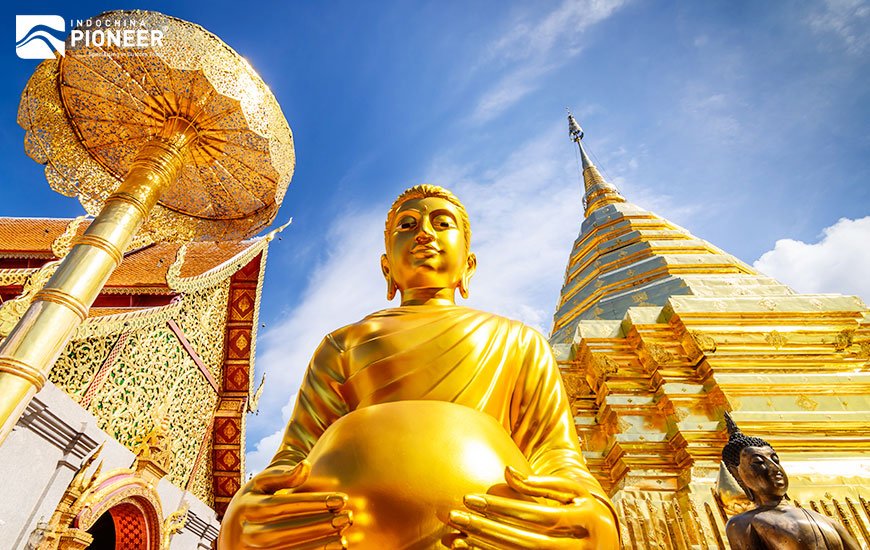 Located at the top of Doi Suthep, the temple offers visitors a spectacular view of Chiang Mai. Being considered as one of the most sacred temples in Thailand, Wat Phra That Doi Suthep is also well-known because of its unique architecture reached via a 306-step staircase flanked by a naga (serpents); the climb is intended to help devotees accrue Buddhist merit.
Pha That Luang (Vientiane, Laos)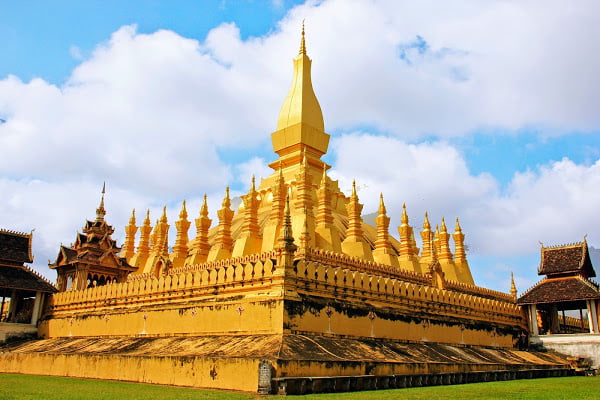 Pha That Luang, found in Vientiane (Laos' capital city), is a Buddhist stupa covered in gold. The stupa is often considered the most important national monument in Laos. Pha That Luang is 147.6 feet in total height.
Shwedagon Pagoda (Yangon, Myanmar)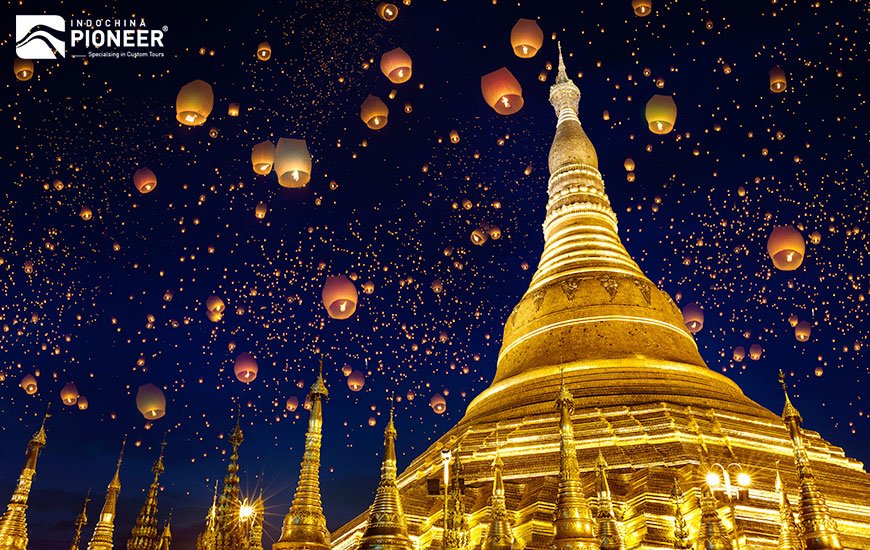 Shwedagon Pagoda in Yangon is surely the most popular destination for both locals and travelers. This over 2,500-year-old temple is one of the holiest relics in the country, as it apparently enshrines strands of Buddha's hair. The base of the stupa is made of bricks covered with gold plates. Above the base are terraces that only monks and other males can access.
Wat Rong Khun (Chiang Rai, Thailand)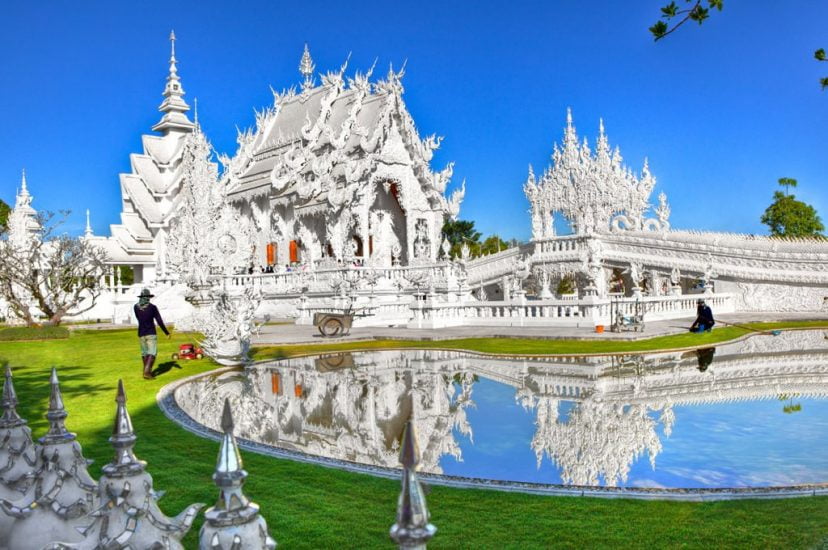 Wat Rong Khun, perhaps better known to foreigners as the White Temple, is a contemporary, unconventional, privately-owned art exhibit in the style of a Buddhist temple in Chiang Rai Province, Thailand. It is owned by Chalermchai Kositpipat, who designed, constructed, and opened it to visitors in 1997.
Angkor Wat (Siem Reap, Cambodia)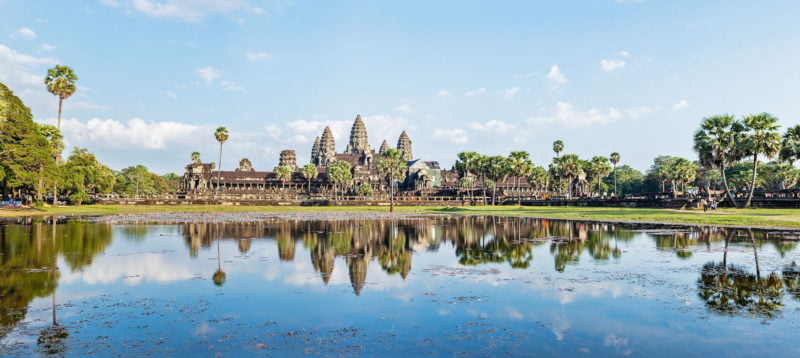 Impressive and massive, Angkor Wat of Cambodia is a famous name for worldwide travelers, with not only the breathtaking beauty but also unsolved mysteries around it. Surrounded by the wildest jungles, Angkor Wat showcases the amazing craftsmanship of the mysterious Khmer people. The complex appears to be a religious site for the god Vishnu, which can be seen in the patterns of the great city. Despite its decline after the disappearance of the ancient Khmer civilization, Angkor Wat still holds a majestic view for any passing visitor.