Thailand and its 3 unmissable street and floating markets

Thailand is the street market capital of the whole world, as there's nowhere else in which you can find much of funs in market wandering like in this country. Everyone loves markets, and if you don't, you will soon do in your Thailand vacation.
It is hard to tell what is so special in Southeast Asia markets, especially Thailand ones, that makes your heart melt. May it be the vibrant atmosphere? The unique and strange things on the shelves?  The sound? The smell? Or it may be all of them. You will never forget your first time with a Southeast Asia market. So while being one of the most visited cities in the world – Bangkok, don't miss the chance to wander these 3 vibrant markets and create the best shopping sessions ever!
Maeklong Railway Market
If you think all street market in Thailand looking the same, you will need to think again after meeting Meaklong Railway Market. Why is it named as "Railway market"? Because there is a real railway along the market, and yes, there's a REAL train going through it too. The train runs through the middle of the market several times a day. Right down the middle and close enough to touch. Unbelievable!
Located in Samut Songkhram Province (about 60 km away from Bangkok), when there's not the train, Meaklong operates as a normal Thai market which we all love, with tropical fruits, veggies, meats, seafood, as well as wonderful snacks, clothing, and flowers. A charming little warning bell goes off over the speaker system just a few minutes before the train comes. Within a few minutes of receiving the warning, vendors pull back their specially designed awnings before the train comes, sometimes only moments before. Therefore, the market is locally known as the Talat Rom Hoop which translates into "Market Umbrella Close."
Chatuchak Weekend Market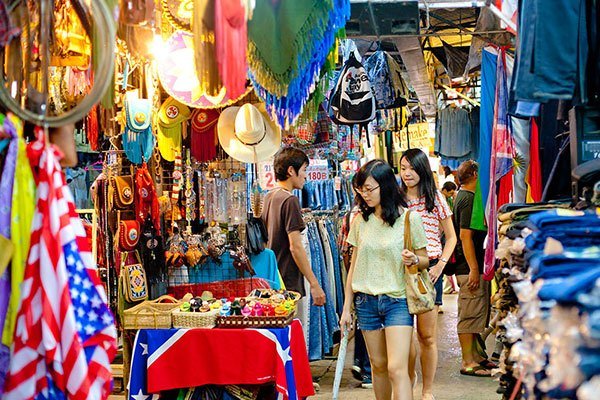 Your shopping spirit is "Shop 'till drop"? So Chatuchak in Bangkok is definitely your smart choice! Although this market only opens on the weekend, shoppers are still knocked down to their knees by its sheer size and super-diverse collections of merchandise. The 35-acre (68-rai) area of Chatuchak is home to more than 8,000 market stalls. On a typical weekend, more than 200,000 visitors come here to sift through the goods on offer. Everything you can imagine is in Chatuchak, from handicrafts, clothing, ceramics, books to pets, plants and gardening tools, antiques and rare collectibles. Don't forget the "tea-masters" here, as the best bartender in the world may not impress you as much as they do. And Thai milk tea is super good!
All you need to do is wearing comfortable and light clothes, preparing good shoes, collecting enough Thai bath, brushing up your negotiation skills, then the "greatest" hunting episode starts. The weekend market is open on Saturdays and Sundays, 09:00 – 18:00, and Fridays 18:00 – 24:00. So, have fun!
Damnoen Saduak Floating Market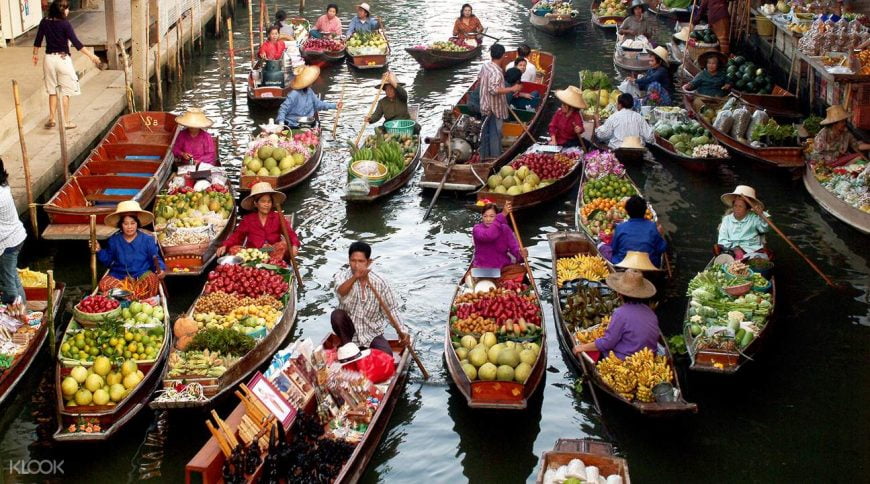 Damnoen Saduak is a world-famous floating market and the bustling scene is a timeless snapshot of exotic Thailand. Located 100 km from downtown Bangkok, this market makes it easy for anyone to see this unforgettable sight for themselves. This is great for photo opportunities, food, and for giving you an insight into a bygone way of life. Visitors will have a chance to float through Damnoen Saduak in a long-tail boat, stopping at stands full of souvenirs and excellent foods. There is plenty of tasty food to try along the docks, from freshly-made mini coconut pancakes to boat noodles in their rich meaty broth.
So, don't miss this wonderful market in your Thailand trip, and float away!