Only in Laos: The Ultimate Experiences Which You Must-have Here

There 's a ton of things to talk about Laos, the most hidden treasure of Southeast Asia. Travelers do not visit this country to look for metropolises or party vibes or take a selfie under thousands of neon lights. People come here for a simple reason: blend into the pure nature and unique culture. And just look at the short and simple list below, to explore 5 things you will find nowhere, but on your Laos trip.
The alms ceremony at 6 AM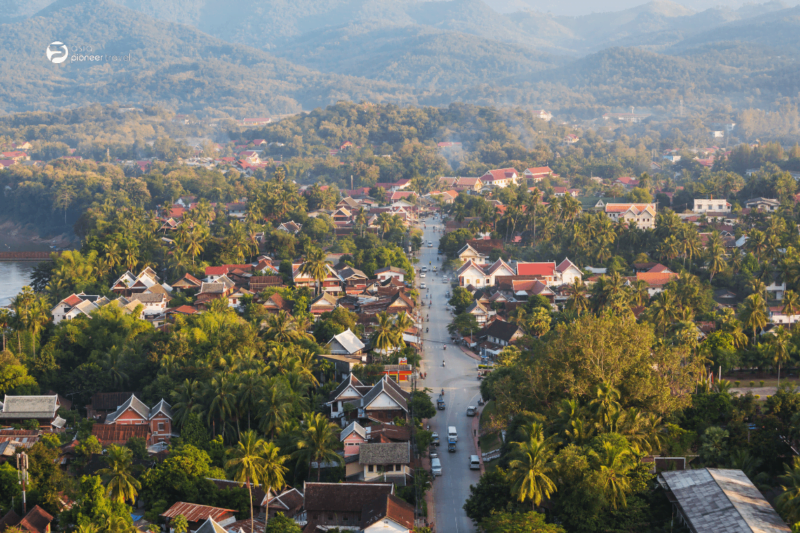 The former royal capital of Laos- Luang Prabang- is a magical gateway from the present to the past. iPhone X has released, and the world has moved to 4G Internet speed on mobile, but in here, the history still saturates in every single breathe. And the alms giving ceremony is one thing which is very Luang Prabang, very Laos. Every morning around 6 am in Luang Prabang, nearly 200 Buddhist monks collect alms (typically food) given by locals in a revered ritual. It creates a wonderful, photogenic scene, especially for visitors. The culture and history seem to saturate even into the atmosphere here.
Trying the Lao version of Jack Daniel with a wonderful price
Lao-Lao is a Laotian rice whiskey, one of the cheapest alcohols in the world. Yes, the world. A bottle of Lao-Lao costs less than a dollar. The taste may be slightly acquired, but it's just as effective as Jack Daniels. Due to its "cost-effectiveness," you might end up drinking more (and forgetting much more of the evening) than you'd planned.
Having a seven-course prix-fixe meal for less than $15
At Tamarind in Luang Prabang, you'll find a set menu of well-prepared Laotian cuisine for the sum of 120,000 kips (around $14.90 USD). You'll be served soups, Lao sausages, dips, steamed fish, chicken-stuffed lemongrass, sweet sticky rice, and more. Even beer and coffee/tea are included.
A more adventurous menu is available for ₭150,000. Not such a bad deal. Oh, and if you feel like splurging, sip on a basil gin and tonic. Get your money's worth, because you won't be finding this type of bargain back home.
Alternatively, experiencing an "AYCE" meal for $1
During your time in Laos, at least one traveler will tell you about the "all-you-can-eat" meal at Luang Prabang's night market. You'll probably forget about it until the moment you're roaming the market, looking down an alleyway to your right before smelling fragrant spices and seeing a mass of people. You'll walk over and remember the advice you were given.
You'll see heaping bowls of noodles, grilled meats pressed between sticks over the flames, and an assortment of soups. You'll gorge yourself to the point of discomfort before trudging back to your hotel, belly bulging, to lie down.
Tubing in the Vang Vieng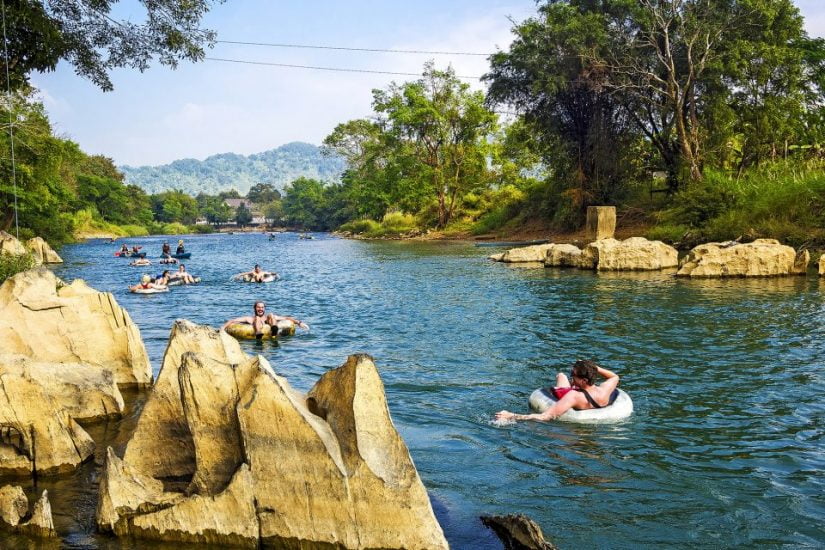 Vang Vieng, a town 3.5 hours north of the capital of Vientiane, is famous for tubing. Rent a big tractor inner tube and get a tuk-tuk to take you upstream. Float down the river, stopping at the riverside bars to play drinking games and volleyball, and sip a Beer Lao before getting back in your tube and heading downstream again.
Let Us Help You Plan Your Laos Trip.
Don't let the planning stress you out. Tell us your travel ideas and our travel advisors are very glad to give you suggestions and guidance for your trip planning. We can tailor-make your trip according to your interests and requirements, and help to create the best Laos vacation for you.