How Asia Pioneer Travel are changing during the Coronavirus pandemic

We are facing an unprecedented global crisis that impacts on every aspect of life. But this pandemic can be both a challenge and an opportunity for the world.
For people, it means adjusting our routines – working from home, social distancing, quarantine, etc, we may find it hard to adapt at first, but when we slow down, we learn to appreciate our loved ones and small things in life. And for business, the Covid-19 sure has harmed our operation, yet it is also the chance for companies to become more resilient and grow!
This is a crucial time, and our team at Asia Pioneer Travel (APT) see the pandemic as an opportunity to look back at our work and find out how we can improve ourselves. Yes, we are also working from home, but we are determined to come back stronger and provide higher quality services after the world wins the fight against the Covid-19.
In the meantime, to give you – our dear customers information regarding the changes we are making at Asia Pioneer Travel, we had a short online interview with our Director of Sales, Mr. Lam Duong, and our Sales Leader, Ms. Kata Tran.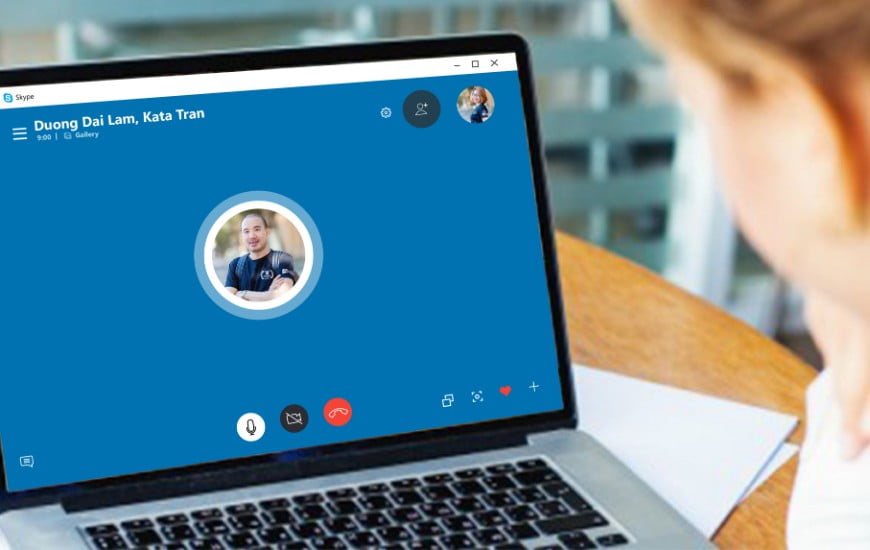 Marketing team: Hello Lam and Kata, thank you for joining the interview this morning. How is the team at APT adapting to the Covid-19 situation in Vietnam?
Mr. Lam: The whole team are working from home, following the Vietnamese government's Social Distancing order. It had taken all of us a few days to start getting used to the "New Normal", but our staff's health is our first priority, so this is a necessary approach.
Marketing team: Thank you, Lam. Is working from home facing any difficulties? Kata, would you like to answer this question?
Kata: Sure, working at home at this time is absolutely a challenging experience. You can imagine: Suddenly my condo became a complex of kindergarten, school, office, restaurant, park, gym, cinema, cafe, library… all at once, with all the sounds and smells… haha. Rather than that, we are still 100% dedicated to our job: keeping in touch, supports, answer our customers, and even selling and confirming new bookings for the Xmas time and 2021! To keep things in track, we have arranged weekly meetings between the Board of Directors and team leaders, and each team also holds online meetings to set up their goals for upcoming weeks. We understand that to make the most out of this Social Distancing period and to push the whole team forward, clear communication is the key!
Lam: Correct! On the other hand, our travel experts are carefully observing the situation with the Covid-19 in Vietnam and all over the world. The happy stories are: The Vietnamese government are doing an excellent job in preventing the spread of Covid-19 in the community, and their efforts have received international praises. Not only that, the authorities also make sure people are taken care of, especially for those whose life is deeply affected by the outbreak with different financial packages. The locals are joining hand in this too, by providing food like with the 'rice ATMs' and other necessities for those who are in need. We trust that the country is going in the right direction, thus the best way for us to support this is following the policies. And although countries in Europe and America have recorded a high number of cases, recent reports have begun to show positive signs as well, so we believe that travel and tourism will resume soon.
Despite working from home, we would like to assure our customers that the staff are still putting their best efforts into organizing their holidays after the Covid19 pandemic is over. After such a tough time, the whole team and I believe everyone deserves a wonderful holiday, and we are invested to deliver that to you!
Marketing team: Great, so what are the changes from APT that customers can look forward to?
Mr. Lam: Once we start getting back to normal life and travelling again, the demand will rocket and the tourism industry, which is like a compressed spring now, will bounce back. To be fully prepared and to best serve our customers, we are working hard in upgrading our tour products and service innovation. We focus on making our customer experience better than ever before.
These new tours are created to offer fresher and more exciting experiences. There will be new destinations and new routes added into the proposals for our customers. For example, we are introducing longer tours with more countries included, so you can make the most out of your holiday. Also, more tours focusing on customer's specific demands are being created such as: honeymoon tours offering romantic services throughout the trip, or kids-friendly tours focusing on bringing fun and safety at the same time to children…., or Senior-friendly tours which help elderly solve some age problems like trouble with walking.
Kata: That's right. As an expert in the travel industry for more than 10 years, we value the idea that no traveler is the same, hence APT's goal to make each trip for them in Southeast Asia more personal and unforgettable.
Another step we are taking is revising the service provided by our partners. To better serve our customers, we are using higher criteria to re-select and to seek potential partners in Asia. From transport, restaurants to accommodations, every small detail of the tours is being reviewed to ensure our customers' safety, comfort and satisfaction.
I have mentioned new tours and quality service, so price is the third aspect that will be discussed. Following this crisis, it's certain there will be promotions and big discounts, especially from travel businesses. We can't wait to offer our customers excellent deals, too.
However, I would suggest not to focus exclusively on a price tag. Instead, look at the overall value of the deal. A great trip is not solely about a number for the budget, what holds the value is the experiences our customers may gain from it. High-value packages from personalized service that APT provides will let them collect lifetime memories after the journey.
Marketing team: How about the plans for team members?
Kata: We are implementing training programs for staff, especially our travel consultant/ sales and operations teams, who play a major part in our customers' experience. At APT, we are proud of our friendly but professional service to our customers, and the current training plans are to set our service standard higher after the Coronavirus Pandemic.
Together, my team and I are revising our service, and see what we can learn and focus on to better assist our guests in the future. As Mr. Lam mentioned, we are doing more research about the markets and suppliers, every feedback, positive or negative from customers is thoroughly studied. A great service needs to start from the first step. Thus, we would like to welcome our guests with a warm smile on our face all along the way, and of course when they are back at home. We're doing everything to make each trip with APT is a trip of a lifetime for our guests, a trip of all the sweet memories that they will remember and talk about for a long time!
Marketing team: Thank You Lam and Kata for your time and information. You made us feel that in this time of Social Distancing, our office is closed but our service is open and ready for any opportunity, the market is frozen but there is a hot workflow still running in our company. Keep up your great work and stay safe!
APT's message to you
Travel will continue once the coronavirus is contained. The industry will return sooner than you think, and with tons of awesome deals. Once we are back to normal life and ready for new adventures, we wish to welcome you with the best services and smiling faces.